MBV-2 (1938)

URSS - Armoured Wagon (self-propelled), 2 built.
The WW2 Soviet Heavy SP Armored Wagon

Mainland Europe in 1914 had the densest railway network in the world. Developed from the 1840s, it was expanded non-stop during the great war, armored trains, even became instrumental, including in the Russian civil war. At the eve of World War 2 Poland was the largest user of such types, but it was in limbo in USSR. There was still some concerns about the use of armoured trains for rapid reinforcements in the "deep battle" plan.
The concept was proven still, and both the Germans and Soviet forces exhibited still some interest for a modernized form of armored train and tried to keep these capabilities alive in order to reactivate or built new ones in wartime. Modernization efforts of the 1930s in USSR saw notably the construction of a new generations of armored trains, and notably among the most famous, the MBV-2 series. Only two were built at the Kirov Plant in Leningrad between 1936 and 1937. They saw heavy action in WW2.
Design
The general staff saw considerable battlefield value for their heavy firepower (three medium tank turrets and many MG emplacements) and planned them as experiments for a future quick and relatively cheap mass. The BMV-2 was created on over an existing railway car type, as a central element around which a train could be more or less long, mission-based and also dependent on existing stocks of howitzers and field guns. The Motobronevagon MBV-2 had a crew of 15, including nine in the gun turrets alone, six on the machne guns, one officer and an engineer. There was little space for any extra troops to be carried. Everything inside was tailored to carry rounds of ammunitions and there were two fuel tanks for the diesel.
Armament and protection
Locomotives and support cars can be added to the MBV-2 wagon, notably specialized in anti-aircraft defence and extra "artillery wagons" with extensive armor plating. The mounted infantry also had access to multiple gun mount points.
The completed MBV-2 trains around these wagons were seen in operation in 1941. The armoured wagons were the most massively armed at the time, with no less than three turret rings, allowing the installation as well as multiple machine gun ports. There was some sort of primastic structure mid-way used as obervation and command tower. The otherwise sloped armored hull fitted over some framing over the existing train car was made of 6 to 8 mm steel plating to resist small arms fire and shrapnel.
The turret rings had been designed to sport the
T-28 medium tank
gun turret. Each comprised originally a short barrel 76.2 mm (3 in) KT-28 howitzer (40 HE rounds) and for secondary armament up to three DT 7.62 mm (0.3 in) machine-guns (8000 rounds): One coaxial forward, one in the turret bustle, one on a flexible AA mount on the roof. So in total, three howitzer and nine machine gun to deal with all angles.
In addition each of these units had six gun positions for extra machine guns, one forward and one aft in recesses, then two either side in ball mounts. Access of the crew was through four doors, two forward and two in the middle. The tower had folding hatches and armoured shutters. No anti-tank armament however was procured it seems it was only for infantry.
Powerplant
Unlike other armored wagons with turrets, the MBV-2 was self-propelled, albeit it was designed to ntegrate a regular train and locomotive. This powerpack was s simple diesel engine mated to a hydraulic transmission system, so it was independent from any locomotive on paper. However it seems this was the same tank diesel engine, 12 cyl 45L Mikulin M17, 500bhp, located in the sloped compartment, with aerial grilles above, in front of the turret. Which was at ease for powering it (total weight was above 30 tons) as on tracks any source of power was more efficient. So top speed should have been around 70 kph and more.
For weight repartition, the wagon was modified. It kept its forward two axles configuration, but had a three axle configuration at the rear to better support the extra weight of the armoured structure which was asymetric. It was stepped aft, where the triple axle was installed to better support the weight of the two superfirng turrets. The forward part had a single turret and long slope up to the command tower.
Combat Use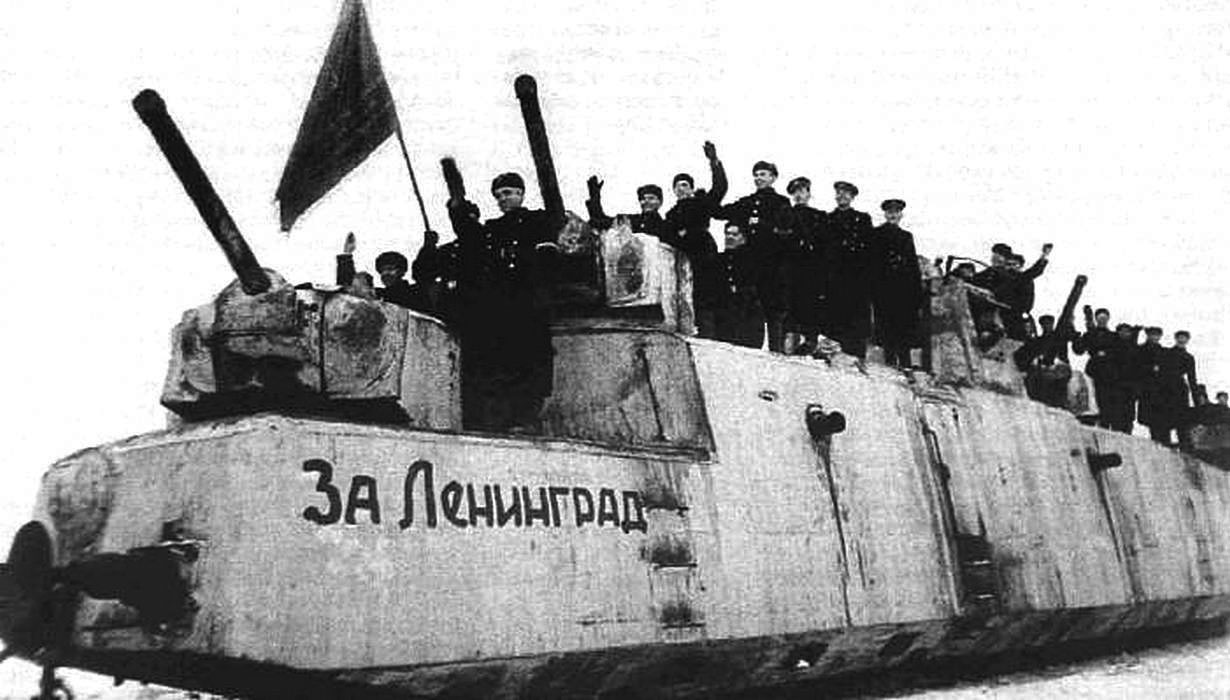 MBV-2 N°2 in winter paint with the 14th Separate Armored Train Battalion, January 1944
Lzter, in the war, probably in 1943, both MBV-2 units were updated, seeing the replacement of their original 76.2mm KT-28 guns, now obsolete, by 76.2mm L-11 for one, and F-34 for the other, fitted in the same gun turrets as before, as turret rings were not compatible. The latter could still fire HE rounds aganst infantry, but also deal with tanks with greater velocity AP rounds. However the armour was nowhere near the level required to face an enemy tank such as the Panzer III/IV.
Combined MBV-2 and another unidentified turret Wagon.
In practice, MBV-2 wagons were deployed as "ranged fire support" platforms and acting as mobile deterrents along key points of the front. In 1942-43 it ws mostly used indeed for defensive purposes, putting to good use its firepower to stop light and medium German tanks. Still, they were confined to existing Russian railroad which gauge was different and played no part in late 1944-45 operations. Also their diesel was no always sufficient. The second MBV-2 was present along the Leningrad Front, joining efforts of the 14th Independent Armored Train Battalion (23rd Army). It survived the end of the war and was salvaged from the srapyard, now exposed at the Kubinka Tank Museum.
The MBV D-2 was a parralel armored train development with another armored superstructure and twin turret layout fore and aft. It was smaller and mostly used by the NKVD Border Guards during the war. I hope to cover these as well.
Gallery

Rendition of the MBV-2 in original configuration

MBV-2 as rearmed with the FL-11 gun, Leningrad Front 1942

In winter paint wth the 14th Separate Armored Train Battalion, January 1944.
---
MBV-2 in its last later stage, as preserved in the Patriot Park, Kubinka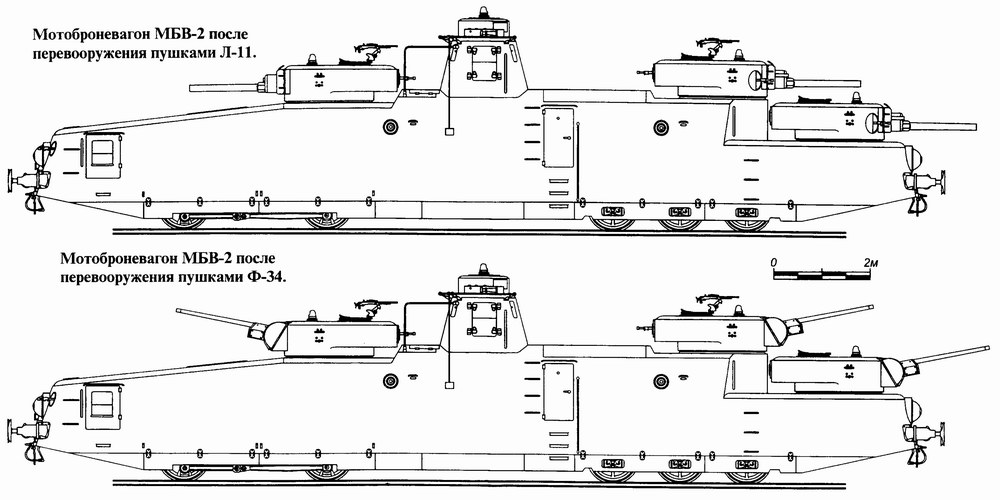 As preserved at Kubinka, Patriot Park, there are doubts about the pain scheme accuracy here.
Sources
Tanki Vtoroy mirovoy voiny" (Album) Moscow, Technika-Molodezhi,2000
Modelist-Konstruktor, 9/98
Voyennaya Letopis/Military Chronicle, Bronetankovyi Muzei No. 3, Moscow, 2002
On armchairgeneral.com
On militaryfactory.com
On en.topwar.ru
PZ 10
tvd.im/land-systems
On scalemates
19th Cent. Trains

Baldwin Railroad battery 1861
No 6 Garrison Arm. Train 1894
Ladysmith Train 1899

---

WW1 Armored Trains

Crewe Works 1915 coastal train
French mobile artillery battery (1914)
Royal Navy armoured Train 1914
Regia Marina Arm. Trains 1915-18
Ajmer arm. trains 1916
Hungarian MAVAG train
German Panzerzug Ost (1916)
Bolshevik Armored Tram 1917
Finnish Arm. Train (1918)
Zaamurets (Orlík, BP-4, Lenin)
Khunkhuz
General Annenkov
Yenisei
Amur
Terek
Don

---

Poland

Dywizja Syberyjska trains 1918
Kozak
Piłsudczyk
PP3
Gromobój
Pionier
Śmiały
Lis-Kula
Hallerczyk
Stefan Batory
Generał Iwaszkiewicz
Chrobry
Wilk
Kaniów
Zawisza Czarny
Zagończyk
Paderewski
Mściciel
Reduta Ordona
Huragan
Podhalanin
Bartosz Głowacki
Pierwszy Marszałek
Groźny
Śmierć
Śmigły
Stefan Czarniecki
Generał Sosnkowski

---

Interwar Armored Trains

Putilov armoured trains
Izhorskiy Armored Train
Czechoslovak Legion Trains
Estonian Trains
Lithuanian Trains
Zhang Zongchang Train

---

WW2 Armored Trains

Poland

Danuta
Poznańczyk
Generał Sosnkowski
Paderewski
Śmierć
Pierwszy Marszałek
Piłsudczyk
Śmiały
Groźny
Bartosz Głowacki
Smok Kaszubski
TKS recce draisine 1939
Draisine R
Arm. draisine Crochat
Austro-Daimler Draisine
Armoured draisine Tatra T18
UK dywizjon Trains
SOK Draisines 1945

---

USSR

OB-3 armoured Train
27th Div armoured Trains
29th Div armoured Trains
48th Arm. Div armoured Trains
"Stalinets" armoured Train
"Kozma Minin" armoured Train
"Dzerzhinets" armoured Train
zenitnyy (AA) armoured Trains

---

Nazi Germany

Goering's Asien
BP42 armoured train
BP44 armoured train
BR 52, Steyr Schwerer Schienen Panzer
Schwerer gustav Train
Schienenkampfwagen SK 1

---

IJA

Type K2 Steam Locomotive No.134
Type C56 Steam Locomotive No.31
Type 90 240 mm Railway Cannon (Futtsu Cannon)
Type 94 Armoured Train
Type 95 Armoured Railroad Car (So-Ki)
Type 98 Railroad Tractor
Type 100 Railroad Tractor
Type 2598 Railroad Car
Rinji Soko Ressha 1933

---

UK

1940 coastal defence Trains
Royal Armoured Corps Trains
Romney, Hythe and Dymchurch Train
Malaya Arm. train 1942

---

Others

101-104. sz. páncélvonat
Finnish Winter War Train
Croatian Armored Train
Can. Aleutian No.1 Armoured Train
Slovak resistance armoured train
Iraqi armoured train (1941)

---

☢ Cold war Armored Trains

Polish 1945-55 trains
Arm. train La Rafale 1948
Tren Blindado 1958
Panser Rel V16 (1955)
White Train 1957-87
RT-23 Molodets ballistic wagon
Trans-Siberian Arm. Train 1970
North Korean Arm. Train
Krajina express 1990
Volga (2022)
Baikal (2022)

---

References

blog.railwaymuseum.org.uk
armedconflicts.com Russian Trains
warhistoryonline.com
feldgrau.com ww2 german trains
cuttersguide.com
wikipedia.org/wiki/Armoured_trains_of_Poland
derela.pl/drais
derela.pl/tatra.htm