The OT-64 SKOT (Czech for: Střední Kolový Obrněný Transportér, Polish for Średni Kołowy Opancerzony Transporter) was a 8x8 amphibious armored personnel carrier developed by both Poland and Czechoslovakia into the 1960s. From the early 1970s Czechoslovakia and Poland together produced a total of circa 4,500 of these vehicles, and a third were exported. This was quite a success and one of the most recoignisable Warsaw Pact military vehicle produced outside USSR, a worthy alternative to the widespread BTR-60/70.
Genesis and Development of the OT-64
The OT-64 was intended to replace the halftrack OT-810, a copy of the German Sd.Kfz. 251 completely covered, and of which 1,500 were built. both countries made a treaty for a joint development. After the first prototype was delivered in 1959, production started in 1961 in Czechoslovakia as well from 1963 in Lublin, Poland (Fabryka Samochodów Ciężarowych). The propulsion system and power transmission as well as the chassis were made in Czechoslovakia while the armored hulls and turrets, parts of the suspension and on-board armaments were provided by Poland.
OT-64 APC version
SRC
Design of the OT-64
General appearance: The OT-64 appeared as bulkier and taller compared to the BTR-60/70, but was roomier and could pack more equipments and ammunitions. The biggest difference was the more conventional exit, via rear doors, rather than the side hatches of the BTR-60/70, or from aft compartment's roof's hatches, two of them. The driver was located to the right side, with its own elevated hatch, large vision block (IR switch), and two smaller vision blocks on each side. To his left was located the commander's post, with a small round hatchand peripheral vision blocks. Behind them was located the engine compartment, with the engine mounted transversal position with the transmission running to the front. Behind the engine compartment, that completely separated the front crew was located the infantry compartment, with 18 men seated in two rows of three facing each others, or 10 on the turret versions. Vision was help by infrared equipment by night.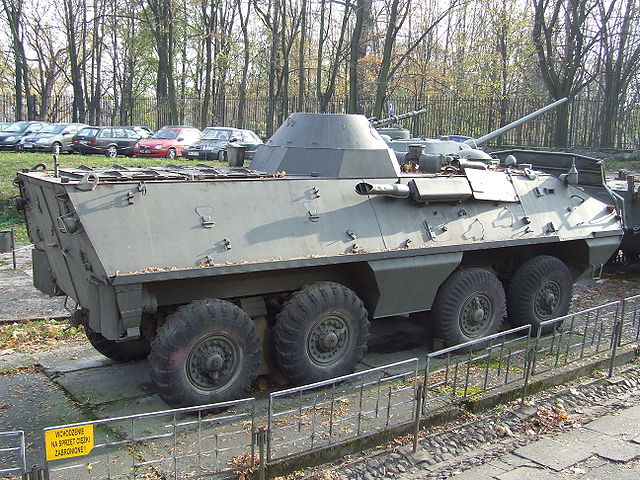 SKOT 2A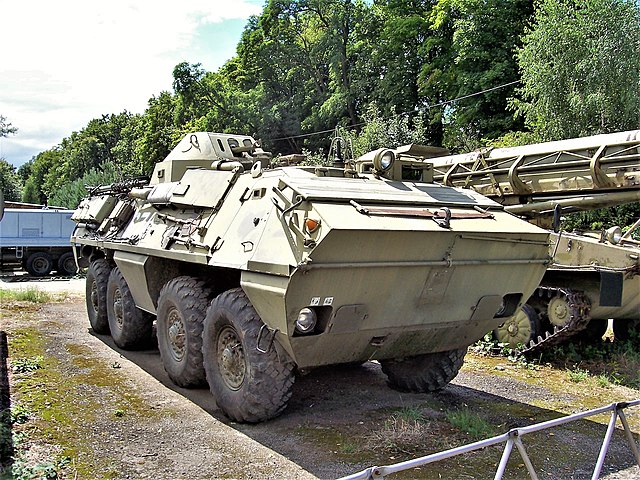 OT-64 2A
Armour: The armored hull and the weaponry were produced in Poland. This armour protection was no more thick than on the BTR series, at best 13 mm for the front glacis, down to 7 mm for the sides, rear and roof, just enough to protect from shrapnel and light arms fire. The rear was also sloped, with a hexagonal section. There were four to six side pistol ports, and two at the rear, one on each door. Protection also includes a lining an collective NBC protection.
Powerplant made in Czecholovalkia
The OT-64 engine, its transmission, suspension and axles were all manufactured in Czechoslovakia, the engine by Tatra, the gearbox by Praga Hostivař. It was a pre-select Praga-Wilson gearbox with 5 forward and 1 reverse gear. Depending on the selection, the drive could passes to an auxiliary gearbox with a low, neutral and high ratios for road and off-road use. This singular dua arrangement gave a total of 10 forward and 2 reverse ratios. The change is both hydraulic and when actioned opens an air valve. The Tatra T-928-14 V-8 diesel was rated for 177 hp, giving the vehicle a power/weight ratio of 12.4 hp/tonnes, and a top speed on road of 94 kph.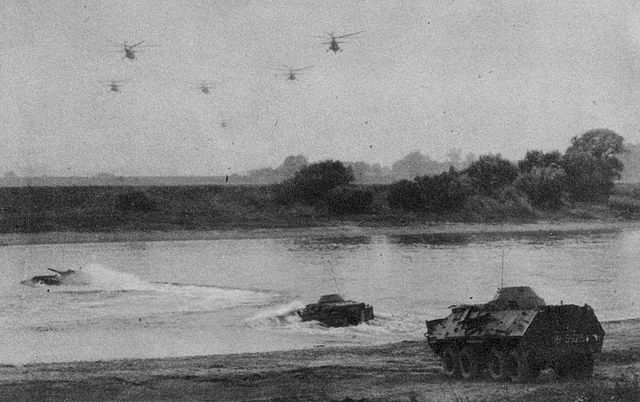 OT-64 2A in ampbibious exercises in the 1960s.
The OT-64 was quite an improvement on this field over the BTR-60. It used a diesel rather than a petrol engine, minimizing the risk of fire improving the range to 710 km. The OT-64 is also given a central inflation 8x8 system controlled by driver, as well as a glacis-mounted wave deflector trim vane. Indeed, the vehicle is amphibious with little preparation and used two propellers at the back for propulsion when swimming around 9 kph. The OT-64 was light enough for air-transportation as well.
Armament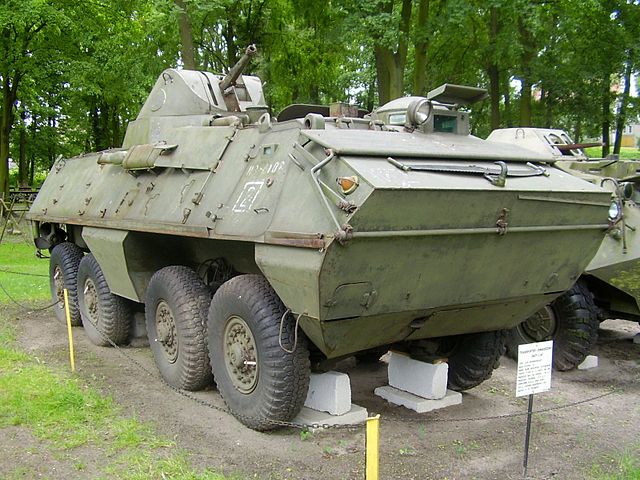 OT-64 2 AP command version
unarmed and later pintle-mounted 7.62 mm LMG/12.7 mm DShK 1938/46 HMG. These were known by NATO, respectively as the OT-64A and OT-64B. Some of the B versions had HMG shields. The turret version, better known, used the BRDM turret with the 14.5 mm KPVT and coaxial LMG. Thhis turret was modified with greater elevation and dedicated FCS for the AA sub-variant or used AT-3 missiles. The Czech developed after the end of the cold war a modernized version for export: This was the OT-64 Cobra IFV: It was fitted with a remotely operated turret with a 30mm gun 2A42, proposed but never sold. The Poles did the same with their "Ryś" (Lynx), using a more modern engine.
The OT-64 in Service
OT-64 SKOT entered service in the Warsaw pact with the Polish and Czechoslovak armies, in 1963. production went on until the early 1970s, so for about ten years.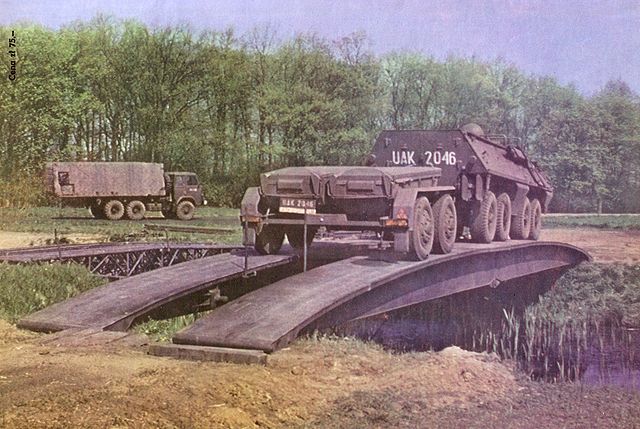 OT-64 with S260 trailer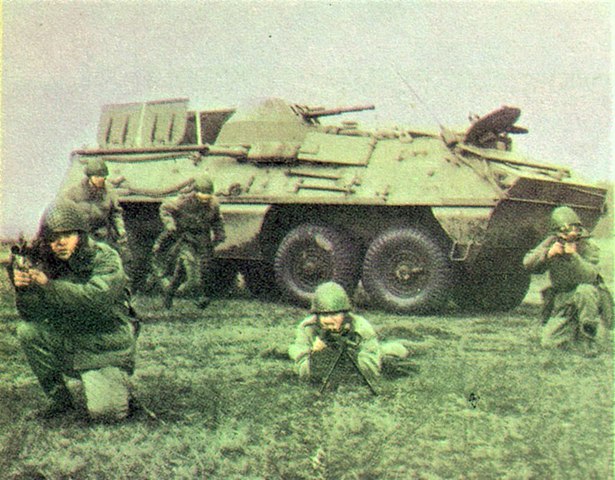 SKOT 2A in action. The turret IFV version still carried ten equipped infantrymen, the turretless version eighteen, with five roof hatches (two large, axial aft, one tranverse, and two smaller axial behind the engine comp., plus one extra to access the engine), versus four small for the IFV, one for the engine, plus the turret hatch, and the driver's and commander's one in tandem.
Current operators:
Algeria: 151 OT-64 APCs with the LMG, 75 OT-64A ordered in 1993.
Angola: 9 OT-64A ordered 1993.
Cambodia: 40 OT-64 APCs ordered 1994, currently fewer operational: Phnom Penh reserve force, military police.
Hungary: Perhaps 100 in service, dating back from the Warsaw pact.
Iraq: 200 OT-64A ordered 1980, now all scrapped.
East Germany: Spotted during Operation Danube with East German colors.
Egypt: 200 OT-64A ordered 1968, Currently 300.
India: 300 OT-64A ordered 1969, delivered until 1974.
Libya: 50 OT-64A ordered 1973.
Morocco: 95 OT-64A ordered 1968
Nepal: 8 OT-64A ordered 2007, with with UN forces in Sudan.
Pakistan: 6 OT-64A ordered in 1993
Poland: Around 2,500, but by the 1990s, the APCs were gradually withdrawn, with currently circa 300-400 in stock, mostly command, training and engineering variants.
Sierra Leone: 10 OT-64 APCs ordered 1993
Slovakia: Replacement ongoing since 2018. Czechoslovakia had 2,000+ in service, the Czech only had 28 vehicles as for 2008.
Sri Lanka: OT-64 SKOT Command vehicles.
Sudan: 40 OT-64A ordered 1969
Syria: 300 OT-64A ordered 1976
Uganda: 36 OT-64A ordered 1967
Uruguay: 100 OT-64A ordered 1994, partly modernized to OT-93 standars before delivery. The former were called Vehículos acorazados de ruedas M64 and the latter Vehículos acorazados de ruedas M93.
Actions included the 1965 Operation Danube, Indo-Pakistani War of 1971, Uganda–Tanzania War (1978), Western Sahara War (1975-91), Iran-Iraq War (1980-89), Operation Blue Star in India (1984), and Syrian Civil War.
Today, it is still in service in Poland and Slovakia (Slovak police). Czech units were replaced in 2006 by new armoured vehicles Pandur II CZ. During the 1990s, Slovakia purchased 250 between 1994 and 1998 of former Czech vehicles replaced by the Pandur II and the remainder were resold to several countries, eleven in total, which was quite a success for a non-Soviet vehicle. It had arguments indeed: The larger troop capacity, better general manufacturing quality, better engine, and more conventional approach.
Variants
About 30 variants and sub-variants were built by both countries, with local designations often for the same types of vehicles. Some OT-64s were declined as air defense and tank hunters vehicles, with AT-3 missiles on the turret. Production ended on July 22, 1971 with around 4,500 vehicles used by both armies, but many were already exported. Inside the Warswa pact, the vehicles were also acquired by the Hungarian army, but outside photos there are no details for any use by East Germany. The BMP-1 IFV gradually replace them, and they were exported (mostly Czech vehicles).
Czechoslovak versions:
OT-64 - basic APC.
OT-64/OT-65A turret with a twin MG
DTP-64: Repair version - tow bars, welding equipment, 1 ton crane. The DTP-64/M served with mechanized infantry, DTP-64/T with tank units.
OT-64 ZDRAV: (ZDR-64) armoured ambulance.
OT-64A - BPU-1 turret (BRDM-2) with a single 14.5 mm KPVT heavy machine gun and coaxial 7.62 mm PKT coaxial LMG. NATO OT-64C. Sub-variants included turret ATGM mounts, revised turret with higher elevation
VSOT: Unarmed signals and command variants: OT-64/R2 R102, R2 R105, R2 R108, R2M (BPU-1 turret), R3, R3MT, R4MT, R4RT.
OT-93 - Export version with OT-65M/OT-62B turrets, single 7.62mm LMG.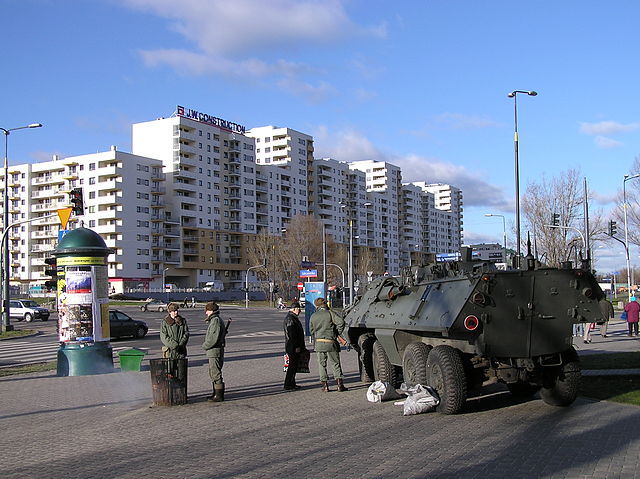 SKOT-1A during reconstruction of Martial law in Poland. Warsaw, 13.12.2007 (in memory of 13.12.1981) Polish SKOT S-260 Inż towing a trailer crossing a tank launched bridge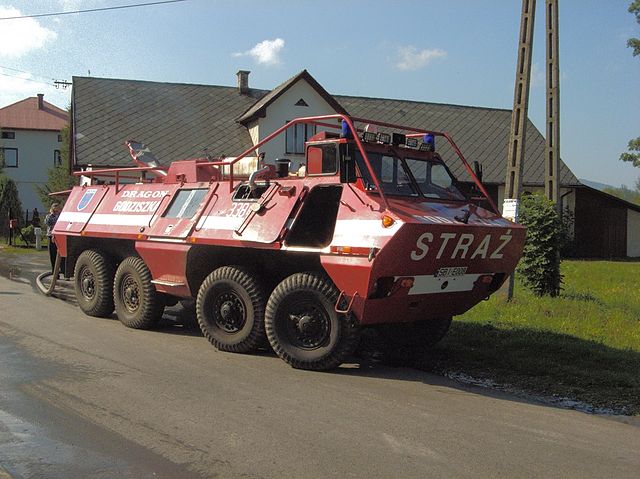 A SKOT today used for firefighting
Polish versions
SKOT-1, basic unarmed APC, or with a KPTV or DShK, same NATO designations.
SKOT-1A: Fitted with a front superstructure and lager 2-piece hatch.
SKOT R-3: Unarmed command version: Rgt. level: 4 radios, radio receiver, microwave radio relay, radiotelephone, 7 crew.
SKOT R-3M: Same for combat engineer units.
SKOT R-3/R-3Z: Modernized radio equipment with second microwave radio relay.
SKOT R-4: Unarmed command vehicle: Division level, 4 radios, 3 radio receivers, 3 radiotelephones.
SKOT-WPT: Technical support vehicle, light crane.
SKOT S-260 Art: Artillery tractor/ammo & squad carrier
SKOT S-260 Inż: Enegineering vehicle. Racks for anti-tank mines, mine layers/mine-clearing.
SKOT-2: SKOT-1A with pintle MG mount. SGMT,PKT or DShK, side plates.
SKOT-2A: BRDM-2 turret, 10 troops. NATO OT-64C.
SKOT 2AM: Turet with 9M14 Malyutka (AT-3 Sagger) ATGM with armour/mesh. NATO OT-64C(1A)
SKOT R-2: Command vehicle (battalion/regiment level) R-112, R-113 and two R-105 radios, 7 crew.
SKOT R-2AM: Unarmed command/FC variant, artillery units.
SKOT R-2M: Signals & command, SKOT-2A's turret.
SKOT R-6: Unarmed signals/command. Sub-variant SKOT-2AP AA WAT turret/14.5 mm HMG & CGS-90 sight. NATO OT-64C(2)
KTO WR-02 "Ryś" (Lynx), Iveco Cursor 8 engine, and "Ryś-2" for export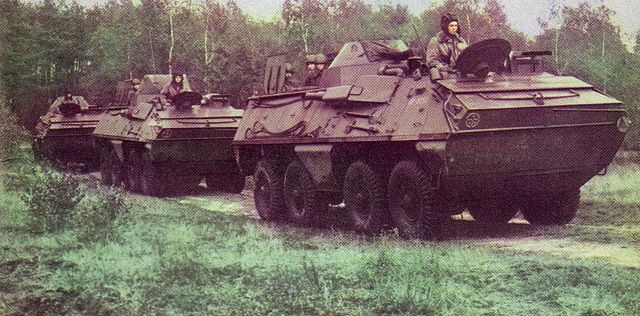 SKOT-2A in exercises
Links/Src
http://www.warwheels.net/OT64apcINDEX.html
https://www.armyrecognition.com/europe/Tchecoslovaquie/vehicules_a_roues/OT-64/OT-64_Tchecoslovaquie_description.htm
https://en.wikipedia.org/wiki/OT-64_SKOT
https://en.topwar.ru/165257-ot-64-skot-bronetransporter-prevzoshedshij-btr-60.html
OT-64 specifications

Dimensions
7.44 x 2.55 x 2.71m ()
Total weight, battle ready
14.5 tons
Crew
2+18/10 (driver, commander+18/10 infantry, including gunner)
Propulsion
Tatra T-928-14 V-8 diesel 177 hp
Suspension
8x8/4x4 Torsion bars
Speed (road)
95 kph/9 kph swimming
Range
720 km (? mi)
Armament
Up to 14.5 mm KPVT +7.62 mm LMG, 4x AT-13 Sagger
Armor
6-13 mm frontal arc (0.35 in)
Total production
4500+ in 1963-1975

Polish OT-64A Skot


This is unlikely an East German OT-64 used in Operation Danube, 1969. More likely the photo used for this interpretation shows a unit symbol and no Polish square symbol.

Czech OT-64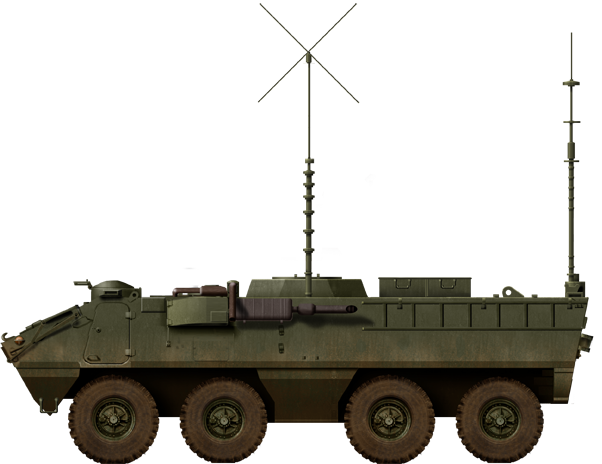 Polish OT-64 R2 (radio version) VSOT

Indian OT-64 in the Indo-Pak war of 1971
(Many more to come)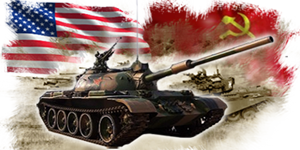 Cold War Tanks



































Cold war tanks posters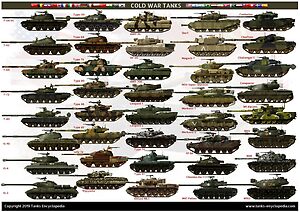 Cold War Main Battle Tanks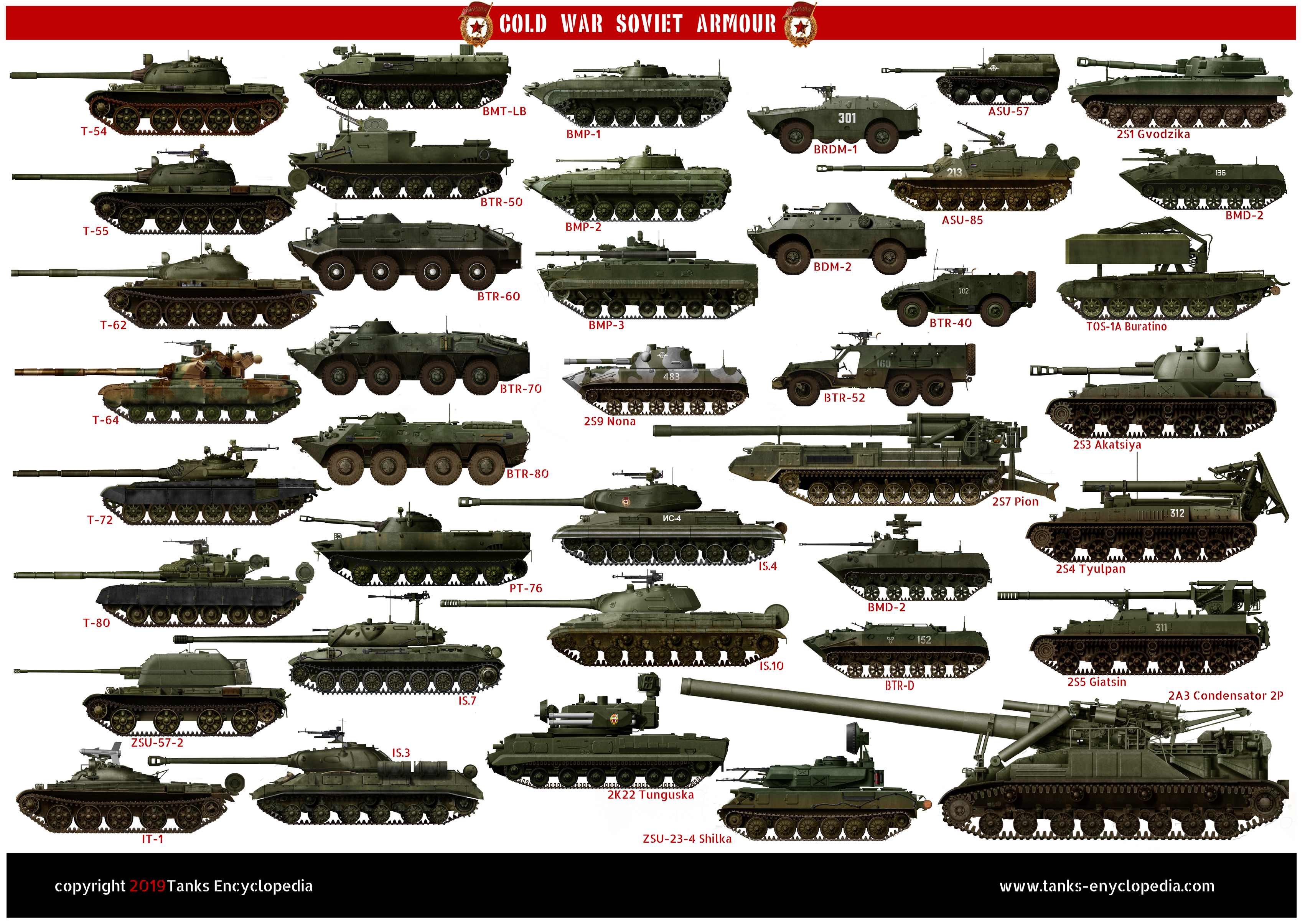 Cold War Soviet Army