Origin of the Bussing armored car
By the fall of 1914 the OHL (Imperial army ordnance bureau) emitted a specification for a new model of a 4WD armored car. Büssing, experienced with heavy duty trucks, proposed a behemoth. Although they lost the bid, the vehicle remains one of the biggest armored vehicles of WWI, and the biggest armored car to date.
About Büssing
The original company was founded by Heinrich Büssing (1843–1929), in Braunschweig in 1903. Its first model was a truck. The company was made famous for its reliable worm drive models, largely exported and built under licence abroad, and later heavy duty trucks with another innovation, a rigid three-axle chassis. It earned, in 1910, a contract based upon an army specification for artillery tractors and supply trailers. By 1914 Büssing was the leading manufacturer of trucks and was well placed in the eyes of the army for all kind of heavy vehicles. In 1914, it was among the three companies selected by the army for the new standard armored car model.
After the war, Büssing diversified its activities towards automobile industry, acquiring the Automobil Fabrik Kornnick AG at Elbing, and later Neue Automobil Gesellschaft (NAG), in 1934, thus becoming the Büssing-NAG company. It was made famous in 1923 introducing the first full-size bus, diesel trucks in 1931-32 and the first underfloor-engined trucks in 1936. During WWII, Büssing once again produced 6 to 8WD armored cars for the Wehrmacht. It also produced trolley buses before and after the war. The company was finally integrated into MAN AG in 1971.
The Büssing armored car design
To respond to the November 1914 OHL specification, the three chosen companies, Büssing, Daimler and Herhardt designed 4WD armored car prototypes for evaluation. Having more experience with trucks than cars, Büssing designed a massive vehicle, sporting as requested a 4WD drive, and propelled by its own standard heavy duty six-cylinder, developing 90 hp (67.14 kW). This was not superfluous given the dimensions of the prototype, nearly 9.5 m long, 2.1 m wide and 3.5 m tall (32x7x11.4 ft).
These dimensions were dictated by two fully operating driver compartments and redundant steering, rear and front, allowing an instant reversal of direction, a solution also rendered mandatory because of its more than generous wheelbase and immense turning radius. The fighting compartment sported no less than eleven hatches for light Mg08 machine-guns, one on each side of the front and rear driver position, four on the sides, four on the central turret side and one on the top for the commander. The crew of ten, was composed of a commander, mechanic, two drivers and six machine-gunners and servants, whom were trained to dismount/remount their weapon on any side which required concentration of firepower.
The Büssing A5P in action
Despite their 4WD drive, the A5P was fitted with four big rim wheels which rendered any off-road drive too bumpy in operations. Moreover, the 3 delivered "armored trucks" lacked speed (only 34 km/h - 21 mph on road), off-road capabilities and handling, due to an overweight and oversized body. This led to the OHL to choose the far more agile Herhardt EV4 instead. However these three machines were too precious to be wasted and pressed into service as the Panzerkraftwagen-Mg-Abteilung 1, which participated in the Romanian 1916 campaign, and soldiered throughout the Eastern campaign in Ukraine in 1917-18. Their fate is unknown.
One of the few known and most famous photos taken of the Büssing A5P
Links about the Büssing A5P
The Büssing A5P on Wikipedia
he Büssing A5P on Landships.
Büssing A5P specifications

Dimensions
9.5 x 2.1 x 3.5 m (31.17x6.89x11.48 ft)
Total weight, battle ready
10.3 tons
Crew
10
Propulsion
6-cylinder Büssing "Otto" petrol, 90 hp (67.14 kW)
Speed
34 km/h (21.1 mph)
Range (road)
240 km (150 mi)
Armament
3 x Mg08/Mg15na 7.92 mm (0.31 in) machine guns
Armor
6-9 mm (0.24-0.35 in)
Total production
3

The colossal symmetrical Bussing A5P as it appeared prior to 1918. There were no less than 11 hatches for the three machine-guns it carried.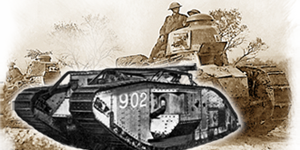 The Great War

Austria-Hungary

Belgium

British Empire

France

German Empire

Italy

Russia

USA
---
WW1 tanks posters