Genesis of a Polish T-72
Poland was one of the three countries to built the
T-72
during the cold war, with USSR and Czechoslovakia. Differences were not obvious but real. In all, Poland manufactured several hundreds of T-72M/M1 at its "Bumar-Łabędy" plant in Gwilice for the export market. After the fall of the USSR, Poland had the need to modernize its own T-72 fleet and also had the industrial capabilities to do so. In 2009 about 580 T-72M1 were in service. Part of this fleet was scheduled for modernization with purely Polish equipments, which gave birth to the PT-91 project. The local T-72M1 was based on the T-72A but upgraded with a 16 mm additional glacis plate. It was also later called T-72M1K (Polish army designation T-72M1D). Previously, Poland also performed successfully a full scale modernization of its obsolete T-55s as the 55AM Mérida.
In 1988 the general staff was convinced that it could embark on a new wave or more radical upgrades, however the project started slowly as it was thought more viable to buy the latest soviet T-72S or
T-80
instead. With the fall of USSR, the whole project was given a new dynamic. Most of the experience came from the T-72M "Wilk"(Wolf), a local upgrade dating back from 1986 in its origin but unveiled in 1989. It was equipped with a Czech-built Kladivo FCS or Polish Mérida in alternative, fitted with a Radomka illumination-free night vision sight, a LIS-Varta night sight, and an Obra laser illumination warning system plus banks of Tellur smoke dischargers and an active protection made of the also local Erawa-1/2 system. Vastly superior to the regular T-72M1, the "Wilk" also helped creating a network of local suppliers, but got no further than a few experimental vehicles.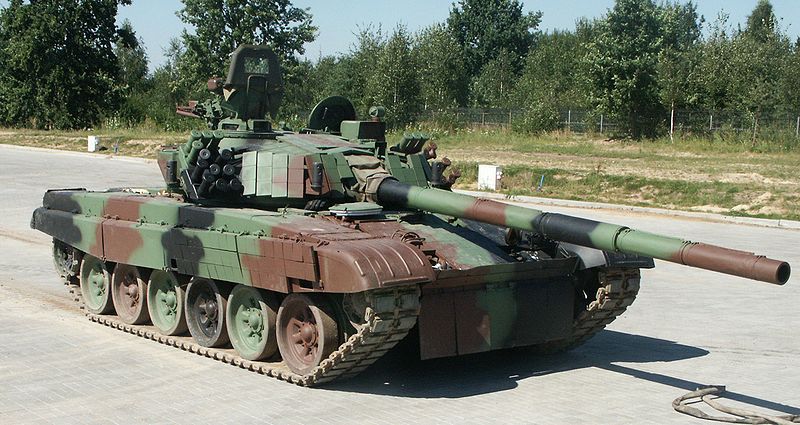 PT-91 at the MSP 009 military exhibition
Development of the Twardy
The PT-91 was studied right after the fall of USSR, in July 1991, in the newly constituted OBRUM (Ośrodek Badawczo-Rozwojowy Urządzeń Mechanicznych or "Research and Development Centre for Mechanical Appliances"), and largely capitalized on the cancelled Wilk. Almost every critical component was modified but the original hull construction (still with the additional appliqué glacis plate of the Wilk), drivetrain and suspension units. Eventually, the first prototype was delivered by the Bumar Łabędy company (part of the Bumar Group, military consortium) in 1992, followed by a preserie of 20 units in 1993. Deficiencies of the T-72M were pointed out, without complacency by the general staff towards western tanks. Limited mobility, insufficient armour, primitive fire control system, perfectible night vision systems and poor accuracy due to the mediocre stabilisation system of the main gun. Eventually the PT-91 Twardy entered service in 1995. From that date until 2009 around 285 were built, including the export sub-variant PT-91M Pendekar for Malaysia. Many components developed and built by Poland also served to modernize foreign MBTs, the Czech T-72M4Cz, Georgian T-72SIM-1 and Indian T-72 Ajeya Mk2. "Twardy" means "hard","tough" or "resilient".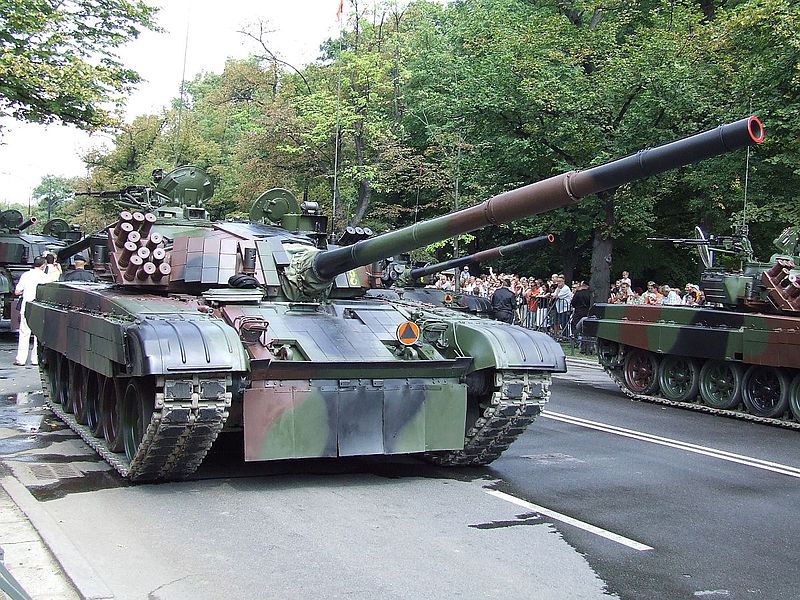 PT-91 in Warsaw
Design
Mobility
The PT-91 Twardy is equipped with a Polish-built PZL Wola S-12U diesel giving 850 hp (634 kW) instead of the original 780 of the original V46-6, manly thanks to a new fuel and air injection system, confering a power/weight of 18.5 hp/tonne (13.8 kW/tonne), and coupled with a manual transmission. This power was transferred on torsion-bar suspensions. The PT-91 had a ground clearance of 39 cm, and a fuel capacity of 1,000 Liters which gave an operational range of 650 km and 700 km with the rear extra fuel tanks. Top speed was established to 60 km/h on flat and around 40 kph cross-country. Field performances showed it could climb a 60% gradient,stay stable on a 50% side slope, climb a vertical step of 0.85 m, gap a trench 2.8 m wide, ford 1.4 m of water without preparation or 5 m with full preparation and snorkel mounted. Towards the end of the production batches in 2000-2002, the PT-91 received a new 1,000 hp S-1000 engine, coupled with a turbocharger. Estimated top speed is around 70-75 kph.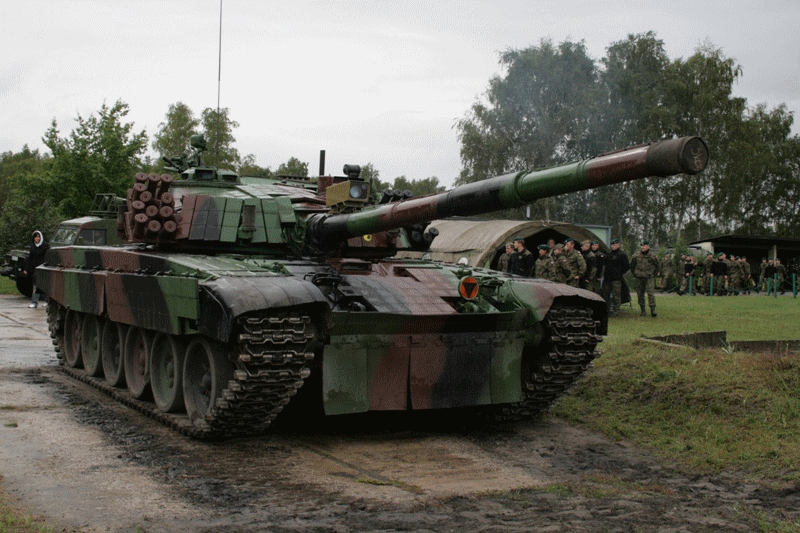 PT-91 of the Warsaw brigade
Protection
The base of it is laminated steel welded RHA and composite armour front and side armor. The turret is given the original "Dolly Parton" configuration. In addition the front, side and top armor behind receive the Erawa-1/Erawa-2 ERA, and steel side anti-cumulative screens. 108 tiles are placed on the turret, 118 on the hull and 84 on each side's HEAT protective rubber screen. The Erawa was developed to correct the deficiencies of the Kontakt-1 ERA system. The bricks are smaller and attached from the back plate rather than from side bolts, henceforth eliminating any gaps between them. In all they represented a total of 394 explosive reactive armor blocks, covering around 9m2 of the total surface of the tank, and potentially improve the overall protection by 30-70%.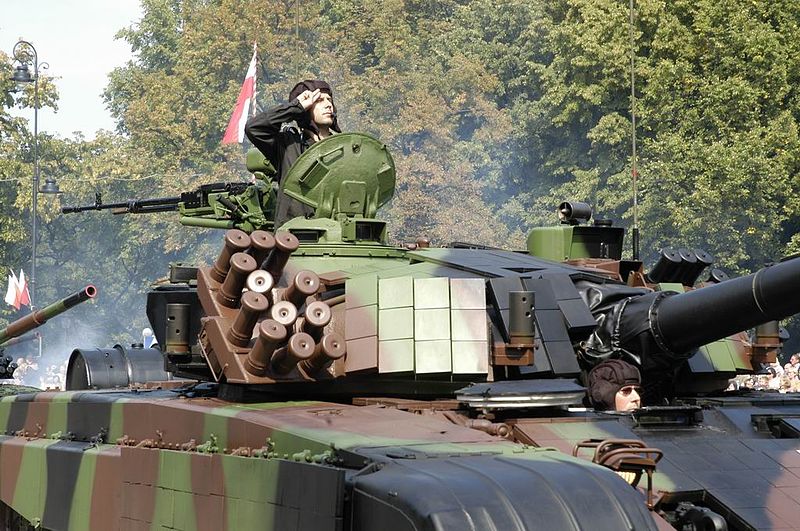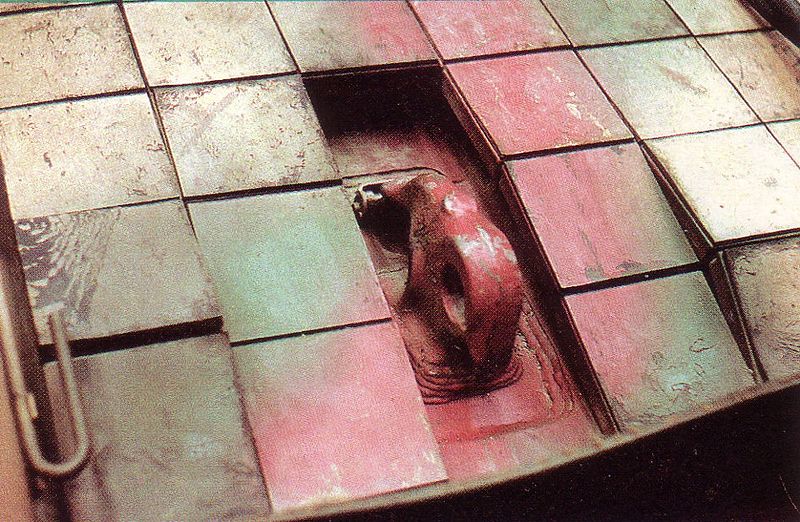 Detail of the ERAWA Explosive Reactive Armour
However it was shown deficient against western 120 mm APFSDS fired from 2000m. Active protection also rested on two banks of twelve smoke grenade launchers each firing laser and thermal signature decoys, helping concealment or anti-personnel frag grenades. There is of course a collective BNC system, and other equipments includes a Halon 1301 fire suppression system. As an extra measure the original T-72M system allowing gushing diesel on the hot exhaust to create a massive smoke is retained.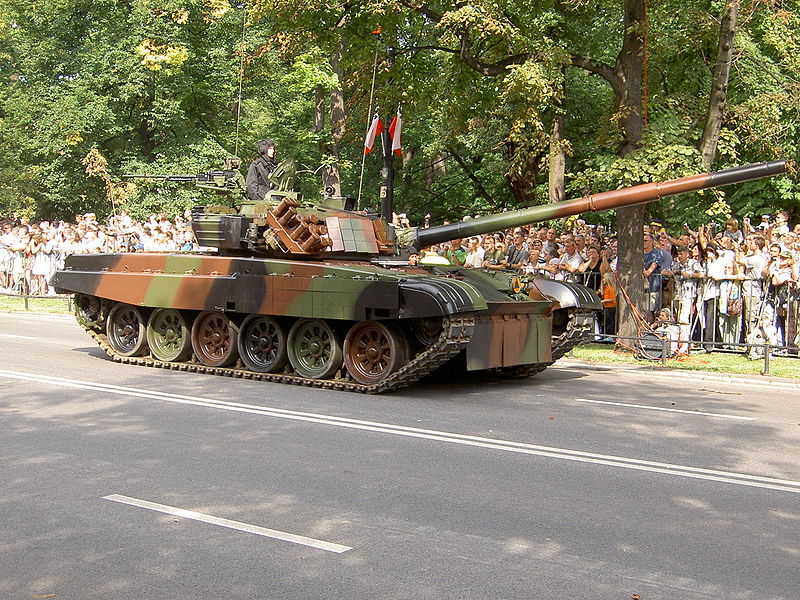 PT-91 Twardy
Firepower
The main gun is also licence-built in Poland, a 125 mm smoothbore 2A46M with 42 rounds in store, including 22 in a carousel.The mantlet allows a depression/elevation range of -6 to +13 degrees. The autoloader is completely modified and Polish-built, slightly increasing the reloading speed. The rate of fire is 8 to 10 rounds per minute. The secondary armament comprised at the origin a Polish licence-built Russian NSVT heavy machine gun (300 rounds) and later an American cal.50 M2HB Browning 12.7 mm heavy machine gun on the roof, mounted on a partial remote system on some prototypes as well as the Malay Pendekar version, and a coaxial 7.62mm PKT general-purpose machine gun (2,000 rounds).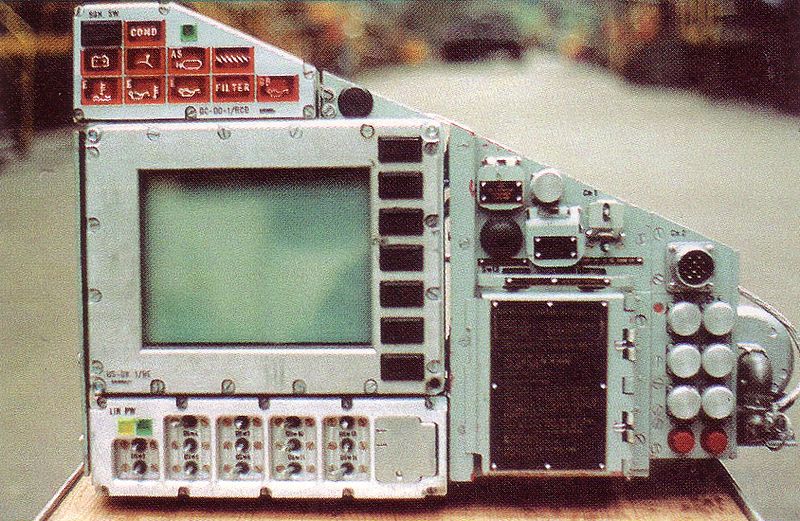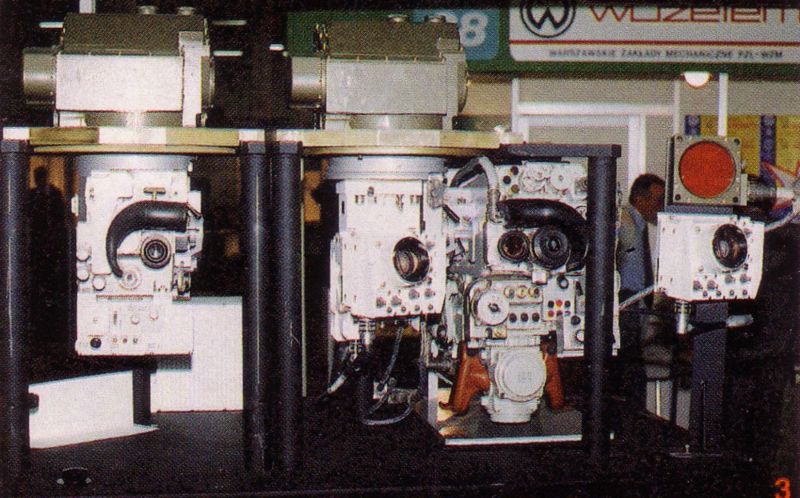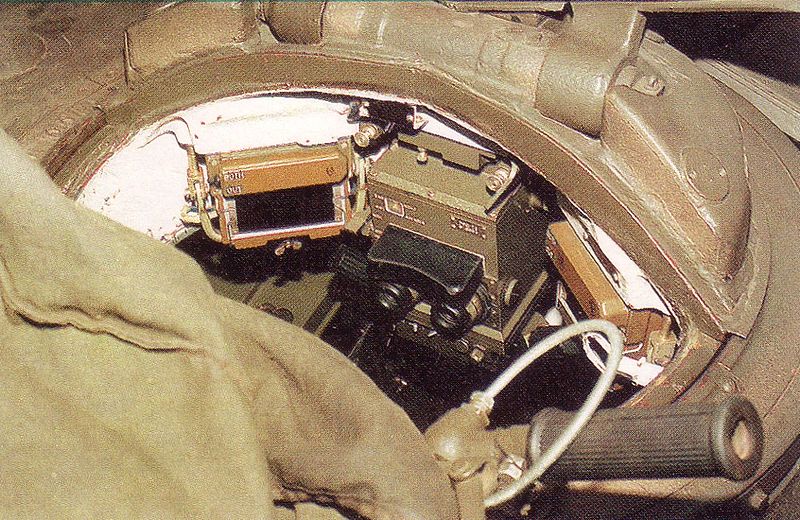 Driver control panel, Drawa fire control system, TC sight.
Equipments
The original Russian FCS comprising the 2Є28M dual-plane stabilizer was replaced by a new one developed in Slovakia. There is a US-DK-1 electronic display showing the tank's technical condition, and wind sensor detecting cross winds for the TC and gunner. In addition the Drawa fire control system is mounted, with a Polish PCD day sight, Israeli TES Thermal Elbow Sight, Polish aiming sight POD-72, laser rangefinder and data management system coupled with the ballistic computer laying the gun. The driver is given the passive night Radomka sight. There is also a PCO SSC-1 Obra-1 laser-warning system.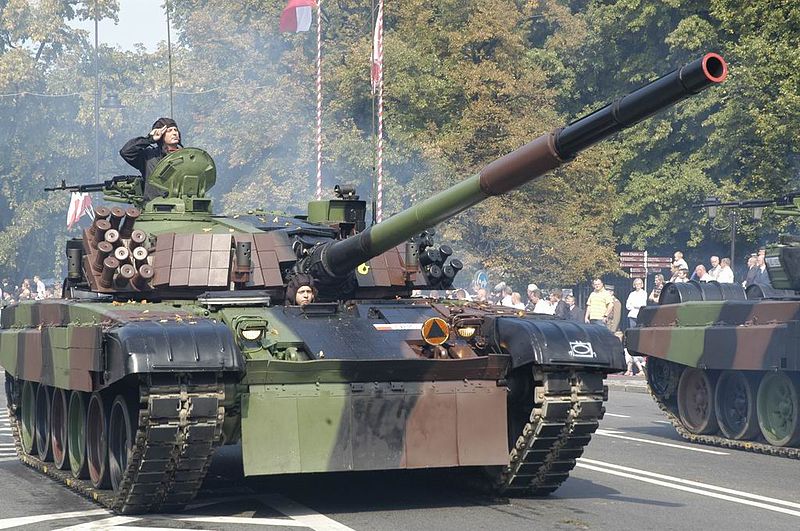 PT-91 in Warsaw 2008 parade
Variants
PT-91 Twardy
The regular Polish army version. In all 233 were built in several batches from 1993 to 2002. The production peak was attained in 1995 with 58 tanks. In 2002, the PT-91A was developed, with a new 1000 hp powerplant, mechanical transmission and other minor improvements. The few tanks so modified serve as demonstrators and testbeds.
The PT-91M Pendekar (2006)
The latest iteration of the Twardy, tailored for the export market and the Malaysian army needs. It was developed from the PT-91Z and PT-91E and venetually helped secured the contract. Main differences comprised the PZL-Wola S-1000R diesel (1,000 hp/735 kW) giving a 20.6 hp/t (16 kW/t) power-to-weight ratio coupled with the Leclerc's Automatic Renk/SESM ESM-350M transmission and the Sagem Savan-15 panoramic sight, laser gyro inertial navigation system and Thalese com set, Obra-3 laser warning system, ERAWA-2 ERA and new German tracks. It was given the ERAWA-2 ERA set for protection, ZTS 2A46MS 125 smoothbore main gun, 7.62 mm FN MAG coax GMPG, and a manual/remote 12.7 mm Browning M2HB cal.50 as armament. So far, 48 MBTs were produced from 2007 to 2009.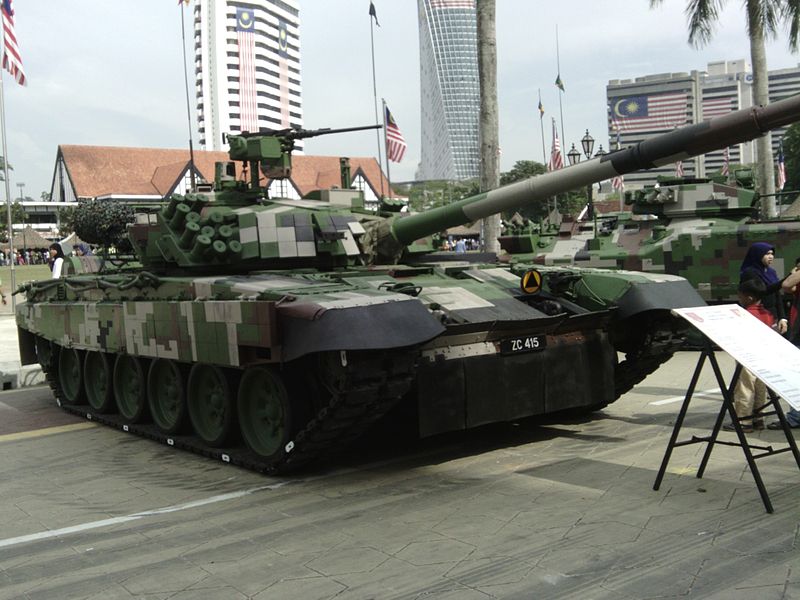 Malay PT-91M Pendekar
Prototypes
: Fully modernized prototype with SAGEM Savan-15 fire control system.
: Derived from the PT-91M for further exports. Two demonstrators built.
: Cheaper demonstrator built for specs of the Peruvian market (Peru '2009 military exhibition).
: Urban combat demonstrator built for MSPO 2011 military exhibition, fitted with a full kit. Remote controlled cal.50, 8 day-night cameras, passive 26x mag rotative camera, bar + add-on armour, new com set.
PT-91 EX (export demonstrator)
Derivatives
Based on the same chassis or apparented were a serie of specialized vehicles. The more prolific was the WZT-3 of which hundreds were exported. The latter called Wóz
Zabezpieczenia Technicznego
"Technical Support Vehicle" is the main Polish ARV, serving the whole fleet of T-72s. It is armed with a 12.7 mm served by the commander, 2x12 smoke/frag mortars and a 15-ton telescopic jib, dozer blade, and 2 winches.
WZT-3. Base vehicle, 20 produced for the Polish Army (T-72M chassis)
WZT-3M. Enhanced vehicle (PT-91 chassis), 9 built, 20 former converted to this standard
M-84AI. Yugoslavian licence-built variant based on the M84A. 15 exported to Kuweit
ARV-3. Indian t-72-based chassis licenced variant. 352 built.
WZT-4. The Malay version based on the PT-91M chassis (6 delivered).
MID Bizon-S CEV. Polish version: 8, Malay version MID-M: 3
PMC Bridgelayer based on the PT-91: Leguan (5 for malaysia))
MG-20 Daglezja-G. Tracked bridge system based on a lenghtened T-72 chassis with the MLC-70 bridge system.
PZA Loara. SPAAG version based on the PT-91 chassis. Only 3 built.
SJ-09 crew training vehicle, with common elements between the T-72M and PT-91
PT-94 Goryl (Gorilla) possible PT-91 successor. Cancelled.
PT-97 Gepard (Cheetah). Another project successor of the PT-91. Never built.
Krab. Standard 155 mm SPG of the Polish Army. Use the AS-90M Braveheart turret under licence.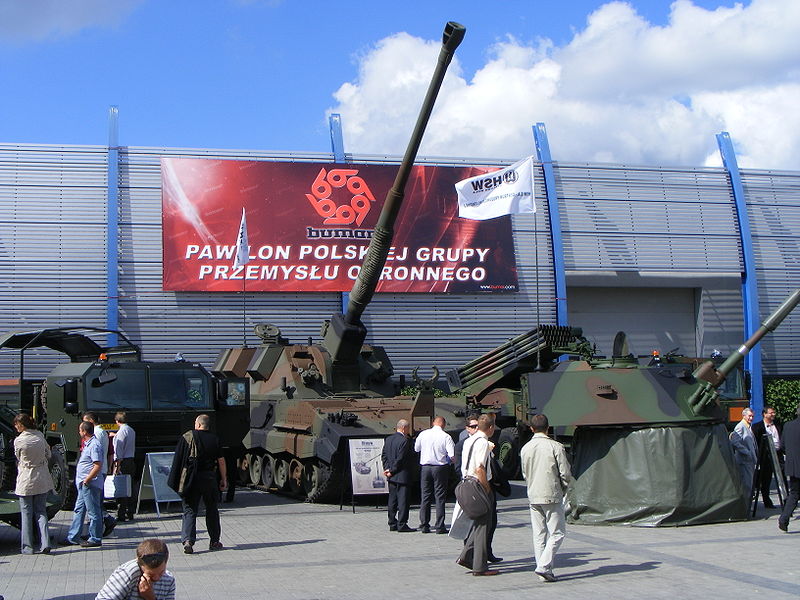 Krab 155 mm Howitzer at MPSO 08 military exhibition
The PT-91 Twardy in service
In 1995, this MBT was probably the most advanced version of the T-72 worldwide. 232 tanks (without the prototype) were in service from 1995 to this day, and nowadays, the Polish Army retains its older T-72Ms, and the PT-91 equipped the best military units. In turn, the
Leopard 2A4 and 2A5 tanks
replaced them, and the PT-91 replaced themselves the former units equipped with the T-72Ms, now all retired. Units were the 10th Armored Cavalry Brigade, 15th Armored Cavalry Brigade, 17th Mechanized Brigade and 34th Armored Cavalry Brigade. Now these are the 1st Armored Brigade (Warsaw district), 2nd Mechanized Brigade in Złocieniec, 9th Armored Cavalry Brigade (two battalions) in Braniewo, and the Land Forces Training Center based in Poznań. Back in the early 2000s the typical PT-91 batallion comprised 53 tanks (4 frontline companies with 13 vehicles each, 4 platoons, 1 Company commander). In addition to these effectives there are 38 support vehicles based on the same chassis, comprising 29 WZT-3M ARVs, 8 MID CEV and 1 PZA Loara SPAAG.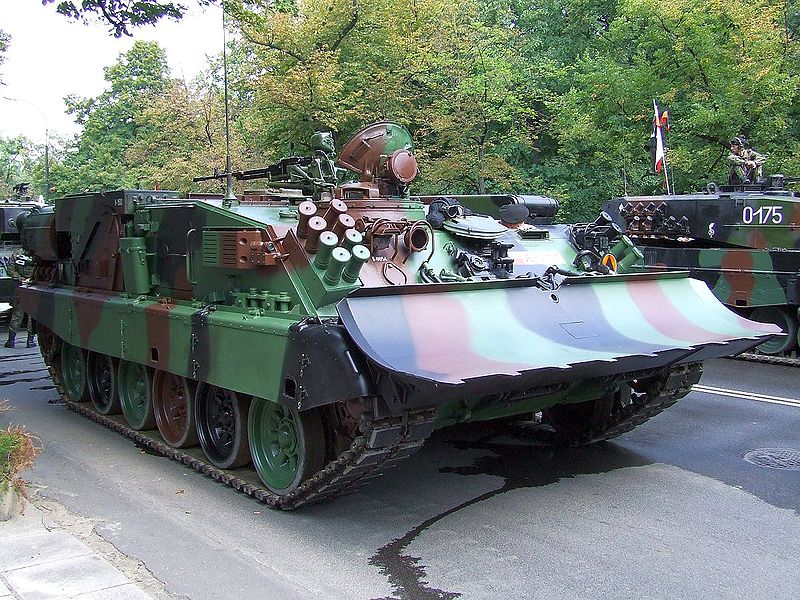 WZT-3M ARV
Links
The PT-91 on Wikipedia
Twardy gallery on military-today
PT-91 twardy specifications

Dimensions (l-w-h):
6.95(9.67oa) x 3.59 x 2.19 m ( in)
Total weight, battle ready:
45,9 Tons (??? ibs)
Crew :
3 (Driver, Gunner, Commander)
Propulsion:
PZL-Wola S-12U diesel 850 hp - 18.5 hp/t
Suspensions:
Torsion arms
Top Speed
60 kph (40 mph) 35-40 kph off-road
Range (road)/Fuel
650 km (xxx mi) 700 with ext FT/1000L
Armament (see notes)
125 mm 2A46M (D-81TM) gun (42 rounds) 12.7 mm NSVT HMG (300 rounds) 7.62mm PKT coax GMPG (2,000 rounds)
Armour
Total Production (PT-91 twardy)
233
PT-91 Twardy Gallery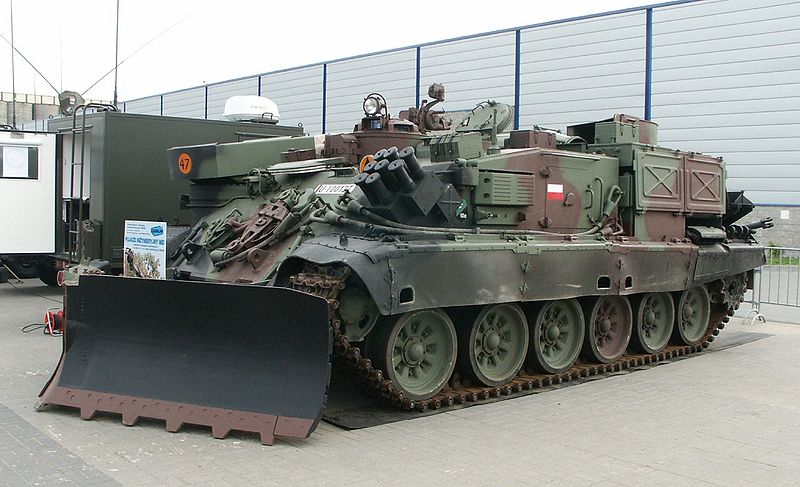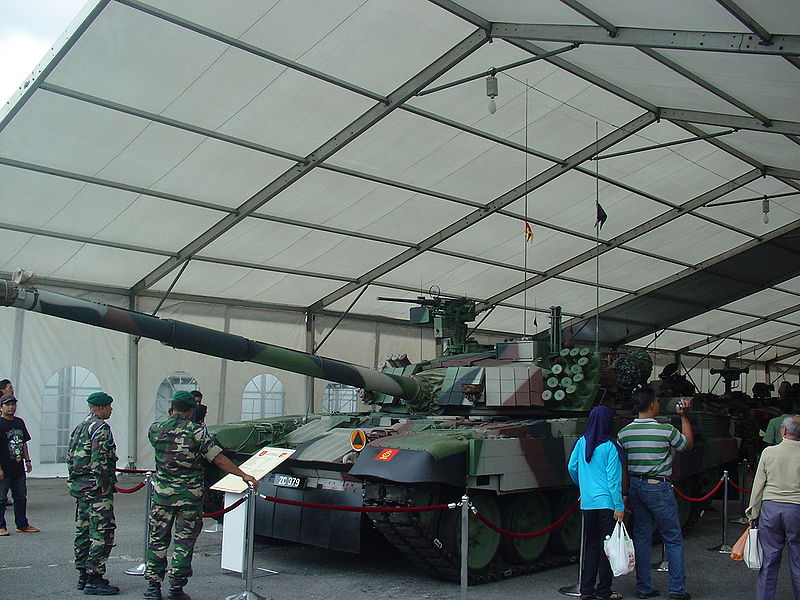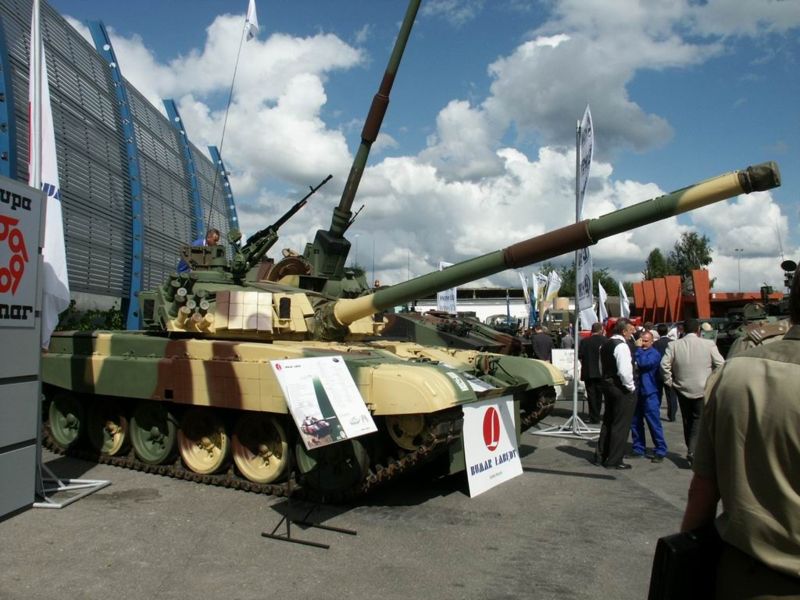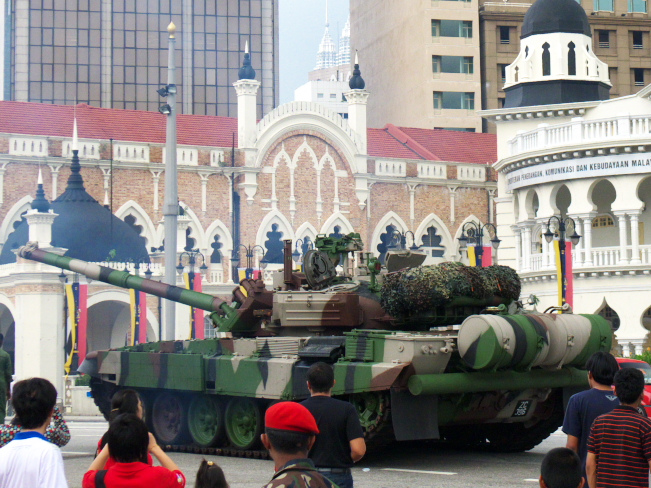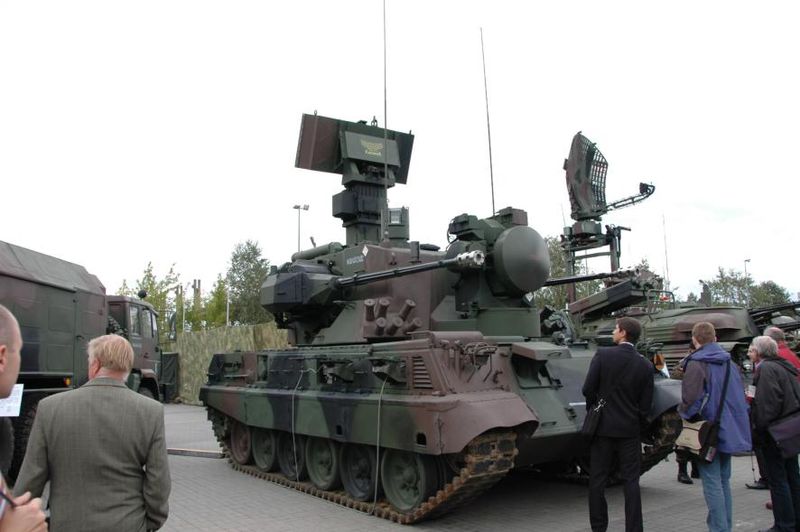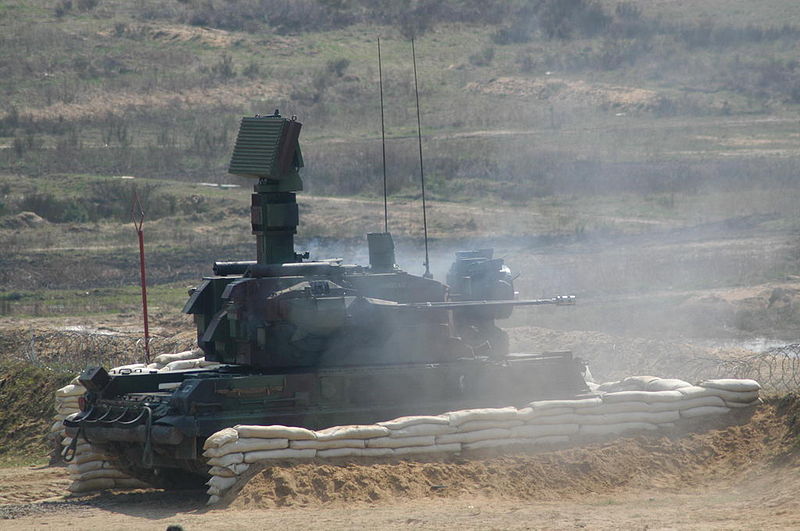 Polish licence-built T-72A in the early 1980s

Polish licence-built and locally modified T-72M1

Experimental T-72M1 "Wilk" (1986)

Early PT-91 Twardy, standard NATO camouflage.

PT-91 Twardy, summer or autumn camouflage.

Late PT-91, NATO camouflage

Late PT-91M Pendekar of the Malay army with a digital "jungle" camouflage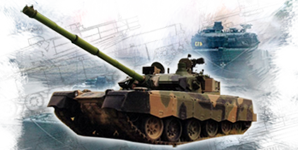 Modern Tanks
---
Modern MBTs posters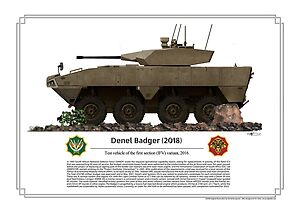 Denel Bagder (2018)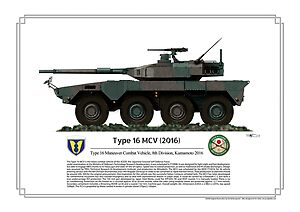 Type 16 MCV (2016)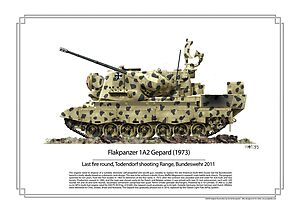 Gepard 1A2 last rounds 2011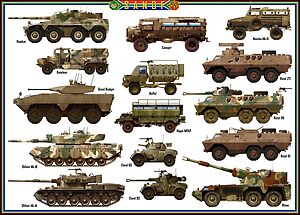 SANDF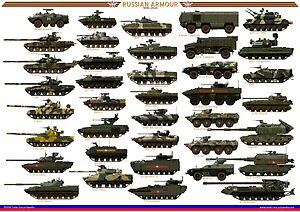 Russian AFVs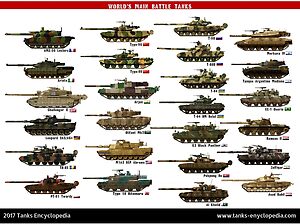 Main Battle Tanks