The Pakistani M113P, modernized, or not ?
Pakistan was a prolific user of the the American M113, virtually the most common tracked APC in the world, with about 75 users, current or former, and hundreds of variants an derivatives. The "M113P" is one of these. Pakistan received some 1,600 M113 APCs over the years, including original US-built M113A1/A2 As of today, perhaps 200 in all. In addition to the basic APC (called Saad), Pakistan also operates the Talha, another APC variant, and based on it, the Sakb command vehicle and the Maaz, a Tank destroyer using the Baktar Shikan ATGM, or the Mooz with the RBS-70 ATGM. We are going to study all these in this post.
The M113 in Pakistani service
The list of APCs currently in service would be around 60,000 for the highest estimates (https://defence.pk). This source gives:
-Hamza Infantry Fighting Vehicle (unknown, close to )
-Al-Fahd Infantry fighting vehicle (unknown, close to )
-Talha Armoured Personnel Carrier (Around 2,000)
-Sa'ad Armoured Personnel Carrier (Current production)
-M113 Armoured Personnel Carrier (1,600)
-BTR-70/BTR-80 Armoured Personnel Carrier (720)
-Mohafiz Light Armoured Personnel Carrier (unknown, close to )
-Otokar Akrep Light Jeep (1,260)
-Al Qaswa Logistical Vehicle (500, current order)
-M88 ARV Armoured Recovery Vehicle (unknown, close to )
-Humvee (1,730)
-VAB (1000)
https://defence.pk/pdf/threads/pakistan-army-apc-inventory.87330/page-4
The Pakistani M113
The M113A1/A2 was rebuilt at HRF (M) back to its original manufacturer's specifications. It allegedly more economical than buying new vehicles, notably with the Ukrainian powerpack, but fundamentally there is no change. The M113A2 MK-1 had been the subject of an economical upgrade with an improved cooling system, greater mobility, better ride characteristics with an improved suspension system. The M113 A2 MK variant had a 265 HP Detroit Diesel Corporation (DDC) 6V53T turbocharged diesel engine. It is alternative to the original DDC 6V53 212 HP engine. It is coupled with a modern Allison TX 100 1A transmission. Also external fuel tanks are placed at the back, and additional bolt-on armor is optional.
M113A2 BAR armor
Talha APC
Iraqi Al Talha
Saad APC
Pakistani VCC-1 ?
The Italian
VCC Camilino
was designed on the basis of regular M113 of which more than 4,000 were produced by OTO Melara in La Spezia, under license. The Italian Army wanted an improved version, and thus, after the delivery of a prototype in 1981, the serie started in 1982 and over 800 were delivered to the Regia Esercito. It featured sloped armour on the rear sides and add-on armour. In addition to 600 made for the Italian army, 200 were converted with TOWs for Saudi Arabia. However no source ever mentioned Pakistan as a user of the VCC-1 so the wikipedia entry on that is only substantiated by "Legislatura 16ª - Aula - Resoconto stenografico della seduta n. 860 del 16/01/2013". from the Italian senate (16 January 2013, Retrieved August 2018) and "Legislatura 17ª - Dossier n. 248". 24 August 2018. No other of the 8 updtated and trusted sources, and the Pakistani Army official site themselves.
The M113P Talha: Development and design
The APC 'TALHA' was designed and manufactured by the Pakistani HIT Factory. It is derived from the M113 and the design is strongly influenced by the Italian VCC, so it's perhaps the source of the confusion there. but its basic armament stays the same 12.7 mm heavy machine gun. The choice of external fuel tanks enhanced survivability. Several types of bolt-on armour could be added to increase armour protection.
The Talha was the first 100% Pakistani developed armored personnel carrier, using the chassis of the US M113 APC but it a new hull, stronger and thicker. Pakistan chose to developed its own design in attempt to get a cheaper locally-built APC rather than purchasing upgraded vehicles such as the YPR-765. It can carry 11 fully equipped troops, with two firing ports from either sloped side. While troops enter and leave via the same rear ramp as the regular M113, with the same ten roadheels chassis. Iraq ordered 44 of these.
Propulsion
The Engine compartment accommodate either a 275 hp Detroit Diesel 6V53T engine or Ukrainian sourced 330 hp UTD-20 diesel. It is fully amphibious without any preparation. Some flexibility was given in the Engine compartment to accommodate the orginal 212 HP powerpack or a 275 HP Detroit Diesel 6V53/T turbocharged engine. The TALHA keeps the advantages of the initial vehicle, air-transportable and amphibious.
Its Dimensions are for the length 236.5 inches (6.09m), Width: 100 inches (2.54m), Height (without Gunner Shield) 73 inches (1.85 m). Surface area of the roof and sloped glacis were 28.97 m2. Its weight, Combat Loaded was 15.5 ton with add on Armour ans the curb weight was of 11.5 ton.
It could carry 15 men in all, including the Driver, and from the platoon, the commander and gunner. Basic performance was 72 Kph on a gross HP to Combat Weight Ratio of 26.32 HP/ton.
The vehicle has final drive suspension system, Torsion bars, with 6 roadwheels on each side. The APU alternative voltage is 26.5-28 V, 200 amperes for the batteries (2 x 100 AH, 24). The vehicle is capable of negociating a slope at 30% gradient. Side Slope Negotiation is possible up to 60 %. Its basic Protection relied on a hardened aluminium armour of the 5083 series providing a STANAG 3 level, plus add on Armour and an NBC KIT.
Variants
Sakb armored command variant
-Saad armored personnel carrier (more powerful engine, extended hull, better protection, 14.5 mm KPVT heavy machine gun.
-Mouz anti-tank guided missile carrier with RBS-70 missiles.
-Maaz anti-tank guided missile carrier with Baktar Shikan missiles.
-Al Hamza infantry fighting vehicle with a 25 mm cannon turret.
-Sakb command post vehicle.
-Muhafiz internal security vehicle.
-Al Hadeed armored recovery vehicle, with a crane and hydraulic winch.
-Al Qaswa armored logistics vehicle, carrying fuel, ammunition and supplies.
Al Qaswa:
To come
SAAD
The SAAD has been designed and manufactured by Heavy Industries Taxila (HIT) with an engine compartment that can accommodate a German 408 hp Deutz Power Pack, coupled with an Allison Automatic Transmission TX 200-5C. It stays amphibious, and has the same standard 12.7 mm M2HB HMG plus its six firing ports, external fuel tanks at the back and fixations for additional bolt-on armour. Top speed 72 kmph on flat, 30 kmph speed on a 10% slope. Optional NBC Kit and Air Conditioning System. Some modularity authorized to the used as a weapon carrier platform and to carry Anti an aircraft or anti tank missile system.
Production was scheduled in 2008, then delayed to 2009. Contrary to the Talha it had a longer chassis with six road wheels on either side, for better payload. In alternative it can use a MTU 6V TE20 V-6 diesel developing 350/400 hp coupled to a German ZF LSG 1000 automatic transmission. HIT has recently developed next generation APC Saad with a 350-400 Horse Power engine, which conforms to the dictates of future battlefield environments.
Variants
-The Mouz is a Talha based APC Carrying RBS-70 Weapon System along with its crew of 4 persons. -The Maaz is a Talha based APC carrying Baktar Shikan Weapon System along with its crew of 4 persons. -Logistic Vehicle 'Al-Qaswa' It is one of the variant of APC capable of enhancing the logistic support to operational echelons. It can be used for carrying fuel, ration, ammunition and supplies across all types of terrain. The vehicle platform can also be used for other adaptations such as weapon station, refrigeration unit, radar, ambulance, etc. -Infantry Fighting Vehicle 'Al-Hamza': This vehicle has been developed with a Chinese one-man turret and 25 mm cannon. -Recovery Vehicle 'Al-Hadeed': Maintenance / recovery vehicle is a Talha APC that has been modified by installing a crane which can lift and place heavy loads. It also has a hydraulic winch with a fair lead assembly for retrieving disabled vehicles. A crew of three can operate the vehicle and its equipment. It has mini workshop including lathe, welding plant, compressor, grinder, battery charger, towing and illumination equipment.
Saad APC
(To come)
Sakb ACV
(Ro come)
Maaz Armoured ATGM carriers
(To come) Pakistan also uses 24 M901 ITV, another M113 variant of tank destroyer, using the BGM-71 TOW.
https://defence.pk/pdf/threads/pakistan-army-apc-inventory.87330/
https://www.defencetalk.com/military/forums/t/pakistan-develops-apc-variants-integrated-battlefield-management-system.2980/
http://urbanpk.com/pakdef/pakmilitary/army/tanks/qaswa.html
https://en.wikipedia.org/wiki/APC_Talha
https://en.wikipedia.org/wiki/M113_armored_personnel_carrier
https://en.wikipedia.org/wiki/Variants_of_the_M113_armored_personnel_carrier#Italy
https://en.wikipedia.org/wiki/List_of_equipment_of_the_Pakistan_Army
https://defence.pk/pdf/threads/pakistan-army-apc-inventory.87330/page-4
https://www.pakistanarmy.gov.pk/
http://www.military-today.com/apc/talha.htm
https://www.globalsecurity.org/military/world/pakistan/m113.htm
https://www.globalsecurity.org/military/world/pakistan/saad.htm
Specifications

Dimensions
5.55 x 2.54 x 2.6 m
Total weight, battle ready
10.6 cb, 12.5 tons combat ready
Crew
15 (driver, cdr, 13 troop)
Propulsion
272/330 hp Detroit Diesel/KMDB UTD-20
Suspension
5 torsion bars, 4 hydraulic dampers
Speed (road)
40 km/h flat
Range
320 miles, 510 km
Armament
M2HB HMG, 8 smoke dischargers
Armor
STANAG 3 Aluminium (5083 series)
Total production
Unknown - current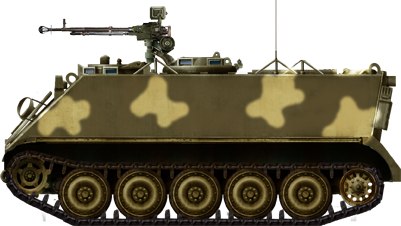 Pakistani M113A1, brown patch camouglage, notice the KPVT machine gun, uniquely Pakistani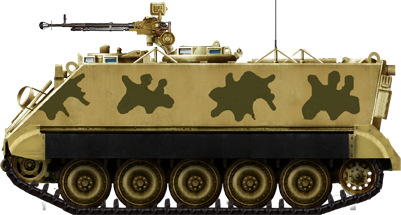 Pakistani M113A1, desert patch camouflage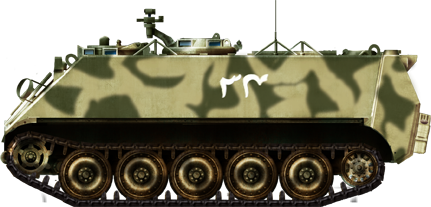 M113A2 with addon camouflage on an olive green basis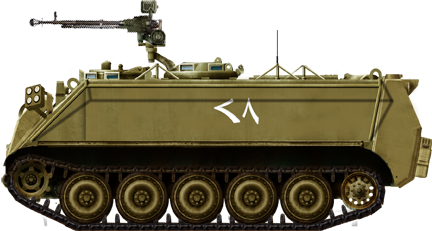 Pakistani M113A2 with add-on armour
M113A2 with RBS-70 and special camouflage
M113A2 with BAR armor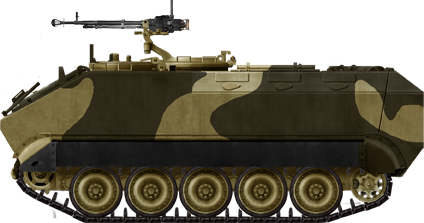 M113 Al Talha APC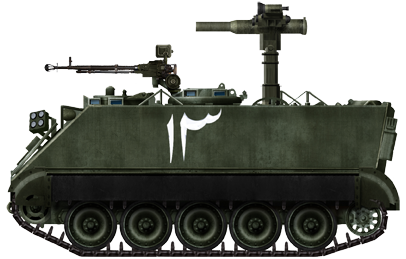 Pakistani M113A2 HOT for comparison
Pakistani Sakb ACV (to come)
Pakistani M113P Talha Mooz (RBS-70 launcher version) (to come)

Pakistani Saad APC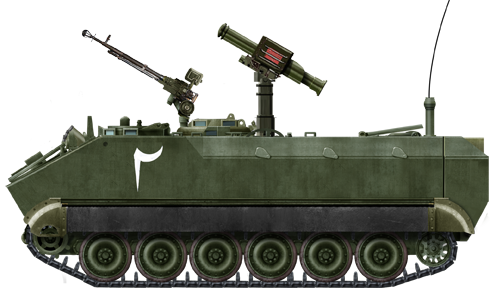 Pakistani Saad anti-tank guided missile carrier variant. It was derived into the Al-Hadeed Armoured recovery vehicle and the Al-Hamza Infantry fighting vehicle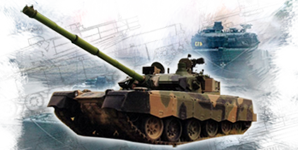 Modern Tanks
---
Modern MBTs posters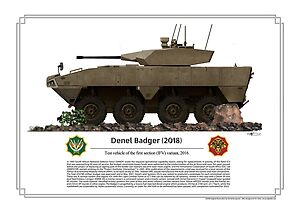 Denel Bagder (2018)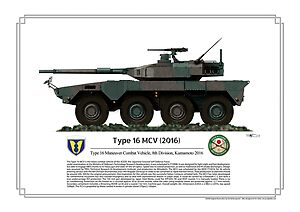 Type 16 MCV (2016)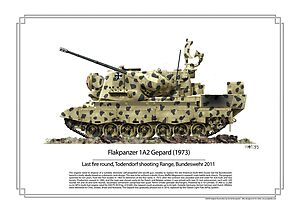 Gepard 1A2 last rounds 2011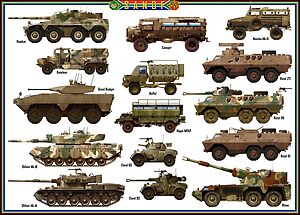 SANDF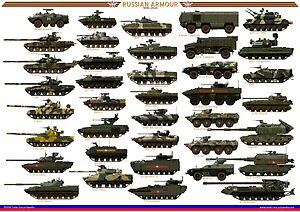 Russian AFVs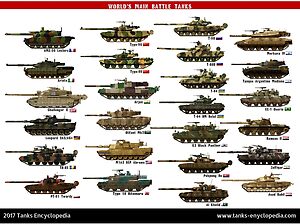 Main Battle Tanks