The French light armored scout
The jack-of-all-trades of the French Army recce forces today is the VBL. It stands for "Véhicule Blindé Léger" literally "Light Armoured Vehicle". First specifications came in 1985, development was approved in 1987, handed over the by the trusted Panhard General Defence group (formerly Panhard). The specifications were to provide the Army with a vehicle featuring the same kind of speed and agility than the VLTT (Peugeot P4) already in service (a license-built version of the Mercedes-Benz G-Class) since 1980. The VLTT could be used in a variety of missions but left the crew unprotected.
So the new vehicle was to be bulletproof, shrapnel-protected, but also fully amphibious, NBC-protected, mine-resistant, and to be air-droppable. Since 1990 and its acceptance for service, the VBL had been produced by the thousands, declined into 10 versions and exported to 19 countries.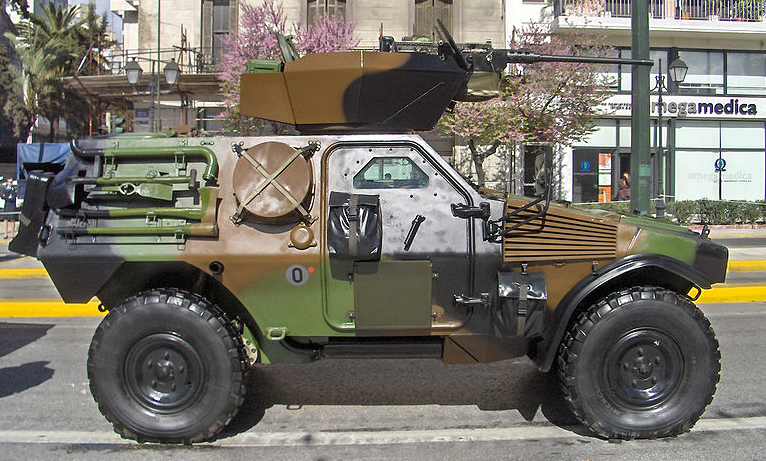 Design of the VBL
The VBL is a short and very compact vehicle (only 3.80 m long), the hull displaying almost no overhangs, and massive wheels to ease the ground pressure. Being roughly two meters wide, it could accommodate a crew of 2-3, including the driver and co-driver or commander at the front, and a gunner behind, seated in an open cupola hatch that can be sealed off. The hull is made of welded cold RHA, with sloped sides, ranging from 4 to 11.5 mm (front) thick or NATO's STANAG level 1 (protection against 7.62x51 NATO rounds and shrapnel). Access was provided by two side doors each with an armored glass window, and a rear door to provide easy access to the gunner and storage. However, the gunner could also just climb in through one of the two hatches or his gun mount opening.
The engine was a Peugeot XD3T 4-cylinder turbo-diesel giving 95 hp to 105 hp (70 kW) at 4250 rpm. It was served by a German license-built ZF automatic transmission with 3 forward and 1 reverse gears. Suspensions combined shock absorbers and coil springs and the ground clearance was 35 cm. The sides and rear had open cases and fasteners for extra diesel jerrycans, but the normal range was of 600 km, extended to 1000 km with the extra fuel. There was also a rolled steel cable and tooling. Other equipment and ammunition were stored inside the vehicle.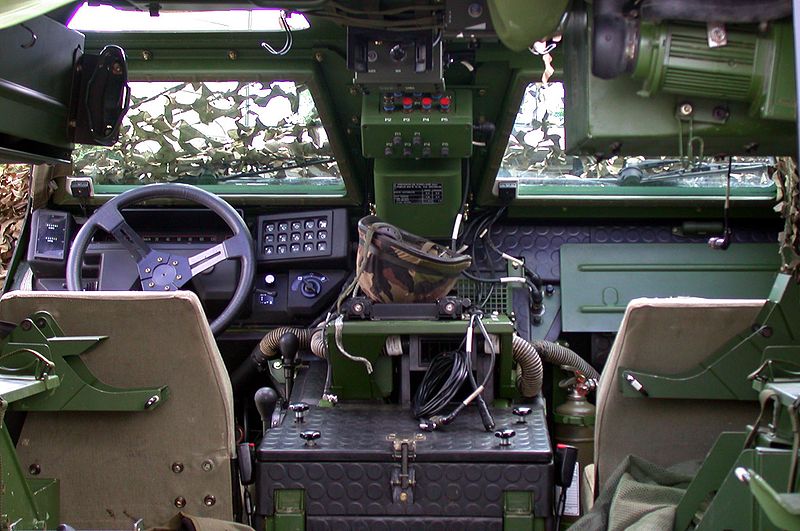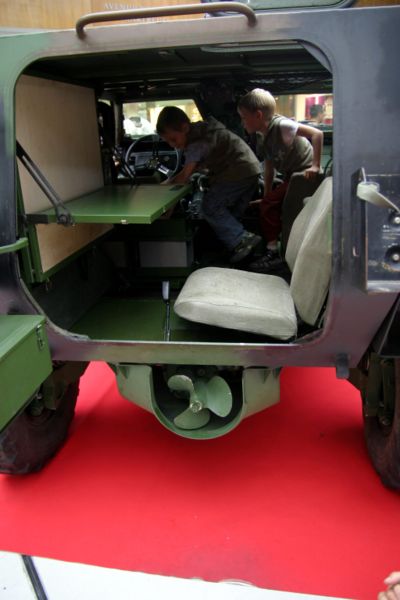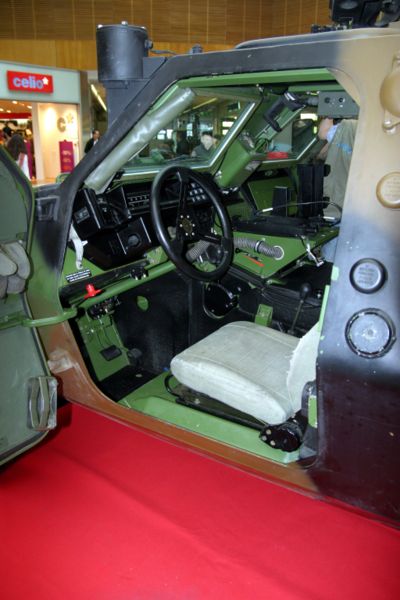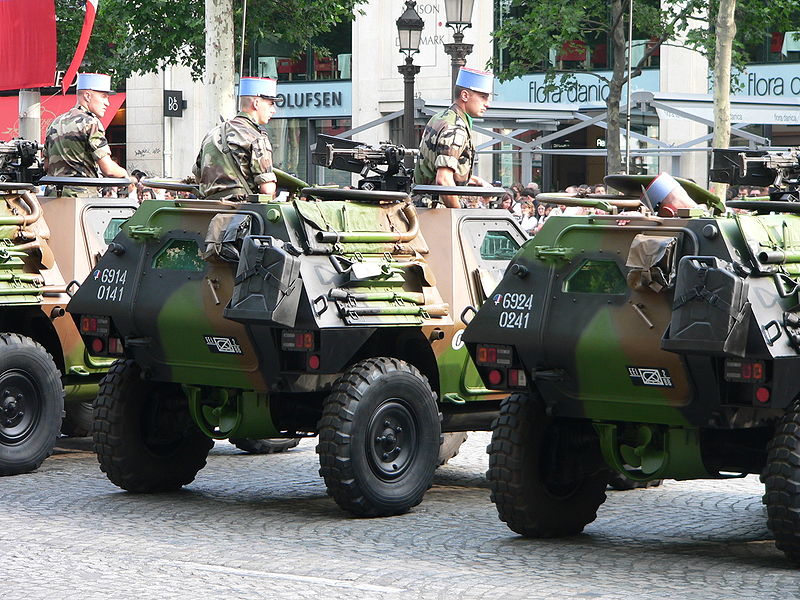 Standard armament was a 7.62 mm AA52 (French service) or Belgian FN MAG, on a traversing ring mount and articulated arm which provided some elevation (1400 rounds). It could be replaced by heavier mounts for a Browning .50 cal. HMG, Milan and Eryx ATGMs (see variants). In option the main recce version armed with the 12.7 mm HMG could received a multiple launcher for anti-personnel grenades FLY-K (PL 127) (Rate of fire : 375 rounds/minute at an initial speed of 244 m/s, and 2200 m range (Frag bubble 15 m at impact), armour penetration: 50 mm).
The 20 mm autocannon (export) was the MK 20 Rh 202 automatic which had a rate of fire of 1000 rounds per minute, elevation range of −10° to +45°, with 260 rounds, 160 loaded, assisted by ZEISS PERI-Z-16 sight and laser rangefinder, thermal imager in options, which also applied to the 12.7 mm turret. The standard export M11 NBC reconnaissance version is equipped with a TR-VP 213 or PR4G radio, OB 41 and OB 43 night vision goggles and DUK-DUR 440 radiation meter plus a dosimeter.
The VBL was assigned reconnaissance missions, helped by its speed and range (up to 1000 km). With specialized versions within the same unit, using standard light, medium or heavy MGs, autocannons, ATGMs and SAMs, an organic fire support could be provided to deal with any threats. The VBL could swim through rivers helped by a small screw propeller and the motion of its tires, at 4.5 kph. In addition, it was air transportable and airdroppable by C-130 Transall, C-160 Hercules and A400M NATO turboprop carriers.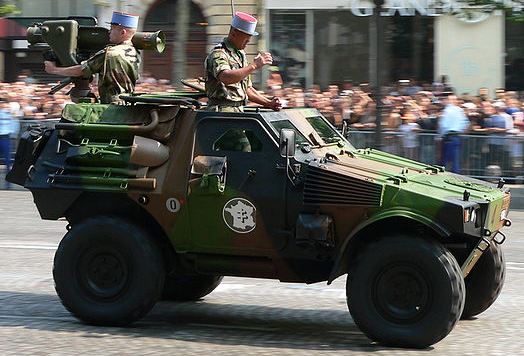 Variants
French Army
VBL MILAN ATGM medium range (2000 m) with one ready and six spare, guided by a MIRA Thermal camera.
VBL ERYX ATGM short range (600 m) with one ERYX ready and four spares, plus MIRABEL thermal goggles. Secondary weapon is a ring-mount 7.62 mm LMG.
VB2L POSTE DE COMMANDEMENT Lengthened command version operating VHF with two PR4G radios, HF with one SSB radio (long range) and crew radio/intercom. Ring-mount 7.62 mm LMG standard. A workstation, map board, folding table, additional batteries, a folding seat for the 4th crew member.
VBL RECO 12.7 Recce support with 1 VHF radio, radio/intercom, one M2 M2HB HMG with ring-mount protected by side armor.
Export
ULTRAV M11 NBC reconnaissance version.
VBL TOW ATGM long range (3750 m) single TOW tube, 4 spares, integral night sight system, 1 or 2 VHF, 7.62 mm LMG.
VBL ALBI-MISTRAL SAM version with Twin-round ALBI turret firing the MISTRAL FF, 2 ready, 4 spares, 1 aux. LMG. 2 VHF PR4G ra
VBL CANON 20 mm remote turret, 1 VHF transmitter/receiver. See above.
VBL TOURELLE FERMEE Featured a 12.7 mm remote turret (replaced by LMG or 40 mm grenade launcher), 1 or 2 VHF.
Exports
France itself had once around 1700 vehicles in service and 1470 today, being gradually sided by the PVP (1183, more on order) replacing the P4. In Europe, Greece was a main customer, followed by Portugal and Serbia. It was mostly popular in Africa but also in the Middle East, and Indonesia. Benin: 10, Botswana: 64, Cameroon: 30, Djibouti: 10, Gabon: 12, Greece: 243, Georgia: (ISAF, Kabul area), Indonesia: 18, Kuwait: 20 Kuwaiti National Guard, Mexico: 1,231, Niger: 7, Nigeria: 200, Oman: 132, Portugal: 37, Qatar: 16, Rwanda: 16, Serbia: 2 (PTJ), Togo: 2, United Arab Emirates: 24.
The case of Russian VBLs
: Still a controversial matter due to the recent events in Ukraine, there are pre-contractual negotiations dating back from 2011 to deliver VBLs to the Russian Frontier Guards. Estimates of the time spoke of an order of 500 to 1000 (with a local production under license), a 500 million euros contract following discussions at IDEX 2011. The contract evolved in 2013 as the ASTAIS-VBL joint local production, but according to TASS in July 2014, the letter of understanding with France has not become a contract, so negotiations are frozen to this point. It follows another now frozen project of Renault Trucks with Burevestnik, subsidiary of Uralvagonzavod (sanctioned).
Active service
Worlds Medias went to call the French blue helmets VBLs "Sarajevo's Taxis" due to their transportation of civilians and officials in the city, under Serbian snipers threat (Siege of Sarajevo, April 1992 - February 1996) especially in Ulica Zmaja od Bosne, the infamous "sniper's alley". The VBL was seen also in most of Bosnia and Kosovo, through peace-keeping operations. Also VBLs were present in the 1990s in Somalia and Lebanon. By the 2000s, they were used in Afghanistan, but also in the 2010s in Ivory Coast, and in Northern Mali againstIslamistt insurgents, in standard military operations. In 2013, Nigerian VBLs took part in heavy fighting Counter Insurgency operations for the control of the Niger Delta, Jos Plateau in the North of the Country. These M11 versions were armed with a .50 BMG (12.7 x 99 mm NATO cal.) Browning HMG.
Links
The VBL on Wikipedia
The VBL on armyrecoignition.com
Panhard VBL specifications

Dimensions (l-w-h):
3.80 x 2.02 x 1.74 m (20.2 x 7.1 x 7.4 in)
Total weight, battle ready:
4 Tons (26000 ibs)
Crew :
3 (Driver, Commander, Gunner)
Propulsion:
Peugeot XD3T turbo-diesel 95 hp (70 kW) 27–23.75 hp/t
Suspensions:
4x4 Coil springs/shock absorbers
Top Speed
95 kph (59 mph)
Range (road)
600 km (372 mi) or 1000 km (external)
Armament (see notes)
Ring mount for 7.62 mm (0.3 in) NATO LMG, 1500-2000 rds
Armour
4-11 mm (0.43 in), NATO STANAG Level 1
Total Production
2300 as of 2014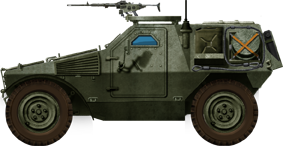 Standard production version, early model with the AA52 LMG, 1990.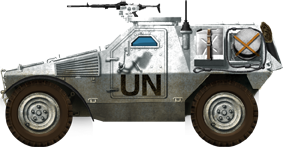 VBL of the UN in peackeeping operations, 2000s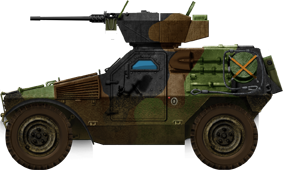 VBL RECO 12.7 of the French Army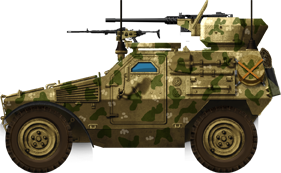 12.7 Reco M11 (export) in desert livery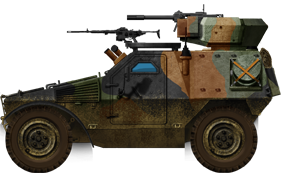 VBL canon, with a 20 mm gun.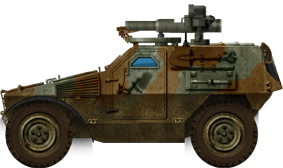 VBL TOW of the Kuwaiti army.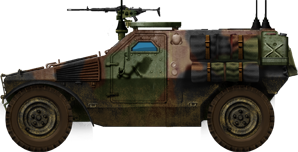 VB2L Poste de Commandement (Command vehicle), with a longer hull.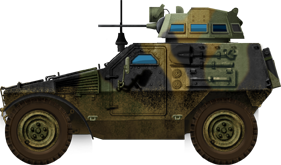 VBL Tourelle Fermee, enclosed turret version, or 12.7 mm remote turret.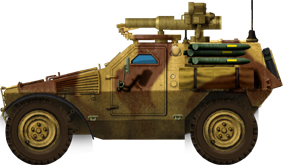 VBL TOW in proper camouflage.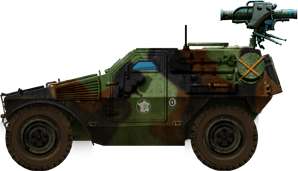 VBL MILAN, ATGM medium-range version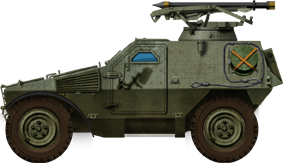 VBL Mistral with Albi turret SAM version.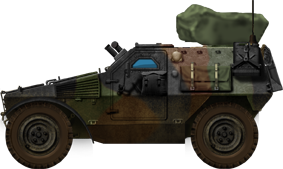 Greek VBL, 243 are in service.
VBL Gallery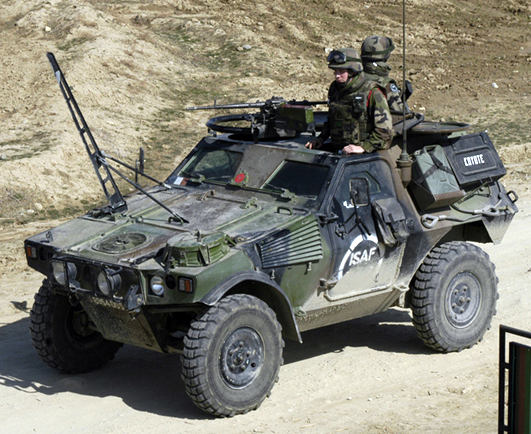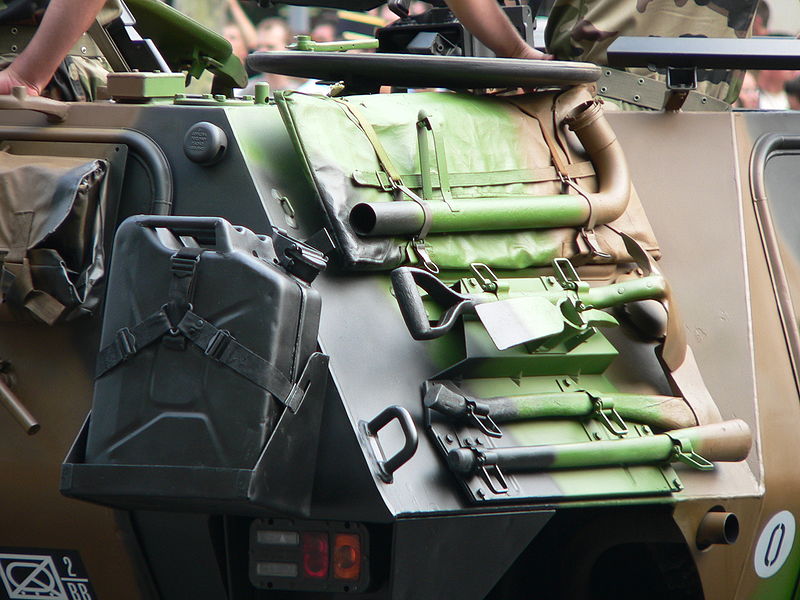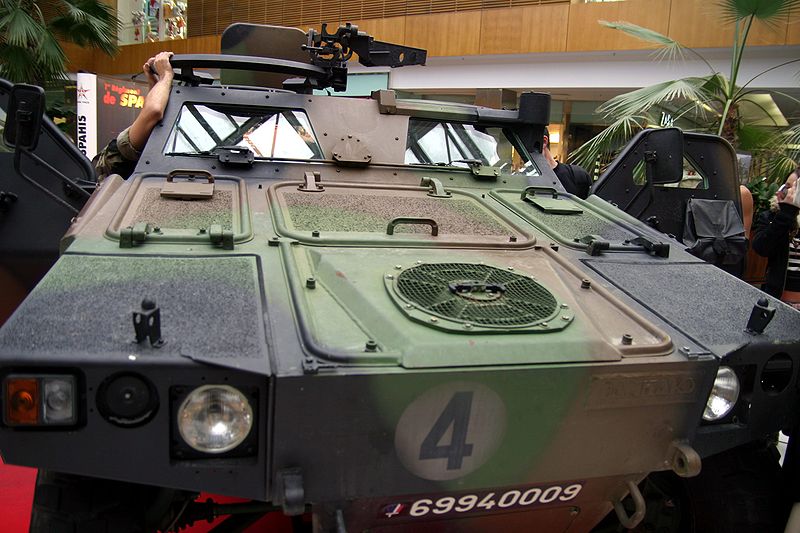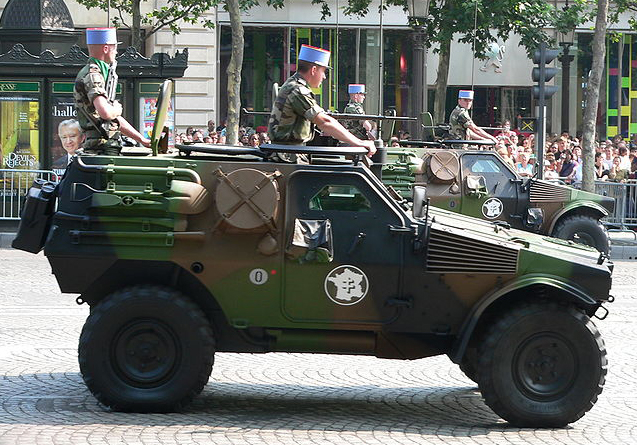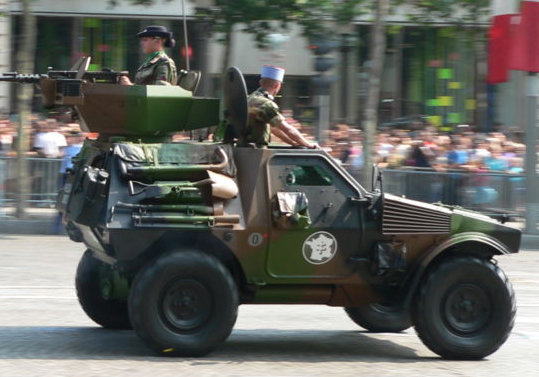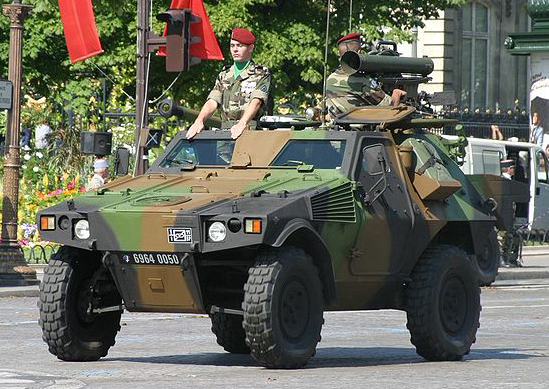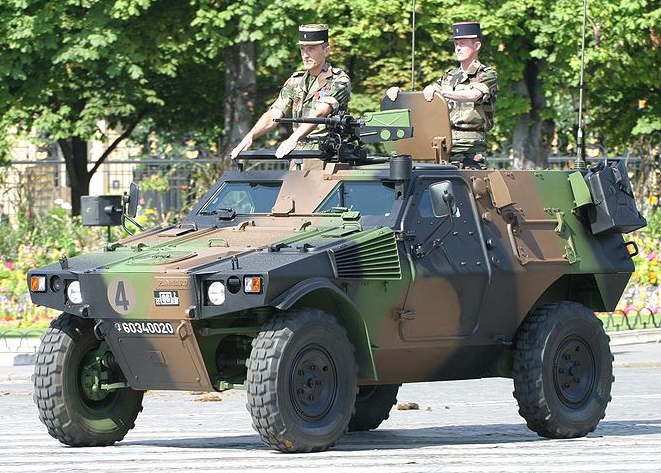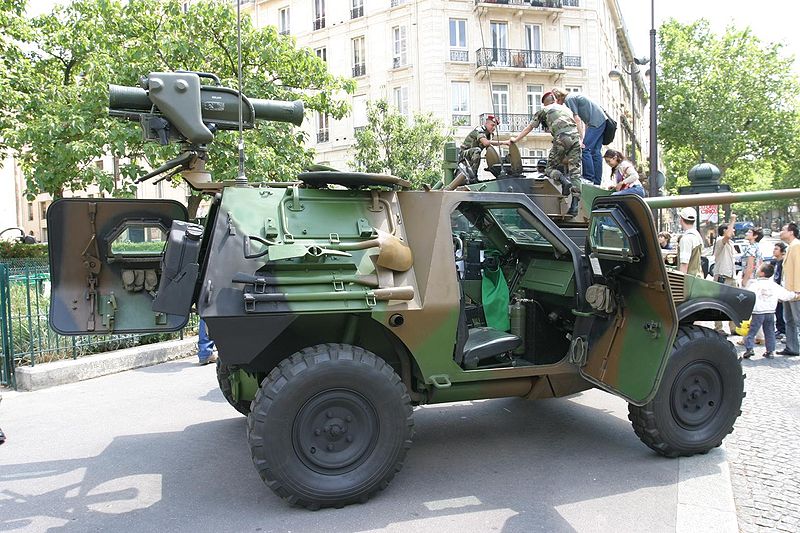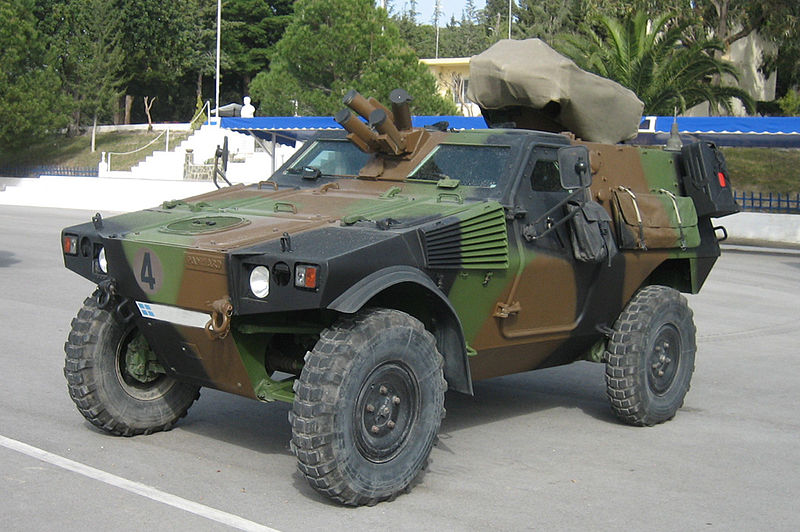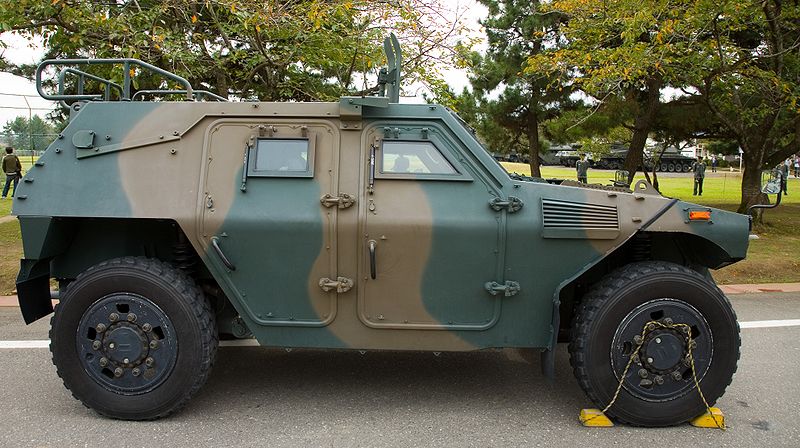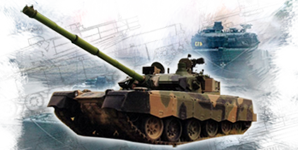 Modern Tanks
---
Modern MBTs posters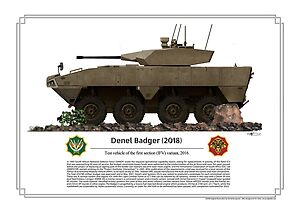 Denel Bagder (2018)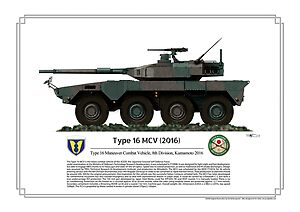 Type 16 MCV (2016)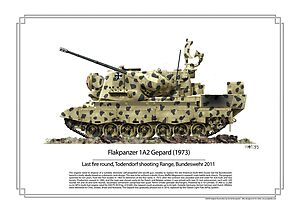 Gepard 1A2 last rounds 2011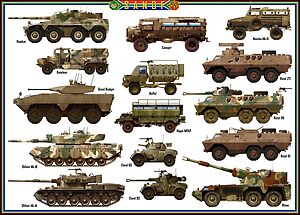 SANDF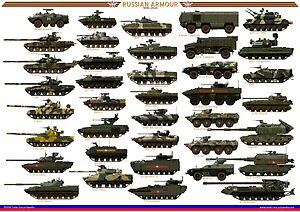 Russian AFVs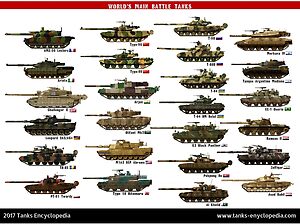 Main Battle Tanks