Development
The Centauro was designed after a 1984 specification asking for a fast tactical reconnaissance vehicle with the same firepower as the
OF-40
or the
Leopard
then built under license by an industrial consortium. To reach the speed requirement, the solution eventually led to a wheeled tank destroyer. The Centauro was successful in this and can be compared to other similar weapons systems which were developed as an alternative to costly MBTs and to fill the rôle of the former light tanks. It was purchased also by Spain, Jordan and Oman, whereas the US Army loaned twenty vehicles for evaluation and to gain tactical experience before the arrival of the Stryker Mobile Gun System.
Design
Protection
The all-welded steel armored hull can withstand 14.5 mm bullets and shell fragments all-around, as well as 25 mm impacts on the front beak. This Protection could be increased by a bolted-on appliqué armor, sufficient against 30 mm AP rounds. The Centauro is also NBC-proofed, integrated into the vehicle's air conditioning system (overpressure, etc.). A four-barreled smoke grenade launcher bank was installed on each side of the turret and a laser warning receiver completed the active protection system. But speed is also a form of active protection, granted by a favorable power-to-weight ratio (19.50 hp/ton). The crew is composed of four, the driver was located on the left-hand side (as seen from the turret) with a dome-like hatch and three periscopes, and the three others were located into the turret. Both the commander and gunner have hatches, in
échelon
, the commander receiving a series of six side and front-covering periscopes.
Mobility
The powerplant is an Iveco V6 turbo-charged, after-cooled diesel engine which can deliver 520 hp (382.4 kW), installed in the front. It is coupled with a ZF-designed automatic transmission which had five forward and two reverse gears. Eight large independently sprung roadwheels on torsion bars have the run-flat and Central Tyre Inflation Systems (CTIS) and all have a powerful disc brake system. The Steering is applied to the first and second axles, and at slow speed to the fourth axle for tight manoeuvers with a turning radius of 9m. The B1 Centauro can achieve road speeds in excess of 100 km/h, climb a 60% gradient, and ford 1.5m rivers without preparation.
Armament
The main armament is the Oto Melara 105 mm/52 gyro-stabilized and high-pressure, low-recoil, somewhat similar to the one developed for the Italian Leopard. It is equipped with a thermal sleeve and integrated fume extractor. The gunner had at its disposal 14 ready rounds in the turret and 26 in the hull. These are standard NATO ammunitions developed initially for the L7, HE, AP, Frag, HEAT, and APFSDS (Armour Piercing Fin-Stabilized Discarding Sabot). The Galileo Avionica TURMS fire control system is the same used by the
Ariete
, equipped with a muzzle referencing system and full digital ballistic computer. The gunner sight is fully stabilized, have a thermal imager and laser rangefinder. The commander has a panoramic stabilized sight, image night sight intensification and magnification, and a monitor display of the gunner's thermal sight view. Both can fire the gun. The Centauro is, therefore, able to engage any moving or stationary targets in all weather, day or night, while being on the move itself.
For secondary armament, there was an MG 42/59 7.62 mm coaxial machine gun. Another, pintle-mounted on the roof, is deployed against low-speed low-flying targets and manned by the gunner. A third one, optional and pintle-mounted, could be deployed from the commander's hatch and fitted with a U-shaped flat shield. For all three there are 4,000 rounds in store.
Production
The development took place between 1984 and 1986, and the first prototype was tried in 1987. Production, however, did not start before 1991. The B1 is produced by the consortium also responsible for the OF-40 and Ariete MBTs. The ZF automatic transmission is manufactured under license by Iveco Fiat, and the FCS is provided by Galileo Avionica TURMS. In general, the mobility components as a whole are provided by Società Consortile Iveco Fiat while Oto Melara (CIO) and its subcontractors are in charge of the electronics, communication and armament systems. Although the production had stopped after extension for export, it is geared up to met the new Centauro II design, with an order of 140 being expected to be delivered from 2015.
Variants
The B1 Centauro tank hunter in "basic" configuration is equipped with the 105 mm gun and optional appliqué armor. About 400 vehicles were delivered so far for the Italian Army.
The Centauro 120 mm is equipped with a low recoil 120/45 cannon and receive a new turret, with better front hull protection against 40 mm APFSDS rounds. Another prototype with improved armor was tried in 2012 but production is pending. Tests are also performed with a 125 mm gun-armed version, pending negotiations of a production by the Russian Federation.
The Centauro 155/39LW is the fast howitzer version, developed in late 2013, and yet to enter service with the Italian army. Uses a lightweight 155/39mm main gun, firing at 8 rpm up to 60 km.
The Freccia IFV is a fast wheeled infantry fighting vehicle derived from the B1, armed with a 20 mm AT autocannon. About 250 are deployed today.
The Draco is a SPAAG prototype testing the OTO Melara 75 mm AA
The C-Ram is a counter-rocket artillery mortar prototype also presented at Eurosatory 2014.
Exports
The Centauro price tag is around €1.6 million, with similar firepower to the Leopard or
Leopard 2
, and a speed in excess of 105 kph. No wonder it's a tempting budget-saving solution. Outside Russia which evaluated the 105 and 120 mm for a possible joint venture with UralAZ, Columbian CONPES army purchase commission visited OTO Melara as its first European destination in 2012, but no order had been confirmed since.
Jordan
The Royal Jordanian Army received 25 demobilized Centauros (retired from service in the Italian Army) as of July 2014, apparently free of charges.
Oman
The Royal Jordanian Army purchased nine Centauro-120 mm for evaluation in 2008, with an option for a further 25, pending for the Royal Guard.
Spain
The Ejército de Tierra de España (Spanish Ground Army) purchased 84 B1 Centauro 105 mm (and 4 Freccia VBM recovery vehicles in 2007) which replaced old AMX-30Es, in two batches in 1999-2001 and 2004-2006. They are in service with three
Reconocimiento de Caballería ("Pavia", "Lusitania" and "España")
from the Brigada de Caballería "Castillejos" II.
Service
The main mission of the Centauro is to protect other lighter elements of the cavalry. It is currently deployed in the reggimento de cavalleria "Nizza Cavalleria", "Savoia Cavalleria", "Piemonte Cavalleria", "Genova Cavalleria", "Lancieri di Novara", "Lancieri di Montebello", "Cavalleggeri Guide", "Lancieri di Aosta". So far the Italian vehicles were deployed in the former Yugoslavia (Bosnia in 1996) with IFOR, and Somalia also for peace-keeping purposes and proved successful. Their main duty was often as motor convoys escorts, large perimeter control and road patrols. They saw action also at Operation "Antica Babilonia", the Italian name for the operations in the Iraq War. A single regiment of Centauros took part in the
battle for the bridges of Nassiriya
in support of the infantry. Another unit was operating with the UNIFIL forces in Lebanon. On the Spanish side, in March 2009, a cavalry regiment was sent reinforcing the Spanish contingent of UNIFIL in Lebanon.
Links about the B1 Centauro
The B1 Centauro on Wikipedia
The B1 Centauro Military-Today
B1 Centauro specifications

Dimensions
7.85 (8.55 oa) x 2.94 x 2.73 m (25.9 x 9.8 x 8.11 ft)
Total weight, battle ready
24 tons
Crew
4 (driver, commander, gunner, loader)
Propulsion
Iveco-Fiat V6 800 hp (382 kW) turbocharged diesel 19.35 bhp/ton
Suspension
Torsion bars
Top Speed (flat)
108 km/h (67 mph).
Operational maximum range
800 km at cruise speed (500 mi)
Armament
105/52 mm (4.13 in) OTO Melara 2-3 x NATO 7.62 mm MG3 or MG42/65 2x4 smoke dischargers
Armor
Classified, composite and steel, appliqué up to 30 mm front, 14.5 mm elsewhere
Production
Around 600 as of 2010.
Video
Gallery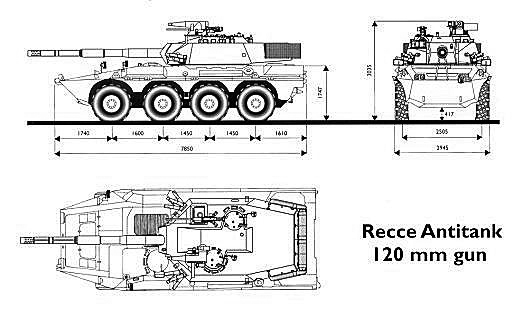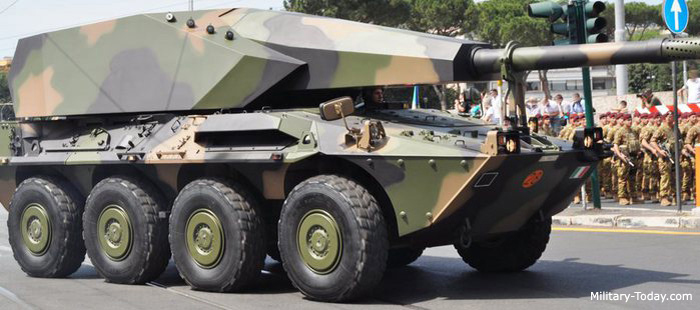 Early B1 Centauro in basic configuration, 1991.

IFOR 120 mm Centauro with appliqué armor, Bosnia 1996.

Camouflaged 105 mm version, up-armoured.

Spanish Ejercito Centauro.