The M60/T-54 hybrid...
In November 1984, US firm Teledyne Continental Motors (now General Dynamics Land Systems) part of Chrysler Defence, was awarded a contract to upgrade the
T-54
for the Egyptian Army, still in large stocks in its arsenal. Among the origins of this idea was the Israeli Tiran conversion, which seems quite satisfactory for Tsahal... The original project was to be called T-54E (the "E" standing for Egypt) but was subsequently renamed Ramses II, from the most famous conqueror Pharaoh of Ancient Egypt, and third sovereign of the Nineteenth Dynasty. The first prototype was sent to Egypt for extensive firepower and mobility trials in January 1987, until late 1987. By 1989, a technical assistance agreement was signed with Teledyne Continental Motors for additional modifications in the process of more extensive Egyptian testings, commencing in the summer of 1990.
mainbattletanks.czweb.org photo is the ONLY ONE known of a Ramses 2 MBT outside the Teledyne Continental prototype archives back in the US in the mid-1980s. That should raise red lights. So far we cannot tell if the alleged 250 Ramses II converted ever saw light or have been mistaken for upgraded T-55s.
However, by 1998, these additional upgrades had still not led to any production. This second phase, which took years to complete, was accompanied by much more modifications than originally planned (focusing solely on mobility and firepower), and ended with a tank which only superficially bears some resemblance to the T-54 and had in fact more in common with the
M60A3
, the most current Egyptian tank in service then.
Design of the T-54E
From the basic conversion idea, the Egyptians obtained, in the process of nearly twenty years, a completely new breed of MBT which focuses attentions of world's experts about the feasibility of radical modern conversions (based on a design first drawn in 1946-47) of a main battle tank, much more demanding than for a specialized variant. Besides the chassis front and turret, everything else was taken from the M60A3 and tailored to fit in, resulting in a strange post-coldwar hybrid which would have been unthinkable before the globalization.
Hull & armor
The hull was at first not modified much, but to accommodate the less compact M60 engine, the rear part was lengthened almost by a meter, while the lower part of the chassis was completely modified to support smaller roadwheels, with consequently one extra pair. However, the armor seems to receive little upgrades. It is unknown how much the NBC lining have been upgraded, but is collective and helped by overpressure. The amphibious capabilities seem to have been extended by better sealing. No ERA blocks provision had been made so far. However some armor protection has been added, and armored side skirts. A modern fire detection and suppression system was installed in the engine compartment, new final drives, fuel tanks, Blair Catton tracks, and a brand new air filtration system.
Turret & armament
The new FCS is a SABCA Titan Mk.1, coupled with a modified Avimo TL10-T sight and laser range-finder with an integrated in-eyepiece CRT alphanumeric graphic display (ballistic computer). The fire-control system includes SABCA's double digital processor, magnification night sight, atmospheric sensors, automatic attitude and associated controls.
HR Textron provided the gun and turret stabilization system. The main gun is the 105 mm M68 ordnance (common with M60A3s), but the original DT-10T breech is kept modified as well as the recoil system for a better fit into the turret. A muzzle reference system and the M60 day/night searchlight are mounted over the gun. IR vision periscopes are provided for the gunner and driver, while the commander has an image intensification system. The turret receives also a new storage basket and completely modernized communication systems. Banks of four electrically operated smoke dischargers are also mounted on each side for active protection.
Engine, transmission, drive train
The new power pack consists of a TCM AVDS-1790-5A turbocharged diesel (908 bhp) which have 80% commonality with the M60A3 powerplant. It is coupled to a Renk RK-304 transmission. New exhaust pipes are fitted on either side of the hull rear. The suspension is provided by General Dynamics Land Systems, with six Model 2880 in-arm hydropneumatic suspension units fixed on doubled M48-type roadwheels. The original idlers are kept, but the rear drive sprockets are new, and there are two standard track-return rollers per side. New US-patented tracks are replacing the old ones.
Alleged Production
Egypt purchased spare parts for its large M60 fleet and in 1997, thirty M60 series engines from General Dynamics Land Systems ($5,943 million apiece), with more for the planned conversion of the T-54 fleet into Ramses-II MBTs. Eventually, the design was sanctioned by a full conversion order of a first batch of 260 units in 2004/2005, followed by the set-up of a local conversion in an Egyptian tank plant, with some technology transfers. This second phase saw an additional 165 vehicles also planned for conversion. By 2013, an addition conversion order of some 160-180 more was allegedly planned. The overall weight of these converted tanks was 48 tons.
With an estimated 700 M60A1, 1016 M60A3 in service, 1000+ US and locally-built
M1 Abrams
, and now these US-based conversions, the part of Soviet armor in the Egyptian inventory has rapidly dwindled in the course of twenty years.
Controversy
There is currently no known active engagement of the Ramses II or even footage connected to the 2011 "Arab spring". Indeed, Israeli media reported that the 9th, 2nd, and 7th Divisions of the Army had been ordered into Cairo to restore order during the "revolution", but only Abrams and M60s are shown. Was the Ramses II built and in service in anyway? Like the
EIFV
, that's still doubtful. And it seems the Teledyne Continental proposal was very much only that, a proposal. Wikipedia's Egyptian Army equipment page lists 260 Ramses II, the only source cited for the article, shaky at best is https://mainbattletanks.czweb.org which itself does not provide any reference. Most sources states 260 being converted, but even Jane's search engine does not return any result on "ramses". There is a passage in "The Encyclopedia of the Arab-Israeli Conflict" edited by Spencer C. Tucker, Priscilla Roberts which states "Egypt also attempted a radical upgrade of the T-55 (...) Designated the Ramses II very few ever entered actual service however". According to defencetalks forum, conversions stopped after 2005 because of the purchase of cheaper additional M60A3s and upgrades packages.
Links
en.wikipedia.org/wiki/Ramses_II_tank
tanksandafv.blogspot.fr/2013/02/ramses-ii-pictures.html - Additional pics
www.trmilitary.com/viewtopic.php?t=1020
sturgeonshouse.ipbhost.com/topic/652-general-afv-thread/?page=16
articles.sun-sentinel.com/1985-04-14/news/8501160485_1_tank-truck-driver-egyptian-president
Ramses II specifications

Dimensions :
35.43/24.6 x 11.48 x 9.51 ft (10.8 oa/7.5 m x 3.5 m x 2.9 m)
Total weight, battle ready
55 tons (11,000 lbs)
Crew
4 (commander, driver, gunner, loader).
Propulsion
British Leyland diesel BL 40, 450-650 bhp, later BL 60, 695 bhp
Speed
48/30 km/h road/cross-country (29.82/18.64 mph)
Range/consumption
500 km (310.6 mi)
Armament
One M48 105 mm (4 in) main gun Coaxial 7.62 mm L8A1 (0.3 in) machine-gun
Armor
Turret front 7.6 in, glacis 4.72 in, sides 1.37 in (195/120/35 mm)
Ammunition used
Antipersonal HESH, armor-piercing APDS
Total conversions
425 planned
Gallery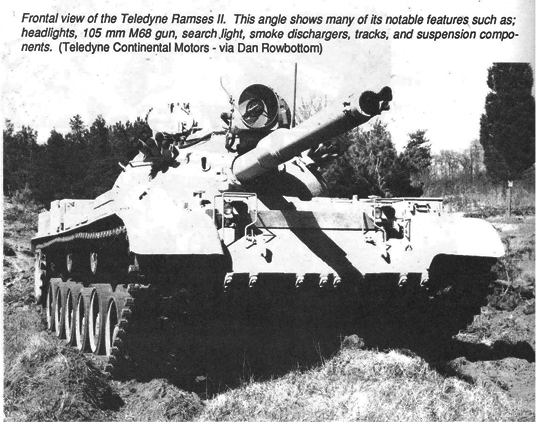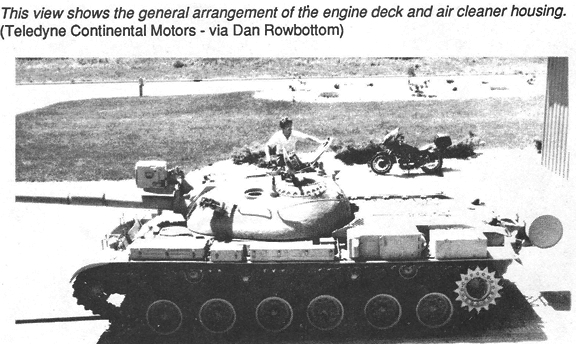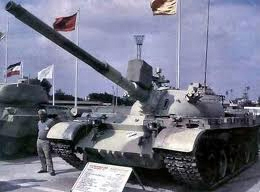 Ramses-II, first prototype trials in the 1990s.

Camouflaged Ramses-II from a picture in https://defense-arabia.blogspot.fr/ Could be the same prototype painted and showcased in a show.