Origins
In 1915, the French were desperate to get more armored cars. Besides some foreign supplied models, they also sought to build some, based on locally available chassis. One of these chassis were made by White in the US, and that model was also produced locally, under licence. The armored bodies were supplied by Ségur & Lorfeuvre. Those built based on US-built chassis were called modele 1915, and had left-hand drive.
The French White AC model 1918
The model 1917-18 White 4x2 was based on locally-built White trucks, the French using the nude chassis with the White engine, transmission & gearbox, leaf springs, rear axle with doubled tires, and made their own complete armored body at Ségur & Lorfeuvre, in 1917. The latter was composed of approximately 30 bolted panels on a rigid steel frame. The hull was flat, but there were two bulges on the fighting compartment, were two doors were situated. There were armored shutters for the driver and commander, and small side sights with armored flaps opening upwards on the sides, as well as at the rear. This vehicle was indeed fitted with a French reverse steering system in case of an emergency, that a rear driver could use. The engine hood was armored with two access doors, and the radiator had a series of armored shutters for cooling. The turret was remarkable, as it was large enough to accommodate two men, serving two weapons, one at each end, generally a combination of the short Barrel Puteaux (SA-17) 37 mm (1.46 in) gun and a Hotchkiss 7.5 mm (0.3 mm) light machine-gun, or two LMGs. The turret was sloped, with two side panels that could be opened. There were mudguards at the front, and storage boxes fixed above the rear ones, while tooling (shovel, pickaxe and others) were fastened on the sides of the driving compartment. These 200 vehicles were used on the western front until the end of the war, and kept in service until 1930.
Postwar service
Both models were completely rebuilt after the war, between 1928 and 1932 as the Laffly AMD-50 (96 vehicles) and AMD-80 (28 vehicles). Both were called White-Laffly, although their body was entirely French and their chassis was made by Laffly, a French company. They spent their career in North Africa, at least until 1943, being completely obsolete by then. For more information see the
AMD-50
and
AMD-80
in the WW2 section.
Links
On Warwheels.net
White 1918 specifications
Dimensions
5.50 x 2.30 x 2.60 m (18.04x7.55x8.53 ft)
Total weight
6.5 tons
Crew
4-5 (driver, commander, 2 gunners, loader)
Propulsion
6-cyl gasoline, 3672 cc, White engine, 50 bhp
Speed on-road
65 km/h (40 mph)
Range
400 km (250 mi)
Armament
1 x 37 mm (1.45 in) Puteaux gun, 7.5 mm (0.31 in) Hotchkiss M1909 machine gun
Armor
Maximum 8 mm (0.3 in)
Total production
200 in 1917-1918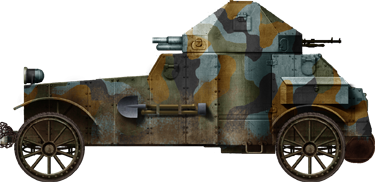 White AC in French service, 1918, with the specific turret and armament. By the end of 1915, the first twenty armored were cars constructed in France on the White chassis. Here is the model 1917. Duplicate steering controls, for driving backwards, were apparently fitted in emergency. In total, 200 chassis of two White series were armored in France.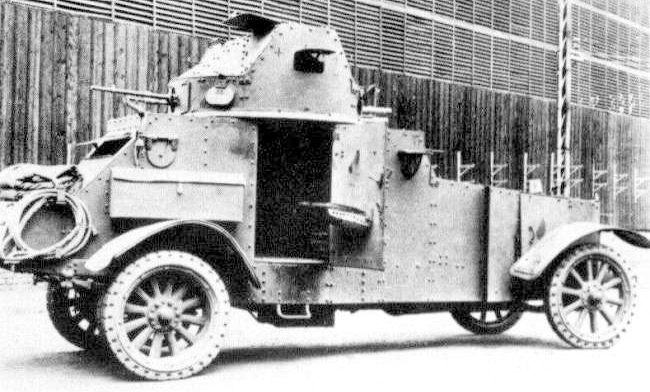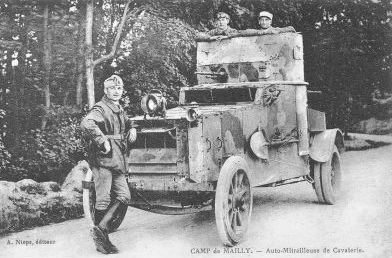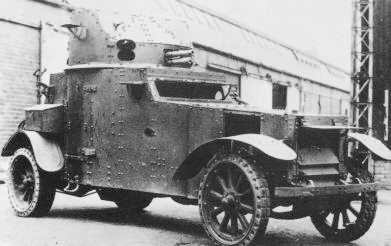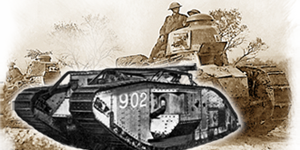 The Great War

Austria-Hungary

Belgium

British Empire

France

German Empire

Italy

Russia

USA
---
WW1 tanks posters