The Austin 1914
This model was accepted into service as the Austin 1st series on 29 September 1914, as 48 were ordered at 1,150 pounds apiece by the Russian government. It was based on a Austin 30hp "Colonial" chassis with a rear axle drive, 30 hp engine, and spoked wheels. However, rubberine-filled sealf-sealing tyres were also carried for war operations. In addition, two Maxim machine guns turrets were mounted rear of the driver's cab in tandem, both covering 180 degree of lateral angle and combining their fire on the front and rear. The body was made of armour plates 3.54 mm thick bolted to a body frame over the chassis. The crew of four counted the commander, driver and two MG-gunners, which could access from a left side door or from a rear two-leaf rear door. At their arrival at Izhorski Works they were stripped of their armour, replaced by 7 mm thick plates. This made them much heavier, adding some stress on the axles and engine, reducing their speed and agility, but the Russians were quite satisfied with this model compared to others and asked for a new improved serie. Possibly in 1917-18, extra serie I bodies were used on White armoured car chassis.
The Austin serie II
On March, 6, 1915 a new serie was ordered with improved armor. This time, a stronger 1.5 ton truck and more powerful engine (50 hp) were chosen to take the burden of heavier plates. But the main configuration was unchanged, but the cab roof was modified to allow a better traverse and arc of fire for the turrets. However for stiffening the rear section, the rear doors were eliminated, to the dismay of Russian officers. Back in Russia, the 60 vehicles were taken in hands and a rear driving post was added on, with an additional hatch and extra side shields for the machine-guns.
The Austin serie III
Ordered on 25 August 1916, this serie was the fruit of war operations, and was similar to the second one, except for a modified rear hull with driving post and side MG shields, bulletproof glass on the front vision slots while the side windows were eliminated. By the fall of 1917, yet another serie called model 1918 or 1918 Pattern was ordered with a reinforced chassis and double rear wheels but events prevented their delivery. These were the only vehicles used by the British Army. It seems their armoured body was also reused on Peerless lorries after the war.
In service
The Austin was used for a long time (1914 - 1939) by many nations. The first customer, Russia, organized them in automobile machine gun platoons modelled after early war experience. The lead platoons comprised three Austins, four staff cars, three support truck (workshop, tanker) and four motorcycles, with a complement of 46 soldiers. The regular platoon only two Austins and a Garford-Putilov for artillery support, a staff car, a truck and a motorcycle. However in august 1916 these units were reorganized into more sizeable forces, "armoured automobile battalions" each attached to an army and formed from two to five platoons. By the time of the civil war, the Austins were used by both sides, although the Red army had the bulk of it (and most Putilovs), organized into "armoured automobile units" of similar strenght to a lead platoon. By 19120-21, RKKA vehicles were deployed in the soviet-Polish war. A few were captured (see later). The British-built vehicles were kept in service until 1931 and the Putilovs until 1933.
The last batch of Austins (1918 Pattern) was exclusively used by the 17th (Armoured Car) Battalion of the British Tank Corps, with doubled rear wheels and hotchkiss machine guns. This unit was actiove in France from march 1918 to the German surrender. These vehicles distinguished themselves at the Battle of Amiens, capturing a German headquarters 10 miles into enemy territory and creating havoc with reserve and support units. This was also the first unit to cross the Rhine. Other vehicles were sent into the far east and Caspian Sea region. After this, some were deployed in Ireland. Their bodies were reused on Peerless lorry chassis and kept in service until 1939. Other users includes the Imperial Japanese Army (a few), the Polish Army (20, captured), the Finnish Army (3, captured), Estonia (2), Latvia (1), Romania (1), the Mongolian People's Army (3), the Germans freikorps in 1919 (4, Kokampf armoured unit), the Austrian Army (1) and Bulgaria (1, captured in 1916).
Links
The Austin in British use - landships II
Austin serie II

Dimensions

16 ft x 6.8 ft x 9.4 ft (4.90 x 2.03 x 2.84 m)
Total weight (as built), battle ready
5.3 tons ( lbs)
Crew
4 (commander, driver, 2 machine-gunners)
Propulsion
4-cyl Gasoline inline, 4 stroke, 50 hp (17 KW) - 9 hp/t
Speed
35 mph (56 kph)
Suspensions
4 x 2 leaf springs
Range
200 km (125 mi)
Armament
2 x Maxim Water cooled cal.303 (7.69 mm) machine gun
Armor
Maximum 6 mm (0.25 in)
Total production (all combined)
Over 168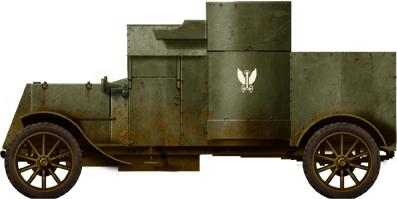 Austin Armoured car, serie I (1914) in Russian service. Original specs were 2.66 ton, road speed 50-60 km/h and range 250 km.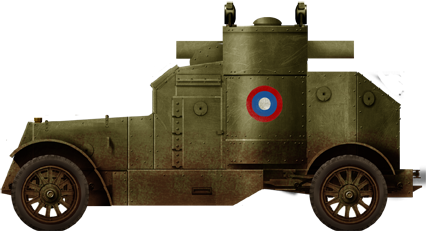 Austin Armoured car Serie II, 5.3 ton, road speed 60 km/h and range 200 km.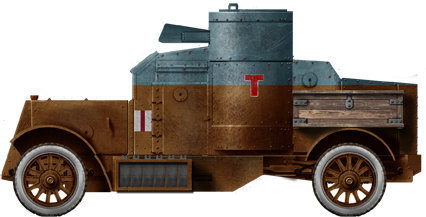 Austin serie III in Russia, with a famous bi-tone livery in 1916. Same specs as the Serie II.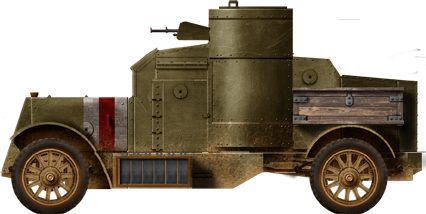 Austin serie III in 1916.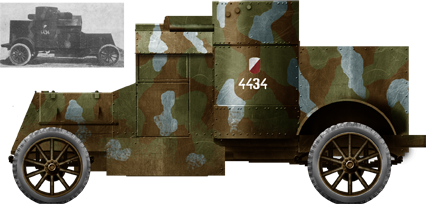 Polish White-Austin "Mars" in 1920.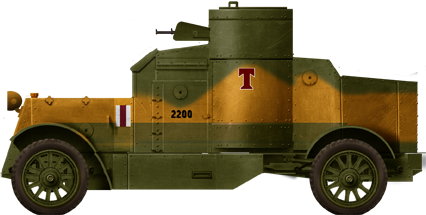 Austin serie 1918 in British service, RIC Barracks at Ennis, Country Clare in November 1919.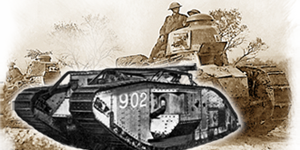 The Great War

Austria-Hungary

Belgium

British Empire

France

German Empire

Italy

Russia

USA
---
WW1 tanks posters