The British Leyland cruiser
The Centaur and the Cromwell are narrowly related. In fact, both are derived from the Centaur I, the A24 cruiser Mark VII. In 1942, the A27L was named "Cromwell II" and, afterwards, Centaur. Its origin can be traced back to the common specifications for a replacement of the Crusader, issued in late 1940. Designs were submitted in 1941 and production was scheduled for 1942. However, the troublesome Nuffield Liberty engine had proven its limited power, limiting upgrades in armor and armament of the new generation of cruisers. Eventually, the choice of a suitable engine was the reason that split the new Cruiser program in three, according to their powerplant manufacturers. This development took time, and while the Cavalier was the first ready, based on the existing Nuffield engine, the Centaur was the second delivered.
Leyland and Birmingham Railway Carriage & Wagon (BRC&W) were chosen for the A27 program, according to the General Staff's second specification. However, development took time, mostly to design a turret suitable for a 6-pdr gun, and the Crusaders were upgraded in the meantime. In January 1942, Rolls-Royce and Leyland/BRC&W each produced a prototype equipped with the 600 hp Meteor engine based on the famous Rolls-Royce Merlin engine. Mobility was excellent but, unfortunately, cooling and manufacturing problems soon erupted. As a result, Leyland proposed an intermediary solution with its A27 design re-equipped with the Nuffield Liberty engine, that could be delivered sooner, in November 1942. This became the A27L ("L" for "Liberty") Centaur.
Design
Although the three cruisers are difficult to tell apart visually at first glance, many details allow to distinguish the Cavalier from the other two. In common, all three are obviously based on the Crusader, sharing many parts. The hull is low and with many flat surfaces, with riveted and welded cold steel RHA plates, including the front hull and sides. The large rear deck had to accommodate the engine. The suspension consisted of six unevenly spaced large rubber-clad roadwheels per side, rear drive sprockets and front idlers. Large storage boxes added some form of layered protection on each side of the fighting compartment. The turret was hexagonal, with a flat front face protecting the internal mantlet, and two small 2-piece roof hatches side by side, for the loader and commander. Protection ranged from 63 mm (2.48 in) on the hull and turret front, 57 mm (2.24 in) nose, 25/29+14 mm (0.98/1.14+0.55 in) hull sides, 51+13/44+13 mm (2+0.51/1.73+0.51 in) turret sides & rear, to 20 mm (0.79 in) for the turret top and rear, engine deck and belly. For the Mark III, this protection was increased to 76 mm (3 in), in one piece, for the turret front and hull front. The turret sides were also 63 mm (2.48 in) in one piece, with 57 mm (2.24 in) for the rear.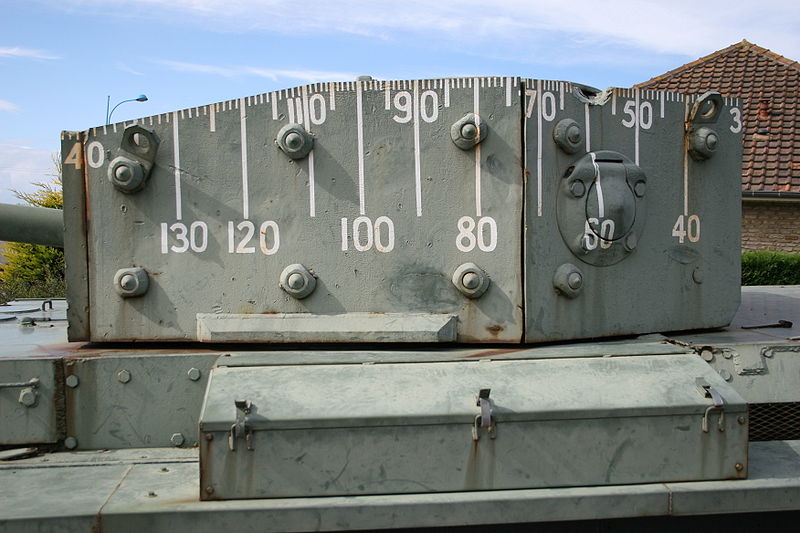 The Liberty L12 Aircraft version did not differed much from the Tank version but for the torque and gearbox ratio management. Bore: 5 in (127 mm), Stroke: 7 in (178 mm), Displacement: 1,649.3 in3 (27.03 L), Length: 67.375 in (1,711 mm), Width: 27 in (685.80 mm), Height: 41.5 in (1,054.10 mm), Dry weight: 845 lb (383.3 kg). It used a forced feed oil system, with rotary gear pressure and scavenge pumps, wet sump, and was water-cooled. The valvetrain comprised one intake and one exhaust valves per cylinder operated via a single overhead camshaft per cylinder bank, and the fuel system comprised two duplex Zenith carburettors. It could deliver an output of 449 hp (334.8 kW) at 2,000 rpm (aircraft variant) or 0.27 hp/cu in (12.4 kW/L), with a compression ratio of 5.4:1 (Army engines), and had a specific fuel consumption of 0.565 pt/hp/hour (0.43 l/kW/hour), and an oil consumption of 0.0199 pt/hp/hour (0.0152 l/kW/hour), for a power-to-weight ratio of 0.53 hp/lb (0.87 kW/kg). Previously the only British tank using this engine was the Anglo-American Liberty Mark VIII designed in 1917–18.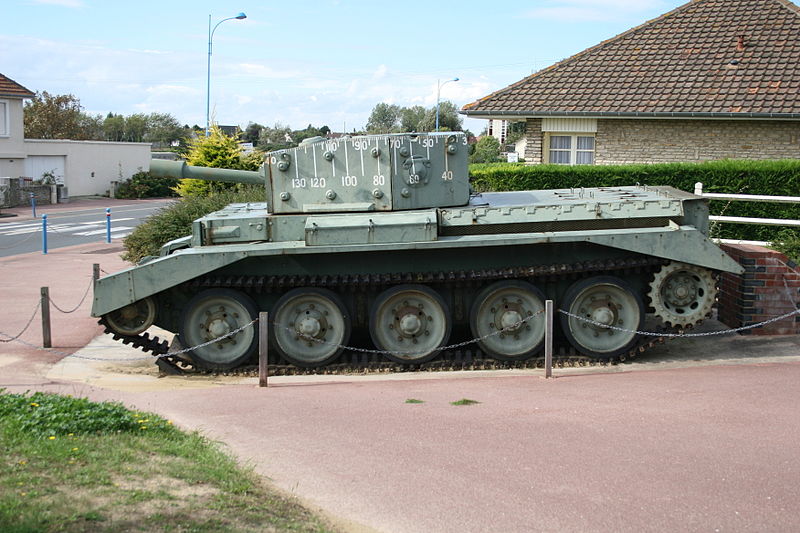 Both the main 57 mm (2.24 in) main gun and the coaxial Besa machine-gun were attached to the mantlet. There was another machine-gun in the hull, fired through a wire by the driver. The main gun was the Royal Ordnance Quick Firing 6-pounder Mark I (57 mm/2.24 in), with 64 rounds in store. Although very potent in 1942, especially compared to the puny 2-pdr (40 mm/1.57 in), by 1944 it was obsolete against the up-armored Panzer IV, Panther, Tiger and most recent tank-hunters. The Nuffield Liberty V-12 delivered 395 hp at 1500 rpm, for a power/weight ratio of 14.1 hp/ton, and was served by a Merrit-Brown 5 forward, 1 reverse gearbox. Fuel capacity was 527 + 136 (rear auxiliary tank) liters of gasoline. This allowed for a 266 mile (363 km) range on flat ground, a top speed of 45 km/h (28 mph) on road and 26 km/h (16 mph) off road. Field test performances showed it could climb a 25° gradient and 0.91 m vertical obstacle, cross a 2.36 m trench and ford 1.20 m deep river without preparation.
The differences, compared to the Cavalier, were the rear engine compartment extension for the extra exhaust, tailored for the Meteor engine, cast bulges on the turret base, the ventilation cap on the engine deck, behind the turret, and the usual absence of the two front storage boxes. But the Cromwell was almost identical.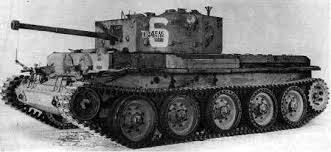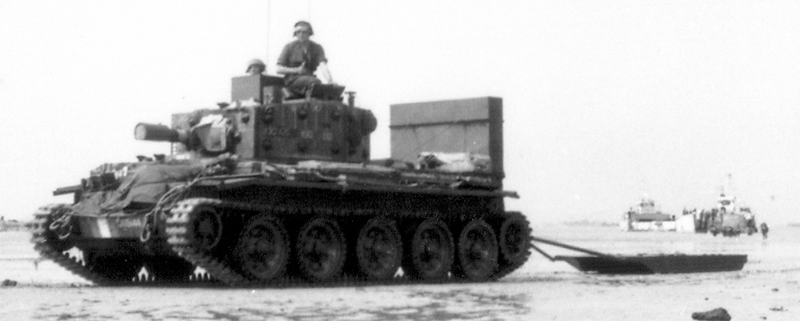 Production and variants
Due to numerous conversions and variants, exact production figures are tricky to establish. According to most sources, 950 Centaurs were produced in all, of all versions. Others staet production values of 1059 for the Mark I alone. The explanation is some of the vehicles were built with Meteor engines and Centaur hulls, and sources place them either as Centaurs or Cromwells. Part of them were converted as Centaur IIIs, IVs and or for other specialized uses. The 75 mm (2.95 in) armed late Centaur IIIs were later renamed Cromwell IVs, despite keeping their original engine.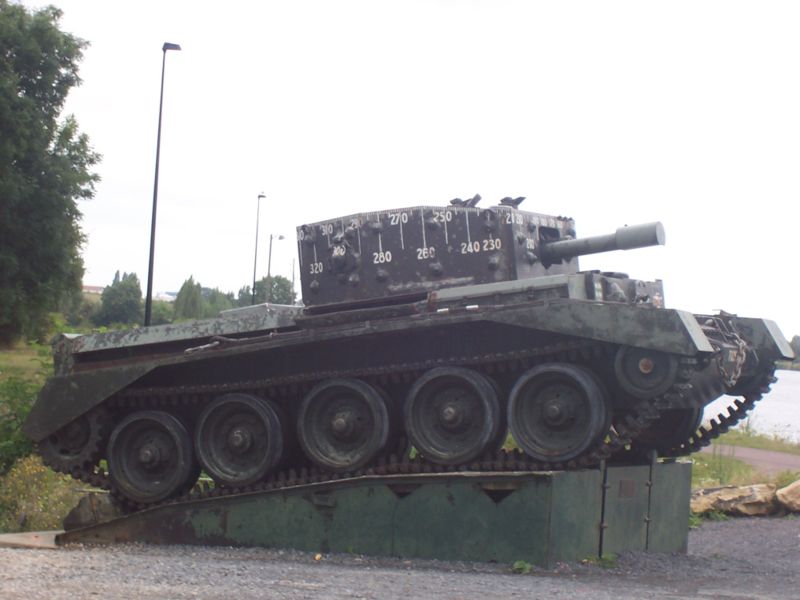 Centaur I
The base version armed with the ROQF (Royal Ordinance Quick Firing) 6 pounder (57 mm/2.24 in) and 64 rounds of ammunition, used only for training.
Centaur II
This experimental version tried a hull without machine gun and wider tracks. Not produced.
Centaur III
A production version armed with the 75 mm (2.95 in) ROQF Mk V gun. In 1943, some 223 Mark Is were converted to this standard.
Centaur IV
CS (Close Support) version armed with a 95 mm (3.74 in) howitzer (51 HE rounds in store). It was in service with the Royal Marines Armoured Support Group and converted as "Hobbart\'s funnies" with wading gear to get them ashore. Engine inlets and gun covers prevented any flooding. 114 were produced and soldiered on from D-Day to V-Day.
Centaur AA
Two versions of this anti-aircraft variant have existed. In common, they were equipped with a Crusader III, Anti-Aircraft Mk II turret with two 20 mm (0.79 in) Polsten guns for anti-aircraft support on D-Day. 95 were built, later called Mark I. The Mark II AA used the Crusader III, AA Mk III turret.
Centaur Dozer
Also part of the "Hobart\'s Funnies", they were turretless versions fitted with a simple dozer blade operated by a winch. The winch passed over the top of the hull and was operated through hydraulic power. 250 of these were built.
Centaur ARV
This is one of the Royal Engineer\'s armored recovery vehicle, fitted with a dozer blade, Turretless, with an optional A-frame.
Centaur OP
The observation post variant, fitted with a dummy main gun and extra radio communication equipment.
Centaur Kangaroo
A turretless APC conversion. Obtained either from regular, specialized or more likely recovered Centaurs (turret damaged or destroyed). A few were so converted for at least two operations in Normandy.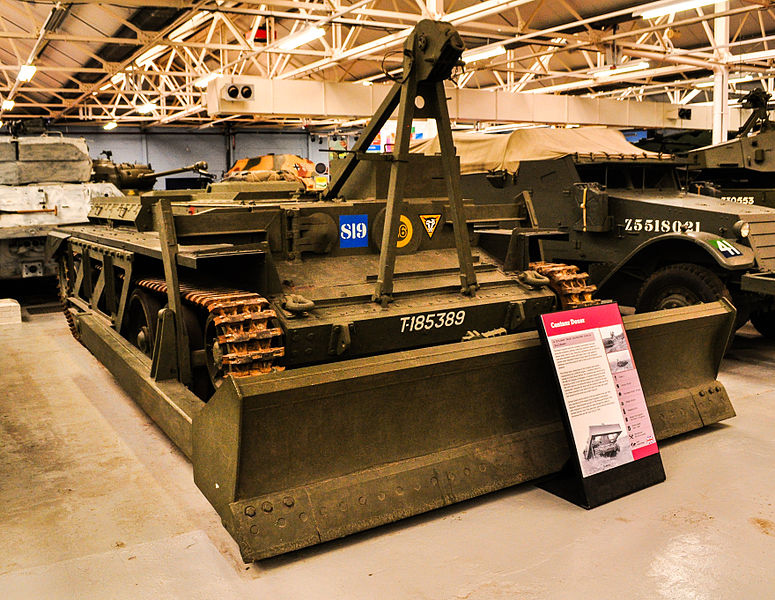 The Centaur in action
The Centaur was used for training, and only the specialized versions saw active service in frontline. 95 mm (3.74 in) howitzer CS versions, if few in numbers, were part of the Royal Marine Armoured Support Group on D-Day. Many other specialist vehicles rendered services to the Royal Engineers, like the combat engineering vehicles and dozers. Also in active service was the OP (observation posts) version. They participated in the whole North European campaign, from the Normandy beaches to Northwestern Germany in April-May 1945. Contrary to the Sherman, they had a low silhouette and were faster. But they also shared the relatively cramped interior and small hatches of the Cromwell.
Surviving vehicles can be seen today at Bovington (dozer), two in Normandy, one at Benouville near Pegasus Bridge and one at La Brèche d'Hermanville. One of the 52 Centaurs sold to Greece (1946) has also survived and can be seen at the Tank Museum, Greek Army Armored Training Center at Avlona near Athens. They participated in the opening stages of the Greek Civil War but later kept in storage due to the lack of trained personnel. After training in Great Britain, some saw limited action in 1949, and were later retired in 1962.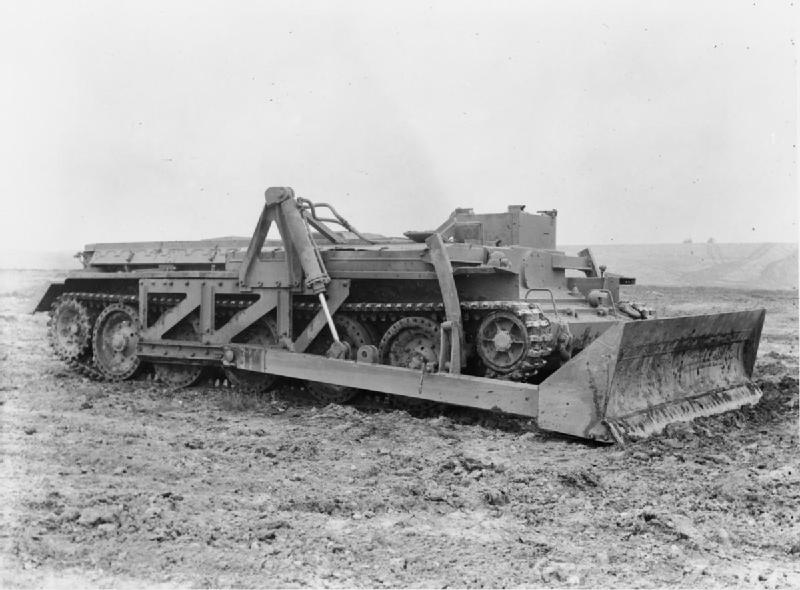 Links
The A27 Centaur cruiser on Wikipedia
A detailed 1/35 scale model by Panzerserra
A27L Cruiser Mark VII specifications
Dimensions
20ft 10in x 8ft x 9ft 5in (6.35 x 2.44 x 2.88 m)
Total weight, battle ready
27 tonnes (54,000 lbs)
Crew
5 (commander, driver, co-driver gunner, loader)
Propulsion
Nuffield Liberty V12 Petrol, 410 hp (250 kW)
Suspension
Improved Christie system
Top speed
40 km/h (24 mph)
Range (road)
220 km (165 mi)
Armament
Main: Royal Ordnance QF 6 pounder (57 mm/2.24 in), 64 rounds
Secondary: 2 x 7.62 mm (0.3 in) Besa machine guns, 4,950 rounds

Armor
From 20 to 76 mm (0.79-3 in)
Total production
950

Centaur Mark I, Great Britain, December 1942.

Centaur Mark III, training unit in Great Britain, mid-1943.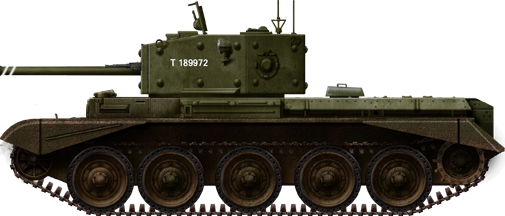 Polish Centaur III of the 14th Jalzowiecki Lancers Regiment, 16th Independent Armored Brigade, in a training unit in Great Britain, May 1944.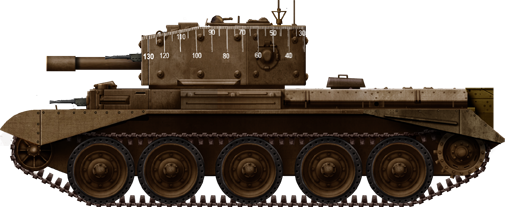 Centaur IV CS (Close Support), Normandy, summer 1944.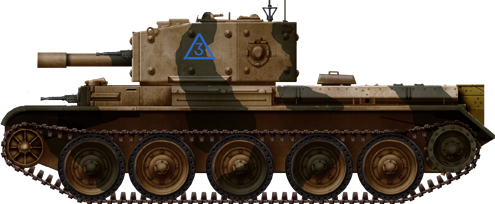 Camouflaged Centaur IV CS, as preserved as Bovington.

Centaur Mark I AA, Normandy, July 1944.

Centaur ARV Dozer of the Royal Engineers, summer 1944.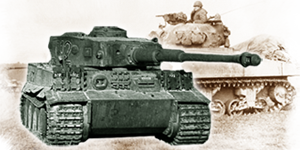 WW2 Tanks
---
WW2 tanks posters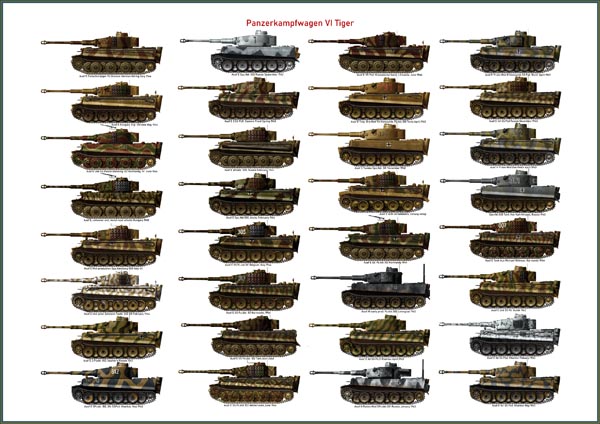 All Tiger tanks liveries.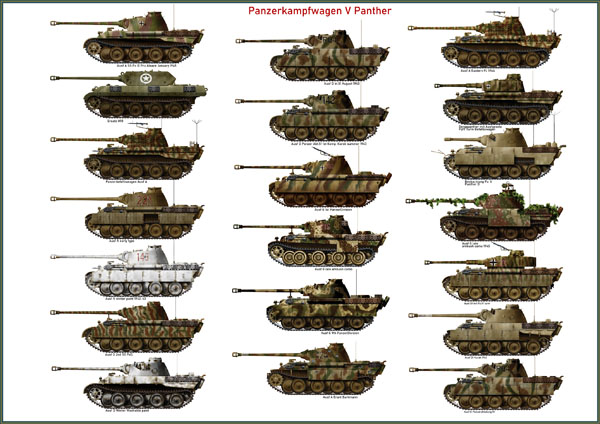 Panther liveries and variants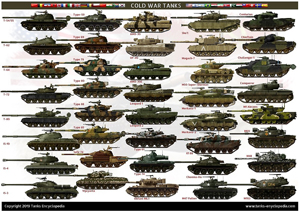 WW2 Armour - All tanks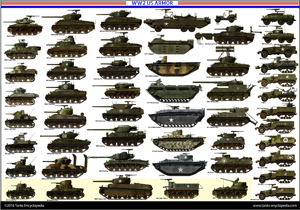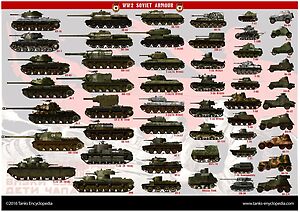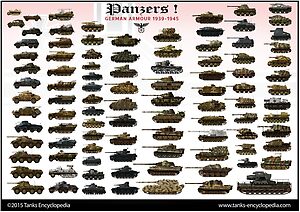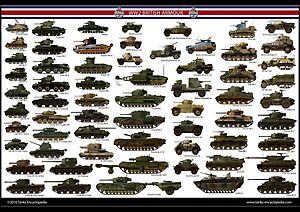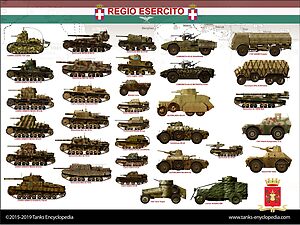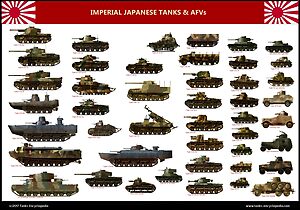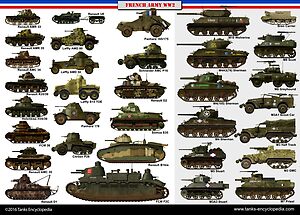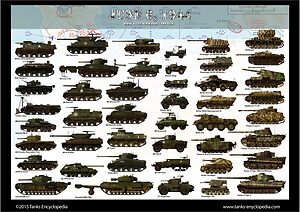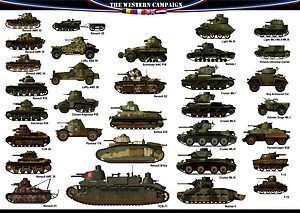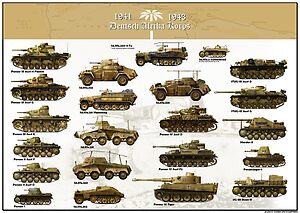 Tanks aces and single tanks series