M24 Chaffee
USA Light Tank, 1944-45 - 4,731 Built
A difficult succession
The need to replace the
M3
and
M5 Stuart
series in WW2 was what pushed for a replacement. Developed from the "
M1 combat car
" and
M2 light tank
, in 1939-40 it appeared that the Cadillac built light tank, which filled a well precised tactical role in the US tank inventory, were no linger adapted to the battlefield in 1942. Although fast and dependable, they were lightly armed, with a 37mm gun now unable to deal with any but German and Italian light tanks, and weak protection to the point troops overloaded them with spare track links as improvized protection. To stay relevant as organic to armoured divisions, and having spent all possibilities of upgrades with the M5A5, and new requirements, there was no choice but testing new prototypes.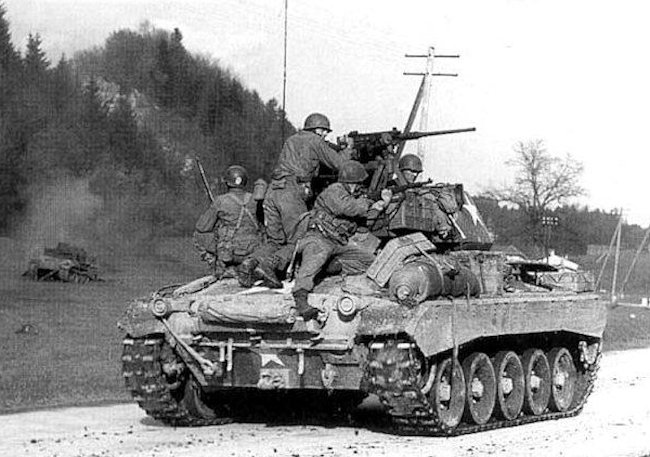 M24 Chaffee Light Tank of the 20th Armored Division, 7th Army, near Salzburg in Austria, 4th May 1945 just a few days before the end of the war.
A prelude tank: FMC's T7
Requirements for the replacement were about the same as the original: Venturing ahead of the main armored thrust, scouting and reporting enemy formations, but what was new, was to be about to call for an artillery barrage or air attack and not engage, using speed and maneuverability as a way to escape. Some wanted a more powerful light tank to replace the M2A4 and M3 in the autumn of 1940 already, but the project gained tractions in Jabuary 1941 with requirements for a low silhouette, compact 14-tonnes vehicle front-protected with 38 mm (1.5 in) and fitted with the same 37 mm (1.46 in) as before, with two pilots designed at Rock Island Arsenal: T7 (welded hull, cast turret, modified VVS) and the the T7El, in riveted construction, same turret but horizontal volute suspension (HVS) for comparative tests...
After a wooden mock-up of the T7 was presented, Rock Island Arsenal was ordered three more prototypes (T7E2, E3 E4) to test different configurations. The T7E2 had the best the most potential, powered by a Wright R-975 engine and after gruellung tests it was approved in December 1941, and at that stage, up-gunned with a 57 mm (2.24 in) derived from the British 6-pdr initially developed for the
Ram tank
, which led to install a Ram turret ring on the first prototype by June 1942. But later it was asked of it could manage a standard 75 mm (2.95 in) gun, leading to redesign the turret and increase armor thickness to 63 mm (2.52 in) on the front (final weight 25 tons) so much so that it was reclassifed as the
Medium Tank M7
in August 1942, then standardized with 3000 ordered to International Harvester Co., with a production stanrting by December 1942.
The pilot being tested at the Armored Force HQ at Fort Knox, it was reported underpowered and work on the M7E1 started, meanwhile the Sherman M4 was ramped up to full production, so much so that the new M7 was now seen as redundant by the Armored Forces and production was halted after a few M7s were produced. Any work on the M7E1 stopped as well while the T7/M7 was now declared obsolete.
The Cadillac T24
The Ordnance Department started work with Cadillac to design a completely new light tank incorporating designs and features from the M7 which led to a pilot model designated T24. It had a twin Cadillac liquid-cooled engine mount, same hydramatic suspension as the last M5 Stuart but the cast turret received a brand new lightweight M5 75 mm (2.95 in) gun developed for the B-25 Mitchell Bomber originally, using a concentric recoil. This enabled to setup a weight limit of 18 tons as ideal, but that meant no more than 25 mm (0.98 in) of armour.
The first pilot T24 was completed in October 1943 and quite successful. The Ordnance immediately authorized production, a first batch of 1000 and later 5000. Production started in March 1944 at both the Cadillac and Massey-Harris plants which ceased production of the M5 immediately. The war ended this process to the 4,731 vehicle, including variants. They started to arrive to the front by late 1944. The name came from General Adna Chaffee Jr, "Father of the Armored Force" which died in August 1941. The vehicle started service in the winter 1944 in Europe. Interestingly, it was the British, which called the M24 the Chaffee, but not the same, it was his father, Adna Chaffee Sr. (1840-1914), a civil war general...
---
---
specifications

Dimensions (L-w-H)
18'2″ x 9'8″ x 9'1″ (5.54 x 2.98 x 2.77 m)
Total weight, battle ready
20.2 tons (18.32 tonnes)
Crew
5 (driver, commander, gunner, loader, co-driver/radio operator)
Propulsion
Twin Cadillac 44T24 8-cylinder 4 cycle petrol/gasoline 148 hp engine
Top speed
35 mph (56 km/h), off road 25 mph (40 km/h)
Suspensions
Torsion Bars
Range
100 miles (160 km)
Armament
75 mm M6 gun (48rds), 2x0.3 cal, 1x 05 cal. AA
Armor
25 mm (1 in) - 25 mm (1 in), Mantel 38 mm (1 1/2 in)
Production
4,731
Gallery
Illustrations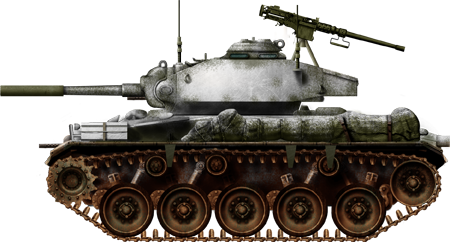 M24 of the US 18th Cavalry Reconnaissance Squadron, 740th Tank Battalion, Battle of the Bulge, winter 1944-45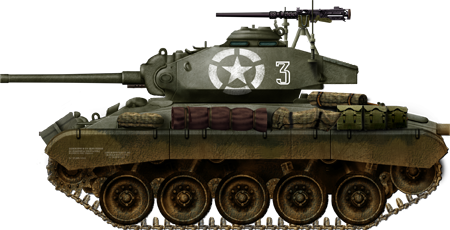 Chaffee of the US Army 1st Armored Division in Bologna, Italy, late April 1945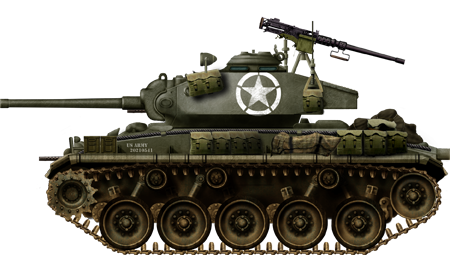 US Army M24 Light Tank in Germany, 1945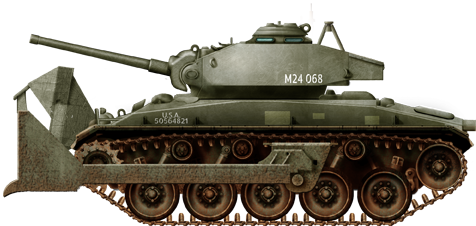 M24 Chaffee fitted with the long armed Dozer Blade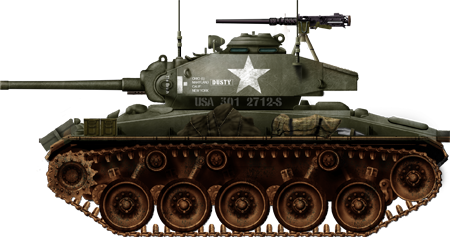 M24 of the US Army in the Netherlands, winter 1944-45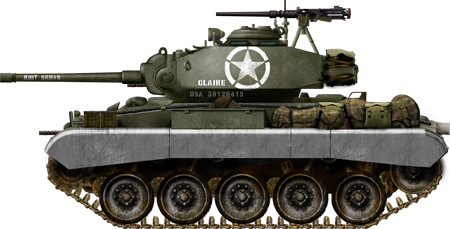 Chaffee of the 752nd Tank battalion, February 1946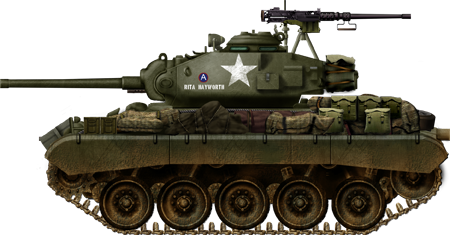 M24 of F Troop, 2nd Cavary Reconnaissance Squadron, Bavaria, Germany, 1945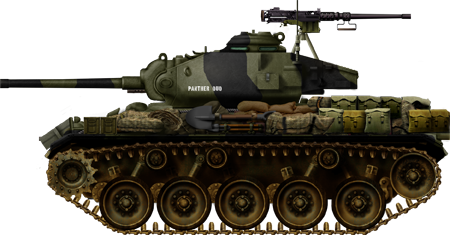 Chaffee from the 23rd Cavalry Reconnaissance Squadron Pizen, Czech Republic, 1945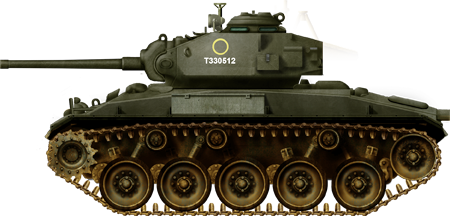 British M24 Chaffee, Light Tank C Squadron, Reconnaissance Regiment, 5th Infantry Division, Germany 1946
Read More/Src
Links
Uruguayan M24UR
Chilean M24 with 60mm HVMS
Stridsvogn m24
AMX-13 tourelle Chaffee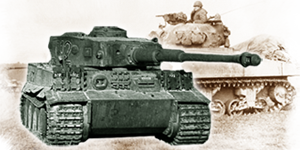 WW2 Tanks
---
WW2 tanks posters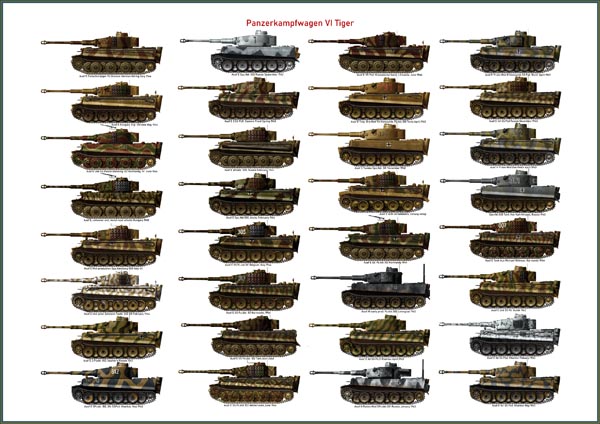 All Tiger tanks liveries.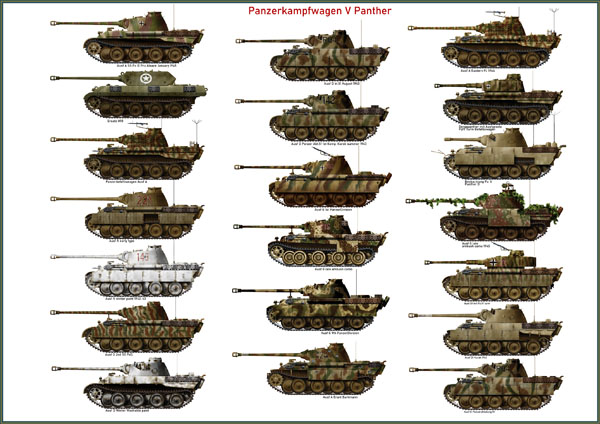 Panther liveries and variants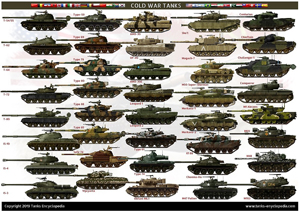 WW2 Armour - All tanks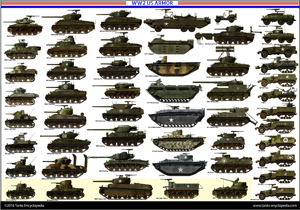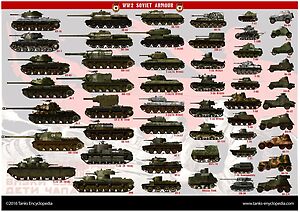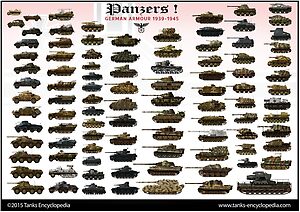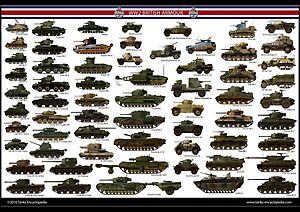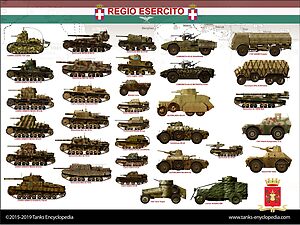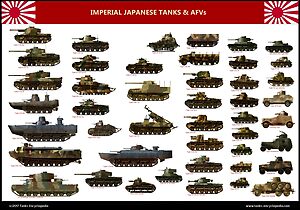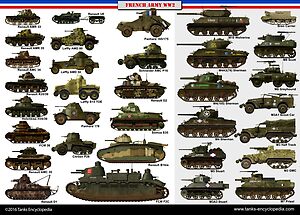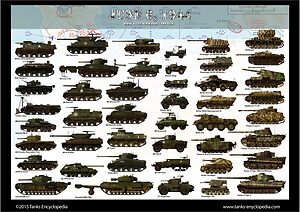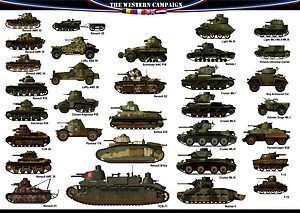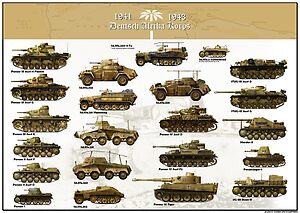 Tanks aces and single tanks series