A licence-built Fiat 6614
The KM 900 is one of the most common wheeled APCs of the South Korean Army today (ROKA), with 400 units built under licence from the the Fiat 6614. The latter was the product of a joint venture of Fiat and OTO Melara, and the prototype was presented in 1972. Since then, this simple and reliable 4x4 APC has been widely exported. South Korea approached the consortium to obtain a licence after trials answering its own specs. Production started in 1977 at Asia Motors and stopped in 1985.
Italian Fiat 6614 and USMC Cadillac Gage LAV from the 1st Light Armor Infantry Battalion, C Co 3rd Plt in Mogadishu, Operation Restore Hope, 1993. The KM900 at the contrary never operated outside Korea.
About Asia Motors
Established in 1965 (아시아자동차 in Hangul, romanized as Asia Jadongcha) this manufacturer From 1973 the government influenced the company to promote the production of low-cost cars for export, but Asia Motors was not up to, therefore it became a subsidiary of Kia Motors from 1976, mostly supplying parts. It was known for its Car/Jeep/SUV, bus and trucks, but eventually was absorbed by Huyndai in 1999 and ceased to exist as a brand, although Asia Motors Australia is still operating. Its most well-known models were civilian jeeps (small jeep look-alike as the Rocsta and later the Retona). The KM900 came in between, in times of economical difficulties, but was relatively simplified compared to the Italian model, as not designed to operate under frontline conditions but rather is intended for military/para-military operations. As a consequence there is no NBC protection and the lever of protection is slightly behind standards (frontal arc not capable to withstood cal.50 for example).
Design
We will not go in length about this model which will be more detailed on the Fiat 6614 page. For the essentials, the prismatic hull is made of welded steel armor, providing only basic protection against small arms fire and artillery shell splinters on all angles. The crew of 10-12 comprised a driver seated at the front-left alongside the right side engine compartment and transmission (with good peripheral vision thanks to a 6-faceted cab), while the commander is seated behind in a cupola. Placed in the center, it has a swinging arm for the cal.50 heavy MG or 7.62-mm LMG standard NATO LMG operator. It seems some versions have the operator enclosed in a semi-open shield. Behind is located the troop compartment for 8-10 men seated on folding benches, which can fire on the move thanks to pistol ports with vision blocks and exit the vehicle via a rear powered ramp. In addition there is a left side door, and two roof hatches.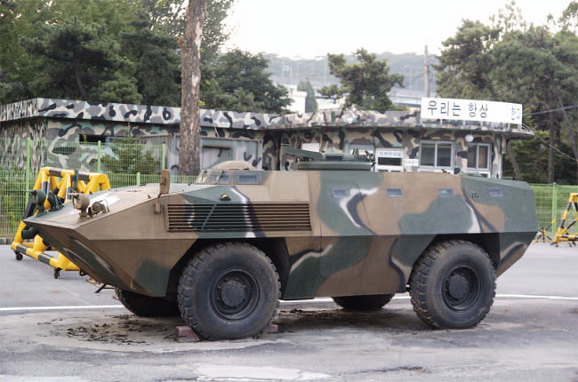 For mobility, the KM900 relies on an IVECO model 8062.24 delivering 160 hp @3200 rpm. It has to move 8.5 t, which traduce as a top speed of 100 km/h on road, 4.5 km/h when swimming and an operational range of 700 km. Indeed the KM900 is fully amphibious without preparation and propulsion is provided by the road wheels (no propellers). There is apparently no trim vane and no details of a bilge pump. The chassis comprised a full-time all-wheel drive. Equipment does not includes a centralized inflation system however, but the tires are of the run-flat type. Trials performances were as follows: It could climb a gradient 60%, side slope 30%, vertical step 0.4 m and gap a trench 0.5 m wide.
Variants
Of the basic APC there was a Marine and Army versions, no significant differences could be find but the rear shield for the machine-gunner.
KM901 Mortar carrier
KM901 Ambulance
KM901 Command post
KM901
Public order version equipped with a front dozer blade.
Service
Being developed in the 1970s and not really fit for the battlefield but more for police operations around Seoul, the KM900 is about to be replaced by the KNAV, and some are already in reserve. It could be maintained for long however due to its primary role which does not require an urgent upgrade.
Links/source
The K900 on Warwheels
The K900 on Military Today
The K900 on Army-guide
spruebrother model kit
KM900 specifications

Dimensions
5.49 x2.85 x2.52 m (17 x9.3 x8.2 ft)
Total weight, battle ready
13.2 tons (26,400 ibs)
Crew
3+9 (Driver, Cdr, gunner, infantry)
Propulsion
Doosan D2848T diesel 350 hp (261 kW)
Suspension
Coil Springs
Top speed/water
100 km/h/4.5 kph) (xx mph)
Range
900 km (xx mi)
Armament
Cal.50 12.7mm M2HB or 7.92mm LMG
Armor
6-8 mm (0.3 in)
Total production
400 in 1985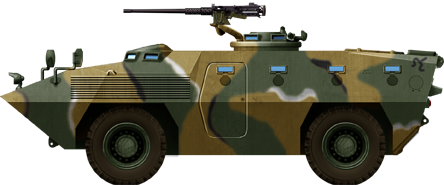 Illustration of the KM900 APC, 1980s
Gallery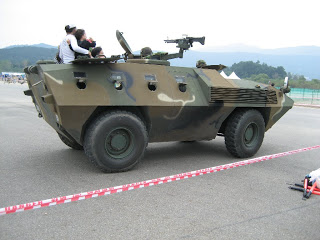 KM900 at a public demonstration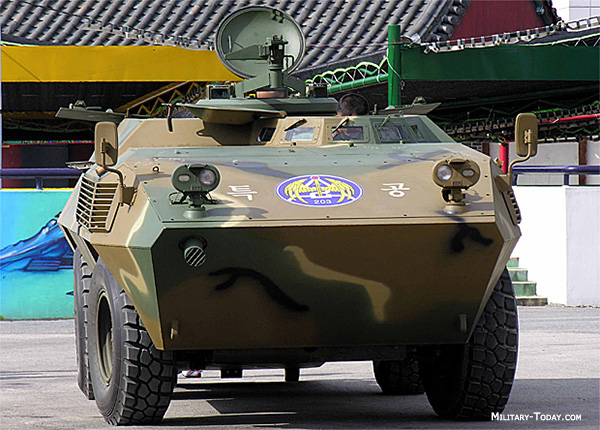 KM 900 front view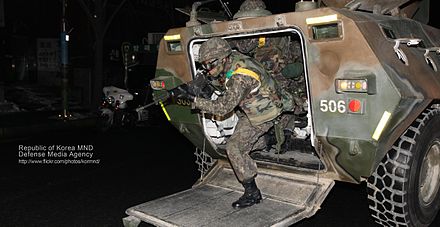 Rear view, showing troops disembarking from the KM900.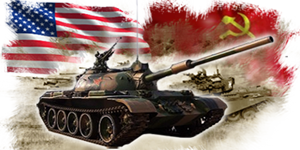 Cold War Tanks



































Cold war tanks posters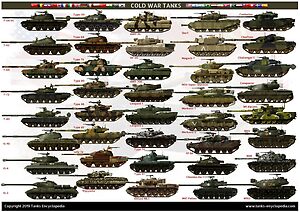 Cold War Main Battle Tanks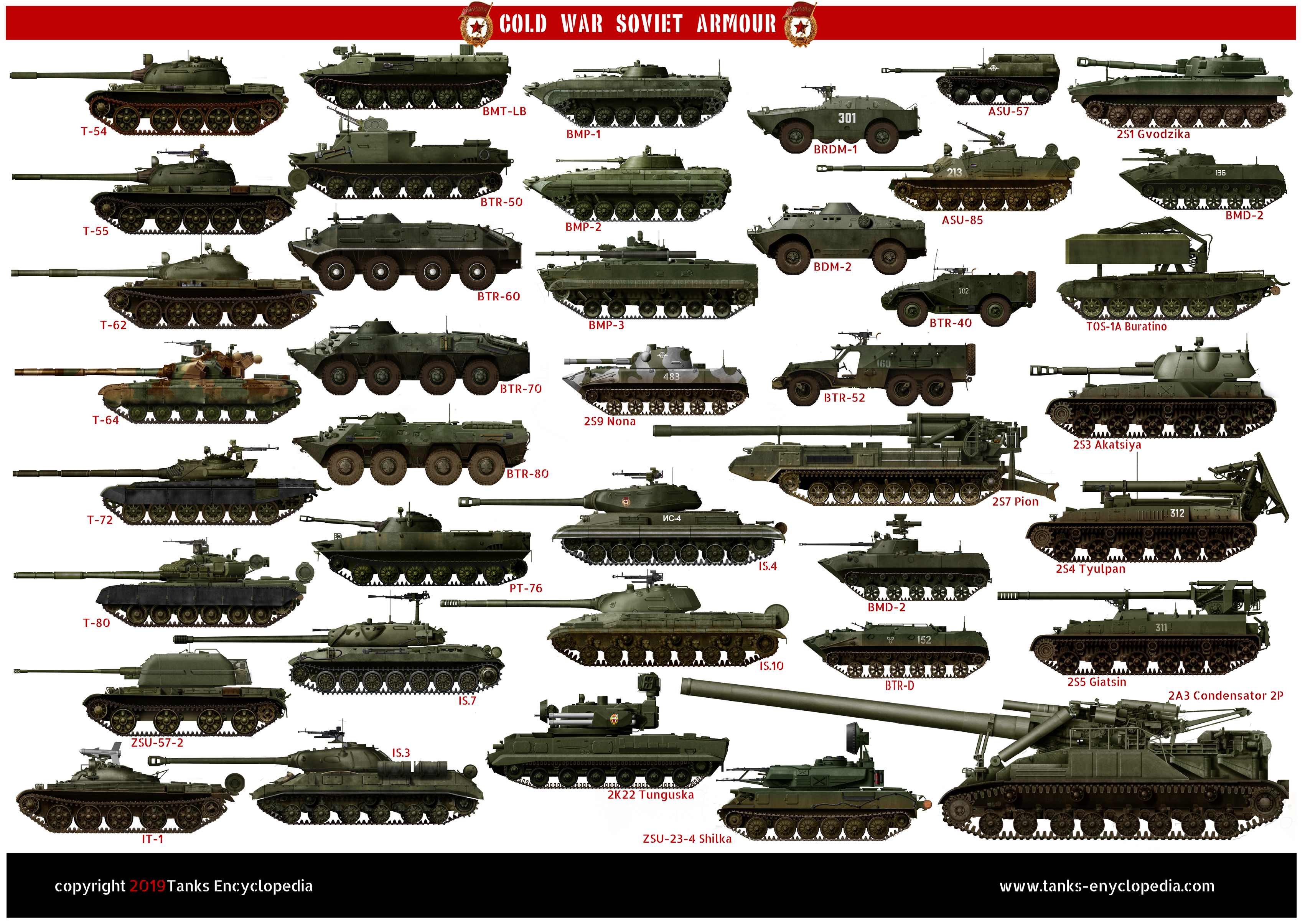 Cold War Soviet Army