Replacing the Dingo
When the British Army published a specification for a new light recce and liaison armored vehicle, Daimler was quickly chosen due to the outstanding success of its
Dingo scout car
, widely produced and used throughout the war. Based on this experience, the Ferret was a straightforward extrapolation, duly modernized of the Dingo. Although it had some likenesses, this was an all brand new vehicle. First, it was heavier (four tons in battle order) and larger, with a fully enclosed fighting compartment, and central driver position. It was equipped with a turret and semi-amphibious. It was sturdy enough to carry heavy loads like AT missiles and served until the Gulf war, from the latest version. It has been retired from service but now makes the delight of collectors due to its affordable price and a large supply of spare parts.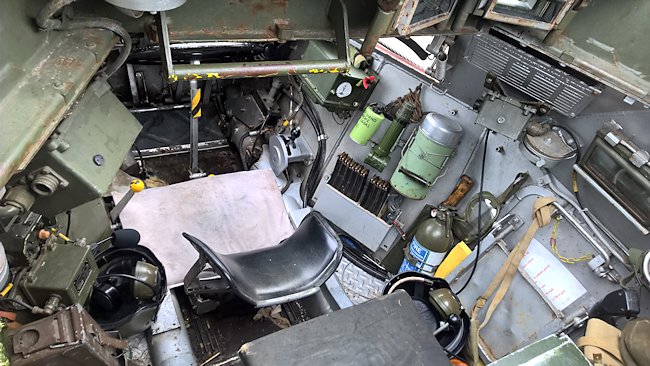 Driver's position inside a Daimler Ferret Armoured Car
Design
The Ferret shared similar design features with the former Dingo/Ford Lynx, but was basically a scaled-up version, explained by a relocated driver to the center, allowing to fit a quite roomier fighting compartment, hexagonally shaped. The driver had an excellent peripherical vision thanks to a three-faceted sloped cabin, protected by hinged hatches fitted all three with vision blocks and a periscope. The hull was an all welded monocoque configuration which gave additional strength, however, the running gears were also included in it, uncompartmented, making the ride quite noisy. The suspensions were of the classic 4x4 independent coil springs type, and the tyres were of the "Run flat" type, making it possible for the crew to get back to base safely when hit.
The compartment was partly open-top, with an orientable searchlight and a ring-mounted Bren MG, 0.30 cal. Browning M1919 or a more modern 7.62 OTAN GPMG machine-gun, only for the early versions. A turret was added to most Marks, starting with the Mark 1/2. This four-faceted turret had a side mounted orientable mounting, generally for a Browning cal.303 machine gun. This turret, fully traversable had a hinged roof door for observation, used by the tank commander. In this configuration and those with later version with heavier armament, the crew was reduced to two. The engine was a sturdy Rolls-Royce gasoline B60 Inlet over Exhaust I6 petrol which gave enough torque to propel this vehicle up to nearly 100 kph on highway.
Most were equipped with two banks of two smoke projectors at the front, to allow safe evading maneuvers. Additional equipment was fitted on the sides and mudguads. Starting with the Mark 1/1, all received a completely sealed hull, and some were equipped with a flotation screen for additional buoyancy.
Evolution from the Mk.1 to the Mk.5
A first prototype was developed in 1950 by Daimler, and after trials and some corrections accepted in service as the FV701C by 1952. Production started immediately and lasted until 1971 with more than 4400 vehicles in 16 Marks, but also many sub-type and local experiments, up to more than a hundred variants, both for home and export. In some versions, it was possible to upgrade the engine to a more powerful Austin Princess 4-Litre-R, giving 185 hp. Ferrets were still in use during operation Desert Storm in 1991.
Mark I
The Mark one was developed originally in 1951 and was produced by 1952. It was a pure liaison/recce vehicle with an open-top compartment, turret ring for a cal.303 Browning or Bren gun, spare wheels. The sub-variant Mark 1/1 receive thicker side and rear hull plates, and a completely sealed monocoque to improve fording capabilities.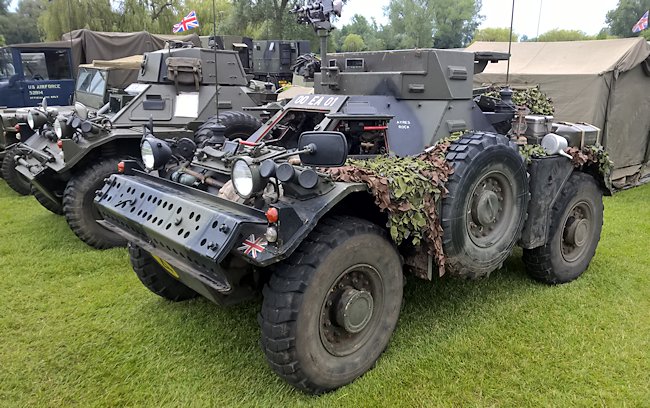 Mk.1/2 Daimler Ferret Armoured car with a fixed turret. Frontal turret armor increased to 32mm. The hinged two-part hatch armor was 25mm thick
The Mark 1/2 received a fixed turret with a hinged roof door and swapped its armament for a Bren LMG, and later GPMG. A second variant of the same replace this armament by a cal.303 browning and received a flotation screen.
Mark II
This major model was the main recce version, equipped with the Alvis Saracen APC two-doors turret, equipped with a cal.30. The Mark 2/1 was a reconversion of the Mark 1 with this turret and additional Bren gun ammo stowage, while the Mark 2/2 had an extention collar and a three-doors turret.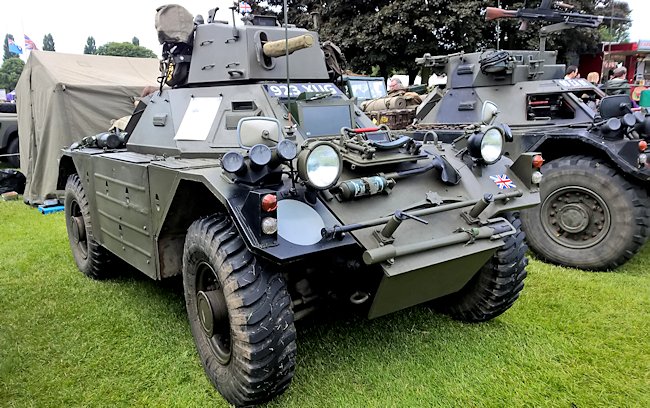 Restored Mark 2/3 Daimler Ferret Armoured Car
The Mark 2/3 received thicker side and rear hull plates, while the Mark 2/4 was an upgraded version with add-on welded appliqué armor panels on side and rear of the hull and turret. The Mark 2/5 was a conversion for earlier Mark 1s to the Mark 2/4 standard. The Mark 2/6 was a variant called FV 703 by the ordinance, basically a Mark 2/3 equipped with a set of Vigilant antitank missile (four). Two banks of two missiles were mounted either side of the turret, in a fixed position but with some elevation. The vigilant was a MCLOS wire-guided, I.C.I. dual-thrust solid fuel rocket with a HEAT, 6 kg warhead and practical 200 to 1375 m range. When it was put out of commission, former Mark 2/6 became Mark 2/7s (reverted to FV701 in ordnance).
Mark III
The Mark 3 was also called "big wheels" Ferret. It had indeed larger size tires, higher ground clearance, heavier armor, flotation screens and a stronger suspension. This was the most amphibious scout car in the series.
Mark IV
The Mark 4 (FV711) was related to the former final Mark 2s and sub-variants, an upgrade with the Alvis Saracen APC turret, and cal.30 Browning machine gun. This was also an upgrade applied to many former Mark 2/3s.
Mark V
The Mark 5 (FV712) was an amphibious vehicle derived from the Mark 3, but equipped with a large flat turret designed to carry up to four Swingfire AT missiles in twin banks. A 7.62 mm GMPG was posted in the center.
Ferret 80
The Ferret 80 was an export version developed in 1980 by Alvis to radically upgrade this vehicle with a more potent armament and new hull in aluminum. This hull was now more longitudinal with large flat mudguards, with a relocated opening and a new n°16 cupola, new Perkins diesel engine and automatic transmission, power steering, new components, infrared opticals, full NBC protection. It was made available in December 1983. The Ferret 80 went with three types of configurations, up to the large Helio FVT 900 turret fitted with a 20 mm autocannon and coaxial GMPG (total weight rose to seven tons). The commander version had a large superstructure with a two-men in tandem configuration
The Ferret in action & operators
Outside the Falklands, the Ferrets served in many operations, including under ONU colors. The Irish peace-keeper used them with the ONUC in Cyprus and Congo (now Zaire). Outside Great Britain, most Commonwealth countries adopted it. India still operated them. Former operators included Australia and Canada, Hong-Kong, Singapore (which developed a specific version), France (which used them during the Algerian war), Jamaica, Portugal, South Africa, New Zealand, the AUE, the Philippines, Lebanon, Iraq, Sri Lanka, Congo, Ghana, Uganda, Zimbabwe.
Others still operate the Ferret today, like India, the Burkina Faso, Sudan Zambia, Indonesia (police), the Myanmar, Nepal, Pakistan (90, Army), and Jordan, which developed a modernized specific version of its own...
Gallery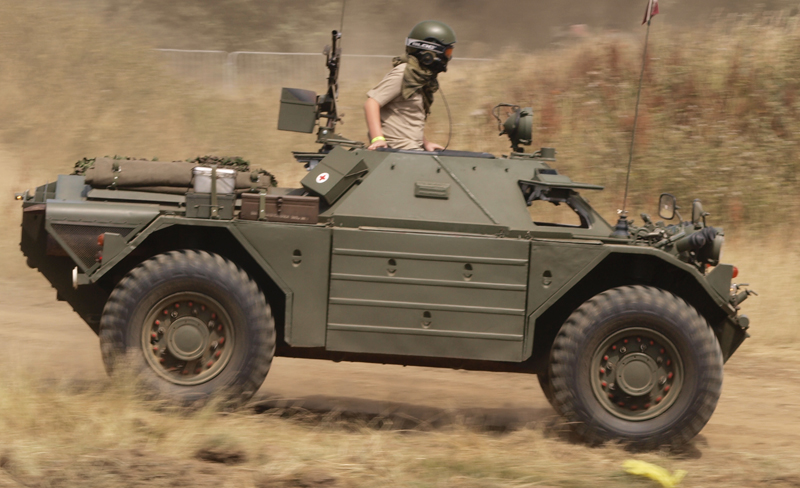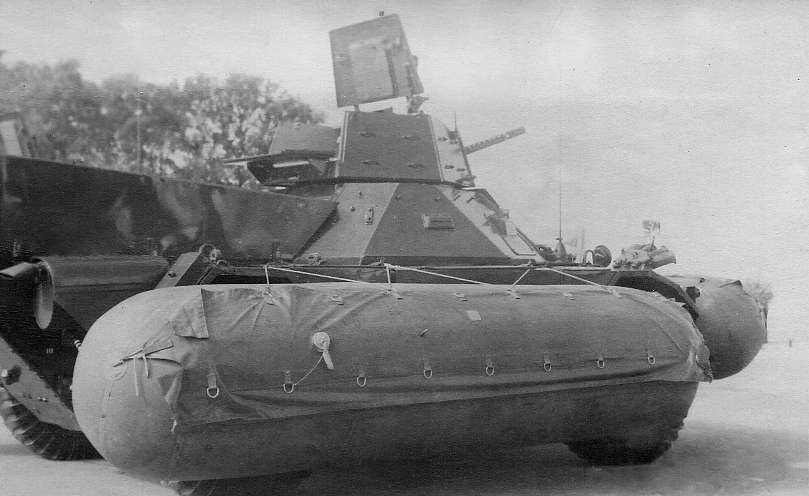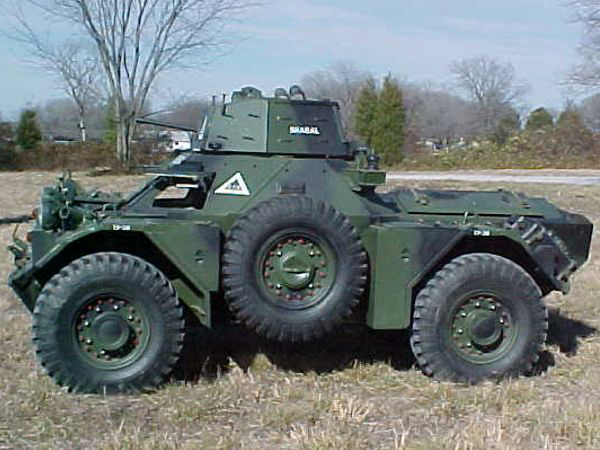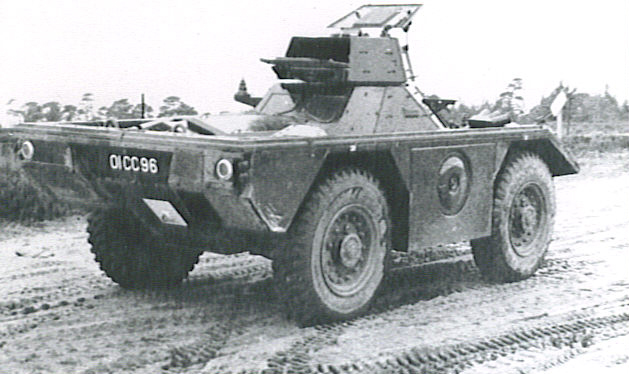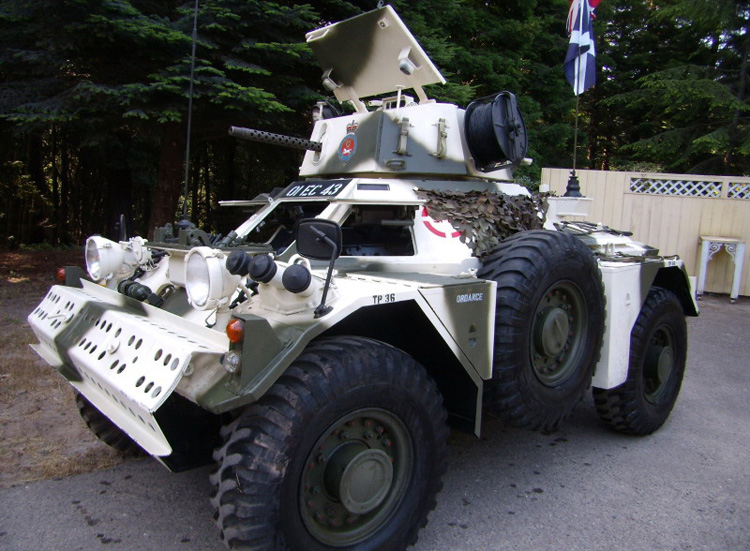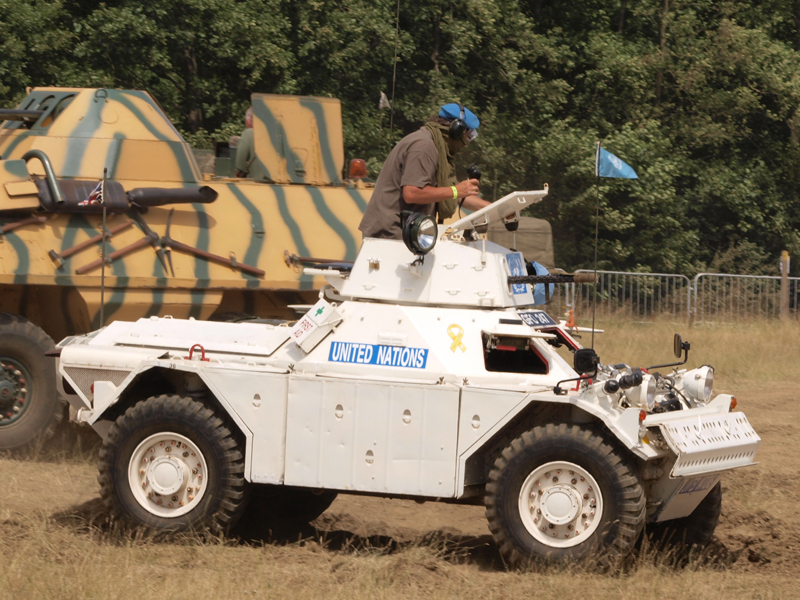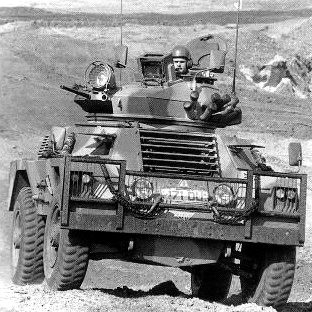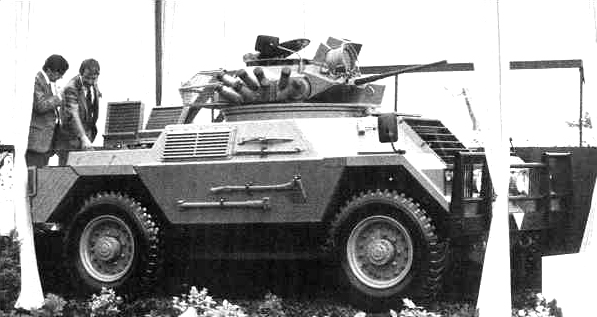 Sources
On the Ferret on Wikipedia
A dedicated website on the Ferret
Another useful source of Jedsite
Daimler Ferret Mk.II specifications

Dimensions (L x W x H)
12ft 2in x 6ft 3in x 6ft 2in (3.7 x 1.91 x 1.88 m)
Total weight, battle ready
3.7 tons ( ibs)
Crew
2 - 3 (see notes)
Propulsion
Rolls Royce B60 IOE I6 petrol 130 hp (97 kw) - pwr 35.1/t
Suspension
4x4 independent coil springs
Speed (road)
58 mph (93 kph)
Range
310 km (190 mi)
Armament
0.30 M1919 Browning (7.7 mm)/ Bren MG/ 7.62mm GPMG. see notes
Armor
12 mm sides to 30 mm front (0.24-0.35 in)
Total production
4,405 in 1952-1971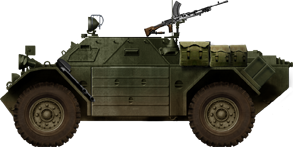 Ferret Mark 1 (FV 701C), characterized by having a single cal.30 Mg without turret, here replace by a Bren. It was solely used for liaison duties.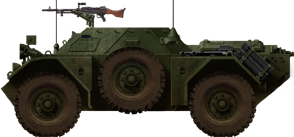 Ferret Mk.1/1, with a reinforced, amphibious hull (thicker sealed plates) and GPMG.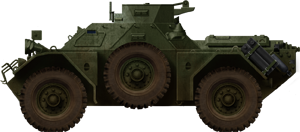 Ferret Mk.1/2, equipped with a turret, augmented crew and a GPMG.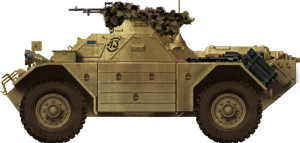 Ferret Mk.1/2, second version, apparently used during the Gulf war, 1990.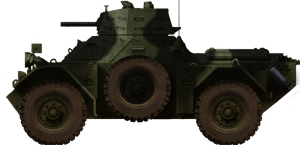 A Camouflaged Ferret Mk.2, 1959, the standard recce version with the new 2-door turret from the Alvis Saracen.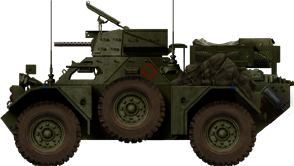 A Mk.2, hatches open, with an extra storage bin over the engine hood.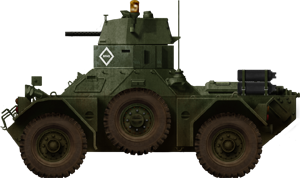 Mark 2/2 attached to Malaya Kings dragoon guards, 1968.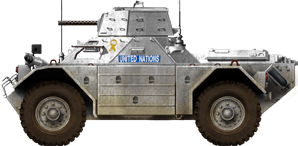 Mk.2/2 of the ONUC. It was an upgraded Mk.2 manufactured with thicker side and rear hull plates.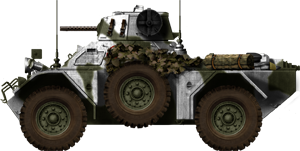 Ferret Mk.2/2 or 2/3, with a winter camouflage, 1965.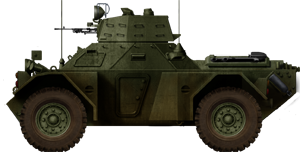 Mk.2/4. Upgraded Mk.2/2...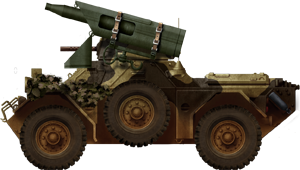 Mk.2/6. The missile version.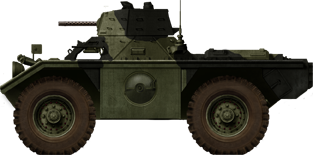 Ferret Mk.3 or 4 - "big wheels Ferret", an amphibious version defined as such from the beginning.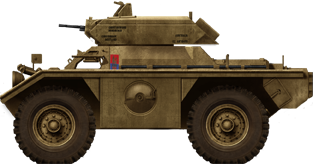 Australian Ferret Mk.5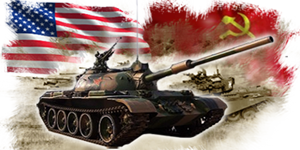 Cold War Tanks



































Cold war tanks posters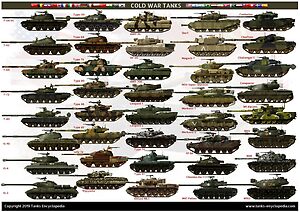 Cold War Main Battle Tanks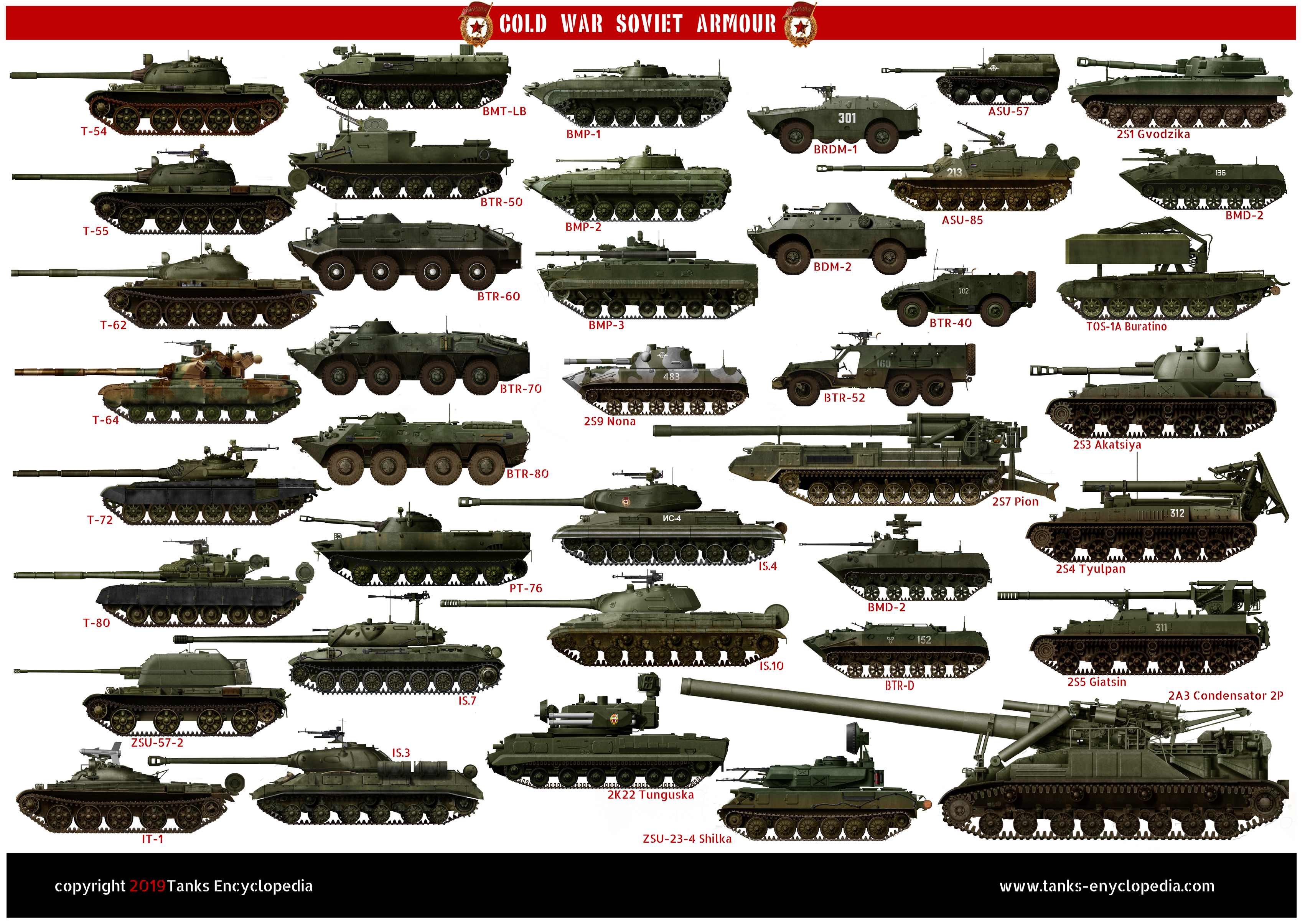 Cold War Soviet Army