Development
Norinco's Type 77 APC project was first started in April 1965, after which two prototypes were tried, intended to serve in Southern China. The vehicles were certified in 1977 and first revealed in 1978. Contrary to popular belief it was not a copy of the Russian
BTR-50
although sharing many similarities with it, but a derivative of the standard
Type 63 APC
. As a source of inspiration and tactical usefulness, the BTR-50 was indeed probably the chief factor in its early development. The Type 77 has been produced in limited numbers until the late 1980s and never exported. production figures are elusive but it is estimated that 200 to 300 are still in use with the Chinese Marines.
Design
The Type 77 layout is straightforward and inspired by the BTR-50, but based on the Type 63-I amphibious tank chassis and shared most components with it. Crew compartment with the driver, commander/gunner at the front, middle troop compartment and engine at the rear. The hull is made of welded RHA and reminiscent of the Type 63 amphibious APC with its generous hull that allowed for several buoyancy compartments and made it a true swimming tank (at 12 kph). Infantry can exit and access the vehicle through large roof hatches and side doors. There are pistol ports in one of the two version built. The roof hatches could be locked in place and used as shields. The figure of twenty infantry is even less credible than for the Type 63 APC's and 16 is more likely and eight servants when carrying an artillery.
The Type 77 is NBC protected. The hull is lightly protected, with an estimated 13 mm on the front (and with the extra layer of the trim vane), and 8 mm elsewhere, made of welded steel RHA. The sole armament is a heavy 12.7 mm multipurpose DsHk heavy machine gun or its Chinese version, manned by the commander that sits in the right hand side cupola. The latter prominent feature is also given three periscopic sight blocks covering the frontal arc. The driver sits on the left hand side and is given also three sight. Compared to the BTR-50, the main advantage of the Type 77 is its powerful 12150L-2A diesel, liquid-cooled Engine that provides a 400 hp output for a 25.8 hp per ton ratio, much higher than for the Soviet design.
It was coupled with a 5 forward and 1 reverse gears transmission. The drive train comprised six stamped road wheels on torsion bars suspensions, with rear drive sprockets and front tensioners. In water, propulsion is assumed by two water-jets and side lids for maneuverability. This vehicle can climb a gradient of 60%, side slope of 40%, vertical step of 0.87 m and trench 2.9 m wide. The improved type 77-2 has a rounded front (no protruding cupola) with three armored shutters and equipment on the rear for various payloads.
Derivatives
The Type 77 is known by the manufacturer as the WZ511. There is also HQ-2B surface-to-air missile carrier, apparently non-amphibious.
Type 77-1 (1977)
Gun-carrying version, modified to carry disassembled gun (85 mm AT/ 120 mm howitzer) on the roof and hydraulic winch and ramps to load and unload the gun.
The Type 77-2 (1982-83)
Improved amphibious APC and ammo carrier, artillery tractor, without winch or ramps and called WZ511-2. Sub-variants are the ambulance and command versions.
The Type 77 ARV
The armored recovery vehicle variant based on the type 77 chassis.
The Type 89 SPG
Howitzer-carrying version based on the same chassis, carrying a 122 mm howitzer (Soviet D-30 copy) for support operations.
Chinese Type 77 specs.

Dimensions :
7,15 x 3,2 x 2,16 m (23.4 x 10.4 x 7.08 in)
Total weight, battle ready :
15.5 Tons (31,000 ibs)
Crew :
2+16 (Driver, Commander, +16 personal)
Propulsion :
12150L-2 12-cyl. LC diesel 402 hp (300 kW) @2,000 rpm
Top speed
60 kph road/12 kph water (37.2/7.45 mph)
Range/consumption
370 km (flat) for 416 liters (230 miles)
Suspension
Torsion bar
Armament
1 x 12.7 mm DsHk (0.3 in)
Armour :
2-13 mm welded RHA (0.1 to 0.5 in)
Total production
Unknown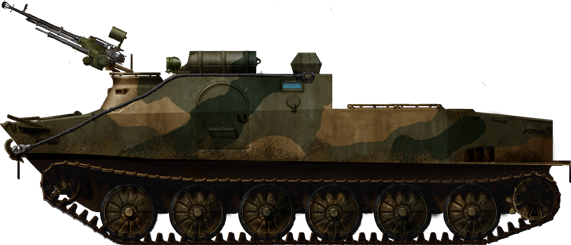 Type 77-2 AAPC in a regular Army pattern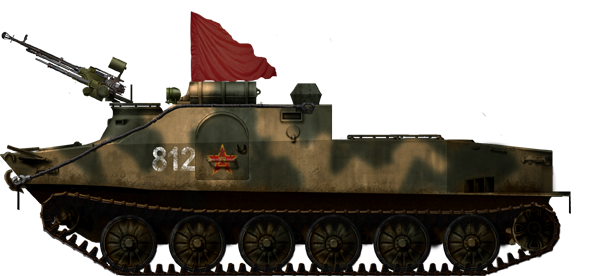 Type 77-2, without gun.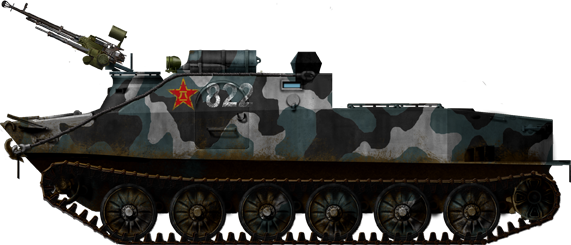 Type 77-2 of the Chinese Marines
Gallery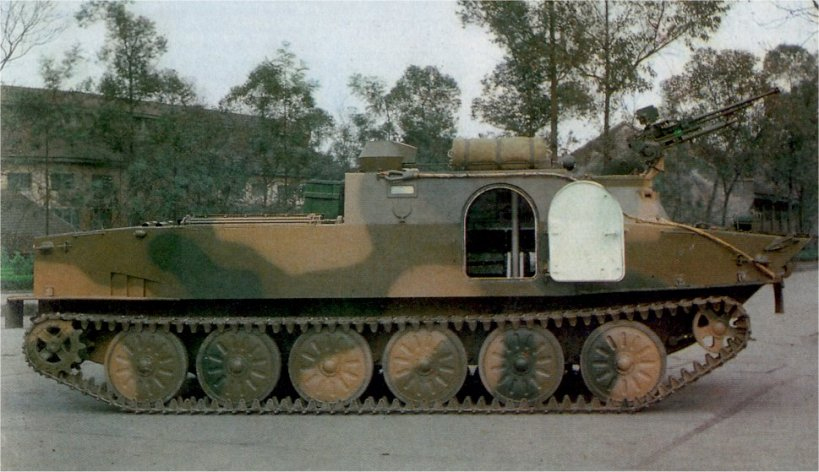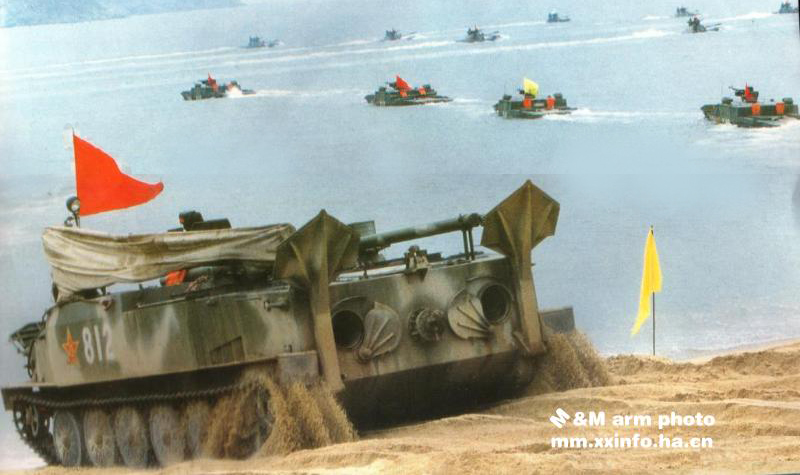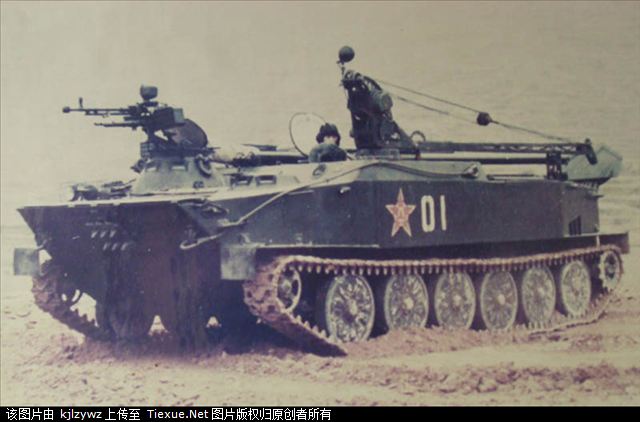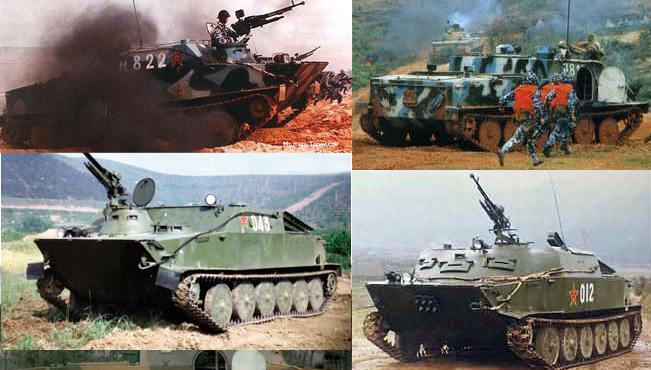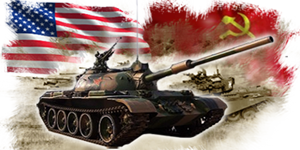 Cold War Tanks



































---
Cold war tanks posters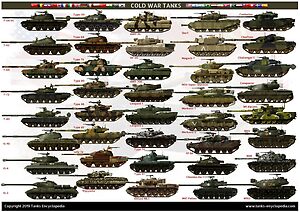 Cold War Main Battle Tanks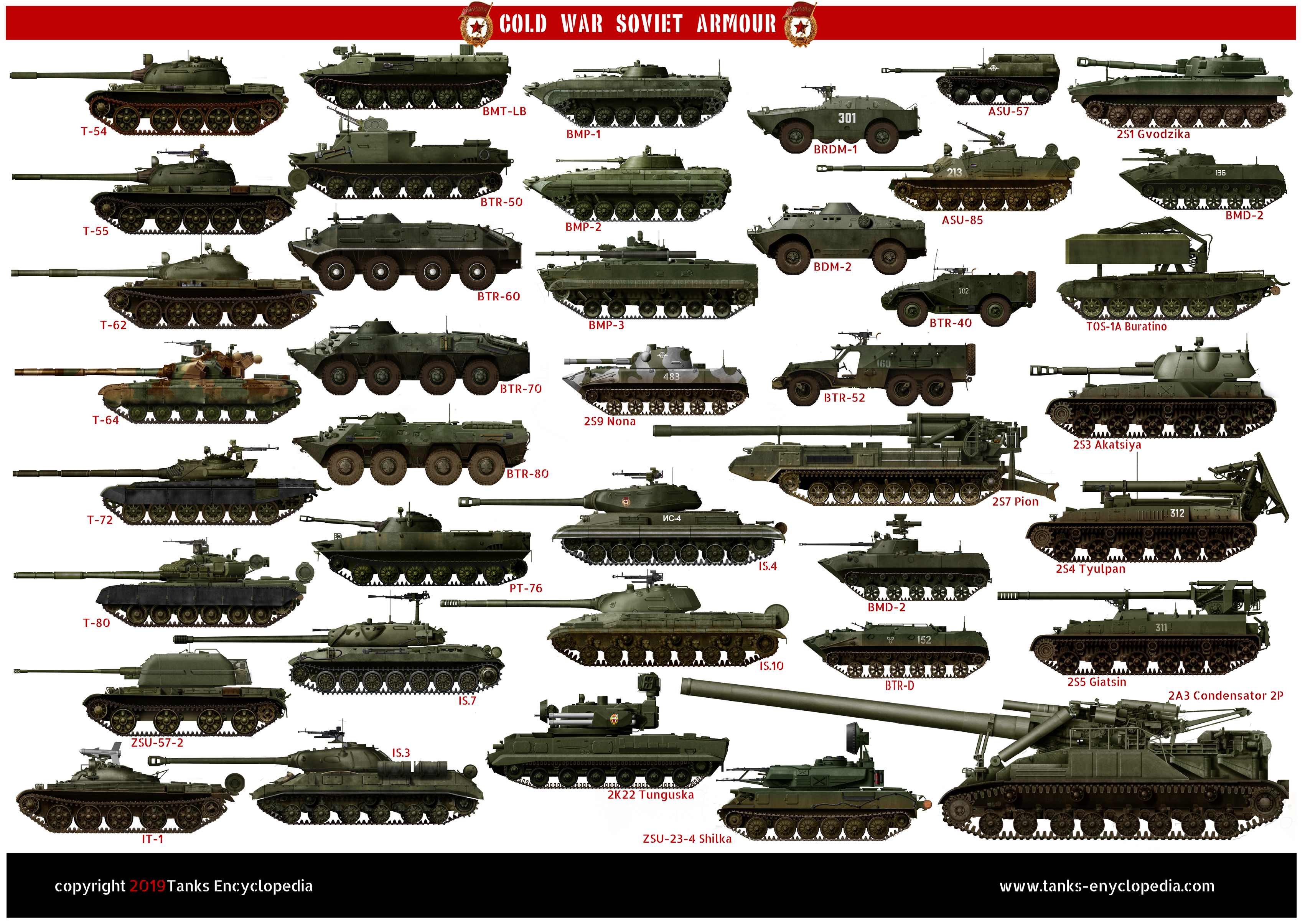 Cold War Soviet Army