The Tankette reloaded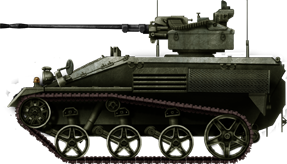 The tankette fad lasted until the late 1930s. At that time it was fast and quite cheap to bolster armored forces but of limited military value on the battlefield. So why choosing to resurrect the concept? The requirement of the Bundeswehr for a light, airborne, and all-terrain vehicle which can fit into most NATO aircraft cargos bays was part of it. It was considered for both transport and combat support for paratroopers, to be air-dropped, and to be airlifted by helicopters if needed. Porsche answered the call with several prototypes and a small series began in 1979-1983, later derived into two series. These are the only true modern "tankettes" in existence in western Europe and could be compared to some extent to the Soviet
ASU-57
.
The Wiesel 1
The Wiesel I is built in light steel armor which can resist small arms fire. The general shape of the hull reminds early British light tanks of the
Mk.IV
-
V
series, with a narrow beak and large after section. The front section comprised the small transverse-mounted 64 kW Audi 2.1-litre 5 in line, turbodiesel engine which delivered 86 hp, the radiator and exhaust were at the left side and rear. Suspensions are made of torsion arms and shock absorbers, with four roadwheels on each side (one is the rear track tensioner). Two men can fit in, the driver and a gunner, using a remotely operated 20 mm quick-firing Rheinmetall MK 20 Rh202 in the standard Mk.I version. However other versions were tested and built in small series: The Wiesel 1 Aufklärung (recce), the Wiesel 1 ATM TOW (Anti-tank versions) armed with a single TOW launcher and reloads inside, later uprated with BMS. The Wiesel 1 Mk20 was upgraded with a new sight and BMS. 6 other prototypes were also tried. The Bundeswehr ordered 343 vehicles in 1985.
The Wiesel 2
However similar in shape, the Wiesel 2 is an enlarged version, with five roadwheels on each side, longer (4.78 m), wider (1.87 m) and higher (2.17 m) or 15.7, 6.2, 7.1 feets.in. Overall weight was 4.78 tons (1083 ibs) in the heaviest version. The engine is a 1.9 L Volkswagen Straight-4 turbo-diesel with direct-injection delivering 109 hp (81 KW). The crew could be augmented to three. This vehicle saw several short series as the leichtes Flugabwehr System (LeFlaSys) air-defense light vehicle, Air Defence Command Post, Reconnaissance and Fire Control Vehicle (RFCV) with radar, and Air Defence Weapon Carrier (Ozelot) with four stingers or LFK NG missiles in vertical cells. For the army, there was also an ambulance, and Engineering Scout vehicle, a battalion command post vehicle, an Advanced Mortar System, with the sub-variants C2/JFSCT (command & control fire), 120 mm automatic laying weapon system and recce. 7 other variant prototypes were also tried. 178 were ordered by the Bundeswher.
Active service
The Wiesel ("Weasel") was named for its small size, speed and agility on the battlefield. It was a difficult target to spot visually and was light enough to be carried, four at a time in the cargo bay of a C130 Hercules or C160 Transall, and a Sea Stallion CH53 heavy helicopter can airlift two of them. Air-droppings were tested but abandoned after four failed tests. The deliveries took place in the late 1980s but the Bundeswehr eventually canceled the project due to budgetary restrictions, after 148 were delivered. Porsche continued the development however for the export market but so far none has been ordered abroad, although the United States bought seven Wiesel 1 of the unmanned version for evaluation. Nevertheless, the Wiesel saw active service with paratroopers units (Fallschirmsjägerbatallion) as organic support/antitank support to this day. This particular vehicle has been extensively deployed in airborne operations with UNOSOM II, IFOR, SFOR, KFOR, TFH and ISAF. It should be noted that seven Wiesel 1 has been lend to the US Army for unmanned robotic trials.
Preserved Wiesel 1 in sand livery for Afghanistan
Sources/Links about the Wiesel
The Wiesel on Wikipedia
Extra photos on Wikimedia
Rheinmetall page about the airborne mortar "Network Centric Warfare" concept.
Video documentary about the Wiesel (Welt) - must see !


Wiesel 1 specifications

Dimensions
3,55 x 1,82 x 1,82 m (11.6 x 6 x 6 ft)
Total weight, battle ready
2.75 tons (606 270 ibs)
Crew
2 (Driver, gunner), see notes
Propulsion
2.1 L Audi 5-cyl in-line TD 85 hp (64 KW)
Suspension
Independant torsion bars
Speed (road)
70 kph (43,5 mph)
Range
200 km (120 mi)
Armament
Standard: Rheinmetall MK 20 Rh202 20 mm cannon
Armor
6-8 mm estimated
Total production
148 in 1986-88.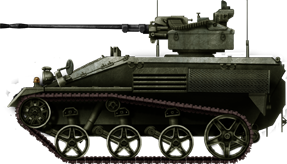 Wiesel-1 Mk20.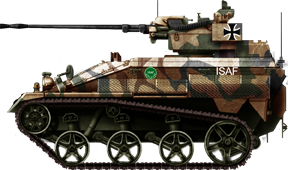 Wiesel-1A1 ISAF, Afghanistan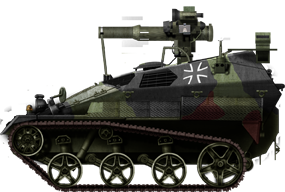 Wiesel-1A1 HOT tank hunter, .5/FschJgBtl - Fallschirmjägerbatallion 263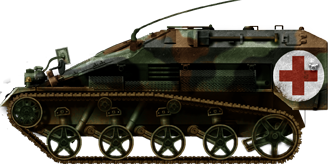 Wiesel 2 Ambulance, 1990s.
Gallery
The fire support Wiesel 1A1 M20 on display in 2009.
Comparison graphic beween the two versions - Rheinmetall AG, wikipedia licence CC
A Wiesel 1 as carried by a CH53G Stallion.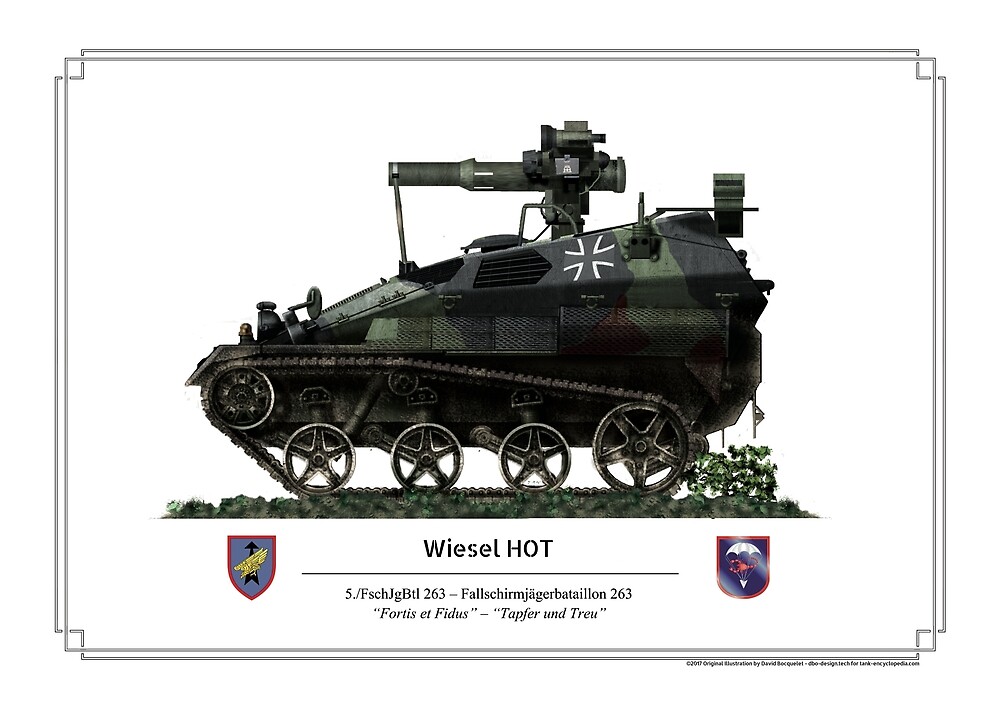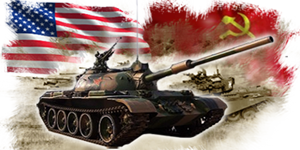 Cold War Tanks



































Cold war tanks posters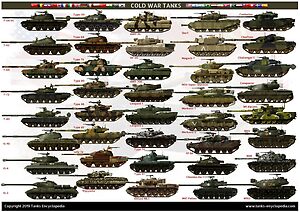 Cold War Main Battle Tanks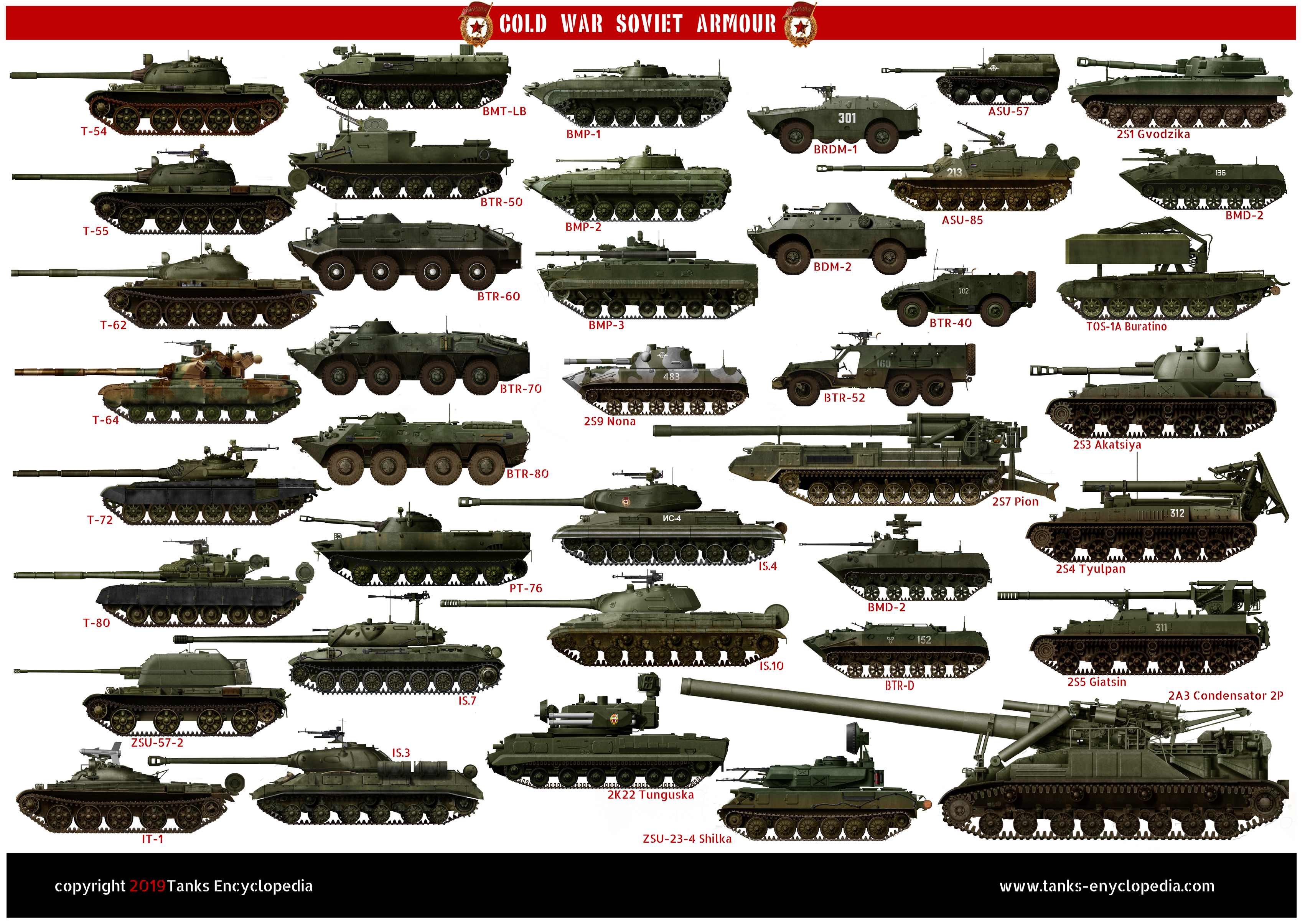 Cold War Soviet Army