From the M113 to the AIFV, to the YPR-765
The YPR-765, main Dutch APC/IFV until recently is the result of a long development, started in 1967, when FMC (Food and Machinery Corp) just started to improve the
M113
. Two prototypes designated XM765 were being tested, derived from the
XM701
(MICV-65 program). The latter was already aimed at replacing the M113 (Mechanized Infantry Combat Vehicle, 1965). The XM701 already had a sloped rear deck with firing ports for the infantry. Although evaluated, the XM765 was nevertheless rejected in favor of the M2 Bradley, but FMC decided to market it anyway for export as a cheap alternative to the Bradley and possible upgrade for its production, resulting in the PI M113A1 in 1970 and after revisions in 1970, came out with the AIFV (armored infantry fighting vehicle). Four evaluation vehicles were built and eventually were chosen by the Netherlands, placing an order for 880 vehicles in 1975, which was re-designated YPR-765. After modifications, the order was altered to 2,079, of which 815 were to be manufactured locally under license and 1,264 in co-production with FMC.
Design
Although the core of the AIFV/YPR was still the old M113, many changes had been made internally. First off, the driver was located on the front left of the hull (next to the engine and transmission) and the commander seated behind him and there was a one-man turret at his right. The hull was made of welded aluminum, but spaced steel laminate armor were bolted onto the side and front, with the void filled with polyurethane foam. In addition to the added protection, the latter added buoyancy and allowed to carry more payload while remaining fully amphibious. The rear sloped section received four pistol ports, plus one in the single ramp. Additional Fuel tanks took place on the back, either side.
The Detroit Diesel Allison 6V-53T developed 267 hp (195 kW) at 2800 rpm for a power/weight ratio of 19.29 hp/t. It was localized in the front right of the hull and remained accessible from the front hatch, large enough to extract the entire engine and replace it in the field or daily maintenance. This powerpack was identical to the one propelling the M113A1, but with a larger radiator capacity and turbocharger. The transmission was sturdier, fit for heavy duty tasks. The driver had access to a sliding hatch, M27 day periscopes with the usual alternative central passive IR sight, while the commander's cupola which had full traverse, was given five periscopes also (four day, one IR with 1x to 6x variable magnification).
The main armament was centralized inside the one-man turret, on the right side behind the engine. With an electro-hydraulic traverse, it can elevate from -10 to +50° fast enough (60°/sec) to respond to any threat with its main Oerlikon Contraves 25 mm KBA-B02 autocannon. The latter was dual fed (two ammo bands) with 180 rounds of ready use ammo, while 144 more were stored inside the hull. Left of it was a coaxial 7.62 mm FN MAG machine gun (230 ready rounds, 1130 in storage). The seven infantry carried (6 back to back facing outwards, 1 seated between the command and the turret) could use their weapons through five pistol ports, four with M17 periscopes (sides) and one backwards with M27 periscope. There was a door inside the ramp in addition, which was merely used for embarking/unloading heavy payloads.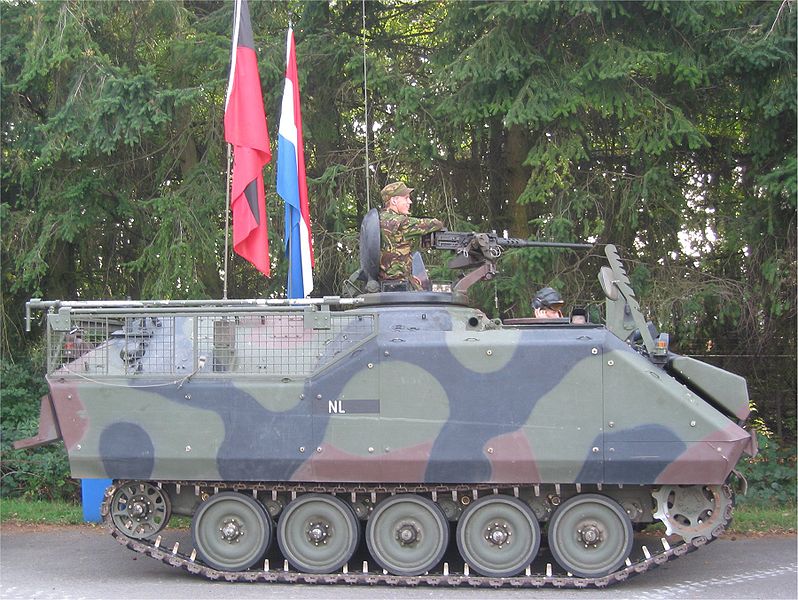 YPR-765 pri.50 APC
The YPR-2000 program
It should be noted also that Turkey's FNSS produced the derived
ACV-15
which was also exported to Malaya and the UAE. The Dutch YPR-2000 was a modernization program also known as the YPR-765A1 standard (all existing vehicles were upgraded), which includes features from the M113A3.
Variants
YPR-765 pri (pantser-rups-infanterie) — APC, 25mm KBA-B02/coaxial MAG turret
YPR-765 pri.50 (M2 HB HMG, M113-type cupola)
YPR-765 prco-series (pantser-rups-commando)
YPR-765 prco-B — Comp. cdr's vehicle turret (rear folding table, 2 seats).
YPR-765 prco-C-1 — Bat. cdr's vehicle .50 cal. M2 HB M26 cupola (same arrangement but 5 seats)
YPR-765 prco-C-2 — Bat. Fire Control Center (.50 cal./M26 cup., rear comp. as for C-1).
YPR-765 prco-C-3 — Mortar Fire Control Vehicle (cal.50/M26 cup. rear comp. folding table, 2 seats).
YPR-765 prco-C-4 — AA Command Vehicle (cal.50 M2 HB/M113 cup. rear folding table, 3-seat bench).
YPR-765 prco-C-5 — Arti. Observation Vehicle(cal.50/M113 cup. C-3 rear comp).
YPR-765 prrdr Radar Vehicle (ZB-298 battlefield surveillance radar (cal.50/M113 cup. rea folding table, 2 seats).
YPR-765 prgwt Ambulance Vehicle crew 3+5 rear comp. 2 seats+ bins for equipment, 4 stretchers.
YPR-765 prmr MO-120-RT 120-mm mortar Tractor (cal.50/M26 cup. crew 7)
YPR-765 prv Cargo Carrier (cal.50/M113 cup. crew 2)
YPR-765 prat Tank Destroyer, Emerson TUA (TOW Under Armor turret)+ MAG LMG - Co-produced by Daf Special Products, 119 delivered.
YPR-806 prbrg ARV mod. M113, AIFV automotive components.
Exports
Bahrain:
25 Dutch YPR-765 delivered in 1996
Chile: 150 YPR-765s (plus 169 AIFV-B)
Egypt: 390 YPR-765 ordered from Netherlands in 1996 (plus 640 AIFV-B)
Jordan: 441 YPR-765 (and 58 AIFV-B)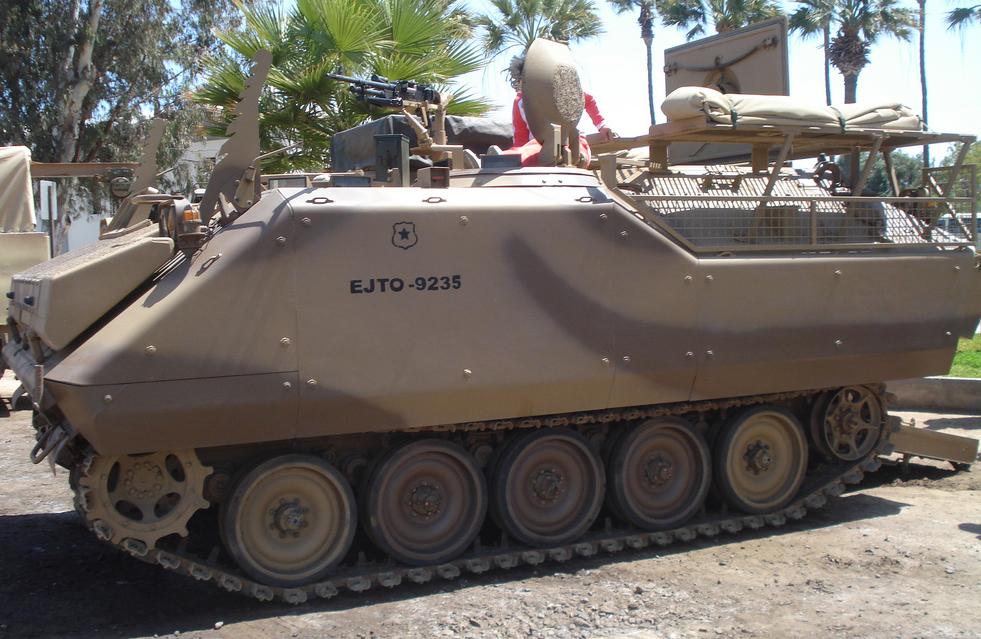 Chilean Army YPR-765: 150 are operated today, in various versions
The YPR-765 in service
The YPR-765 entered service in 1975 and was first committed in action with IFOR Bosnia in 1997. During the war in Afghanistan, several YPR-765s were fitted with additional armor (ERA bricks and slat armor). This IFV/APC has been scheduled retired for service due to post-cold war budget cuts, and resold like the Belgian AIFV-B, now replaced by 183 tracked CV9035NLs but also 400 wheeled
Fennek
and 200 Boxer vehicles.
Links
The YPR-765/AIFV on wikipedia
The AIFV on army-guide
YPR-765 specifications

Dimensions
5.26 x2.82 x2.62m (17.2 x9.25 x8.59 ft)
Total weight, battle ready
13.6 tons (27.200 Ibs)
Crew
3+7 (driver, cdr, gunner, 7 infantry)
Propulsion
Detroit Diesel Allison 6V-53T 267 hp (195 kW) P/w 19.29 hp/t
Suspension
Torsion bars
Speed (road)
61 km/h (38 mph)
Range
490 km (305 mi)
Armament
20mm KBA-B02 cannon, coaxial FN-MAG 7.62mm
Armor
Protection against small arms fire +spaced armor
Total production
815 in 1975-1980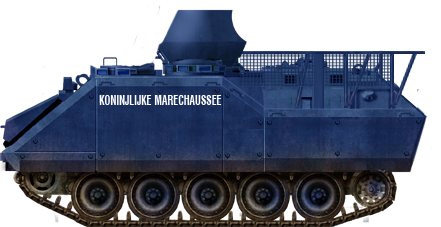 YPR-765 of the Koninklijke Marechaussee (Dutch Royal Military Constabulary)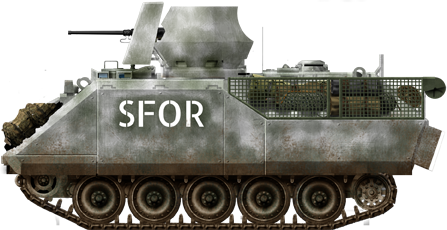 YPR-765 with SFOR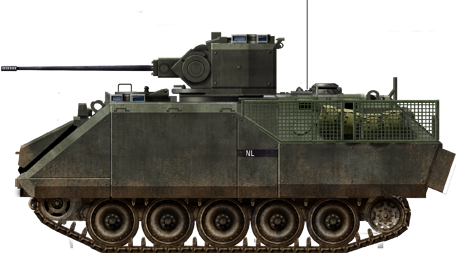 YPR-765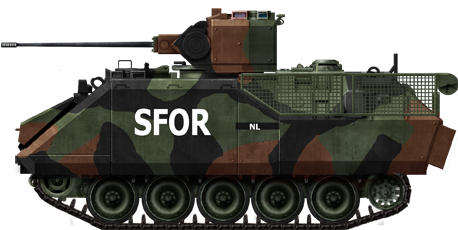 YPR-765A1, Bosnia 1997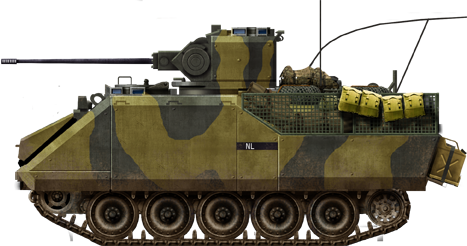 YPR-765A1, Afghanistan, 2007
Video
A-compagnie 17e Pantserinfanteriebataljon "Garde Fuseliers Prinses Irene", 2000s.
Gallery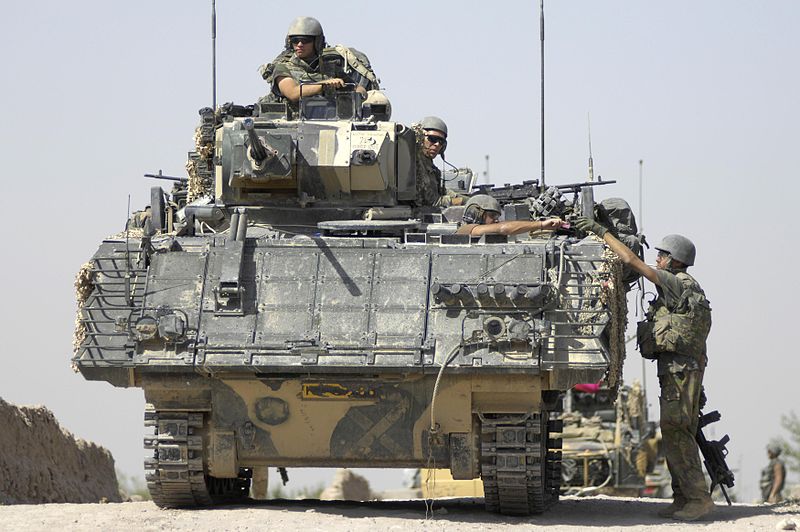 Dutch YPR-765 in Afghanistan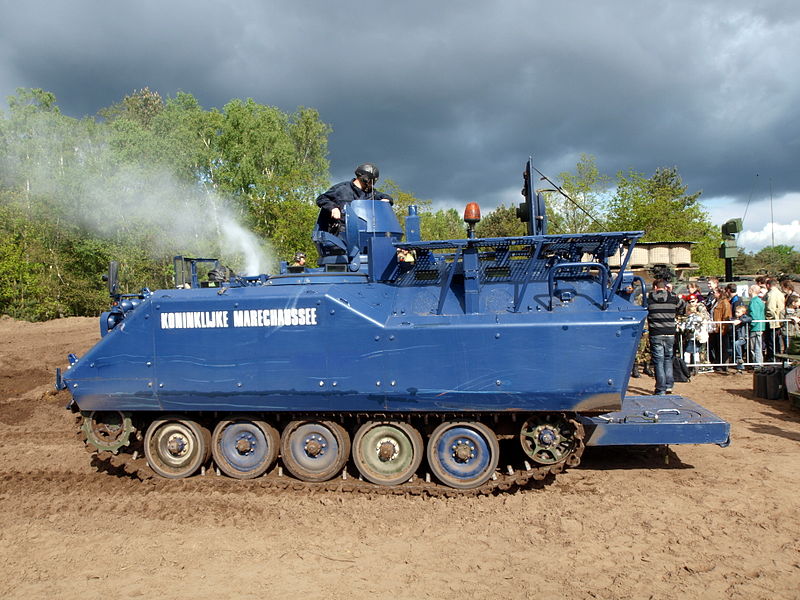 YPR-765 Marechaussee (military police)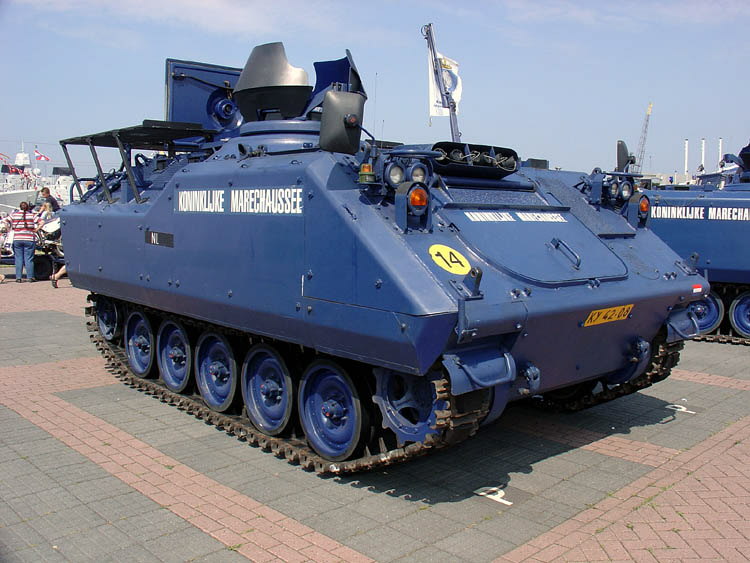 YPR-765 Marechaussee (military police)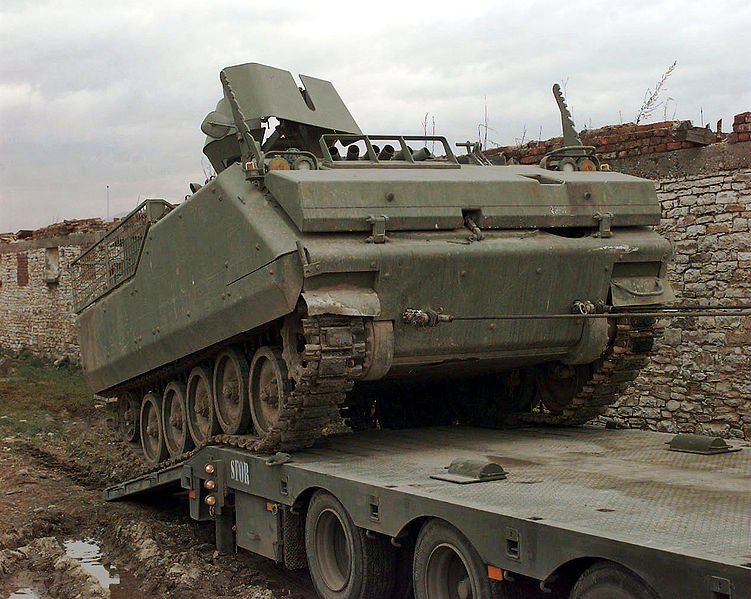 YPR-765 Marechaussee (military police)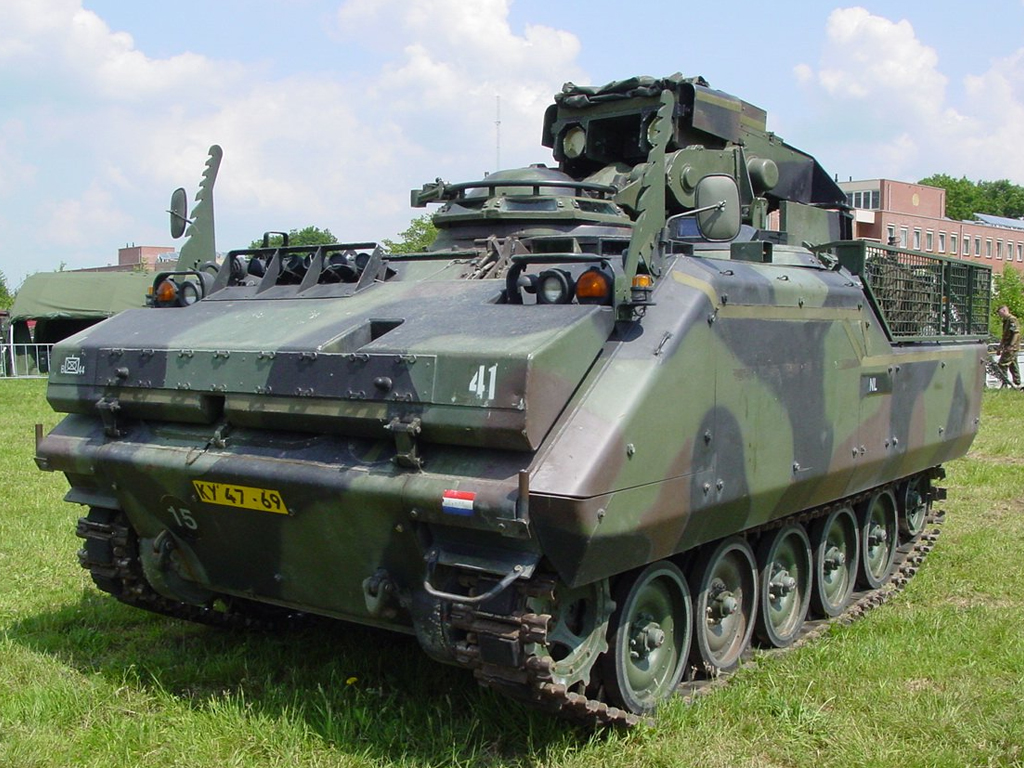 YPR-765 Marechaussee (military police)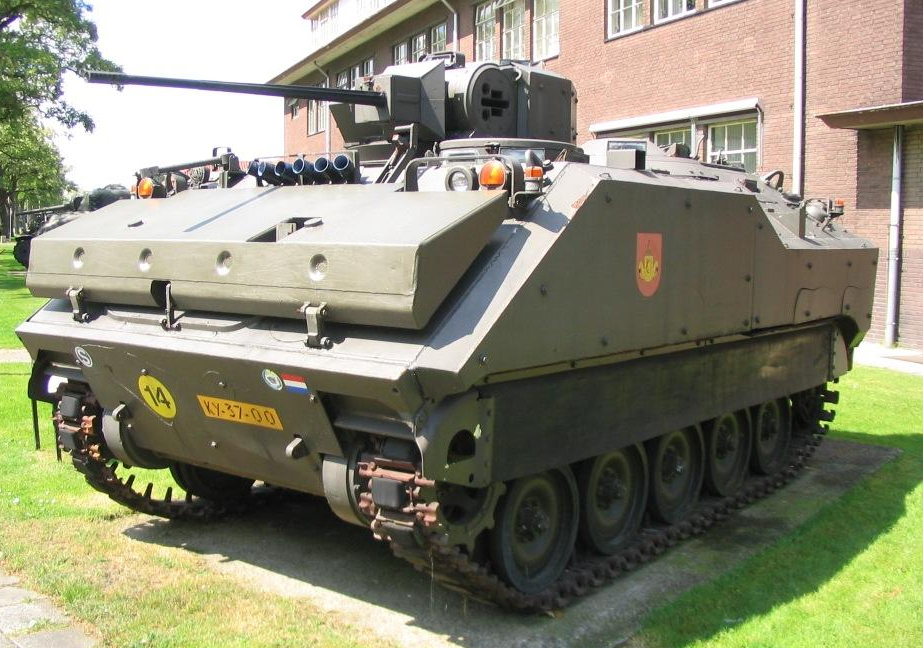 YPR-765 Marechaussee (military police)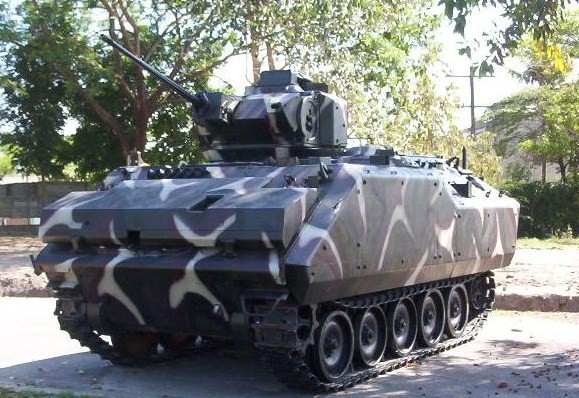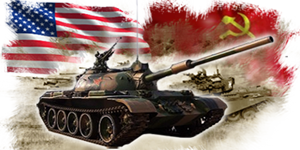 Cold War Tanks



































---
Cold war tanks posters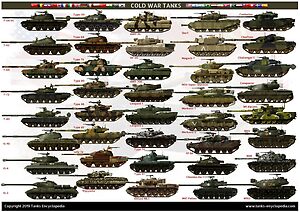 Cold War Main Battle Tanks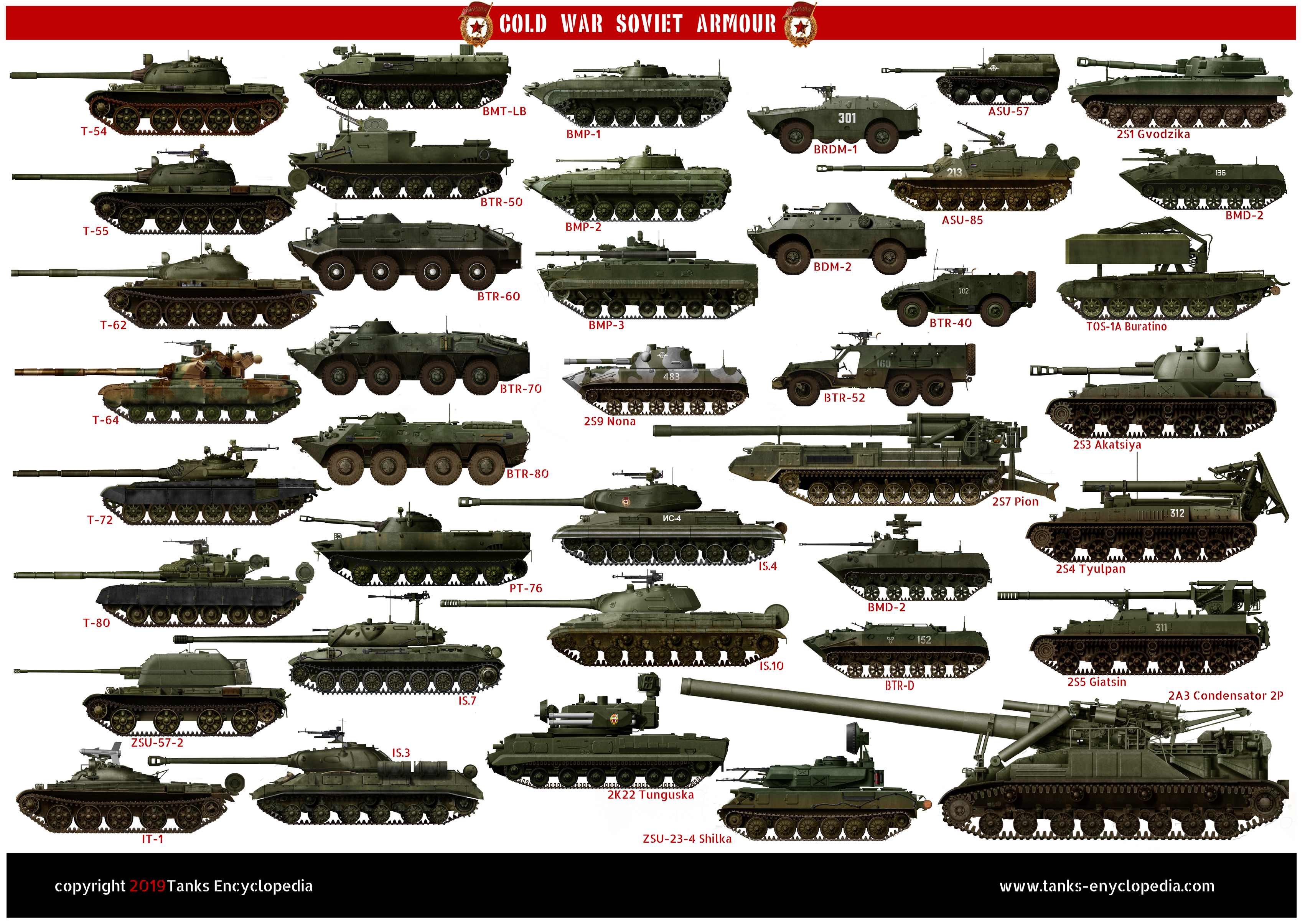 Cold War Soviet Army