One of the earliest American armored cars
The very first armed car in US history was the Car, Armored, Steam, 4x2 - Davidson Auto Battery in 1900. It was followed by the Balloon Destroyer, Davidson-Cadillac, 4x2 in 1909, the Truck, Armed, 4x2, Federal and Car, Radio, Davidson-Cadillac, 4x2 in 1911, but the first true armored car was the Car, Radio, Davidson-Cadillac, 4x2, which had a machine-gun under a mask and a completely armored body, being built in 1915. Despite being promising, it was not adopted by the US Army. But with the prospects of European orders, Jeffery, Ford, Mack and White soon joined in and presented their own prototypes in 1915.
The model 1915 and 1916
In 1915, White created an advanced 4x2 vehicle with a fully traversible turret, large enough for one front and one rear machine-gun, and side ports. It was tested by the USMC, but not ordered. However, units of this model 1915, or White No.1, were issued to the French, who were desperate for any mechanized systems at the time.
One year later the White No.2, or model 1916, was issued to United States Army and United States Marine corps forces. They had an armor of 0.2 in (5 mm) and rifle-caliber machine-guns. They were also used to equip troops serving on the Mexican border.
Design of the 4x2 1917 US model
The White 4x2 Armored Car model 1917 had double tires on its rear axle, in order to support the weight of the rear fighting compartment. This was topped with a small, one-man revolving turret. The hull was entirely bolted, made of around 30 panels. There were no side doors and access was granted through the rear ones. The driver and co-driver, sitting side by side, could see through armored shutters and small side windows with armored flaps. Armored doors also protected the radiator and granted access to the White liquid cooled engine. The wheels were spoked and had mudguards. The crew was of three, including the machine-gunner. Van Dorn Iron Works of Cleveland, Ohio made the armored body and the vehicle was tested at Fort Sill, Oklahoma in 1917-18, but production was rejected.
The White model 1918
This type was derived from the White 1917, and was also called "White AEF", for the American Expeditionary Force. Intended for US service in Europe, it was apparently given thicker armor (3.8 to 6.5 mm/0.15 to 0.26 in), had a longer chassis and weighed 3.4 tons in running order. The White 4-cylinder gasoline, liquid-cooled, gave 45 hp, and suspensions were of the leaf spring system. On flat ground, top speed on average was 65 mph. In American service, the vehicles used the M1895 Colt-Browning infamous "potato-masher". The Americans quickly gave them up, but the French kept these vehicles in service until 1933 at home, at until 1941 in the colonies.
Links
The White 1917 on Warwheels.com
White armored cars on Wikipedia
The White AC on militaryfactory.com
Armored Car: A history of American Wheeled Combat Vehicles (R.P. Hunnicutt)
White model 1918 specifications
Dimensions (L-W-H)
18.37 x 6.89 x 8.86 ft (5.6 x 2.1 x 2.7 m)
Total weight, battle ready
5.6 tons empty, 6.6 fully loaded
Crew
4 (driver, co-driver/commander, gunners)
Propulsion
4-cyl. White liquid cooled gasoline engine, 45 hp
Top speed
30 mph (45 km/h)
Operational range (road)
120 mi (250 km)
Armament
Main: 1xM1895 Colt-Browning machine-gun
Suspension
Leaf springs
Armor
From 4 mm to 8 mm (0.15-0.3 in)
Total production
circa 30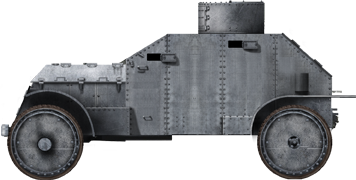 White 2x4 armored car, model 1917, prototype. Another was armored by Rock Island Arsenal and used by the New York National Guard.
Gallery
White 4x2 model 1916. Photo Credit: U.S. Signal Corps via David haugh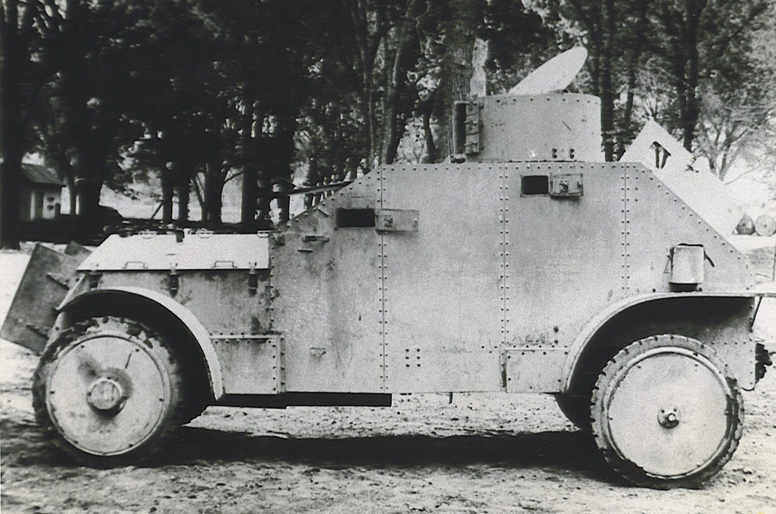 White 4x2 prototype. Photo Credit: U.S. Signal Corps via David haugh (warwheels.net)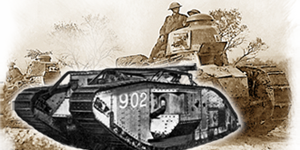 The Great War

Austria-Hungary

Belgium

British Empire

France

German Empire

Italy

Russia

USA
---
WW1 tanks posters