The second dedicated ww2 US military tractor
Predecessor: The M4 tractor
The M4 High Speed Tractor was the real first artillery tractor, tailored at the request of the US army ordnance to replace the three improvized prime mover built from tanks chassis in 1942. Foirst of these was the vehicle contracted to the Manufacturer Allis-Chalmers, known for its tractor before the war. The vehicle was tested and approved in late 1942, production started from March 1943, until August 1945 with 5,811 delivered. It was base on the M3 Stuart chassis for towing the 155 mm gun "Long Tom" or even the 8-inch howitzer and the 90 mm AA gun. It had a Waukesha 145GZ OHV I6 gasoline engine with a 210 hp (157 kW) output. With a power/weight of 14.70 hp/t it could reach 35 mph (56 km/h) and had a range of 100 mi (160 km). It is easy to distinguish from the M5 by its semi-enclosed cabin.
design
The M5 High Speed Tractor was designed to tow artillery pieces weighed up to 16,000 pounds (7,300 kg) and also carry the gun's ammunition, crew and equipment for organic mobile artillery battallions. The M4 (Allis Chalmers) could tow heavier loads, and more so for the M6, making the M5 playing in the "junior division".
Engine
The M5 was developed from the prototype T13 High-Speed Tractor, equipped with a Continental R6572 in-line six-cylinder petrol engine (235 horsepower -175 kW, at 2,900 rpm. It also reused both the tracks and drivetrain from the Stuart tank. Its maximum road speed was up to 40 miles per hour (60 km/h) and range 125 miles or 201 km. The "High Speed" name came from the fact its performances were still way above those of a regular artillery tractor of the time, often crawling at a mere 12 kph. The engine still allowed to reach 58 km/h while towing a 6-inches "Long Tom" heavy artillery piece. Its total traction capacity was 8,230 kg. Without load it could managed 25° slopes.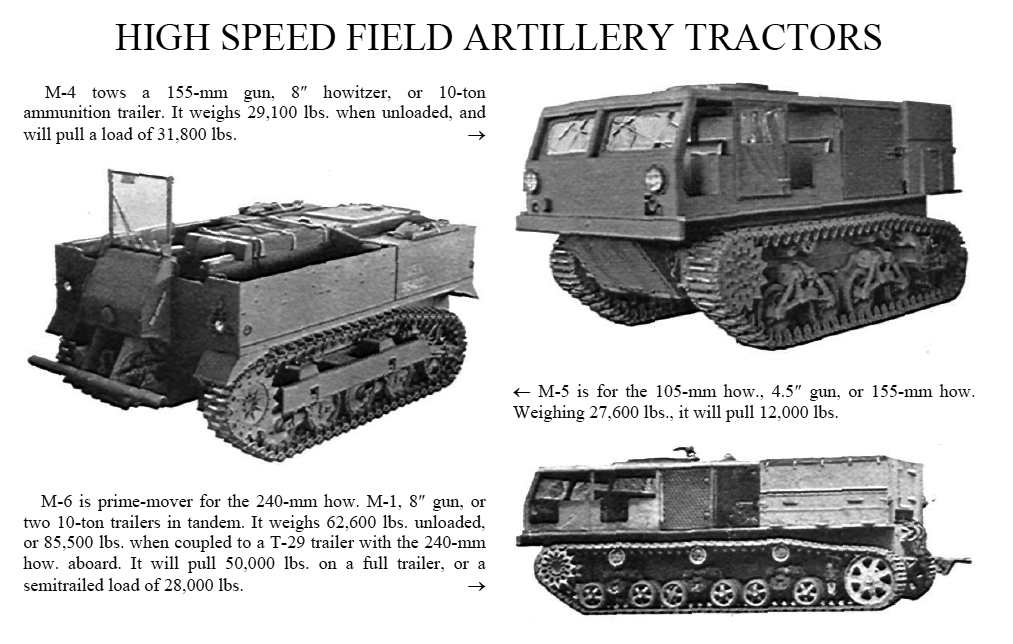 The M4, M5 and M6 tractors
Chassis and compartments
The chassis was a base for a simple box mounted above, divided into two section, front compartment (crew and driver) and the engine compartment at the back. The front compartment's driver position was at the very front and center, with the transmission behind. On eother side benches accomodate 8-12 men seated inwards, with their backs to the walls. The upper front compartment nose was fitted with a folding windshield. It was framed and could be covered by a canvas roof. The very first production versions and the T13 prototype had no framing. Later a framing was modified to accept a standard gun mount. The A1 version of 1945 had a top plate mounted in standard, opened at the rear right position of the crew ccompartment, with a ring-mounted .50cal HMG.
The rear deck section was divided in three, with the engine compartment in the center, topped by two access hatches for maintenance. Both sides accomodating each one a ventilation grid and tooling (spades, crowbar, picaxe, shovel, cable etc. The back plate also had ventilation grilles and two Stowage bnins for the ammunitions with access hatches at the rear.
Towing arrangements & defense
For better towing operations, the M5 was given a front mounted engine, which drove a winch with a maximum pull of 17,000 pounds (7,700 kg). It also had a roller below, enabling load pulling behind it as well. The hull was lightly armored (7 mm) to deal with small arms fire but it was open-top, so offering no protection against shrapnel. To protect the crew from the elements, a simple folding top with side curtains was mounted forward to protect the crew. The driver was placed in the front centre, with inwards facing seats for the gun crew, a total of 9, up to 11. The M5 was not armed originally (but the crew's own carbines and pistols), and as the war progressed, some encounters pushed in reports the adoption of a defensive armament. So After 1944 all M5s were given the standard M49C ring mount, sturdy enough to mount the M2 Browning machine gun providing AA and ground defense capabilities.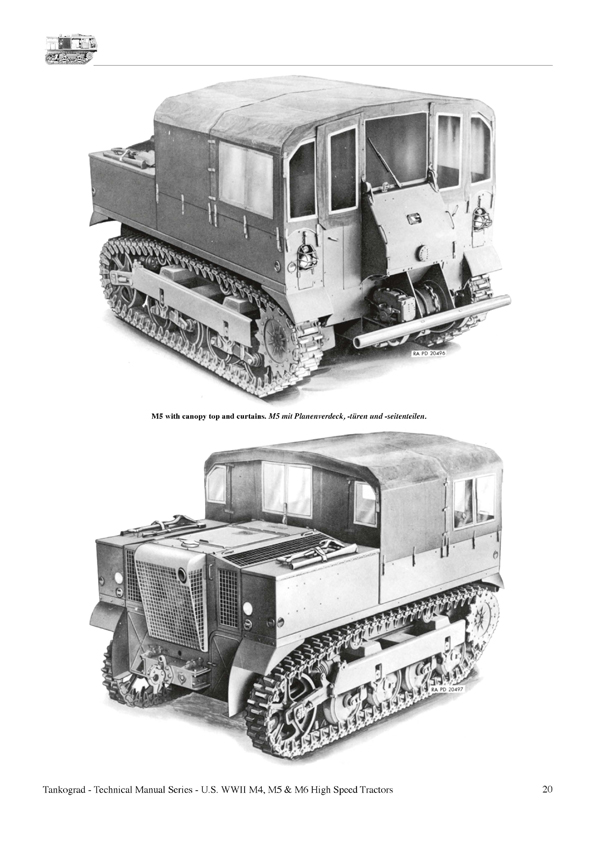 Production & variants
The M5 High-Speed Tractor was standardized in October 1942. Production was assured by International Harvester, well known already for its tractors before the war. The design evolved during production, leading to five variants. The M5 started service as the main 105 mm Howitzer M2 tractor, and was soon also certifed as the main tractor for the 4.5 inch Gun M1 and 155 mm Howitzer M1. Depending on the case, it could carry the following loaad of ammunition, respectively of 56, 38, and 24 rounds.
M5:
The first version, M5 High-Speed Tractor was produced from May 1943. After two years (May 1945) it stopped after 5,290 tractors delivered. M5A1 High-Speed Tractor
M5A1: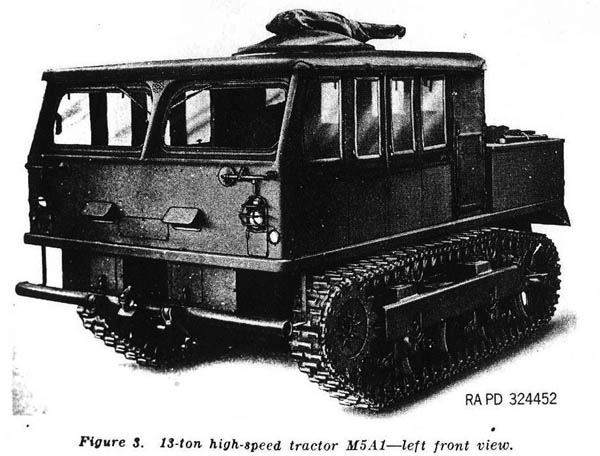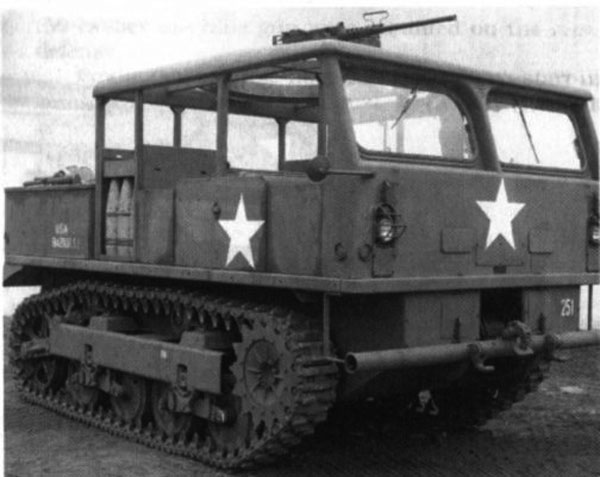 M5A1
This first mark was introduced in May 1945. The M5A1 had a steel cab over the driver moving, which was replaced front left, while the crew compartment had forwards facing seats, allowing now a crew of 11 to be carried. Only 589 M5A1s were produced, until August 1945.
M5A2/A3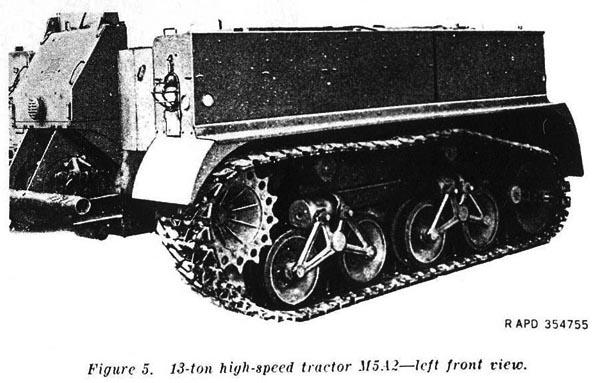 M5A2
The M5A2 High-Speed Tractor was an update of the M5 while the M5A3 was an update of the M5A1 with a horizontal volute spring suspension, replacing the now obsolete vertical volute spring suspension. New wider padded tracks of 21 inches (53 cm) were also introduced instead of 11.625 inches (295.3 mm) for the former M5/M5A1. Production figures are unnknown, since it's a conversion, but likely it concerned all the vehicles surviving WW2, so about 5,000 vehicles, ready to take part in the Korean war.
M5A4
M5A4, from the US Army manual


The M5A4 High-Speed Tractor had ammunition stowage boxes replaced along the sides of the vehicle for easier access and herefore, seats were moved again, back to back. Production figures are unknown. The M5 HS Tractor in action
M5A3 Tractor towing a "long tom" in Korea

Being introduced late into the war, but soon available in number, it gradually equipped all units previously using the M35 and other Prime Movers in service. By mid-1944, it equipped most artillery units in Italy and was ready for the Normandy campaign. In mid-1945 in Germany, it was the most common artilery tractor in service. The M5 tractor shared its role with the GMC CCKW 2½-ton 6x6 truck and Diamond T 4-ton 6x6 truck, showing of course better off-road characteristics. In 1944, 200 M5s were provided to Soviet Union and used by the Red Army until the end of the war, compatible with most of its artillery pieces.

Due to the M5A2/A3 upgrades and improved A4, the M5 tractor was still operational in the early cold war, used in Korea. It was its last operational use as it was replaced by more modern tractors based on a tailored chassis, the M6 Tractor/Prime Mover. Retiring shortly after the conflict, surplus M5s were supplied to Austria, Belgium, Japan, Lebanon, Pakistan and Yugoslavia, seeing service well into the 1960s in some cases. In British Columbia (Canada), the vehicles also had a second life in civilian use, as rock drill carriers. The Chapman "Drilmobile" for example was designed for logging road construction. As of today, nine vehicles survived, displayed in various museums and private collections across the USA.


M5 Tractors in Korea

Links/Src On model-maniac.nl
On russian-tanks.com
On olive-drab.com
On usautoindustryworldwartwo.com
On asphm.com
On soldat.pro


M5 HS Tractor specifications

Dimensions (L-w-H)
5.03 x 2.54 x 2.69 m ()
Total weight, battle ready
13.791 tons (18,800 lbs)
Crew
10 (1 driver, 9 crew)
Propulsion
Continental R6572 six-cyl., Gas. 207 hp
Maximum speed
48 km/h on road, 15 hp/t
Suspensions
Vertical volute springs
Range
290 km (?? mi)
Armament
Cal.50 Browning M1920 (12.7 mm) M2HB heavy machine-gun
Armor
7 mm (0.25 in) max.
Illustration references

M5 HST of early production, no framing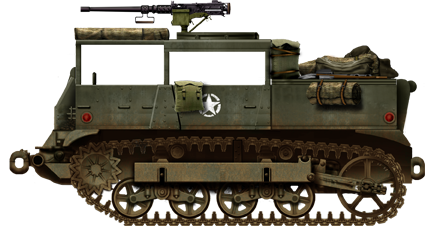 M5 HST with partial canvas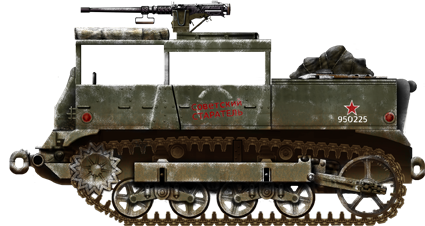 M5 HST in Soviet service, Eastern Prussia, winter 1944-45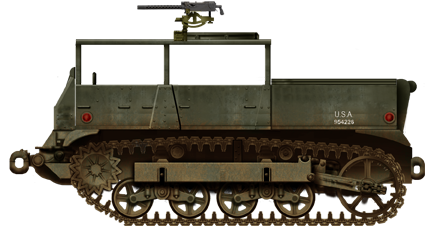 M5 HST, France summer 1944

m5 HST towing a 105 mm Howitzer, Italy, 1944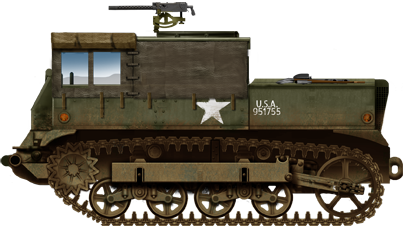 M5 HST enclosed with its canvas panels, Germany 1945

M5 HST towing a 6 in gun "long tom", Germany 1945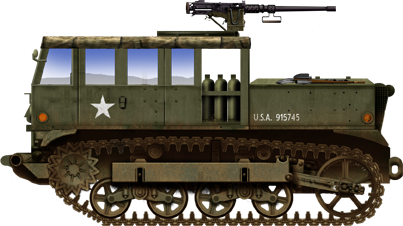 M5A1 in Korea, 1950
Videos
Photos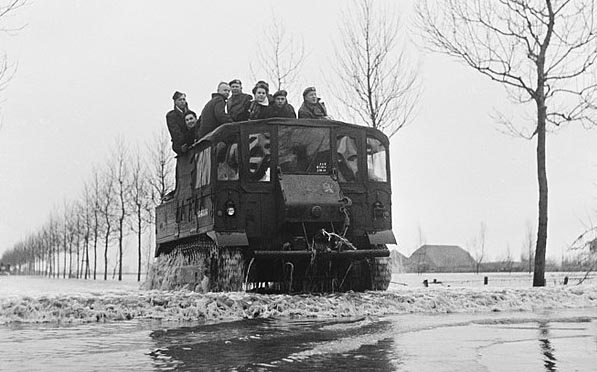 A French Pontonniers' M5 (bridge laying engineers) in operation in northern france in the 1950s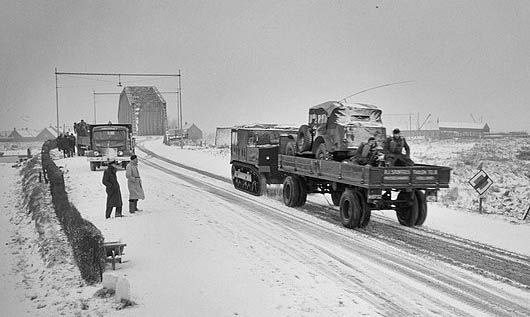 A Dutch M5, postwar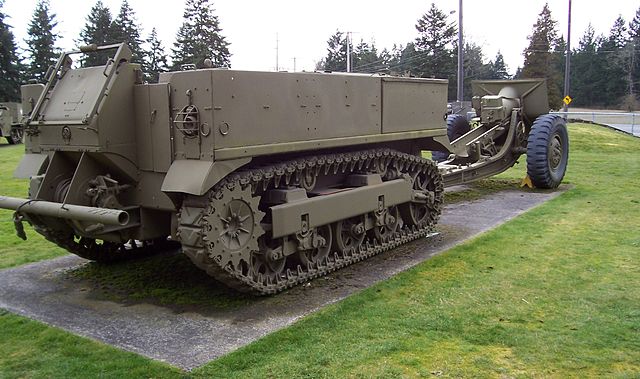 Left side view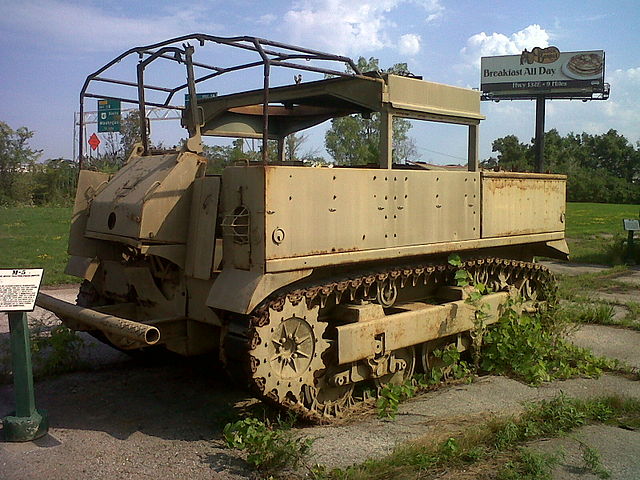 Left side view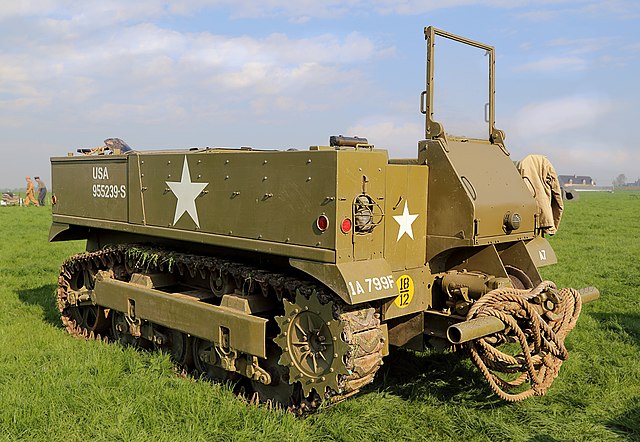 Right side view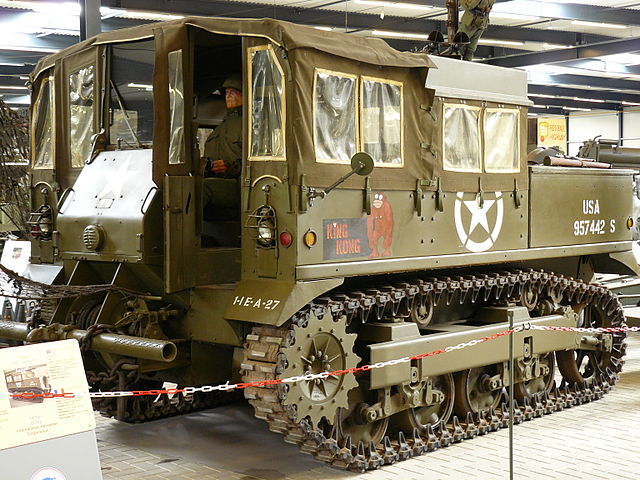 "King Kong", M5A3 in Korea, in a museum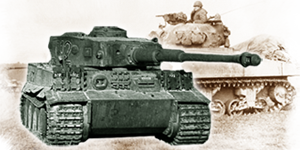 WW2 Tanks
---
WW2 tanks posters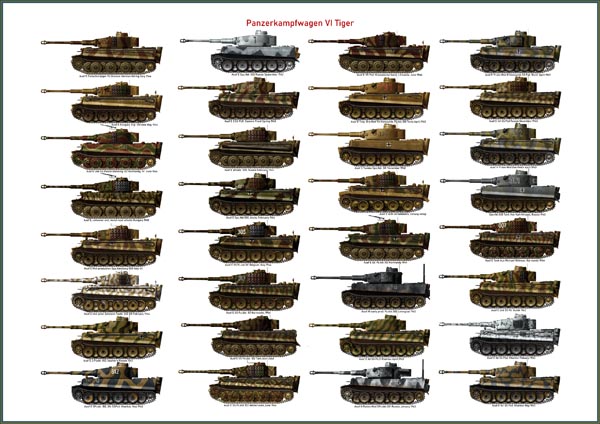 All Tiger tanks liveries.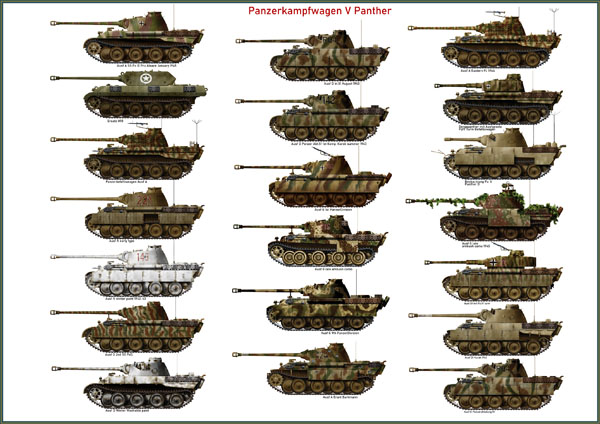 Panther liveries and variants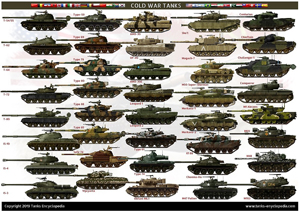 WW2 Armour - All tanks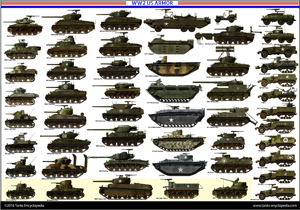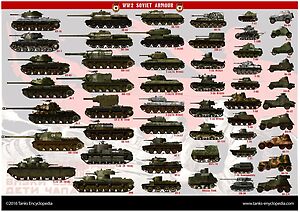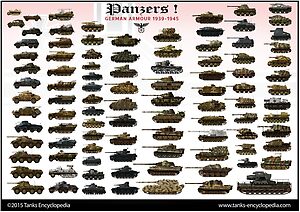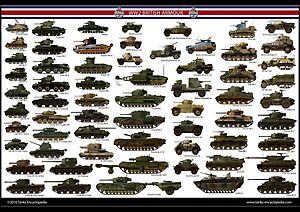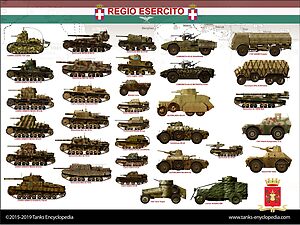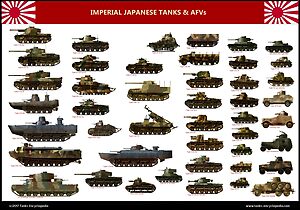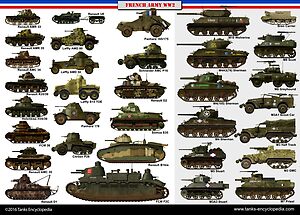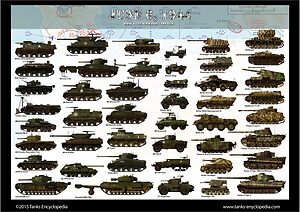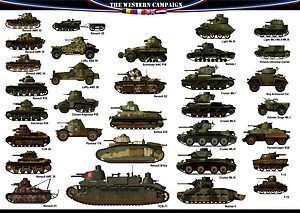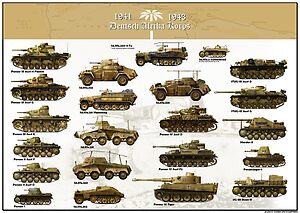 Tanks aces and single tanks series