Development history
The Centurion tank was the South African MBT since 1957, 250 Mk 2 and Mk 3 were purchased bought directly from the UK, but after a later government veto, Mk.5 were obtained from India and Jordan. But in 1970 the UN imposed an ever-more-restrictive arms embargo due to its apartheid practices and repeated human rights violations, forcing the government of Pretoria to develop its own arms industry (with some covered help from Israel, France and the United States) to upgrade the Centurion. The long, protracted Border Wars in Namibia and Angola also gave the impediment to pursue and fund these upgrade programs.
In 1972 already, a SADF (South African Defence Forces) Centurion was experimentally fitted with a 810 hp V-12 petrol engine with injection, coupled to a new three-speed automatic transmission. The Skokiaan prototype program was however halted after only eight further conversions. It was followed by the Semel program in 1974, refurbishing the eight Skokiaan, and converting more Centurions with a modified engine and other improvements. This Centurion Mk.5A/Semel counted a total of 35 conversions, soon used operationally. This was followed in 1976 by the more ambitious Olifant Mk.1, leading to a prototype the same year, and two others in 1977 and 1978. This program was carried out by OMC Engineering (Pty) Limited (Olifant Manufacturing Company), known today as Reumech OMC. Infomations about the Israelis Sho't program (Local Centurion conversion) also helped greatly this firm to achieve its objectives.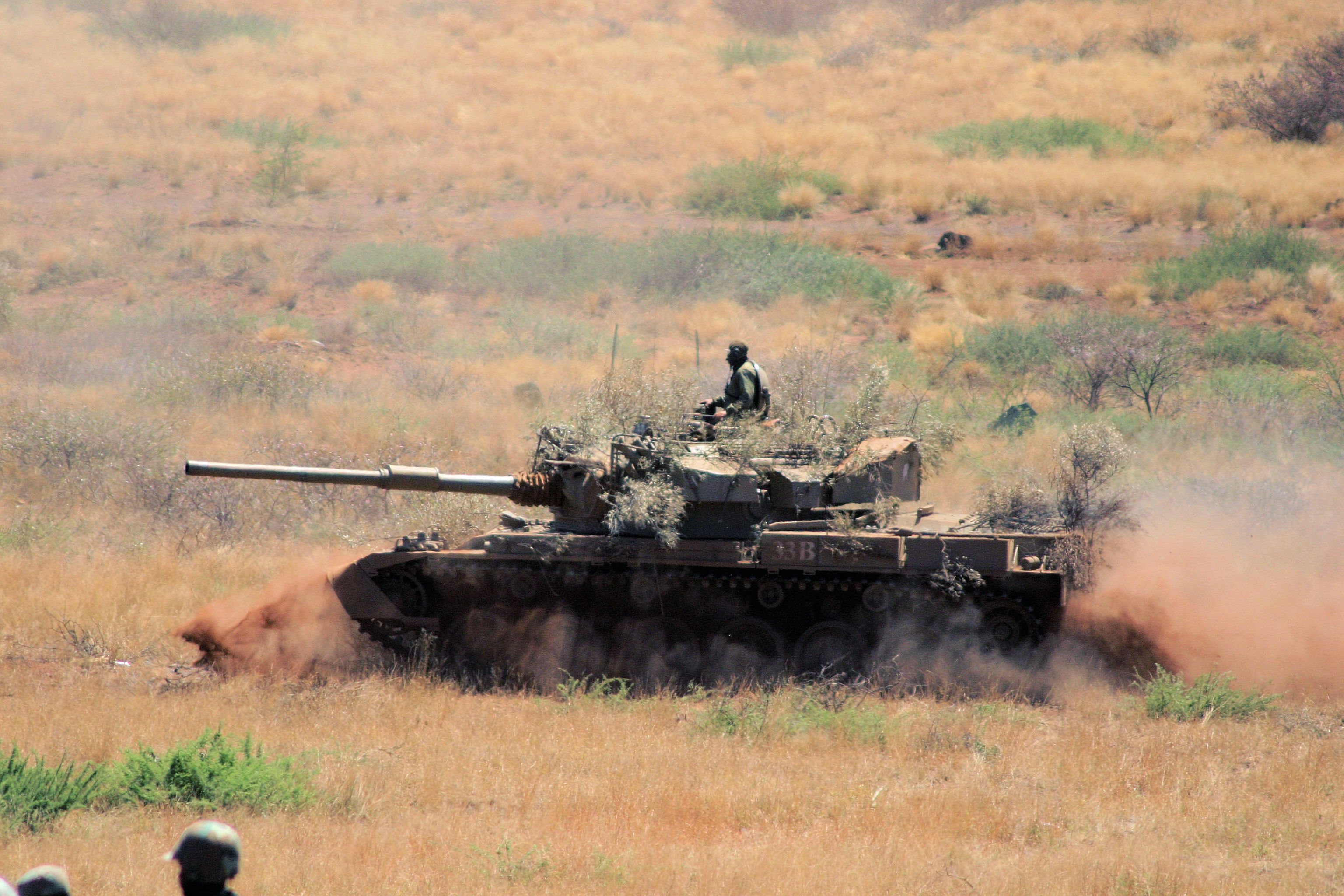 Denel's Olifant Mark IA in the 1980s, was a well-modified Centurion.
The Olifant Mark 1A (1985)
The Olifant Mk.1 used the Semel power pack, a V-12 diesel engine developing 750 hp coupled to a semi-automatic transmission. The operational range is raised considerably thanks to fuel-efficiency, and the fuel tanks themselves had more capacity. But the suspensions, turret drives and vision equipments were also all enhanced. The tank commander is provided with a hand-held laser range-finder for the first time. This pre-serie was followed by the standardized Olifant Mk.lA in 1983. This version received the new 105 mm L7 rifled tank gun.
Two 2x8 banks of 81 mm electrically operated smoke grenade dischargers are fitted one either side of the turret. A new commander's cupola is fitted, along with new passive night vision devices for the Commander and gunner. The commander is also provided with an AFV No.4 targeting sight while the the gunner had an AFV No.18 sight with x6 magnification, range drum, elevation & traverse indicators, an Eloptro MSZ-2 two-channel sight and a laser range-finder, with a right channel x8 magnification and 8°field of view, and x7.2 magnification image intensifier/7.5° field of view right channel/night elbow, which can be replaced by a simpler x1 magnification observation prism if needed. The driver receive a new standard day periscope which can be swapped for a passive night vision device.
The Olifant Mark 1B (1991)
The Olifant mk1B main battle tank was developed and produced by the Olifant Manufacturing Company, OMC Engineering pty Ltd, based in South Pretoria. This is a full rebuild which incorporates a lot of new features. These changes includes torsion bar suspensions with a total wheel course of 43 cm, and the first and last two roadwheels pairs have a hydraulic damper with hydraulic bump stops. A New V-12 diesel, producing 950 hp is coupled to an AMTRA III automatic transmission with double-differential steering (four forward and two reverse gears), two-speed mechanical steering drive and hydraulic retarder.
The hull protection is enhanced by the installation of additional RHA armour to the glacis plate, nose beak, turret front, sides and front roof, placed with a large gap in between the original turret like a cofferdam, which could be filled if needed. The turret bustle also receive more stowage capability. The hull bottom is protected against mines by a double floor with the torsion bars between the two floor plates. Modular side skirts also offers protection against HEAT attacks. Outside the smoke dischargers, the Olifant can can generate a smoke screen by injecting fuel on the engine\'s hot exhaust.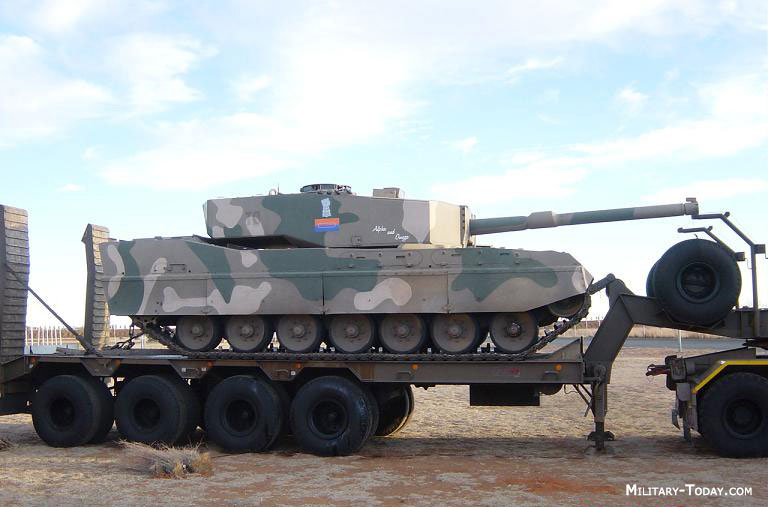 Denel's TTD demonstrator designed to replace the Olifant in the mid-1990s. Despite the project failure due to the lack of funds, many features were passed onto the Mk.2 development (credits : military-today.com).
The driver's compartment is fitted with a new single-piece hatch with three periscopes which can be swapped for passive night sights. An escape hatch is also added under him. A new instrument panel and a yoke-type steering stick replace the older systems inherited from the Centurion. The turret is considerably modified, with two new roof periscopes for the loader, which is also given a one-piece hatch cover. The Gunner\'s sight has day/night capability and laser rangefinder and the Commander has his own independent day/night sight. The 105 mm gun L7 receive a brand new thermal sleeve and fume extractors, and is fully stabilized by a new system. An infra-red/white light searchlight is mounted at its base. The hull headlamps are armoured, a V-shape bush basher bar could be added to the nose, and there is a new fighting/driver compartments fire detection/suppression system. Total ammunition stowage is raised to sixty-height 105 mm rounds. The Mk.1B Combat weight is 58 tonnes.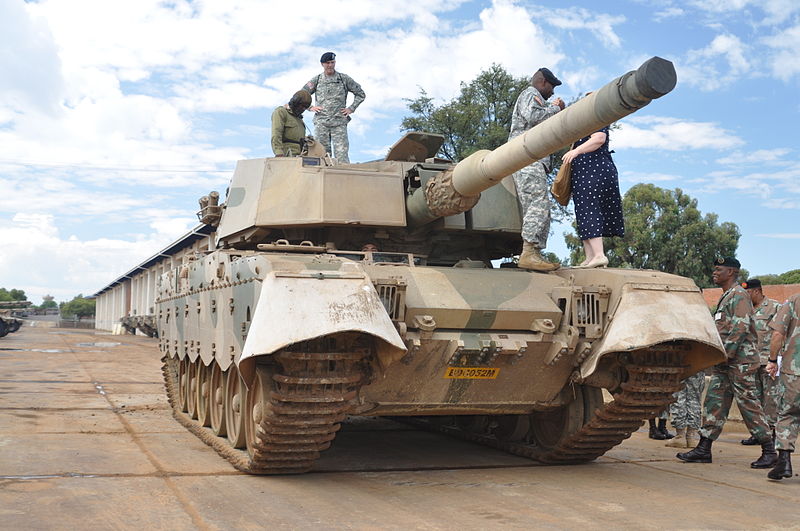 USARAF Command Sergeant Major Visits South Africa, around a Mk1B in 2011.
The BAE Systems Olifant Mark 2 (2002-2005)
The replacement of the Mark I was evaluated in the 1990s. Possible contenders were the French Tropicalised AMX-56 Leclerc (developed for Saudi Arabia), and the British Vickers Defence Systems Challenger 2E. Initial SADF requirements asked for 96 new MBTs, six armoured recovery vehicles and four armoured vehicle launched bridges on a similar chassis. But in 1998 announced that no MBT was envisioned in the next years and the Mk1Bs were to be upgraded instead to extend their operational life. In October 2003, Alvis OMC was indeed awarded a contract to upgrade a large batch of Olifant Mk.1Bs, including the power pack, FCS, and the modernization of the training systems. Until 2005 BAE Systems upgraded a total of 26 South African Olifant Mk.1B main battle tanks to the Mk.2 standard. Externally, these are still much like the original Mk.1Bs. These tanks have an uprated, 1 040 hp Continental diesel engine acquired from Israel. The upgraded FCS and CBS (Computerized battle system) gave the tank a fire-on-the-move, all-weather, day or night fighting capability with a far greater first hit probability and better target tracking and management. This makes the Olifant 2 superior to any other battle tank on the African continent.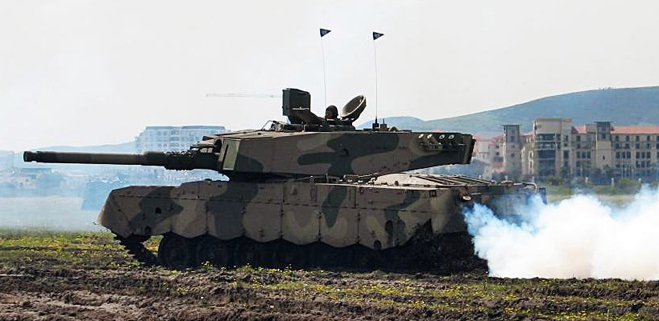 BAE system's Olifant Mark 2 in fast manoeuvers.
Denel's Olifant 2 prototype
The LIW Division of Denel devised a turret prototype previously intended for the Olifant 2, claimed to feature the latest fire-on-the-move, day/night target engagement capabilities, and with either the LIW 105 mm or a 120 mm smoothbore. The gunner had a stabilized day/thermal sight coupled with a laser range-finder. The tank commander had a panoramic stabilised day/passive night sight first acquiring the target data, passed onto the gunner, then start searching for another targets. The fully computerized FCS had automatic sensors for meteorological parameters and dynamic tilt, allowing faster aiming, resulting in a comfortable 10 rounds per minute rpm. Protection includes modular armour packages attached to the turret steel shell. The turret front had the distinctive, Leopard-2A5 like "arrow head" shape whereas the turret bustle ammunition carousel allows housing of kinetic energy rounds. Ignition danger was prevented by blow off panels on the turret roof. Ready rounds were located in the turret basket left hand side. Te latter, like the ring gear, is still fully compatible with the Centurion and Chieftain MBTs. Only a prototype was made but most of these features (but the 120 mm, turret front, and roof blow-off panels) were passed onto the Mk.2 serie.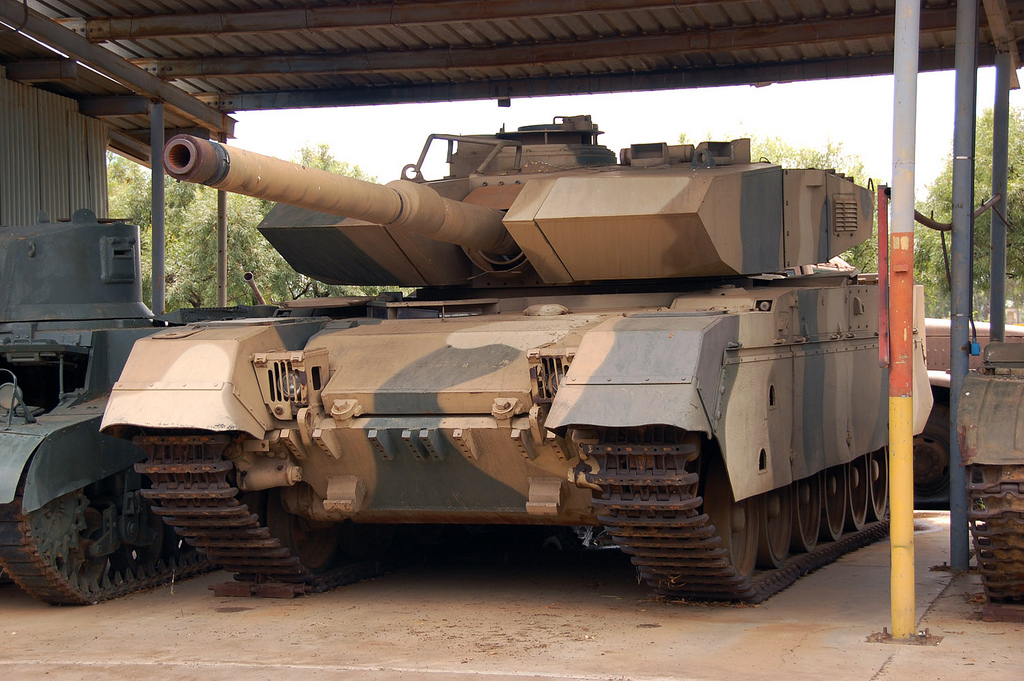 LIW Olifant 2 turret tested on an Olifant Mark1B chassis prototype.
Variants
Mineclearing kit
Both Olifant Mk.1A/B can be fitted with a plough-type, electrohydraulic dozer blade, of a roller-type mechanical mineclearing set. The 3.5 m wide dozer blade weighs 1500 kgs and can be installed in 7 minutes by crane or 15 minutes without.
Olifant ARV
At least one armoured recovery vehicle based on the chassis of the Olifant Mk.1A was completed, but the numbers of follwing conversions (if some) remains unknown.
Olifant AVLB
An Armoured Vehicle-Launched Bridge was also developed above the Mk1A chassis. However the bridge is of the old type and could be deployed only on the front of the vehicle, with a 26 m span. 28 were in service according to 1996 records.
Operational history
The Olifant Mk.1 entered service with the South African Armoured Corps in 1978. The Olifant Mk.1A produced in 1983 entered service in 1985 and were engaged immediately in the Angolan war. Many of the modifications set for the Mk.1B were dictated by operational experience in the Angolan war. The threat of mines was integrated soon enough into the bottom hull design, whereas bush-bashing damaged the headlamps and other parts of the hull, which led to the adoption of armoured covers and protecting nose bar. Until the fall of 1987, the Angolan Civil War saw Olifants of both version into heavy actions, like the successful Lomba River battle which saw them opposed to T-55s and T-34/85s. At Cuito Cuanavale, Olifants and Ratel IFVs were opposed to T-55s and T-34/85s, destroying much of their opponents whereas a few SA losses were attributed to mines. Later, the Cuban Revolutionary Armed Forces claimed that the 50th Cuban Division T-62s halted the Olifants at the Chambingi River battle. According to december 1996 records, SADF stated that it had a total of 224 Olifant Mk 1A/B MBTs in service, and in addition 28 AVLBs.
Video about the Olifant Mark 2 (Army recoignition.com)
Links
The Olifant Mk.1B on Military-today.com
Olifant Mark 1B specifications

Dimensions (l-w-h):
8.29 oa x 3.55 x 2.94 m
Total weight, battle ready:
58 Tons
Crew
4 (2 Drivers/gunners, Commander, loader)
Propulsion
V-12 Rolls-Royce Meteor 4B diesel, 950 hp - 16.38 hp/ton
Suspensions
Torsion arms
Top Speed
58 kph(30 mph) on flat
Range (road)
500 km (280 mi)
Armament (see notes)
105 mm L7 rifled cannon 68 rds

2 x 7,9 mm (0.3 in) 2000 rds
Armour
Spaced RHA. No data available.
Total Production
224
---

Olifant Mark IA Main Battle Tank

Olifant Mark IB Main Battle Tank in beige livery. Production estimates are ranging from 172 to 224 or even 250.

Camouflaged Olifant Mark 1B with the gun-mounted IR searchlight.

Olifant Mark 2 Main Battle Tank, recoignisable to its prominent Laser rangefinder and optics.
Olifant Gallery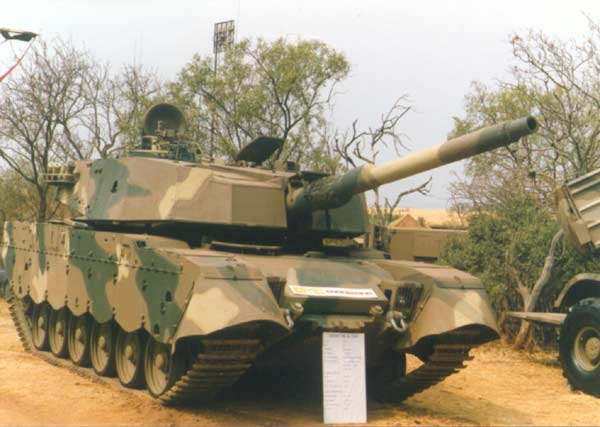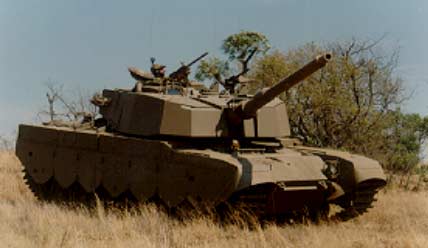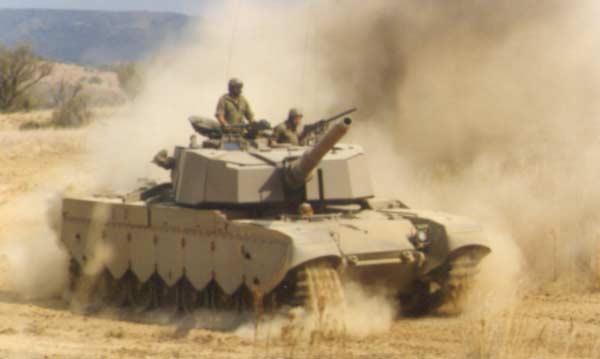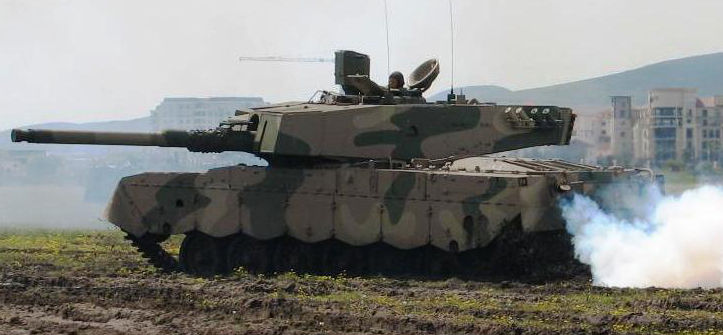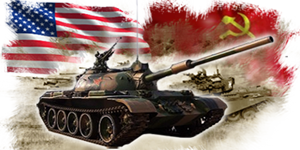 Cold War Tanks



































Cold war tanks posters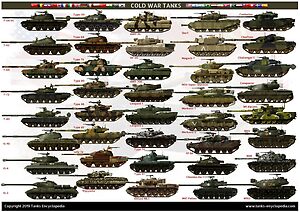 Cold War Main Battle Tanks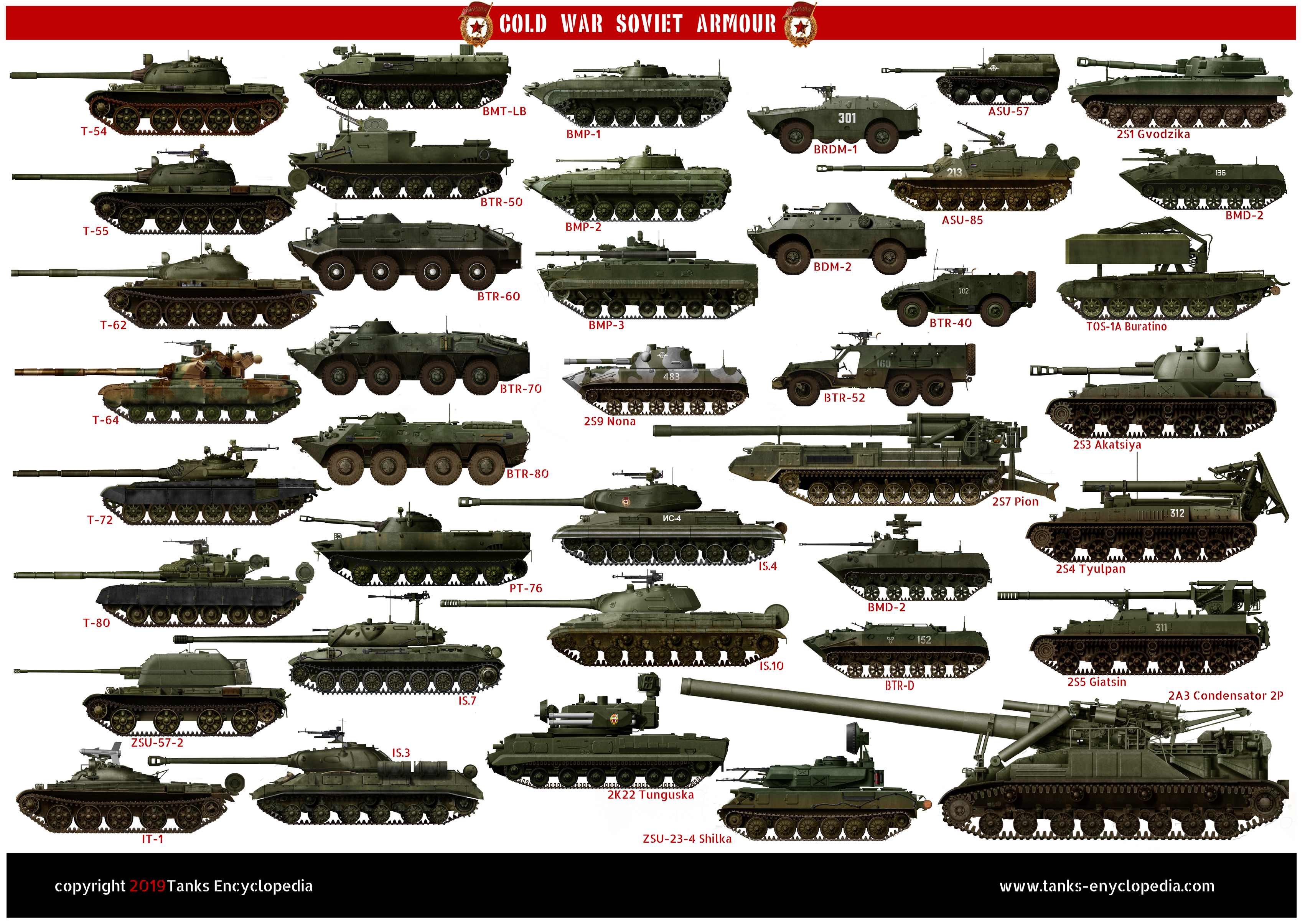 Cold War Soviet Army