Humber Light Reconnaissance Car
United Kingdom (1939) - 3,600 built total
The armoured Super Snipe
In 1939, all British Manufacturers were pressed to answer sudden army specification for the upcoming war, and one of the largest, Rootes Group had the capacity to produce several models based on its array of factories. The Rootes Group was a British automobile manufacturer funded in 1913, which became the UK's major motor distributor and dealer network, based in London's West End, with sites between the Midlands and south of England. The company acquired a number of manufacturers until 1928, adding to their portfolio, Hillman, Humber, Singer, Sunbeam, Talbot, Commer and Karrier, controlled via the parent company Humber Limited.
Humber in fact will provide no less than three armoured cars to the British Army during WW2: The Scout Car, unlucky rival of the Daimler Dingo, the Humber "armoured car", a gun-turreted reconnaissance vehicle, and the "Light Reconnaissance Car" based on the Humber Super Snipe chassis, which also propelled the
Humber Heavy Utility car
. It answered a specification by the ministry of transport for mass-produced light reconnaissance car, the same which was answered by the successful Dingo by Daimler, by far the most common British vehicle of the type. It was so popular that after the Light Reconnaissance Car, Humber tried to create a copy called the
Humber Scout Car
, of which more were built (4,200 total), but which was less successful overall.
Design of the Humber LRC
The basis: Humber Super Snipe
Humber Super Snipe used for liaison by British officers in 1944. This very popular model was conveted by the British Army, Royal Navy and RAF.
The Humber Super Snipe was introduced in October 1938, using the 4L inline 6-cylinder engine from the larger
Humber Pullman
, combined with the chassis and body of the Humber Snipe, powered by a 3L engine. The result was performing vehicle capable of topping 79 mph (127 km/h) on road, which was very fast for its day indeed. It was assimilated to a sportcar. American engine genius Delmar "Barney" Roos joined Rootes in 1936 and contributed to this success. The Super Snipe was marketed to upper-middle-class managers, still relatively low-priced for its performance and looking at American cars of the day, so goof value for money at the time. However in 1939 the war broke out but production went on as a well-researched staff car, 4-seater 4x2, and of course a prime chassis for a reconnaissance car as the performances were likely to do well with and armoured body.
Armoured Car Design
Production line at Humber
In 1939, the British Army was eager to muster as many armoured cars as possible based on all commercially platforms available. This led to some desperate measures like the
"Bison"
concrete-protected truck or the
Standard Beaverette
. In fact due to its almost improvized nature, it was called "Humberette" or "Ironside". The goal for Morris was to provide a suitable armoured car as soon as possible, and one way to tdo it was to reuse the already available chassis and power unit of the Humber Super Snipe.
Thus, using the popular Super Snipe chassis for a mass-produced first armoured car by Rootes made much sense in 1939. Development went on between September and March-April 1940, until the first vehicle was demonstrated to the British Ordnance and Transport Ministry, and acceptred as a first production version called Mark I. This early model was open-top, 4×2 drive woth the same original chassis and powerplant, Rootes 4.1 Liters, 6-cylinder inline sidevalve petrol engine which developed around 80–87 hp (60–65 kW) for a power/weight of circa 26 hp/tonne. This was jelped by the fact the tailored armoured body which covered the engine hood and main cabin aft, was only armoured to a maximum of 10 mm on the front, 7–9 mm on the sides. Armament was at first a Boys anti-tank rifle and Bren light machine gun, a perfect match to deal with infantry and light armour alike. However the army had some reservation on it, and only a limited number were built. It was soon replaced by the Mk II. The vehicle was equipped with a No. 19 radio set for its reconnaissance missions.
Armored Hull
The Mark I showing it's very simple armoured body design. There was a sloped plating covering the entire hood, followed by an open topped armored body, single forward armored shutter which was left in up supported position when driving (The driver and co-driver were seated side by side), without armament, which instead was managed from behind, either a Bren or Boys, leaving the operators somehwat exposed. Visibility was limited to say the least with just two sight slits for the driver/co-driver and small aperture aft as fire port. The three side-mudguards were slab-sided fore and aft, and there was a storage bin on the rear sloped plate aft. The sloped sides and rear maximize the 7 to 9 mm (2.7 to 3.2 inches) or steel armour. There were two access doors forward for the entire vehicle's access.
The name "Ironside" was for General Sir Edmund Ironside, Chief of the Imperial General Staff (later CiC, Home Forces). "Humberette" was used for most early armoured cars (and those of the home defence) from Humber, or even "Super Snipe Light Armoured Car". The VIP transportation vehicle called the Ironside "Special Saloon" had a wider hull and larger door as well as an enclosed top and of course, lavish interior furnishings. It seems none of the 200 Mark I were used operationally, but kept in UK to train Mark II-III crews.
On the Mark II and III, the roof was enclosed and a turret added (small one-man type similar to other British ACs of the time) which could contain either a Bren gun of Boys. Opposite to the driver was single vertical slit to use a personal weapon, and operate the single smoke discharger. The armored shutter was redesigned, as well as the side door and side slit, which was larger and gave better visibility. The aft compartment now comprised two opening windows/weapons ports, including one on the back plate, also for crew ventilation.
Ventilation of the engine hood was also reworked, with front doors opening outwards in front of the radiator. The filler cap on it was enclosed in a light metal structure, and the engine hood panels were made easier to remove. The mudguards fore and aft were also reworked, with strappings front, rear and top to attach haversack of personal effects, jerrycans and toolboxes. Photo: Note the rear storage bin with extra strapping for a shovel and pickaxe. The Mark II had its Boys AT rifle relocated to the more stable co-driver position to the left. protection the same but with the addition of 7 mm (-in) for the roof, 6 mm ( in) for the turret, which was sghared by the
Otter Armoured Car
. The fenders of the Mark II were also different from the simplified 2-pieces aft ones of the Mark I. The forward fender of the Mark 2 ran along the armor angle of the hood, and so was higher at the rear and on the Mark 3 it was lower and on a straight line.
The next version Mark III (from late 1941) became by far the most produced and popular in 1942-43. The IIIa was still produced in 1943. They were externally similar, had the same armour, but were diferentiated by a 4x4 drive, most helpful off-road for a reconnaissance vehicle. To this good formular the Mark IIIa only had additional vision ports at the front angles of the hull and improved armour: 12 mm to the front, 8 mm to the sides, 7mm on the roof and rear, but still 6 mm for the turret. Armament remained the same. Bren for AA protection and Boys for AT combat in the hull, plus extra firing ports. In place of the Boys another Bren could be fitted, or even a PIAT. The Mark III four-wheel drive chassis meant it soon became the main LRC production version, with the IIIa having additional observation ports, and arrived in frontline units at the start of 1943.
Engine and Performances
The same super snipe engine is found below the hood, a 4.1 L, 6-cylinder inline, side-valve petrol engine. It was rated for 80–87 hp (60–65 kW), with plenty of torque, with a power to weight ratio of 29 hp/tonne. Maximum speed: 75 mph (121 km/h) on road, and thanks to a 4x2 and later on Mark III 4x4 suspension, combining leaf springs and cooils, a Range of 110 mi (180 km) which could be pushed further thanks to the addition of jerrycans.
Armament
Humber Light Reconnaissance Cars Mk II of 29th Independent Squadron of British Reconnaissance Corps training at Shanklin, Isle of Wight, England, United Kingdom, 5 March 1942. The emerging Boys is well visible here, from the co-driver position. The turreted one was used for AA protection;
As seen above in variants, the standard on all vehicles was a 1935 .303 cal. "Bren Gun", licenced Cezch Czechoslovak ZGB 33 and after WW2 recycked as the FN FAL.
Variants
Mk I
Open-topped with limited armor and Boys/Bren, circa 200 built, many recycled into VIP vehicles.
Mk II
Enclosed roof and one-man Bren turret, 4×2 drive, Boys in front of the hull, same armour.
Mk III (1941)
Similar but 4×4 drive.
Mk IIIA (1943)
Additional vision ports at the front angles of the hull.[8] Armour was 12 mm to the front, 8 mm to the sides, 7 on the roof and rear, and 6 mm on the turret.
"Ironside Special Saloon"
Built for VIP use, the body by Thrupp & Maberly included a relatively luxurious interior which was split by a Perspex screen to separate driver and passengers. A passenger side door was provided to make entrance and exit easier, the two-part screen running in tracks fitted to the front seats: sliding both portions to the driver's (right) side allowed the front passenger (left) seat back to be folded for an easier exit. Two Ironside 'specials' of this kind were used by cabinet ministers and members of the royal family, while six minus the privacy screen were used as armoured staff cars.
Production
In grand total all versions included, 3,600 such vehicles has been delivered, including the 200 Mark Is, with the largest batches being of the MkIII and MkIIIA type, standard in the Reconnaissance Corps and see service as overseas airfield defense in RAF Regiments.
Combat Use
Mk IIIA of No. 2806 Armoured Car Squadron RAF Regiment near Eindhoven, the Netherlands, 1944-1945. Note the absence of Boys AT rifle and mix of RAF cockades and allied white stars
The vehicle was used by Infantry Reconnaissance Regiments (plus RAF Regiment) in Tunisia and the North African Campaign. Later logically it saw action in Sicilia and Italy, but also Western Europe, from D-Day onwards. After the war, British units in India-Far East still operated it. Other users in wartime were the Reconnaissance squadron of the 1st Czechoslovak Independent Armoured Brigade Group. Three Mk.I vehicles were also modified in the summer of 1940 to carry the British Royal Family in the north as the Cabinet ministers, the "Special Ironside Saloons" following the invasion scare.
RAF Mark IIIs at Walcheren 1944
Two Humber light reconnaissance cars of No. 2806 Armoured Car Squadron RAF Regiment acting as a forward observation post close to the Wilhelmina Canal near Eindhoven Holland
ROYAL AIR FORCE: 2ND TACTICAL AIR FORCE, 1943-1945. Corporal J Morgan of an RAF Regiment Armoured Car Squadron, seen while on patrol in a Humber light reconnaissance car in the streets of Ghent, Belgium. Penfold: Royal Air Force official photographer. Source IWM.
Many were preserved after many years, being surplus, purchased by collectioners, maintained or restored in running conditions. Known survivors are now displayed at the Dutch Cavalry Museum, Belgian Brussel's Royal Museum of the Armed Forces and Military History, Royal Air Force Museum (London), National Dutch War and Resistance Museum in Overloon, Military College of EME, Trimulgherry (gate guardian), 43rd Reconnaissance Regiment Living History Group (UK) (replica of LRC MK IIIa) and another exist (private ownership) in the Czech Republic. There is even a renacting one based on a postal jeep chassis (wooden armour) in Florida.
Spcs. Mark II

Dimensions
14 ft 4 in x 6 ft 2 in x 6 ft 11 in (4.37 x 1.88 x 2.11 m)
Total weight, battle ready
3.17 tons
Crew
3 (driver, co-driver, gunner)
Propulsion
4.1 L 6-cyl. inline petrol 80–87 hp (60–65 kW) pw 29 hp/tonne
Suspension
4x2 wheel (Mark III 4x4)
Speed (road)
75 mph (121 km/h) on road
Range
110 mi (180 km)
Armament
0.303 in (7.7 mm) Bren light LMG, & Boys ATR, smoke discharger
Armor
Up to 12 mm
Total production
3,600 (200 Mark I, c1000 Mark II, 2,400 Mark III/IIIa)

Humber Light AC Mark I, preserie, 1940.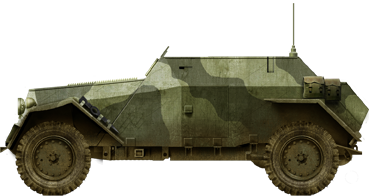 Training Mark I with radio, UK, 1940.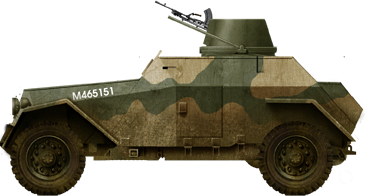 Mark II vehicle in Britain, 1941. Note the counterbalanced support arms to use the Bren gun in AA mode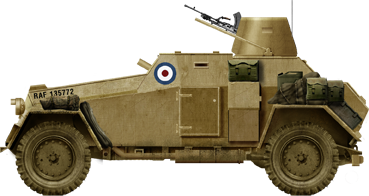 RAF Mark III in Tunisia late 1942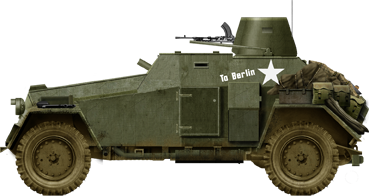 Mark III in Holland, late 1944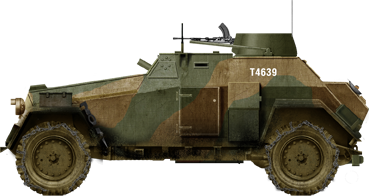 Mark IIIa Unknown unit, half turret, Italy, winter 1944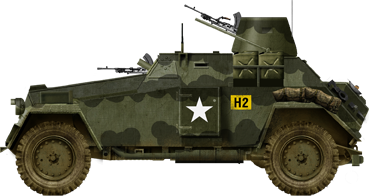 Canadian Mark IIIa in Caen, June 1944
---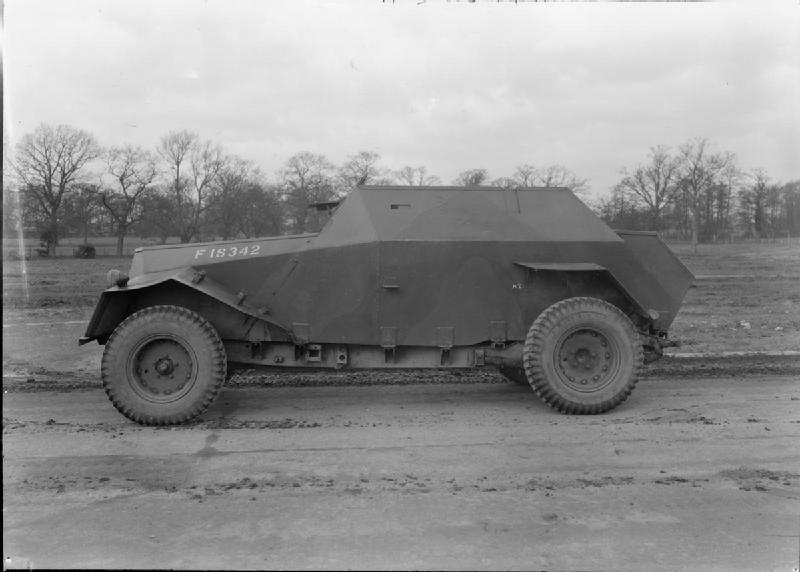 Mark I in Britain 1940
Mark I in Britain.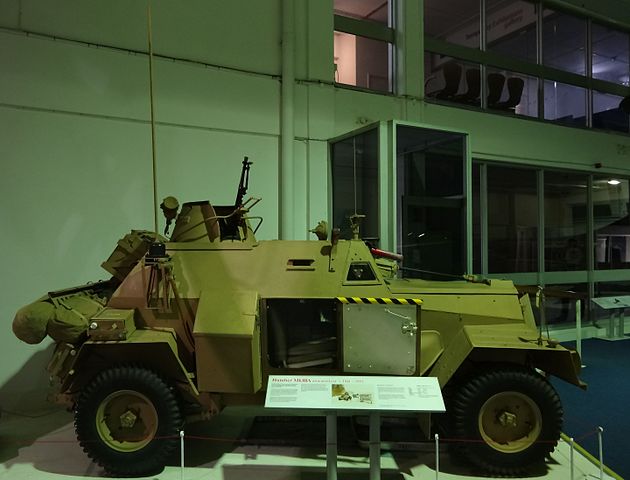 Museum LRC Mark III, RAF, Tunisia 1943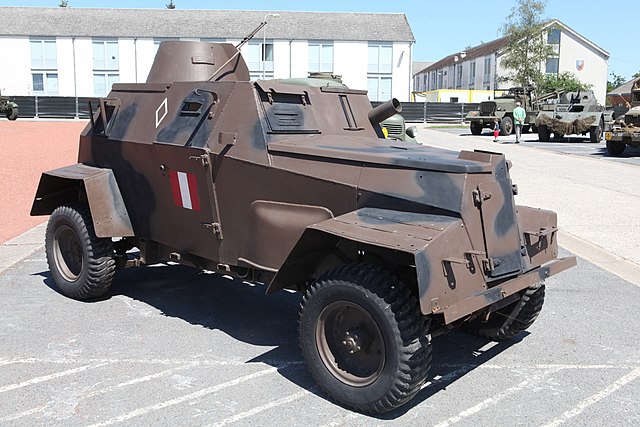 Mark III at Overloon Museum
Mark III in Hamburg, 1945
Mark IIIs in Middelburg, Germany, 1945
Mk II of 29th Independent Squadron
Humber Light Reconnaissance Cars Mk II of 29th Independent Squadron of British Reconnaissance Corps at Shanklin Isle of Wight England United Kingdom March 1942. (Facebook)
Profile, Mark IIIa in Europe 1944-45 IWM. Note the LMG arm rocked at 90° vertical.
Leslie Bassett of No. 2777 Field Squadron RAF Regiment at the turret of his Humber Light Reconnaissance Car, the Netherlands, 1944-1945; note Typhoon aircraft of No. 257 Squadron RAF in background
Read More
Books
Humber Light Reconnaissance Car 1941-45, New Vanguard, Morshead.
Humber Light Reconnaissance Car: 1941-45 (Osprey Publishing: New Vanguard #177) Richard Doherty
"The Wyvern of Wessex and their Armored Cars" By M. McEwen Charlish
Armoured Cars (Marmon-Herrington, Alvis-Straussler, Light Reconnaissance) AFV Weapons Profile #30 B.T. White
"Humber at War: Part 2" (October 2011 Issue of Military Machines International Magazine) Mike Taylor
British Armoured Cars 1914-1945 B.T. White
Encyclopedia of Armoured Cars Duncan Crow & Robert J. Icks
"Light Work" (January 2023 Issue of Classic Military Vehicle Magazine) Craig Moore
"Vehicles of the Reconnaissance Corps" (March 2022 Issue of Classic Military Vehicle Magazine) David Garden
Links
wiki Rootes Group
Humber LCR wiki
on historynet.com
on jenikirbyhistory.getarchive.net
panzerserra.blogspot.com
Chris Coleman pinterest LRC gallery
Mark III on warwheels.net
Surviving ones on the.shadock.free.fr
Mark I on warwheels.net
track-link.com
Model 3D on artstation.com/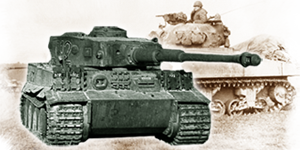 WW2 Tanks
---
WW2 tanks posters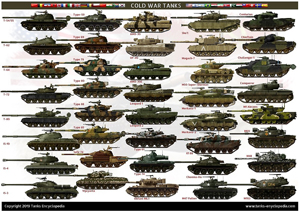 WW2 Armour - All tanks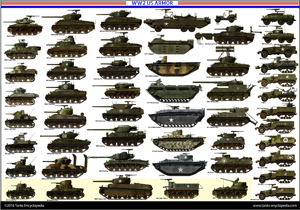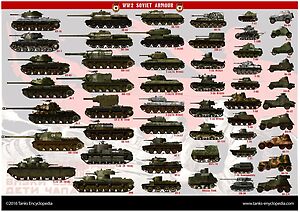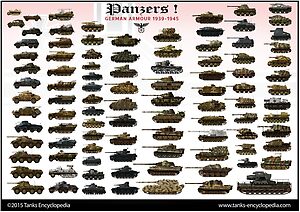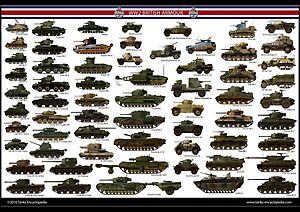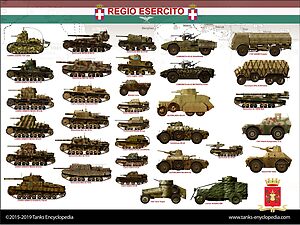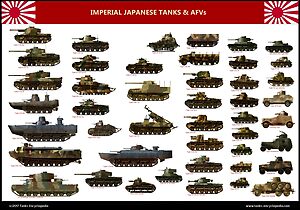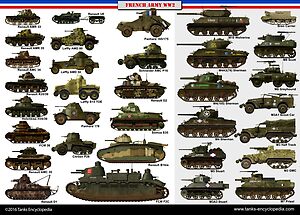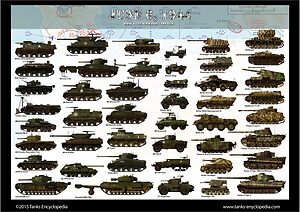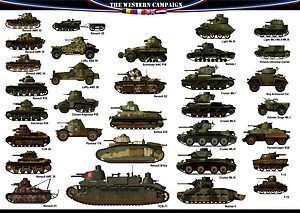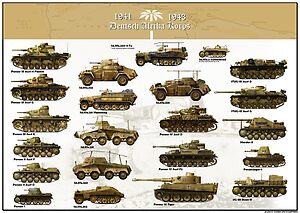 Tanks aces and single tanks series