Specifications and Development
The Type 96 Wheeled Armored Personnel Carrier (96式装輪装甲車, kyuu-roku-shiki-sourin-soukou-sya) entered service with Japan in 1996 hence its name, and is nowadays the main modern JSDGF armored troop carrier, faster and more modern than the M113 and its various versions still in service in the 1990s. Production by Komatsu of the Type 96 ceased in 2014 as its replacement was announced, and is expected to arrive in service from 2021.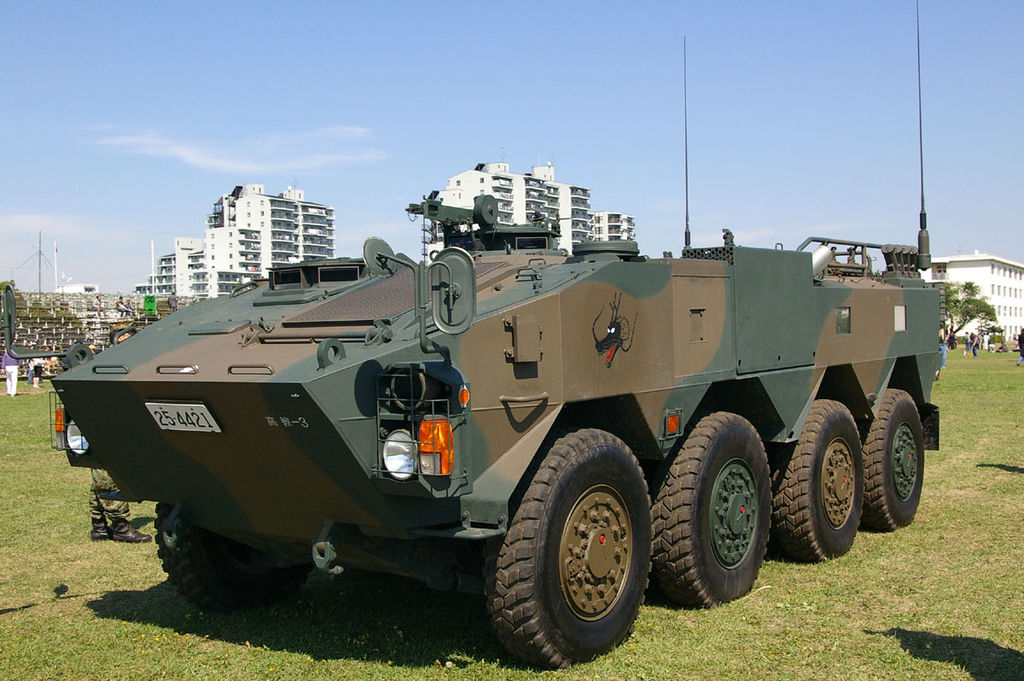 Front side, at Camp Shimoshizu
Design of the Type 96 APC
The driver sits on the right side, with the engine in the left compartment, and he is given a rear-sliding cupola. Once in place overhead, he could see thrrough a peripheric armoured glass mad of three windows, with three periscopes on top, the center alternative to a passive night vision model. When the cupola is slided aft, the driver is able to keep his head out of the vehicle for greater situational awareness. Behind him is located the commander doubling as gunner, in a cupola fitted woth six periscopes and rotating to 360°. The mount is fitted to accept either a 40 mm M48 grenade launcher (Type A) or a standard .50 caliber (12.7 mm) M2HB heavy machine gun, called locally Type B. The passenger compartment is located just behind, large enough for 8 equipped infantrymen seated on either side, back to the wall. When moving, they can fire through two firing ports on each side. They disembark and enter the vehicle through a single electrically-operated rear door-ramp, or roof hatches.
Propulsion & Performances
The Type 96 is propelled by a Mitsubishi 6D40 water-cooled 6-cylinder diesel (Or Komatsu diesel) which develops an output of 360 hp for a top speed on road, of 100 kph (62 mph), and around 60-70 kph off road. Suspension consisted in 8x8 independent torsion arms and hydraulic dampers. The internal tank authorizes an operational range of 500 kilometres (310 mi) at cruise speed.
It is also fitted with a central tyre pressure system. The drivetrain authorize to loose a wheel in combat and still move to safety, even with a second one badly damaged. The Type 96 showed in trials capable of climbing a 60% slope, a 40% side slope, a ~ 0.5 m vertical step, circa 2 m trench, and ford one meter withut preparation. The Type 96 is not amphibious but its weight authorized transport in the C17 or its Mitsubishi equivalent.
Protection
Armour is estimated to STANAG 3 level, against 14 mm rounds on the frontal arc, small arms fire and shrapnels all around, but no protection against autocannon rounds, RPGs, Mines and IEDs. It is also protected E-NBC (enhanced nuclear, biological and chemical) collective with sealing and overpressure. For active protection, the Type 96 is fitted with a laser warning device and two racks of four smoke projectors on either side.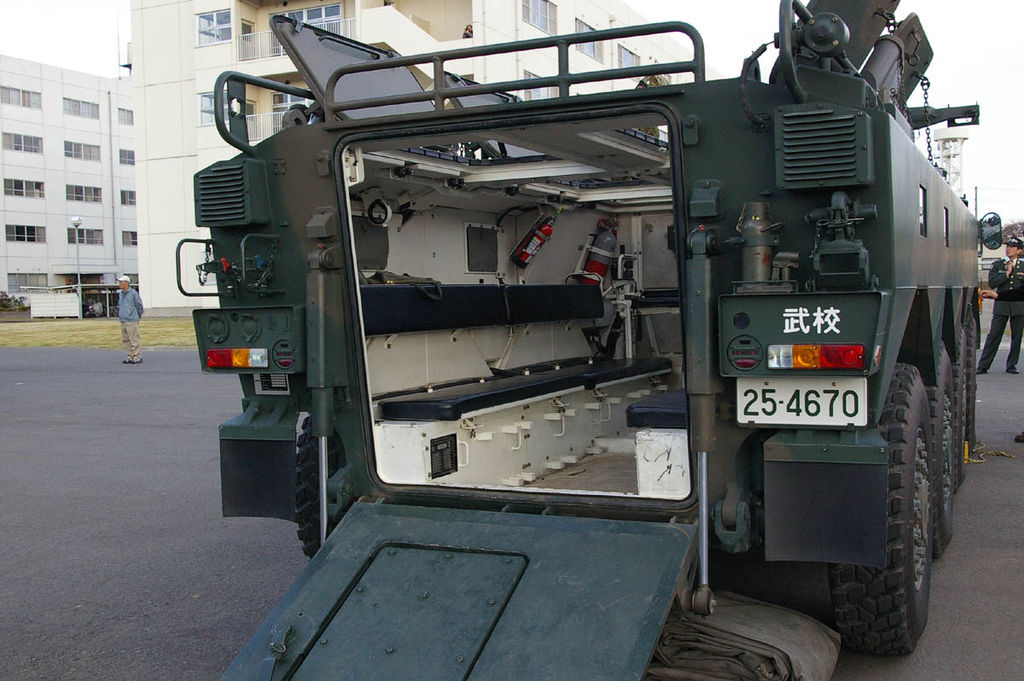 Back of the vehicle and internam troop compartment view during an exhibition at Camp Matsudo
Production & variants
As of 2001 Japan reported to the United Nations Office for Disarmament Affairs its army had 72 Type 96s in service while 22 were procured in 2001. As of 2014 the production was officially stopped, to 365 vehicles, but maintained for chassis conversions and exports. However the new upcoming APC developed from 2012 should replace it completely, without commonality.
The Type 96 chassis was developed into the following variants, which never entered production but the NBC reconnaissance variant.
-Type 96 Command post vehicle
-Type 96 Reconnaissance vehicle
-Type 966 105 mm fire support vehicle
-Type 96 120 mm mortar carrier
-Type 96 short-range air defense missile system.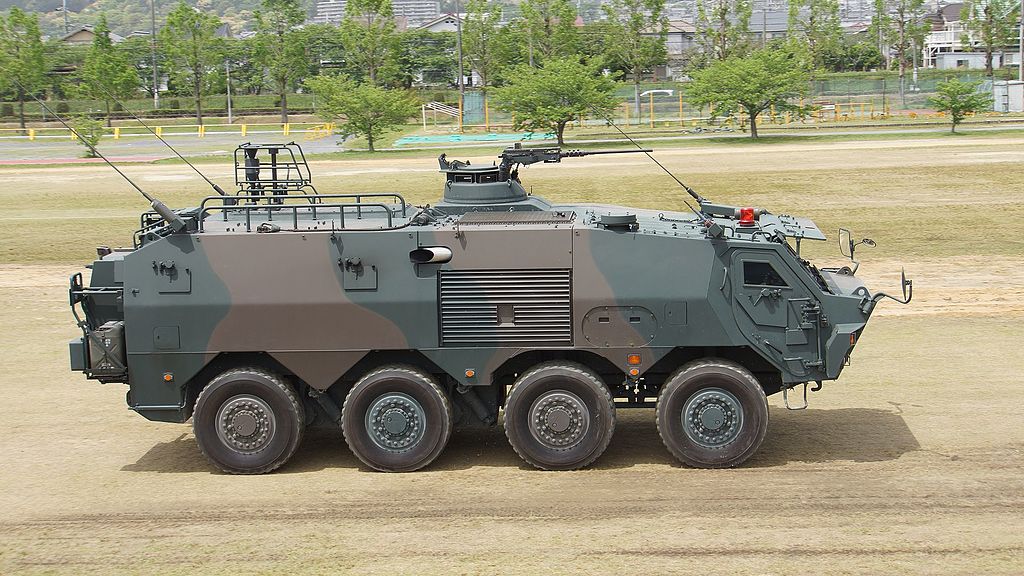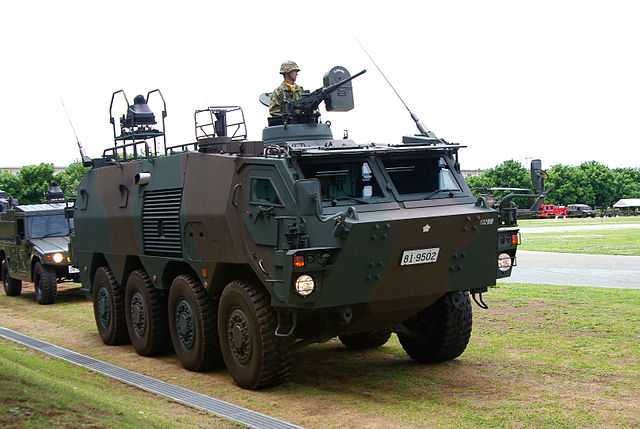 Views of the JSDGF NBC reconnaissance vehicle, which recalls a bit the German TPZ Fuchs.
Replacement: Type 21 APC
In 2011 it was planned tio replace the Type 96 and studies started at Komatsu, at first to improve on the Type 96. It was developed by the Japanese Defense Ministry working with Komatsu Limited, on the lines it would offer and overall bvetter protection against improvised explosive devices (IEDs), and mines, using the basic protection scheme also used on the Patria AMV and Stryker. Both had been evaluated in detail by the JSDGF. The goal was also to achieve enough modularity to produce a while new family of 8x8 vehicles based on a unique chassis.
The new vehicle as a result became longer, higher and heavier than its predecessor. The "Wheeled Armoured Vehicle (Improved)" measures indeed 8.4 m (27 ft) long, for 2.5 m (8 ft) wide, and 2.9 m (9 ft) high, and 20 tons in battle order, with on board two crew and nine troops plus equipment. The Type 17 APC is also given a much more powerful 500 hp diesel engine, and had improved suspension in orde to reach speeds in excess of 100 km/h. The new APC is scheduled to equip JGSDF combat-support units, notably for peacekeeping operations and "counter island invasion" scenarios. On 10 January 2017, the new 8×8 APC prototype WAV(I) arrived with the Japanese Armed Forces for evaluation in order to replace in the 2020s the Type 96 vehicles in service. Trials went on in 2018 and until May 2019, solving issues with the armor. In 2020 it was annnounced its development was to be pushed to 2021. So if succesful, it is likely to be named "Type 21 APC". Read More: www.military-today.com/apc/new_japanese_8x8_apc.htm
Links/Src
The Type 96 APC on Wikipedia
On newpacificinstitute.org
"JGSDF Inventory circa 2001". United Nations. Archived from the original on 21 May 2011.
Japan Unveils Armored Vehicle Prototype for 'Counter Island Invasion'- Defensenews.com
Japanese Ministry of Defense unveils new 8x8 APC armoured vehicle personnel carrier - Armyrecognition.com
On shephardmedia.com
Takahashi, Kosuke (16 May 2019).
"Tokyo resumes plans to replace JGSDF's Type 96 armoured vehicles". Jane's 360. Tokyo. Archived from the original on 16 May 2019. Retrieved 16 May 2019.
Type 96 on military-today.com
Type 96 on globalsecurity.org
Excerpt from Jane's Armour and Artillery 2008
Type 96 APC specifications

Dimensions (L-w-H)
6.84 m (269 in) x 2.48 m (98 in) x 1.85 m (73 in)
Total weight, battle ready
14.6 tonnes (16.1 short tons)
Crew
2+8 (Driver, Cdr/gunner, 8 infantrymen)
Propulsion
Mitsubishi 6D40 water-cooled 6-cylinder diesel 360 hp
Top speed
100 km/h (62 mph)
Suspensions
8x8 Torsion bars
Range (Fuel)
500 km (310 miles)
Armament
Type B 12.7 mm M2HB or Type A 40mm Grenade launcher
Armor
Steel RHA - Equiv. 13 mm
Production (as of 2014)
350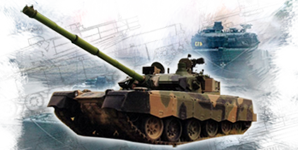 Modern Tanks




































---
Modern MBTs posters