The Israeli super M60
The Sabra was initially developed as a further evolution of the Magach 7C, with a better ballistic profile for the appliqué armor and incorporating the MG253 120 mm gun developed by IMI. This upgrade package was not intended for Israel, and was first offered to Turkey as an option for its massive park of M60s. It was later also offered on the military market at large and exhibited. The Turkish government was interested and selected the Sabra Mk II for its upgrade program, intended as a stopgap measure before its domestic tankk the Altay, was operational. The Sabra was developed by the Israel Military Industries Slavin heavy weapons plant at Ramat Hasharon.
The contract, estimated to be worth $688 million USD was signed on March 29, 2002. The first Sabra Mk II was delivered for trials in 2005. It passed all qualifications in May 2006. Therefore, 170 M60s were upgraded between 2007 and April, 2009 by the Turkish Army's 2nd Main Maintenance Center Command, with upgrade kits supplied by IMI and in collaboration with its engineers. Therefore, these 170 vehicles were from the Turkish mark of M60, not Israeli.
Design
Although the basis remains the old and trusted M60 chassis, the turret is completely new, and the engine upgraded, in the IDF tradition of improving their US-supplied M48 and M60. In general, the heavier turret imposed wheeltrain modifications to cope with the increased weight. The general arrangement of the turret remains the same, with a crew of four: The commander, gunner, loader and driver. Apart the drive all three took place in a roomy turret, and kept the same equipments and cupolas as on the base model. The Sabra was at first tried wth the urdan turret, but the Mark II went to a more classic M85 cupola allowing peripheral vision and for the commander to fire its cal.50 HMG from a protected position, and a small hatch, rear opening above. The gunner's hatch is somewhat large and also rear-opening.
The hybrid turret and gun control system comprises an hydraulic elevation (-8/+19°) and electric traverse drive on the Mark I. The Sabra II had an all-electric gun control system. The firing management is assured by the Knight computerised fire control system from El-Op Industries Ltd (Rehovot) and Elbit Systems (Haifa). The FCS allowed to actively controls the turret dynamics too. There is a line-of-sight (LOS) stabilisation in elevation and azimuth for the best first hit probability, stationary or on-the-move against mobile targets. Details of operations by night is provided with extensive IR suite, but its level for bad weather is unknown. This main sight M36 E1 has a stabilised mode, with the LOS slaved gun axis, the gunner's LOS slaved to the gun axis, non-stabilised mode and back-up mode with manual operation. As customary on modern MBTs, both the commander and gunner have full control of the gun operation. The gunner's station have a periscopic x8 magnification day sight, ×5.3 magnification IR night sight, stabilised in two axes. It is also provided by the eyesafe Nd:YAG laser rangefinder operating between 200 m to 9,995 m with a ±5m accuracy (can depend on altitude, hot temperatures, etc.). Driver's periscopes are of the ANVVS-2 type. The central one can be swapped fro an infrared device.
Powerplant
The Sabra is powered by Continental AVDS-1790-5A turbocharged diesel engine developing 900 horsepower. Chassis is optimized as well as the schock absorbers and torsion bars balanced for better cross-country mobility at 0,97 kg/cm2 ground pressure. Indeed the Mk.II has a MT881 KA-501 (1000BG) engine (Turkish built), with Renk Color 304S Transmission. The vehicle also has an upgraded running gear with its six double-wheel wheeltrain and trailing arm suspension, torsion bar springs plus piston dampers (three on either side) allowed for a comfortable drive at 48 kph, completed by the single-pin steel tracks with rubber pads. The Mark I engine procures 16.5hp/t and could accelerates from 0 to 32km/h in 9.6 seconds. Range is 450 km on flat. The Sabra can manage a gradient 60%, side slopes of 30%, 2.60m trenches, 0.91 m obstacle and ford without 1.40 m, and up to 2.40m after preparation. Tactical transport is only possible with a heavy lift of the C-5 category Turkey does not possess.
Armament
The turret is fitted with the short 120mm MG 253 smooth-bore gun similar to the model developed by IMI (formerly TAAS) for the Merkava mk3. It is fitted with a fume extractor and thermal sleeve. This prevent wear and maximise first round hit probability by reducing the barrel distortion. Stowage comprised necesarily less round than for a regular Magach 7, but still 42 rounds of ammunition are stored, some ready in turret's bins, others inside floor's compartments. This gun certainly had a muh greater range and armour-penetrating capability than for the regular M60T, and is fully compatible with Nato-standard 120mm smooth-bore ammunition. This includes the armour-piercing fin-stabilised discarding sabot (APFSDS), HE, Squash, Flare, and exercise round. The gun is flanked coxially by a standard 7.62mm KMG or a 5.56mm LMG. The turret is given a 60mm mortar system, installed in two four tubes banks on either side, supplied by Soltam Ltd (Haifa).
Sabra overview during an arms' exhibition showing its turret top, cupola and aft climatization system, the large ERA sections, FCS and sight, and aft storage cage. Credits: Military-today.com
Protection
The armour protection level is also raised compared to the 7C, worthy of a 120 mm-armed MBT. The hull and turrets are fitted with modular passive armour protection blocks, upgraded to explosive reactive armour(ERA) on the Sabra mk.II. ERA blocks are fitted on the glacis plate, and on the turret flanks. The sides are protected by rigid composite blocks at the font, and with rubber panels at the rear to deal with RPGs. For the crew's protection, the Sabra is equipped with a collective NBC suite with interrior lining and overpressure, but also an automatic fire and explosion suppression system, in the turret, ammo, and engine compartments.
Sabra Mk I
The Mk I was essentially an upgraded Magach 7C. It incorporated a new 120 mm gun developed by IMI, improved applique armor, and the Knight fire control system from Elbit Systems. The running gear would also be upgraded from the Magach to improve cross-country mobility. The hybrid electric and hydraulic turret traverse system from the Magach 7C is replaced with an all-electric system. It was demonstrated to the Turkish authorities and trigerred modifications.
Sabra Mk II/M60T
Unlike the Mk I, using a low-profile commander's cupola, the Mk II had the larger M60 Patton M19 cupola back, fitted with its original M85 12.7 mm machine gun ans on the regular M60T in Turkish service. This version also have a Commander's Independent Thermal Viewer (CITV). The Mk II uses a brad new power unit, the MTU Friedrichshafen engine. It was produced undeed under license in Turkey by MTU Turk A.S. It is coupled with a Renk transmission with four forward and two reverse gears. It is cladded with explosive reactive armor bricks, covering all the turret front and side, gun top, and glacis front.
Improved version:
An upgrade was performed by the 2nd Main Maintenance Center, with Israeli cooperation. All the systems except the armor package were made under license in Turkey via technology transfer. The sabra fuel capacity notably has been exyended to carry 500 litres of diesel fuel.
Sabra Mk III
The Sabra Mk III was tested in israel and proposed to Turkey and other customers but so far attracted no interest. It is incorporating the armor scheme, main gun and RWR/IR warning system, even the tracks for its domestic Merkava Mk IV main battle tank.
Links
https://www.army-technology.com/projects/sabra/
http://www.military-today.com/tanks/sabra.htm
https://www.militaryfactory.com/armor/detail.asp?armor_id=522
https://fas.org/man/dod-101/sys/land/row/sabra.htm
Sabra II specifications

Dimensions (l-w-h)
6,950 x 3,270 x 3,630 m
Total weight, battle ready
59,000 kgs or 59 Tons (130,000 ibs)
Crew
4 (Driver, gunner, Commander, loader)
Propulsion
MT881 KA-501 (1000BG) diesel
Transmission
Renk Color 304S
Suspensions
See notes: Torsion bars, shock absorbers
Top Speed
55 kph (38 mph) flat, uneven, 46 km/h, soft 23 km/h
Range (road)
500 km (300 mi)
Armament (see notes)
120 mm (4.7 in) MG 253 IMI smoothbore cannon
1 x 12,7 mm (0.5 in) M85, 1 x 7,62 mm (0.3 in) LMG
Armour
Passive RHA and ERA, classified.
Total Conversions
Around 170 Mark II

Ilustration of a Turkish Sabra in operations in Syria
Dark green camouflage M60T, northern Turkey (these tanks were used in Syria).
Sabra II exhibited in Rishon LeZion, Israel, 2008.
All: Sabra II during operation olive branch in Syria, 2018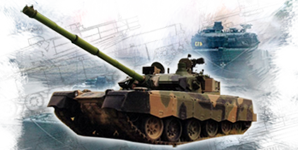 Modern Tanks
---
Modern MBTs posters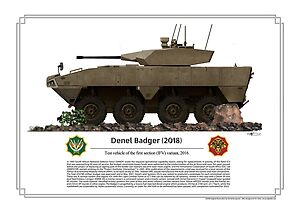 Denel Bagder (2018)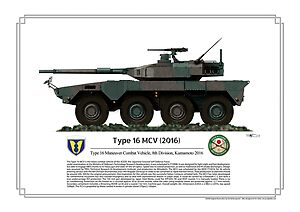 Type 16 MCV (2016)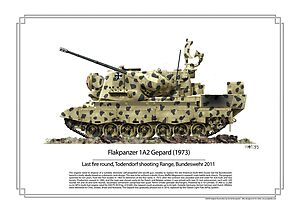 Gepard 1A2 last rounds 2011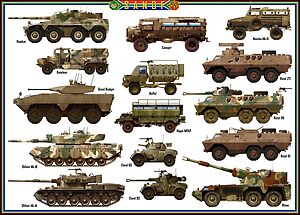 SANDF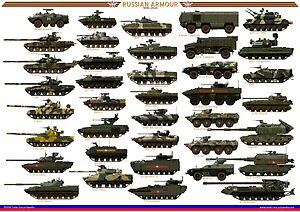 Russian AFVs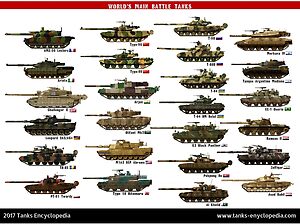 Main Battle Tanks