A light APC with a long career
The Humber Pig left in the collective memory a trace, especially a vivid one in Ireland, as these vehicles often appeared in the media back in the 1970s, roaming the streets of Northern Ireland during the worst of the Troubles. Technically these were merely light armored vehicles more suited for police operations, patrols, or troop transport and supply in the rear lines. Not spectacular for modern standard APCs, the "Pig" did its job and was eventually retired in the early 1990s, their career encompassing all the cold war with years to spare. It was also the base for the 1955
Hornet Malkara
missile launching vehicle.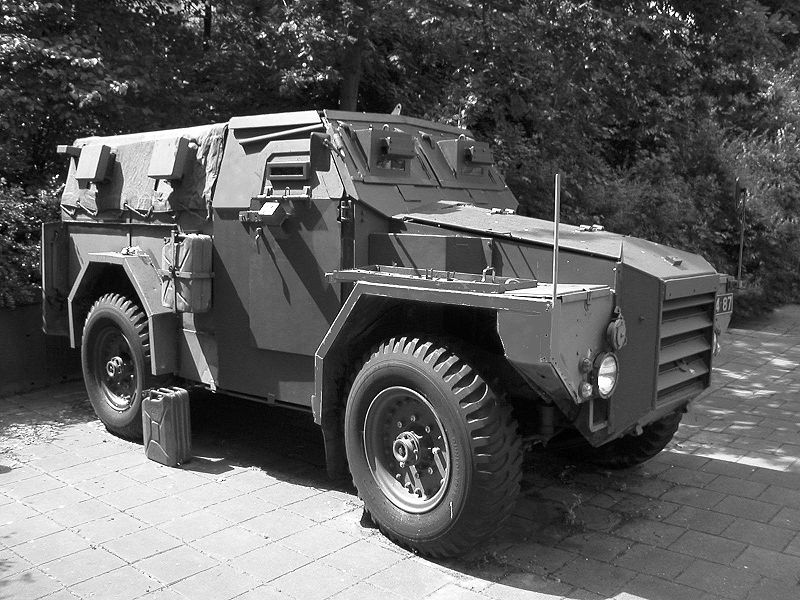 Humber FV1612
Based on Rootes's FV1600 truck
The base vehicle chosen for its development was the FV1600 four wheel drive 1-ton payload truck built by Rootes by the thousands for the British Army between 1952 to 1955. From this was derived the Humber FV1601 CT and FV1602 CT FFW Trucks. On them were based two armored vehicles, respectively the FV1611 and FV1612. Both were initially designed to perform a large variety of missions with the RAC, RA, RE, RS, and Infantry. Basically, these were seen as stopgaps before the heavier and more "military" Alvis Saracens could be delivered en masse. Eventually the final vehicle Pig FV1609A would be produced by later by Humber (final assembly), Rootes Group Limited (chassis and parts), Joseph Sankey & Sons Ltd and Royal Ordnance Factories for the armored body. About 1,700 in all would be produced until the early 1980s, starting in 1956 with twenty pre-series prototypes. These vehicles were open-top, intended to be used at the end of the trials in 1958 by the RUC (Royal Ulster Constabulary) when ten of them were deployed in Northern Ireland. They were later retrofitted with a fully enclosed hull like production vehicles. About 500 "Pigs" would be seen in action in Ulster, especially in the 1970s, featuring a number of improvements, and additional armor as troubles escalated.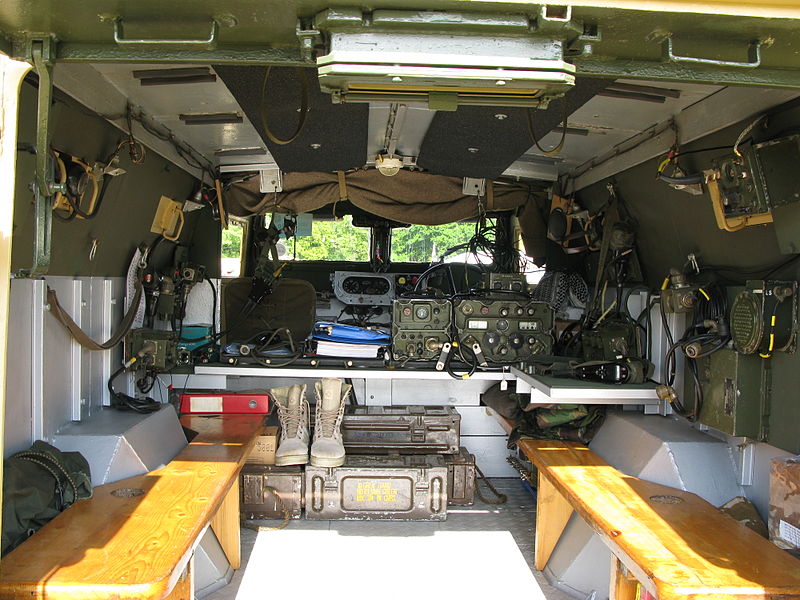 Humber Pig Interior
Design
As stated above, the Pig was merely a lightly armored truck, as with one ton only its 6-7 mm overall, with slab-sided or lightly sloped welded plates that can barely stop small arms fire. In fact, these were more of any help against improvised street projectiles than assault rifle military bullets. The naked chassis was one ton, but the whole hull was about 10,500 pounds (4.8 t) for the early Mk 1, and up to 14,300 pounds (6.5 t) Mk 2 of the late up-armored version in the 1970s which degraded performances. The Pig was given indeed a Rolls-Royce B60 6-cylinder, 4.2 litre petrol I-6 which developed 120 hp. Nevertheless, with its all-wheel drive, big off-road wheels and reinforced heavy duty suspensions, the Pig has acceptable off-road characteristics, whereas it was not its primary vocation. Top speed was only 64 kph, range 400 km.
Humber Pig preserved at Hillsborough, notice the "semper Fi" on the hood.
The hull was given a classic double compartmentation, with a front engine, followed by the driver's cabin, not separated from the rear troop compartment, large enough for a crew of 6, extensible to 8. There were two front armored shutters, side slits in the cabin's doors, two rear compartment armored shutters, and storage boxes over the rear axle. The Humber Pig was not amphibious, nor protected NBC. There were no means of additional concealment like smoke dischargers. No specific means were provided for crowd control either like a turret, siren, megaphone or lacrymal discharger. Importantly enough, the Humber Pig was unarmed, except for the crew's own firearms, only the turret equipped version has a permanent machine-gun, either a 7.62×51mm L4 Light BREN or a 0.30" (7.62×63mm) Browning M1919 Machine Gun.
Variants
Of the 3,700 Humber trucks were derived about 1,700 Pigs (FV 1611 Mk.I or Mk.II) but also the FV 1609 Armoured Cargo Truck, FV 1610 Armoured Cargo Truck Fitted for Wireless (FFW), FV 1612 Armoured Truck FFW/Fitted for Radio (FFR), and FV 1613 Armoured Ambulance, plus the converted FV1611 Hornet missile platform.
The Pig variants:
-The FV1609 1956 preserie Prototype APC had a removable rear roof, canvas roof, and removable windscreens. -The Mark I (counted FV1611 and FV1612 and FV1609 converted vehicles) was given a fully integrated rear roof and armor. -The Mark II (FV1611 and FV1612) had add-on armor for military-class bullets fire and RPGs, were fitted with "barricade removers" (heavy-duty bull bars), and often turrets, which came into a variety of improvised, fen unofficial fashions.
Turret variants
- All the turrets came from the Shorland ISPV (based on the Series IIA Land Rover) and these vehicles were tailored to be used in Northern Ireland. These variants names were unofficial.
Flying Pig: Extending riot screens either side and roof
Holy Pig Rooftop hatch surrounded by perspex screen (Popemobile-like)
Kremlin Pig Wire screening added to deal with rocket-propelled grenades (RPG-7)
Squirt Pig: Water cannon beside the driver for riot control
Foaming Pig: Foam generator to diffuse bomb blasts
Felix Pig: Bomb disposal vehicle
The "Pig" in action
As stated above, 487 Pigs in total were deployed in Northern Ireland, Ulster province, especially in the context of the September 1972-July 1973 political tensions and IRA actions. The "Pigs" were the backbone of the Royal Ulster Constabulary in Northern Ireland and other police units, but also many military units like paratroopers.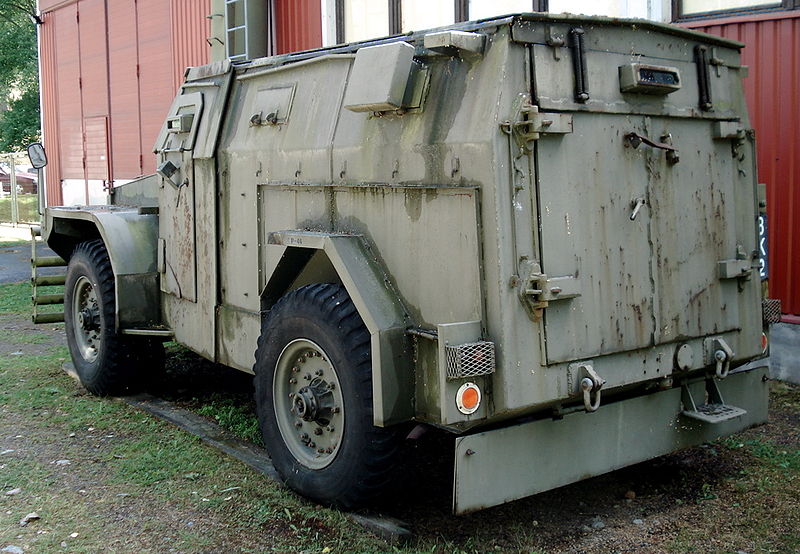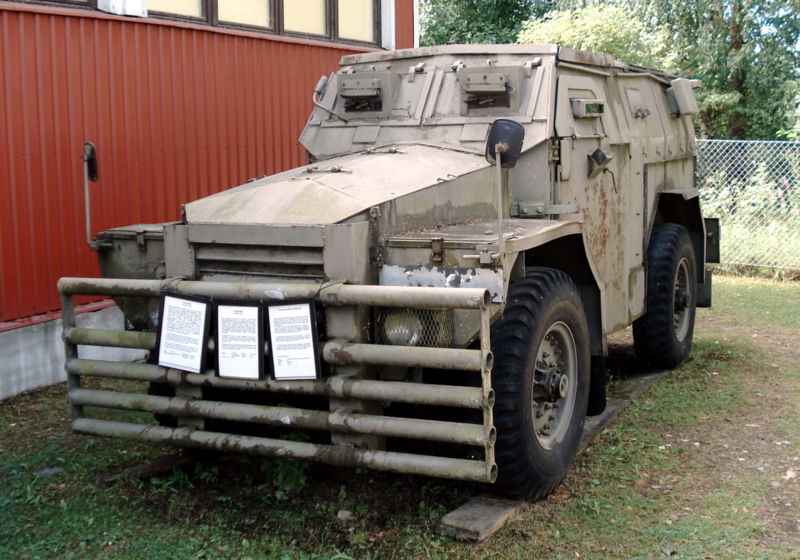 Humber Pig at Parola museum, Finland
The others were used by the Army and took part in many exercises before being replaced in the 1980s by other vehicles. It must be added (but it would require a whole chapter) that many other armored vehicles were used in this context, like the Land Rover Tangi (1957), Snatch Land Rover (1992), Shorland (1961), Hotspur Hussar (1987) among others. From 1992 onwards, the Pigs were replaced by the AT105 SAXON APC Developed by GKN Sankey, based on the Bedford 4x4 truck. The latter were an unpopular design, replaced in the 2000s. It must be added the "Pig" surname, that eventually stuck came from its low power-to-weight ratio that made the vehicle hard on brakes and having poor performances for top speed and acceleration, plus chassis and suspension issues. Nowadays large numbers of these vehicles are stored, were acquired by private collectors due to their low price, and restored. One can be seen, in running order, at the Aldershot Military Museum, another in Bovington.
Humber Kremlin Pig
Humber Kremlin Pig with bar screens added to deal with rocket-propelled grenades (RPG-7). This version had a turret fitted on the roof.
FV1620 Humber Hornet Malkara
FV1620 Humber Hornet Malkara anti-tank rocket firing version was built on a Humber Pig chassis.
Links
The Humber Pig on wikipedia
On warwheels.net
PIG IN A POKE - the Humber issues with suspensions and chassis (pdf doc)
Clive Eliott article about the Pig
Additional photos
Humber FV1611 specifications

Dimensions
4.95 x 2.04 x 2.12 m (16'2'' x 6'8'' x 6'11'' ft)
Total weight, battle ready
6.5 tons (Mk.2)
Crew
2+6/8 (driver, cdr, infantry)
Propulsion
Rolls-Royce B60 6-cyl 4.2 litre petrol I-6 120 hp
Suspension
4x4 independent coil springs
Speed (road)
64 km/h (40 mph)
Range
400 km (250 mi)
Armament
7.62mm L4 Bren LMG, 0.3 in Browning M1919
Armor
5-6 mm sides(see notes) (0.21-0.25 in)
Total production
1700 in 1955-1980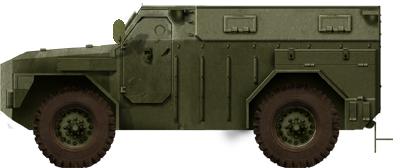 Prototype of the Humber Pig, 1955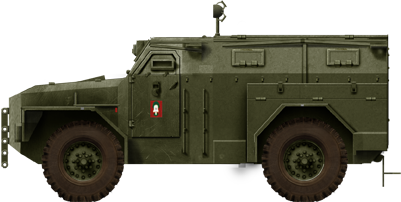 Humber Mark 2 Explosive Ordnance Disposal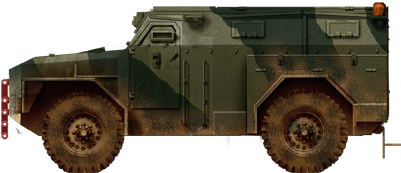 Humber Pig Mark 2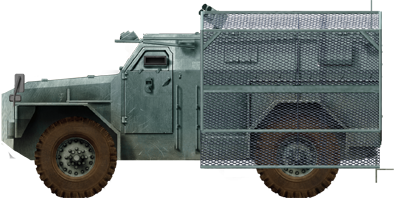 "Flying" Pig Mark 2 with mesh riot screens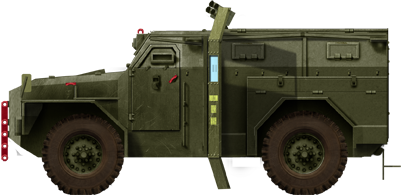 "Flying" Pig Mark 2 with metal and plastic riot screens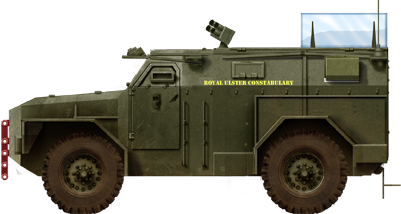 "Holy" Pig Mark 2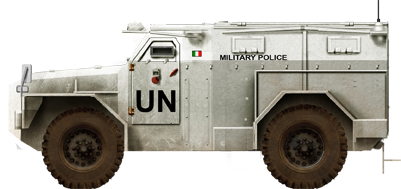 Humber Pig UN, Irish Military Police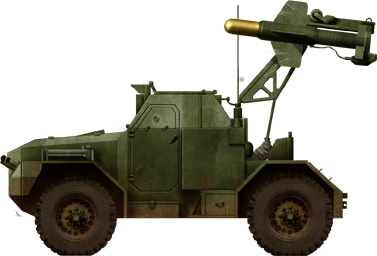 FV1620 Humber Hornet Malkara, rocket firing tank hunter variant.
Gallery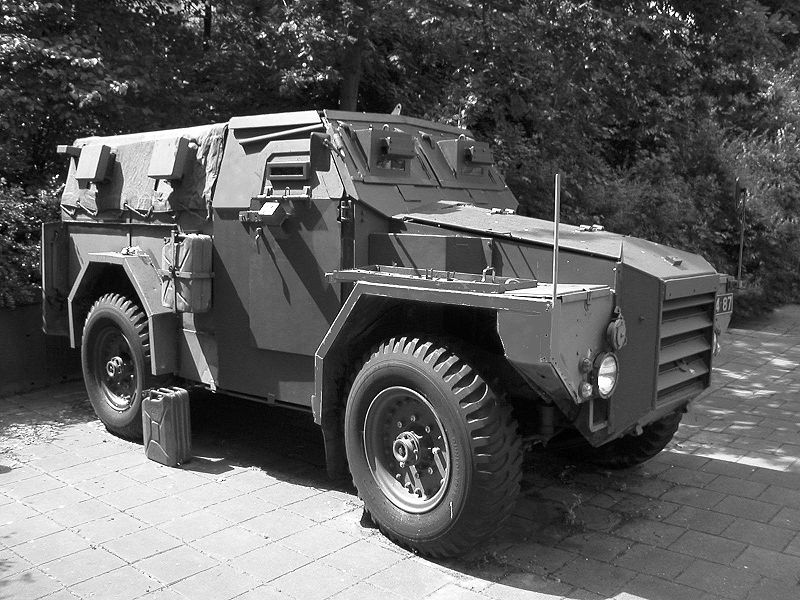 Humber FV1612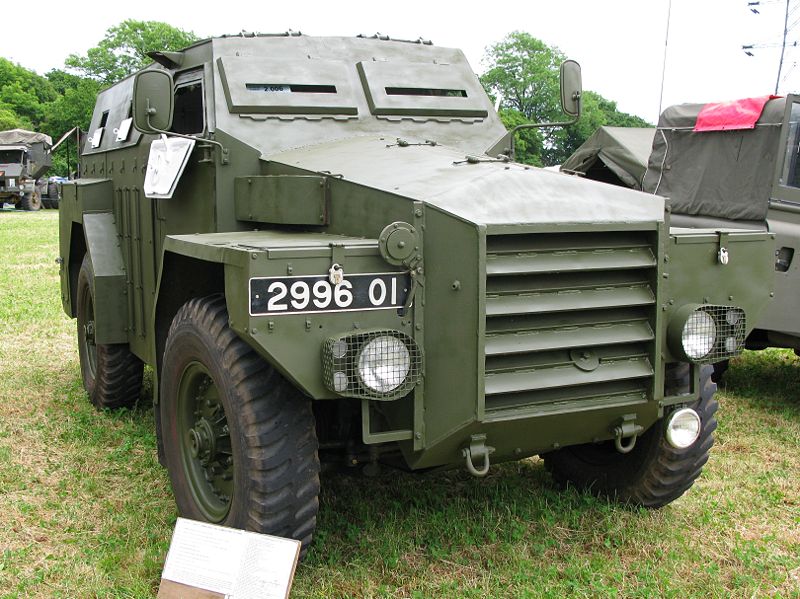 Humber Pig Mark 1
Humber Flying Pig
Humber Flying Pig with its protective wire mesh riot screens deployed
Humber Flying Pig on the Streets of Northern Ireland during the 'Troubles' with its protective wire mesh riot screens deployed.
Model of a Humber Flying Pig with its metal and plastic protective riot screens deployed.(Model - Accurate Armour)
Humber Flying Pig on the Streets of Northern Ireland during the 'Troubles' with its metal and plastic protective riot screens deployed.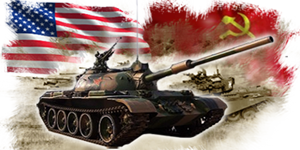 Cold War Tanks



































Cold war tanks posters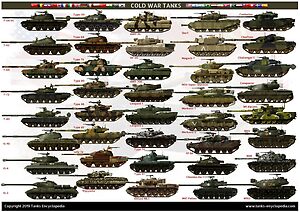 Cold War Main Battle Tanks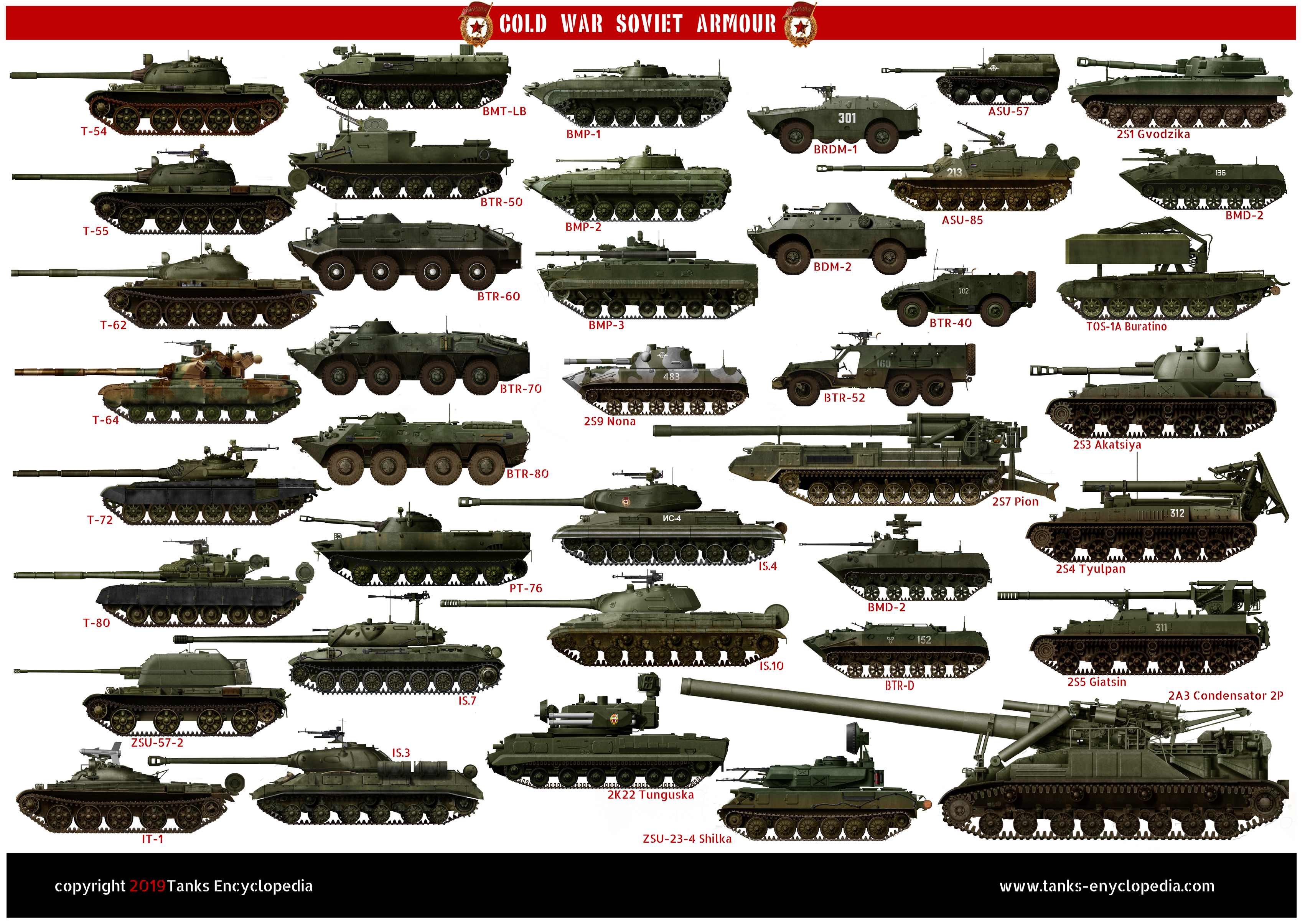 Cold War Soviet Army