The Lanchester 1914
To avoid confusion, this is the 4x2 armored car; There was another model built in the interwar, a 6x2. This WWI model was originally requested by the Royal Naval Air Service for rescuing downed pilots well behind enemy lines and to support advanced bases of the RNAS. At that time Lanchester was one of the most trusted manufacturers for the task, along with Rolls-Royce. Their origin could be traced back to the tests and studies made by Dr F. W. Lanchester
antebellum
, leading to reliable but somewhat unconventional vehicles. RNAS held a heterogeneous collection of vehicles stationed in Dunkirk in 1914, some of the 25-h.p. and 38-h.p. Lanchester touring cars type. One 38 hp car was converted as an armored car during late December 1914. One of its most recognizable features was the patterned turret also shared by the Rolls-Royce, but it lacked mudguards, unditching boards and electrical equipment. It was tested and 36 conversions followed in 1915, fully equipped.
Design
The Lanchester was based on the regular 38 hp chassis with front and rear single axles, but doubled Rudge Whitworth tires at the rear, suspended on cantilever rear springs of semi-elliptic type assembly. This unconventional layout was completed by two vertical coil shock absorbers resting on the front axle, in addition to the front leaf springs. Both were attached to the upper part of the armored body. The armor was 8 mm (0.31 in) strong at the front (radiator shield, hood, windshield, sides), and perhaps 4-5 mm (0.16-0.2 in) on top and bottom, assembled by rivets to a frame. It was well sloped thanks to the engine configuration, with the engine resting beside the driver's feet. The latter was rated for 38 hp but developed 60 to 65 hp at 2200 rpm, served by a three-speed epicyclic type gearbox worm drive transmission at the rear. The center of gravity was low, giving it excellent stability. The turret and rear part were made of corresponding rolled plates. The patterned turret had two small rear and top two-piece hatches, and at the opposite end was mounted a regular ordnance Vickers-Maxim water-cooled cal.303 (7.69 mm) machine gun. A lighter one, of the regular Lewis aviation type could also be stored inside and fired from the pistol ports.
There was a folding windshield with sight slits and two obstructed windows plus two small pistol ports on each side of the driving area. Access was performed by two rear doors and there was no compartmentation. Behind the turret rested a rear storage utility platform and two large stowage boxes on top of the rear mudguards. Between the two axles, on the lower body section, were attached two unditching boards and platforms for additional storage. Electrical equipment, shovels and spare tires were attached or stowed above. This equipment was very similar or identical to the Rolls-Royce type in operation, allowing commonality and easing maintenance.
In service
Thirty-six were delivered to the RNAS (Royal Naval Air Service) in three squadrons of twelve, serving in Belgium. One of these squadrons was then gave to the Belgian army. 10-15 more were later loaned by the RNAS to be fully operated by the Belgian Army. The Russian army received twenty-two vehicles in December 1915 and all but three were rearmed with the 37 mm (1.46 in) Hotchkiss QF naval guns. As the western front stabilized, armored cars were less in use and the entire British detachment of the RNAS, under the command of Oliver Locker-Lampson, was sent to Russia in January 1916 in an expeditionary force deployed in Caucasus, also operating in Romania and Galicia. Others reached as far as Persia and Turkey, leading raiding parties against Ottoman forces, totaling an impressive amount of mileage and further increasing their reputation of sturdiness and reliability. In fact they stood quite well the comparison to the other Rolls-Royce armored cars in service within the RNAS Far East units. In early 1918 the expedition force departed from Murmansk. They were later found in support of the "Whites", taking part in the civil war, and some were captured by the Red Army.
Lanchester 4x2 specifications

Dimensions

16 ft x 6 ft x 7.5 ft (4.87 x 1.82 x 2.13 m)
Total weight, battle ready
4.5 tons (10,230 lbs)
Crew
4 (commander, driver, machine-gunner, loader/mechanic)
Propulsion
6-cyl Gasoline Lanchester, 60 hp @ 2200 rpm - 12.5 hp/t
Speed
50 mph (80 kph)
Suspensions
4 x 2 leaf springs
Range
150 km (90 mi)
Armament
1 x Vickers Water cooled cal.303 (7.69 mm) machine gun
Armor
Maximum 8 mm (0.30 in)
Total production
36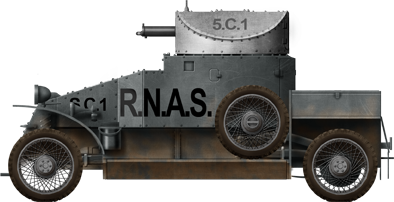 Lanchester armored car from the RNAS (Royal Naval Air Service), Dunkirk, 1915.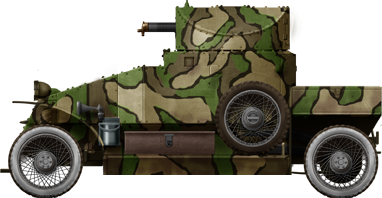 A camouflaged Lanchester, Flanders, 1916.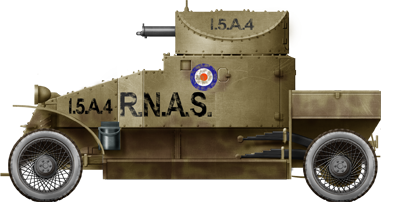 RNAS operating in Persia, 1916.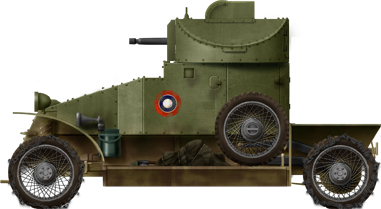 Russian Lanchester, Caucasus 1916. Notice the 37 mm (1.46 in) Hotchkiss, the small cupola above the turret, the absence of stowage boxes at the rear and the tires wrapped in mud chains in autumn.
Gallery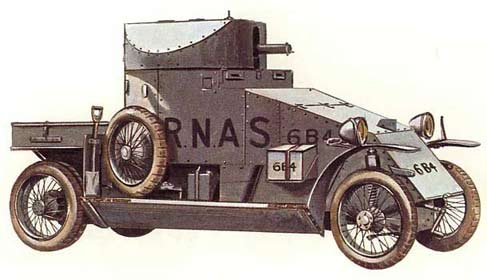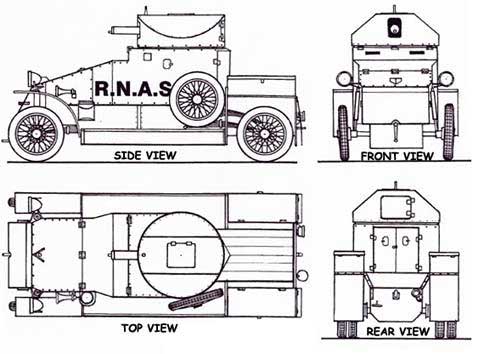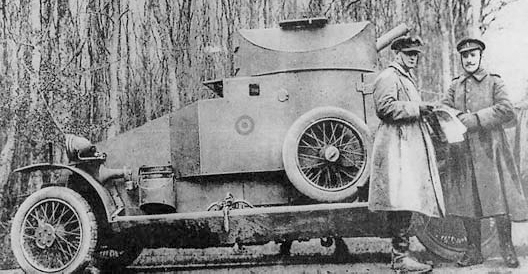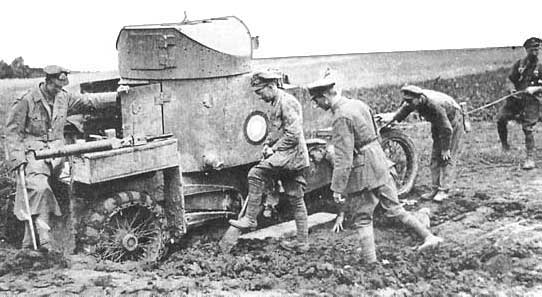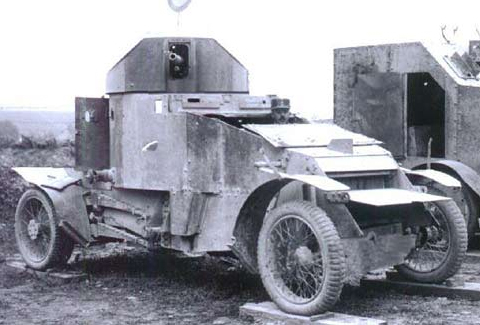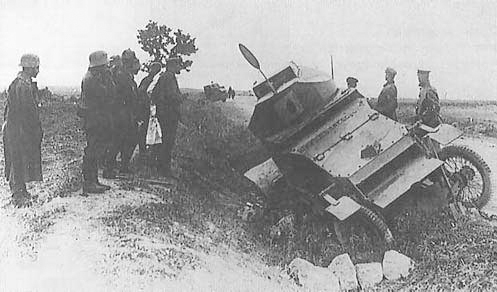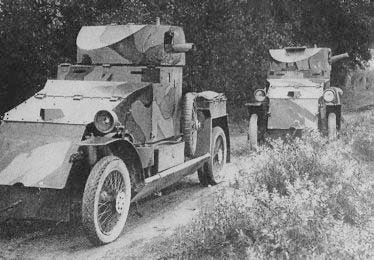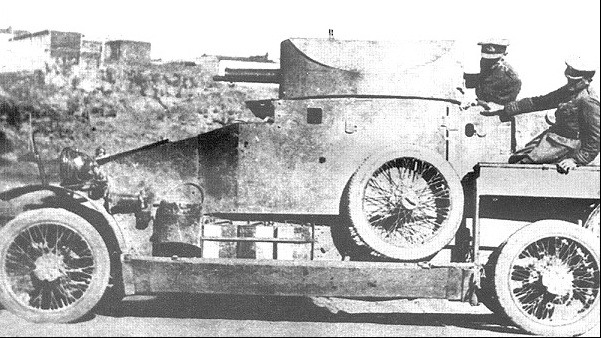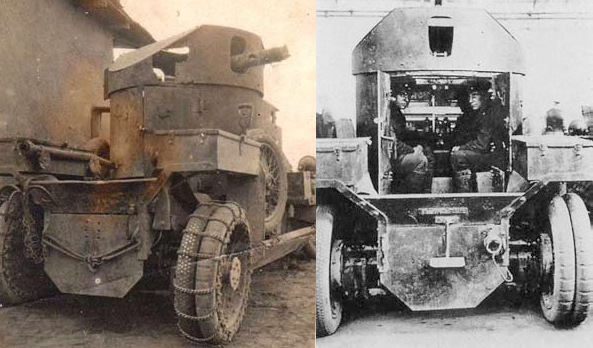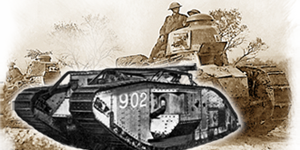 The Great War

Austria-Hungary

Belgium

British Empire

France

German Empire

Italy

Russia

USA
---
WW1 tanks posters