BTR-90, the last of the Soviet BTR lineage
"BTR" means "APC" in Russian and after WW2, the Sviet Army looked to develop a proper APC for its mororized infantry, leading to the development of the BTR-152. This was followed by the BTR-60, 70, 80 and leading ultimately to this late evolution, less an AC and more an IFV despite its denomination. Caught by the fall of USRR only a few were built, in stark contrast to the revious mass-produced series of the Soviet era.
Design & development
Development of what became the BTR-90 started at the Arzamas Machine Building Plant (AMZ) (subsidiary of the Military Industrial Company) in the early 1990s, although it was planned in 1988. Its the first prototype was completed and displayed publicly in 1994. It was intended for mechanized units of the Russian Army and marine for providing fire support while still carrying personnal, but alsmo missions of surveillance, reconnaissance, and patrol. Arzamas since marketed proficiously the vehicle as using a chassis available for a wide range of specialized vehicles, answering various requirements, but still, none was exported.
Design
The BTR-90 is designed for mobility and maneuverability on all terrain, still offering a good protection, and fitted with a large gun turret shared with the BMP-2 for commonality. It main feature is a pointed nose, reminiscent of the LAV-25 and modern 8x8 APC/IFVs. Its hull, made of welded steel armour plate is larger and higher than the BTR-80, which formed the basis for its developement. Layout, equipment and parts locations is similar to the BTR-80/BTR-80A. But in the BTR-90, both the commander and gunner could accommodate in the fighting compartment at the turret base. The driver is located also more in the middle of the hull, in front of the turret. The troop compartment as usual is located behind the turret. Since the engine is in the back, troops disembarks via side doors, designed for quick dismounting and boarding on the move. For easy access gowever, hatches are provided on the top of the turret and hull. Another innovation is the OICS or Onboard information control system, enabling automatic control over the transmission, engine and other parts of the armoured personnel carrier. So in short:
Communication: R-163-50U radio set, R-163UP receiver, R-174 intercom
BPK-3-42 gunner's day/night sight
Gunner alternative BPK-M thermal imaging sight
1P-13 commander's optical sight
Commander's weapons control switch
Inner payload capacity 12 cm3, 7,000 kg
Optional air conditioning
Onboard information control system (OICS)
Centralized tire pressure control system
510 hp Turbo Multifuel GAZ diesel
8x8 reversible hydro mechanical transmission
Torsion-bar & hydraulic shock absorbers
Combat type protected tires
SATANAG 4 armor + addon plates + ERA
Collective NBC + overpressure
Water jets, pump, trim vane
Periscopes and vision block sets
2x3 remote operated smoke dischargers
Automatic fire extinguisher
30 mm gun, 7.62 KPT MG, AGS-17 Grenade launcher
Optional 9M113 Konkurs ATM
3 axis stabilisation system
Weapons range 2.5-4 km
Powerplant & performances
Engine:
Like previous BTR series, the BTR-90 relies on a 8x8 chassis, ensuring all-terrain capabilities. It is propelled by a rear-mounted, turbo charged, liquid cooled, multi-fuel GAZ diesel engine. It could develop 510 bhp. The chassis used the same eight-wheel drive as prvious vehicles, with an automatic reversible hydro mechanical transmission. The latter is capable of providing different speeds to each side of the vehicle. The driver also benefits from a duplicated electrical and compressed air engine start systems.
Drivetrain:
The wheels features independent torsion-bar suspension, and high capacity telescopic hydraulic shock absorbers for the traverse arms. The eight wheels comprised in reality two sets, two pairs at the front and two at the rear. The split side doors are in between and only the two forward pairs are used for power steering, the rear pairs are directional only. The 8x8 allows to loose at least one roadhweel on a mine. To cross the weaker grounds, like sand and snow, there is as usual a central inflation system, allowing to defate tires to achieve better grip. This system also helped keeping the vehicle mobile even if four of its wheels are destroyed.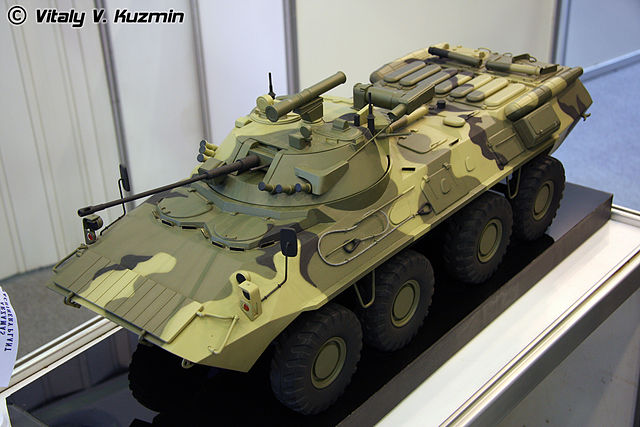 BTR-90 model at the Integrated Safety and Security Exhibition in 2008 showing its ERA blocks
Performances:
The BTR-90, despite its weight, achieves 100 km/h on flat, and up to 50 kph cross-country, and is fully amphibious, fording any water obstacle without any preparation. The BTR-90 is propelled when swimming by two water jet propellers at the rear, driven by the engine. When swimming, top speed is 9 km/h. It is equipped with a trim vane that can be deployed to negociate rivers and even light waves in coastal operations. BTR-90 can be deployed by truck, rail, by landing crafts and LHDs, or by air in heavy duty planes. Fitted with its hydro mechanical transmission and different speeds on both sides, the BTR-90 has a low turning radius, of just 6 m. Using only the front four wheels is is 14 m. It was tested capable of crossing 2.1 m wide trenches, negotiate 60% gradients, climbing 30% side slopes or 0.8 m vertical steps.
Protection
Armour
The BTR-90 protection inludes welded steel armour plates, the frontal plate and sloped sides is immune against 14.5 mm round (frontal arc). Side armour can withstand 12-13 mm fire, small arms and shrapnel. The hull is also provided notches for large bolts, ensuring the installation of additional armoured plates. There is also a provision for active protection, via explosive reactive armour blocks. They can be added over the existing armour. The use of periscopes and vision blocks instead of windscreens also adds some protection.
Active protection
The BTR-90 is of course also fully protected with a collective NBC and this include a slight overpressure system and internal lining, sealed hatches. It uses combat tires, proof against anti-personnel mine explosions and small arms fire. When swimming, it uses a drainage system pump. Actve protecton also includes and automatic fire fighting system in the combat compartment, infantry compartment, and engine compartment. It is also equipped with two banks of three smoke projectors for remote laying of smoke screens.
Armament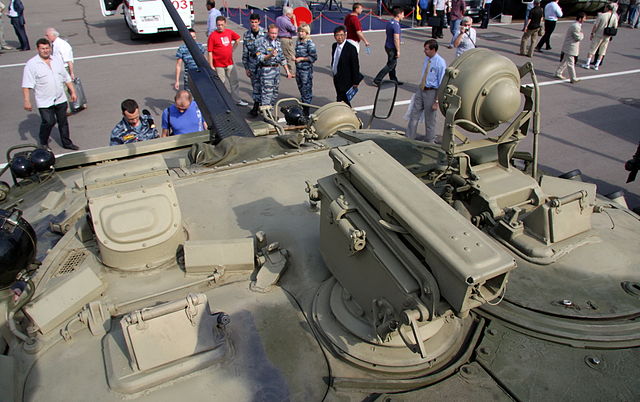 BTR-90's turret
Main gun
30 mm Shipunov 2A42 auto cannon with 500 rounds carried onboard.
Secondary guns:
7.62 mm PKT coaxial machine gun, 2,000 rounds onboard and a 30 mm AGS-17 automatic grenade launcher.
Missile:
An optional guided missile system consists of four 9M113 Konkurs missiles mounted on the turret. These launching unit are detachable for easy replacement but they can also be dismounted and used in a concealed position, remotelly from the ground. The weapons are all turret-mounted, sharing the same fire control system used by the BMP-2. It allows stabilitation on three axes for accurate fre on the mov, in all weather and at night. The traverse is 360 degrees, elevation −50 to +75°, allowing AA fire. The sights allowed to engage targets at up to 4 km, helicopters or fortifications at up to 2.5 km. Of course, the infantry can use the hull's gun ports to fire on the move, as well as the roof hatches.
Variants, production and use
Variants
-
BTR-90M:
The prototype BTR-90M was built with a larger turret, from the BMP-3 which uses a coaxial low-velocity 2A70 100mm rifled gun/missile launcher system with conventional shells or laser beam-riding 9M117 anti-tank missiles (AT-10 Stabber). It is also armed with a 30mm Shipunov 2A72 cannon and coaxial 7.62mm PKT machine gun. First displayed publicly in 2001 it was never adopted by the Russian Army but is proposed to export.
-
BTR-90 Nona SVK:
Low pressure 120 mm 2S9 Nona gun turret, same principle as the BTR-80 Nona-SVK. Not produced yet, nor exported.
-
BTR-90 Krymsk:
Unveiled on 30 July 2013, it is a hybrid-powered silent APC with unmanned capabilities. It uses a battery-driven electric motor in operation closet to the target, but still keep its diesel for cruise. New types of batteries are currently tried. Tests showed it is able to reach 97 km/h (60 mph), with 80 km/h in 33 seconds. It uses a remote weapon station and the agency announced a laser or electromagnetic weapon in developement for it.
Production and Operators
Production only spanned a few years, 2004 to 2010, and it was mostlyy evaluated by a single infantry unit of the Russian Army, the Russian Internal Troops. The latter is the Special Corps of Gendarmes formed in 1811, now uniformed security police agency responsible for law enforcement and state security. Occasionally it was tested by other units, but not yet the Navy. From 2009, attention turned to develop a larger model, which was further developed into the VK 7829 Bumerang, a brand new generation, still in development. As a stopgap measures, infantry units received the upgraded BTR-82. In October 2011, the Russian Ministry of Defence refused to purchase the BTR-90. It was only listed from 2020 for possible exports. It is not even listed on the manufacturer's site amz.ru.
BTR-90 related links
The BTR-90 on Wikipedia
The BTR-90 on weaponsandwarfare.com
The BTR-90 on FAS
The BTR-90 Krymsk on armyrecognition.com
The manufacturer's site
On military-today
On strategic-bureau.com
On army-guide.com
On militaryfactory.com
---
BTR-90 specifications

Dimensions (L-w-h)
7.14 x 3.23 x 2.65 m
Total weight, battle ready
20.92 Tons
Crew
3+7
Propulsion
GAZ turbodiesel 510 ch, 30,1 hp/t
Top Speed
100 kph (60 mph)/8 kph swimming
Range
800 km (400 mi)
Armament
Main: 1x 30 mm 2A42 autocannon
Sec: 1x 7.62 mm (0.3 in) PKT coax LMG, 30 mm AGS-17 grenade launcher
9M113 Konkurs ATGM (4)
Armor
Aluminium Alloy max 10-12 mm (0.3 in)
Total production
circa 137
Gallery
Illustrations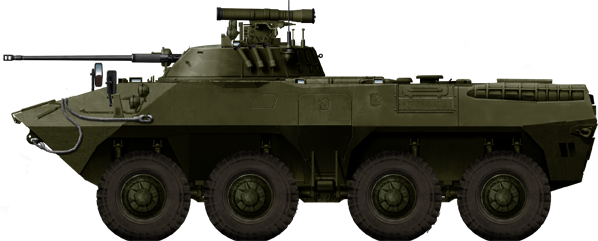 Standard BTR-90 in 1994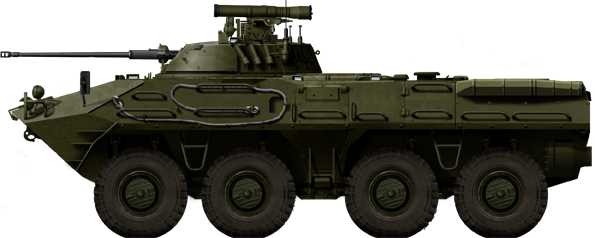 BTR-90 upgraded for export, with armor and with Konkurs ATGM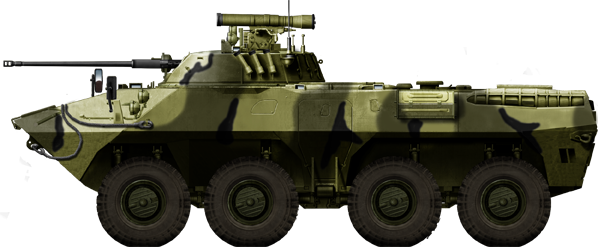 Camouflaged BTR-90 used for evaluations
Photos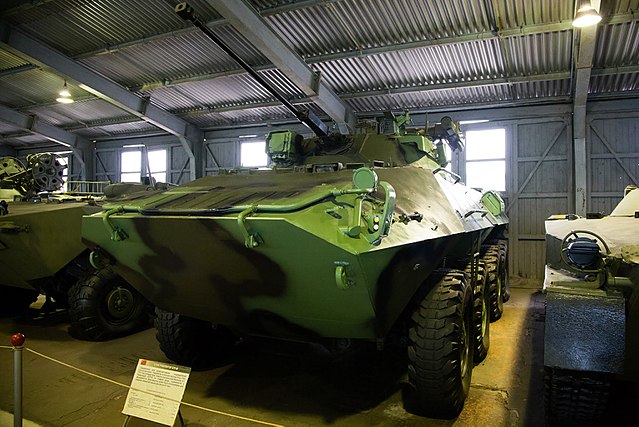 BTR-90_in_the_Tank_Museum_in_Kubinka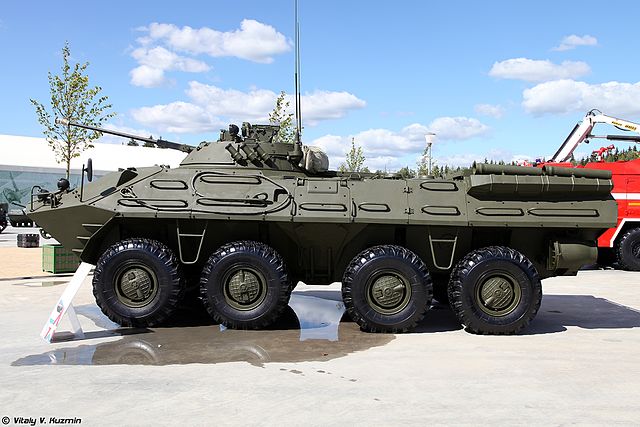 BTR-90 at TB2015 Exhibition, src vitaly kuzmin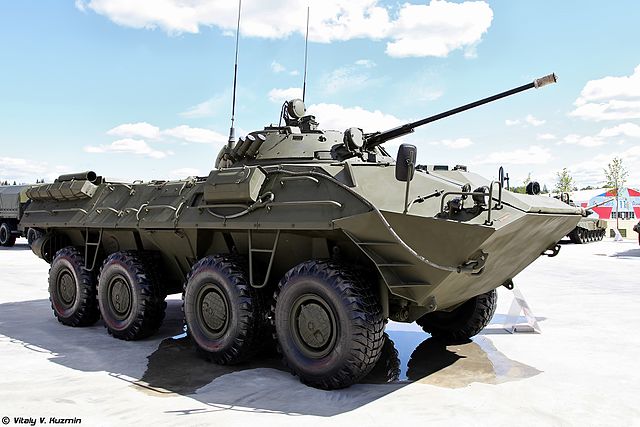 BTR-90 at TB2015 Exhibition, src vitaly kuzmin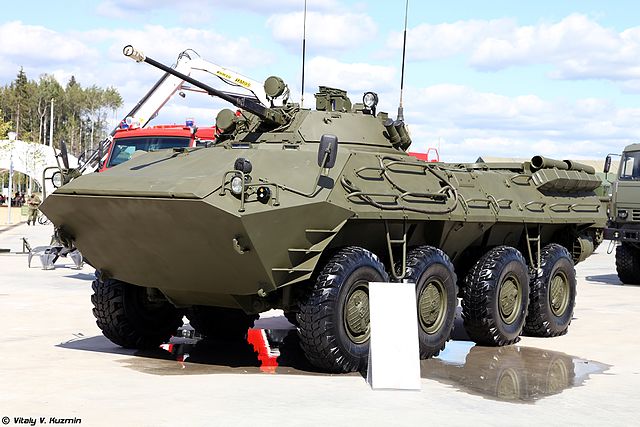 BTR-90 at TB2015 Exhibition, src vitaly kuzmin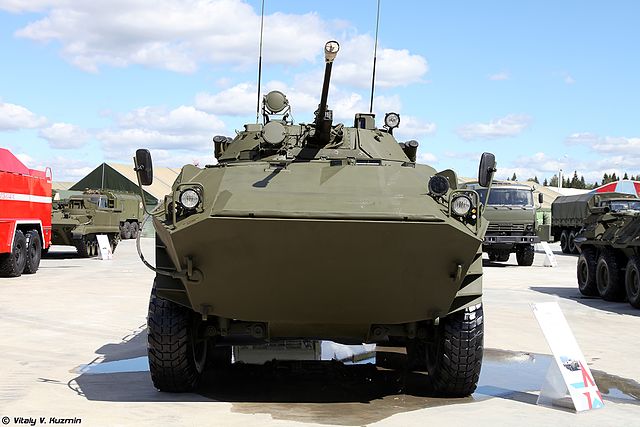 BTR-90 at TB2015 Exhibition, src vitaly kuzmin
BTR-90 at TB2015 Exhibition, src vitaly kuzmin
BTR-90 camouflaged
Videos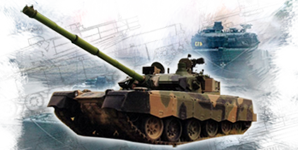 Modern Tanks
---
Modern MBTs posters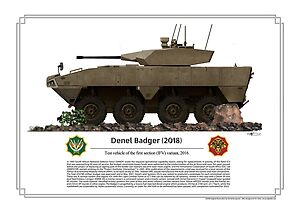 Denel Bagder (2018)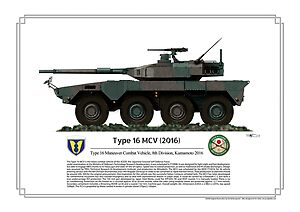 Type 16 MCV (2016)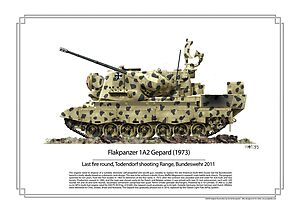 Gepard 1A2 last rounds 2011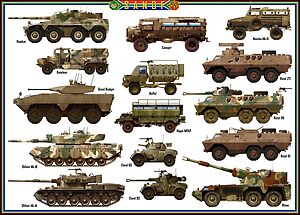 SANDF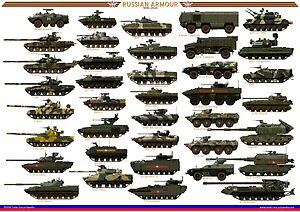 Russian AFVs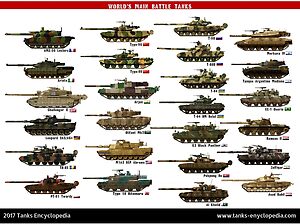 Main Battle Tanks