A chinese copy of the BMP-1
To avoid any confusion let say the Army denomination is not be mistook for the Type 86 Assault Rifle also built by Norinco. To clear it, the manufacturer designation WZ-501 is also often used. The Soviet BMP-1 was quite an influential vehicle, produced under license and massively exported worldwide. Given the tense relationships between China and USSR since 1979 there was no way for the PRC to acquire it otherwise by indirect sources. In this case, most probably Egyptian. A BMP-1 was then comprehensively reverse-engineered and copied to about 1000 vehicles according to some sources. Despite the first prototype accepted in service dated back from 1987, it only officially entered service in 1992.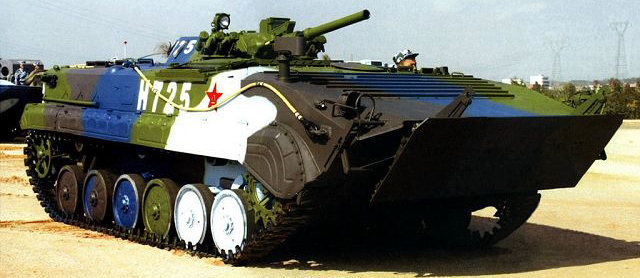 Norinco's WZ 501 of the Chinese Marines (southern Guangdong Province). A close copy of the BMP-1 revealed in …1999, was relatively short-lived, pending replacement by the upgraded Type 86A and G in the 2000s.
Notes
It seems strange for a country like China back in the late 1980s to copy such vintage model instead of the more modern BMP-2 or 3, moreover given its dispositions to built decent local IFVs like the Type 85 or Type 89. It also seems the model was not a hot-heated one-off as to also spawn a significant number of variants, like the WZ503 APC, WZ504 tank hunter, WZ505 Armored Ambulance, or WZ506 Armored Command Post. The Type 86 was apparently exported also to Iraq, Myanmar, and Sri Lanka, as an even cheaper proposition than the original BMP-1. Noticeably also the Type 86 was the base for the modern-days Iranian Boragh IFV, a recent vehicle still in production, which makes this 1960s design alive and kicking!
Design modifications
At first glance there is little to distinguish the copy from the original, in fact externally no source can tell any significant difference at all. It could not be however a perfect copy as to use local armaments and sub-systems and probably many internal differences as well, that are left to supposition until one of these is captured and examined by Western Intelligence.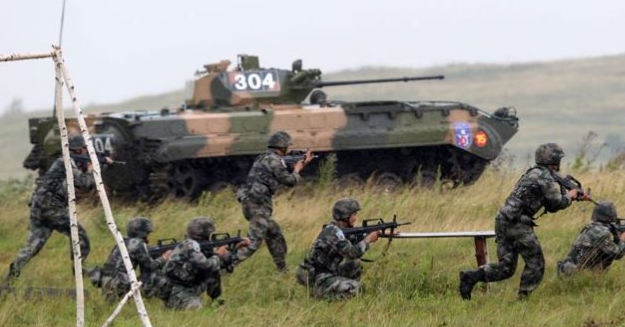 WZ505 Type 86G armored infantry fighting Vehicle
Design
Configuration
The Type 86 IFV is given an all-welded steel hull with highly pronounced angles that give full protection from small arms fire and shell splinters, and heavier rounds at the front (light auto-cannons and heavy MGs) although at the front it is assumed to be proof against 12.7mm AP/API rounds, the slope makes it artificially thicker. The driver is located front left, with a single-piece hatch. The commander is seated behind, with a peripheral vision rotatable cupola and three day periscopes and an infra-red searchlight is mounted on the commander's cupola and controlled from inside the vehicle. In fact, infra-red night vision equipment is available for the commander, driver and gunner.
The rear troop compartment contains eight infantrymen seated back-to-back which can exit through two rear doors which integrate fuel tanks (60 & 70 liters), a day vision device and a firing port. Four roof hatches, on each side can be also hinged in the center and locked vertically to fire standing on the move with some protection. Otherwise, troops are also given six firing ports each side plus four heated day periscopes on the roof for aiming. The WZ505 receive an NBC system, automatic fire extinguishers, and most are also given smoke dischargers (2×3 or 2×4). In addition, all can use the standard Soviet exhaust manifold diesel injection system to create a massive smoke.
Mobility
Engine and transmission are to the right of the driver's and commander's positions, with the air inlet and outlet louvres on the roof. The steering system is at the front. The drive-train consists in six stamped rubber-tired road wheels, front drive sprockets, rear idlers and three return rollers per side. The first and last stations, in addition to the torsion bar units, are given hydraulic shock-absorbers. The double-pin track links types have water scoops between the housings.
The top of the track receive a sheet steel cover, normally removed when operating in snow. The Type 6V-150 water-cooled diesel develops 293 hp at 2,600 rpm (standard power 215kW) and is coupled to a manual transmission, 5 forward and 1 reverse gears. As a result this IFV could climb a gradient of 60% and cross a trench of 2 m at best. The WZ505 is fully amphibious, propelled by its tracks at a maximum speed of 8 km/h. The trim vane stored at the front, acting as supplementary armour is erected and bilge pumps activated.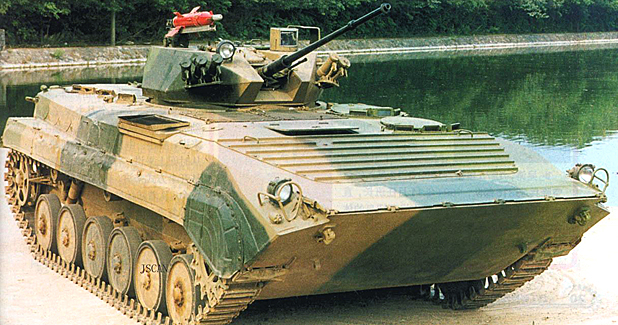 WZ505 Type 86G armored infantry fighting Vehicle
Armament
The combination is similar to the BMP-1 but with Chinese equivalents. The one-man conical turret contains a 73 mm smoothbore gun (40 rounds in store, mostly HE-frag, elevation +30°, depression -3°) and a 7.62 mm coaxial machine gun (2,000 rounds and tracers). There is a launcher for a Red Arrow HJ-73 anti-tank missile. One ready to fire and four more are carried internally for manual reloading. Maximum range of up to 3 000 m. This armament is changed on later versions. The APC is given the standard Chinese 14.7 mm heavy machine gun, the modernized IFV Type 86A a 20 mm autocannon, or a 14.7 mm HMG in turret in the export variant. Both can fire HE-frag or AP rounds with much more accuracy and superior rate of fire.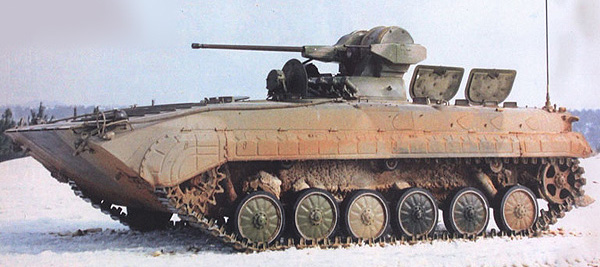 WZ505 or Type 86A Infantry Fighting Vehicle
Variants
– WZ 503 APC: Single rear door right-opnining, individual side seats, one 12.7mm heavy machine gun.
– WZ 504: Tank Hunter, four Red Arrow 73B wire guided ATGWs in raising pod, sighting system in between the launchers. 12 more carried inside.
– WZ 501A: One-man turret 25mm autocannon + 7.62mm coax LMG.
– WZ 505: Armoured Ambulance, raised rear superstructure for four stretchers/2 stretchers+ 4 seated/8 seated. Spec. Air conditioning, oxygen, spec. medical equipment.
– WZ 506: Command vehicle. Additional comsat equipment, 4 radio antennas.
– Type 86B: Amphibious IFV, Chinese Army Marine Corps.
– Type 86G: Improved variant IFV, one-man turret 30-mm cannon, HJ-73 ATGM launcher, new standard being built.
– Type 86 NBC recon vehicle
– NFV-1 (joint US-Chinese prototype with an American-designed turret armed with a 25 mm Bushmaster cannon)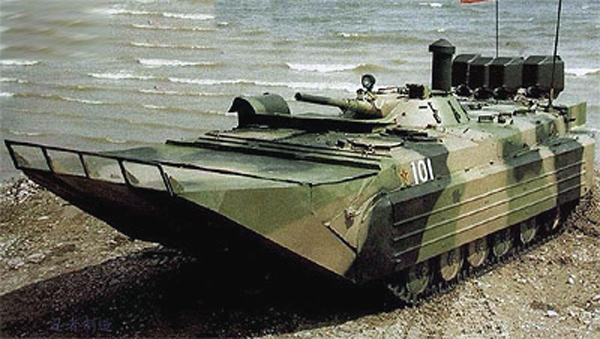 Type 86B Amphibious Infantry Fighting Vehicle
Service & Exports
The Type 86 entered service in 1992 (nearly thirty years after the original BMP-1) and was seen for the first time during a military parade in Beijing late in 1999. However, this is a modern vehicle, faster than the original. Although this is mere speculation, there could some internal safety modifications following the study of Soviet losses reports in Afghanistan. Lessons could have been integrated into the design. The Type 86 has been estimated in service with over 1000 vehicles both with the Army (stationed in Northern China) and Marine Corps (southern Guangdong Province).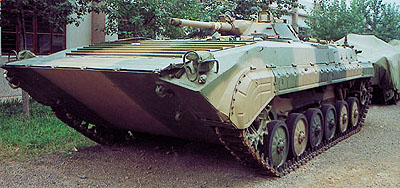 Type 86 Infantry Fighting Vehicle
Many could have been converted since to the Type 86A or in recent years, the Type 86G, although these are believed to be new constructions. It has brought a lot of tactical lessons as well in the use of IFVs despite its limited introduction, and pending replacement by a 2nd generation IFV. The Type 86 was allegedly exported to four countries: Iraq (no photo, yet to confirm), Iran (To develop the Boragh), Myanmar (no photos, no record, could have been mistaken for the Type 85 AFV) and Sri Lanka (no photos or record, could have been mistaken for the BMP-1 of which 13 are in service).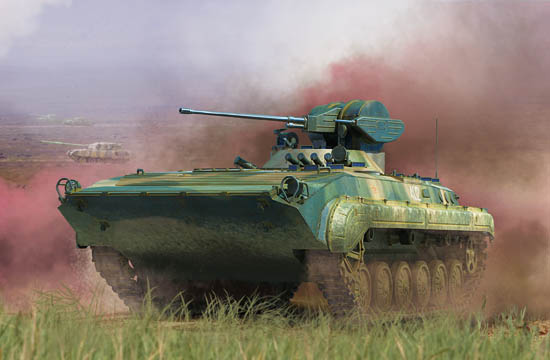 Model kit: Type 86A by Trumpeter China, artist impression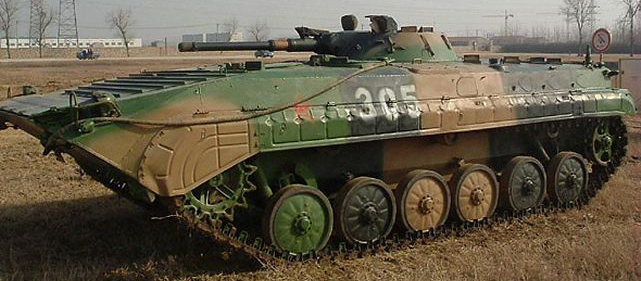 Army type 86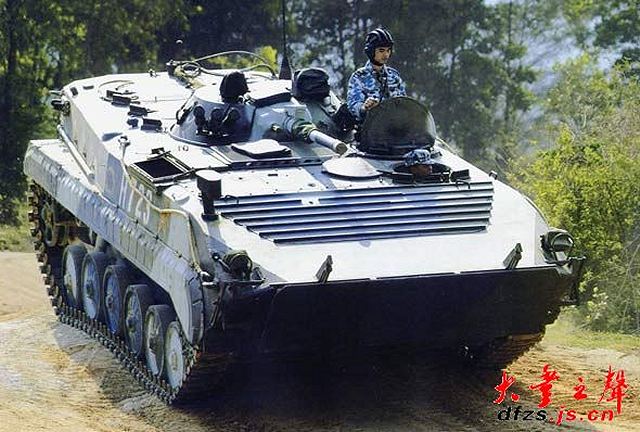 Type 86 of the Chinese Marines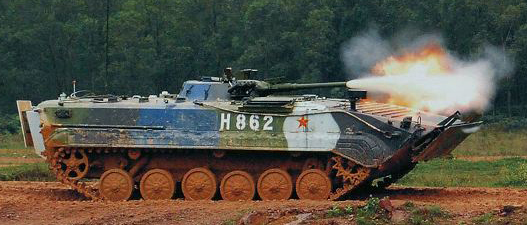 Type 86 IFV firing, Chinese Marines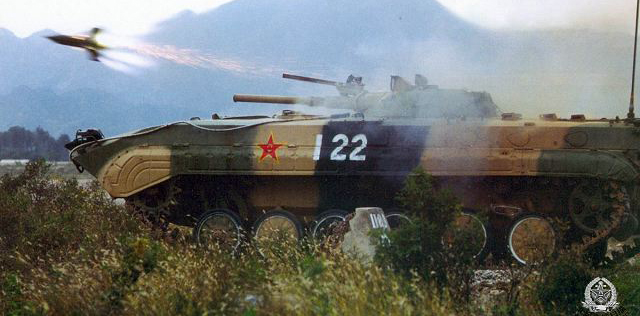 Red Banner WZ501 firing a missile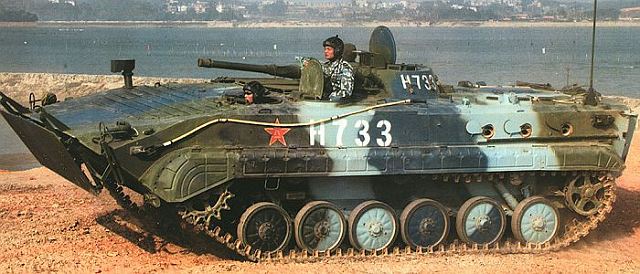 Chinese PLAN IFV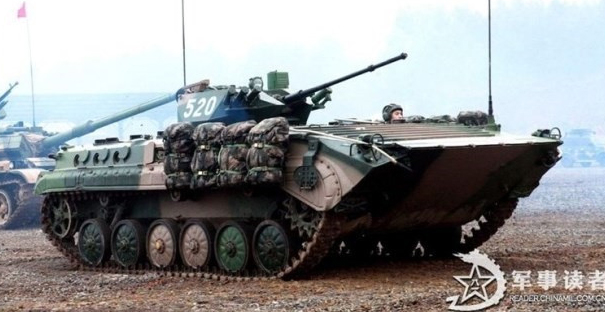 Type 86G on trials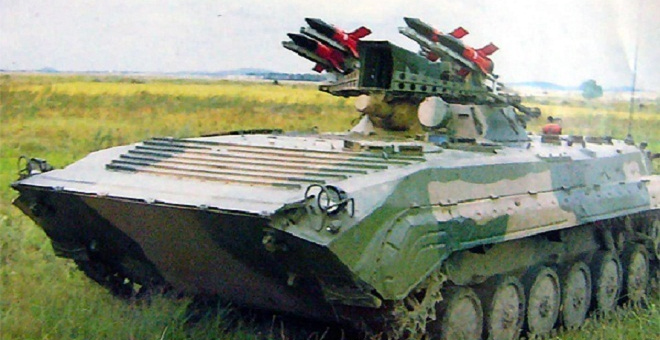 type 86 Tank Hunter variant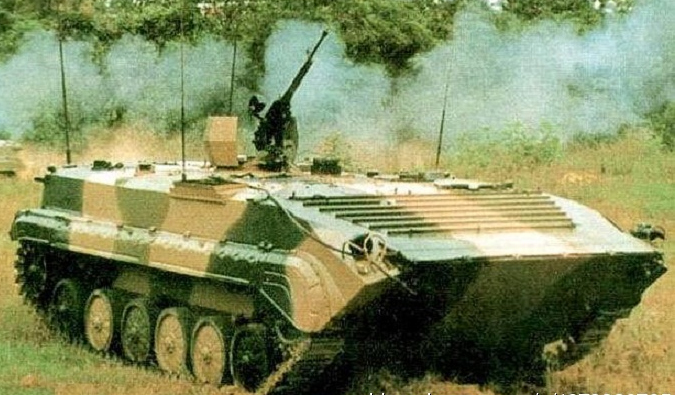 WZ 503 APC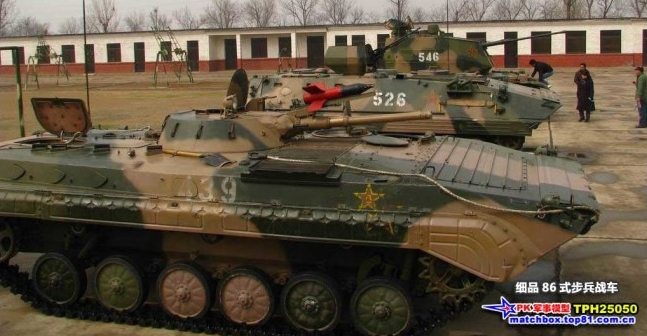 Another IFV camouflage

WZ 501 amphibious assault
Links
The Type 86 IFV on military-today
The Type 86 on army-guide
The Type 86 IFV on army-recognition
The Type 86 IFV on tanknutdave
On fas.org (including the Iranian Boragh)
Blog.sina.com.cn many photos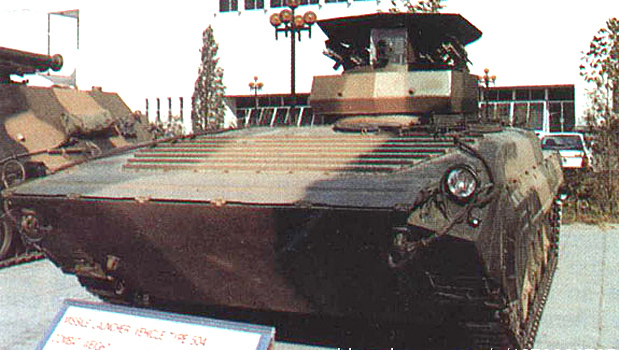 Type 86 WZ 504 Tank Hunter, standard model with the retractable pod 2×2 and 12 reloads
Type 86 IFV 1992 specifications

Dimensions
6.74 x 2.97 x 2.16 m (17 x 7.4 x 5.5 ft)
Total weight, battle ready
13.3 tons (266 000 Ibs)
Crew
3 (driver, cdr, gunner)+8 infantry
Propulsion
Type 6V-150 diesel 298 hp
Suspension
Torsion Bars
Speed (road)
65/8 km/h (40/5 mph)
Range
500 km (310 mi)
Armament
73 mm sb cannon + HJ-73 ATGW + 7.62 mm LMG coaxial
Armor
14 mm (1 in) frontal arc
Total production
cieca 1500
WZ501 Type 86 armoured infantry fighting vehicle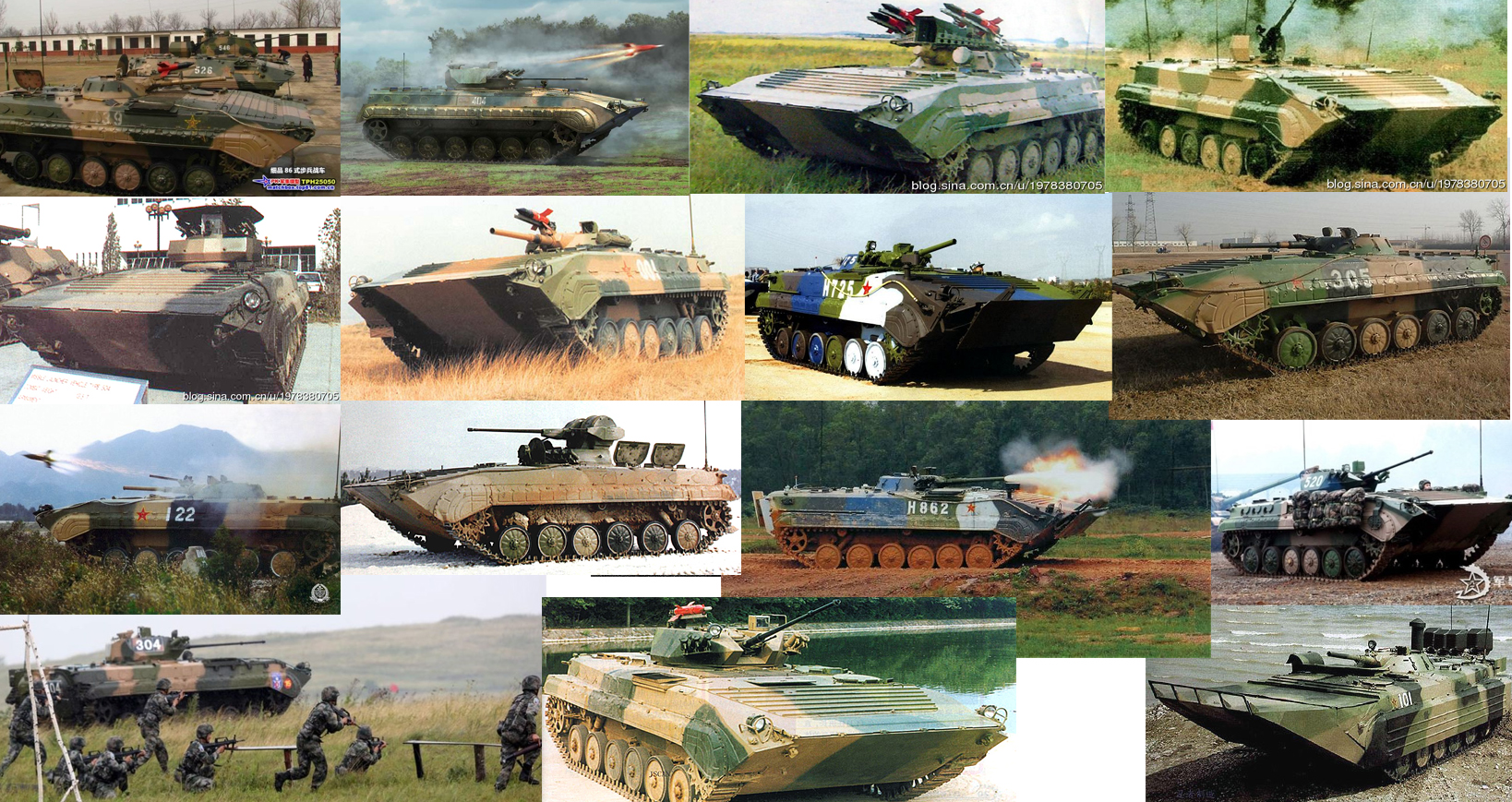 Web References


APC version

Regular army IFV

Chinese army IFV

Chinese army IFV

Chinese Navy IFV (PLAN)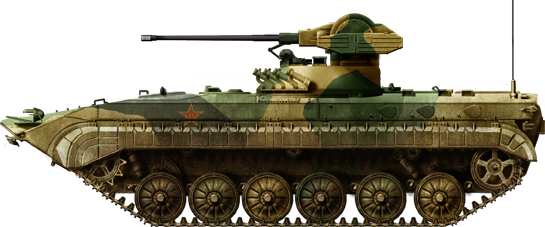 Type 86A

Type 86A amphibious version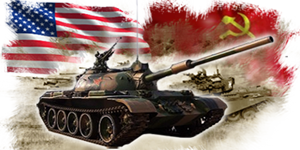 Cold War Tanks



































---
Cold war tanks posters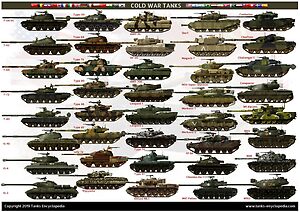 Cold War Main Battle Tanks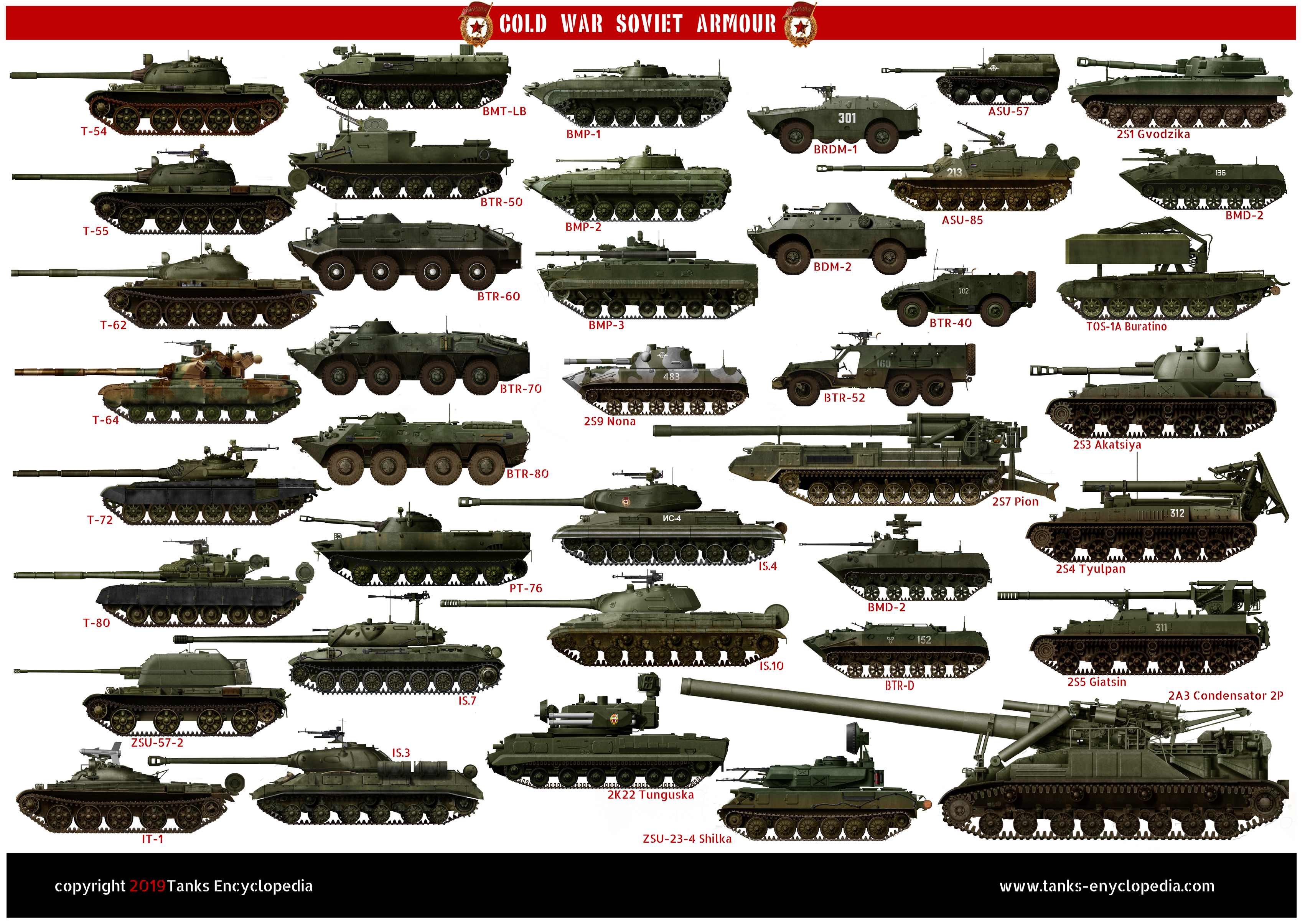 Cold War Soviet Army