The main British armored command car of WW2
During WW2 command and control on the field was nororiously less developed in allied countries, still influenced by WWI trench warfare scnearios, however the better quality of radios in general and large scale motorized units exercises quickly showed the advantage of specialized radio relay vehicle at company or batallion level, roomier, better suited and equipped for command and coordination on the field. Radio tanks, also called commander tanks were all that existed between the HQ, remote from the field, and active units. Germany had also tanks and armoured cars modified for command and communication tasks, notably organic recce units, but Great Britain was ultimately the first coming with a tailored staff, C and C car, really the first mobile HQ.
Its first purpose-built command vehicles were converted armoured buses based on truck chassis, at first experimental and on-demand which impressed the general staff enough to push for a request and official specifications from the ordnance. In the end, two command vehicles were built in serie, the Guy Lizard and AEC 4x4 ACV, later often called "Dorchester", not from a company nor the city of the same name in Dorset, but by the troops after a famous luxury Hotel in London; It was never official. The only two denominations used in the Army ordnance were AEC 4x4 ACV and 6x6 ACV.
About the Guy Lizard:
The Guy Lizard Armoured Command Vehicle was originated in May-June 1940, as the Headquarters 1st Armoured Division of the BEF in France ordered a mild steel prototype and a wooden mock-up of a dedicated armoured command vehicle. No production vehicle as ready before France fell, but development went on later in 1940, as the first armoured version was produced by Guy Motors. The hull was based on the Lizard 4x4 chassis. In the end, a first serie of Twenty-one was produced. By early 1941 the first were issued to the Headquarters, 7th Armoured Division (the famous "desert rats"), operating in North Africa, and a few formations in UK. Reception was excellent buy Guy motors soon proved unable to continue production. The general staff then ordered the design to be modified and adapted to the AEC Matador. This became the AEC Armoured Command Vehicle, as Associated Equipment Company was able to assume a large scale production.
Design of the AEC 4x4 ACV
About the AEC Matador chassis
AEC matador, the all-terrain beast of burden of the British Army in WW2.
The famous Matador was one of the most appreciated all-terrain truck of the British Army during WW2. So much so that it has been delined into a multitude of armed and armoured vehicle, the most prominent being the
AEC armored Car
, the first British wheeled tank, and the Deacon self-propelled anti-tank gun vehicle. Made by the 1912 born Associated Equipment Company, the Matador answered a 1938 British Army call for a wheeled 4WD artillery tractor with a 10 tons capacity. The company proposed a derivative of its commercial 4x2 Matador lorry, modified to integrate the Hardy FWD system. The Matador was produced to about 10,000 vehicles during the war, the by default tractor for Royal Artillery regiment, carrying the 25-pdr howitzer on all theaters of operation. There was also a 6x6 version called the Marshall, also used as a base for an armoured command vehicle.
Armoured Cab design
The Dorchester was much heavier than the original Matador, at 12.2 tonnes versus 7,75 tonnes for the Matador, as the open-bay Deacon (12 tonnes) and slightly lighter than the AEC wheeled tank (12.7 tonnes Mk.II). It consisted in an armoured hood to protect the radiator, with an opening underneath for ventilation, and sometimes an additional structure to allow a better cooling. The vehicle had a side door, and a back door with a folding step. The main campartment was not separated from the driver's cab. The compartment was entirely armoured, with flat sides and a "wagon-style" arch top. There was no windows but roof apertures, because the vehicle was fitted by default with rollerd tarpaulins that can be quickly and esily extended on the field. This proved especially useful in North Africa, where temperatures inside the vehicle could quickly became unbearable. The rolls were fixated on top of the walls on either side, as well as the dismounted framing tubes of the structure, strapped underneath. That way, the "working surface" of the vehicle could be expanded quickly.
The command cab at the rear was roomy enough to accomodate a folding map table, bunks that could be turned into beds, and several chairs; There were also internal storage for maps and radio books, manuels and other HQ equipments, and the external framing could hold on the sloped roof a variety of loads. In North Africa, it was fuel jerrycans most of the time. The vehicles were unarmed although it is reported a Bren LMG was carried and fired from the co-driver seat at the front, protected by armoured shutters.
The 4 x 4 design, the Armoured Command Vehicle, A.E.C., 4 x 4, was indeed true to the nickname given to it by the Germans - it was huge. Built on the very good A.E.C. Matador (model no. 0853) chassis, the armoured body could seat four officers and two radio operators. Due to its unearthly appearance and relative comfortable rear body, the vehicle was nicknamed 'Dorchester' after a famous London hotel. 416 of them were built for the British Army and the Commonwealth forces (seven were used by the 1st Australian Armoured Division). Two vehicles of this category of large, armoured mobile offices, an Armoured Command Vehicle, A.E.C., 6 x 6, was also used by the Czechoslovaks. These were heavy lorries with a roomy armoured compartment, equipped with radio sets, typewriters and map tables. Based on the standard A.E.C. truck chassis (model no. 0857), this particular type was powered by a 6 cylinder 150 H.P. diesel engine, with a different layout of the body compared to the previous 4 x 4 design. The silhouette was now longer and lower, helping the vehicle to gain a more lorry-like appearence and some additional room inside.
The 6x6 ACV variant in 1944
Production and service
Monty and his ACV in December 1941
The AEC Matador-based prototype was tested in mid-1941, and it entered production later that year, with a total of about 415 units delivered, with a production allegedly going on until 1948. In 1944, a larger version with a 6x6 chassis was developed, was based on AEC 0857 lorry. It was powered by the AEC 198 150 hp engine. Unlike the first vehicle, wich had bolted armour, the hull was welded, and thicker at 9 mm, in rolled steel armor. Total weight in marching order was now 17 tons. As it was more expensive, only 150 were built until the end of the war. Both the 4x4 and 6x6 also came in two variants, the called LP (Low Power) and the HP (High Power), with different radio equipment.
Rommel's Max & Moritz
Rommel's "Moritz". Notice the new camouflage and numerous fuel jerricans stored on top.
Shortly after his arrival Rommel had quick successes and by April 1941, its Afrika Korps capturing many British and allied vehicles along the way, especially trucks, which he sorely needed for his advance. Aufklärungs Abt. 3 for example managed to captured at Mechili two British generals and three Armoured Command Vehicles: Lt.Gen. Philip Neame (8th Army Cmmander) and his assistant commander, Lt.Gen. Richard O'Connor, plus Maj.Gen. Gambier-Parry, commander of 2nd Armoured.Division. Altough the capture was a formidable propaganda coup for the Germans, for Rommel, the capture of Both vehicle was welcome as they were spacious, comfortable had good radios and were well tailored for off-roads conditions in north africa. Former O'Connor's vehicle (L4426425) was named "Max", and "Moritz" was given to Generalleutnant Ludwig Crüwell's vehicle, Generalmajor Johannes Streich using a third one. Rommel's "Max" was disabled in September 1941 and abandoned, Rommel returning to his Opel Blitz Bus. There is some confusion in who nickamed the vehicles "Dorchester", the Germans in North Afrika, or British soldiers back home.
Read Me/Src
https://en.wikipedia.org/wiki/AEC_Armoured_Command_Vehicle
https://en.wikipedia.org/wiki/AEC_Matador
http://www.warwheels.net/DorchesterACVindex.html
https://www.o5m6.de/wehrmacht/max.php
White, B. T. (1970). British tanks and fighting vehicles: 1914-1945. London: Ian Allan. p. 156. ISBN 0-7110-0123-5.
Forty, George - World War Two Armoured Fighting Vehicles and Self-Propelled Artillery, Osprey.
Moschanskiy, I - Armored vehicles of the Great Britain 1939–1945 part 2, Modelist-Konstruktor
"Guy Motors Limited: World War 2". Wolverhampton History & Heritage Website.
AEC ACV specifications

Dimensions
6.10 x 2.36 x 2.90 m (20 x 8 x 9ft 6in)
Total weight, battle ready
12.2 tons
Crew
7-8 (driver, 2 radios and staff)
Propulsion
AEC 187 6-cylinder diesel engine 95 hp (71 kW) pwr 7.8 hp/tonne
Suspension
4x4 independent coil springs
Speed (road)
60 km/h (37 mph)
Range
450 km (280 mi)
Armament
0.303 in (7.7 mm) Bren MG
Armor
10 mm sides to 12 mm front (0.39–0.47 in)
Total production
415 in 1941-1945
Camouflaged ACP. Royal Corps of Signals motorcycle despatch riders arrive at the mobile headquarters of an armoured division, 30 August 1941.
AEC Matador for comparison
Basic AEC 4x4 ACV in UK, may-june 1941.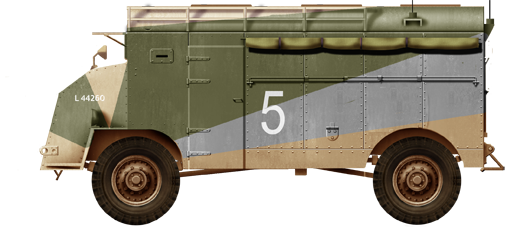 AEC 4x4 in North Africa, 7th armoured division, December 1941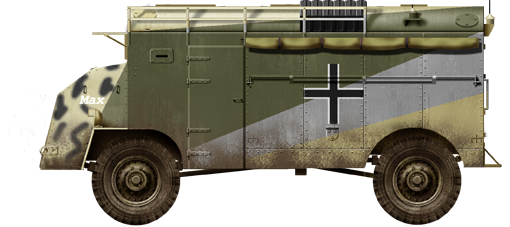 Captured Rommel's "Max" command car. Both vehicles were called "Max" and "moritz" after popular XIX Boyish Pranks by author Wilhelm Busch published in 1865.
Dorchester in North Africa, Tunisia, 1943 with a wavy "spiked" dark brown/sand yellow pattern.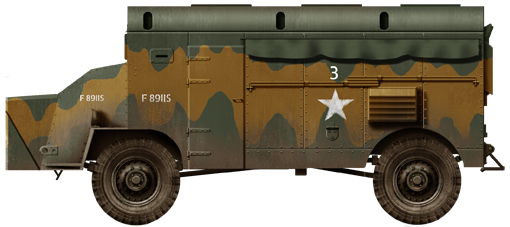 AEC 4x4 ACV in Normandy, summer 1944, notice a two-tone dark green and olive camouflage variant in use until the end of WW2. When stationary, they were also often heavily camouflaged with foliage, using the stretched canvas extensions to create a large open space.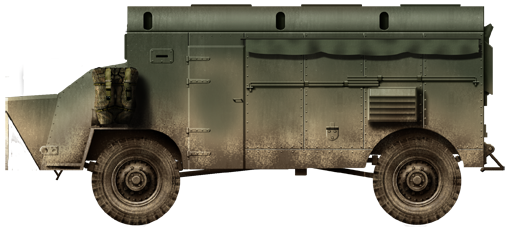 A Pakistani Dorchester during the 1965 Indo-Pakistani war.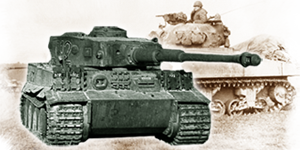 WW2 Tanks
---
WW2 tanks posters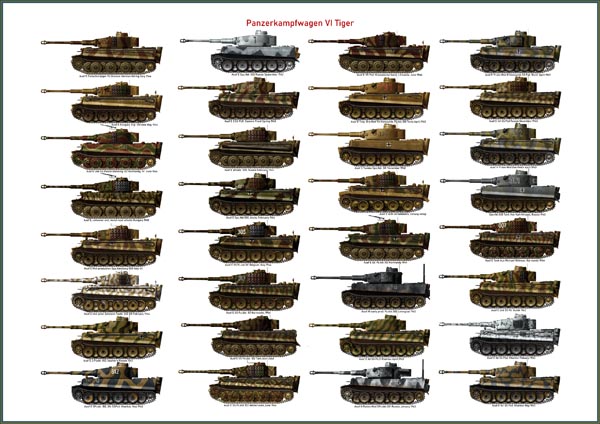 All Tiger tanks liveries.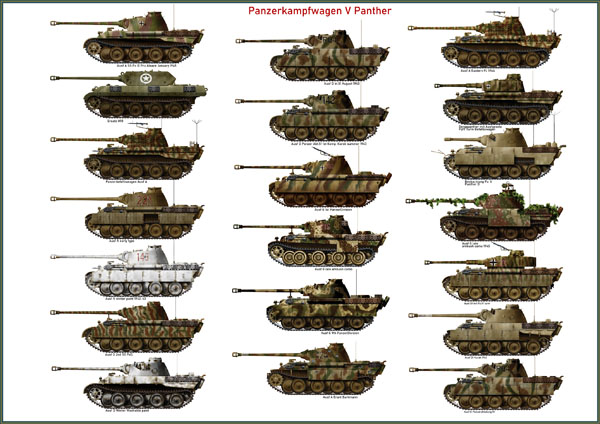 Panther liveries and variants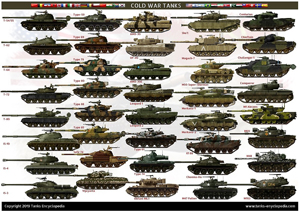 WW2 Armour - All tanks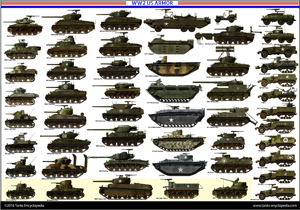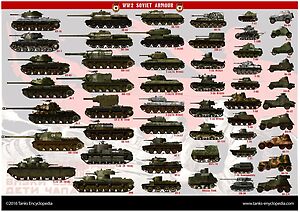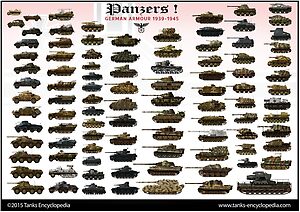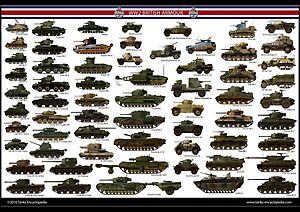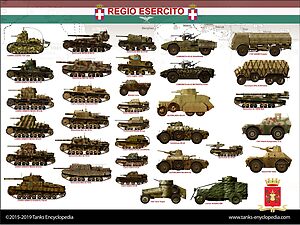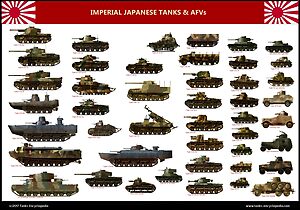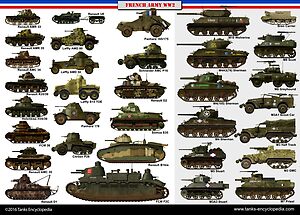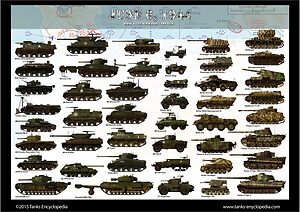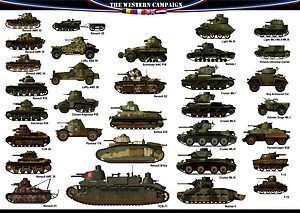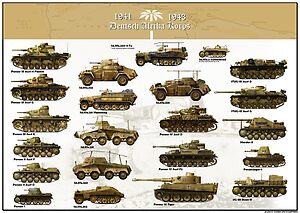 Tanks aces and single tanks series