The French light armored scout
The PVP for "Petit Véhicule Protégé" (lit. "small protected vehicle") is the main armored derivative of the
Peugeot P4
main light utility car of the French Army since 1981, which replacement is currently ongoing. It was not created from thin air, but proceeded from the war in Yugoslavia, revealing a need in the Army for a light utility vehicle which was not tailored for pure reconnaissance (such as the
VBL
), but can be used as liaison and command car. The Vehicle has little to do technically with the P4. It was studied and developed by Auverland (former Peugeot 4x4 branch), then Panhard after the 2005 fusion in "Panhard General Defence", and was produced and distributed under this label. However in 2012, Panhard General Defence was purchased by Renault Trucks Defense (Volvo Group), which is now Arquus Defence, and maintained in the catalog.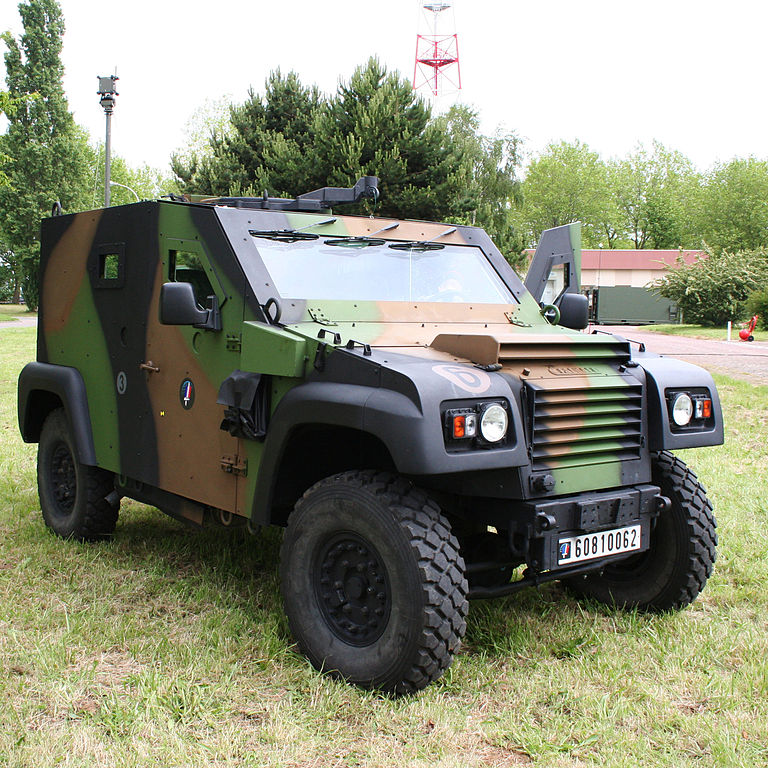 Missions performed in Bosnia and the former Yugoslavia as a whole in 1995-96 highlighted the flagrant lack of protection of the Peugeot P4, against multiple threats such as infantry light weapons fire but also improvised explosives, or snipers (as shown in Sarajevo). It was therefore decided to launch the PVP program in 2001, to replace the P4, already obsolescent, and now taken over by Auverland in place of Peugeot. Construction started in September 2004 at Auverland. The first PVP public exhibition took place during the Eurosatory arms fair in Paris in 2002. It entered service in 2008 and production ended in 2012, although still active for exports.
The precessor of the PVP was the "P4P", an armor kit designed from March 1995, to answer the need of protection in Yugoslavia. It was developed as a private venture by Panhard General Defense and could be installed on any regular P4, such as those deployed in Yugoslavia. The first batch arrived in March 1995 in Bosnia, the first of a full order of 80 kits. They showed the utility of a fully protected, dedicated vehicle.
Initial development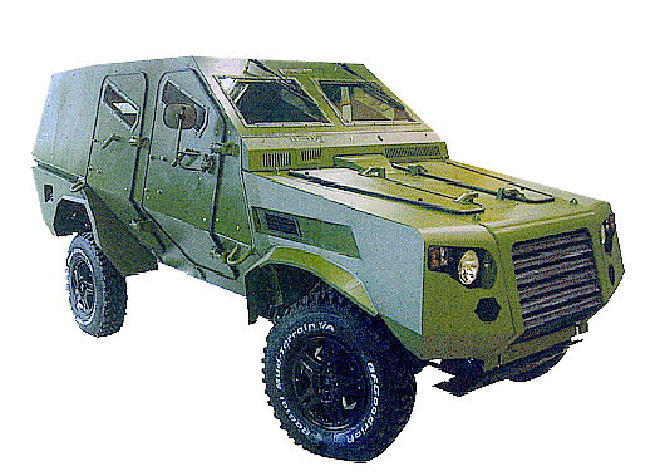 As defined in 1995, the PVP was to be able to carry out security, patrol, escort, surveillance, point control, liaison, personnel/equipment transport and command post missions. A call for tenders was made at European level, and four companies were selected, Auverland, Panhard, Sofram and Vickers. At the time, Panhard and Vickers prototypes were the first ready. Panhard's PVP was created in cooperation with Daimler Chrysler, using a brand new 4x4 chassis reaching 4.5 tons in full combat order.
The 2002 prototype was equipped with a classic suspension developed by the Steyr, and a military-grade Mercedes-Benz OM-612, turbo air-cooled engine, 2.7 liters in displacement, which developed 156 hp. It was multifueld unit, accepting Diesel, gasoline, even aviation fuel. It was coupled with a five-speed Mercedes-Benz W5A 580 automatic gearbox, and a two-speed VG 150 transfer case.
The chassis supported a monocoque body, made of very high hardness bonded steel designed by Panhard. The hull's three side doors, was completed by a fifth at the rear. A ring hach was mounted on the roof to accept a pintle-mounted 7.62 mm standard NATO ordnance, GMPG or French AA-52, or M84 Grenade Launcher. Its maximum road speed was beyond 120 km/h, 700 km range. It was fitted also with a differential lock, power steering, ABS, run-flat system, air conditioning and heating.
The underbelly was raised and shaped with a "V" section, designed withstand a mine blaste. It also had facilities for maintenance and upkeep. The crew was initially up to six men and payload was rated for 950 kg. It smain duties are more in relations to peacekeeping missions than frontline combat, so it does not encroach the "VBL" territory despite design similarities. In production however, the final vehicle was quite different, at many level:
The design of the Panhard PVP
Hull and general design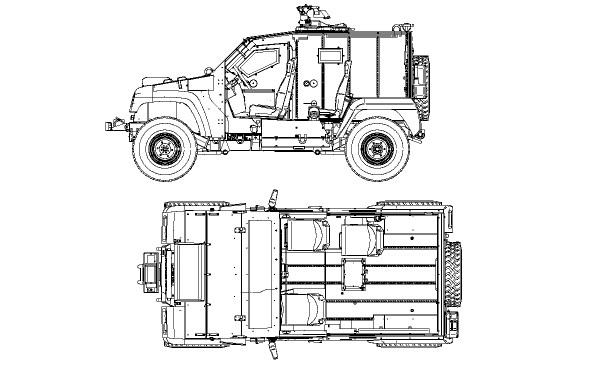 There are few true links between the Peugeot P4 and PVP. The latter is longer (4,60 m versus 4,20 mm (165.4 in)), much larger (2,28 m versus 1,700 mm (66.9 in)) and taller as well, not to add it is fully covered by the armor hull while the P4, like the Jeep is open-top with a folding windshield and canvas. of course this translate into a weight 3 fold in excess: 1,750 kg (3,858 lb) for the P4, but 4,4 tonnes for the PVP. It should be noted that the vehicle presented at Eurosatory in 2002 was very different from the final production vehicle, lower, with sloped sides, back plates, and even four doors.
The PVP is also very different from the other light utility armored vehicle of the French Army, the now older Panhard VBL (which production stopped years ago). The latter is fundamentally a 2-seats air-droppable fast vehicle with a low and sloped, amost stealthy profile, while the PVP is designed as a lighet 4x4 APC, with a tall, slab-sided main compartment; Although the abence of angled armor was criticized by some, it was designed on purpose, taking advantage of new materials, while not supposed to protect more its crew beyond the usual small arms fire/snrapnel threat. Unlike the VBL, its anti-mine and anti-IED protection is also greatly enhanced in the light of the Afghanistan-Iraq campaigns.
The front cab had a sloped windshields with a large one-piece armored glass window, two seats for the driver and co-driver, and two doors with small armoured glass windows. The other access is at the rear with a single door, fitted to support a spare tyre and jerrycan. Behind is located the troop/utility compartment, with two more seas, plus one foldable seat, and a small platform for a standing infantry, to man the top hatch machine gun. However by strapping the equipment under the roof and extra seat, the full capacity can go up to 2+3+2 (so two extra seats). This is barely more than the P4 (six seats max), but with full protection and at least a permanent armament.
Engine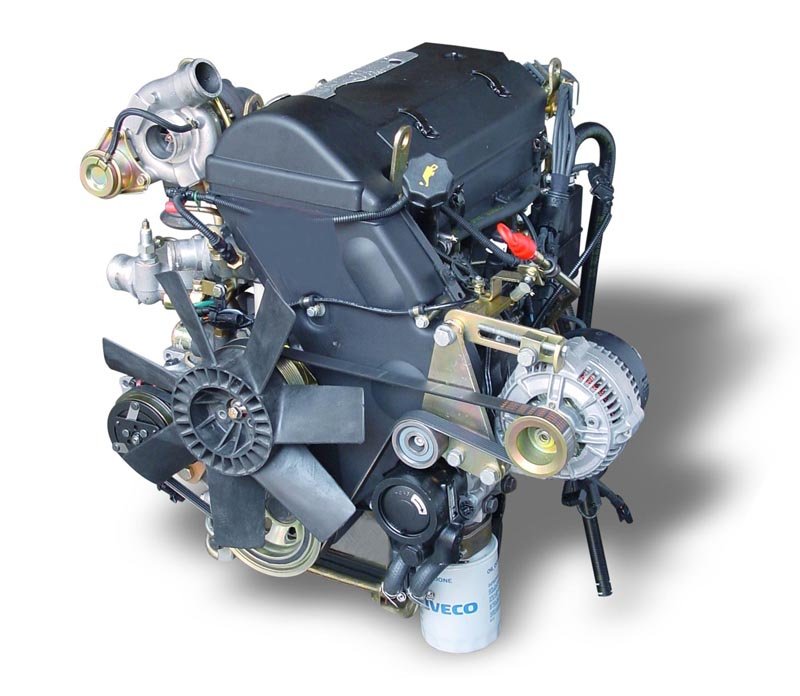 Contrary to the P4 which started with a derivative of the Mercedes G diesel, latter a multifuel Peugeot, the whole machanical unit was unfit for the PVP, almost three times heavier. Since there was no available engine that could fit and deliver the appropriate torque, the IVECO Turbo diesel (euro 3) was chosen (in partenrship with Renault). It was also a 4 cylinders in line but 2,8 L and much better characteristics while being both sober and powerful eneough for the task. This engine develops indeed 160 hp (already more than twice as the P4's 70-77 hp) but with five times more torque, allowing its 4 tonnes to feel light on a difficult terrain (power/weight ratio 34hp/ton).
Thanks to modern electronic management for the automatic gearbox, it is using two modes, 4x4 or 4x2, German ZF 4 HP 220 S. The PVP on road is in fact even faster than the P4, capable of reaching 120 km/h and more (but limited to 100 kp/h by the governor). The P4 with its XD3 diesel indeed reached only 118 km/h (73 mph). Range was calculated at 800 km (miles) in normal conditions (road). Equipments included a towing cable, assisted direction, ABS and a climatizer. For mobility, it can ford a 0.5-0.7m deep water, climb a 0.35 vertical obstacle, gap a 0.5m trench and climb 50% slopes.
Protection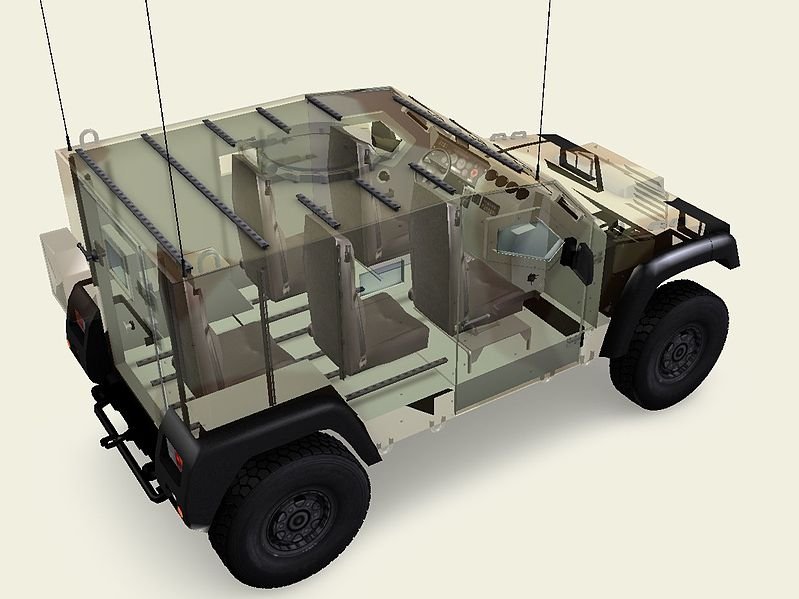 Although the final production vehicle chosen was slab-sided, the plates ranged from 6.6 to 10 mm (0.23-0.4 in) in aluminium and bonded steel covered with ceramic. The main front window and the side ones are rated to 120 mm in thickness with anti-shattering coating, for an overall protection rated at NATO STANAG 2 level. More precisely this STANAG 4569 level 2 armor for the driver'scab and STANAG 4569 level 1 for the engine, a ballistic protection similar to the VBL.
Like the prototype, the vehicle is fitted with run-flat tyres, but is not NBC, nor amphibious. Some received smoke dischargers but iot's optional, as the gunner's shielding. Its back was normally protected by the hatch piece, opening backwards. The Police vehicle receive an additional gyrolight, bush-bars and optional dozer blade, mesh for all windows, anti-inflamable coating, smoke projectors or an optional water dispenser plus megaphone for crown control.
Armament
The base vehicle was designed for three inthe rear compartment: Two seated and a third standing, in the center hatch close to the driver's cab. There is a ring mount for a flexible macine gun, light (7,62 or 7.92 mm GMPG, AA-52, M60 or else) or heavy like the M2HB Browning cal.50. The MG is shielded, but the "tourelleau" french for "half-turret" or all-round shielding is optional.
Naturally with up to seven, all equipped infantrymen, the PVP can also carrying in adition to personal infantry weapons, assault rifles, mortars, grenades, an ATGM such as the Milan, or a Mistral Manpad for anti-tank and AA defense. This however is not the main purpose of the vehicle which was design for counter-terrorism, low-intensity combat patrol. The PVP could receive also a remote controlled weapon (RWS), a radar, or a telescopic camera system, located at the rear. The PVP command has its hatch closed and extra facility for radio sets and a map table.
The crowd-control version could be equipped in addition with a smoke projector on the roof. The urban combat version has an extra camera, flah sensors and warning for incoming RPGs, and four sets of two smoke projectors at each angle. They are automatically activated in case a laser beam is detected.
Production & Variants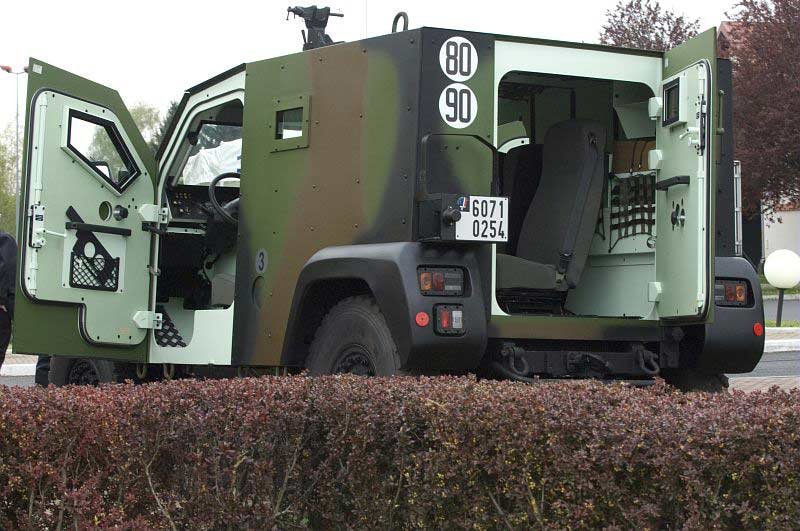 Although the root of the project, and many mechanical parts were shared initially with the Peugeot P4, today, the model only share perhaps 5% of parts and is largely a brand new vehicle due to the sum of all modifications performed. It is much costier also (€167,000 FY 2012), thus, will never compare in terms of production with the Peugeot P4 and its 13,600 models at around 30,000 Euros today apiece. In fact current projections for the French Army alone is about 1,133 vehicles. With exports, this is the final total reach, as production stopped in 2012, and is likely not to grow in the future beyond this limit.
The production & R&D was divided between two French sites: In Saint-Germain-Laval (Loire) for the armored body and the chassis manufactured between 2005 and 2012, the final assembly taking place in Marolles-en-Hurepoix (Essonne, near Paris).
PVP HD (Heavy Duty): level 3 armour, 5 doors, 2T payload 7.9 m³, 7.6 tonnes.
PVP XL (Extra Large): 9.4 m³/12 tonnes, payload 3 tonnes, 10 seats, level 3 STANAG.
PVP APC (2010): 150mm higher roofline, 6 troops.
Operations & Exports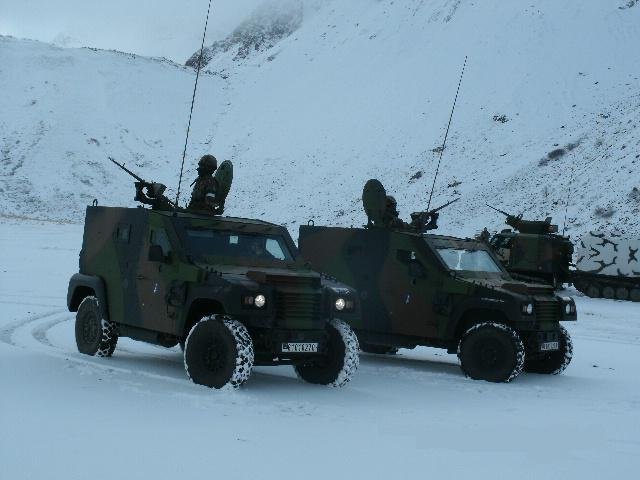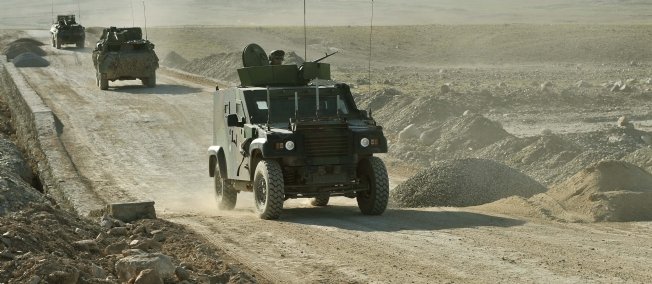 In the French Army the vehicle since 2006 has been deployed in the following unit: 54e régiment de transmission de Haguenau, 1er régiment d'artillerie de marine de Laon-Couvron, 1er régiment de Chasseurs Parachutistes de Pamiers, 68e régiment d'artillerie d'Afrique de La Valbonne, 40e régiment d'artillerie de Suippes, 1er régiment de parachutistes d'infanterie de marine de Bayonne, 2e régiment étranger de génie de Saint-Christol, 121e régiment du train de Monthléry, 503e régiment du Train de Nîmes, 511e régiment du train d'Auxonne, 515e régiment du train de la Braconne, 516e régiment du train de Toul, 7e bataillon de chasseurs alpins de Bourg-Saint-Maurice, 27e bataillon de chasseurs alpins de Cran-Gevrier, 93e régiment d'artillerie de montagne de Varces, 6e régiment du génie d'Angers, 13e régiment du génie du Valdahon, the "bataillon de commandement et de soutien de la brigade franco-allemande", Müllheim in Germany, 7e régiment du matériel, 31e régiment du génie de Castelsarrasin, 61e régiment d'artillerie de Villiers-le-Sec.
So far, the vehicle has been deployed in Mali, for Operation Serval & Barkhane.
The vehicle is deployed by the French Gendarmerie for crowd-control/law enforcement. Eight vehicle from the Gendarmerie were leased in 2008 and deployed with army observers in Georgia, following the second south Ossetia war.
The regular French metropolitan/local police services does not have it in the inventory, but the elite RAID force acquired 12 PVP en 2019 (four more delivered later), and some by the BRI, antigang special force. It was tested but not adopted by the GIGN, BAC and CRS.
-The PVP was exported to
Romania:
the third largest export customer, with 15 PVP ordered in 2012.
-13 PVP were ordered in December 2017 for the Senegalese National Gendarmerie.
-Six vehicles were ordered by Togo in 2010, with a raised roof to accomodate four passengers seated face to face.
-The "Gavial" was a special version developed for the Bundesarmee. It was developed by Rheinmetall Landsysteme, in cooperation with Panhard/Auverland. Equipped with 5 doors and air-transportable inside a CH-53, the Gavial was ultimately not retained by the Bundeswehr which chosed the LAPV Enok instead.
-In the spring of 2012, India published a Request for Information for its future light armored vehicles. Potential contract was for 2,800 available in several versions (protected liaison vehicles, patrol, transport, artillery observation, carriers of weapon systems) but the PVP was not chosen. Although there was a partnership with the "Colt" (License-construction by Ashok Leyland, 2012), as the "Colt Light Tactical Vehicle", "Colt Light Armoured Vehicle" and the "Colt Airmobile".
Succession: The Panhard Dagger
Currently the name of the present Arquus VBL.
PVP specifications

Dimensions (l-w-h):
4.60 x 2.28 x 2.17m (15.1 x 7.6 x 7.1 in)
Total weight, battle ready:
4.390 Tons (26,000 ibs)
Crew :
5 (Driver +4 passengers)
Propulsion:
Iveco 8140 2.8L turbo-diesel 160 hp (120 kW) 34 hp/t
Suspensions:
4x4 Coil springs/shock absorbers
Top Speed
120 kph (75 mph)
Range (road)
800 km (500 mi)
Armament (see notes)
Ring mounted 7.62 mm (0.3 in) NATO LMG*
Armour
6.6-10 mm (0.43 in) NATO STANAG 4569, Level 2
Total Production
1,133 as of 2012
Src
Initial PVP at Satory 2002
Today's Arquus Dagger
The PVP on army-tech
arquus-defense AVXL/PVP XL
On guide-automobiles-anciennes.com
PVP MO gendarmerie and crowd control vehicle
On chars-francais.net
The RAID police vehicle on master-fighter.com
On primeportal.net
forum-auto.caradisiac.com
PVP XL on army-guide
On maquetland.com
Promo Video at Satory 2012
wiki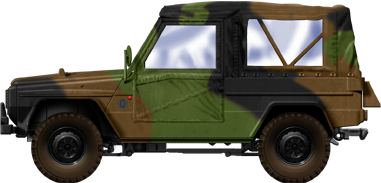 Peugeot P4 for comparison
Peugeot P4P and its protection kit in Bosnia, 1995 (incoming)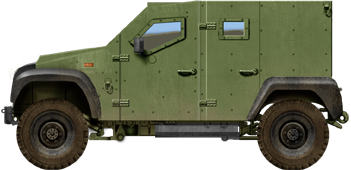 Auverland A4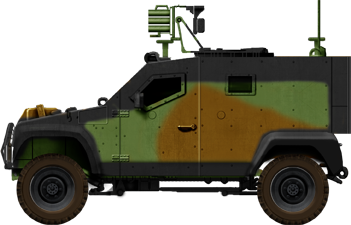 Base vehicle of the French Army with a smoke projector rack.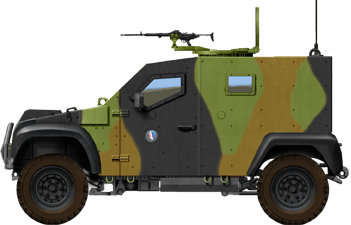 French Army PVP with the pintle-mounted AA-52 LMG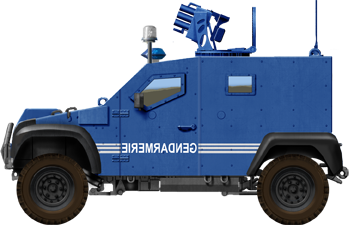 PVP of the Gendarmerie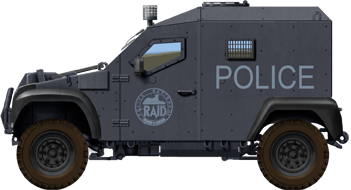 PVP of the RAID, Police special Force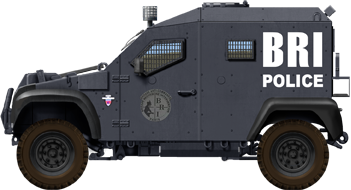 PVP of the BRI Commando Police unit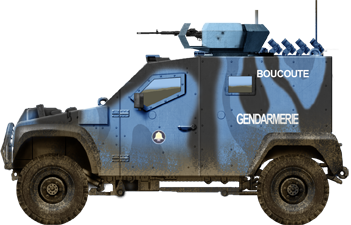 Modified PVP for the Senegalese Gendarmerie.
VBL Gallery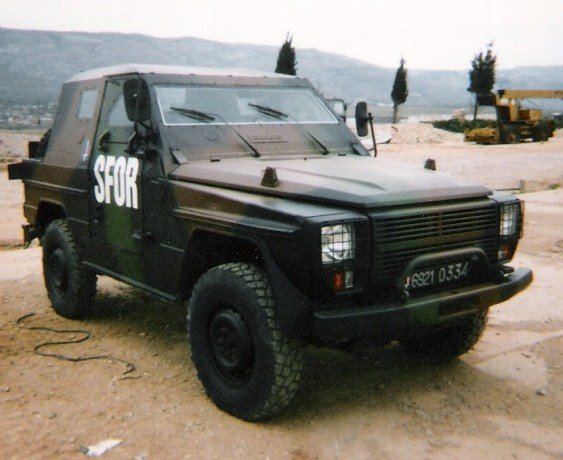 Armored kit P4P, Bosnia 1995
PVP Gendarmerie
PVP HD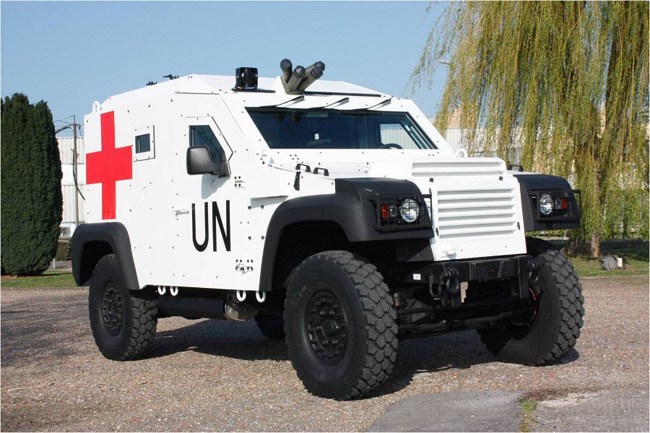 PVP ambulance, UN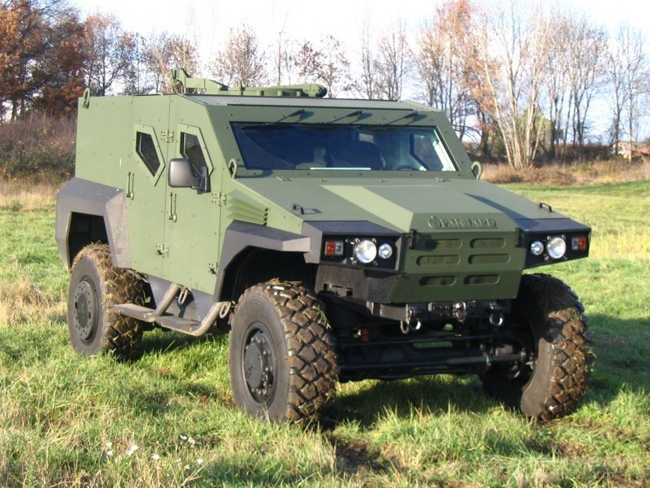 PVP HD
PVP XL2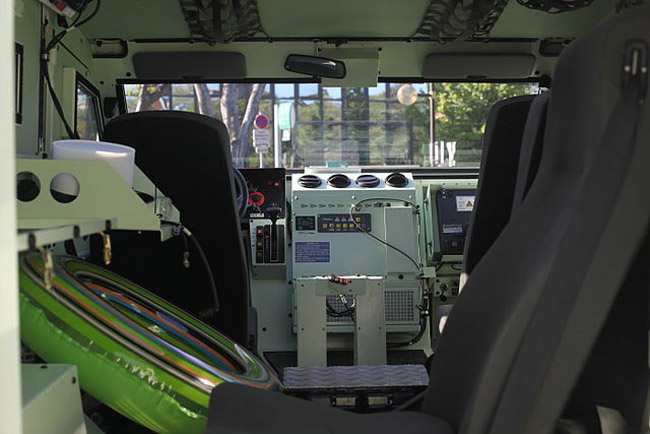 Interior view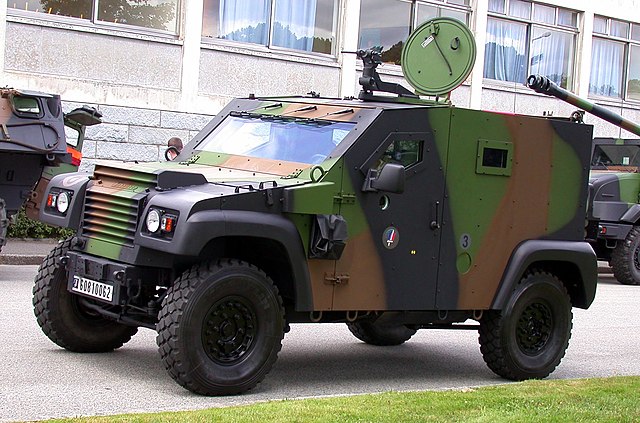 PVP static on 14 July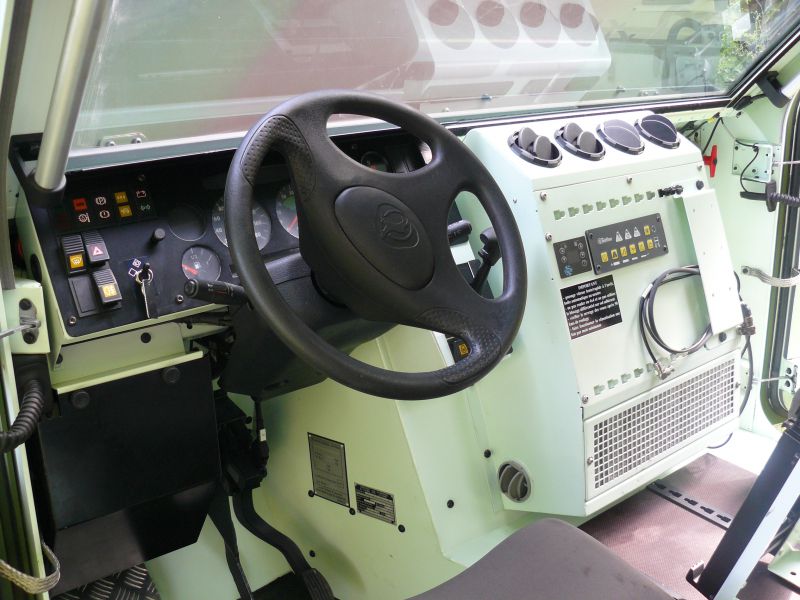 PVP Interior, driver dashboard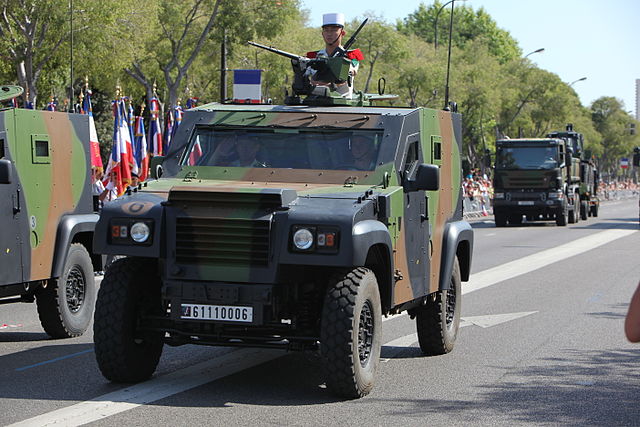 PVP of the 2th Regiment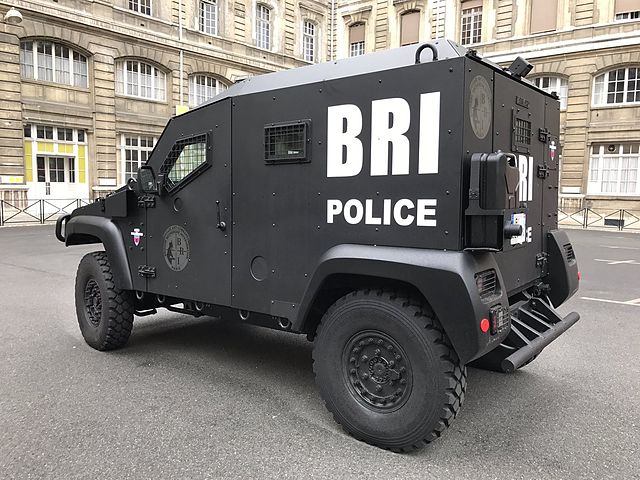 BRI vehicle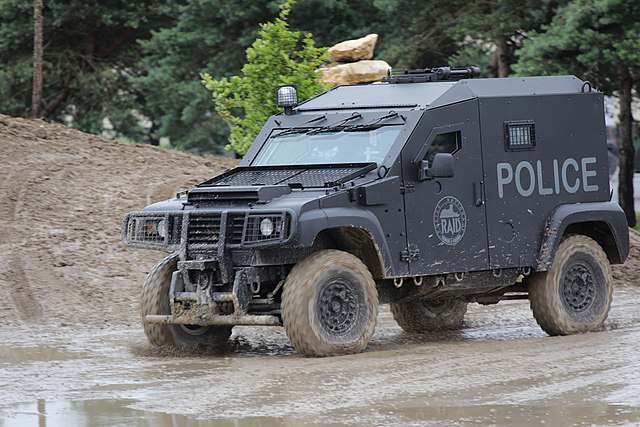 RAID Vehicle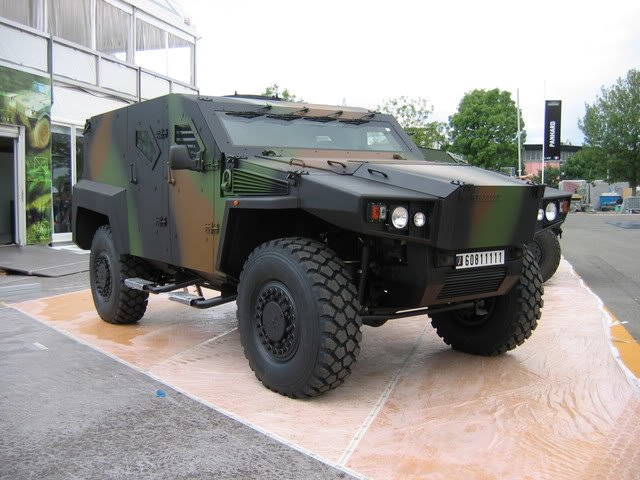 Prototype XL1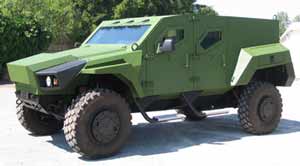 PVP X1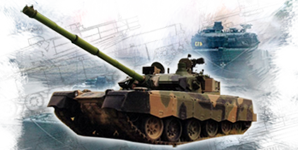 Modern Tanks
---
Modern MBTs posters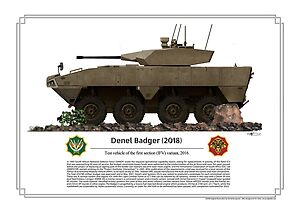 Denel Bagder (2018)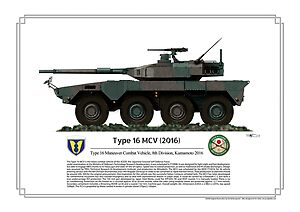 Type 16 MCV (2016)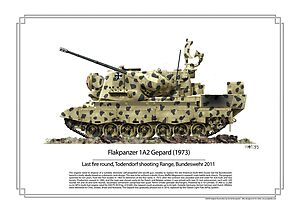 Gepard 1A2 last rounds 2011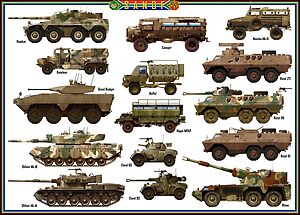 SANDF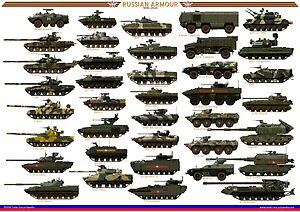 Russian AFVs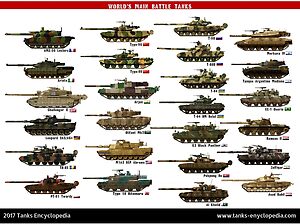 Main Battle Tanks