Development and Genesis of the LVTP-7
The replacement of the 1950s
LVTP-5
was already studied in the 1960s, notably under the light of frequent engagements in Vietnam. The AAV program was originally designed and built in the late 1960s and early 1970s: In March 1964, the US Marines Corps was calling for an Armored Personnel Carrier capable of reaching a beach from off-shore ships, armed and armoured, and to carry a full complement of 25 combat-ready personnel or 5,000kg of cargo. It was naturally given to the FMC (Food Machinery Corporation) for its design and development. The latter was also in charge of the better known
M113
and the LVTP-5. See more on its development with the
LVTPX-12
.
After evaluating a number of proposals, the Ordnance Division of the FMC Corporation's proposals seemed indeed the best. They notably relied on commonality of parts with the M113, making the vehicle cheaper and easier to maintain. By January 1994, FMC's Defense Systems Group and BMY Combat Systems Division merged as a joint venture into United Defense LP, purchased in 1997 by the Carlyle Group and merged with Harsco Corporation. By the mid-2005, the company United Defense was purchased by BAE, and is now part of BAE Ground Systems.
The Engineering development started in February 1966. The first of 15 prototypes was completed in September 1967 and evaluated on October by the Marine Corps. All following prototypes were designated LVTPX12, and trials were completed in September 1969. In June 1970, FCM ordnance division was awarded the contrat, worth USD78.5 million. Initially the Marine corps signed a contract for 942 vehicles with no weaponry installed. It was precised that the government would supply these weapon stations. With the latter, the total cost rose to USD129,000, almost doubling. First production vehicles designated LVTP7 were handed over to the USMC in August 1971. The first unit operational with the new amphibious APC was equipped in March 1972. Final deliveries for the initial order took place in September 1974. By then the production standard became the LVTP7A1. Gradually they were phased out of service and the model was completely modernized and produced anew with the AAV7A1 (1982), renamed as such from 1985. Modernization followed in 1997 by BAE systems RAM/RS programme. Six specialized variants were also produced alongside. More than 2,000 vehicles were ordered, including exports ones.
LVTP-X developed by FMC, to compete against Chrysler from 1963 on the LVTP-5 replacement program.
Design of the LVTP-7
Over its appearance, the LVTP-7 somewhat resembled advanced IFV versions of the M113, leading later to the development of the Bradley. They shared the same wheeltrain and sloped rear section, but longer and bulkier. Like the M113, the LVTP-7 has an all-welded aluminium hull, protecting the crew from small arms fire and shell splinters. The driver sits at the front-left side, entering the vehicle through a single-piece hatch cover, hinged to the right-rear. For overall vision he is given seven day vision blocks, the central one being swapped for a night vision periscope. The vehicle also had a set of night driving lights. The commander sits right behind him with his own single-piece hatch cover above, also opening to the rear, plus seven day vision blocks for all-round observation. He is also given a specific M17C periscope, which can be extended to see over the driver's hatch cover and trime vanes splashed when swimming.
The vehicle could carry no less than twenty-five fully equipped personnel, much more than the M113 but less than the thirty-four of the LVTP-5. New doctrine use called for smaller infantry squads. They sat on three bench seats in the aft compartment. One was placed in the centre, with back-to back positions, and one on either side. This centre bank could be removed and side ones folded up, frreing space to loas some 4,536 kg of cargo. This centre back was then stowed on the left bulkhead. Entry and exit was through the vehicle back power-operated ramp, als helping for cargo, but this ramp when shut, still had a door in the left side as a backup. The ramp aso had a single vision block. The troop compartment's roof also comprised three torsion spring heavy roof hatches for soldiers to fire on the march of exit from there. Due to these openings, the LVTP7 has no NBC system. The aft compartment could be used also as an ambulance, with six stretcher patients inside. Other kits included a navigation and driver visor, plus a winterisation kit with special heating for the internal compartments tested as low as -54°C outside. The standard on board heater id efficient until it's -32°C outside.
Armament
The armament was located on the right side of the hull, with a one-person turret. Its access was a single-piece hatch cover opening rearwards. It was given eight vision blocks and a targeting sight with ×1 and ×8 manification, and a direct ring sight. The turret's armament was the 0.50 (12.7 mm) M85 machine gun with two RPM settings, either 1,050 rpm or 450 rpm, and carried for this 1,000 rounds of which 400 are ready ones, the other stored in the hull. The one-man turret, of a type derived from the M48/M60 had a +60° elevation and -15° depression and electrohydraulic traverse.
Powerpack
The forward hull centreline hull section contains the engine, a Detroit Diesel 8V-53T (P-7), later replaced on the 1985 AAV7 by the Cummins VTA-525 /903 cubic inches (P-7A1). The first developed and output of 400 hp (300 kW), while the second on the upgraded AAV-7RAM-RS developed up to 525 hp, giving a power/weight ratio of 18 hp/ton. The tranmission is a FMC HS-400, though a torque converter with lock-up. It combines shifting, steering and braking functions, allowing four gears forward and two in reverse. Engine removal was performed in 45 min., run outside if required. The vehicle had front drive sprockets through final drives and a Power Take Off (PTO) unit on the converter with supply power for the water-jets and cooling fan. Both were actoned by electrohydraulically controlled clutches. The rest of the wheeltrain consisted in rear idlers, and six dual rubber-tyred roadwheels suspended by tube-over-bar units, but no track-return rollers. As usual in these M113 derived drivetrains, only the first and last roadwheel units received an additional hydraulic shock-absorber. The rubber-bushed tracks are single-pin with a moulded rubber top, and replaceable pads.
Mobility
A fan and radiator are mounted above the engine, air being drawn in through roof's ballistic grills. When swimming, doors below the grills seal off all air openings switching to an a hydrodynamically actuated air valve, mounted on the right of the driver, on top of the hull a bit like a snorkel. The contact cooler is an integral part of the hull floor. The LVTP7 at sea is propelled by two water-jets mounted aft either side of the hull. They are driven through right-angled gearboxes above the sponsons and drive shafts. The latter indeed extends to the rear of the hull to these water-jets. They are made in aluminium, using flow pumps with tailored exhaust nozzles, giving an excellent thrust, 52,990 litres per minute for each. Each of these also have a hinged steering deflector reversing the flow's direction when closed. The vehicle's top speed was therefore 13.51 km/h or 7.24 km/h in reverse, but the tracks can also add some traction. To stop water to seep in, a large trim vane was erected and four bilge pumps, electric (379 litres/min) and hydraulic (435 litres/min) helps to keep water out. With this engine, a range of 480 km (300 miles) is allowed, and 20 nautcal miles when swimming, and the vehicle can still swim in Sea State 5, however at a much degraded speed and more consumption.
The sea speed of the vehicle was not seen as an issue, compared to other amphibious-capable vehicles, and to the LVTP-5 or earlier designs, but with time, beach assault was more and more seen as a risky enteprise and better speeds were asked for, leading to the Expeditionary Fighting Vehicle, cancelled, and the BAE Systems/Iveco Amphibious Combat Vehicle (ACV), adopted in 2018, and which development is ongoing. Indeed, the Chinese ZBD-05 is capable of 28km/h and its planned modernization should be much faster. Ways to carry troops quickly on the beach has been a problem for decades. So far, apart the short-lived Soviet attempt with the Ekranoplane of the
A90 type
, Hovercrafts rules, and lightweight catamarans to replace traditional landing crafts. The Germans also tested an amphibious hydropter during WW2, but the idea never resurfaced.
Variants & Exports
LVTP-7/AAV7 main Variants
LVTP-7:
The 1972 model armed with a M85 12.7 mm (.50cal) machine gun.
> Prototype LVTP-7 MTU:
1970s US Army used Mobile Test Unit (MTU) for a ground-based high-energy anti-aircraft laser tested at the Redstone Army Arsenal, and given to NASA.
LVTP-7A1:
1982 upgrade, renamed AAVP-7A1 in 1984.
> Sub variant AAVP-7A1 (Personal):
New Turret for a M2HB .50 coupled with a Mk19 40mm automatic grenade launcher. Four radios, AN/VIC-2 intercom, 25 Marines plus crew of 4 including the driver, vehicle commander, gunner, and rear crewman.
> Sub variant AAVC-7A1 (Command):
No turret and extra communications equipment in the cargo bay. Two crew radios, VIC-2, two VRC-92s, a VRC-89, a PRC-103 UHF, MRC-83 HF, MSQ internetworking system. Crew of 3 plus 5 radio operators, 3 staff members, and 2 officers. C7 versions uses Harris Falcon II class radios: PRC-117 (VHF/UHF/SATCOM), PRC-150 (HF).
> AAVR-7A1 (Recovery):
No turret, M113 Fitter type crane and tooling unit for field repairs. It comprises a crew of three plus the repair team.
> AAVM-7A1 (Mine clearance):
Conversion using the Mk 154 MCLC or "MICLIC"(Mine Clearance Line Charge). It fires three linear demolition charges to breach a lane through a (beach) minefield. First used in the 1991 Persian Gulf diversionary operation and Operation Iraqi Freedom.
AAVP7A1 RAM/RS:
Current name of the AAVP-7A1 as marketed by BAE systems, modernized with (RAM) upgrade, or rebuild to standard (RS), a retrofit.
KAAV7A1:
South Korean version developed by Samsung Techwin (now Hanwha Defense) and BAE systems developed and manufactured in South Korea by Samsung Techwin
The AAV-7 Updates programmes
Work in progress !
Known users

Argentina
: circa 50 prior to the Falkland wars, now 21 (19 LVTP-7, 1 LVTP-7 and 1 LVTR-7), 11 upgraded by MECATROL (Caterpillar C7 diesel)

Brazil
: Brazilian Marine Corps: 49 vehicles

Indonesia
: 10 in service (Indonesian Marine Corps) donated by South Korea.

Italy
: Due to be replaced by the Italian Marines.

Japan
: 58 (46 P, 6 C ,6 R). In 2016 six AAVP-7A1s were tested and 30 ordered and existing AAV7A1 was ported to RAM/RS standard until late 2017.

Philippines
: Philippine Marine Corps: 8 AAV delivered 2019, plans for 8 more.

Taiwan
: The ROC Marine Corps operated 90 plus a Turret Trainer. 31 on order ($375 million USD).

Spain
: The Spanish Marines operates 19 vehicles, 16 P, 2 C, 1 R)

South Korea
: The ROK Marine Corps used 168 KAAV.

Thailand
: Royal Thai Marine Corps operates 36 vehicles of the AAVP-7A1 type and some AAVC-7A1 and AAVR-7A1, locally upgraded by Chaiseri to BAE RAM/RS standard.

USA
: The USMC still operates or at least possesses 1,311 vehicle in combat conditions.
The LVTP-7 in Action
Falklands:
Twenty Argentinian Marine LVTP-7s were used during the 1982 Falkland Islands invasion (Operation xxx) and returned to the mainland before the war ended.
Lebanon:
In 1982-1984, US Marine Corps' LVTP-7s were deployed as part of the multi-national peacekeeping mission in Beirut. They became increasingly involved in the hostilities, and several of these LVTP-7s sustained damage from shrapnel and small arms fire.
Grenada:
On 25 October 1983, the U.S. Marines deployed their LVTP-7s in a very successful amphibious assault on the island of Grenada: This was Operation Urgent Fury. They carried and supported troops and very rare casualties during the operations back to the fleet.
The Gulf War:
US Marines were fully involved in the operations during the 1991 Gulf War (Operation Desert Storm), and Operation Restore Hope.
2003 Iraq invasion
AAV-7A1s were heavily engaged in Operation Enduring Freedom. Soon, action reports came to criticize their poor protection compared, for example, to the M2 Bradley. Indeed, eight were disabled or destroyed during the
Battle of Nasiriyah
alone, many more badly damaged by RPG and mortar fire, but also Iraqi insurgents tank and artillery. One was destroyed by friendly fire coming from an A-10 Warthog CAS aircraft. On 3 August 2005, fourteen U.S. Marines and their Iraqi interpreter died in their AAV-7A1, which was blased under a roadside IED in Haditha (Euphrates river valley, western Iraq). Back home, 8 U.S. Marines and an U.S. Navy sailor were carried to the bottom when their AAV sank in heavy weather, on 30 July 2020 in the Pacific Ocean, off the coast of San Clemente Island (Cal.) during a training.
Read More/Src
on militaryfactory.com
On army-guide.com
On armyrecognition.com
On fas.org
LVTP-5 specifications

Dimensions
9 x3.57 x2.92 m (29 x 11.7 x 9.6 ft)
Total weight, battle ready
37.4 tons (74,800 Lbs)
Crew
3+34 (driver, commander, gunner, 34 infantry)
Propulsion
Continental LV-1790-1 V-12 gasoline 704 hp P/w 19 hp/tonne
Suspension
Torsilastic
Speed (road)
48 land/11 km/h water (30/6.8 mph)
Range
306 land/92 km water (190/57 mi)
Armament
APC 0.3 cal. M1919A4 (8 mm)
Armor
25 mm max (0.9 in)
Total production
1,124 in 1956-1957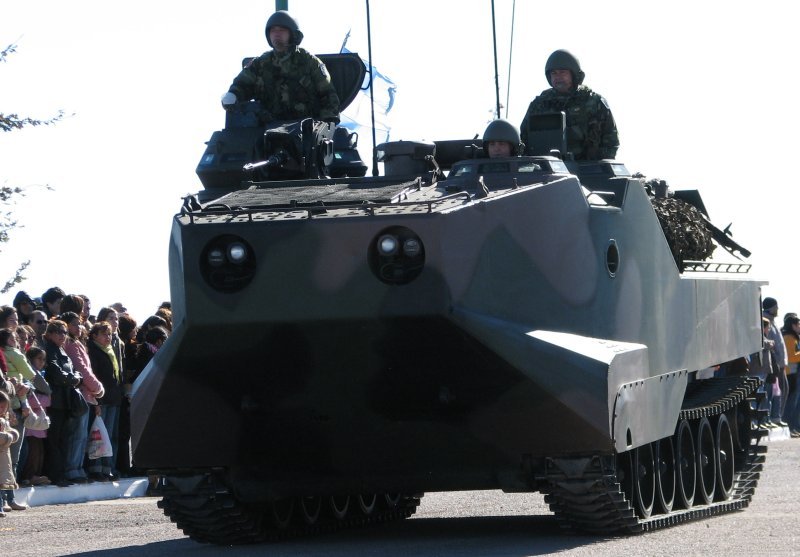 Argentinia LVTP-7 as those taking part in the Falklands war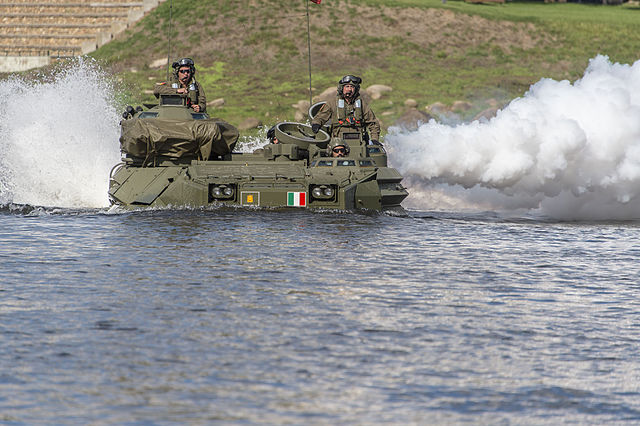 Italian AA7VA1 Lagunari Regiment in Portugal, Exercise Trident Juncture, JOINTEX 15
AA7VA1 in Exercises off Djibouti in 2010, 1st Platoon, Alpha Company, 9th Marines Regiment, 24th MEU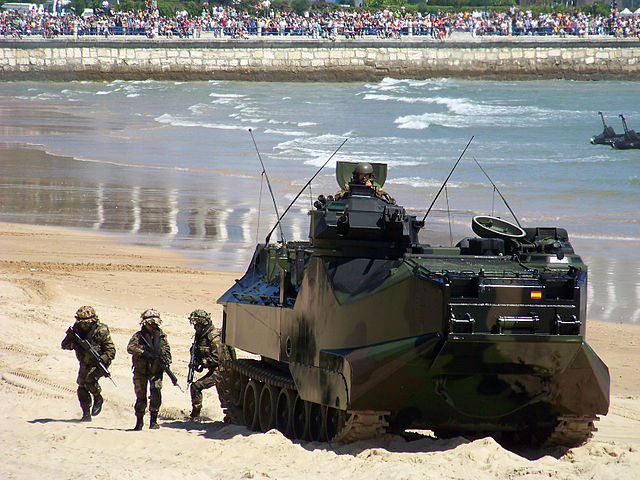 Spanish Marines in Satander, during a publich exhibition, navy day, in 2019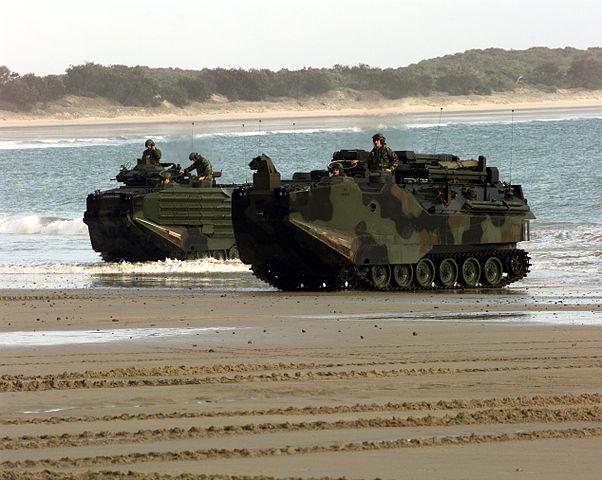 USMC on Freshwater beach, Australia, Operation Crocodile, October 1999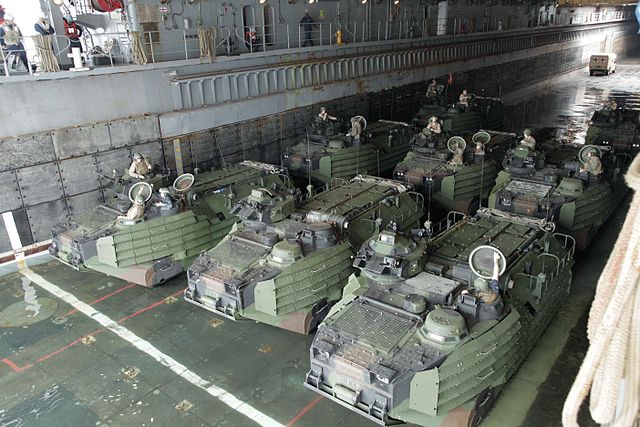 AAVs preparing to unload USS Gunstall Hall, LSD-44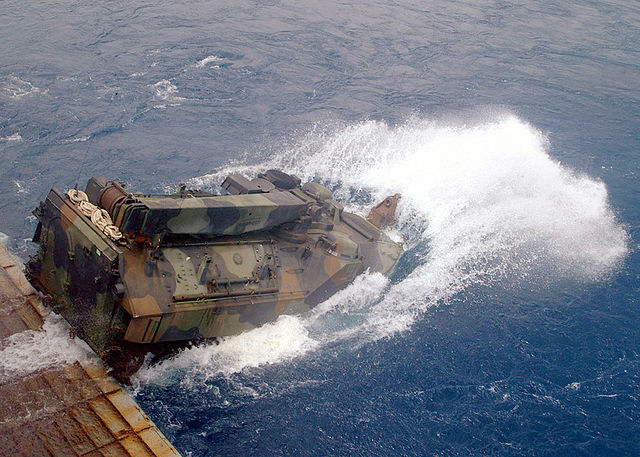 AAVR-7A1 (recovery version) launched by USS Juneau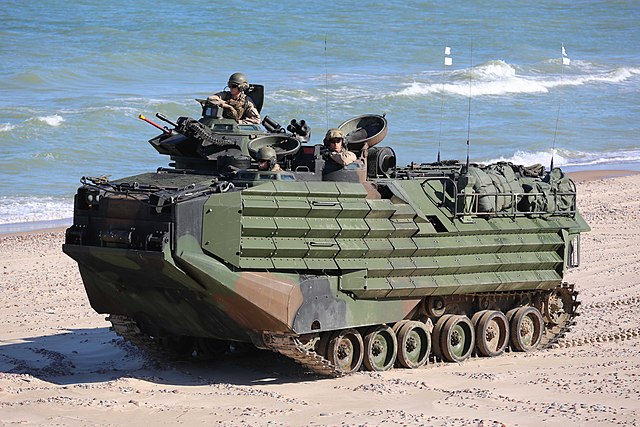 LVTP-7 in Latvia, Exercize BALTOPS 2017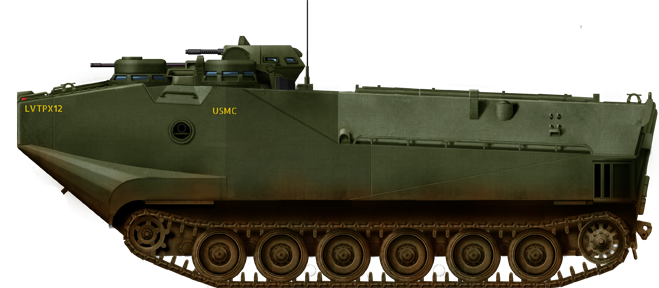 LVTPX-12 Prototype
LVTP-7 of the initial production in green livery, 1973
LVTP-7A1 with the early turret in the NATO spring verdant pattern, 1982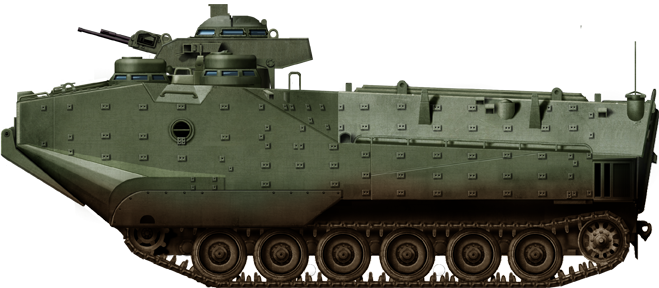 LVTP-7A1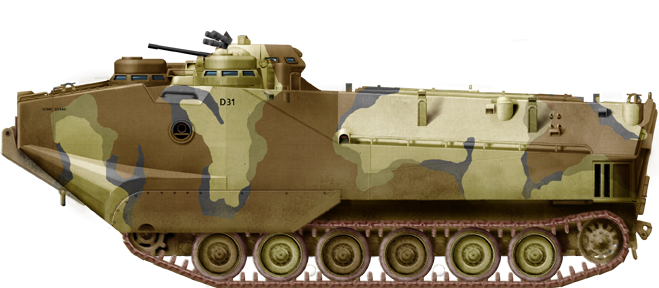 LVTP-7A1 in MERDC desert pattern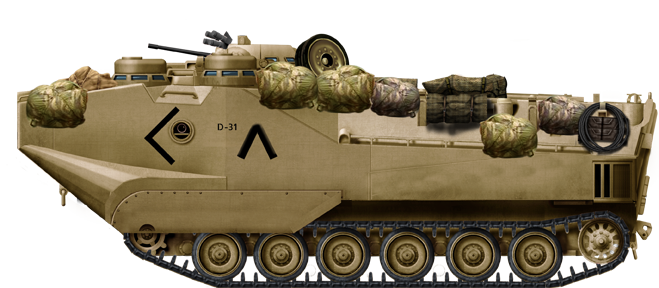 LVTP-7A1 during operation Desert Storm, 1991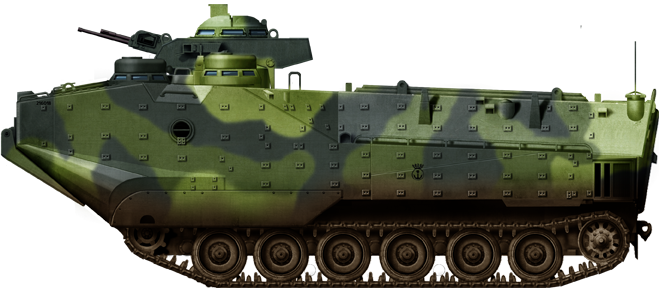 Brazilian marines LVTP-7A1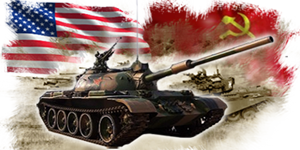 Cold War Tanks



































Cold war tanks posters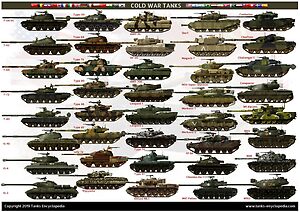 Cold War Main Battle Tanks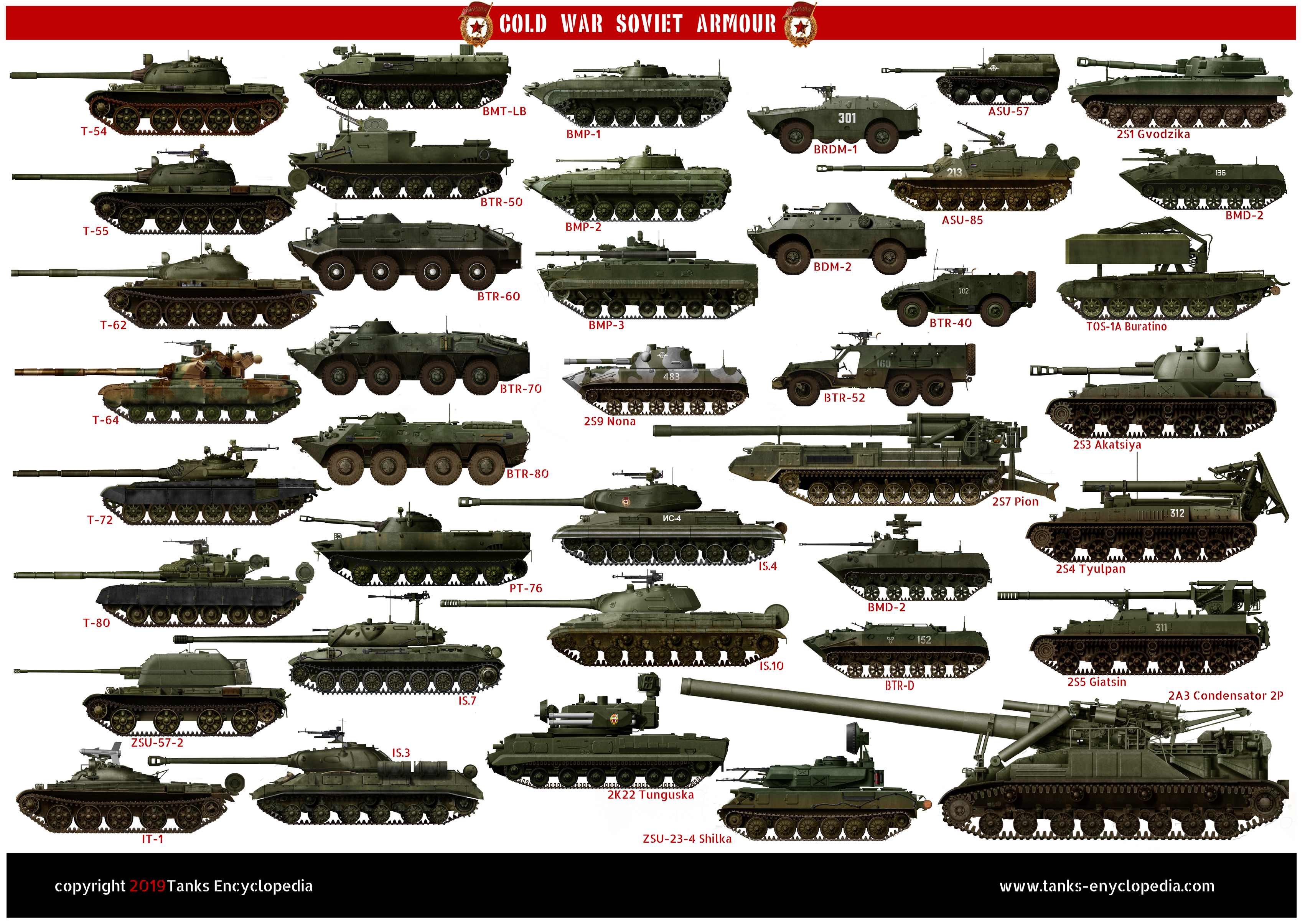 Cold War Soviet Army