ShaanXi Baoji Tiger (2010)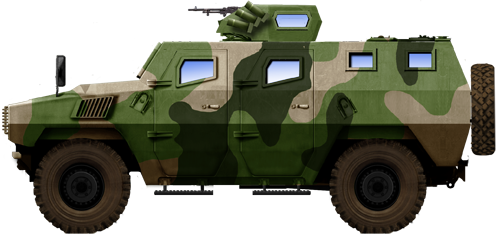 Chinese PLA(2010) Armored Personal Carrier - Current.
PLA's utilitarian police/military 4x4 APC
Called the ShaanXi Baoji Special Vehicle "China Tiger", the vehicle was first revealed at At Eurosatory 2012 Defence Exhibition by the Chinese defence Company Shaanxi Baoji Special Vehicles Manufacturing. This new 4x4 armoured vehicle personnel carrier (APC) was developed for the international market under the name "Tiger". Currently still produced, exported so far to Bahamas (2), Bolivia (24) and Somalia (12).
About Shaanxi Baoji Special Vehicles Manufacturing
Shaanxi Baoji Special Vehicles Manufacturing Co., Ltd, was established in 1983, and currently owns registered 100 million RMB, with over 400 million RMB in fixed asset. The facility covers 420 M2 (28 hectares) with an added test ground over 210,000 M2. It manufacture various type of light armored vehicle with a yearly output of 600 units.
The current company catalogue comprises the ZFB05 wheeled armored vehicle, CQF08 anti-riot disperse vehicle, Wheeled armored anti-riot disperse vehicle, Wheeled armored broadcasting vehicle, "Wild Wolf" assault vehicle, ZFB05C armored ambulance vehicle, "China Tiger" armored personnel carrier (out vehicle), a Frontier defense patrol vehicle, and a Political work broadcasting vehicle. It is very present on security trade shows around the world as well as military fairs.
Headquarters & International Markets: Contact: Mr. Wang Baohe (General Manager), Chuangye Road, 8 Baoji High-Tech Dev. Zone, Baoji City 721006, Shaanxi Province. (Tel: +86 917 3321300, 3321301, Fax: +86 917 3321362) wangbaohe(at)yeah.net.
Website
.
General design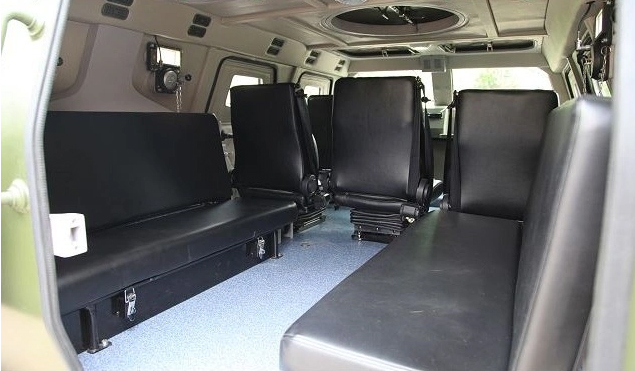 The Tiger chassis is a 4x4 cross-country model providing high mobility on all-terrain. The crew comprises the driver and commander (2) with single-piece cover opening to the rear. It carries up to nine fully equipped infantrymen. There is one rotating cupola hatch equipped with a machine gun at the front of the troop compartment. Depending of the vehicle use, it could receive flashing lights, megaphone, water dispensers, mesh grids to protect the windows, crowd control folding protection panels and a plow, etc.
It is close, but not identical to the ZBF-05 APC (2005), itself based on the chassis of Nanjing NJ2046 light utility vehicle, a locally-produced Iveco 40.10WM. Its SOFIM 8142.45 turbocharged diesel develops 130 hp. The Tiger has four side doors, two for the commander/drive, and two at the front of the troop compartment, as well as back doors. There are two front seats, three seats behind in the open troop compartment, and two side bunks for six extra troops, and stowage bins below. The four small bulletproof windows are equipped with firing port below.
Propulsion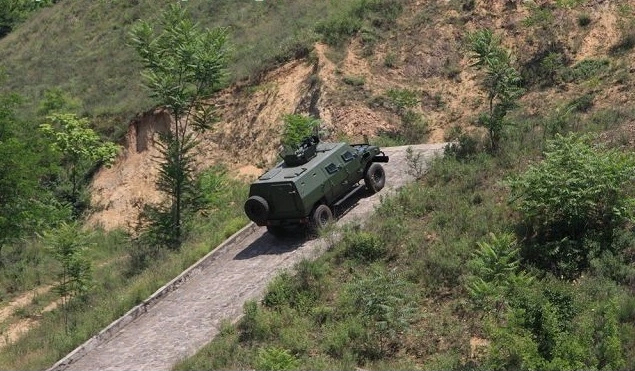 The Shaanxi Baoji Tiger is powered by a Cummins ISDE200-30 Diesel rated to 200 hp at 2,700 rpm (136/147 Kw max power). The Tiger can reach a top speed of 110 to 115 km/h on flat, with its operational range limited to 500 to 600 km in one go. As tested, the Tiger is able to climb a 60% slope, 40% side slope fully-loaded, cross a water depth of 800 mm without preparation and 1.2 m with preparation. It has a 350mm minimal ground clearance, and could climb a 35 cm vertical obstacle, and 70 cm trench. its curb weight is 4,500 kgs, with a 1,100 kgs loading weight (fully equipped, and payload), total mass is rated to 6,500 kgs. max towing weight is 2,000 kgs.
According to Chinese data, the ISDE 180-30 or 200-30 engine is connected to a Bosch HPCR transmission. The engine is rated for 136 Kw/2500 rpm (4,5 L) or 147 kw for the 180 hp version. Max torque is 650/1200-1700 nm/rmp. Fuel consumption is 20L/100 km. Turning radius is 15 m, fuel tank capacity 120 L.
Protection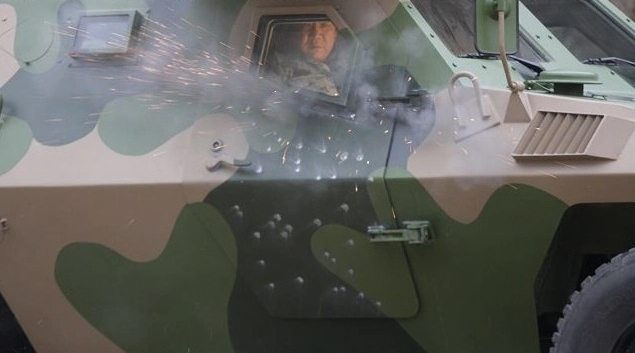 The armored hull is proof against small arms fire with the 7.62 m AP bullet type, as well as shell splinters (as stated on the website, 7.62 steel core bullets, Type 81 or Type 56, AK-47 ammunition). During firing tests with Chinese Type 56 7.62 mm, the CEO (Mister Wang Bao Ho) was filmed inside the vehicle as impacted. The reinforced glass also is bullet proof, with shattering coating. There is no provision for additional add-on armor packages or BAR fittings, making this vehicle unsuitable to high intensity urban warfare. The chassis is standard, without special protection against mines and IEDs.
Armament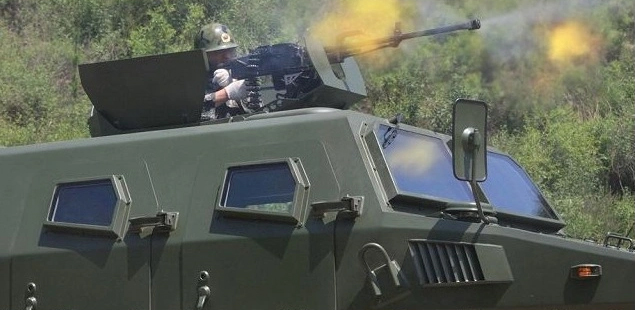 Depending of the customer, the central cupola can received a large variety of armament. The base version is open, with a pintle-mounted standard 7,62 mm mounting; The standard is an open top circular turret fitted with a two-pieces armored hatch opening on the sides which can receive an addition shield. The two pieces when up provided complementary protection on the sides of the gunnery position. Outside 7.62mm machine gun, the pintle can also received 12.7mm machine guns, or the standard 30mm automatic grenade launcher.
Variants
Options includes a self-recovery winch fitted at the front, one spare wheel at the rear of troop compartment, a data transmission system, searchlights and four flash lights of various colors, cameras, night vision equipment, communication equipment. The vehicle could be used as command post, security and law enforcement vehicle.
In service
While the PRC uses the Shaanxi SX2110 standard truck since 1985, the PLAN uses the Baoji Tiger listed in its list of Armoured Utility Vehicle, also comprising the Dongfeng Mengshi Armoured Utility Vehicle as the "Tiger 4x4".
Links
Website page
About the related ZBF-05 on military today
On armyrecognition.com
On army-guide.com
On 21stcenturyasianarmsrace.com
Armyreco video
Commercial page showing a digital camo version
Shaanxi Baoji on army-guide.com
Shaanxi Baoji Tiger 4x4 specifications

Dimensions
Length 5.36 m; Width, 2.32 m; Height, 2.30 m
Total weight, battle ready
6500 kg, ~ 1,500 kg payload
Crew
2+8/9: Driver, Cdr + 8-9 soldiers
Propulsion
4.7-liter diesel Cummins ISDE200-30 200 hp
Suspension
Fishbone type Schock absorbers
Speed (road)
top speed 115 km/h (road)
Range
600 km (xx mi)
Armament
7,62 or 12.7-14 mm (see notes)
Armor
STANAG 1 type (small arms fire & shrapnel)
Total production
38 so far.
Illustrations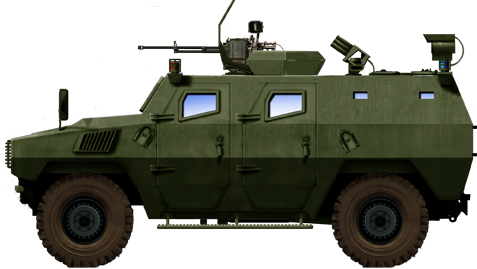 Green army vehicle with options like the rear remote camera system and chaff launcher, 14.5 mm KPVT HMG and flashing light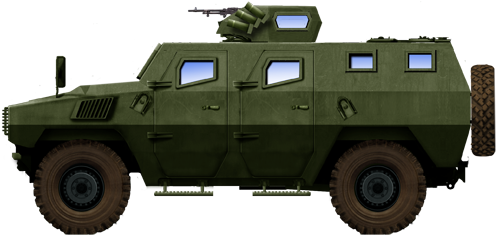 Green army vehicle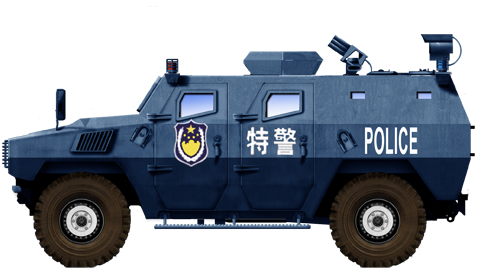 Police vehicle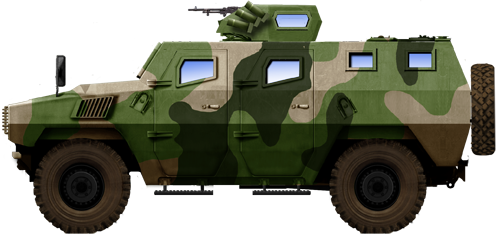 Bahamas vehicle with the standard PLA camouflage, turret with smoke dischargers, 7,62 mm GMPG
Gallery (official video extracts)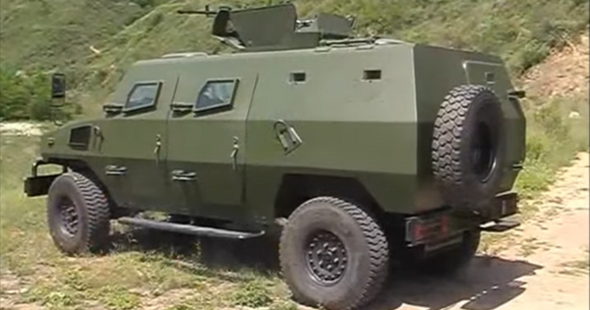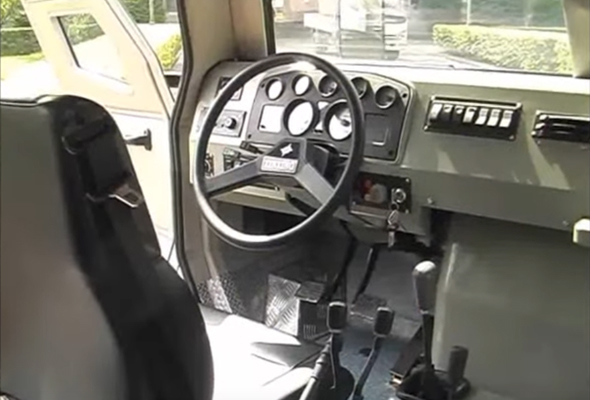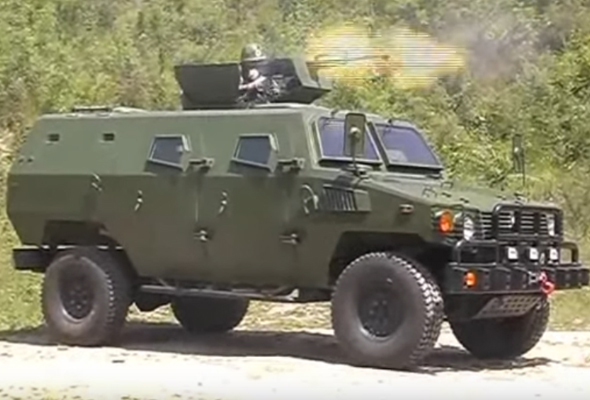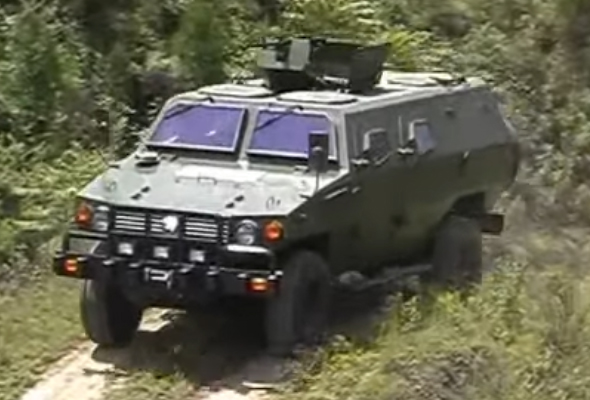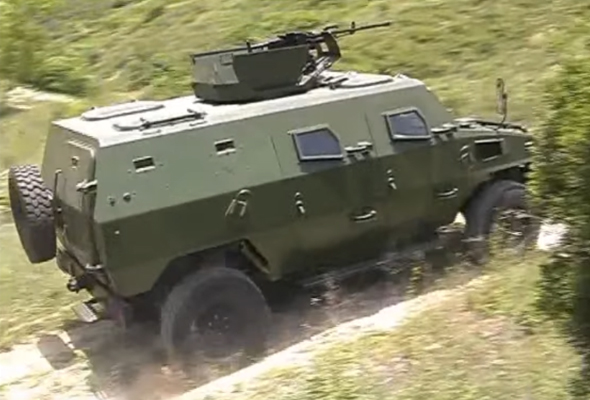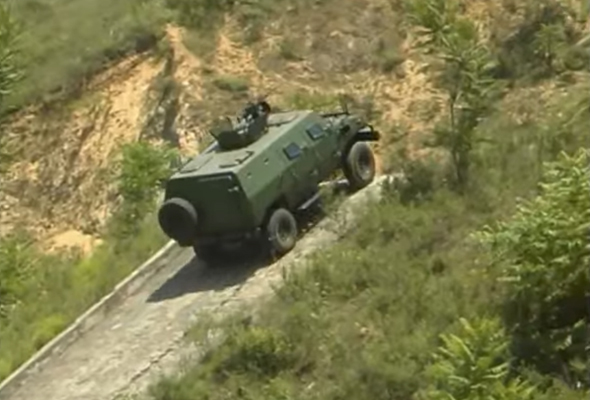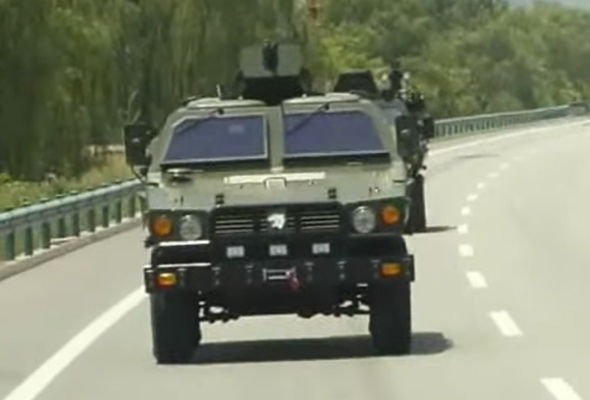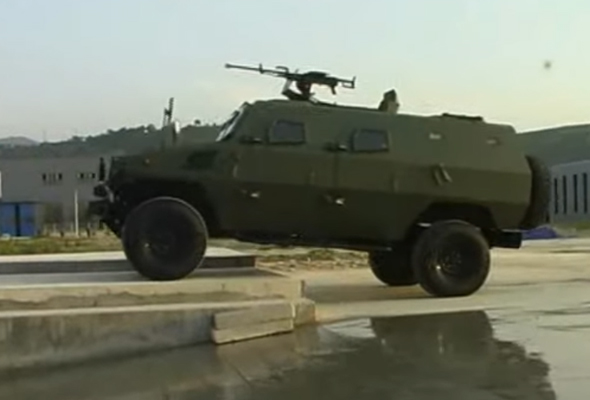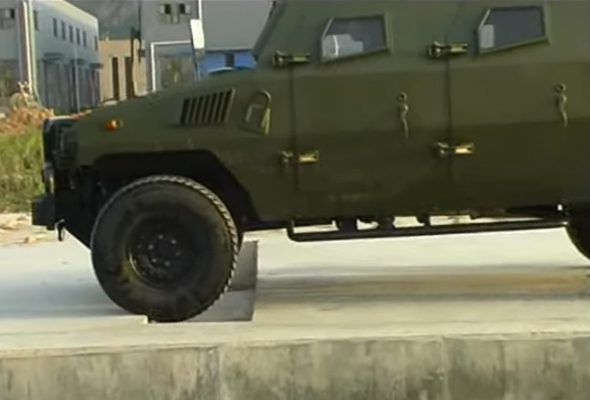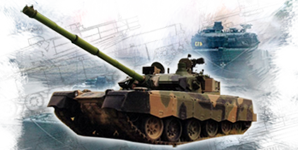 Modern Tanks
---
Modern MBTs posters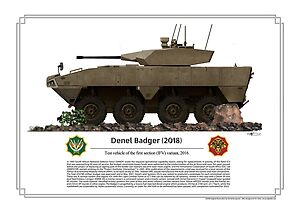 Denel Bagder (2018)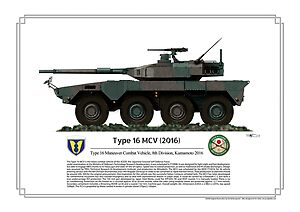 Type 16 MCV (2016)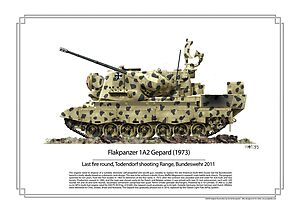 Gepard 1A2 last rounds 2011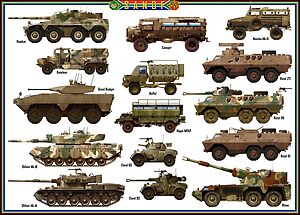 SANDF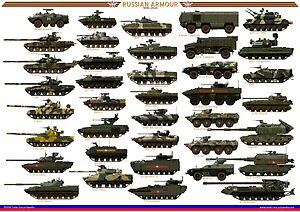 Russian AFVs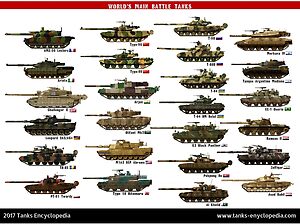 Main Battle Tanks