Marmon-Herrington Mk. III
Armored car (1941-42) South Africa - 2630 total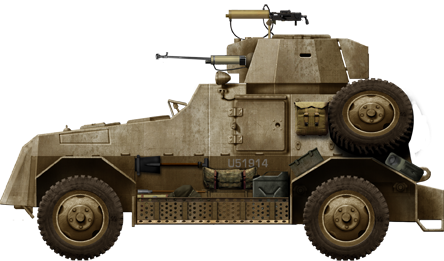 The mass-produced South African armored car
The Marmon-Herrington Mk.III was planned as early as 1940. It is probably the best-known of all five variants built by the company, and the most produced overall. It was basically an enhanced version of the Mk.II, with a slightly shortened wheelbase for more agility, modified sloped armor, though of unchanged thickness, with all forward-facing plates 0.47 in thick (12 mm), and fitted with a more powerful Ford 95 hp engine.
Design specifics
The design was largely based on the previous Mk.II. It had a one-piece four-vents radiator armored hatch, two folding vents on the sides of the engine compartment and two "V" shaped deflectors on the engine hood. Other features included two folding armored covers with sight slits (the design of which changed in time), a protective folding panel for sand storms, a searchlight for night operations placed on the top right of the fighting compartment and two side access/exit hatches. A spare wheel was generally placed just behind one of these. There were two three-piece mudguards and a large open storage compartment in between, with two unditching ramps. Two deflectors were placed just after the V-shaped bumper to protect the axles from flying debris. The mudguard headlights could be protected by a full encasing. Small flagpoles were welded on the front mudguards for unit recognition and exercises.
The new turret was quite bigger than that of the original Mk.II, octagonal with a rear turret basket, with a two piece front, a Boys AT rifle protruding from one and a MG port from the other one. The turret counted two small side slits and a two-piece hatch. The armored body was of welded construction and the tires self-sealing.
Production
The initial planning started in late 1940. Production was assumed in the same way like the previous models, with the four-wheel drive train and transmission from Marmon-Herrington in USA, the chassis and engine by Ford Canada and armament supplied by the British. Assembly was performed locally by the Dorman Long Structural Steel Company (armored body) and Ford Motor Company of South Africa for the final assembly, fittings and delivery. The production itself was geared up and started in May 1941, and halted in August 1942. By then, no less than 1780 Mk.III MFFs had been delivered, 783 Mk.III MEs plus 52 Mk.III Es upgunned for the Light Aid Detachment. The Mk.IIIa was a sub-variant equipped with a new ring mount replacing the turret and holding a twin .303 Vickers K machine-gun for anti-aircraft defense. At the end of the production, the spare tire was moved to the left slope and a single rear door was fitted. The radiator grille was omitted and there was no cover for the headlights.
Evolution
The production was halted in the summer of 1942 because the model had shown limitations both in protection and armament. The British asked for a more effective version similar to the models developed by Daimler and AEC, akin to a "tank of wheels". This model still used the same components and supply chain, but was longer and reinforced to support a heavier two-man turret mounting a British QF 2-pounder. Over 3100 were built of this new model called the Mk.IV including the Canadian Ford F60L based version until late 1943. The eight-wheeled Mk.V and Mk.VI followed but never made it to the production line.
Operational history
The Marmon-Herrington Mk.III had better agility than its predecessor, but had the same protection problems. The armament was light and the Boys AT rifle could not be compared to a true AT gun like the 2-pounder. They were still affected to reconnaissance units but usually skirmished with anything they encountered well into enemy lines. Their long range was already supplemented by extra spare parts and fuel jerrycans. It seems that many Mk. IIIa vehicles (denoting a change of armament) were rearmed with captured guns like the German Flak 38 20 mm (0.79 in) or Breda 20 mm (0.79 in) guns, inside a modified turret. Information is scarce about the numbers of units so modified.
The British west African forces used 60 Mk.III MFFs, the Free French had 10 MFFs in central Africa, while 255 were used in India, 175 in Malaya, Mozambique and Rhodesia (6 MFF and 24 ME). By 1943 these vehicles were gradually phased out and kept for training or rearguard patrols in Africa. For the KNIL (Royal Dutch Indies army), 49 were purchased by the Netherlands Purchase Commission in 1941 and arrived just before the Japanese landed on Java. They were in poor condition and without armament. After a while the technical branch of the KNIL managed to have 27 of those operational, in two independent recon platoons, the 1st and 2nd based at Bandoeng. The Greeks also operated a small detachment of Mk.IIIs just prior to the German invasion in May 1941.
Marmon Herrington Mk.III specifications

Dimensions (L-W-H)
5.18 x 2 x 2.67 m (17 x 6.56 x 8.76 ft)
Weight empty/loaded
5.3/5.6 tons (11,760/12,500 lbs)
Armament
1 x .55 cal (14 mm) Boys AT rifle, 1 x.303 Vickers/Bren
Armor
Sides 0.24 in, front 0.47 in (6/12 mm)
Crew
3 (driver, gunner, radio/gunner)
Propulsion
Ford V8 liquid-cooled gasoline 95 bhp
Transmission
Manual 4/1 w/2 spd-tmsf
Suspension
4x4 independent leaf springs, Ft axle steering
Max speed
88.5 km/h (55 mph)
Range
322 km (200 mi)
Total production
2630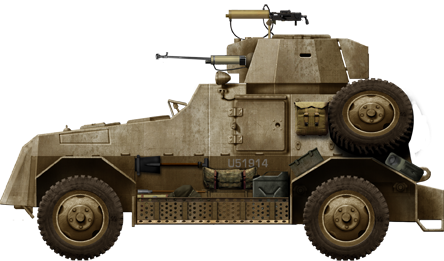 Marmon-Herrington Mk. III of the South African UDF, Eritrea, Eastern Africa, summer 1941.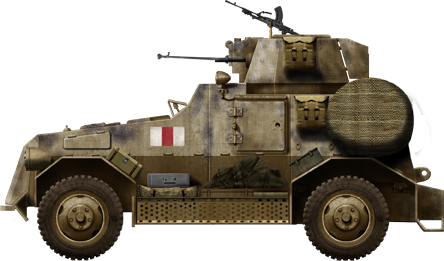 British Mk. III, VIIIth army, Libya, early 1942.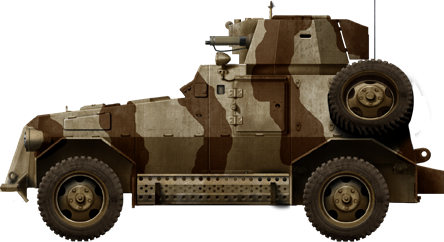 Captured Japanese Mk. III (formerly operated by the KNIL, 1st Independent recon squadron) manned by Indonesian nationalist POWs in 1942.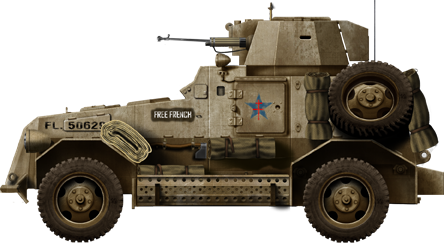 Free French Marmon-Herrington Mk.III, Central Africa, summer 1941.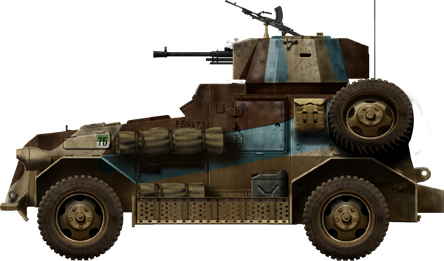 British Marmon-Herrington Mk.IIIa MFF, Libya, fall 1942.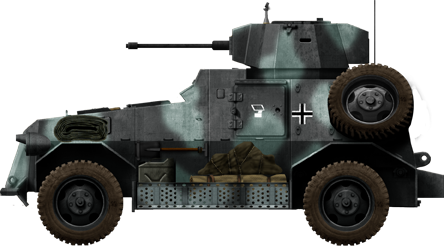 Marmon Herrington Mk.IIIa (Flak 38) captured by the Axis, Greece, fall 1941.
Mk.III Gallery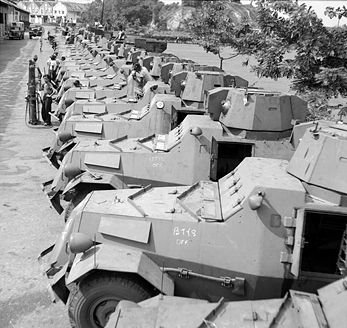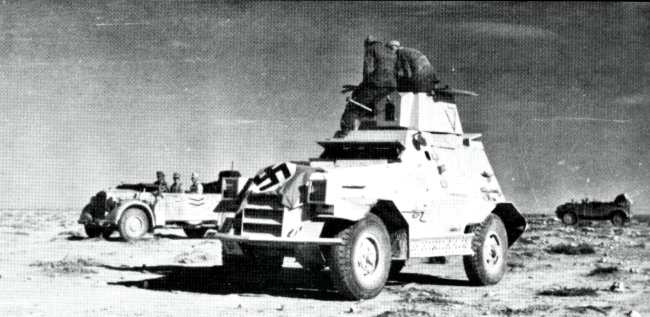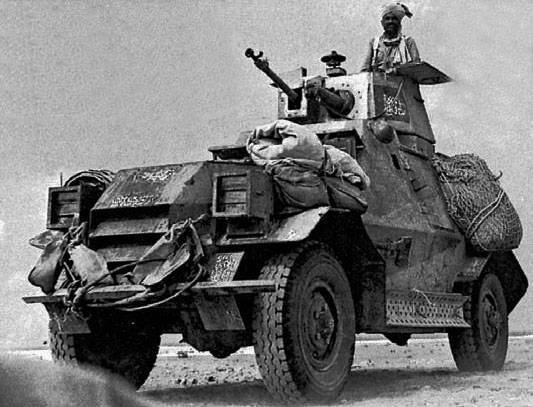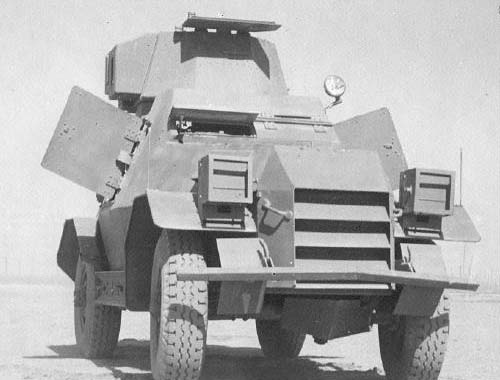 Links and resources about the Marmon-Herrington III
The Marmon-Herrington on Wikipedia (generic)
A blog about Marmon-Herrington vehicles
On WW2vehicles.com
Specification sheet on War Wheels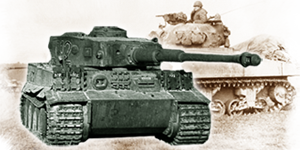 WW2 Tanks
---
WW2 tanks posters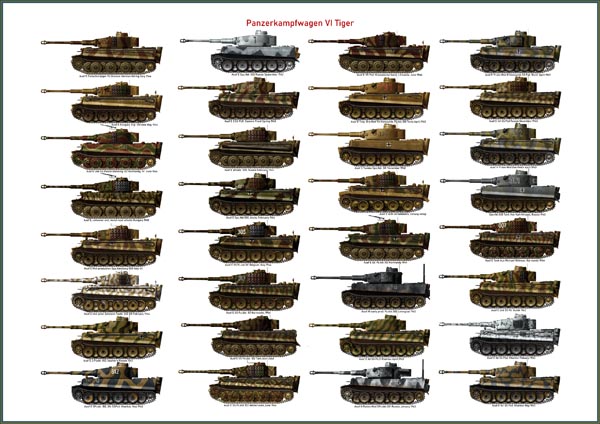 All Tiger tanks liveries.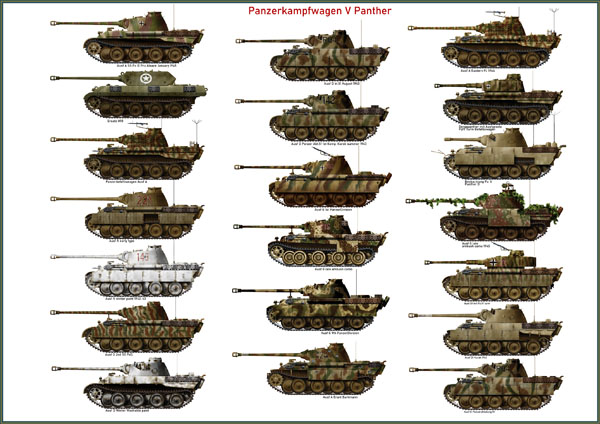 Panther liveries and variants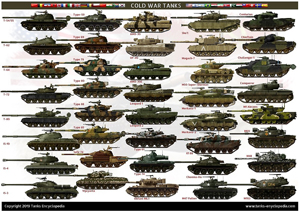 WW2 Armour - All tanks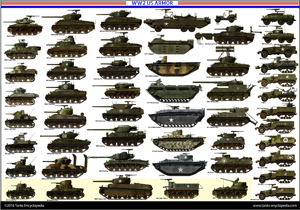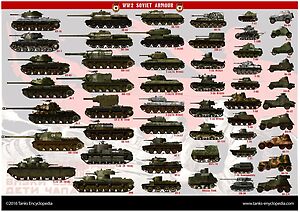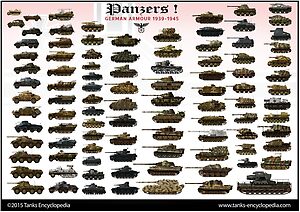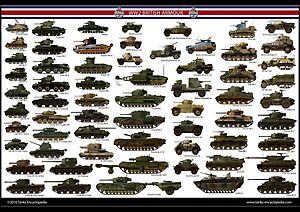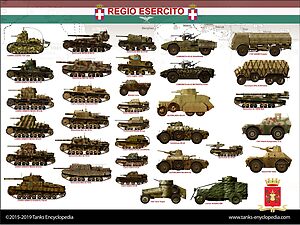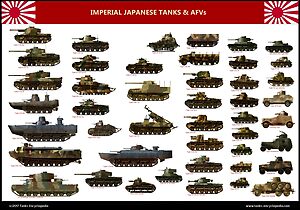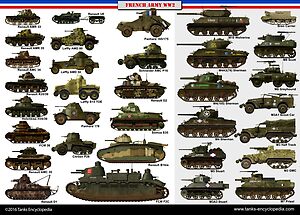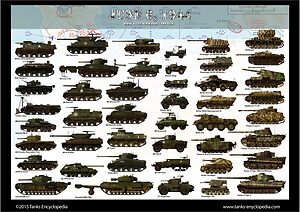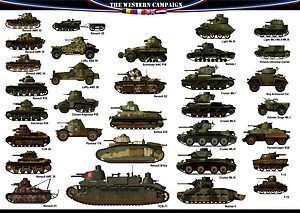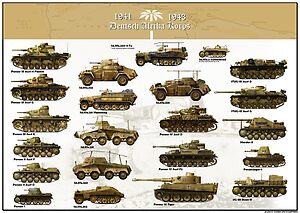 Tanks aces and single tanks series