Development history
In 1914, despite its early endeavors, armored car development in Great Britain was near to nil. The first Rolls Royce ACs were conceived almost by accident. In August 1914, the Eastchurch Squadron of the RNAS (Royal Naval Air Service) was based in Ostend under the command of Wing Commander Charles Rumney Samson. On the road to England, they were ordered to stay in Dunkirk and help spotting the enemy incursions. Two of the cars were equipped with a 0.3 cal. (7.62 mm) Maxim machine-gun, to supplement the lack of aircraft.
After a few sorties, they were armored with boiler plates, and later used in coordination with other airplanes that spotted the enemy. So successful were their actions that, by decision of the War Office in October, all other Rolls Royce Silver Ghost chassis were converted as armored cars. A committee headed by the Admiralty Air Department rationalized the conversion and set up the new tactical units, giving birth to the Armored Car 1914 Pattern. These vehicles also acquired fame during the Middle-Eastern campaign. Modernization will follow after WWI, with the 1920, 1921 Indian and 1924 patterns, which survived long enough to see service during WWII in Africa.
Design of the 1914 Mk.I Pattern
The Rolls Royce Silver Ghost, as a car, was not yet associated to the image of immense luxury we know today. Although they were already much costlier than other sedans and coupés, they were built with a very high quality level and a quite remarkable engine which did most for its reputation. It was a carefully crafted 6-cylinder petrol, water-cooled engine, giving 80 hp (60 kW) or a 19 hp/tonne weight ratio. The early series' aetheric name came from its all-silver finish, but could also stem from the ability of the engine to run almost without vibration and noise. It is said to have been customary for a seller to put one customer's coin on its edge, right on the engine hood central hinge and start the engine to illustrate this.
The chassis was a 2x4, with a single front and a double rear axles, and metal wire wheels, with two to four in spare. The armor was made of 0.47 in (12 mm) rolled steel plates, riveted around the chassis to a light frame. As defined by Flight Commander T.G. Hetherington, the armored bodywork's most important feature was its rear revolving turret (Admiralty turreted pattern), fitted with folding panels on each side and a small hatch for the commander in the middle. It housed a regular water cooled standard naval 0.303 cal (7.62 mm) Vickers machine gun. The engine hood and radiator were completely armored. The rear of the chassis, between and above the axle, was left for storage boxes, spare parts and everything else, as well as the side catwalks.
Later development: The Mk.I 1920, 1924 and other Patterns
It is estimated that 120 vehicles were so converted for the RNAS until 1915. Rolls Royce was then requested to built aero engines. After the war, in 1920, it was decided to modernize the type, which became the 1920 Pattern. These had thicker radiator armor and new wheels with fully metallic rims. The Mk.Ia was characterized by a commander cupola added to the main turret. The machine-gun was also upgraded. Three years later, survivors undergone a second modernization phase, 1924 Pattern Mk I, which had a permanent commander cupola. Rolls Royces sent in India were modified as the 1921 Indian Pattern, featuring roomier, extended hull armor, and a redesigned domed turret with four machine-gun ball mount emplacements. 76 vehicles survived. Some were again modified with a new open-top turret like those used on the Marmon-Herrington armored cars serving in Africa. These turrets housed a variety of weapons, a 0.303 (7.62 mm) Vickers machine gun, a coaxial Bren AT rifle and an extra AA mount for a light Lewis machine-gun.
In service
By December 1914, the first three 1914 Mk.1 Pattern armored cars appeared in service with the first Dunkirk RNAS squadron. In all six squadrons of cars were used until August 1915 and then the unit was disbanded, with some cars transferred in the Middle East theater. They distinguished themselves in Syria-Palestine, in Aden, Iraq, and Iranian operations against the Turks, and notably in the desert with the Arabs irregulars of the "Arabian revolt" led by Col. T.E. Lawrence (which used a squadron of nine vehicles). He estimated them "more valuable than rubies". They also saw action in German South-West Africa and, later, East Africa. Two squadrons were sent to Gallipoli in April 1915, and were the only ACs to see action there. Others accomplished an absolute record-breaking mileage under Commander Locker-Lampson's force in Russia, until the 1917 Revolution, almost without repairs or maintenance.
By the 1922-23 Irish Civil War, 13 British vehicles were given to the Irish Free State government. They were widely used for convoy protection against guerrilla attacks, street fighting and were instrumental in the retaking of Cork and Waterford. By 1944 they were still in service, and one, the ARR-2 Sliabh na mBan (part of the convoy which saw General Collins killed) is officially still in active service (although for parade). In 1940-1941, about seventy-six Mk.I 1924 Patterns were still in service. They were sent to the East African theater against the Italian forces. By 1941, some Fordson truck chassis received the armored bodies of former Rolls Royce ACs (Number 2 Armoured Car Company RAF). It is no mystery its legendary qualities of reliability participated in establishing the RR as one of the most famous British armored vehicles. There are four other surviving examples.
Links about the Rolls Royce Armored Car
The Rolls Royce Armored Car on Wikipedia
The Rolls Royce AC on Landships II
The Rolls Royce Enthusiasts club page about the ACs
The Irish Rolls Royce
---
Rolls Royce specifications (1914 Pattern)

Dimensions (L-w-h)

194 in x 76 in x 100 in (4.93 x 1.93 x 2.54 m)
Total weight, battle ready
4.7 tons (9400 lbs)
Crew
3 (commander, driver, machine-gunner)
Propulsion
6-cylinder petrol, water-cooled 80 hp (60 kW), 19 hp/t
Suspensions
4 x 2 leaf springs
Speed
45 mph (72 kph)
Range
150 miles (240 km)
Armament
1 x Vickers Water cooled cal.303 (7.62 mm) machine gun (see notes)
Armor
Maximum 12 mm (0.47 in)
Total production
120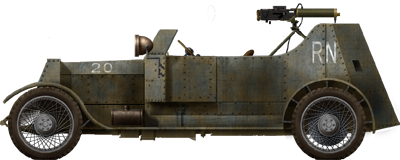 Samson's squadron Silver Ghost, August 1914.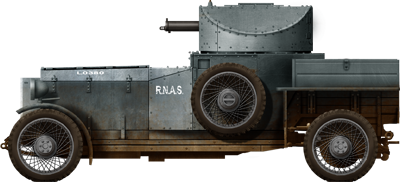 Rolls Royce Mk.I 1914 Pattern, RNAS, Dunkirk, February 1915.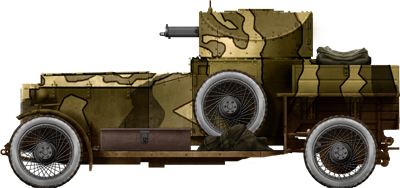 Camouflaged Rolls Royce Mk.I 1914 Pattern, Egypt, 1916.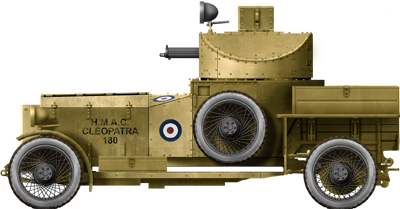 T.E. Lawrence's Rolls Royce Mk.I 1914 Pattern, Palestine, 1917. These cars were apparently 4x4, their front axles receiving twin tires to cope with the harsh terrain and the roof plates were often dismounted due to the heat.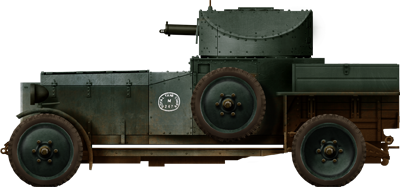 British army Rolls Royce Mk.I 1920 Pattern, sent in Ireland in 1922. Now preserved at Bovington.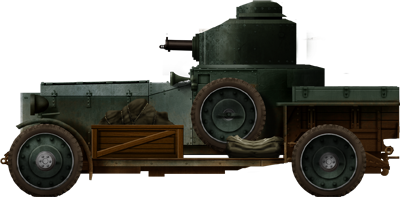 Mk.I 1924 Pattern, Great Britain, 1929. Others served in Egypt until 1940.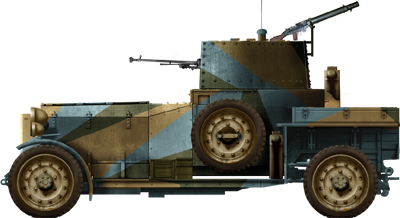 Rolls-Royce 1924 Pattern with a modified open-top turret in Eastern Africa, 1941.
Gallery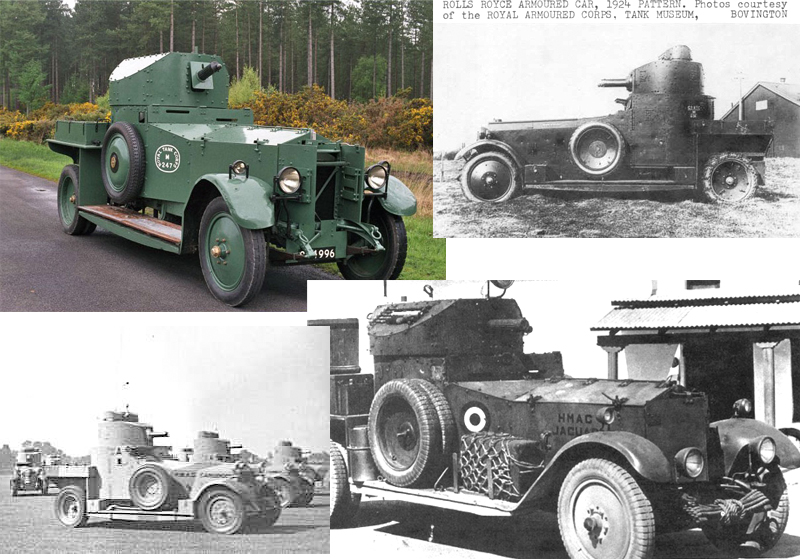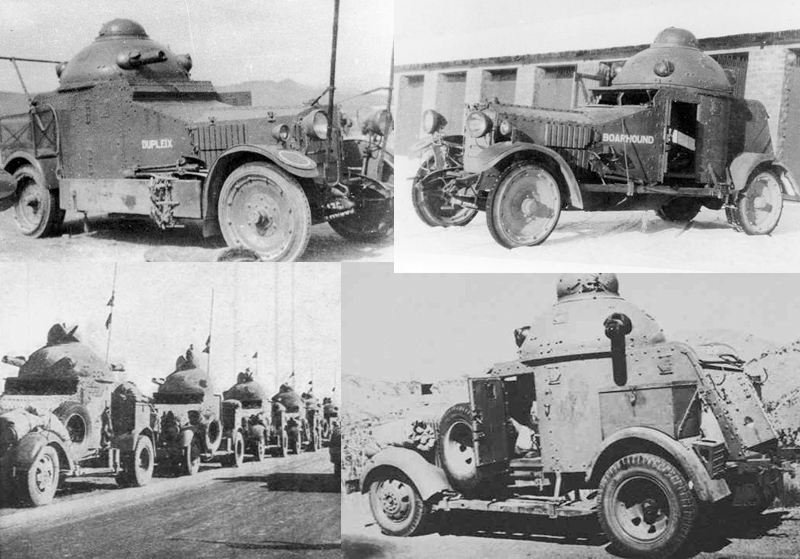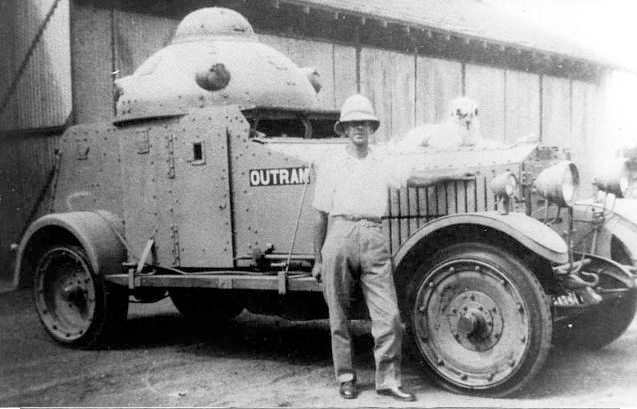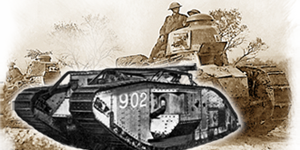 The Great War

Austria-Hungary

Belgium

British Empire

France

German Empire

Italy

Russia

USA
---
WW1 tanks posters