About Paramount Group
South African global defence, internal security and peacekeeping industries group Paramount was created back in 1994 by Ivor Ichikowitz, based in Johannesburg. Outside MRAPs and security vehicles like the Maverick, Mbombe and Matador (and the Marauder), this group was the first to create a dedicated Reconnaissance/Counter-insurgency and surveillance plane, the AHRLAC. While the company expanding its selling areas with a partnership in Abu Dhabi (UAE), the Marauder was also made famous in English-speaking countries by one famous Richard Hammond's episode of Top Gear 2011 featuring a red Marauder in South Africa...
Design of the Marauder
Like most MRAPs, the Marauder is a beast, tailored for the challenge of protecting its occupants despite rolling over a mine or being blasted by an IED. It has a Curb weight of 9,900 kg (21,780 lb) and up to 15 tons in combat configuration, ten average touring cars. But it can carry 6 tons and a crew of ten (driver, cdr, 8 infantry) in a perfectly isolated environment and double-skin monocoque, with bulletproof glass, and a STANAG 4569 level III armour meaning proof against 7.62 × 51 mm AP WC Core/30 m range. More importantly, it was tested at the STANAG 4569 3a and 3b meaning proof against a single anti-tank mine (8 kg of TNT) under the belly or roadwheels. The underbelly protection is of course due to a high Ground clearance of 420 mm, V-shaped to deflect the blast.
Marauder showcased in a Baku parad, army day.
The Marauder is propelled by a Cummins ISBe4-300 Diesel which developed 300hp @2500rpm, and 1100Nm @1200-1800rpm, or in alternative a diesel MAN D0836LOH for 240hp @2300rpm (176kW) and 925Nm @1200 to 1800rpm. Depending on the tyre it uses, top speed is around 100 to 120 km/h for a 700 km (435 mi) range. The basic configuration is 4x4. Apparently, a 6x6 was also developed but rarely seen. The Marauder is designed for reconnaissance and peacekeeping missions (especially in urban environments), and armament is optional. However, in most cases it is armed with a remote station or remotely operated cal.50 (12,7 mm) Browning M2HB HMG placed right at the rear of the driving compartment. The payload is very modular as well as the weapon station, which can receive light or heavy MGs, a minigun, and ATGM. The interior can be adapted to carry a mortar but also command and control systems.
Service records
Same. Parade in Baku, army day.
The Marauder was launched officially at the 2007 International Defence Exhibition (IDEX) and Conference in Abu Dhabi, covering all the middle east military market. It was sold first to Jordan, Paramount has a manufacturing agreement with the King Abdullah Design and Development Bureau (KADDB). The Jordan armed forces have around 50 vehicles in service today. Azerbaijan was the second user, and most prolific with around 165 vehicles so far, partially manufactured locally. Of course, SANDF, the South African Forces purchased around 50 vehicles too. Contrary to what is sometimes seen, the US Forces operated in Iraq and Afghanistan never operated the Marauder but instead the RG-31 Nyala which is relatively similar in shape except lighter and smaller.
Links
The Marauder on Wikipedia
Official page.
Marauder specifications

Dimensions (l-w-h):
6.14 oa x 2.48 x 2.66 m
Total weight, battle ready:
9-12 Tons
Crew :
2+8
Propulsion:
Cummins ISBe4-300 Diesel 300hp (221kW)/MAN diesel
Suspensions:
Independent coil Springs, schock absorbers
Top Speed
100-120 kph (70 mph)
Range (road)
400 km (250 mi)
Armament (see notes)
Standard 12.7 mm RWS. see notes.
Armour
STANAG III (small arms fire, AT mines up to 8 kgs TNT)
Total Production
250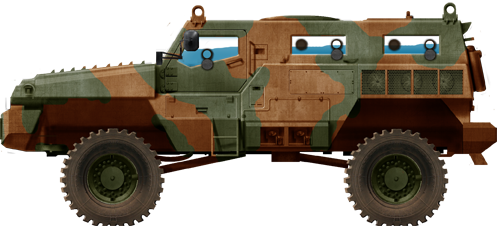 SANDF Paramount Marauder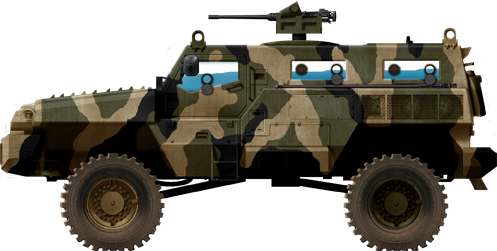 Azeri (Azerbaijan) Marauder, armed with a cal.50 RWS
Azerbaidjani Marauder.
Top gear 2011 Richard Hammond: The Marauder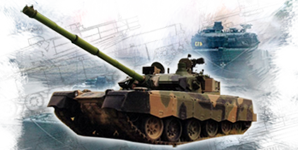 Modern Tanks
---
Modern MBTs posters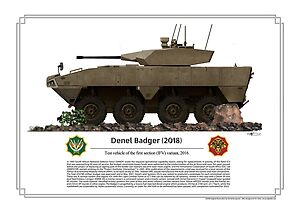 Denel Bagder (2018)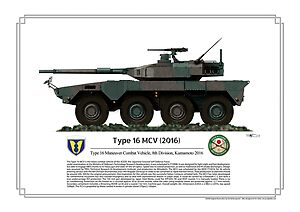 Type 16 MCV (2016)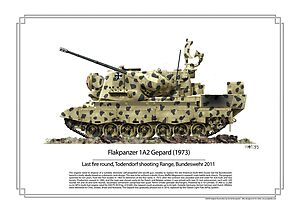 Gepard 1A2 last rounds 2011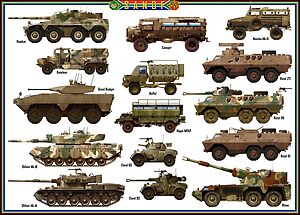 SANDF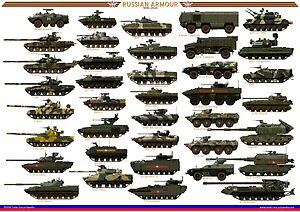 Russian AFVs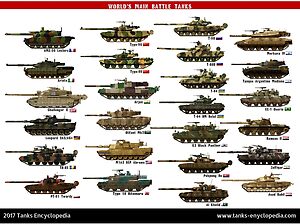 Main Battle Tanks