Development
When the Royal Marine Artillery (RMA) decided in the autumn of 1914 to create an anti-aircraft brigade, it already choosed its weapon, the Vickers Naval 2-pdr automatic gun better know as the "Pom-pom" of ww1 and ww2 fame. To carry it, the choice was made to adopt the Pierce–Arrow 5-ton lorry chassis, and gave it a fully armoured chassis. The Pierce-Arow armoured car was born, as well as the first British SPAAG. On 30 september 1914, the order was passed to Wolseley Motors Ltd, a subsidiary of Vickers. The chassis were imported from the USA.
Design
The vehicle had a 14-foot wheelbase (4,26 m), propelled by a 30 hp four-cylinder engine, connected to a shaft transmission to the rear axle, and steering on the front axle. Each was given artillery type spoked, rubber-tyre roadwheels with detachable rims. The roadwheels were 36-in at the front and 40-in at the rear, doubled (2x4). On the chassis was assembled a bolted frame, upon which were fixed the armoured body plates, 5 mm thick (0.2 in). The next 16 received 7.5 mm plates. For close defence, the vehicle relied on a Maxim machine gun which can be mounted on pintles on either side, rear doors, and front, through the co-driver armoured shutter. The body was conventional, with a front engine protected by folded panels, a driving compartment with two separate armoured shutters, and the open rear compartment with room for the ammunitions, extra storage on each side of the chassis, and access doors. The equipment was completed by handbars on either side of the hull to climb in, two roadlights and two headlights at the front and two convoy lamps at the rear.
The main armament was pretty impressive for a land vehicle. The 2-pounder (40 mm) could fire four rounds per second, and therefore several vehicles could put up a formidable barrage against any aircraft incursion at the time on a 3000 yards radius. With better ammunitions in 1917, they were even found able to destroy high altitude bombers (cruising at 10,000 fts), but with poor accuracy. Therefore they were all given 3-in guns instead, slower, but with a much longer range.
In service
Deliveries took place between March and June 1915, but because of a shortage of 2-pdr, only two batteries were equipped by the end of April and sent to France. In August a first one was created, and the last in September. Spares were also in short supply for the gun and even ammunitions in 1915. The Brigade however shot down its first plane on 30 April 1915, only two days after introduction on the front and over twenty more has been claimed before all vehicles were re-equipped with longer range 3-inch AA guns during the Summer of 1917. In between, some were handed over to the RNAS (Royal Naval Air Service), and a single one joined the Locker-Lampson force in Russia.
Their equivalent in Great Britain were the Seabrooke lorries, mostly used against Zeppelins raids. The Peerless (Wolsleley) chain-driven were relatively similar to the Pierce-Arrow, but all were sold in 1916 to the Russian Government.
Links
On Landship II
---
Pierce-Arrow specifications

Dimensions
204 x 75 x 71 ft (5.20 x 1.90 x 1.80 m)
Total weight (est.)
6 tons (12,000 lbs)
Crew
5 (driver, co-driver/machine-gunner, gun operators)
Propulsion
4-cyl Gasoline liquid-cooled, 30 hp
Speed (est.)
25 mph (40 kph)
Suspensions
2 x 4 leaf springs
Range (est.)
100 km (62 mi)
Armament
Main: 1 Vickers QF 2-pdr (40 mm) AA gun
Sec: 1 x Maxim Water cooled cal.303 (7.69 mm) machine gun
Armor
Maximum 5 mm (0.2 in), later 7.5 mm (0.28 in)
Total production
48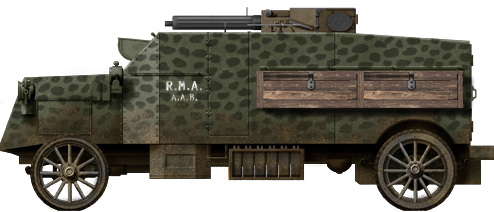 Pierce Arrow with the RMA, 1915 or 1916, with a camouflaged livery.
Gallery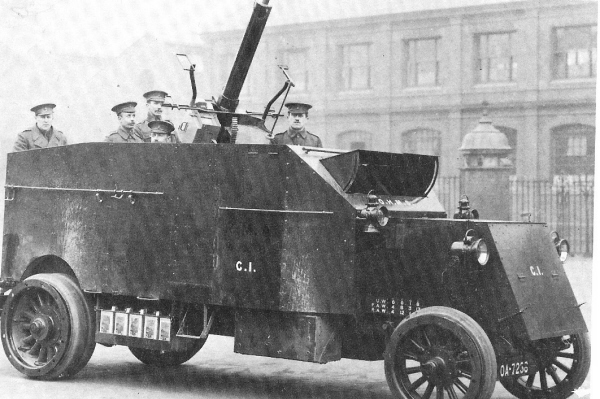 Pierce-Arrow armoured car, left view. credits network54.com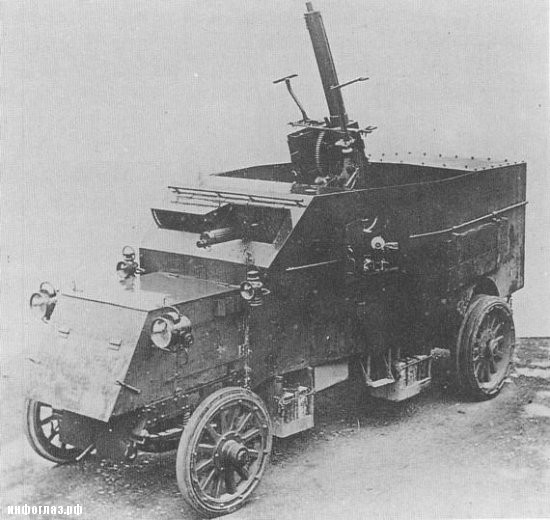 Pierce-Arrow, top front view. credits network54.com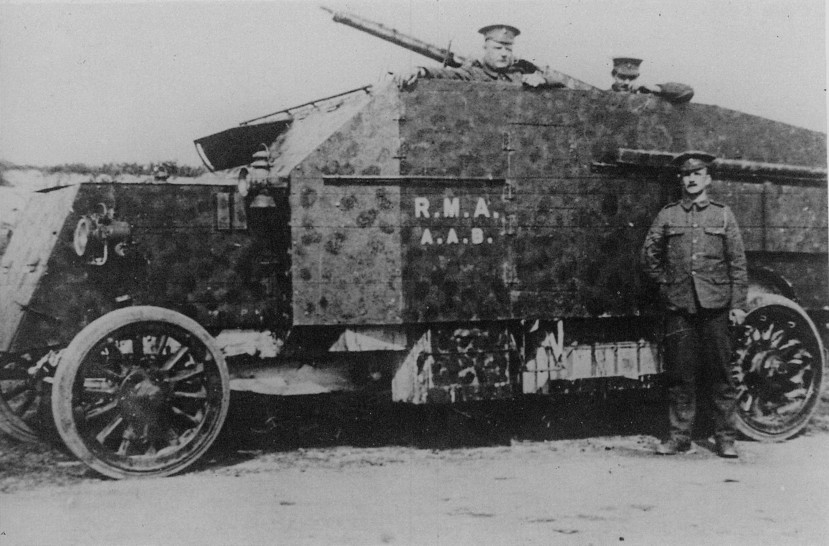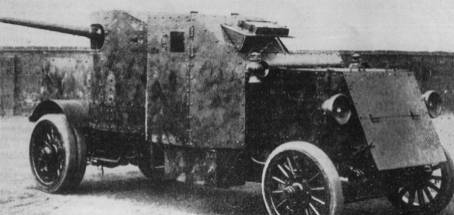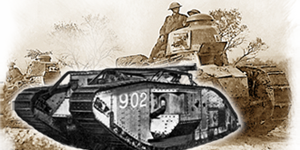 The Great War

Austria-Hungary

Belgium

British Empire

France

German Empire

Italy

Russia

USA
---
WW1 tanks posters