Renault's Wheeled tank
Contrary to the many wheeled tanks built by Panhard, Renault was a newcomer in this area. The company (RENAULT VEHICULES INDUSTRIELS) had secured in the 1970s one of the most prolific contracts with the Army, delivering up to 5,000
VABs
(4x4 and 6x6 APC family). But little is known about a more confidential model, the VBC-90, a wheeled tank of the early 1980s. It was never ordered nor corresponded to any official specifications, and therefore was a private venture aimed at the export market, and sharing as many components with the VAB as possible to lower the price tag. VBC stands for "Vehicle Blindé de Combat" or literally "Armoured Combat Vehicle", followed by the gun caliber. Despite interesting features, the VBC-90 never encountered the success it was built for. Only Oman purchased it, followed by the French Gendarmerie.
Design
Without any previous experience in this field, Renault designed in the late 1970s a conventional welded RHA hull, reinforced at the front, which could defeat heavy machine gun rounds for the 13 mm range as stated by the manufacturer. The rest of the hull was only protected against small arms fire and shell splinters, and the armor was in the 6-8 mm range. The vehicle itself was relatively light at 13 tons, which combined with its 90 mm gun make it punch well beyond its weight. It was based on the VAB 6x6 chassis but the hull had, of course, a lower roofline. For active protection, on the turret rear were fitted two pairs of smoke grenade launchers while an automatic fire extinguisher was placed in the engine bay and crew compartment but there was no NBC system.
The driver was seated on the front left, seeing through a sort of canopy with bulletproof windows of relatively important size and the front part of it could be lifted up to grant access or simply to drive in quiet sectors. Therefore there was no IR sight which limited night or bad visibility drive. Both the Commander and gunner were seated in the GIAT TS 90, a relatively narrow, multi-faceted well-sloped turret also used on the contemporary
Panhard Sagaie
, a relatively similar 6x6 wheeled tank. The left-placed commander cupola was given six observation blocks. The GIAT M563 gunner sight had a 5,9 x magnification (day) and TJN2 90 passive sight with mag. 6 x day and 5.5 night, 8° field of view, max 2,000 m range.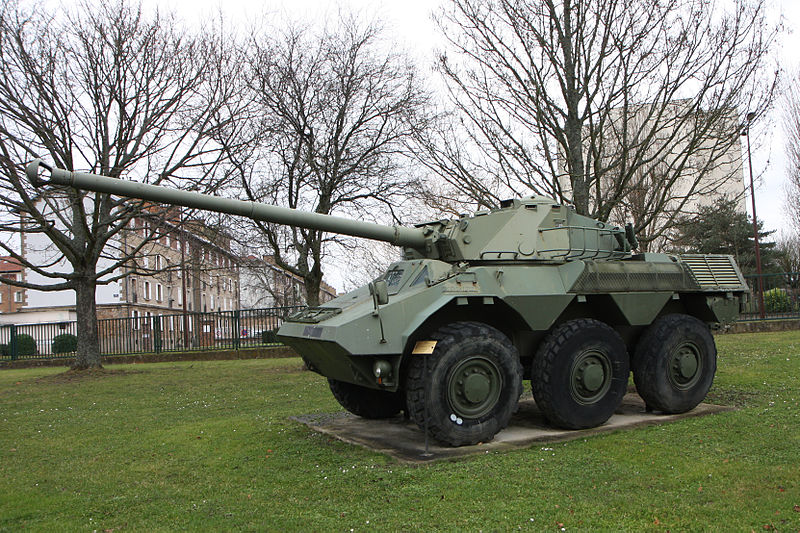 Original manufacturer prototype kept at Satory (photographed 9 january 2014)
Just like the latter, the VBC-90 use the same high pressure rifled, 90 mm cannon (optional 90 mm COCKERILL), mated to a coaxial 7.62 mm AAT-NF1 or MAG machine gun. The gun was not stabilized, meaning it has to stop for accurate firing. It had an elevation/depression of -8°/+ 15°. 45 AT and AP rounds are in store for the main gun which can be used to engage all combat vehicles except modern main battle tanks. It was in theory capable to defeat a
T-54
/
55
or
T-62
from the sides and rear. Armour penetration value indeed was 250 mm at the optimal 1,000 m range. it could fire canister, HE, HE long-range, HEAT, smoke and APFSDS rounds. In addition, the gun was assisted by a modern Fire Control and ranging system (M 586) comprising the CI LAS TCV 107 laser rangefinder and COTAC ballistic computer. In addition, the turret roof was given an optional pintle mount which can receive a 7.62 mm AAT-NF1, MAG machine gun or the heavy cal.50 (12.7 mm) Browning M2HB with 1,000 cartridges in 200 ammo boxes.
While its 6x6 configuration with large tires, four wheel steering gave excellent off-road capabilities, the rear-placed Renault MIDS 06.20.45 6 cylinder water-cooler turbo diesel engine which has 160 kilowatts (220 hp) provided a road speed of 92 km/h, which was perfect for fast-paced deep reconnaissance mission in enemy territories or patrols. This mobility was reduced however due to the lack of amphibious capabilities, and there was no buoyancy do the vehicle can only cross rivers of a certain depth unprepared.
Exports & active service
The VBC-90 primary rôle was reconnaissance; however, due to its armament, it can double as tank destroyer or fire support vehicle. The main user of the VBC-90 is the French Gendarmerie which operates 28 vehicles, its most powerful asset for the internal security role. An order for 6 more was secured for export to Oman. little is known about these vehicles, starting with their possible adaptation for desert warfare (crew compartment climatisation, engine filters, etc.) Even photos are rare;
Link:
More data (French) on chars-français.net
Gallery

Omani VAB and VBC-90 in the national day parade.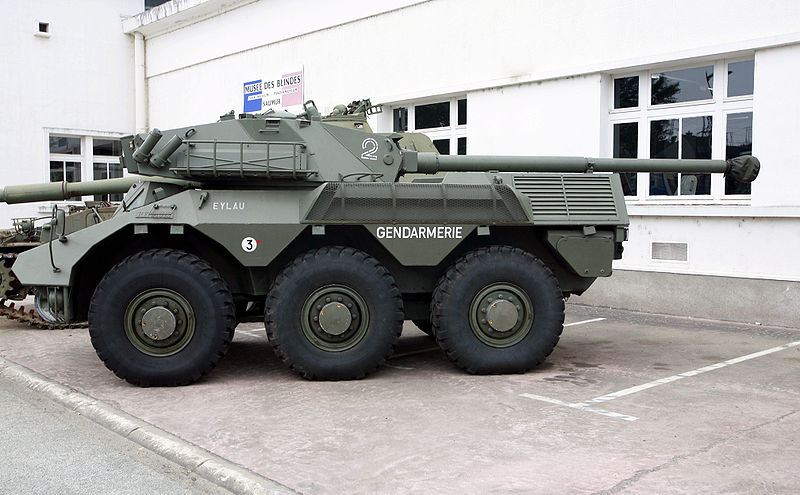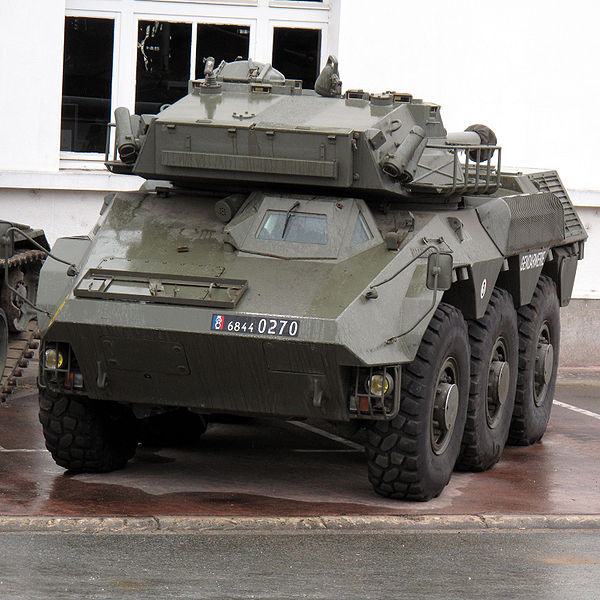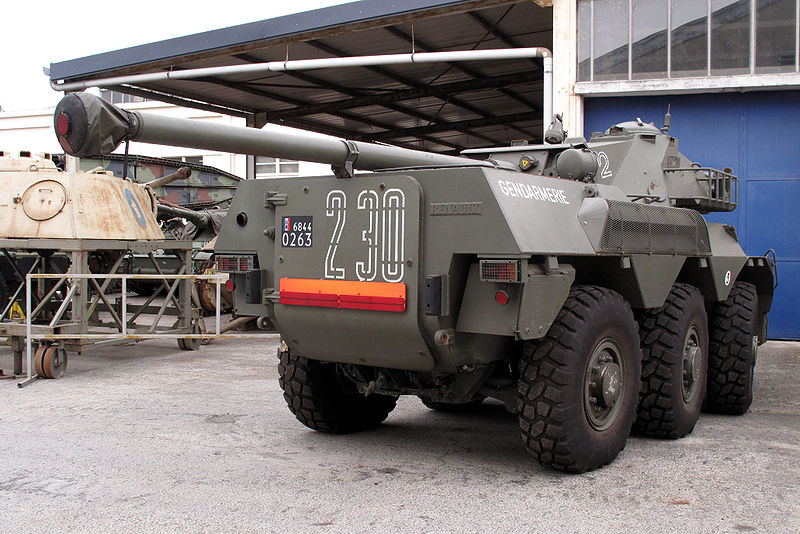 VBC-90 specifications

Dimensions (l-w-h):
5.63(8.14 oa) x 2.50 x 2.52 m (18.6 x 8.2 x 8.4 fts.in)
Total weight, battle ready:
13,5 Tons (29,800 ibs)
Crew :
3 (Driver, Commander Gunner)
Propulsion:
Renault MIDS 06.20.45 6 cyl. wc diesel, 160 kw (220 hp)
Suspensions:
6x6 independent coil springs
Top Speed
92 kph(57 mph) 40 kph off-road
Range (road)
1,000 km (620 mi)
Armament
Main: 90 mm high pressure rifled gun Sec: 7,92 mm (0.3 in) LMG coax, optional roof pintle mount
Armour
Max 13 mm front, 6-8 mm elsewhere RHA (0.3-0.5 in)
Total Production
34

VBC-90 of the French Gendarmerie.

Omani VBC-90. Six are in service with the SOPTAC 11 fire-control system incorporating a laser range-finder.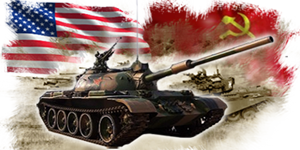 Cold War Tanks



































Cold war tanks posters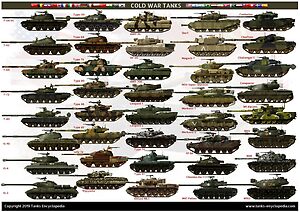 Cold War Main Battle Tanks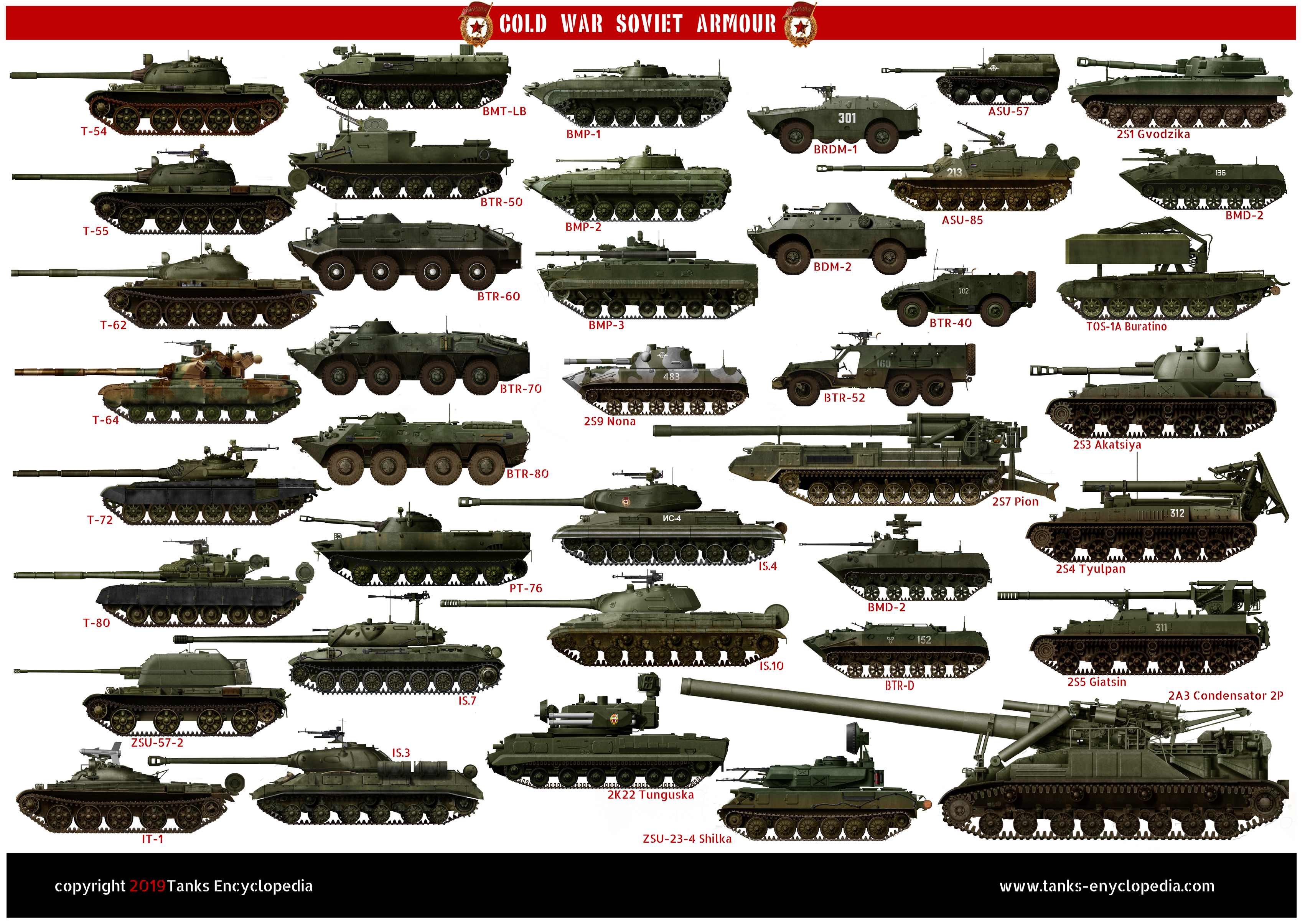 Cold War Soviet Army