A replacement for the ASU-57
The "airborne self-propelled mount"-85 was a design intended for use by the VDV and was intended to replace older designs such as the ASU-57. Its design was long and complicated, as a result of the stretching demands of making the vehicle airborne, and even under the leadership of the famous N.A. Astrov, the vehicle took nearly ten years to design! The ASU-85 would see service as late as the Soviet-Afghan War, but was far from a common sight.
Design Process
The design process began in 1951, when the VDV needed a replacement for the modest ASU-57. The major problem of the ASU-57 was that it had an obsolete 57mm gun that derived from a 1943 design. Its NATO counterparts were substantially more advanced, and the USSR was starting to see a need for deploying heavier and more hard-hitting vehicles far beyond its immediate sphere of influence in much shorter time.
Development was undertaken at the OKB-40 design bureau of MMZ, and was designated the Object 573. Building an armored vehicle suitable for air transport and deployment is a long, technical process, meaning that the first prototype was not ready until late 1953. It was based on the PT-76, but did not feature the amphibious capabilities, as this would add unnecessary weight to the vehicle. Several more vehicles were later produced and were sent for tests in 1956 and 1957, and these featured a six cylinder diesel engine, the YaMZ-206V, as opposed to the weaker V-6 of the PT-76. These vehicles had an open turret, and featured an 85mm casemate gun, the D-70.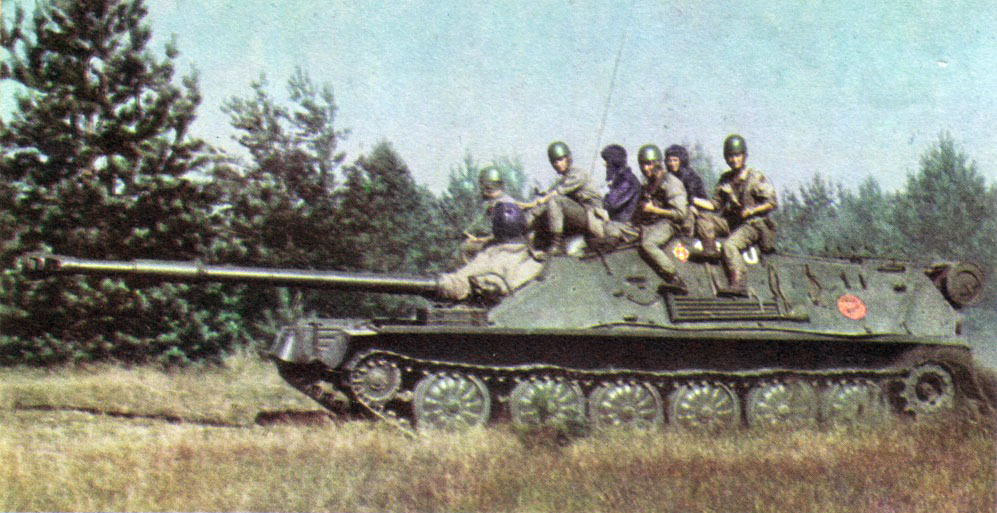 Design
The vehicle was hardly any different to usual Soviet designs, with three compartments - driver's at the front, combat in the center, and the engine at the rear. There was space for 45 rounds. Sloped steel Armour was about 40 to 45 mm (front) offering a substantial protection against light AT weaponry and light armoured vehicles. It was propelled by a YaMZ-206V V-6 inline water-cooled diesel, producing 210hp (154 kw), with a mechanical transmission. There were torsion bar suspensions and Fuel capacity was 400 l.
Production was supposed to start in 1958, under the designation SU-85, but the Ministry of Defense ordered the vehicle to have an armored roof, which took another three years to add, leading to series production only being possible by 1961. As a result of its near ten year design process, it was seen as largely obsolete, something which seems to be a common theme with Astrov's designs, such as with the T-60/70/80 tanks during WWII.
Its main armament was the D-70 gun 85mm, a variant of the D-48 85mm anti-tank gun which can fires ammunitions like 3BK-7 HEAT, BR-372 HVAP-T and OF-372 HE (same as the D-48 designed by F.F. Petrov). 45 were stored in all. These can penetrate 192mm steel armour from an angle of60° at a maximum distance of 1,000m. This L/67 ordnance gun has a total weight of 1,865 kg and an elevation range from -4.50° to +15°.
The gun is assisted by a coaxial machine gun of the SGMT or PKT type with 2,000 rounds. However on some Polish models in the early 1970s (and later Vietnamese), the cupola was topped by a heavy duty ring for a DShK-M 12.7mm heavy machine gun with 600 rounds. NATO denomination was ASU-85 M1974. Soviet designation was SU-85M or ASU-85M.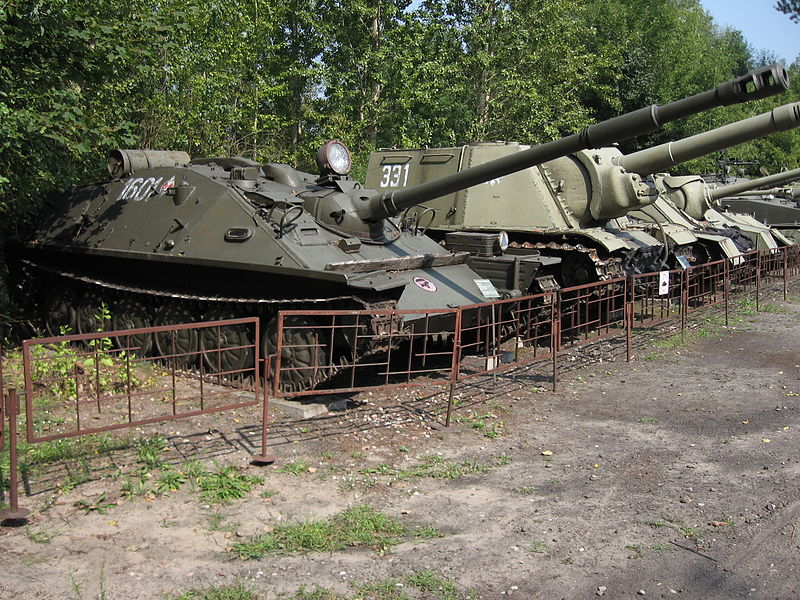 Gun and coaxial MG were served by the TShK-2-79 sight. The TPN1-79-11 night sight was also used in combination with the L-2 IR searchlight. Indirect fire used the S-71-79 and PG-1 sights. The commander was provided with the TNPK-20 (day) and TKN-1T (night) sights. As for equipments, the ASU-85 R-113 radio and an R-120 intercom system. Other optional equipments included the smoke generators BDSh-5.
The ASU-85 in service
The ASU-85 was fated to serve mostly with the VDV. Each Airborne Division had one assault gun battalion with 31 ASU-85. Its primary role was light infantry support or assault, with anti-tank capabilities. Polish 6th Pomeranian Airborne Division (Polish: 6 Pomorska Dywizja Powietrzno-Desantowa) had an equal number. Deployment became even possible with Mi-6 and Mi-10 helicopters. It can be also paradroppped from any carrier, with high-capacity multi-chute, retro-rocket systems. First observed by NATO in 1962, and was widely used by Soviet and Polish airborne units, the former even still used it Soviet-Afghan War in combat.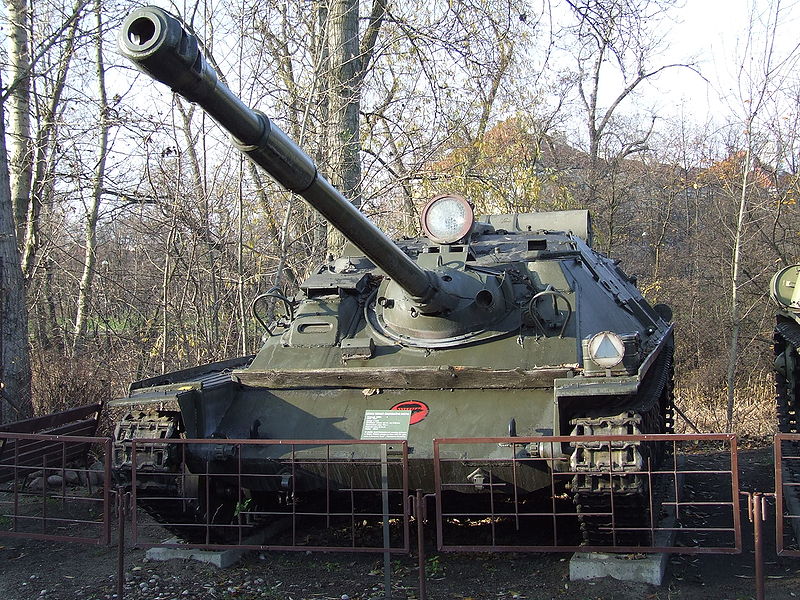 ASU-85 Kölobrzeg Dzialo
Derivatives
Whereas no variants were built, the chassis was reused for these vehicles:
-ZSU-23-4 "Shilka" (GM-575 chassis)
-2P25 ATGM vehicle (GM-578 chassis)
-1S91 radar vehicle of the 2K12 "Kub" system.
Exports
Poland:
Ludowe Wojsko Polskie received 31 ASU-85s in 1966, assigned to the 35th Self-propelled Artillery Squadron (35. Dywizjon Artylerii Samobieżnej). This unit was attached to the 6th Pomeranian Airborne Division based in Kraków. All withdrawn in 1976 without replacement.
Vietnam:
According to SIPRI (Stockholm International Peace Research Institute), Vietnam received 25 second-hand ASU-57 from Russia in 1970 and it is believed ASU-85M were supplied as well. Vietnam received in april 2016 upgrade packages prepared by Belarus Company Minotor for its ASU-85s. This included a more powerful powerpack (road speed increased to 60 km/h (37 mph), cruising range 450 km (280 mi).
Links/sources
ASU-85 on wikipedia
Armyrecoignition article about the upgraded Vietnamese packages
ASU-85 specifications

Dimensions
6 x2.8 x2.1m (19.8 x8.2 x6.1 ft)
Oa. BR weight
15,5 tons (34,171 Ibs)
Crew
4 (driver, cdr, gunner, loader)
Propulsion
YaMZ-206V V-6 in wc diesel 210hp (154 kw)
Suspension
Torsion bars
Speed (road)
45 km/h (28 mph)
Range
230 km (160 mi)
Armament
85mm D-70 (2A15), coax 7.62mm PKT/SGMT
Armor
40-45 mm (1.5-1.6 in)
Total production
Circa 800 1959-1963

Unknown Soviet VDV unit

Unknown Soviet VDV unit

ASU-85M Polish 6th Air Assault Division

Unknown Soviet VDV unit

Vietnamese ASU-85M
Video
Gallery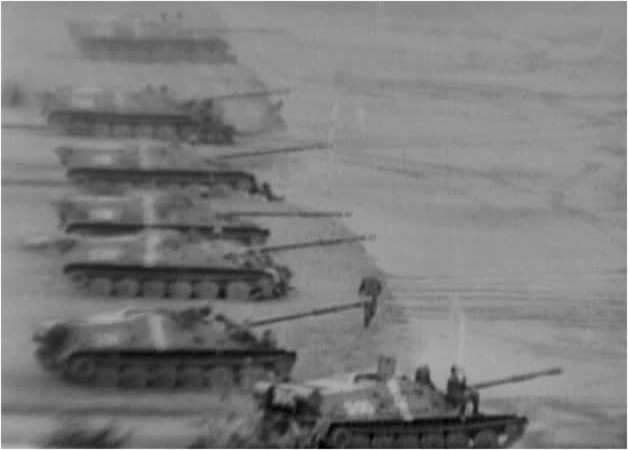 ASU-85s in exercises, 1968.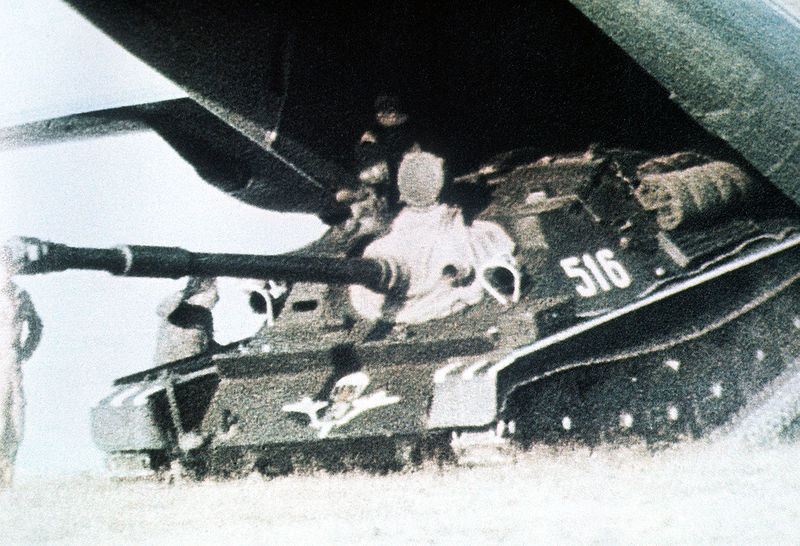 ASU-85 unloaded from An-12 Cub aircraft, date unknown, released in 1986.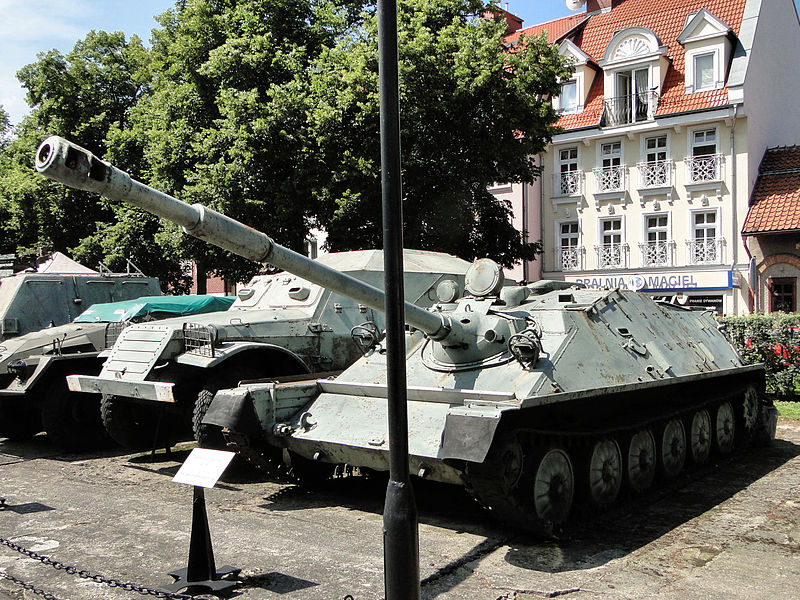 ASU-85 Kölobrzeg Dzialo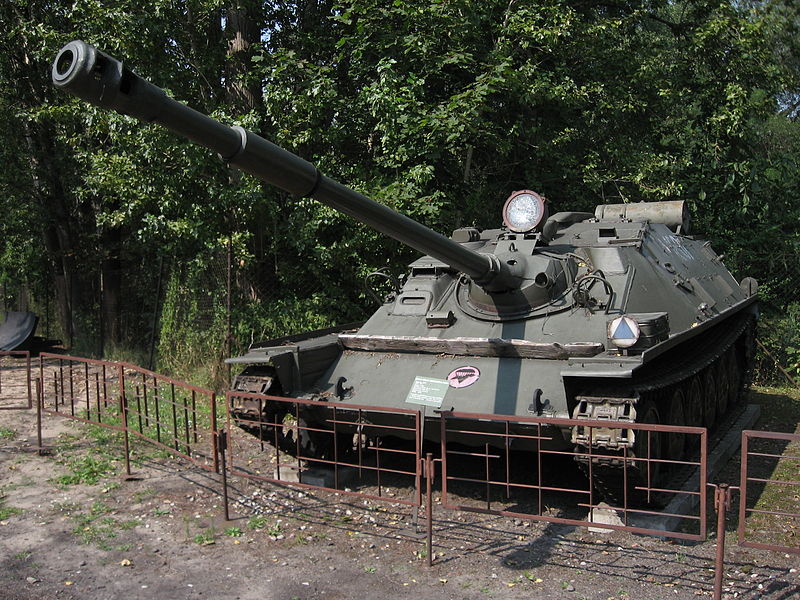 ASU-85 Polish Technical museum
First written by Will Kerrs in 2017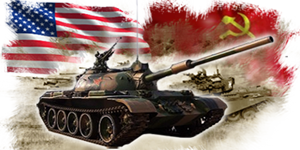 Cold War Tanks



































---
Cold war tanks posters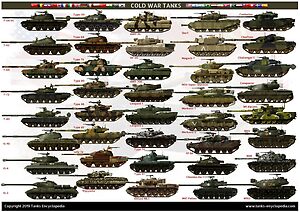 Cold War Main Battle Tanks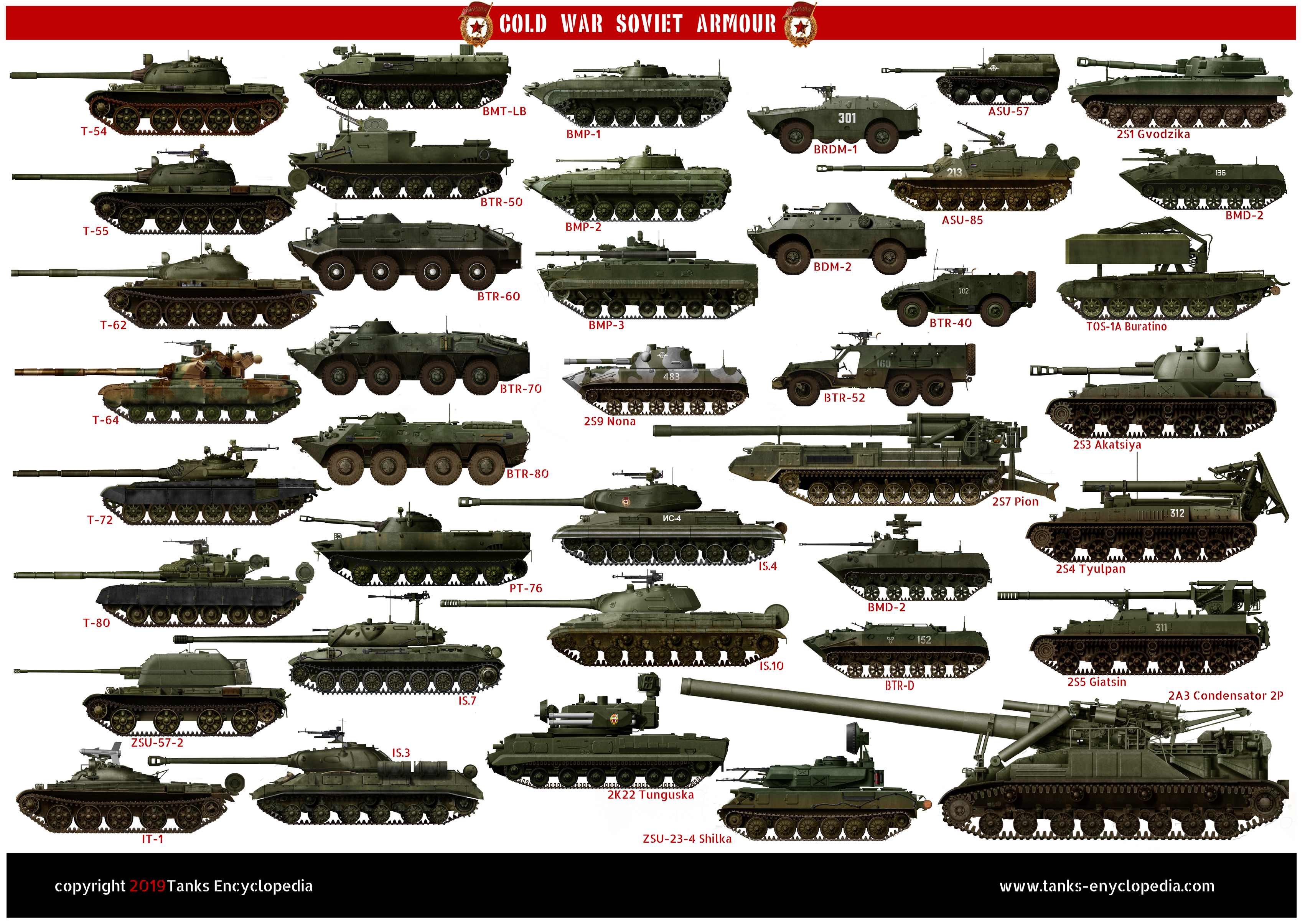 Cold War Soviet Army