Crossleys in China
Crossley Motors (1906-1958) was an English automotive company, that had a long history of building military vehicles, including the 20/25 series in 1912, BGT (1923), IGL 4-wheel (1923) and 6 wheel (1927–1931), BGV (1927), and IGA (1928). In 1923, Crossley supplied chassis which were armored by Vickers-Crayford. The resulting vehicles were sold to the British Raj of India (around 100), and therefore often called Indian Pattern. They were used to patrol to northern reaches of the British held territories in India. Others saw service with UK, South Africa (2), Canada, and Argentina (6). Japan then ordered 12, supplied in 1925. Former South African and Canadian vehicles refurbished in 1938 with Chevrolet truck chassis, becoming the Crossley-Chevrolets which saw service in WW2. The Vickers-Crossley M25 was called Type 87 in the Japanese Imperial Nomenclature and apparently also known as the Dowa (not confirmed).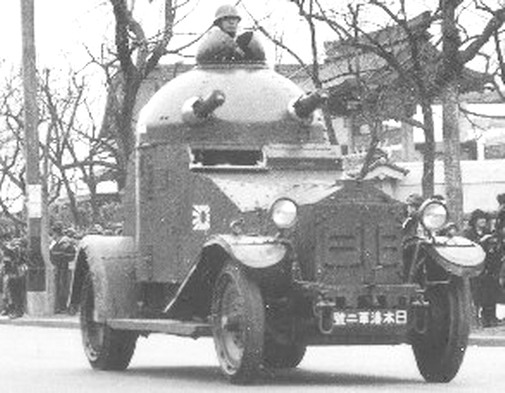 Type 87 in Shanghai, China. Notice the split open cupola, protecting the observer quite well - Credits: Wikipedia.
Design of the Type 87
The Japanese vehicles differed very little from the regular Crossley M25, except for the machine-gun used. They were characterized by their flat-sided engine hood, armored radiator, larger cross-section of the fighting/driving compartment and riveted hull. The two-seat driver compartment was given armored shutters and there was a raised section after the engine compartment. The front (beam axle) and rear (steel casing with fully floating drive shafts) axles were covered with generous mudguards. Suspensions had semi-elliptic springs underslung. The front mudguards supported standard road lights. Access inside the vehicle was done through two small side doors. There were three sliding observation ports per side. One spotlight was apparently mounted over the bumpers at times.
But the trademark of these vehicles was the large, cast hemispherical turret manufactured by Vickers, tailored to house two liquid-cooled standard 0.303 in (7.7 mm) machine guns, with their armored jackets. The great originality was the extreme separation between the two 7.7 mm machine guns, which were in semi-fixed positions, allowed an individual 90° traverse, in addition to the turret traverse. There actually four machine-gun emplacements available, the two weapons could be switched between them rather quickly. The other particular was the turret topped by a split dome for observation and crowd control (in the Japanese version). The regular Indian Pattern Crossley M25 seems to have been given a searchlight mounted on the cupola.
The engine was a Crossley 4531 cc, four cylinders, with a 4 inch (101.6 mm) bore and 5½ inches (140 mm) stroke, Zenith carburetor and side valves. Lubrication was pressure fed to the bearings. Ignition was done with a magneto. It was coupled with a 4-speed gearbox separated from the engine by a short shaft with universal joints. The drive shaft was enclosed in a torque tube bolted to the differential housing and diagonally braced to the rear axle casing. The final drive of the worm type, while the drive clutch was of the cone type. Maximum output was 65 bhp which allowed for a road speed of 45 mph (70 km/h). The brake pedal was operated by contracting shoes on the transmission and hand lever by expanding shoes on the rear wheels.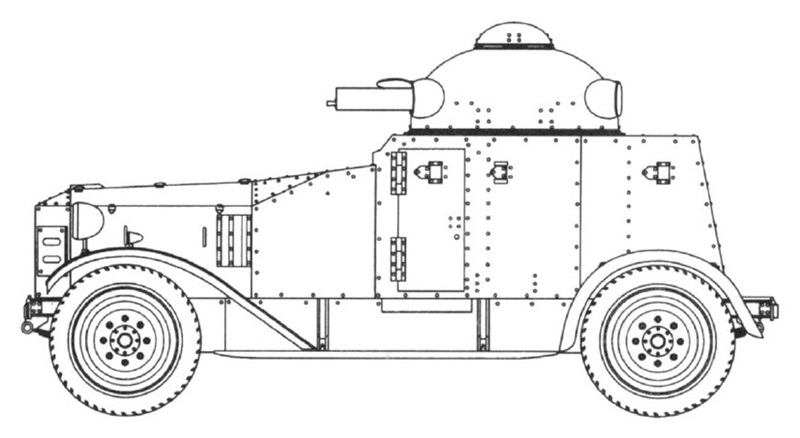 Blueprint of the Type 87
The Type 87 in action
From the late 1920s and possibly until WW2, these Type 87s served in China. It seems they had been employed only for urban or solid road patrols, without possibilities of quick reverse drive and without any useful off-road capabilities. They were also limited by their solid tires. They were employed and photographed in Shanghai and Tientsin to maintain order. Their fate is unknown.
Links/sources
The IGA
on crossley-motors.org.uk
About Crossley Motors
Indian Pattern ACs on Track Links
Tank Power 9 - Japanese Armor vol. 1
Type 87 specifications

Dimensions
5.03 x 2.5 x 2.8 m (16ft6 x 8ft2 x 9ft2)
Wheelbase
3429 mm (11 feet 3 inches)
Total weight, battle ready
2 tonnes (4600 lbs)
Crew
4-5 (driver, commander, 2 gunners, loader)
Propulsion
4 cylinder gasoline, 65 hp
Suspension
2x2 leaf springs
Speed (road)
65 km/h (45 mph)
Armament
2x 7.7 mm (0.303 in) MGs
Armor
Unknown, presumably 8-11 mm (0.3-0.4 in)
Total delivered
12?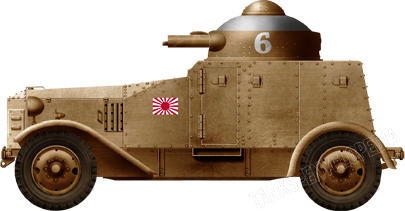 A Type 87 of the Imperial Japanese Navy Land Forces in China.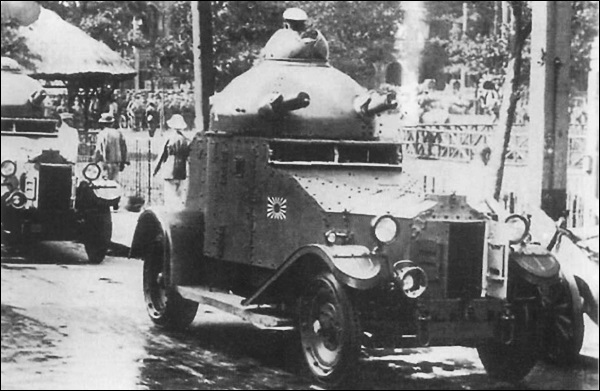 A Type 87 in China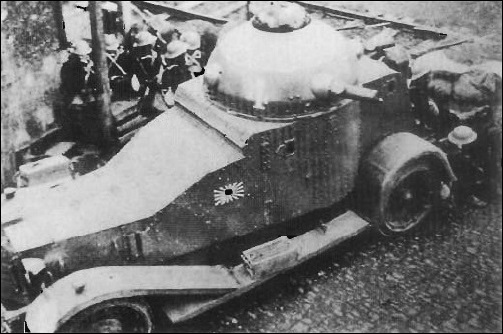 A Type 87 patrolling in the streets of Shanghai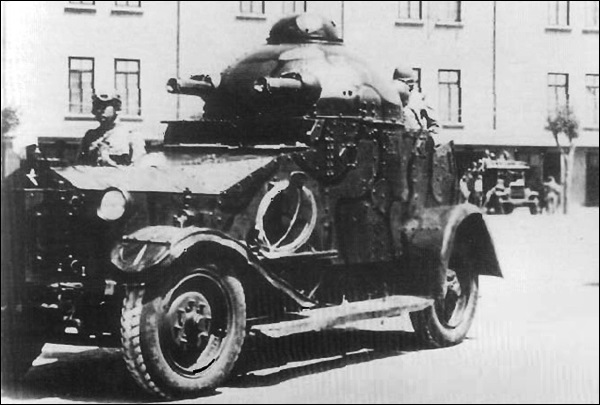 A camouflaged Type 87 in Tientsin, date unknown. Notice this is the "Japanese pattern", with color patches separated by black stripes.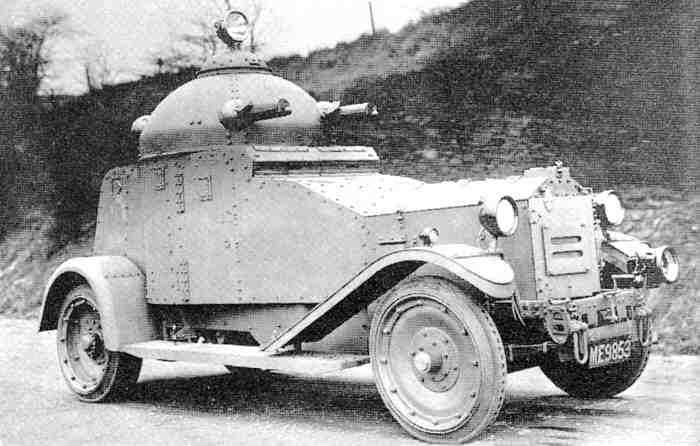 A British Indian pattern IGA-1 armoured car for comparison
A camouflaged model of the Type 87.
Photos: Credits https://worldmilitary.net/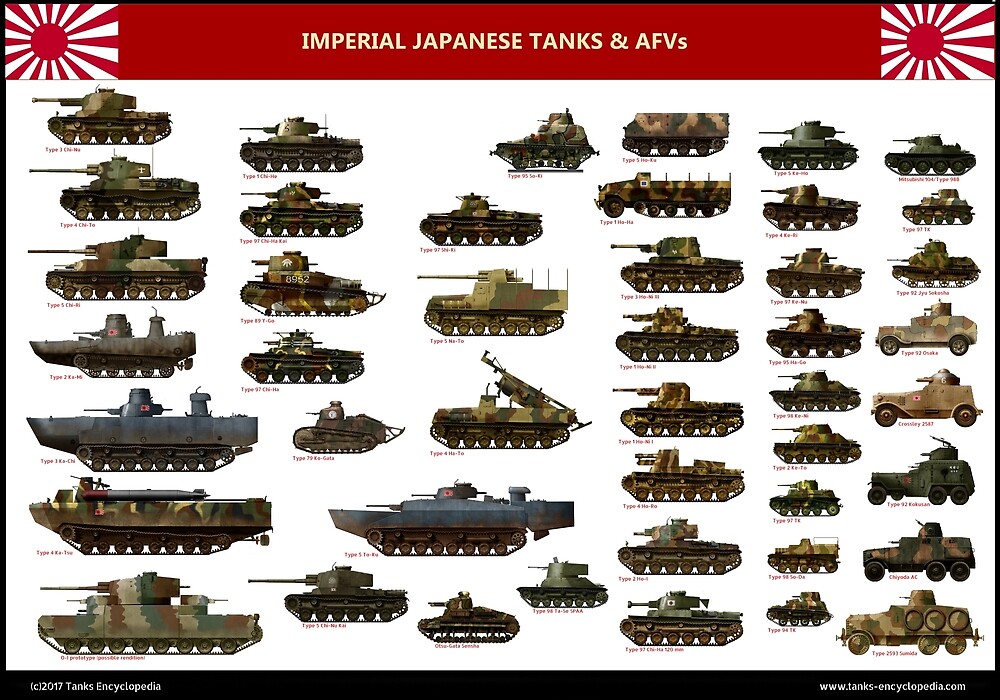 Get the Poster of the ww2 Imperial Japanese Army Tanks and support us !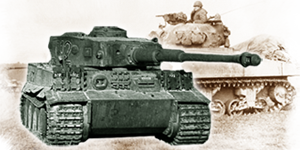 WW2 Tanks
---
WW2 tanks posters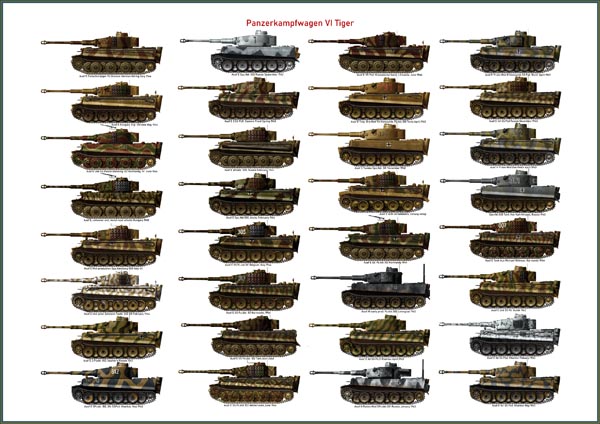 All Tiger tanks liveries.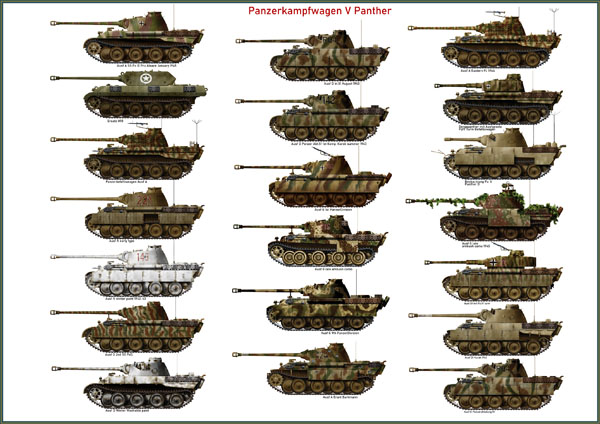 Panther liveries and variants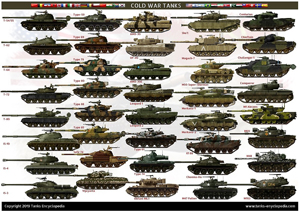 WW2 Armour - All tanks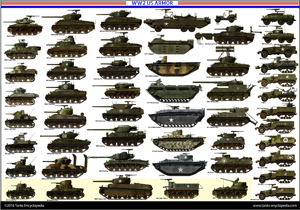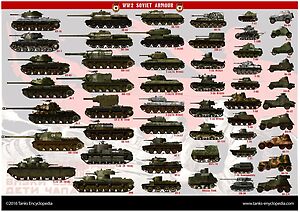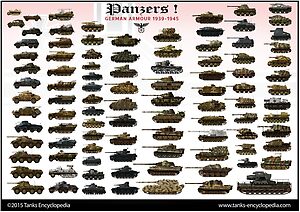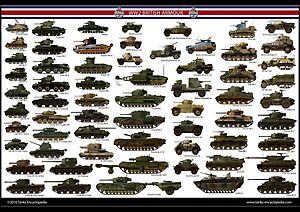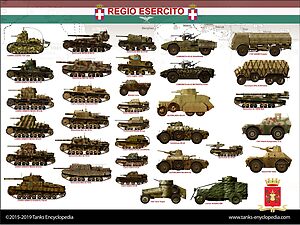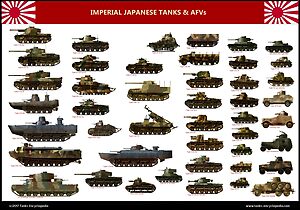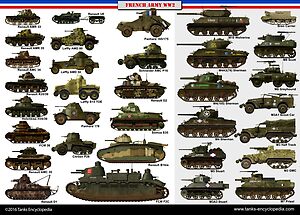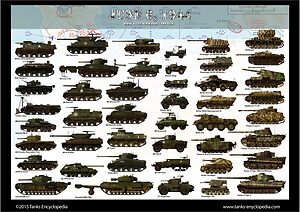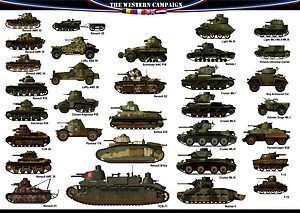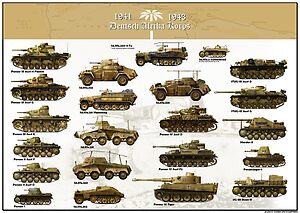 Tanks aces and single tanks series