Quick Intro
The Arisgator is a tracked amphibious vehicle designed by A.R.I.S. Co. for the Italian amphibious forces, derived from the M113. It used hull caissons for buoyancy and propellers. As a kit it costs 1/5 of the AAV7. Named VAL (amphibious vehicle/light assault) it is in service with the 1st "San Marco" Regiment four unit. It has been proven in rough sea and has similar performances as the VTC-M113 on land. It has been also used for for units operating the more complex AAV7. Production of the kit has been ongoing until 2020, equipping 20 units of Indonesian Marine as well.
An amphibious M113
Although the M113 was in service in large quantities in Italy since decades, locally derived into the VCC-1 Camilino, the Navy searched for a dedicated amphibious APC in the late 1980s. The most obvious option would have been to purchase the already proven LVTP-7, which was not done due to cost issues. Instead, a local company, ARIS SpA (Applicazioni Rielaborazioni Impianti Speciali) had the sense of what the requirement would be, and developed as a private venture a simple kit to be applied on the M113. The cost savings were considerable and allowed to save also on commonality in maintenance, operation and training. When the kit was tested, it was done on the BAE Systems, Ground Systems Division M113 armoured personnel carrier (APC). The company naturally integrate dits name to the vehicle, forming the "Arisgator". The first prototype was completed and passed its tests in 1997. Early in 1999, the Italian MoD announced an initial production contract for official army tests. This process went on until mid-2006: The specialized press announced production has been enough to entirely equip the San Marco Battalion of the Italian Navy Landing Forces.
Design
The M113 series APC is already fully amphibious, made of hardened aliminium, propelled by its tracks at 5.8 km/h, but it was never designed for fast flowing rivers, and neither at sea, launched by an LHD off shore. ARIS Spa. special oceanic kit has been developed by ARIS, enabling it to operate in a ship-to-shore operation, and in riverine warfare. The arisgator is weighting between 1,350 light and 1,700 kg fully loaded with its bow and stern caissons made of light alloy similar to the M113 hull. The overall hull Length, with bow and aft section is 715,3 cm, for a width of 295,7 cm and an overall height of 241,4 cm. Ground clearance is 43,00 cm. Its shaped front bow improves buoyancy but the stern is separated into two units one either side of the rear ramp which needed to be kept free. These stern units incorporates an independent hydrostatically operated propeller. This allowed the vehicle exceptional agility in water, notably the ability to turn upon its axis in water. Other equipments comprised a snorkel for the engine, installed on the roof (which has its own kit) so to intake air and exhaust as well.
The exhaust pipe has an extension fitted on the right side of the hull roof with a cover over the air inlet/outlets to avoid water seeping in. It is located to the right of the driver's position. The commander is taking place in a roof-mounted cupola, whle the troop compartment aft is topped by an oblong hatch with special rubber isolation and locking to prevent water to enter. The power-operated ramp in the hull rear also received a special waterproof lining and the overall sealing has also been improved for upper part in general. The AAPC capacity is eight fully equipped troops adn their equipments. The cupola is modular in order to receive various external weapon stations. Armament is reduced to a single LMG on the commander's cupola ring.
For mobility, the vehicle, based on the M113A2+ is given the 275 HP turbocharged Detroit Diesel 6V53T coupled with an X200-4/4A hydrostatic steer transmission, shared by the A3 and RISE 1980s upgrade. Specs are as follows:
Cooling fluid: 45 liter
Oil: Engine: 17 liter as Transmission, Differential: 19 liter, Transfer gear case: 2,4 liter, Final drive: 0,24 liter/ea, Cooling fan: 0,24 liter, Hydraulic oil: ramp system 1,9 liter.
Fuel: 370 liter
Performances as as follows:
Top speed, flat: 55 km/h governed, max 60 kph
Range (at 50 km/h): 410 km
Range in water (4,5 kt cruiser speed, 7 kph): 20h, around 50 km
Front angle grade ability: 60%
Side angle grade ability: 30%
Power to GVW ratio (on ground): 18,9 hp/t
Power to GVW ratio (on water): 20,7 hp/t
Max. ground pressure 53,84 kPa.
Options, Variants
-Turreted 0.50 (12.7 mm) Browning M2HB machine gun alternative or 40 mm M48 automatic grenade launcher. The turret could receive various target acquisition systems and a day/night sight plus a laser range-finder, a stabilisation system, and AA targeting device. -Additional armour protection (same "W" type modular kit applied on the VCC-2) -New diesel powerpack: 300 hp diesel (EURO III requirements) and new automatic transmission.
Variants
:
M548 upgrade: ARIS developed an amphibious upgrade kit for the M548 full-tracked unarmoured cargo carrier, sharing its components with the M113 family. by the mid-2007 it stays a prototype, no order has been given.
Service and export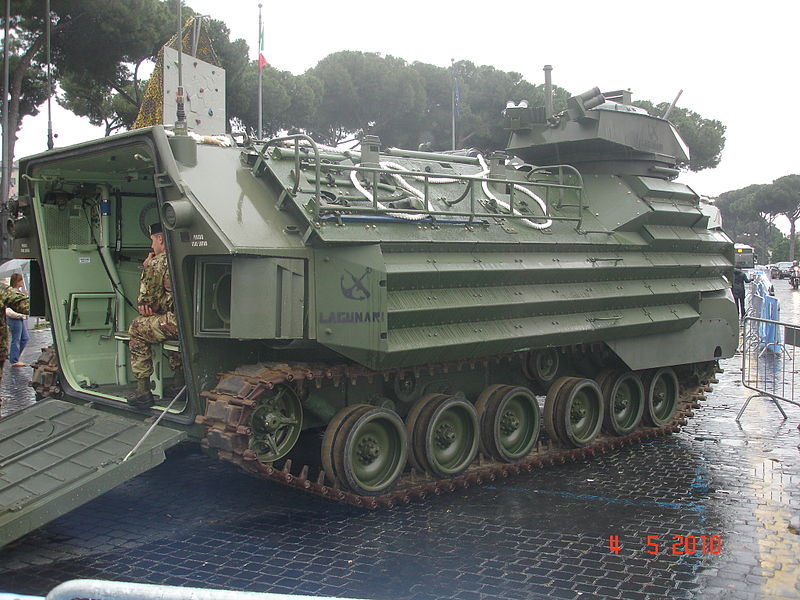 The equipment list of the Italian Army in wikipedia does not mention the VAL M113 Arisgator but the 15 AAVP-7 + 1 AAVC-7 + 1 AAVR-7 in service, to be replaced with 82 amphibious combat vehicles with the Lagunari Regiment "Serenissima". Indeed, the San marco regiment is a marine regiment, and als operates the Iveco VTLM Lince 4X4, the VCC-1 and VCC-2 APCs, the LVTP-7 (AAV7, AAV7-A1), Iveco VM 90, Astra SM 44.31 4X4, HD6 66.45 6X6, and Astra SMH 66.45 6X6 and T-ZAT 6X6 with trailer. The 1st San Marco regiment Naval Landing Force comprises a Regiment HQ, the Assault Battalion Grado, the Marine Battalion Venezia, the Logistic Support Battalion Golametto, and the Carlotto Regiment, comprising the Logistic Support Battalion Cortellazzo and the Battalion Schools Caorle. It is supported also by a Naval Operations Company, a Special Operations Company (Andrea Bafile) and Landing Vessels Group. The vehicle is also capable of island patrol but could contribute to post-disaster relief operations, tsunami and floods. It was also proven in peacekeeping operations.
The only operator outisde Italy for now has been Indonesia. The Indonesian Marines indeed operates 20 vehicles. The Arisgator is now distributed by
FTS Belgium
ARIS is still in activity in 2020.
Links/Src
On Wikipedia (Italian)
On Army-guide.com
On aris-spa.it (archive)
On silendo.org
Italian cold war AFVs
Aris site
About the Indonsian order
Vio about the Indonsian arisgator
---
Arisgator specifications

Dimensions
7,2 x 2,9 x 2,4 m ( x x ft)
Total weight, battle ready
13 tons
Crew
2+7 (driver, Cdr, 7 infantry incl. gunner)
Propulsion
Detroit 6V53T, 6-cyl. diesel 275 hp (205 kW)
Suspension
Torsion bars
Speed (road)
60 km/h road, 6 kph water (? mph)
Range
500 km (? mi)
Armament
7.62mm GMPG, see notes
Armor
25-32+6 mm - see notes
Total production
200 ?

Arisgator with the turreted 12.7 mm M2HB of the Italian marines and addon armor, notice the aft water exhaust system.