Dragoon 300 (1982)

Verne/Arrowpointe/AV Tech/GDLS/Santa Barbara Sistemas. About 400 Armoured Fighting Vehicle delivered.
A Commando for the 1980s
The 1960s
Cadillac Gage Commando M706
(and the V series) made a splash in the armoured vehicles industry for decades. It shown the possibilities of a simple rugged 4x4 multi-mission platform even before Mowag started its own vehicles. The CGC earned fame during the Vietnam war, taking on many roles in particular in urban theaters, where tanks were superfluitous. It showed the way for an alternative wheeled vehicle that would be followed by the entire world for not frontline roles, a growing and more relevant topic with the asymetric warfare of the 1970-90s.
Expêrience in Vietnam showed the interest of the CGC Commando, but it was found a but too heavy to be air-transportable and the United States Army's Military Police Corps expressed a need for an aletrnative that can be loaded onto a Lockheed C-130 Hercules aircraft and possibly palette-dropped, or just landed to provide base protection, or performing convoy escort, and eventually this ended as as an official requirement in 1976, retired later due to budgetary cuts.
For the short time it was "in the air", many companies showed interest in it, among which was the Verne Corporation. They decided to build two prototypes, the "Verne Dragoon" and to partner with Arrowpointe which had a better network, and then to go out ans seek third party customers. The initial prototype made its public debut in 1978 showing many similarities with the Cadillac Gage V-100 and and V-150, but it shared many parts with the
M-113A2 APC
as well as the
M809 series 5-ton 6x6 truck
as cost-saving measures.
Verne developmed the vehicle technically with its design team, but Arrowpointe was responsible for distributing and marketing it internaitonally. The two later merged as
AV Technology Corporation
and went on selling the vehicle on the international market until they were taken over by General Dynamics Land Systems. It was credited in some part with the CGC M706 it replaced, in the development of the M1117 Armored Security Vehicle entering service in 1999.
Production of the Dragoon 300 went on until 2002, still made and distributed by Spanish firm GDLS until dropping off the catalog in 2008. It is allegedly stated that 400 were manufactured, but it's hard to confirm. Anyway, the vehicle found, through about 20 variants, some custom-tailored, their market with seven export customers. They also inspired several models like the Guatelamian Armadillo and Mexican Caballo, or the Philippino Hari Digma.
About Verne and Arrowpointe
Verne was registered in September 1972, with officer JAMES C. LEBLANC as agent, and in 2017 - 2019-03-17 Change of status from 'Merger' to 'Existence Ceased'. There is not even a website associated. This was a small company and this vehicle was really it's main production and focus. To market it well based on price, Arrowpointe annouced the Dragoon's share of common parts teached 70 percent on their promo materials. But the rapprochement with Arrowpointe was only the result of the Military Police Corps specification being withdrawn. Arrowpointe Corp on its side,
The two 1978 Verne prototypes were not scrapped but asked still by the U.S. Army for more field testing. They were assigned to the 9th Infantry Division, performing the "High Technology Test Bed program". Arrowpointe's salesmen used all the influence they could leverage to eventually convince the U.S. Army and U.S. Navy to try them further, leading to a small pre-production serie, but only the latter accepted and took delivery of those in 1983. The U.S. Navy tested them as intended to patrol their naval bases and in particular their Alaska nuclear facility.
Next both were absorbed into AV Technology.
Ab exchange between Andrew Tweddle of AV Technology Corporation and Walter K. Myers, Attorney-Advisor, Office of the Chief Counsel, NHTSA dated Nov. 8 1993, is interesting to see how the new company managed to brand the vehicle now based on a 1970s requirement:
"AV Technology is in the process of responding to a Department of the Army draft specification for an armored security vehicle. AV Technology will be proposing its combat vehicle, the Dragoon ASV. Our fully armored vehicle will be equipped with the AV Technology manufactured UGWS weapons station, which carries a 40mm grenade launching machine gun, a .50 caliber machine gun, as well as a matched bank of smoke grenade launchers. The Dragoon is capable of being fitted with weapons as heavy as a 105mm anti-tank gun. The dragoon has the capability to defeat Main Battle Tanks, with more agility, and speed than many MBTs in service today. Based on the capabilities of the Dragoon ASV combat vehicle we would like to request that the National Highway Traffic Safety Administration consider it for exclusion from federal motor vehicle safety standard and requirements.
The Dragoon is constructed of high hardness armor, and includes a permanently mounted weapons station. In addition to its armor and weapons capabilities, the Dragoon features a powerpack system, a configuration usually found only on main battle tanks. Because of these features, as well as the army's own definition of this vehicle as a combat vehicle rather than a tactical vehicle, (ref: Tacom Specification, Sept. 20, 1993 Pg. 12, 21), we feel there are sufficient grounds for exemption.
In a letter addressed to Verne Corporation, a division of AV Technology, dated August 7, 1989 your office stated, "If the vehicle is a motor vehicle that has been manufactured for and sold directly to the armed forces in conformity with contractual specifications, it is not required to conform to the Federal motor vehicle safety standards." In reference to past vehicles sold to the U.S. Armed Forces, the letter states, "This means that the ASVs sold to the armed forces have not been required to conform to the federal standards." Because of the limited number of the Dragoon ASVs to be manufactured for this contract, its role as a combat vehicle, and past precedent set by Verne Corporation, AV Technology expects compliance with MIL-STD-1180, which mirrors the federal motor vehicle specifications in many respects, is adequate to meet the need for on road safety.
If you require any additional information or details on our combat vehicle please don't hesitate to contact us. Thank you for considering the Dragoon armored combat vehicle for exclusion from federal safety standards and regulations, we look forward to hearing from you soon.
ATTACHMENT Dragoon Armored Security Vehicles (ASV) brochure. (Text omitted.)
src
"
Design of the Dragoon 300
Externally, the Dragoon 300 furiously looks like a Cadillac Gage Commando (CGC M706), and draws from the same basic hull shape and size, proportions. However the design had significant differences: The nose is sloped more (the angle was more pronounced), the right driver's compartment with its three windows facing various angles is different as the hatch, the side door is larger, the back plate is well inclined and completely different, the roof is also different in the way hatches are managed, and more importantly, the hull is longer, stretched between the axle.
Otherwise there are obvious similarities, such as the driver located at the left front with a right co-driver, center crew compartment, but rear-right engine on the right (instead of the left rear corner) but still with a passage from the crew compartment to the back door.
The driver was given four vision blocks forward enabling a 180° FOV, the commander two vision blocks (front and right). The weather cover kit with windshield, wiper for the driver and co-driver are optional. For manoeuvers it has two outside rear-view mirrors. In total the Dragoon is equipped with 12 ballistic vision blocks covering all sides, including those which can be used by seated personnel.
The Dragoon 300 borrows parts from the M113A2 such as the Starter, periscopes, drain pumps, control knobs, electrical circuits and network, cabling, hydraulic components. From the M809 truck it borrows its engine, clutch, gearbox and all assimilated gear, including part of the dashboard and instrumentation. The vehicle weights 12,700 kgs (28,000 lb), for 5.89 metres (19.3 ft) in overall lenght, 2.49 metres (8 ft 2 in) wide and 2.819 metres (9 ft 3.0 in) high at the turret roof.
Protection
Protection: The hull is made of welded XAR-30 steel armor which is enough to protect from small arms fire (5.56 or 7.62mm) and shrapnel, STANAG 4569 Level 1. The angular hull keeps the same basic shape but nose plate angle is a greater, as the back plate, not especially for better deflection but thinner armour, making the vehicle lighter. The ballistic protection is noted MIL-A-12560. The hull has a monocoque construction with welded seams, and coukd stop a 7.62 mm NATO ball (147 g M80 2,750 ft/s) at a 0.95% chance on all surfaces. Additional armour is available to extend it to the 7.62 mm NATO AP (147 g M80 2,800 ft/s) with the same results.
Normal access or exit are performed usually by using the two side doors (1.066 m x 0.889 m) which had a folding down lower part forming a step-up. The upper part swings clear to the side and firing ports with periscopes are managed along the sides, and back with small thick ballistic proof glass. The rear door is 0.609 m wide and 0.916 m high and is fitted with a helping lever to be closed, as it's angled down and thus heavier to manage.
The vehicle is not protected for an NBC environment. As for active protection, the basic APC does not carries smoke projectors, which is optional for the turret versions, two banks of four smoke dischargers on the turret nose. None received a laser warning system or any costly active detection system. There is no known add-on armor package or ERA, but the police vehicle received mesh over all windows. For fire, it has an extra protection, being coated with a two-part epoxy primer, and optional top CARC coating. The interior has an anti-spall liner, a heavy-duty epoxy coating. In addition the engine compartment is fitted with a fixed Halon fire extinguisher system with direct discharge, plus two (hand-held) in the crew compartment.
Powerplant, mobility and performances
Powerplant: The Detroit Diesel 6V-53T 6-cylinder turbocharged Diesel engine is rated for 300 bhp. It is coupled with an Allison Transmission MT-653 heavy-duty automatic transmission: Five forward gears, one reverse, single speed transfer case easy to quick-disconnect. It also has a torque converter locking up in the fourth and fifth gears for fuel economy. Part of the engine hood protrudes in a box on the left side. The powerpack is modular enought to be retired or replaced in less than 30 minutes in the field.
Mobility: The Dragoon can reach 885 kilometres (550 mi) in range on flat and cruise speed, but top at 116 kilometres per hour (72 mph), a net improvement over the CGC M706 (). This was degraded over uneven terrain of course, and consumption rose with it. In total, there are two 170 litre armoured fuel tanks. An emergency fuel pump prime system is also fitted in case of a failure. There is an hydraulic system with a three-section hydraulic pump to manage the front winch as well as power steering, the cooling fan or brakes, or the power seat, and powered the 10 kW generator for onboard system use with cold engine.
The two axles are off-the-shelf Rockwell military types or the 6×6 M939 types, single military grade type each, with an optional Central Tire Inflation System activated by driver selection and adjustment of the tyre pressure. This is completed by power brakes plus disc-type parking brake. The tyres can be equipped with an optional run-flat device.
The Dragoon 300 is amphibious and propelled in water by its wheels (also for direction) at 4.8 km/h; There are three bilge or drain pumps inside the compartments as the doors are not perfectly sealed. As stated at the start, it was designed to be air-transportable by a Hercules C-130, which was validated, and a clear advantage of the design on export. The vehicle also had a powered self-recovery winch in a recess of the bow, with a 53.34 m steel cable.
Other equipments
Radio/Intercom are provided by default, and there is a location for an AN/VRC-12 type radio as standard, which can be changes. For extra conformt aboard, the vehicle comes with a 50,000 BTU heating system and, 30,000 BTU air conditioning system. Seven adjustable direct-flow air ducts helps distribution in crew compartment with an additional froward heater. Power comes when the engine is cold to operate all systems by a 24 V water-resistant electrical system with master power switch and fed by two 100 Ah heavy-duty batterie plus a 200 A radio-suppressed alternator. The driver is procured with blackout headlights (high and low beam switch on the dashboard) but also stop and tail lamps. The dashboard is pretty complete with instrument lights, and interior lights in teh driver and troop compartment, plus standard equipment for road, a horn and turn signals all protected. Some police/patrol vehicles have in option a one million candlepower spotlight, mounted to the top hatch ring mount.
Armament
Armament: This of course changed with the variant, but the basic Dragoon is used as armoured personnel carrier, with a small turret based on the M-113A2 housing a 12.7 mm Browning (0.5 in) M2HB, or a standard 7.62 mm on a flexible pivot mount (same pintle as the M113A2). The second main option was to replace it was a small two-man turret housing a 25 or 90 mm Cockerill gun, plus a coaxial 7.62 mm, or/and another on a AA mount above. Of course the main purpose of the vehicle is to carry a platoon or assimilated unit, limited to nine: The driver, co-driver, MG-Gunner, and six seated soldiers in the troop compartment with their individual weapons. There is enough space inside to store a single AT rocket launcher or a MANPAD or a light mortar.
The Heavy Fire Support Vehicle was the one equipped with a Cockerill turret and 90mm gun, it could be deadly with an APFSDS round, estimated able to pierce through a T-54/55 or T-62 armor. The turret was designed by Verne (AV Technologies later) for this vehicle, using the same basic design and high-hardness XAR-30 steel. The fire control system comprises a simple gunner M36E1 model sight. The optional thermal imager can be added. Due to the limited size of the turret, it comes with only 10 ready-round in it. However 50 more are store inside the vehicle.
The Light Fire Support Vehicle had a turret with two machine-guns or an optional coupled LMG and M48 automatic grenade launcher. The LMG generally fitted was either the Browning M1919A4, KPT, GMPG, or assimilated.
Variants of the Dragoon 300
Dragoon APC
Base hull with a pintle mount an hatch with added armoured panels. A police force with a ramming pole welded to the nose was also derived. The APC has two hatches in the front deck (commander and gunner) center hatch and mount behind for the gunner plus the large sliding hatch on the rear deck for the troops. Six firing ports are fitted, two on each side, one rear, and two side doors which differed by havng a single pistol port and single window on one side and two on the other. A very special variant was developed called the 300 Recoilless Rifle carrier, with multiple ones. No more data or photo exists to back this up. There was also a variant with a modified crew compartment as th Armored Mortar Carrier variant, witha M-82A1 81mm mortar installed. Here too, mention but no photo.
Dragoon ACV
The Dragoon ACV (Armored Command Vehicle) is basic APC in which the troop compartment is completely modified as a command post carrier with a folding worktable, three radios or more, storage for a camouflage net and a tent plus drawers and lockers for equipment. Radios ae powered by a 3 kW generator with the engine cold, but the vehicle retained its original pintle-mount LMG. Close, were two other variants, the Dragoon 300 LERO observation vehicle and the Dragoon 300 Trailblazer used as SIGINT vehicle.
Dragoon ALSV
The Dragoon ALSV (Armored Logistics Support Vehicle) is fitted with an open-topped load area holding a 1-ton handling crane, and fixation points for NATO pallets and containers military or civilian. It was deesigned as a cargo for bulk (ammunition and parts) and organic to a column with other Dragoons.
Dragoon ASV
The Dragoon ASV (Armored Security Vehicle), or "Patroller" was announced and unveiled in 1988 by AV Technology Corporation. The Patroller was called ASV-XC. They targeted police departments and law enforcement agencies. It was modified as being taller to allow standing, and had instead of a pintle and hatch a new rotating with surveillance equipment, larger windows protected by mesh netting, larger firing ports and vision blocks. Typical equipment comprised a low-light television, video recorder, computer, shotgun microphone, night IR sight. Typical also was to equip them with a pole-mounted ramming block at the nose or a dozer blade. They also have a siren, a megaphone, flashing lights. The Patroller used by police agencies could be fitted with a tailored ramming device.
LFV-40
The LFV-40 (Light Forces Vehicle) is the same APC but with a small one-man turret armed with a heavy machine gun (typical cal.05) and M48 grenade launcher.
The LFV-50 mixes heavy and light machine guns.
The LFV-90 had a larger turret with a 90mm Cockerill gun.
Other sub-variants includes the LFV-APC, LFV-MEWS for electronic warfare (with Teampack), and LFV-RMD for remote control of mine detectors.
Dragoon MGTS
The Dragoon MGTS (Multi-Gun Turret System) had a modified two-man turret housing the Bushmaster M242 Chain Gun or one of the following calibers* and a machine gun, as well as a commander's machine gun. These were the 20mm Turret, or 25mm KBA cannon, in overhead mount.
Dragoon 300-90
The Verne 300-90 or LFV-90 turret is 6-faceted, with a max Depression of -10 degrees, single side window, single hatch. The cockerill gun recoil is as long as the turret itself so both operators are seated in the pannier a bit below the main cradle. Rounds are thrown at the back in a basket. The turret has three periscopes facing the front, sides and rear, but the gunner's periscope equipped with a M36E1 sight could be traversed. The turret is electrically-operated from the battery dependent of the main powerplant.
The LFV-90 mm could fire the APFSDS, HEAT, and HESH, and ROF of 6-7 seconds:
APFSDS: 225mm - 250mm
HEAT: 225mm - 200mm
HESH 117mm - 100mm
Exports
The 1988 Patroller ASV-XC with extended cab also has been sold to the following:
-New York Port Authority
-New Jersey Port Authority
-John F Kennedy Airport police.
-Macomb County Sheriff Department
-Houston Police Department
-Detroit Police Department
-Sureté de Quebec
Turkey obtained the Dragoon Panzer TOMA. These were 1998 vehicles delivered by General Dynamics Land Systems with 140 Dragoon for the Turkish National Police. The sale was guaranteed by a USD38 million loan from the US Export-Import Bank. By late 2002 it was announced production ceased, but Spain retookthe Gauntlet with General Dynamics Santa Bárbara Sistemas (see below). The vehicle was acquired by Cameroon (unknown), Pakistan, with an agreement for license production by HIT, Thailand received 43 vehicles, Tunisia some (unknown), Turkey 230 total (which implies 90 army vehicles, the rest being police ones) and Venezuela 101, used notably during the 1992 coup. The United States is thought to be the second largest operator after Turkey, but it's difficult to assess what services are using it outside the USN for the surveillance of sensible nuclear sites.
The Dragoon 2
photo of the Dragoon 2 with add-on armour
. Basically it has improved tires, engines (more modern), suspensions and better heating and air conditioning and it comes with add-on armour package. It is air-transportable by the same C-130 but also the moder modern Airbus A400M. The vehicle is produced since 1994 by the Spanish Star Defense Logistics & Engineering (SDLE), sole manufacturer of the Dragoon 2 with the single, or two-man turret mounting the latest Cockerill 90mm gun. Internal storage however is reduced to 42 rounds, but with the same choice of APFSDS, HEAT and HESH rounds. Each turret has a coaxial LMG plus an optional one, either KMG or HMG such as the Browning cal.05 as AA mounted over the commander's hatch. The modular turret could aso be fitted with an extra remote weapon station for urban combat. The Dragoon 2 with the 90 mm but any APC in the platoon could also carry extra punch against tank by having one BGM TOW or Javelin aboard each.
The way it should operates includes an infantry platoon tasked for example of protecting a tactical side, like a logistics facility with four Dragoon ASVs each armed with the basic .50 cal. but reinforced by a fifth vehicle which is the 90mm gun variant for direct fire support. The vehicle are able to dismounted soldiers while supporting them with suppressive fire, and if the attackers takes refuge in a structure, being blasted out by the 90mm gun. A good complement would be a single 90 mm and two with 25 or 30mm cannons vehicles plus anti-armor missiles as a "flying unit" for point reinforcement.
---
Dragoon 300 specifications

Dimensions
6.16 x 3.24 x 3.11 m (20 ft 3 in x 10 ft 8 in x 10 ft 2 in)
Total weight, battle ready
32 short tons (29,000 kg)
Crew
5 (2 Loaders, Gunner, Commander, Driver)
Propulsion
Continental AOS-895-3 450 hp (340 kW)
Suspension
Torsion bars and hydraulic arms
Speed (road)
110 km/h (60 mph) road
Range
400 km ( miles)
Armament
See notes: Basic 0.5 cal. HMG
Armor
STANAG 1 (small arms fire, 5-6 mm STS)
Total production
circa 400 in 1982-2002
Illustrations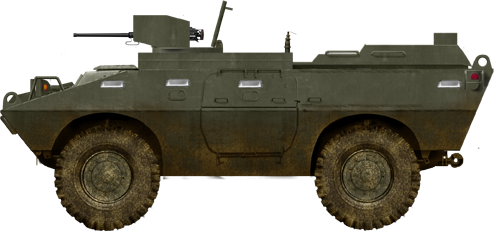 Basic APC variant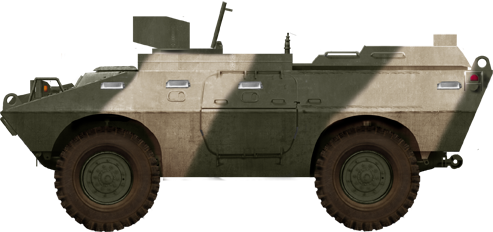 Vehicle in service with Venezuela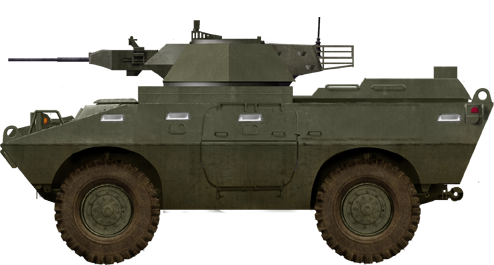 20 mm turret version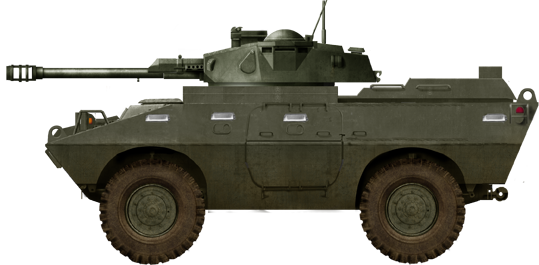 Dragoon 300-90 with an AML-90 turret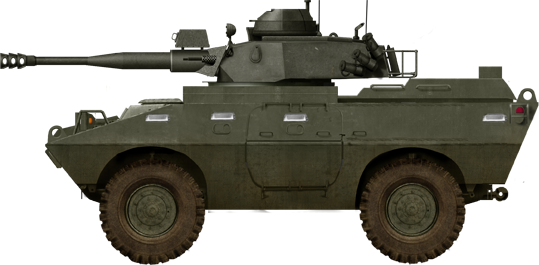 Dragoon 300-90 with the Cascavel turret
Photos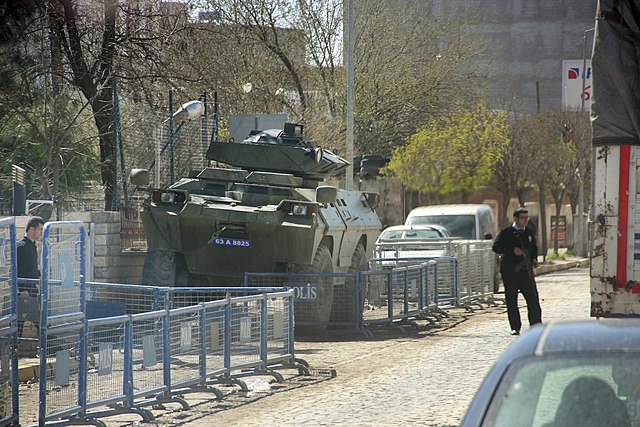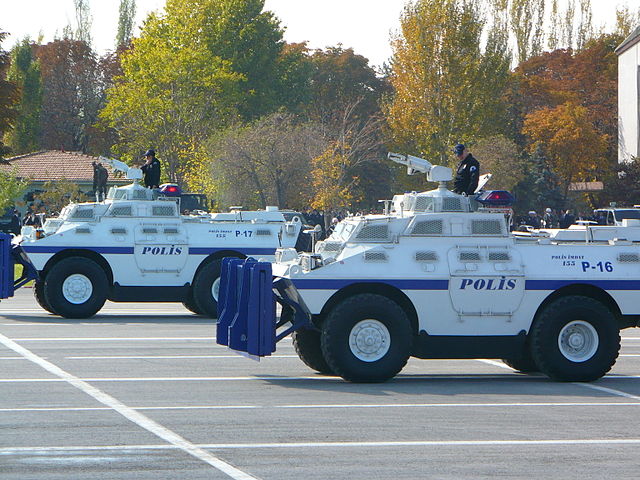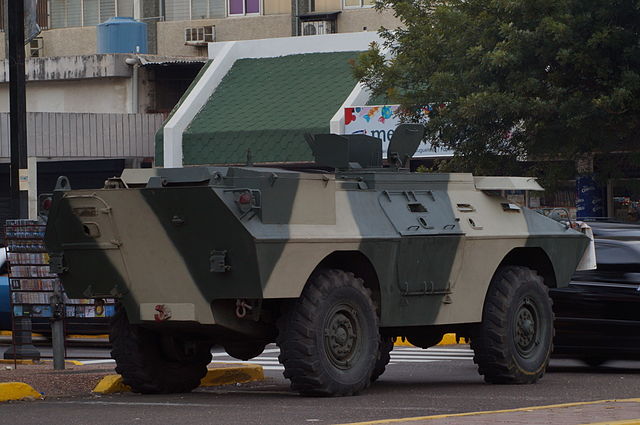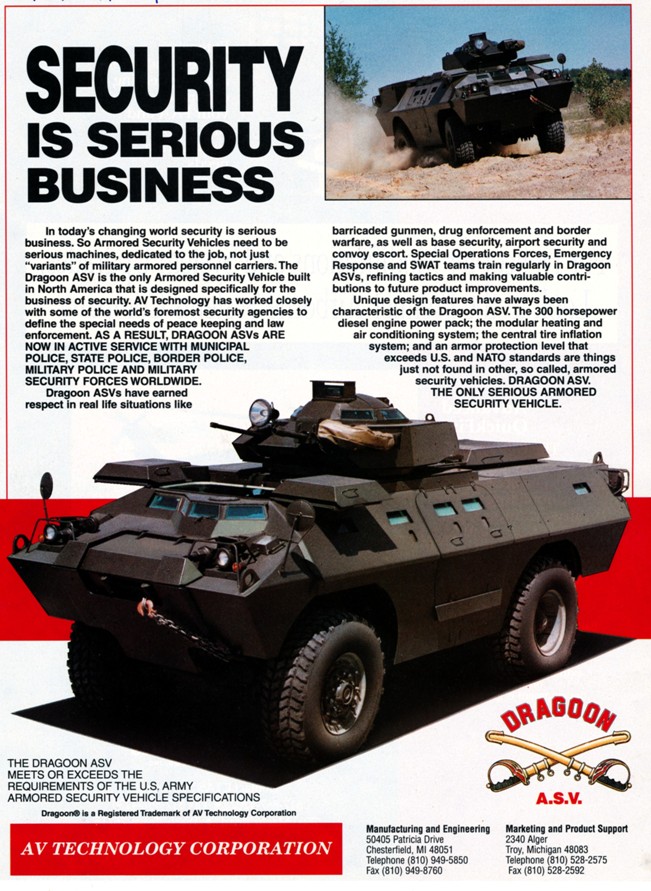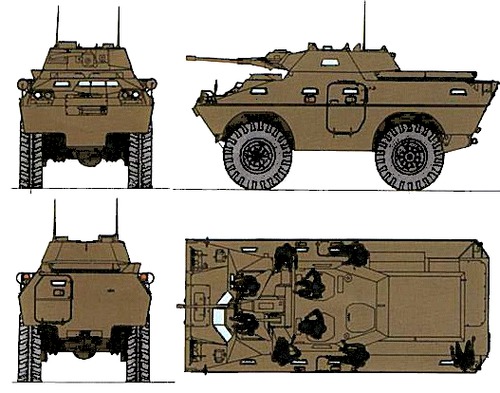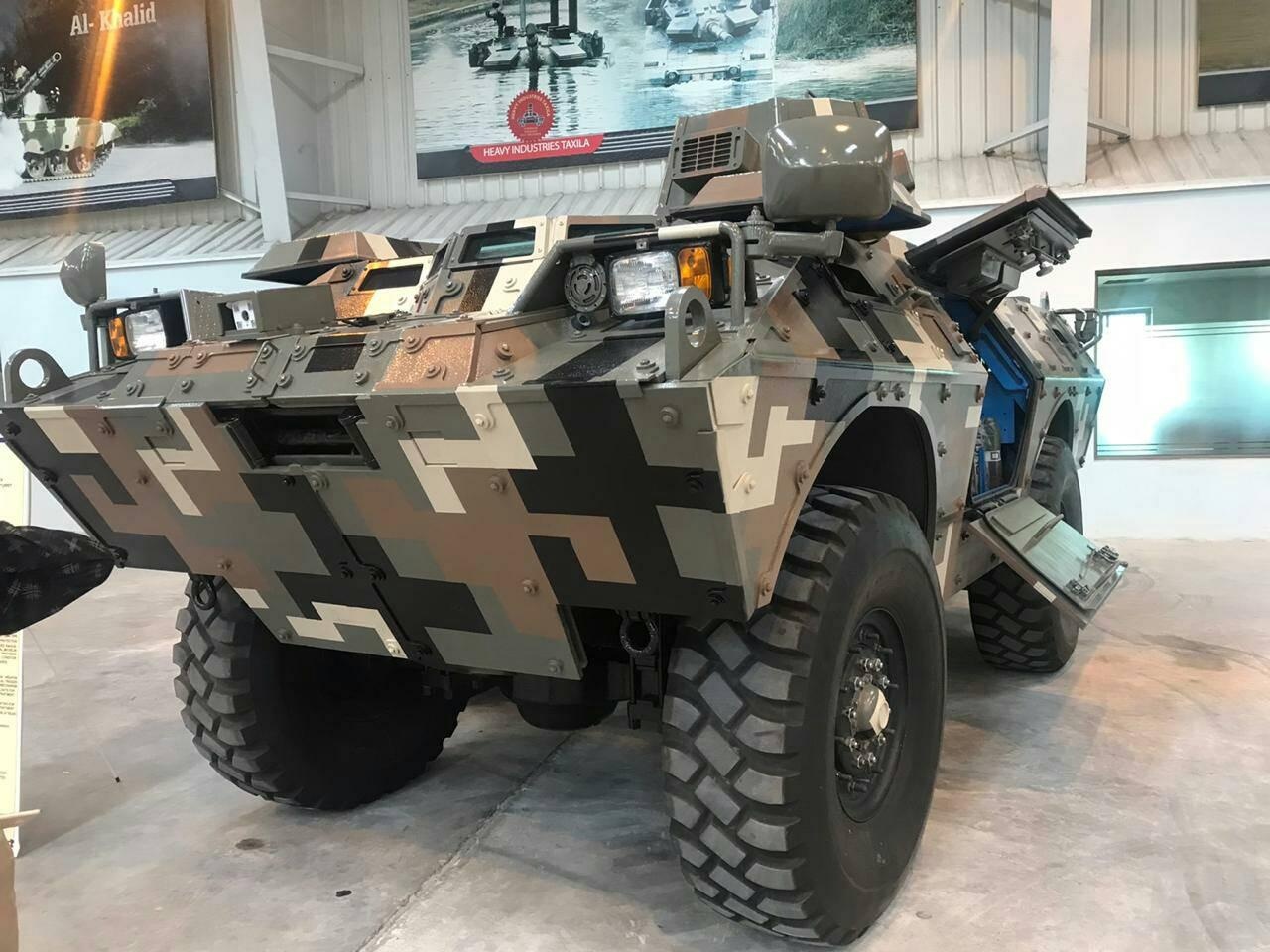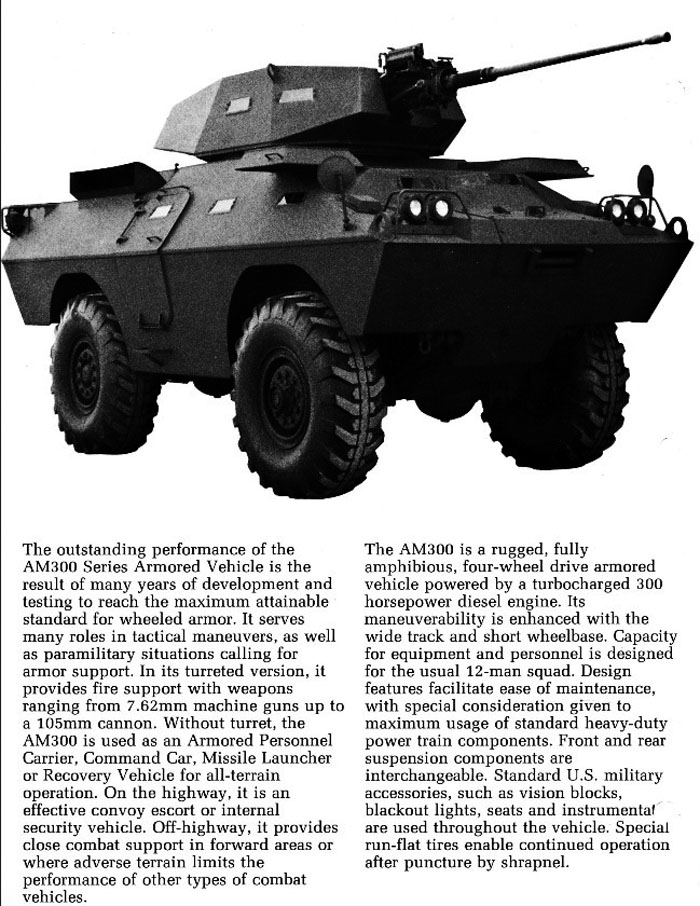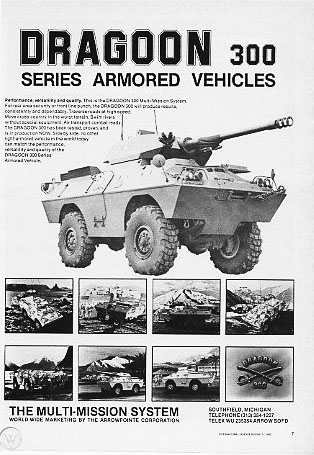 More
Links
Dedicated facebook page
wikipedia.org
army-guide.com
warwheels.net
militaryfactory.com
On armyrecognition.com
On armoured warfare
On portierramaryaire.com
CSyD 36 Dragoon 300, Hector Anibal Fuentes
A Solano County police sheriff vehicle
HIT Dragoon on pakdefense.com
Arrowppointe Corp. in the Federal Procurement)
Videos
Armored Warfare: The Dragoon bites back
El Dragoon 300 AFV el Vehículo Blindado de Estados Unidos
Model Kit:
M44 155mm Self-propelled Gun, Giesbers Models 1:76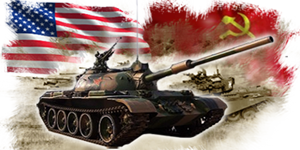 Cold War Tanks



































Cold war tanks posters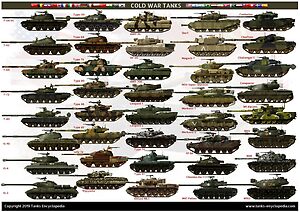 Cold War Main Battle Tanks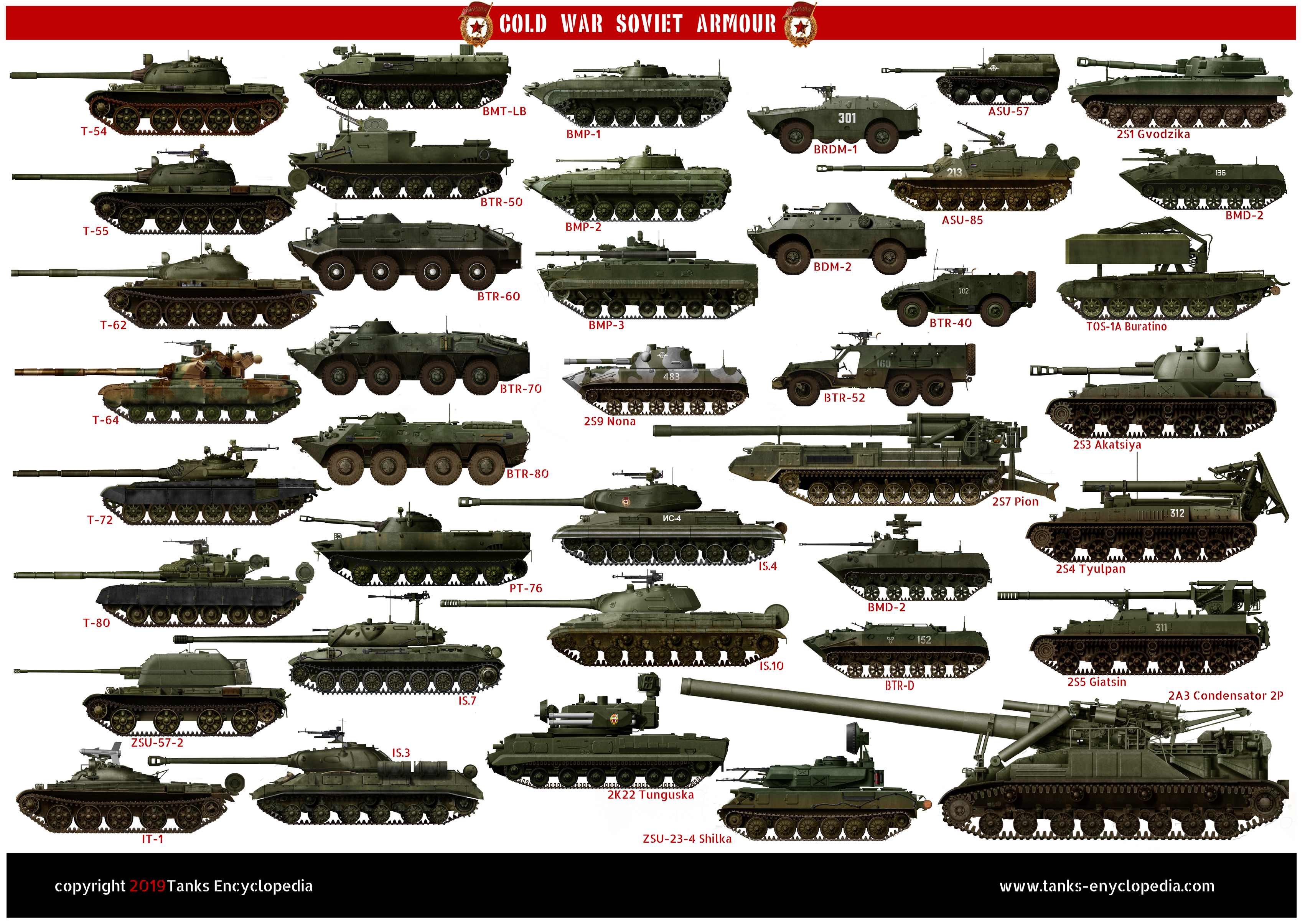 Cold War Soviet Army