Designed by staff captain Mgebrov
The history of these little known vehicles can be traced back to 1914, when the private funds of a certain Mr. Merkulyev were used to build three cars based on several chassis - "White", "Benz" and "Pierce Arrow". They were intended for an armored car intelligence team. They were covered with a minimal improvised type of armor, and formed into the second armored unit (company Dobrzhansky), later transferred to the 8th Army. The committee formed for their reception judged the armor unsatisfactory, and sent them to the Izhora Works in St Petersburg, headed by staff officer V. Mgebrov. He devised completely new armored bodies, offering full protection. They received revolving turrets with the same machine-guns, with the exception of the White, which was equipped with a Hotchkiss 37 mm (1.46 in) QF naval gun.
The Mgebrov-Renault
Certainly the best known of the armored cars created by Mgebrov. It has one of the most interesting profiles, with a heavily sloped front. Indeed, the particular shape of the armored body was a carefully studied, bullet-proof shape, which exploited to the full the Renault's 18 hp engine radiator position and shape. Contrary to other models, this vehicle was produced in a small series.
Read more
The Mgebrov-White
Only one "Izhorski White" was built by the staff-captain of the Military Automobile School (in Petrograd), Vladimir Mgebrov. The chassis was that of the American 1,5 ton truck "White TBC" ("Standart B truck"). Only three photos of it are known - one in Izhorski-Work in Kolpino and two in service.
Active service
These armored cars were attached to the 29th Machine-Gun Platoon by September 17, 1915 - the Automotive Intelligence team. On 21 November they joined the Caucasian army HQ in Tiflis. In the summer of 1916 some returned to Petrograd for repairs and were sent back in operations, but their fate after 1917 is unknown.
The Mgebrov-Benz
Completed a few days prior to Mgebrov\'s death, this vehicle had an armored body tailored to a Benz truck chassis. A
blueprint
based on the book 1914-1938 Armored Fighting Vehicles by George Bradford shows a model so closely resembling the Renault it\'s dubious at best. According to "Early Armoured Cars" by E. Bartholomew, it was built in a small series. It had a crew of 3, weighed 4-tons, and was armed with 2 x 7.62 mm (0.3 in) liquid-cooled machine guns firing through half-turrets. There are no photos to back all this up.
The Mgebrov-Isotta-Fraschini
A single Isotta-Fraschini chassis received 7 mm (0.27 in) thick armor plates and one gun. The chassis was purchased early in 1915 by a secret trade mission. It had a powerful four-cylinder 120 hp gasoline engine and could apparently reach 65 km/h (40 mph) with its overall weight of 6 tons and a crew of 5. It was completed at Mgebrov Izhorski works with two 7.62 (0.3 in) Maxim 1910 machine-guns in half-turrets, each covering a 45° angle. Due to the height of the radiator, the hull largely looked bulkier than other Mgebrov creations. It was 5620 mm long, 2800 mm wide, 2820 mm high. It was tested successfully in the autumn of 1916 in the shooting polygon of the Officer School, then sent into service and named "skull". During the revolution it was affected to the state 5 Red section OA in Saratov, March 2, 1919.
The Mgebrov-Piece-Arrow
The original vehicle was produced in September 1915 by Pierce-Arrow Motor Car Co. in Buffalo, New York, and the purchase was funded by private donation. It had a crew of 5, the chassis was a 4x2 configuration, and after conversion at the Mgebrov factory it was covered with sloped plates 4 to 7 mm (0.16-0.27 in) thick, riveted. Its engine was a Pierce-Arrow, gasoline 13,514 CC, 49 kW/67 or 101 hp. The armament was two 7.62 mm (0.3 in) Maxim M1910 machine-guns in half-turrets in a similar configuration to the Mgebrov-Benz and White. As usual, there was a small conning tower behind, meant to direct fire with more precision. The chassis had a 2x4 configuration. Its fate is unknown.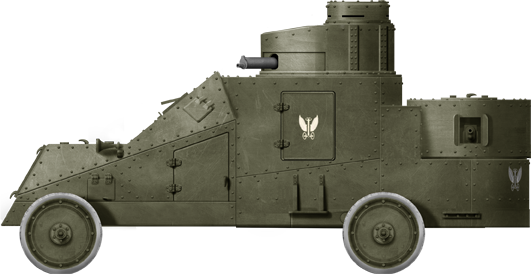 Mgebrov-White in Russian service, 1915.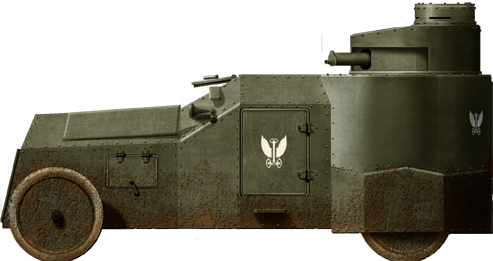 The sole Mgebrov-Isotta-Fraschini in Russian service, 1915.
Gallery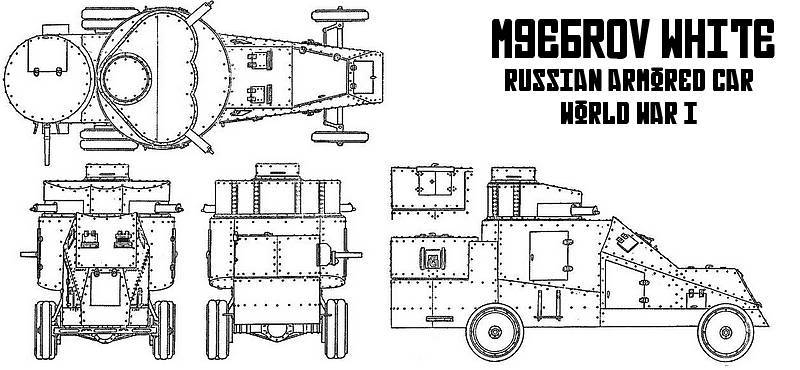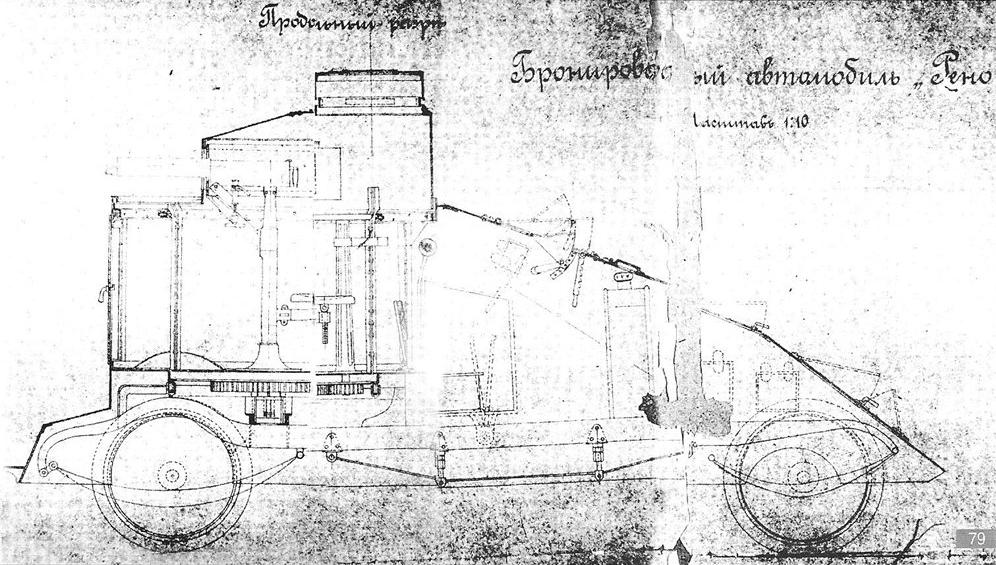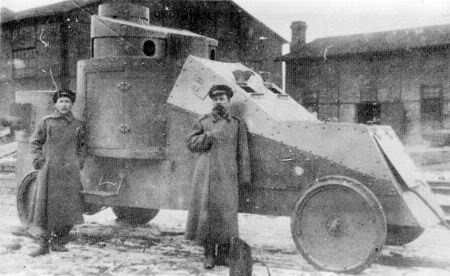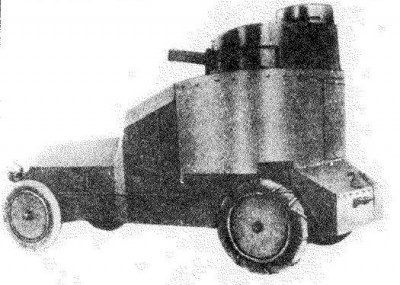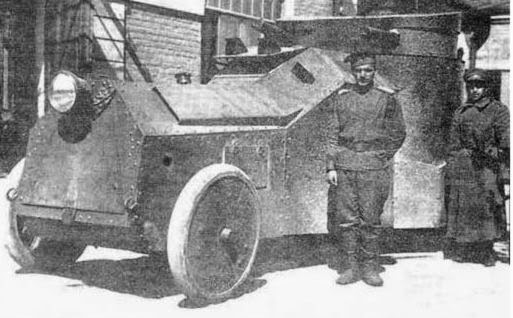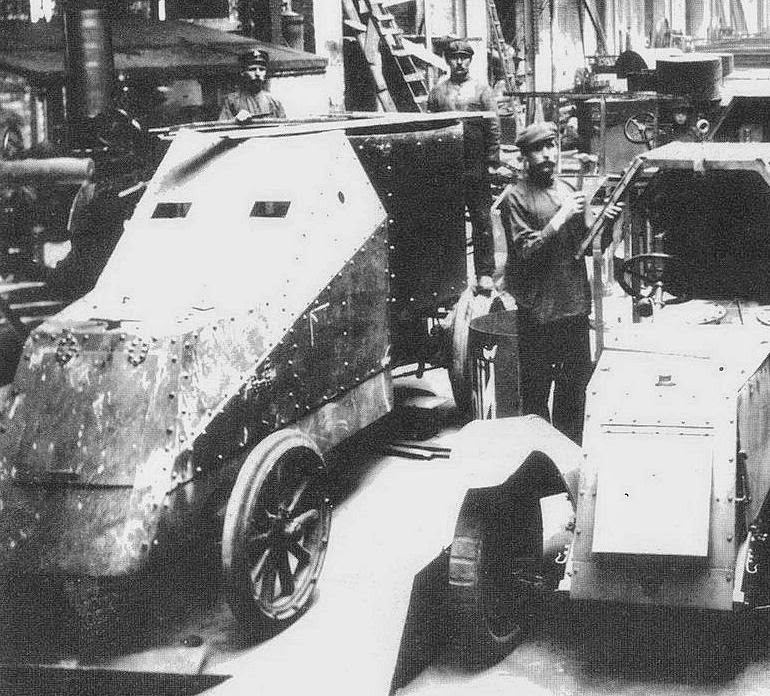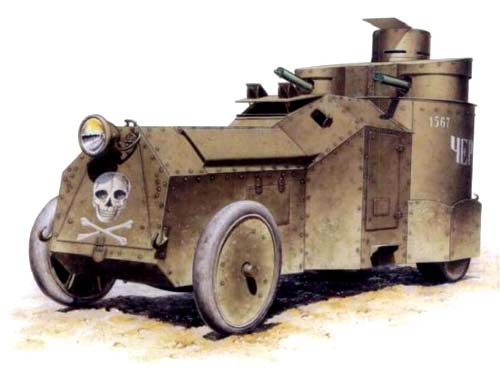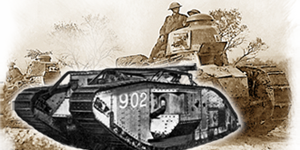 The Great War

Austria-Hungary

Belgium

British Empire

France

German Empire

Italy

Russia

USA
---
WW1 tanks posters