The first Chinese APC
Being not only the first APC designed in China but also the first Chinese vehicle entirely designed without Soviet influence, the Type 63 soon attracted great interest from the experts in military matters worldwide. At first, the relatively small APC looked similar in general appearance to most tracked APCs of the time. It was mass-produced until the late 1980s, was also called K-63, M1967, M1970 and knew 17 major variants. Still in service today and widely exported, it saw at least four major conflicts.
Design of the Type 63
In July 1958 the central government of China announced a national scientific development and strategic plan for a tracked armored personnel carrier with a goal for mass production set in 1960. The Yong Ding Machinery Factory (later part of NORINCO group) was designated to manufacture the APC. Design work started at the No.1 specialized Institute of the First Machinery works (which had some experience on tanks design before). The Fourth faculty of the Harbin Engineering Academy was also called upon and placed under the supervision of the Scientific department of the PLA Armour Corp., assisted by the Fifth Department of First Machinery Works and Soviet experts.
Reusing components of the
Type 77 amphibious APC
and other Chinese light vehicles, the Type 63 had an entirely welded hull with cold steel RHA, with a front three-sided beak and some overhang, with a front armor of 14 mm protecting against HMGs and 8-9 mm elsewhere, to protect against small arms fire. Compartmentation includes a right rear engine, driver and TC in front, a third crewman behind the driver and the troop compartment behind. The official figure was a crew of 15, including the commander and driver, but the configuration could change from two to four front seats, and generally 10 infantrymen sitting in the rear compartment. The driver sits in the front left with a single piece hatch opening to the left.
He could see through two day periscopes cover the front-right angles. The front one could be swapped for a night vision device. The commander sits on the front right, with his own single piece hatch opening to the right. His hatch has a fully revolving plate where is fixed his periscope. Export variants, however, see a different arrangement. Behind the driver, there was a seat for a third crew member, with his own hatch opening to the left and in addition a rotating periscope similar to the commander.
The engine (right rear of the driver) is a Norinco 8-cylinder air-cooled, turbo-charged diesel Type 6150L 260 hp diesel engine. It could be swapped for a KHD BF8L 413F giving 320 hp at 2,500 rpm used for export. It has a large intake protruding from the top of the hull with the exhaust on the right-hand side. It is served by a manual transmission (five forward/one reverse gears). The drive-train comprises front drive sprockets, while the tracks pass over four large rubberized road wheels, of the hollow type, and an idler at the rear, without return rollers. Road wheels are suspended by individual torsion bars. Total fuel capacity is 450 liters, for a road range of around 500 kilometers and 250-300 in off-road conditions. Official top speed is 65 kph which is surprisingly low compared to the engine supposed torque, but nevertheless sufficient for a motorized infantry brigade.
The main armament is a Chinese Type 54 12.7 mm (derived from the Russian DSHK) heavy machine gun located in an open mount. It is located in the front of a small hatch, right in the center of the hull, and accessible from the troop compartment. Therefore it is manned by an infantryman. The mount allows a full 360° traverse and an elevation of up to 90 degrees. Additional two one-piece hatches are fitted on the roof for a quick exit, but normal access/exit is provided by the rear large door with a single pistol port. There are only two others ones, one left and one on the right side, and no NBC proofing. In any case, the roof hatches can be used to provide cover fire. The Type 63 is fully amphibious and had a folding trim vane folded on the front, raised for sea/river crossings, and propulsion in water is provided by the motion of the tracks. A specialized variant was designed later for the Chinese Marines.
Variants:
Type 531 (1964): Experimental - Type 56 7.62 mm machine gun
Type 63 (1968): Base production variant (12.7 mm machine gun Type 54, new engine & transmission)
VTT-323: North Korean version
Type 63-I (1981): Stronger suspension, additional firing ports + 2 extra roof hatches
Type 63C: Amphibious kit for the Marines.
Type WZ701: Command version, roomier compartment, 4-5 radios+ generator, Type 56-1 7.62 mm LMG
Type WZ721: Communications relay vehicle, higher roof line, ZZT1 set
Type WZ750: Armoured ambulance APC (roomier, unarmed)
Type 70 SPH (WZ302): Self-propelled artillery (1981) mounting a 122 mm Type 54-I howitzer
Type 70 MRL (WZ303): Rocket artillery version, 19-tube 130 mm MRL
Type YD801 fire fighting vehicle
ZZM88: Cryptography vehicle (1992). Provide cryptographic codes for transmissions by other vehicles
(YW531C) Type 81 (1982) Export version: German Deutz KHD BF8L 320 hp engine, Front right LMG deleted
Type YW531D: Modified export version: 1 instead of 2 firing ports on left side
Type YW531E: Command export version, + 1 radio Type 892
Type YW701: Type WZ701 command export version, commander's cupola with Type 54 MG
Type YW750: Type WZ750 ambulance export version, commander's cupola with Type 54 MG
Type YW304: Export Self-propelled 82 mm mortar with 120 rounds, based on the Type YW531C
Type YW381: Self-propelled 120 mm mortar with 50 rounds based on the Type YW531C
Exports (details often unknown)
Albania (now Retired)
Bangladesh
Cambodia
Democratic Republic of the Congo
Guinea Bissau
Iran
Iraq (now scrapped)
North Korea
Pakistan: 80 Type 531 in service.
Sri Lanka
Tanzania
Vietnam (now Retired)
Zimbabwe
Derivatives: The Type 85 & 89 APCs
The
Type 85 & 89
(YW530H & WZ534) were two relatively similar models, improved versions of the Type 63 APC. Both were longer, with an extra road wheel, modernized engine, improved transmission, additional firing ports and periscopes, and a full NBC lining.
- The Type 85 was developed exclusively for the export market. It was declined tino 17 variants and exported to Bangladesh, Burma, Sri Lanka and Thailand.
- The Type 89 is the Chinese version, produced from 1990 (approx 1000-1200 today). It was first revealed to public in 1999 and is designated today as the ZSD-89. It is also slightly longer and larger that the Type 85, counting two more road wheels than the Type 63. The engine is the same license-built Deutz 320 hp turbo diesel. It could carry 15 soldiers plus crew, one using the 1x QJC88 12.7mm anti-aircraft machine gun protected by an cradle-type shield or open turret. Four 76 mm smoke grenade dischargers are mounted and protection overall is assumed against 12.7 mm rounds, plus full NBC lining. 12 variants were built, and it was exported to Ethiopia, Sri Lanka and Zimbabwe. The Type 89 gave birth to the Type 90 export APC (YW535).
Service & battle records
The Type 63 APC is one of the most produced APC in the world, after the American
M113
and Soviet-built tracked APCs like the
BMPs
. It was given to the regular North-Vietnamese forces and used in action at the end of the war, for the final assault on the capital. It was also used by Chinese troops against their former allies in the Sino-Vietnamese War. Chinese forces also used some APCs during the crackdown of the Tiananmen Square Protests of 1989. The Iraqi vehicles saw action in the Iran–Iraq War and the Gulf War right after and were all surviving vehicles were scrapped after the end of the war.
This vehicle had serious shortcomings, the one being a cramped troop compartment, not enough pistol ports, no NBC protection, a deceiving power/speed ratio, position of the TC cupola at the rear and troops hatches at the front, no rear ramp, no anti-slip roof surface, and tests performed on captured Iraqi APcs after the war showed how far the protection level offered was weak. The crude alloy used for the export versions was brittle and there was no inner spall-lining, it could barely stands small arms fire. As a result, all were scrapped and recycled.
Links on the Type 63 APC
The Type 63 APC on Wikipedia...
Video: Failed tanks: The type 63
Chinese Type 63 APC specs.

Dimensions (L-W-H)
8.43m (7.15m without gun) x 3.2m x 2.52m (27'7" (23'5") x 10'5" x 8'3" ft.in)
Total weight, battle ready :
12.6 Tons.
Crew :
2+10
Propulsion :
Norinco 8-cyl. ac, Turbodiesel KHD BF8L 413F 320 hp
Top speed on/off road
65 kph ( mph)/ 46 kph ( mph)
Range/consumption
500 km ? Liters
Suspension
Torsion bar
Armament
Type 54 12.7 mm machine gun - see notes
Armour :
Front 14 mm.
Total production
Around 8000.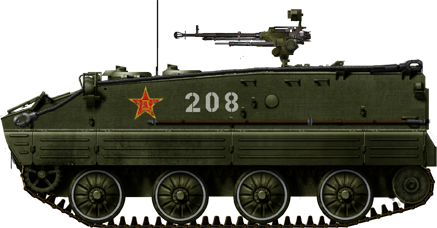 Type 63, early production vehicle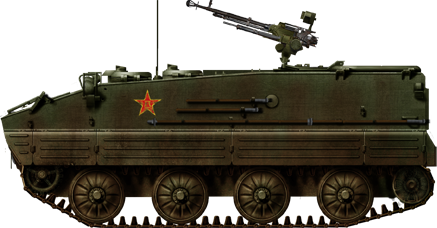 Type 63 APC, mid-production, 1970s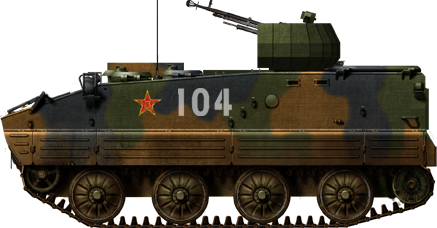 Chinese late Type 63-2 APC, 1980s.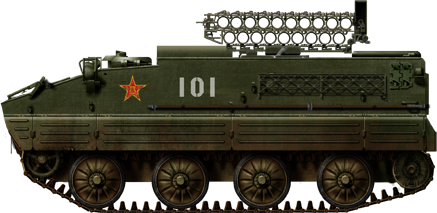 WZ-303 Multiple Rocket Launcher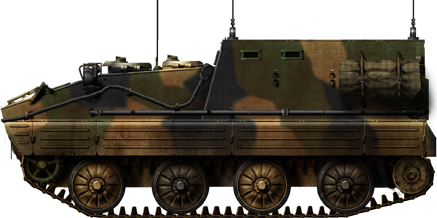 Chinese PLA WZ-701 command vehicle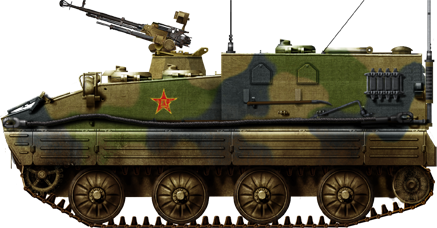 WZ-721 communication relay vehicle, with the ZZT-1 mast antenna at the rear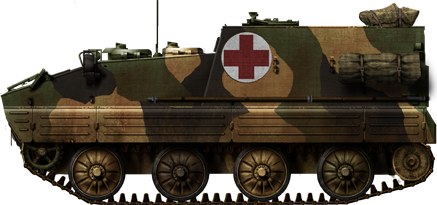 Chinese PLA WZ-750 Ambulance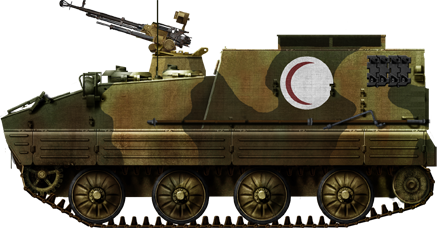 Iraqi YW-750 Ambulance APC, 1992. Ambulances were designated BTR-63-1 and the export versions had a 12.7mm Type 54 mounted at the TC station. One captured by the 203rd MI Battalion.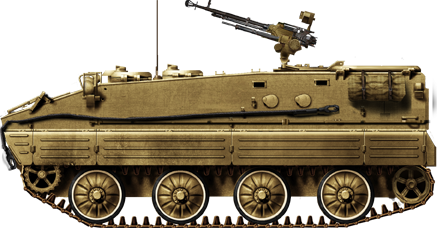 Iraqi Type 81 (YW-531) APC, Iran-Iraq war, fall 1980s. The YW-531C was designated locally BTR-63.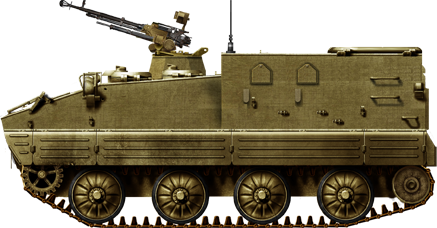 Iraqi WZ-701, 1991 gulf war

Chinese Marines type 63C (off scale). The kit is made by two pontoon ends, which provides extra buoyancy as well as improving seaworthiness for amphibious operations
Gallery
Iraqi WZ-701 at Puckapunyal, possibly captured during the Gulf war
Type 63 APC
Type 63 at Puckapunyal
Type 70 RLM
Type 63C amphibious APC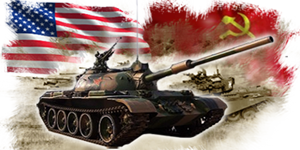 Cold War Tanks



































---
Cold war tanks posters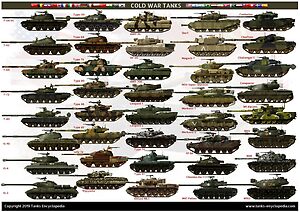 Cold War Main Battle Tanks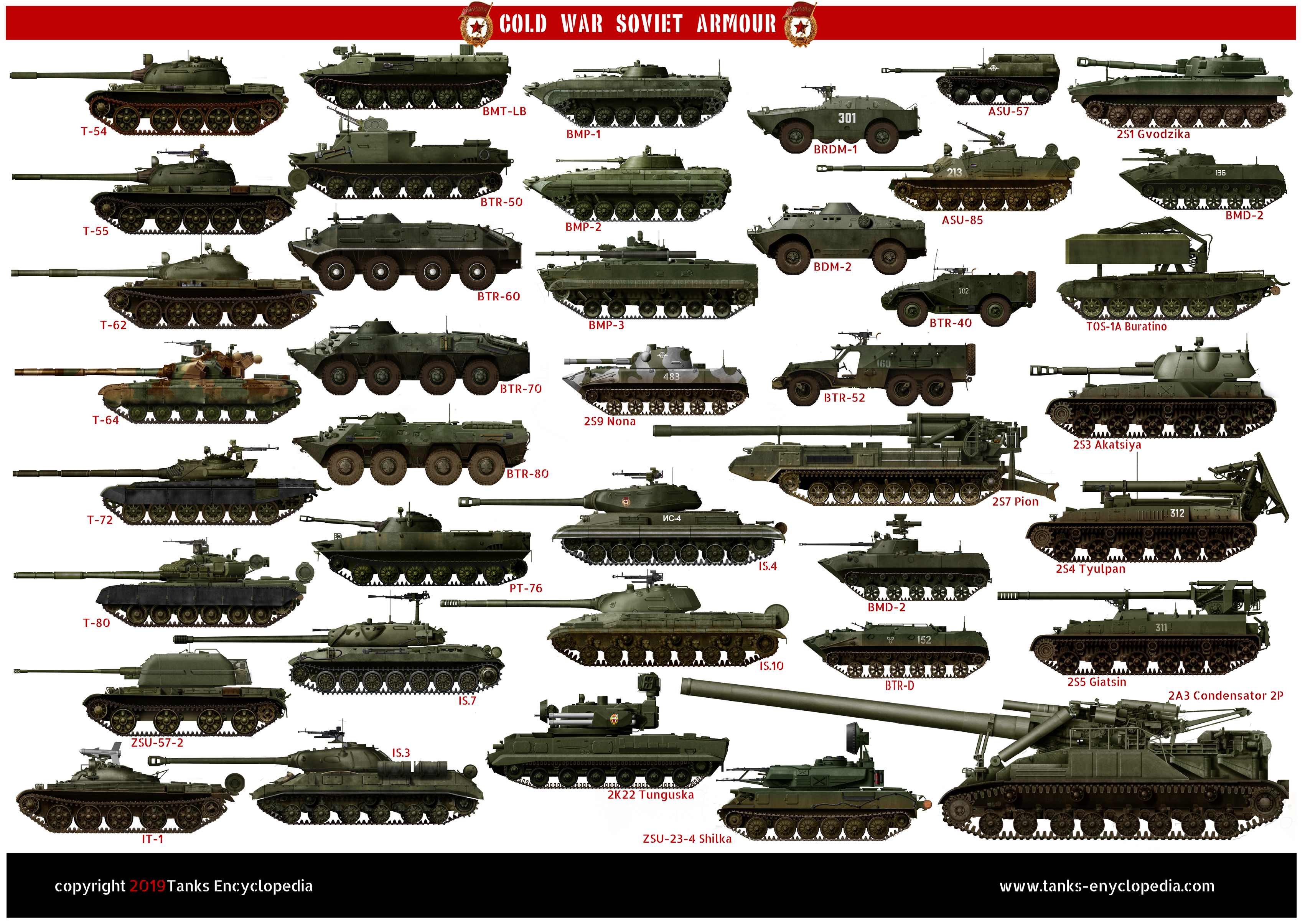 Cold War Soviet Army