The Australian Protected Mobility Vehicle
The Bushmaster Protected Mobility Vehicle is the first armoured vehicle to be designed and completely manufactured in Australia since the Sentinel tank during World War II. It is a four-wheel drive "Infantry Mobility Vehicle" initiated by the government-owned Australian Defence Industries (ADI), but currently by Thales Australia, under contract by Oshkosh Truck (which owns now ADI). It is in service outside the Australian Army, with the RAAF, the Royal Netherlands Army, British Army, JGSDF, Indonesia, Fiji, Jamaica, New Zealand and Ukraine.
The Bushmaster was tailoed to carry troops in a fully protected mobility package, infantry dismounting it like any AC before action. It is lightly armoured while the acronym IMV was a way to make a distinction xith the more traditional tracked APC (
M113
) as well as the heavier
ASLAV IFV
. It has high-hard steel for overall protection, and IED-proof central cell and chassis, better than the aluminium alloy used on both the ASLAVs and M113.
Design and specifics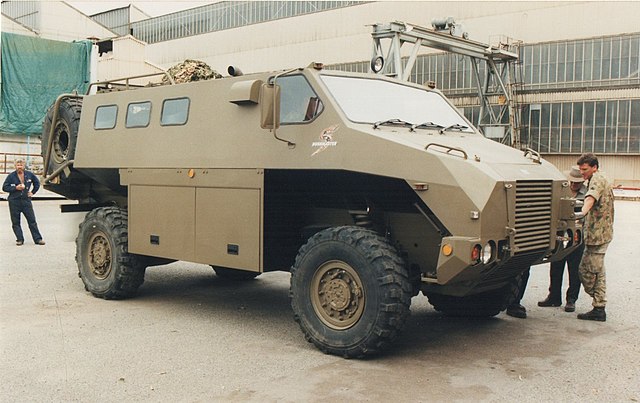 BUSHMASTER Prototype at Perry Engineering, Adelaide SA, late 1990s
Development
In 1991, the Defence Force Structure Review identified a need for a new Infantry Mobility Vehicle (IMV), complementary and more modern than the ASLAV and M113. The 1994 White Paper confirmed the Project Bushranger (Land 116), a global contract to procure a protected and an unprotected vehicle for the Australian Army.
Soon, the Interim Infantry Mobility Vehicle (IIMV) unarmoured vehicle close to the
Land Rover
Perentie was developed and built from British Aerospace Australia in November 1993 as a concept of infantry mobility until a more proper IMV would entered service. By February 1994, specifications were drafted, and by July manufacturers were invited to subit their proposals. 17 were received, notably from Perry Engineering (with the Bushmaster) and the Australian Special Vehicle Systems (ASVS) Taipan, derived from the South African Mamba. In September 1995, five were shortlisted, to which requests for tenders were issued.
In early 1996, Perry Engineering presented its prototype Bushmaster deroved from the Irish-designed Timoney MP44. By September, the government-owned
Australian Defence Industries (ADI)
purchased the rights from Boral's Perry Engineering, after consultation and agreement from Timoney Technologies, and Stewart & Stevenson. In January 1997, both the Bushmaster and Taipan were remaining for this program and in November, ADI ordered a full re-engineering of the Bushmaster, in design shape, for greater strenght and to accept extra internal and external features in a more modular approach.
By March 1998, three Bushmaster and three Taipan (built in South Africa) were accepted in a gruelling 44-week competitive evaluation, showing in the end that both failed to meet all requirements specifications, with mitigated performances. On 10 March 1999, ADI eventually got the contract, under design revision conditions, for production in their Bendigo facility near Victoria. In November 1999, ADI was acquired to 50% by French company Thales, the remainder 50% owned by Australian Transfield. In 2006, ADI became "Thales Australia" when Thales also acquired Transfield.
Basic design
The MP-44 derived Bushmaster had a Rockwell/Timoney independent suspension, US built Stewart & Stevenson components from the FMTV program (Family of Medium Tactical Vehicles) and more than 65% components were provided by Stewart & Stevenson, which included the engine, transmission, steering, instrumentation, electrical and pneumatic systems, helping a prototype to be ready for tests in seven months.
The Bushmaster was designed to be optimised for desertic/outback northern Australia, capable of carrying up to 9 soldiers plus full gear as well as fuel and supplies for three days in the basic APC variant. Due to the scorchich heat of the area it was fitted with air conditioning, and a cool water drinking system was planned, but latter omitted due to cost savings. It was reconsidered for installation in Afghanistan. The vehicle's cruise speed of 100 km/h combined with a 800 km was deemed sufficient for its tasks at hand.
Hull & Protection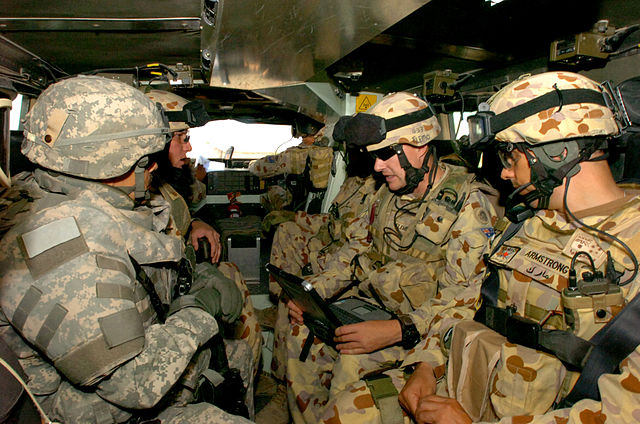 Interior of the troop compartment
The Bushmaster is rather massive, in its final form, 7,180 mm in overall lenght, 2,480 mm wide, and 2,650 mm, and up to 3,260mm with the forward wire cutters deployed. It was 11,400 kg (25,133 lb) in kerb weight, and 15,400 kg (33,951 lb) fully loaded in GVM weight.
In its basic form, the Bushmaster a mine protected vehicle (MPV) its underbelly optimized to deal with land mines with a v-hull monocoque and suspended seats at the rear. Its basic armour provides protection against small arms (standard STANAG 4569 level 1), so NATO 7.62 mm ball ammunition, but also 81mm mortar fragments as well as Claymore mines or IEDs. But it was redesigned to accep addon armor, applique armour panels added extra protection against light armour-piercing ammunition, of still 7.62mm (Level 2-3)
A particularity was its fuel and hydraulic tanks located outside the crew compartment to protect it, with its own automatic fire suppression system. Since it was made for lower-intensity fighting, out of the open and not urban combat, no provision was made to add extra BAR armor against RPG for example. There is no laser warning system, nor active protection systems such as smoke dischargers. No NBC apparently. Ballistic Protection was reported to exceeds STANAG 4569 level 1 and being ported up to STANAG 4569 level 3 with add-on armour, and with FSP, up to STANAG 4569 level 5. Mine protection exceeds STANAG 4569 level 3.
Powerplant & Mobility
The Bushmaster is powered in its front compartment by a Caterpillar 3126E 7.2L six-cylinder diesel turbocharged (TDI) rated for 224 kW (300 hp) at 2,200rpm, or 1,166 N/m (860 lb/ft) at 1,440rpm. Its Power/weight is 26.4 hp/tonne. This power unit is connected to ZF 6HP502 ECOMAT G2 (six forward speeds, one reverse) transmission. The steering system is assisted. Top speed on flat is assumed to be 100 kph governed, and 110 without. It's integral 4x4 Suspension comprised four Arvin Meritor 4000 series fully independent and progressive coil springs, with upper control arms, and lower wishbones, one of the best system of that time, still very efficient.
The vehicle has a 1,340 mm front overhang and 1,950 mm rear overhang, a 40° approach angle, 38° departure angle, and could clib a 108° ramp over angle, a 60% gradient, 36° side slope, 460 mm vertical obstacle. Its not amphibious but still able to ford 1,200 mm unprepared. There is no wave breaker or pumps to allow it to cross deeper rivers.
The Bushmaster could reach 800 km on its internal 319 Liters diesel tank alone. It is also air transportable by C-130 Hercules, C-17 Globemaster III and Mil Mi-26 helicopter (the heaviest on offer, so presumably also the old Sikorsky Tahre).
Armament
The vehicle, unlike the ASLAV is not heavily armed, just enough to provide infantry basic close defense and support while dismounting. One main variant is fitted with a single forward gun ring fitted with a 5.56 mm or 7.62 mm machine gun, like the standard NATO GMPG. Its two rear hatches also had a mounting boss to attach swing mounts a 7.62 mm machine gun, so to allow a three weapons combined fire on the way. Of course the real strenght lays in the personal weaponry of the platoon of nine carried at the rea, on opposing seats, back to the wall.
Variants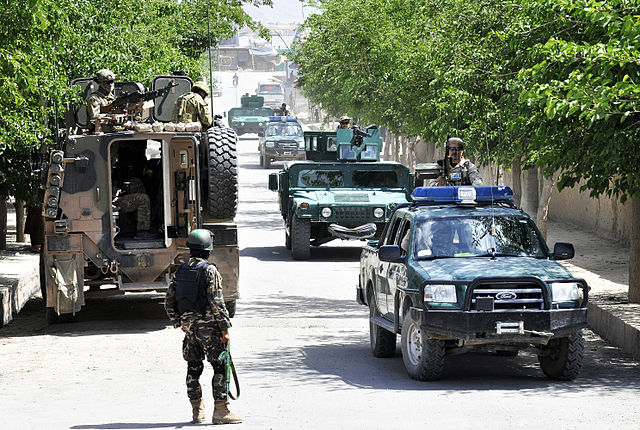 Special Operations Task Group, Provincial Response Company vehicle in Uruzgan, Afhganistan.
Although this figure is subject to debate, as of 2018, some 1,195 vehicles were produced, filling the needs of many customers outside Australia. Among them were several variants: Troop, Command, Assault Pioneer, Air Defence, Mortar variant, Direct Fire Weapons, General Maintenance Variant and Ambulance.
Specialized variants
Troop variant, RAAF: 10 seats for infantry, third weapon mount.
Single Cab Utility variant for the Land 121 Phase 3 Project (not chosen)
Dual Cab Utility variant (only developed).
Dutch IED interrogation variant: Hydraulic arm with interrogation tool, light, camera, metal detector, proximity detector.
Self Protection Adaptive Roller Kit (SPARK) with Mine Roller Mark 2. can be fitted.
ISTAR (intelligence, surveillance, target acquisition and reconnaissance) Kit
Electronic Warfare variant announced 2015 (6-metre mast), under development.
The British MR6 (2018)
The MR6 variant was developed for the British Army Multi Role Vehicle-Protected program (announced by Thales Australia 2018). It was developed with a new hull front, new crew doors, wider rear door, higher rear compartment and extended. New Caterpillar C7 engine, new heavy-duty suspension, new anti-lock braking system, two optional transmissions and transfer cases, new alternator, new APU option, new storage system, new fully digital dash, new central tyre inflation, new Hawkei C4I system, improved RWS fitted with a 30mm cannon and extra 2-tonne payload.
New Zealand NZ5 (2021)
In 2021, Thales adapted the Bushmaster to produce the specialized Bushmaster NZ5.5, tailored for the needs of the New Zealand Army.
The Indonesian Sanca (2020)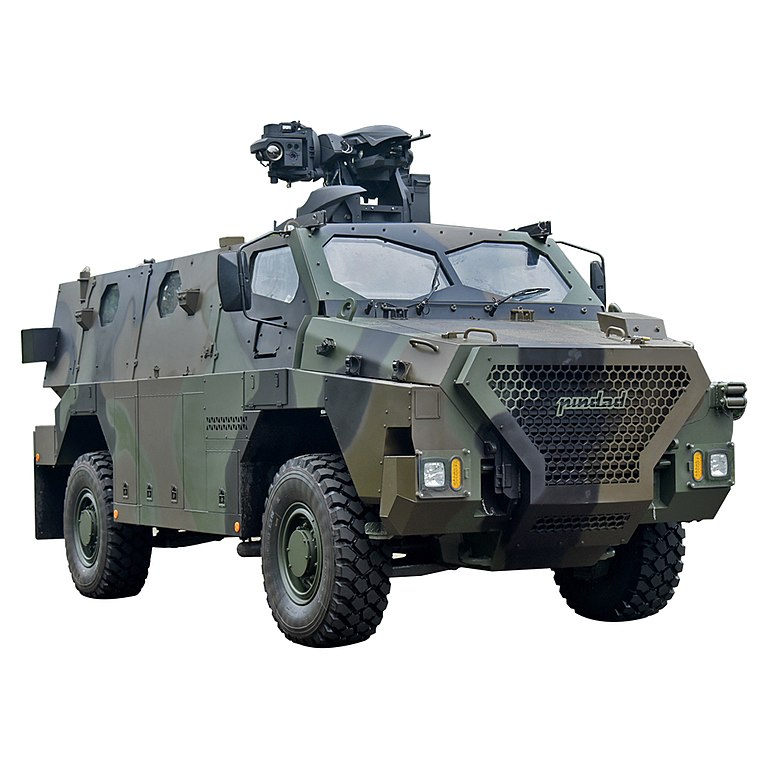 Pindad Sanca MRAP
By October 2016, Australia and Indonesia started jointly develop a vehicle based on the Bushmaster tailored for the Indonesian military, the "Sanca" to be manufactured in Insonesia by PT Pindad, in collaboration with Thales Australia. It was was revealed on 3 November and 50 Sancas are scheduled for delivery, plus 30 going to be stationed overseas on peacekeeping operations, 20 for Kopassus forces. The "Python" is also made with the company PT Len, demonstrating its the Combat Information C5i concept to replace the C4.
Upgrades
-September 2007: Protected weapon system (PWS) with a stabilised thermal imaging camera and laser range finder. -Also introduction of spall curtains and a fire suppression system, a cool water drinking system plus an additional seat. These were the result of troops deployed in Iraq and Afghanistan notably about the gunner being too vulnerable to enemy fire. The whole position was lowered. -2009-2012 Protected Mobility as well as Troop, Command and Mortar variants used on Afghanistan were all upgraded with a protected RWS and automated fire suppression system, plus ECM. The Special Operations Task Group vehicles also adopted a weapon ring mounting the larger 12.7mm heavy machine gun. -By late 2012 a survivability enhancement program was announced, concerning upgrades to the lower hull, floor, seat mounts and axle caps for better IED protection. In addition hthe Bushmaster was to be fitted with two adaptive roller kits at the front. The entire fleet was rotated-upgraded with also increased blast protection and fittings for extra external composited armour. -In 2015, 45 Bushmasters were refitted with new standard remote weapons systems.
In service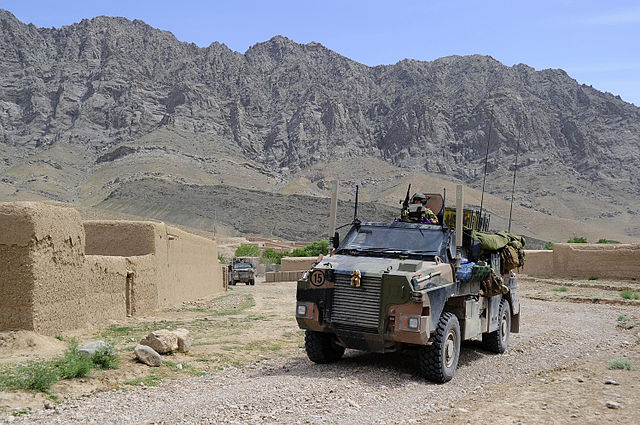 So far the Bushmaster participated in the following wars: East Timor, Afghanistan, Iraq invasion (and Iraqi Civil War), Northern Mali, Golan Heights, Syrian Civil War and very recently, the Russo-Ukrainian War.
Australia
The Australian army already deployed two prototypes to East Timor in 1999 for trials. Ten Bushmasters were sent to Iraq, to operate with the Al Muthanna Task Group, in May 2005 (later Overwatch Battle Group, West) operating from September 2006 with nine more vehicles. In all the Austrlian government ordered 1,052 Bushmasters.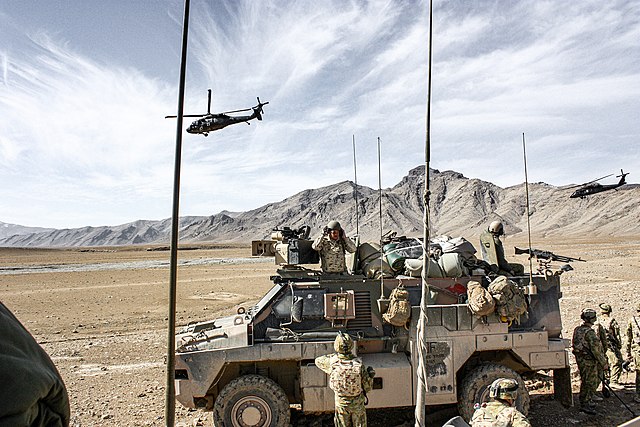 In the Chora Valley, 2007
A few Bushmasters were used for Special Operations Command as part of a Task Group in Afghanistan (September 2005-late 2013). The 6th Battalion, Royal Australian Regiment used as part of the security response force (2006 Commonwealth Games), and the the Reconstruction Task Force (Mentoring Task Force) in Afghanistan (August 2006-2013) also operated the Bushmaster.
On 17 March 2010, five soldiers from the 1st Mentoring Task Force were wounded when their Bushmaster hit a roadside bomb in the Chora Valley, north of the FOB at Tarin Kowt, Oruzgan Province. By May 2011, 31 Bushmasters were declared damaged beyond repair and the total operating there at all time was 104.
Netherlands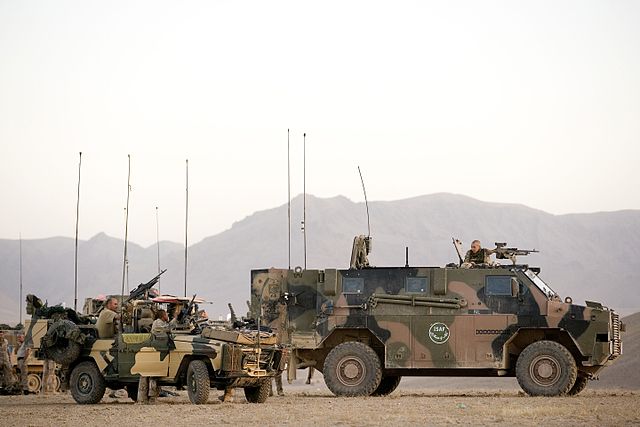 In July 2006 the Dutch Government purchase 25 Bushmasters for the Royal Netherlands Army in Afghanistan. They were taken from Australian Army stocks, with replacing vehicle built to keep the inventory even. 23 Bushmasters were delivered from 28 August and two vehicles transported to the Netherlands for training. 12 were fitted with the Thales SWARM RWS also. On 9 July 2007, Electro Optic Systems Holdings Limited was tasked to provide RWS (17 CROWS Remote Weapon Stations), a contract signed by Thales Australia provided in late 2007.
A 20 September 2007 engagement a Dutch soldier was KIA and evacuated in a Bushmaster attacked with small arms, mortars and RPGs but survived unscaved. On 19 October Taliban insurgents hit a Bushmaster with an improvised bomb which damaged its front. It was later recuperated and sent to Tarin Kot Base (Kamp Holland) for repairs. More Bushmasters were obtained in 2007-2008, 10 and 13 for a total of 49 vehicles, with 6 destroyed in Afghanistan.
In January 2009, 9 more were ordered, fitted with cameras, sensors and grappler to deal with IEDs (see variants above). 14 more were ordered in June 2009, and 14 agains for a total of 86. Theyr were also used by Dutch special forces in the Northern Mali conflict (April 2014). In May 2015 one was destroyed by an IED near Kidal, later repaired in Gao. In June 2015, 12 more were ordered and by July 2020 the first first Multirole Electronic Warfare Bushmasters.
Great Britain
The British Army also acquired 24 Bushmasters in April 2008 for Iraq (Task Force Black) and the Special Forces (UKSF) operating in and around Basra. The latter were sub-variants named "Escapade" with a better armour package, bull-bar, ECM and anti-IED, plus CROWS RWS system (M2 .50 cal.). They compared favourably to the Supacat HMT 400 there from 2003. They were withdrwan without loss in May 2009 but an Escapade was found instrumental in the Battle of Mosul (Iraqi Civil War) while another fought in 2017 in the Battle of Raqqa in Syria.
To complete the picture, the last known users are the Ukrainians, which were provided with xx Bushmasters after a meeting of president Volodymyr Zelenskyy to the Australian Parliament. PM Scott Morrison agreed to supply 20 vehicles, air-transported until 31 March 2022 via RAAF C-17 transports with 4 aboard at a time. It seems they are initially delivered as ambulance versions.
Others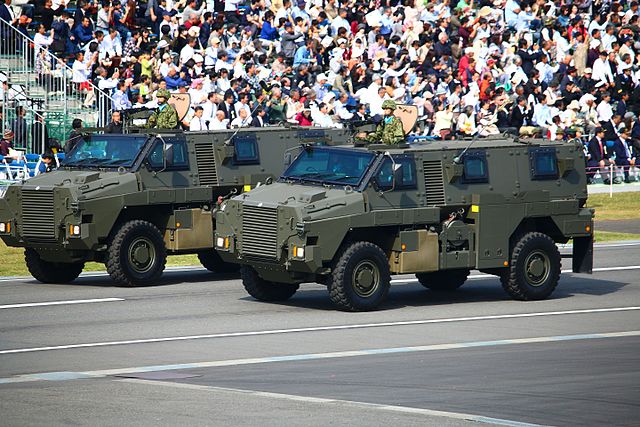 JSDGF CRR vehicles
-Fiji received 10 refurbished Bushmasters in 2017 for use in peacekeeping role (UNDOF) in the Golan Heights, three for training back home. They were deployed from 27 March 2017.
-Indonesia received 4 vehicles in 2014, 3 delivered to the Indonesian Army Special Forces Command Kopassus (plus 50 Sanca variants ordere) and 15 given by Australia for UN missions.
-Jamaica purchased 18 Bushmasters, 12 ordered in December 2013 to replace the old CGC V150s by 2015-2016 plus 6 Bushmasters in 2020.
-Japan had 8 operated by the Japan Ground Self-Defense Force, first batch in 2014 for the Central Readiness Regiment (CRR) for overseas emergency and second in 2018.
-Netherlands: 98 ordered (see above), also used by the Royal Dutch Marines.
-New Zealand: 5 Bushmasters with the New Zealand Special Air Service as the SOV-PH and more transfer planned in 2017, 43 NZ5.5 ordered in July 2020
-Ukraine: 20 Bushmasters shipped from Australia as a gift in April 2022
-UK: 24 purchased in April 2008 (refitted as Escapades)
Countries that showed interest were Spain in August 2008, the United Arab Emirates tested it, Libya also expressed interest for it but it failed procurement for Canada (bid by Thales Canada+ DEW Engineering for the Tactical Armored Vehicle Program). The Textron M1117 won.
France also considered the Bushmaster, Francised as "Broussard", lost competition against Nexter's VBCI and Renault AMC to replace the VAB, the VBMR Griffon was chosen.
The United States also was for a time interested by the package offered by Thales with Oshkosh by late June 2007 as part of its MRAP program. It was eliminated on 7 August.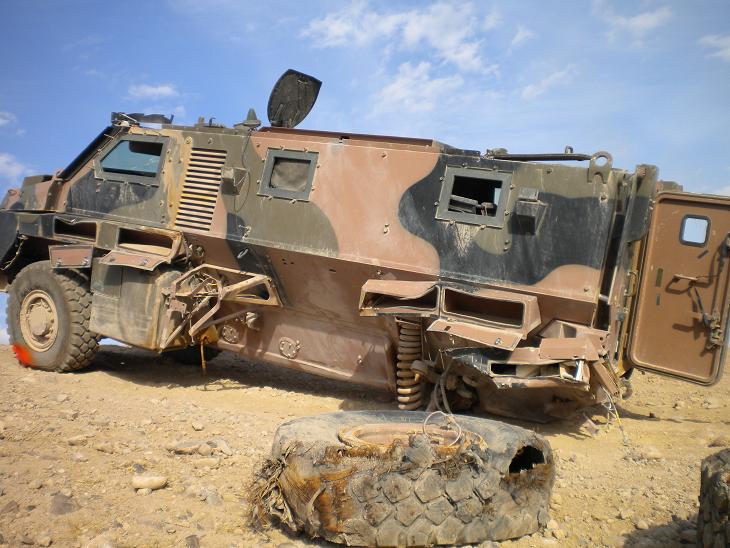 Bushmaster to Counter IEDs at Lane Tarin Kowt
Src
Neville, Leigh (2011). Special Operations Patrol Vehicles: Afghanistan and Iraq. Osprey Publishing.
Neville, Leigh (2016), Peter Dennis: The SAS 1983-2014: Osprey Publishing.
Nicholson, Brendan (2019). The Bushmaster: From concept to combat (PDF). Australian Strategic Policy Institute.
On warwheels.net
acquisition archive 2003
On armyrecognition.com
Procurement documents
About the Timoney MP44
---
news.com.au
Janes article on the Sanca
Oshkosh_Bushmaster_2008
Video, MR6, Thales
Bushmasters for Ukraine
drive.com.au/caradvice
wiki
On www.army.gov.au
On Thales group
On anao.gov.au
specifications

Dimensions
7,18 x 2,48 x 2,65 m (3,26 m with Wire Cutters Deployed)
Total weight, battle ready
11,4 kerb tons, 15.4 tons GVM
Crew
1+9 (driver, 9 infantry)
Propulsion
Caterpillar 3126E 7.2L 6-cyl TDI 224 kW (300 hp) @2,200rpm
Suspension
Arvin Meritor 4000 series coil springs DWs
Speed (road)
100-110 km/h (governed or not)
Range
800 km (497 mi), 319L (84 US Gal)
Armament
NATO 7.62 mm GMPG RWS
Armor
STANAG 4569 lvl 1-3, lvl 5 optional
Total production
1,195 so far, current.
Gallery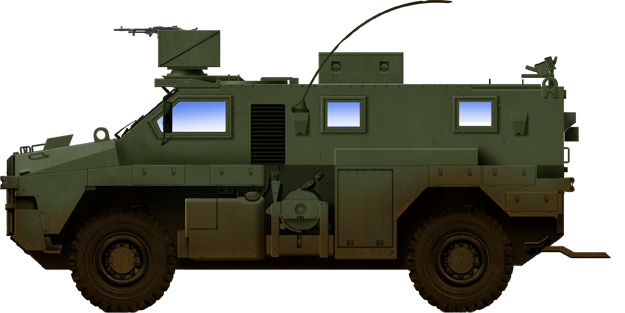 Basic green vehicle with RWS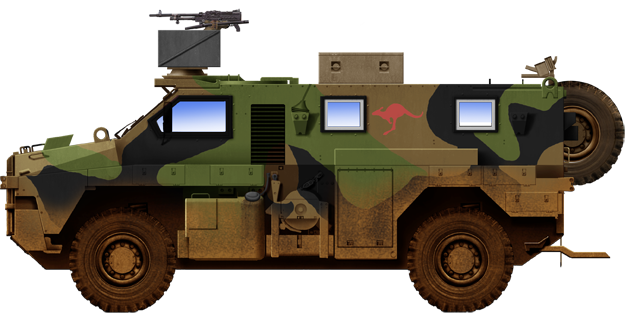 Australian Vehicle in Iraq 2005-2006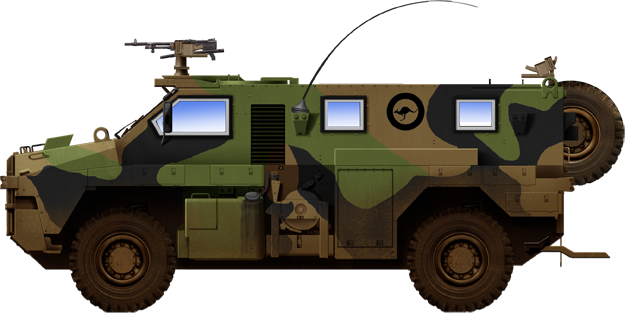 RAAF Vehicle, 10 Airfield Defence Guard, 2007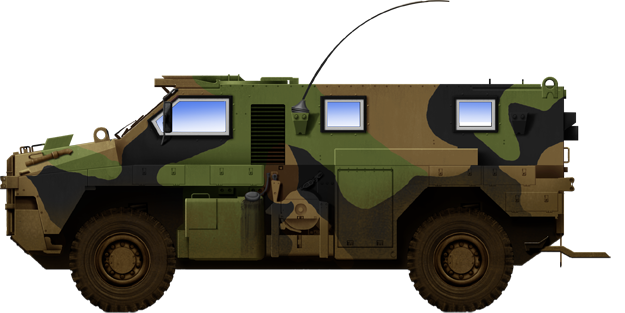 Jamaican vehicle. The camouflage is apparently the same as the Austrlian one but without RWS and other percs.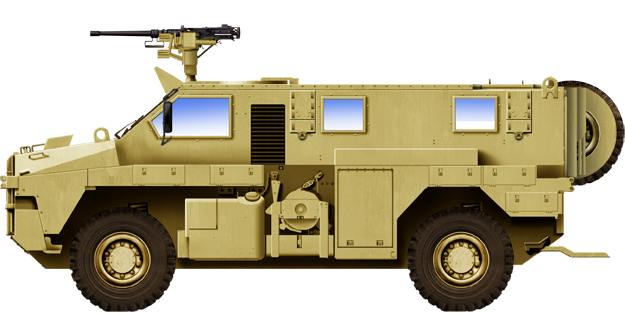 Special Operations Task Group vehicle with a cal.50 RWS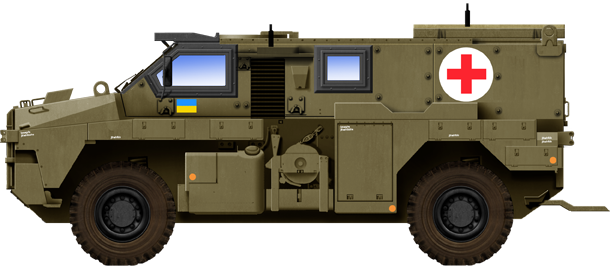 PMV ambulance sent in Ukraine, April 2022
---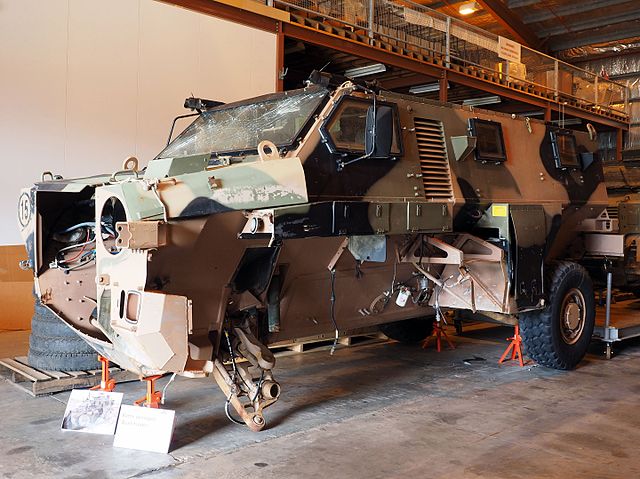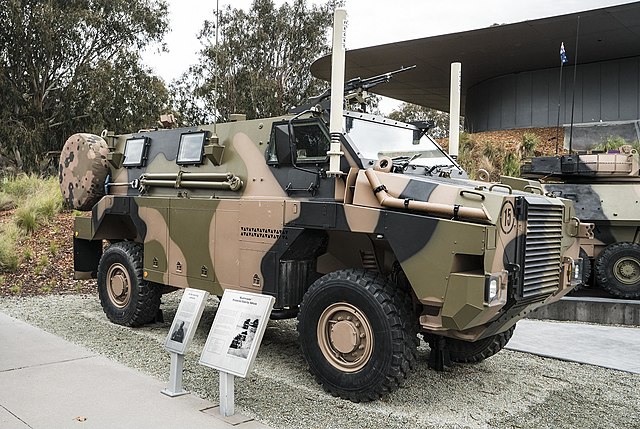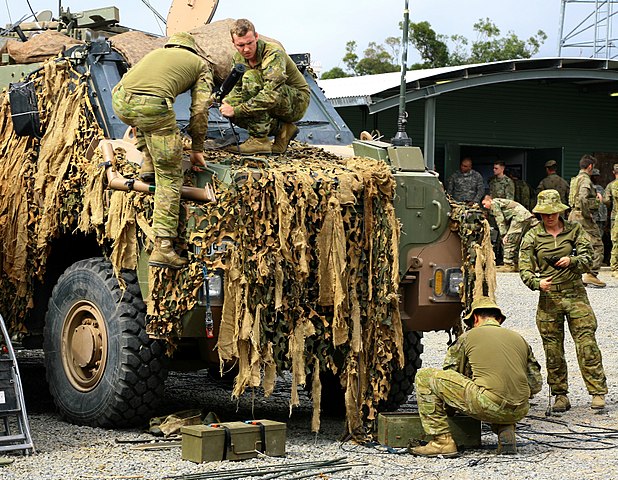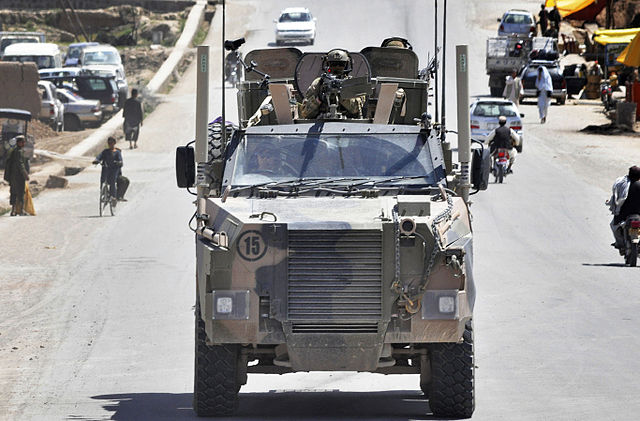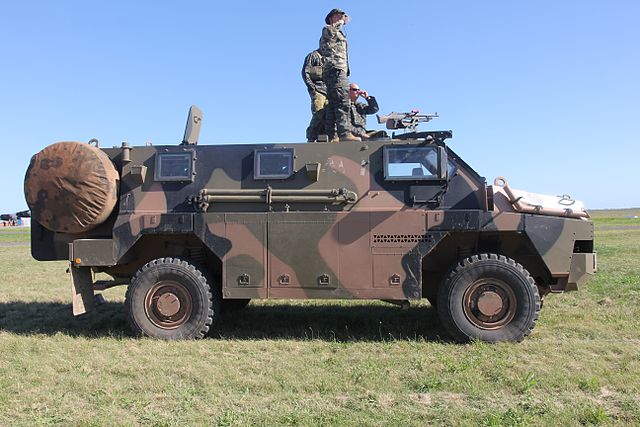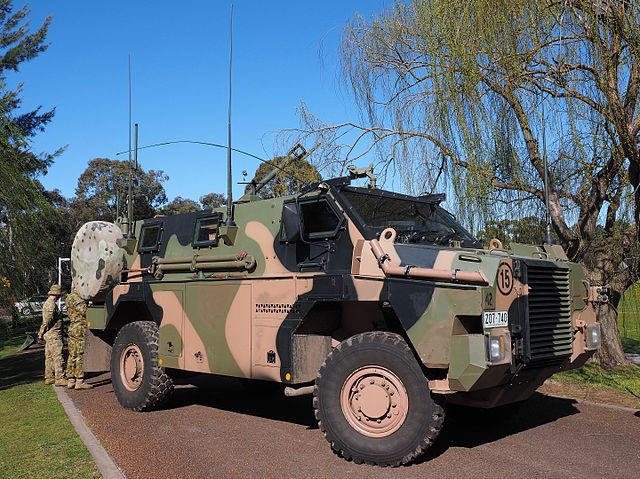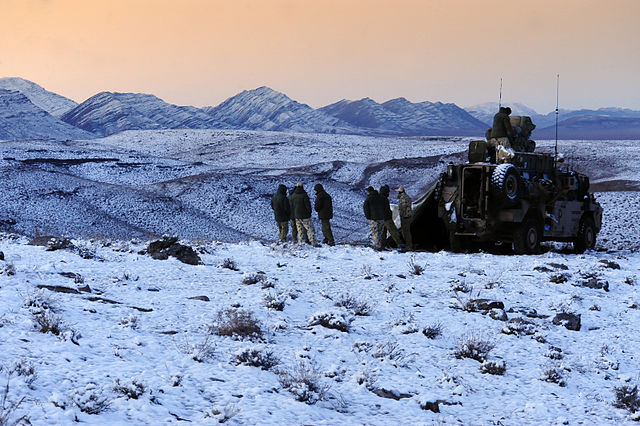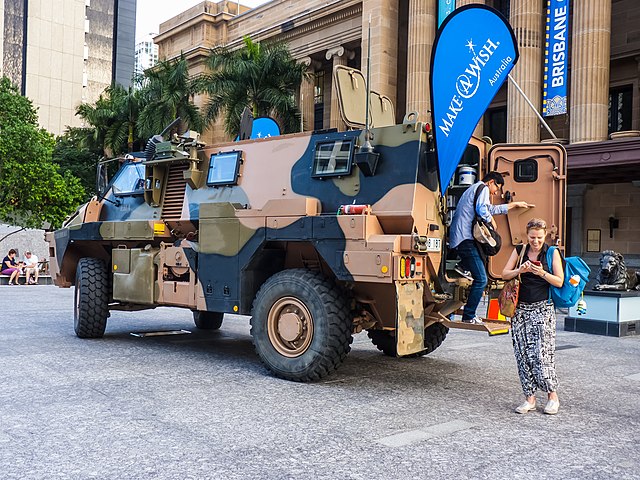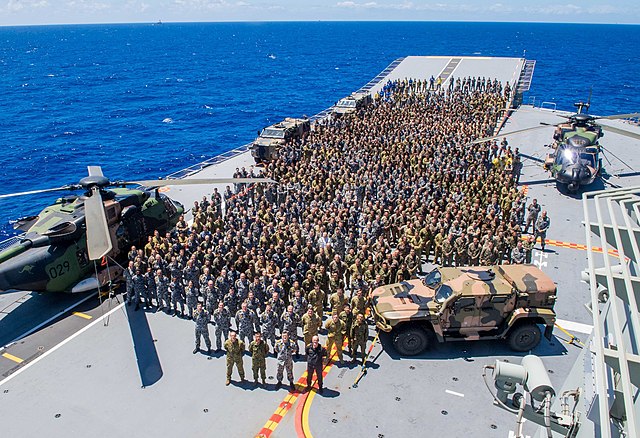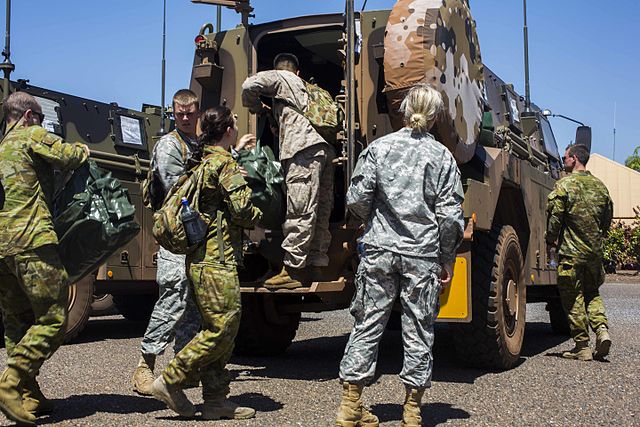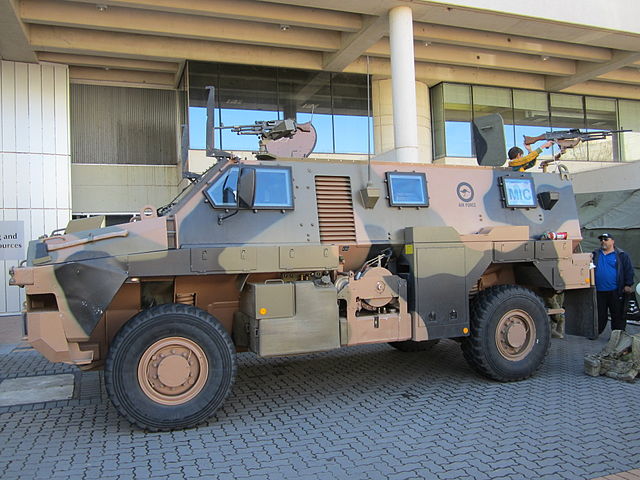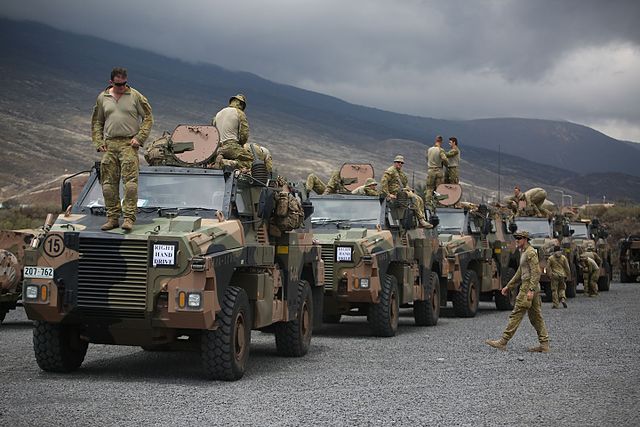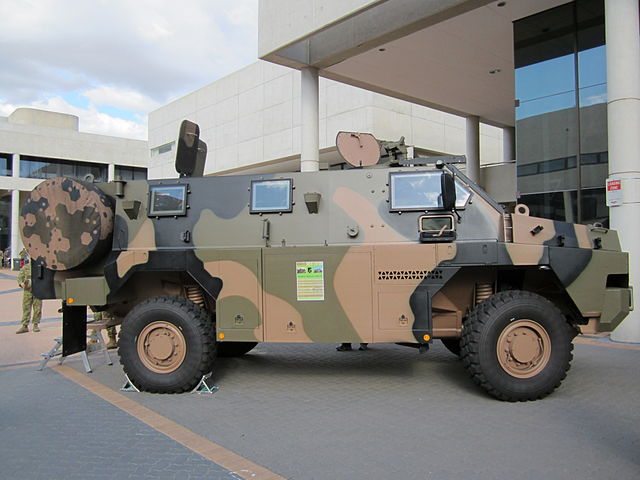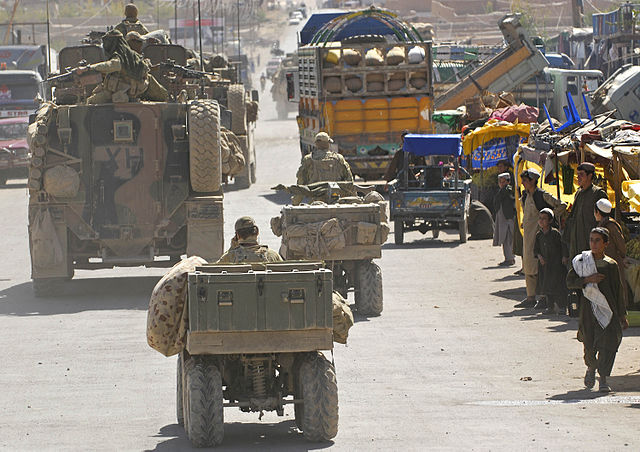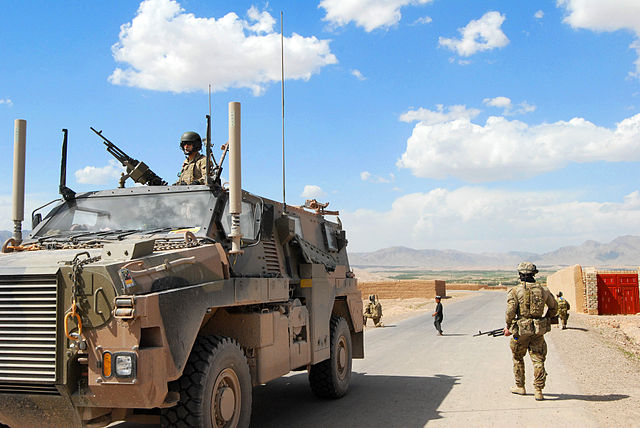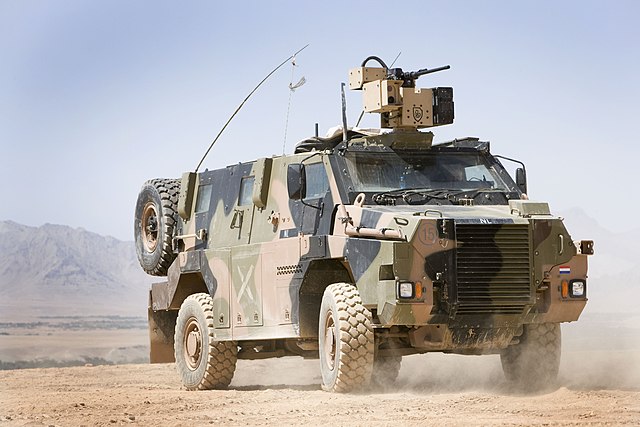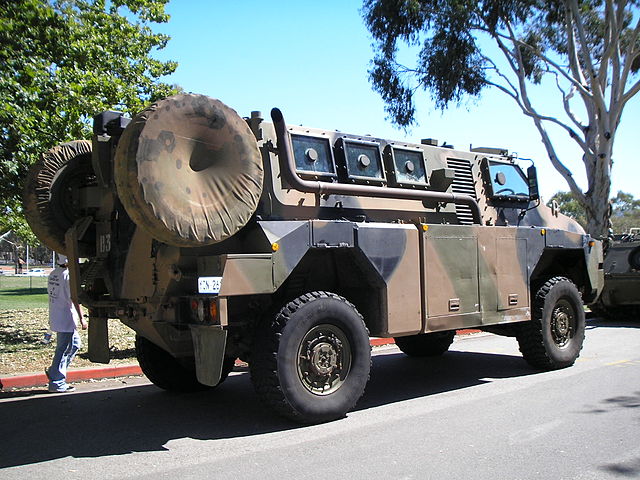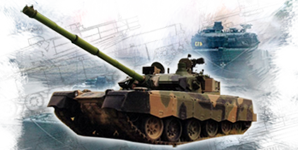 Modern Tanks
---
Modern MBTs posters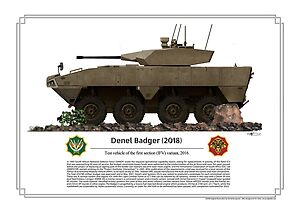 Denel Bagder (2018)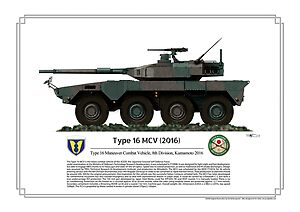 Type 16 MCV (2016)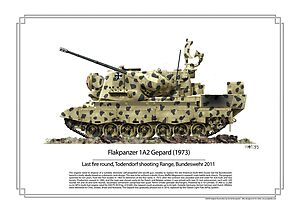 Gepard 1A2 last rounds 2011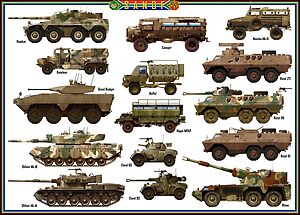 SANDF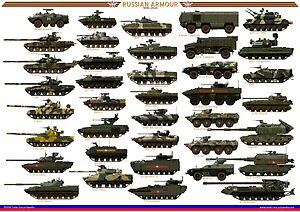 Russian AFVs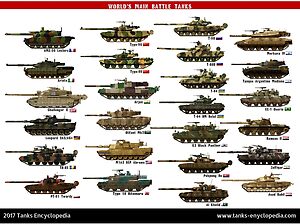 Main Battle Tanks