The Australian LAV-25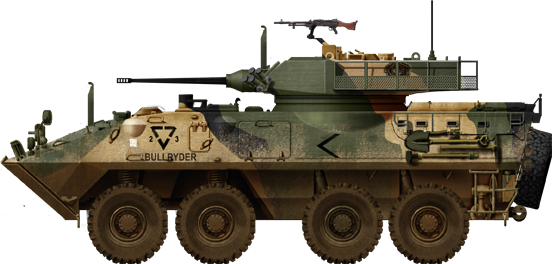 The ASLAV (For Australian Light Armored vehicle) was built by General Dynamics Land Systems Canada on the 1980s LAV-25 design. It has been devised to take part in a large array of missions like reconnaissance, surveillance, escort and patrol, like the Stryker. The adoption was preceded by a year-long evaluation by A Squadron, 2nd Cavalry Regiment. 15 LAVs leased by the United States Marine Corps were heavily tested. This phase I evaluation was about testing the vehicles under the Australian conditions, and see for modifications. For the Australian Army, it constituted a way to achieve new levels of reliability, low maintenance costs and ability to travel fast while being well protected.
Phase II started in 1992 when the Australian Defence Materiel Organisation obtained the first 113 vehicles of the Australian batch from Canada. It was only by 1997 that the 2nd Cavalry Regiment was entirely equipped. By phase III the year after, the next batch of 114 was received, but many local modifications and parts were introduced through the Wheeled Manoeuvre Systems Program Office also for the long-term through-life support. The final model was to be assembled by General Motors Defence Australia, seconded by General Dynamics Land Systems Australia at a unit cost calculated to $2.2 million. In June 2010 was defined the fourth upgrade phase, LAND 112, which started in April 2012.
Design and specifics
The ASLAV is based on the Canadian-built LAV-25 platform, well proven both in Canadian and US Army/Marines service. Its long ancestry goes back to the Swiss
Mowag Piranha
famous eight-wheeled hit back in the late 1970s/early 1980s. It was given either a four or eight-wheel drive and its versatility was enhanced by modular packages called Non-Permanent Mission Role Installation Kits or MRIKs. This allowed the ASLAVs to be converted to no less than six reversible variants all born from a single hull design. This all-welded hull was given an all-around armor to provide protection against small arms fire and shrapnel, small mine blasts, probably thickest at the front (possibly enough to defeat 20mm rounds).
The armament of the ASLAV comprises the standard-issue 25 mm M242 Bushmaster Chain Gun with 720 rounds in store, two 7.62 mm MAG58 light Machine Guns (coaxial and AA roof mount) with 1000 rounds In addition for active concealment the turret is given two banks of four 76mm Smoke Grenade dischargers. For mobility, the ASLAV is also given the standard issue, but reliable and powerful Detroit Diesel 6V-53T delivering 275 hp (205 kW) or 15.53 kW/tonne, for a top speed of up to 120 kph (75 mph) and the tenth of this speed when swimming. It is coupled with an Allison MT653 transmission with a five speeds forward, one reverse gearbox.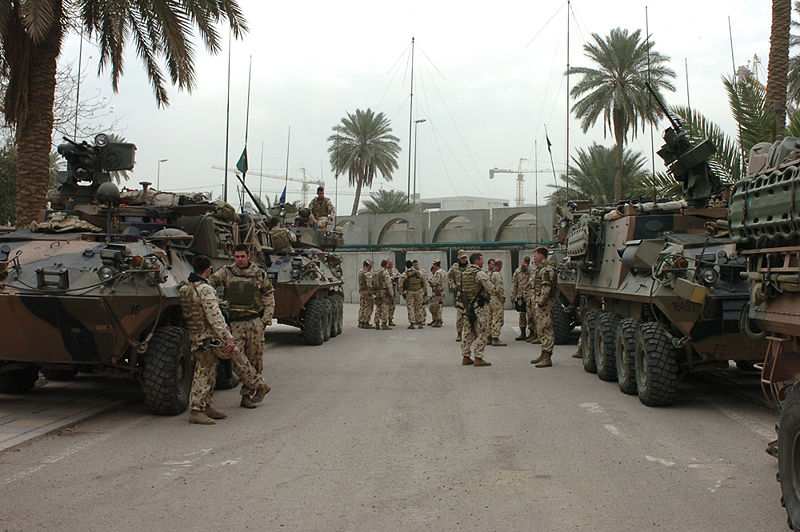 For amphibious operations, the trim vane is erected, bilge pumps activated and rear propellers, connected to the main shaft, are activated. Both also have two small rudders. In addition, the ASLAV is air transportable by most current carriers like the C130, C-141, C-5A but also the heavy duty helicopter CH-53. The 8x8 configuration allows the vehicle to remain mobile even if one is lost, whereas all wheels have solid-core internal secondary run-flat tire next to the hub, allowing the vehicle to run even with if all eight tires burst. On the field, it was found able to negotiate a 60% gradient, 30% Side slope, 60cm vertical step or gap a 2 m trench.
Specific installations comprise a vital air-conditioning from interior temperatures that could peak to an excruciating 55°C (131°F) in the northern Australian areas, and the widest wheels and tires available. After the upgrade, ASLAVs also carries carry a laser rangefinder and a new-generation thermal imager, plus a more powerful 28V DC electric drive for the turret and better suspensions.
Variants
ASLAV-25
initial series, very close to the LAV-25
ASLAV-PC:
Personal Carrier very close to the Canadian Bison, carrying 7 troops and armed with a 0.50 BMG M2 and later a Kongsberg Protector remote weapon station (RWS) equipped with a cal.50 or a Mk 19 40mm automatic grenade launcher
ASLAV-C:
Command vehicle very close to the PC but with extra radio installations and masts, a mapboard, additional stowage, seating and other extra equipment.
ASLAV-S:
Ground Surveillance vehicle equipped with a thermal imager coupled with a laser range finder, a day television camera and battlefield surveillance radar (RASIT/AMSTAR)
ASLAV-A:
Armoured ambulance, equipped for carrying three lying or six sitting patient.
ASLAV-F:
Based on the ASLAV III, standard engineer's and Maintenance support vehicle used by the RAEME and equipped with a HIAB 650 crane.
ASLAV-R:
Recovery vehicle used by the RAEME to rescue damaged or bogged vehicles in the field. Like the F variant, it was equipped with the standard 0.50 BMG M2 and more recently the Kongsberg RWS.
The ASLAV in service
ASLAVs have been issued to training units and the 2nd Cavalry Regiment from the start. Phase 2 ASLAVs upgraded would later form the 2nd/14th Light Horse Regiment also called Queensland Mounted Infantry stationed in Brisbane. These nowadays forms the two armored reconnaissance units in service with the Australian Army. During their active life, ASLAVs as been deployed in East Timor, Iraq and Afghanistan. By early 2015, 253 ASLAVs were registered in service, whereas the Department of Defence opened in February for the first time a tender for replacement, project LAND 400, valued at US$8 billion. All applicants must produce 225 armored vehicles displaying 35 tonnes carrying capacity, and better blast protection for a scheduled service start in 2021.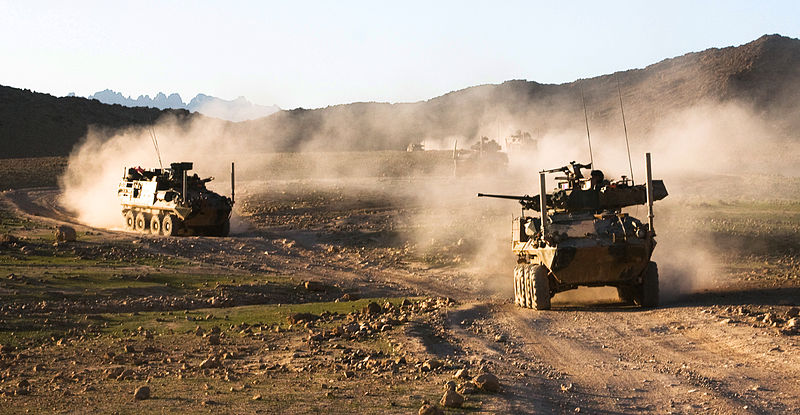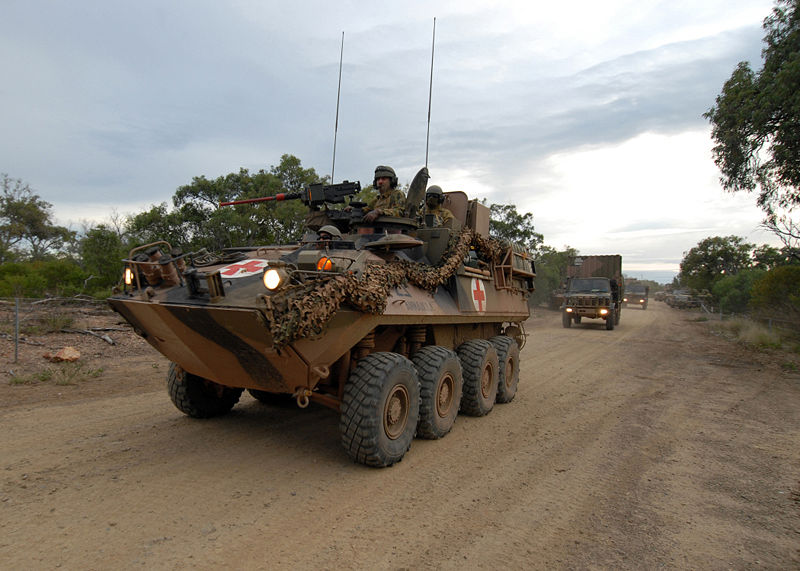 Links
The ASLAV on wikipedia
Official page on army.gov.au
The ASLAV PC on military today
ASLAV specifications

Dimensions
6.57 x 2.77 x 2.43 m (10'43'' x 5'61'' x 4'92'' ft)
Total weight, battle ready
13.45 tons
Crew
3+6 (driver, cdr, gunner, 6 infantry)
Propulsion
Detroit Diesel Corporation 6V 53T
Suspension
4x4 independent coil springs
Speed (road)
100/60 km/h (60/6 mph land/water)
Range
660 km (410 mi)
Armament
25mm M242 Bushmaster Chain Gun, 2x7.62 mm MAG5s
Armor
20 mm front? (0.5 in)
Total production
253 in 1992-2007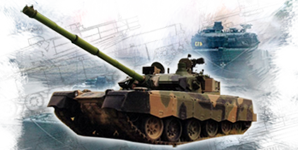 Modern Tanks
---
Modern MBTs posters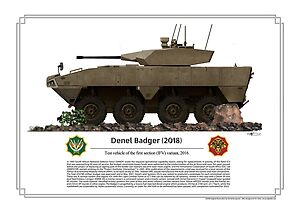 Denel Bagder (2018)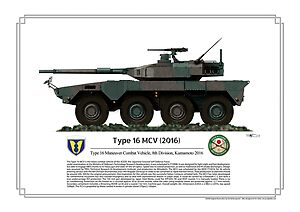 Type 16 MCV (2016)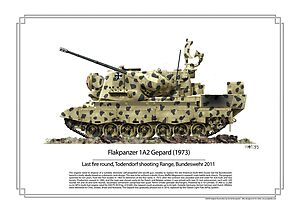 Gepard 1A2 last rounds 2011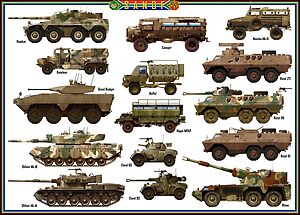 SANDF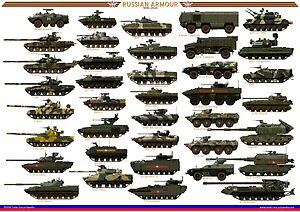 Russian AFVs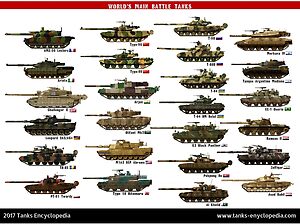 Main Battle Tanks