Development of the Mark III
Like the
Mark II
, the Mark III was essentially a stopgap tank used for training, waiting for the arrival of the upgraded
Mk.IV
, the true successor of the
Mark I
. There are no extensive records of how much they were modified compared to the
Mark I
or
II
, and few photos survived to bring other clues to the table, if any at all.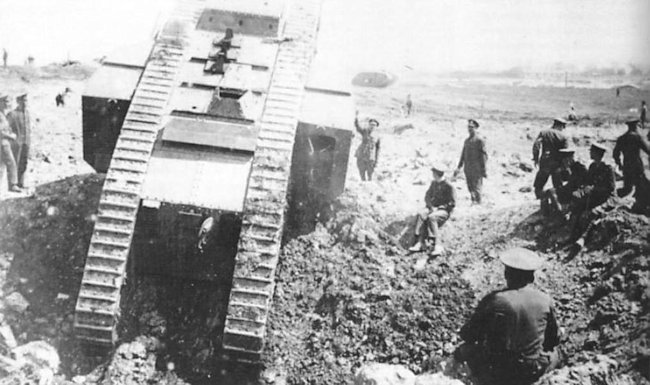 WW1 Mark III Male tank used for training at Bovington. Notice the sponson hatches and roof hatch are open. It must have been a warm day by the look of the shadows. Guns were not normally fitted during driver training.
Design
Essentially, the Mark III was identical to the
Mark I
and
II
with the same supposed use of soft armor, but hard evidence for this is plainly missing. Females used lighter Lewis machine guns in smaller and lighter sponsons, which are the only way to clearly distinguish the type. This batch of 50 vehicles was designed to incorporate all the
Mk.IV
improvements when ready, so as to train new recruits for the
Mark IV
/
V
series. However, the development of these features took such time that the Mark IIIs were apparently delivered as is. None ever left Great Britain.
Like the
Mark I
and
II
, some had broader links every five links for better grip. Other differences with previous models included a thicker armour at the front, 16 mm (0.63 in), while the side armour was pushed to 12 mm (0.47 in) and the roof was protected by 8 mm (0.31 in). The barrels of the Hotchkiss guns were also shortened significantly, as they often got stuck in the uneven terrain or got clogged in obstacles. This is also the easiest way to distinguish them from other early rhomboid tanks. The Mark IIIs had ninety 53 cm broad links which ran on two rails on ten upper return rollers made of bronze. The lower part rolled on 26 road-wheels of which one out of three was clamped.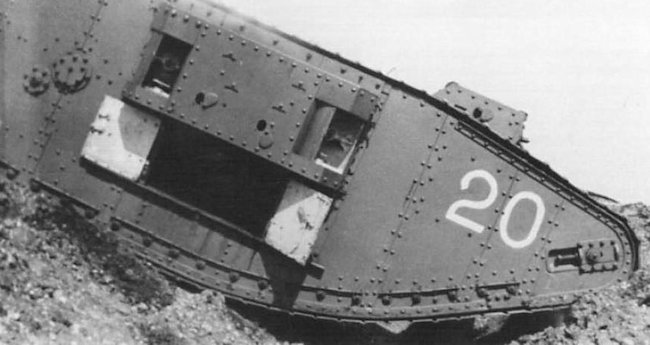 Mark III Female WW1 training tank. The machine guns are not fitted to the tanks whilst the students drive around the course. The crew hatches are fixed open to improve ventilation.
The Mark III in action
Contrary to the
Mark II,
of which at least 25 were sent in France to see action, no Mark III left Great Britain's shores. These tanks were used for training until the end of the war, a task which became more important as more tanks were fielded by the Army each month, culminating with prospects of 3,500 tanks by the time of the armistice. Two managed to survive until WW2, to be dismantled, scrapped and recycled for other uses.
Sources
David Fletcher OBE, British Mark I Tank 1916
David Fletcher OBE, Tanks and trenches
Brevet-Col J.F.C. Fuller DSO, Tanks in the Great War 1914-1918
John Glanfield, The Devil's Chariots: The origins and secret battles of tanks in the First World War
Ralph E. Jones, The fighting tanks since 1916
Richard Pullen, Landships of Lincoln
A.J. Smithers, The New Excalibur
Lt. Col Sir Albert G. Stern, Tanks 1914-1918, The Log-Book of a Pioneer
Gallery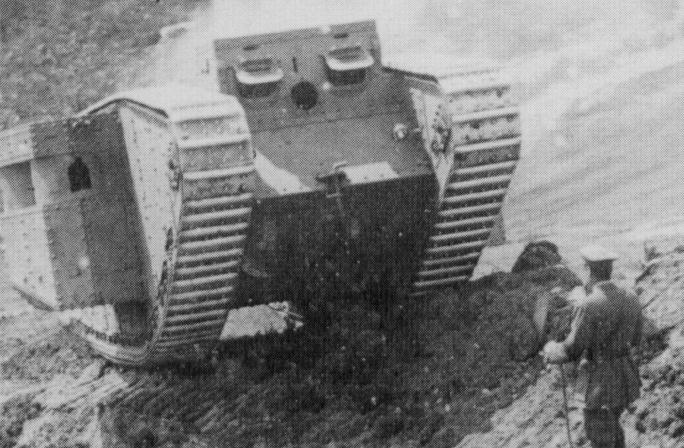 A Mark III tank seen here during manoeuvres with old Mark I style Female sponsons. They were later fitted with the newer shorter length female sponsons and larger crew escape hatches underneath.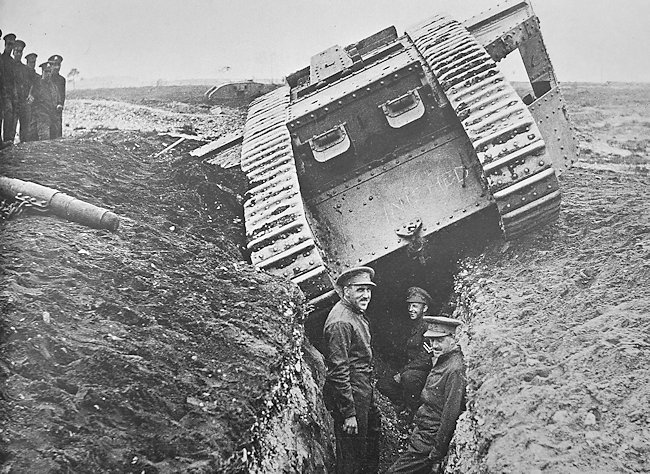 This photo of a ditched Mk III tank was taken at the training camp at Wool, Dorset. Notice the discarded chained spar that would soon be replaced with the unditching beam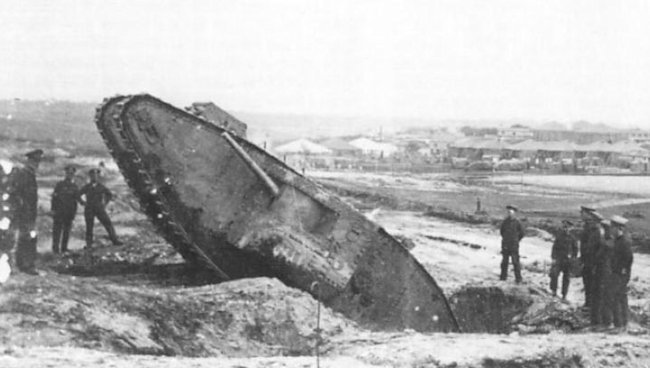 Initially, the Mark III Male training tanks were fitted with the long barrel 6pdr gun used on the Mark I tanks. Photograph taken at Bovington Camp.
Mark III specifications

Dimensions
25ft 10in x 14ft 2in x 8ft (7.92 m (9.92 m tail) x 4.33 m x 2.44 m)
Total weight, battle ready
27.5 (female) 28.4 (male) tons
Crew
8
Propulsion
Foster-Daimler Knight sleeve valve petrol engine, 105 hp
Speed
3 km/h (2 mph)
Range
45 km (27.96 mi)
Armament
Male: 2 Hotchkiss 6 pdr (57 mm) QF and 3 7.7 mm (0.303 in) Hotchkiss machine guns Female: Four 7.7 mm (0.303 in )Vickers machine guns and one 7.7 mm (0.303 in) Hotchkiss machine gun
Armor
From 6 to 15 mm (0.23-0.59 in)
Total production
50

The Female Mark III tanks were also used as training tanks. They were armed with two 0.303 inch (7.62 mm) Vickers water-cooled machine guns on either side in sponsons and a 0.303 inch (7.62mm) Hotchkiss air-cooled machine gun in the front. This tank was later used as a 'presentation' tank. It was given to the people of Bately in Yorkshire to be used as a war memorial. It was the government's way of saying thank you for raising money to fund tank production.

No Mark III tanks survived the scrap metal merchant's blowtorch. They were built as training tanks and not used in combat. This is a Male Mark III tank. They were armed with the long barrelled 6pdr gun but this was later replaced with the short barrelled 6pdr gun and they were also later fitted with the new style sponsons.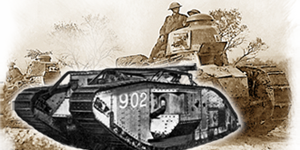 The Great War

Austria-Hungary

Belgium

British Empire

France

German Empire

Italy

Russia

USA
---
WW1 tanks posters