Brazil's wheeled viper
The Urutu (Crossed Pit Viper) is the APC cousin of the Cascavel (Rattlesnake) wheeled tank. In 1970, the Brazilian Engesa company was confident in its conversion/modernization program for the venerable
M8 Greyhound.
Engesa launched a study for a combat wheeled APC, largely based on the mechanical elements of the contemporary
EE-9 Cascavel
.
One of its main features is Engesa's Boomerang double-axle rear drive suspension system. The base version is not NBC protected in order to cut down costs for the export market. Nonetheless, the Brazilian Army adopted it and the Brazilian Marines to this day use a tailored amphibious variant. Production stopped in 1987, with unclear numbers emerging, but over 1,500 appear to have produced.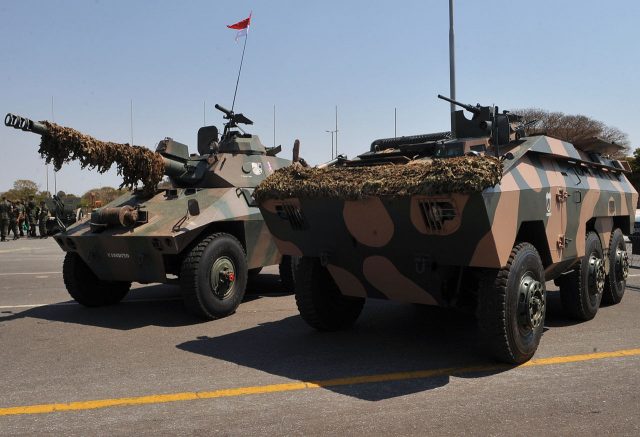 Cascavel and Urutu side by side, 2010 Brazil Soldier's Day
At least 800 Urutus have been exported to 20 countries. The most prolific users are Iraq (200) and Libya (180) and the vehicle saw action in many theaters of operation over the past 40 years. The Urutu also has been developed into 9 variants so far. Although the Brazilian Army is known to operate 226 vehicles (as of 2010), many have been in storage for years before a modernization program came out.
Development
Externally, the Urutu shows an immediate resemblance to the EE-9, with its 6x6 chassis. Indeed, the chassis is almost the same, but it was modified to carry a larger sloped hull. Development started in January 1970 at Engesa, S. José dos Campos (São Paulo) and the first prototype rolled out in July 1970. The idea was partly to "decline" the Cascavel chassis into an AFV for export purposes. Indeed, some of the customers that purchased the Cascavel also bought the Urutu, having their maintenance costs reduced thanks to standardization.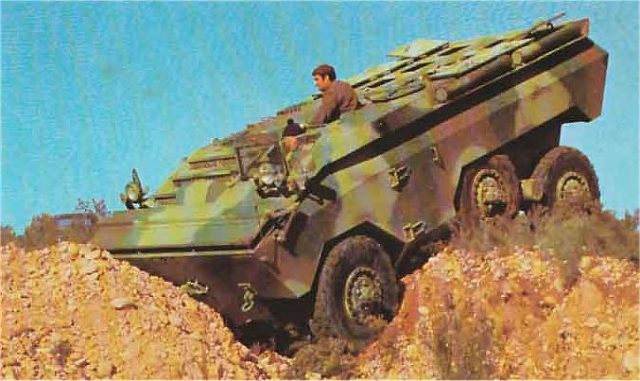 Urutu's double wishbone suspension being tested off-road
The same idea was behind the French
Panhard AML
/
M3 APC
duo. Production officially started in 1974 and lasted for 13 years. The bulk of the deliveries went to export, the last customer being Colombia in 1992. The prototype was refined and made amphibious and a production order was also placed by the Brazilian Army. It Brazilian service it is designated the "Carro de Transporte Sobre Rodas Anfibio" (CTRA), entering service in 1974.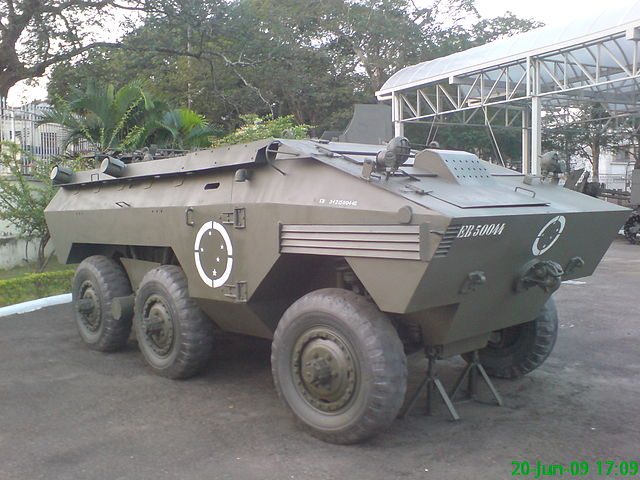 The first production Urutu in 1974.
Design
This welded steel hull is wrapped around a 6x6 chassis, with the engine compartment in the front-right side of the vehicle. The vehicle has front drive and a distinctive rear Engesa Double Axle Boomerang Drive. The vehicle looks relatively stubby with a short nose, barely sloped, unlike many wheeled APCs seen today. However, the upper nose part is well-sloped, with some limited added protection from the folded trim vane. The vehicle is amphibious by default, with propulsion assured by two propellers when in water. This was seen as a vital asset for export, as well as the choice of a proven and available engine. The driver's front-left compartment was given three vision blocks with the central block optionally swapped for an IR device. The drive also has a single-piece hatch. Behind the driver stands the gunner, also given peripheral vision blocks in the turret version.
Access to the interior is done through a left side door and a large rear hatch door for the troops. 11 soldiers are carried, plus the commander/gunner, seated on benches. The soldiers can fire their weapons through ten gun ports. Fuel jerrycans can be stored on each side of the rear door, on the back plate.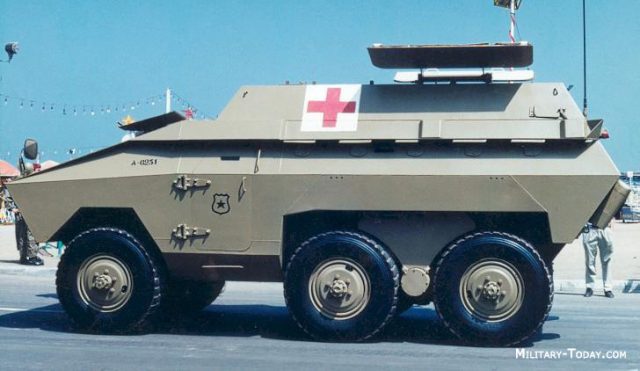 EE-11 ambulance version - Source: Military Today
Protection
The frontal arc is protected by 12 mm (0.5 in) thick two-layer steel plating, while the rest of the vehicle is only protected by 6 mm (0.25 in). The external layer is made of hard steel, while the internal armor features increased viscosity. Overall protection is insured against small arms fire, mine splinters and artillery fragments. The EE-11 Urutu was fitted with an automatic fire suppression system. The NBC protection system is optional. Many vehicles also have smoke dischargers. A windscreen can also be erected over the driver's position.
Armament
The Urutu, in its standard configuration, had a single cal.50 (12.7 mm) machine gun mounted on top of the roof. Variants are also fitted with various tailored turret-mounted armament. The cal.50 can be protected either by a simple frontal shield, or an open turret (complete shielding).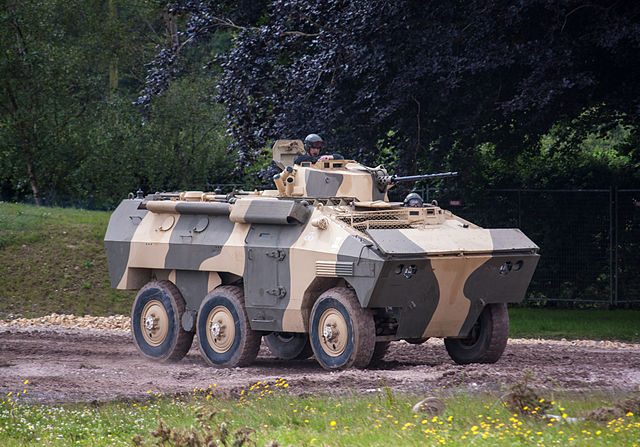 Brazilian modernized version of the EE-11 with a cal.50 turret.
Propulsion
As designed, the Urutu was given a Detroit diesel engine producing 158 hp, and the prototype was able to reach a top speed of 110 km/h (70 mph) on good terrain. As much as 80 km/h (50 mph) are claimed to be reachable in off-road conditions. Originally, the vehicle has a range of 750 kilometers (460 mi), but an upgrade brought it to 950 km (590 mi). The Urutu is equipped with disc brakes and an automatic tire inflation system. For amphibious operations, it is propelled at 8 km/h (5 mph) by two propellers with kort-nozzles and steered by two rudders at the rear. The diesel has a cooling system comprising a water-to-air radiator for the engine water, oil coolers for the engine and transmission and transfer case oils. When swimming there is a keel cooler, while the air inlet and outlet louvres are closed (top, right of the driver).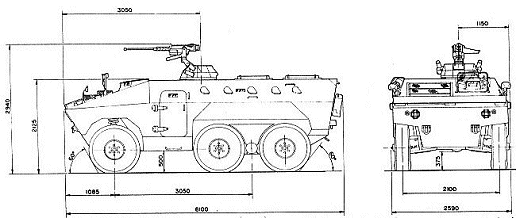 2-view drawing of the Urutu.
The Detroit 6V-53T is a 6-cylinder water-cooled diesel developing 260 hp at 2,800 rpm. It is coupled to an Allison automatic transmission with 4 forward and 1 reverse gears. The independent front suspension consists of double-wishbone arms, coil springs and double-action hydraulic shock-absorbers. They are driven by hypoid angular transmission, plus bevel differential gears, and the axles can be pressurized for amphibious use. The rear suspension consists of semi-elliptical springs and double-action telescopic shock absorbers, a trademark of Engesa. The EE-11 Urutu can negotiate gradient up to 60% and side slopes up to 30% and climb a vertical obstacle of 0.6 m.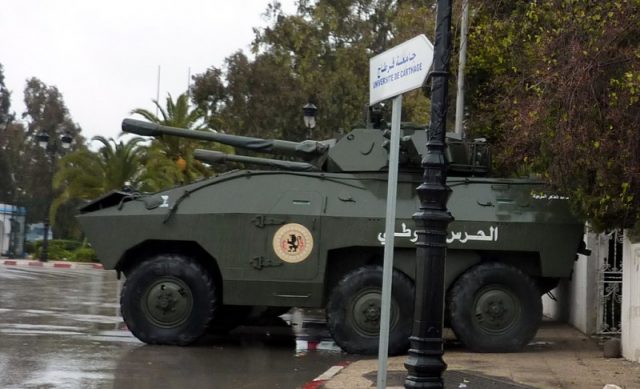 Tunisian EE-11 Urutu fire support variant.
Variants of the EE-11
Mortar Carrier:
Armed with an M936 81 mm (3.19 in) mortar and a crew of four.
Infantry Fighting Vehicle:
This version is given a 25 mm (1 in) cannon, coupled with an ATGM launcher.
Fire support variant:
Large turret fitted with the Cockerill Mk.III 90 mm (3.54 in) cannon or the EC-90 from the EE-9 Cascavel. 12 of these have been purchased by Tunisia according to photos and most sources.
Anti-aircraft variant:
Equipped with two 20 mm (0.79 in) autocannons.
Recovery Vehicle:
Unarmed version given a hydraulic crane, and full maintenance kit/gear.
Anti-riot variant:
This version is given fences on all windows and smoke launchers.
Ambulance:
Modified to carry four stretchers, full medical kit and personnel.
Command Vehicle:
The command vehicle is modified to monitor the battlefield, with two map tables, document storage, and full communications set.
Exports: Urutu around the world
Brazil alone is still reportedly operating 226 Urutus today. The list of former or present registered operators also includes Angola, Bolivia (24), Chile (37, no longer in service), Colombia (76), Cyprus (10), Dubai (60), Ecuador (18), Gabon (12), Guyana, Iraq (formerly 200), Jordan (28), Libya (180), Nigeria, Paraguay (12), Suriname (15), Tunisia (12 with the 90 mm gun and 6 of the APC type), Uruguay (18), Venezuela (38) and Zimbabwe (7).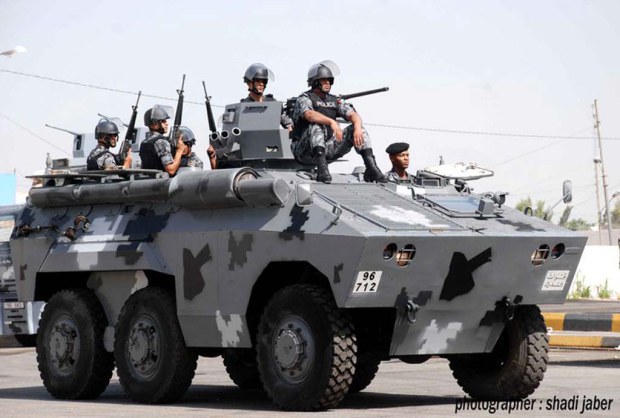 Urutu of the Jordanian police
The EE-11 in action
Brazilian Urutus have been placed into storage at the end of the Cold War. According to Spanish sources, the Exército do Brasíl (army) operated 515 vehicles, while the Infanteria de marinha do Brasíl (Marines) had 219 in service. 226 vehicle have been modernized in the 1990s (the engine and gearbox in particular). This upgrade program was led by the Army's São Paulo War Arsenal branch, as a stopgap until the arrival of the new VBTP-MR in 2012. Brazilian vehicles have been deployed with United Nations Stabilization Mission in Haiti (Brazil-UN).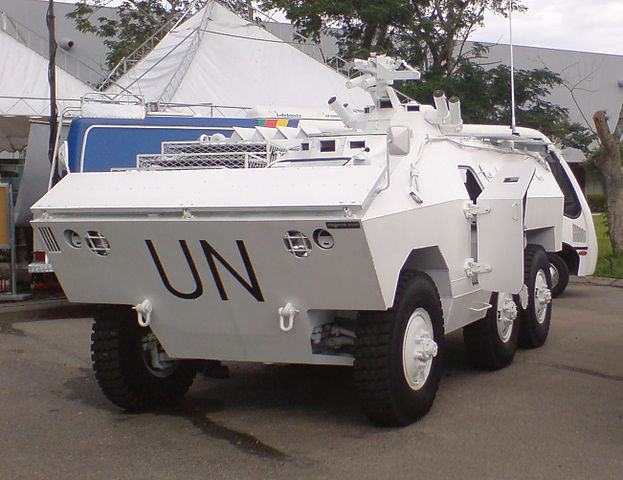 Brazilian Urutu in UN colors during the United Nations' Stabilisation Mission in Haiti in 2004.
The vehicle was well-proven in combat and it is still in action in some of the hotspots on the globe today. It was bloodied in the Colombian civil war, Chadian–Libyan conflict, Iran–Iraq War, Invasion of Kuwait, 1990-1991 Gulf War, 2011 Libyan civil war and Iraq Civil War.
Links and Sources
The EE-11 on Wikipedia
The EE-11 on Army-recoignition
The EE-11 on Army Guide
The EE-11 on Military Today
Dedicated gallery on Pinterest
EE-11 Urutu specifications

Dimensions
6.1 x 2.6 x 2.9 m 20' x 8'5'' x 9'5''
Total weight, battle ready
14 tons
Crew
Driver, 12-14 soldiers
Propulsion
Detroit Diesel 6V-53T, 260 hp
Suspension
6x6 independent coil springs
Speed
105 km/h (61 mph) 8 km/h (5 mph) on water
Range
750 km (460 mi)
Armament
cal.50 (12.7 mm) Browning M1920 HMG
Total production
1,500 in 1974-1985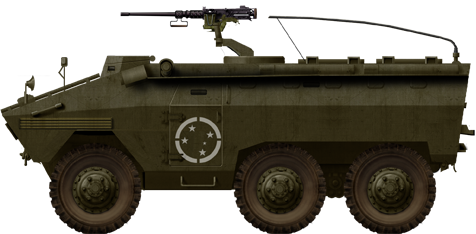 Early type EE-11 Urutu APC with the Brazilian Army, 1970s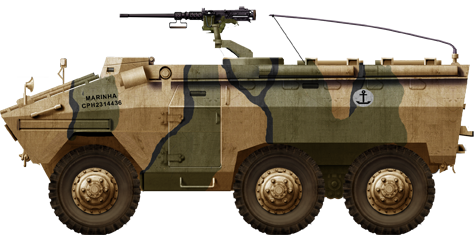 Late version EE-11 APC with the Brazilian Marines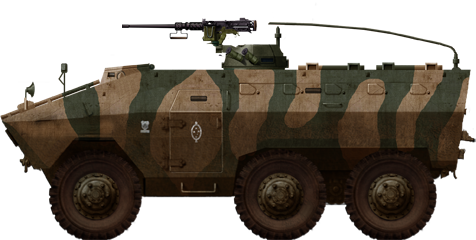 Late type Urutu of the Brazilian Army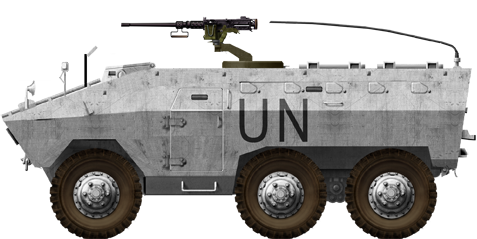 Urutu in UN livery with United Nations Stabilisation Mission in Haiti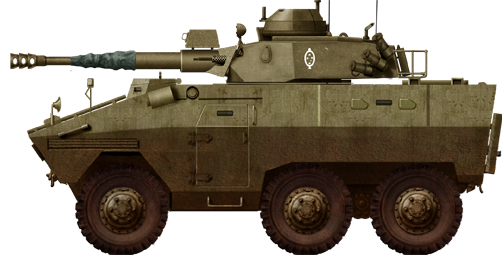 EE-11 Urutu fitted with the Cockerill MkIII 90 mm (3.54 in) gun in a large turret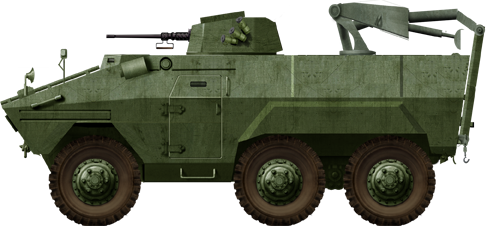 EE-11 Urutu Armored Recovery Vehicle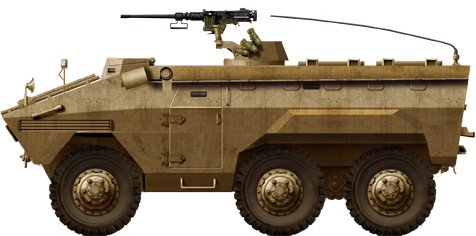 Export EE-11 APC in a sand livery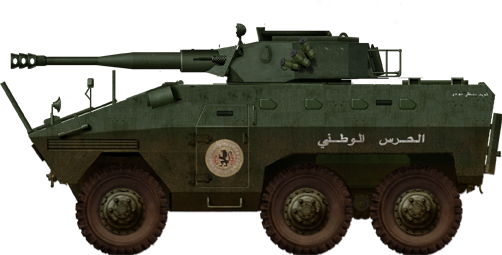 Tunisian fire support vehicle with the Cockerill 90 mm turret
Additional photos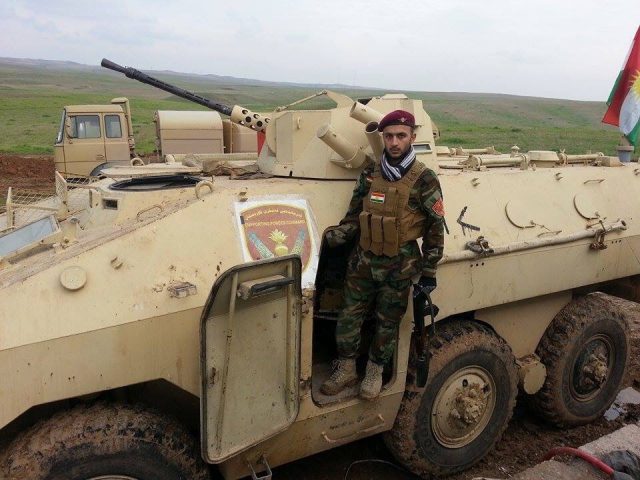 Urutu used by the Peshmergas, Northern Irak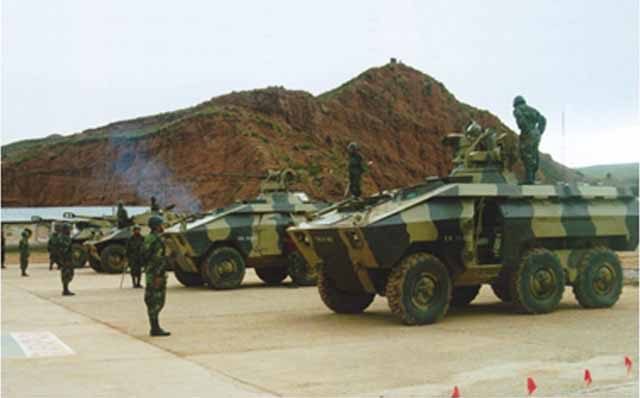 Bolivian EE-11 IFV with a 20 mm (0.79 in) autocannon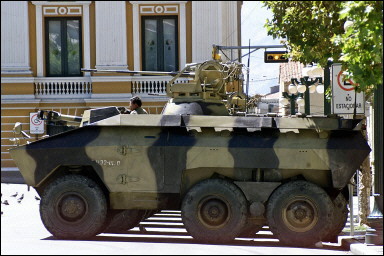 Bolivian EE-11 IFV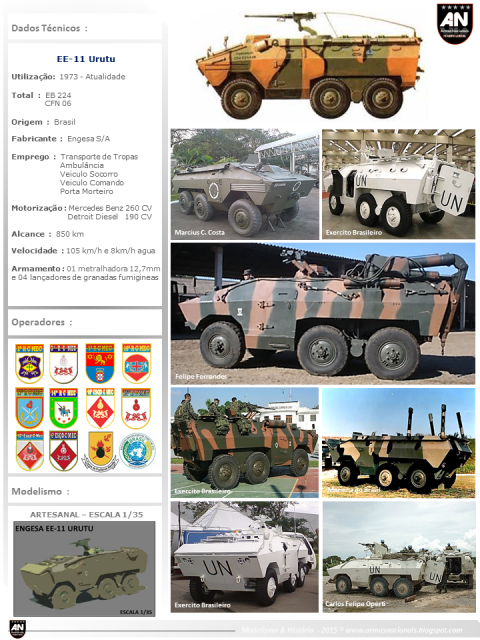 Model references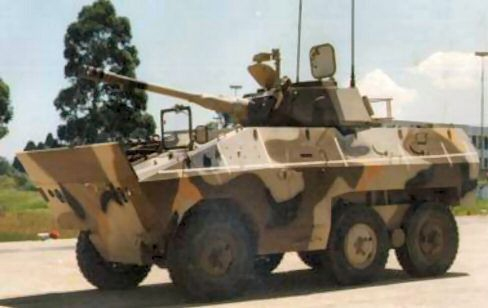 Fire support variant in Cypriot service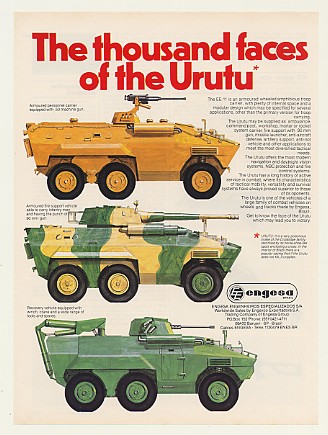 Advertising flyer for the Urutu from Engesa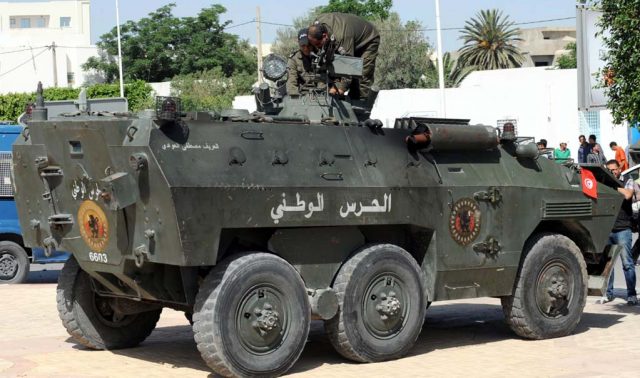 The rear of a Tunisian Urutu APC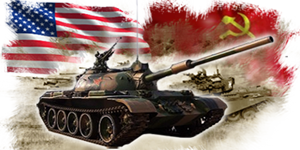 Cold War Tanks



































Cold war tanks posters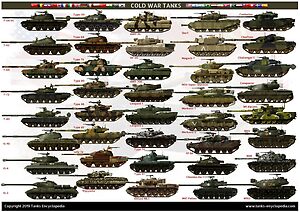 Cold War Main Battle Tanks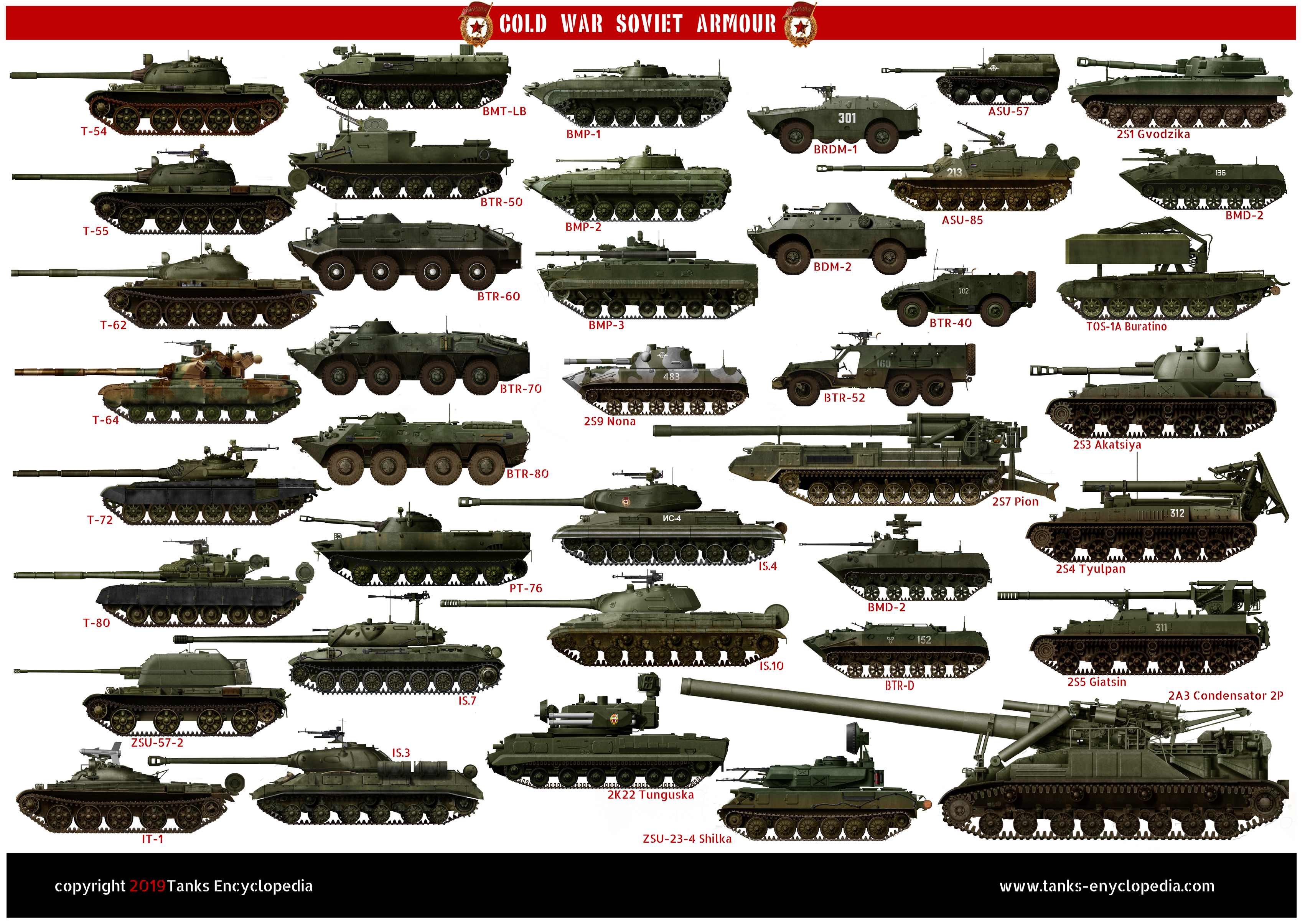 Cold War Soviet Army