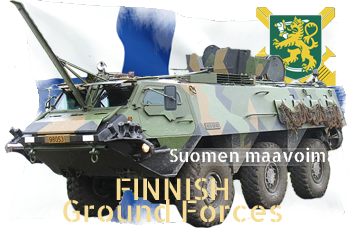 COLDWAR/MODERN FINNISH ARMOR
Click to see the Finnish WW2 tanks
Fate of the Finnish Army after WW2
Finland was Nazi Germany's co-belligerent in WW2* as being attacked by the Soviet Union in 1939, but only received limited assistance, first from the West (France and UK) and up to 1944, from Germany. Finland was the only European country bordering the Soviet Union and still unoccupied by 1945. According to Finnish records 19,085 Soviet POW died in Finnish prison camps during the Continuation War, (29.6% of Soviet POWs), due to malnutrition and diseases. Finland was never a member of the Axis powers, retaining a democratic and non-discriminating policy for the duration of the war, and never signed the Tripartite Pact although taking part of Operation Barbarossa 1941, and fighting to the separate peace with the Soviet Union in 1944.
By 1945, the picture was grim. The war had caused great damage to the infrastructure and the economy. Mine clearance operations started in autumn of 1944, in Karelia, Lapland and the Gulf of Finland, and lasted until 1950. Those remaining cause lots of casualties, sometimes long after the war. As part of the Paris Peace Treaty, Finland was classified as an ally of Nazi Germany and was imposed heavy war reparations, including the lease of the Porkkala area near Helsinki for fifty years. The reparations were later reduced by 25% by the Soviet Union in 1948, but paid off anyway in 1952. Eventually, Porkkala was returned to Finnish control in 1956.
Finns in the Cold War
One term is frequently used to describe the Cold War early years: "Finlandization". The country was heavily influenced by the Soviet Union, but remains the only country on the Soviet pre-World War II border to retain democracy and a market economy. Finland joined the Agreement of Friendship, Cooperation, and Mutual Assistance (YYA Treaty), ensuring neutrality. As a consequence, Arms purchases were balanced between East and West until the fall of the Soviet Union, although by virtue of cost and proximity, Soviet hardware was preferred. In general, various industries benefited from trade privileges with the Soviets, in addition to Western economic relations, which led to an economic boost. By 1975 Finland's GDP per capita was the 15th highest in the world, and by the 1980s, set up an extensive welfare state policy.
That is reflected through the choice of Medium and Main Battle Tanks (
T-54
and
T-55s
), Finland also still operated until the late 1950s a fair amount of ww2-era tanks of various origins:
T-26 m1937 and T-26 m1939
, T-26E, T26T (until 1959),
T-38-34s
(until 1959), T-38-KV,
T-20 Komsomolets
,
T-28 m1938/T-28E
(until 1950), locally modified
BT-42
(until 1956),
KV-1
(1954),
ISU-152V
(1959),
Panzerkampfwagen IV Ausf. J
,
Sturmgeschütz 40K and Sturmgeschütz III Ausf. G
(until 1966), Landsverk Anti II (until 1959).

The Finns also operated the British
Charioteer Mk VII Model B
for most of the Cold War: 38 were obtained in 1958, which served until 1980.
The
Comet Mk I Model B
was also briefly used (1960 to 1971), 41 second-hand being pressed into service.
Main Battle Tanks: T-55
However, the 1960s saw the adoption of the T-55, of which 74 were operated (including 10 T-55K), from 1966. These were modernized in 1989: T-55M (70 units) and 4 T-55MK.
Main Battle Tanks: T-72
They had been in service from 1984, in all 162 (some ex-East-German), distributed as follows:
157 T-72M1, 3 T-72M1K and 2 T-72M1K1.
Light Tanks:
PT-76
were obtained in 1963 and maintained in service until 1994 (12 units) for recce units. Some have been converted as PT-A (driver training tanks) after decommission.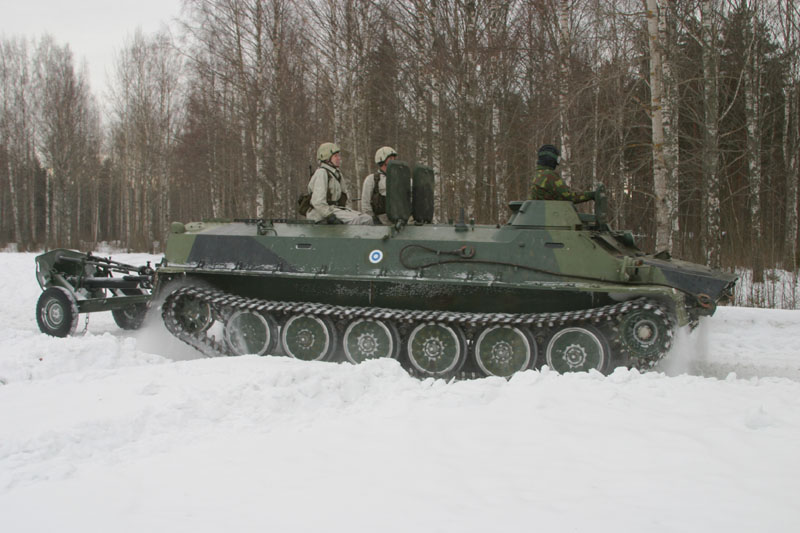 With its low-profile and dependable characteristics, the Soviet-era MT-LB still forms the bulk of Finnish tracked APC force (about 400 in service).
Modern days Finnish Ground Forces
Until the late 1980s, the Finnish Army relied heavily on Soviet-built hardware, however following many other European countries, Finland bolstered its capabilities with the adoption of the German-built Leopard 2.
Finland bought 124
Leopard 2A4s
from surplus German stocks in 2003. 12 were later converted into bridge-laying and CEV tanks, 12 more being disassembled for spares, leaving 100 operational tanks. In 2009, the Finnish Army bought 15 more German surplus Leopard 2A4s for spare parts (total 139).
On 16 January 2014, Finland agreed with the Netherlands to purchase 100 Leopard 2A6NL for approximately €200 million. In 2015, most of the 2A4s were moved into reserve (7 converted into Marksman SPAAGs and mine clearing tanks). According to Turkish news sources, Finland was initially interested in getting the Turkish upgrade package to modernize their fleet of Leopard 2A4s. In addition, 40 used Leopard 2A6 tanks will be delivered from the Netherlands 2018-2019. This will bring the Finnish main battle tank force to 200, not a negligible force to consider, with the addition of about 140 reserve Leopard 2A4 that still can be modernized.
Structure:
The Maavoimat comprised the infantry (which includes armored units), field artillery, anti-aircraft artillery, engineers, signals, and supply troops. Since ww2, the Finnish Land army has been in peacetime training formation, meaning its brigades (joukko-osasto) are only training formations. They train each batch of conscripts they receive for a specific war-time unit. Conscripts are then demobilized and placed into reserve. There are regular "refresher exercises" for the reserve unit, which also includes tank and AFVs crews, on a per-unit base.
The bulk of the APC force is split between a variety of tracked ones (Soviet era MT-LB) but also articulated (Swedish and local) types, and locally-built wheeled APC of the
AMV
and
Sisu
types. The 6x6
Sisu Pasi
is rather an old vehicle (devised in 1980 with some Western influence) and recalls the German
TPZ Fuchs
in many ways. It has been also rightly compared to the
BTR-80
. Largely produced for local needs and exported, the Pasi saw action in Afghanistan, Bosnia, Croatia, Eritrea, Golan Heights, Iraq, Kosovo, Lebanon, Macedonia, Namibia, Liberia, Somalia and Chad.
Sisu Pasi from the Finnish Police
The 8x8
Patria AMV
, also devised for export, is going to replace it in the years 2020-2030. The Patria gets a highly modular design, allowing many almost on-the-field modifications. Its characteristics were duly noted and the
South African Badger
is based on it. There is also a LAV-25 replacement project for the US Marines that gave the Havoc MPC, the fruit of an agreement between Patria and Lockheed Martin. The Polish Army has ordered no less 690 vehicles in 2003. It was locally known as the
KTO Rosomak
and had been since largely used in combat (Afghanistan). Other customers for the Patria includes Slovenia, Croatia, the UAE and Sweden. This is Finland's success APC and worthy successor of the Swiss
Mowag Piranha
in this area.
As of today, the Finnish Army operates:
160 MBTs (to be ported to 200 by 2019)
196 IFVs (BMP-2 and CV-90 types)
389 APCs (tracked, MTLB type)
471 APCs (wheeled, Patria and Sisu types)
72 self-propelled artillery pieces
22 multiple launch rocket systems
20 Helicopters and 30 UAVs
Leopard 2A4 MBT. The Finnish Army operates 100 of these, alongside 60 Leopard 2A6s (about 100 in the near future).
There are still a handful of Polish-modified T-55M used for mine-clearance, equipped with a bulldozer blade or KMT-5 mine rollers.
Links & resources
Modern equipments of the Finnish army on Wikipedia
maavoimat.fi/en/frontpage
RSS Feed (EN)
Former equipment of the Finnish Army
Modern Finnish Tanks and AFVs (Suomen maavoimat)

Main Battle Tanks:
160 Leopard 2A4 and 2A6 (200 expected)
102 CV-9030 FIN: These top-notch Swedish built IFVs (on Finnish Specs) are in service today, and were delivered two folds: 57 first batch, 45 second batch.
110 BMP-2 (delivered in the 1980s) are currently updated (ongoing process ending in 2019) with thermal imaging and Polish multi-spectral camouflage Berberys-R.
Soviet-built MTLBs makes the mainstay of the tracked APC force: 389 are currently in service.
Patria AMV XA-360: These locally-built recent wheeled IFVs are given the Protector (RWS) remote weapon station for urban combat. 62 currently in service as of 2016.
Sisu Pasi XA-180/185/202/203 OWS wheeled APCs: Also built in Finland, about 409 in service, since the 1980s (some are modernized since 2014 and up to 2017, others are to be modernized until 2019 (next batch).
Sisu NA-110 Tracked articulated APC. In addition to 250 of these, about 20 BV308 and 400 Swedish-built BV206 D6N are also in service.
Leopard 2L, 2R, BLG-60M2 AVLBs, Sisu E15TP Leguan and Sisu RA-140 DS specialized tanks.
Motorized artillery: 122 PSH 74 self-propelled howitzers, 72 Soviet-built vehicles, and in addition to 34
298 RSRAKH 06 MLRs
and 34 122 RAKH 89 M1 (Czech built 6x6) MLRs.
AA support: 20 ITO 90M (Crotale NG), and unarmoured vehicles of the ITO 12 NASAMS II, ITO 05 (ASRAD-R)
ITO 05M (MANPADS) wheeled types. Also 7 of the excellent ITPSV Leopard 2 MARKSMAN
ITPSV Leopard 2 MARKSMAN SPAAGs.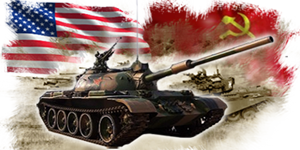 Cold War Tanks



































---
Cold war tanks posters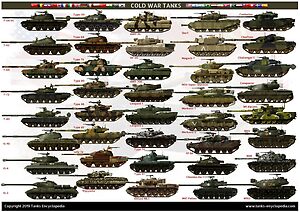 Cold War Main Battle Tanks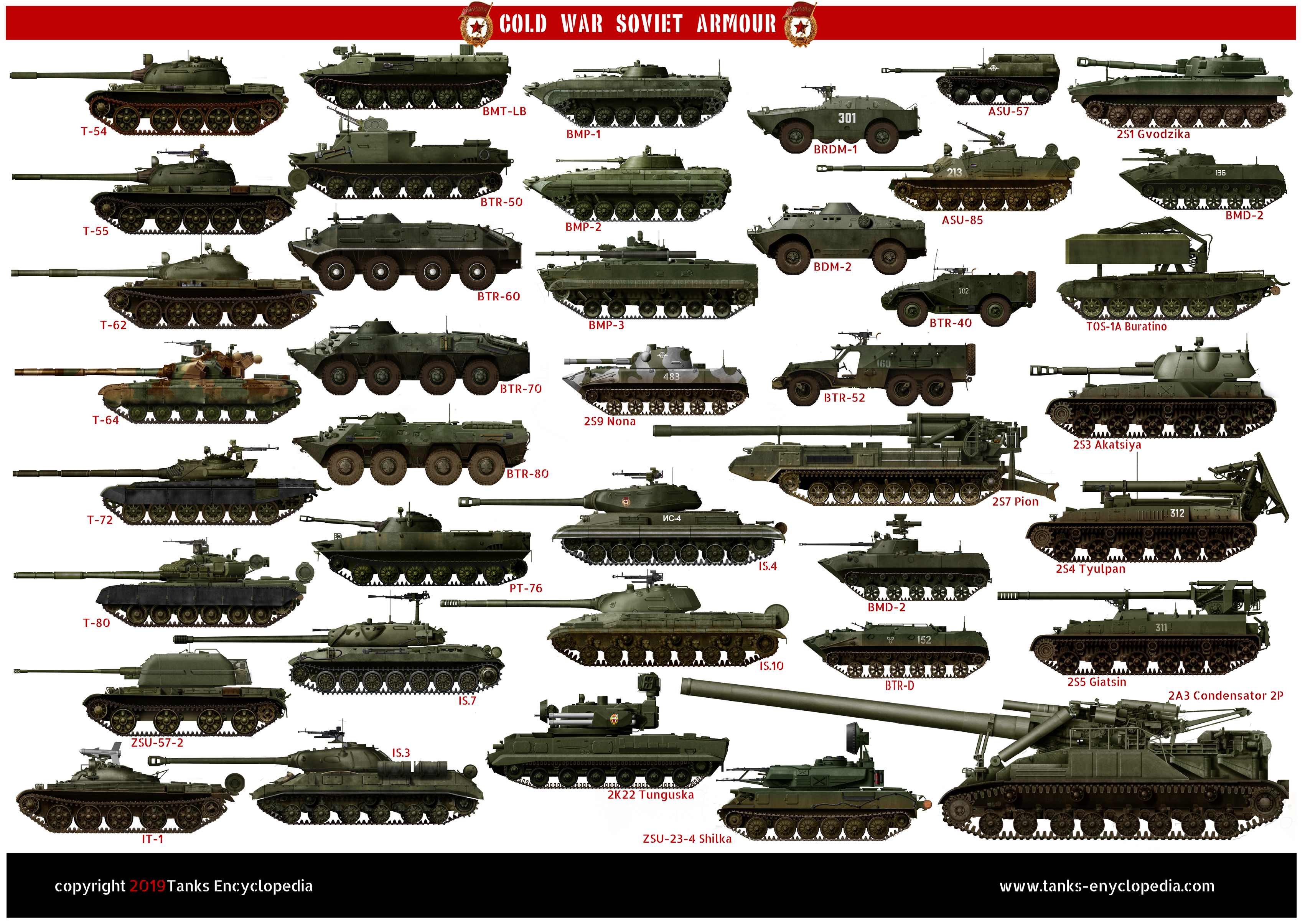 Cold War Soviet Army