Development
Design studies were initiated without army specification from 2005, by Nurol Makina, a Turkish defense company. As a private venture it was developed both for the domestic market and awaited specification for a new wheeled APC, going back to a competition on the mid-1990s. Another 6x6 APC competed, the RN-94 jointly developed by Nurol Makina and Romarm SA Filiala S C Moreni of Bucharest. The RN-94 was a 6x6 APC derived from the TAB-series based on the BTR-70/80 family, set to be introduced in 1994, hence the name. One RN-94 was manufactured by and in Romania for exhibitions and tests while a second one was assembled in Turkey, also for tests purposes; soon however it was followed by five more prototypes which underwent extensive trials in 1999. The RN-94 was modular and tests with turret-mounted weapon stations notably an antitank verison armed with four Malyutka ATGMs. The RN94 was powered by a Cummins 4 stroke, turbo diesel which developed 275 hp at 2300 rpm. A post will be dedicated to it. It has been only expoted so far to Bangladesh, nine ambulance version vehicle. This is the only known sustained production run of the RN94.
Bangladeshi RN-94 ambulance version
Indeed, the RN-94 was eventually not adopted for service, both in Romanian and Turkey, but the experience gained by Nurol in its development was reused when developing the Ejder. The design development ended in 2006 and the vehicle was proposed and tested by the Turkish army. It was eventually put oto intensive field trials performed by the first six pre-production prototypes in 2007, but an initial order for 800 vehicle was cancelled. Production started in 2008 for Georgia, the only known active operator of the type. As of 2021, no further order is expected and the vehicle is no longer marketed, but was further developed by FNSS as the Pars APC.
Design of the Nurol Ejder
Hull & protection
Ejder in Georgian service (Only one photo is available in CC).
The hull of the Edjer is not prismatic like most of modern wheeled APCs, but more slab-sided, with a two-part nose comprising an upper glacis plate and a lower two-piece nose. The flanks receive a slloped armor, the back is relatively flat like most APCs, with access doors. The driver is slocated to the left, the right containing the engine and protection, with a large radiator grille above and maintenance hatches on this side and the right. The driver can see through a folding windshield but also buttoned up vya three persicopes. The central one can be swapped by an IR sight. The commander is located behind, with a round hatch and a serie of six persicopes for a peripheric vision. There is a ring mount for a manual MG or the whole hatch can be swapped for a remote controlled weapon. There is another roof hatch followed by roof doors aft.
The RHA Armor of the Ejder is standard level three NATO STANAG 4569, protecting the crew all round against 7.62 mm armor-piercing rounds and shrapnel. The front section is thicker, probably around 12 mm in order to protect against up to 14.5 mm AP rounds. In conformity to the last wartime standards, it's also protected against mines and IEDs, with a V-shaped hull, a reflection of the war in Afghanistan. It was tested with a 8 kg mine blast. Protection is basis, but can be upgraded with packages of modular add-on armor modules. The rest of the active protection is also standard with an all-around automatic fire suppression system, both in the engine compartment and crew. However NBC collective protection is an option. Also for active protection, the Ejder is given two sets of three smoke grenade dischargers to temporarily mask the vehicle.
Armament
The Ejder base armament was a simple machine gun, remotely controlled (RWS) with three video surveillance units, turret-mounted, behind the driver. The base system uses a standard NATO 7.62 mm machine gun (any compatible type), and standard US Mk19 40 mm automatic grenade launcher. In combination with tracers and smoke projectors, this enough to cover disembarking infantry. On this chapter, 11 men meant a fully equipped squad with portable antitank and AA missiles. Also, the 6x6 APC has been marketed with the possibility of fitting a large variety of standard turrets. The IFV version is given a 25 mm M811 DRAGAR turret, assembled from Turkey under license by MKEK, paired with a 7.62 mm machine gun, and this goes up to the 90 mm Cockerill gun turret. However only the 25 mm Dragar turret was showed in exhibitions. Other variants were developed such as reconnaissance vehicle, an ATGM carrier, a mortar carrier, a fire support vehicle, and ambulance, and also a command vehicle, plus the usual recovery and engineering vehicle. They only exist however on paper as they were never ordered. They all share the same platform to reduced maintenance and logistics and simplify training. However only the APC with the basic 7.62mm MG+40 mm GL RWS has been exported so far.
Powerplant
The Ejder APC is powered by a Cummins 6-cyl turbocharged diesel engine ISLe3-400, developing 400 hp. There is as standard a central tyre inflation system adjustable on the move. The vehicle is also amphibious without preparation, spinning its wheels but with optional rear waterjets, swimming at 9 kph. Due to its moderate weight it is also air transportable in large planes. It was tested with a payload of four tons. It was tested on flat to 110 kph with a range up to 650 kilometers or 700 thanks to a fuel capacity of 365 L; It uses independent suspensions with torsion bars, secured by hydraulic shock absorbers, dveloped by Timoney of Ireland. Its turning radius is eight meters. It uses disc brakes on the front wheels. Ground clearance is high, at 428 mm, and its Track 2300 mm for a wheelbase of 1900 mm. On trials it was proved able to ford one meter deep without preparations, climb a 40% gradient, a 30% side slope gap a 1,20m trench, and climb a vertical obstacle of 50 cm.
About Nurol Makina
NUROL Mashinery and Industry Co Inc is today one major armored vehicls suplier of Turkey, and its current catalog shows a variety of 4x4 vehicles: The NMS, the larger Yalcin, developed from the 4x4 Ejder, the small police vehicles Ilga II, the crowd control truck Ejder Toma and the armored truck Kunter. It is present in all yearly worlwide ground defence exhibitions with Otokar. Founded in 1976, Nurol Makina started working on civilian specialized vehicles before turning to the defense sector in 1992. It is now specialized in 4x4 tactical wheeled armored vehicles built in a large, modern facility built in in Ankara. The site boasts automated assembly using 5-axis laser cutters used for steel armor, 7-axis robotic welding machines, hydraulic eccentric presses, robotic heat treatment and painting facilities. Its vehicle has been sold both to the Turkish Armed Forces and Turkish National Police.
Production & exports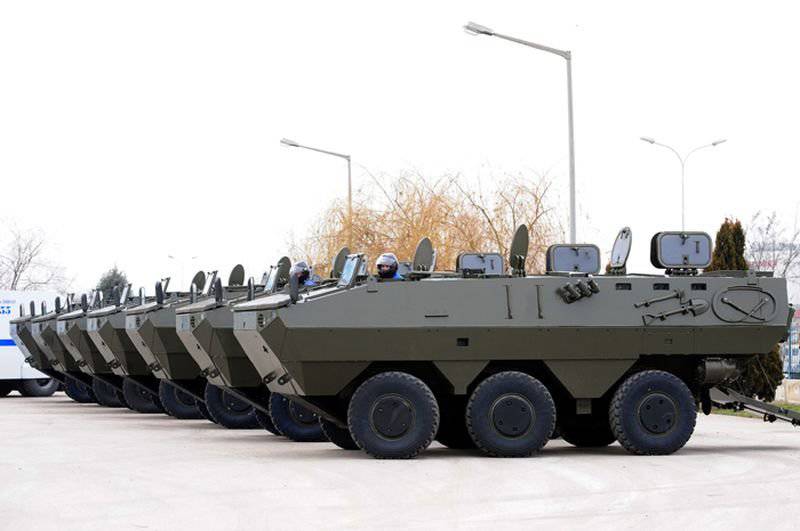 Turkish prototypes in service. The vehicle was not adopted - topwar.ru
The first customer for this vehicle, outside Turkey, was Georgia. President Mikheil Saakashvili reequipped the Georgian armed forces from 2004, in anticipation of a possible border conflict with Russia over Abkhazia and South Ossetia. From turkey, 100 Turkish Cobra IMVs were purchased, but they wcould do little during the invasion in August 2008. The defeat had consequences for the weapons supply and after th 12-day war, the major acquisition made was 72 Ejder 6x6 APCs to replace its obsolete BTR-70 and BTR-80s. They are seen as complementary to the local, homegrown Didgori IMV. The vehicle was also marketed in the middle east and trialled in the Arabian desert, tropicalized, in anticipation of a possible acquisition but no other orders came ans as of today Georgia remains the only known operator of the Ejder 6x6. The experience gained in its development helped develop also a new generation of vehicles such as the Otokar Arma, FNSS Pars and BMC ZMA, however the Turkish Army main 6x6 APC today is the Ejder-derived FNSS Pars III. Between these 72 vehicles and the six pre-prototypes, this made a total of 78, although the figure of 90 vehicle is often found.
Links & resources
On army guide
Full article on oryx blog
Official website - Nurol Makina
poadu.wordpress.com
waronline.org/
army.lv/
www.youtube.com
geo-army.ge
Military-informer.narod.ru
topwar.ru
globalsecurity.org about the RN-94
Ejder specifiations

Dimensions
7.05 x2.69 x2.40 m ( ft)
Total weight, battle ready
18 tons
Crew
2+10 (driver, commander, platoon)
Propulsion
Cummins V6 TD 400 hp
Suspension
6x6 independent torsion basr, schock absorbers
Speed (road)
120 km/h (78 mph)
Range
700 km (500 mi)
Armament
See notes
Armor
Classified - STANAG-3-4 level
Total production
90
Gallery: Author's illustrations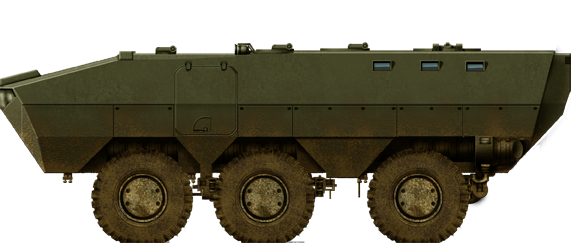 Turkish prototype in 2006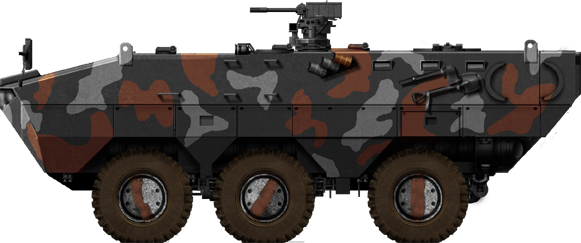 Georgian production vehicle in 2009
Gallery: Photos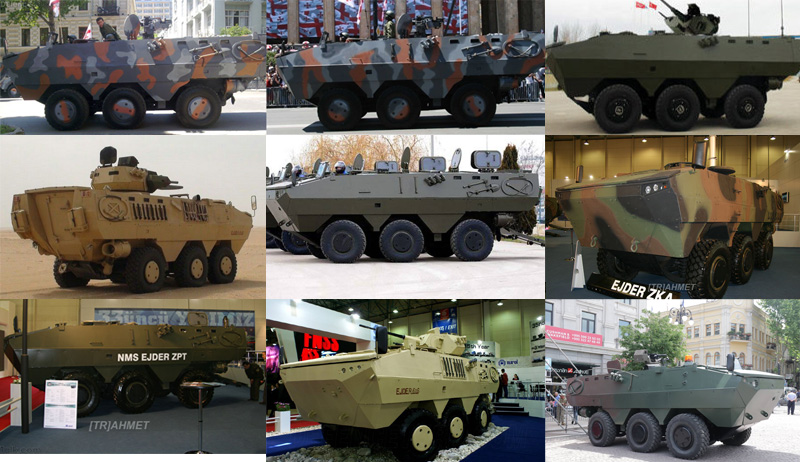 Various references from the Web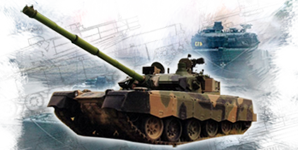 Modern Tanks
---
Modern MBTs posters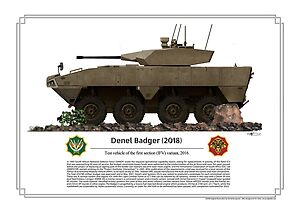 Denel Bagder (2018)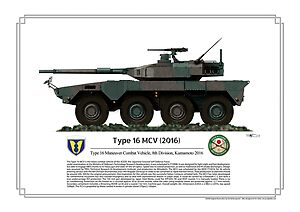 Type 16 MCV (2016)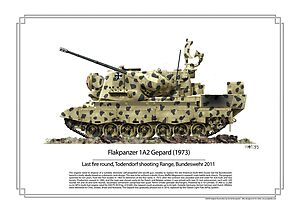 Gepard 1A2 last rounds 2011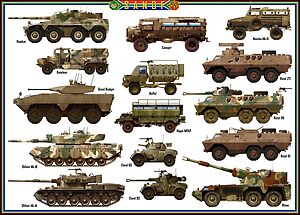 SANDF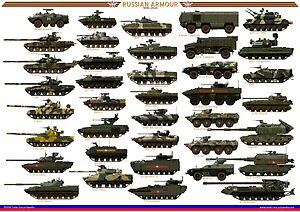 Russian AFVs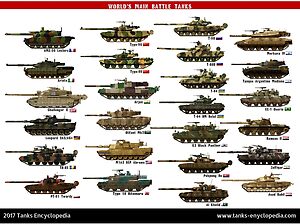 Main Battle Tanks