Based on the AMX-13
The prolific
AMX-13
spawned a variety of vehicles based on its chassis throughout thirty years. Among these were at least five self-propelled guns models. One of these, the
Canon de 155 mm Mle F3 Automoteur
was thought to replace the ageing American M41 Gorilla 155mm self-propelled guns (based on the M24 Chaffee) in service with the French Army. It was designed by AMX between 1952 and 1960, and put into service in 1962. Production spanned at least two decades and it was also exported to nine other countries. It offered then the most advantageous firepower-to-weight ratio for a SPG with this caliber, but with serious tradeoffs.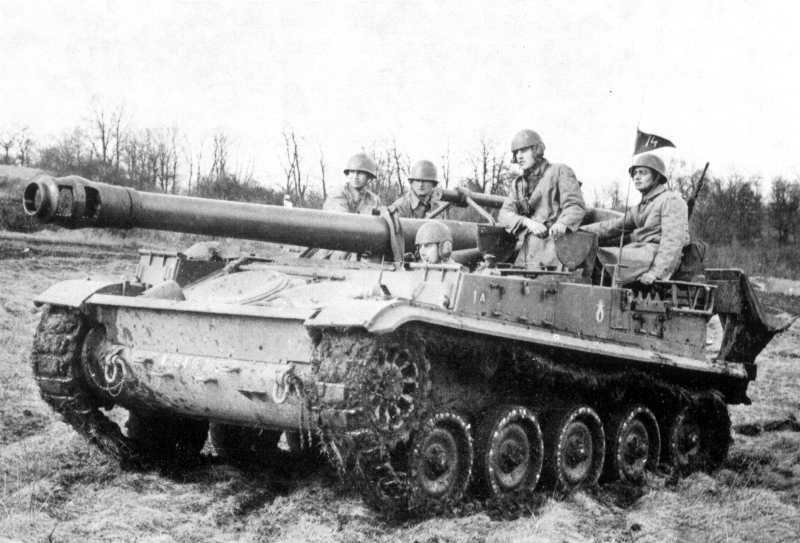 Design
The Mk F3 155 mm retained the AMX-13 light tank chassis front part, but the rear was shortened and heavily modified. The drive sprocket was completely ommitted, and there was a pronounced recess towards the rear, to accomodate the gun recoil, elevating and traversing mechanisms and hydraulic spades (which reversed into the ground for added stability when firing) in a single, compact package. The welded hull was lightly armoured, 10 to 20 mm, with a conventional layout : The Driver seated at the front-left, protected by a splashboard, with a single-piece, three periscopes hatch (and center opitonal night vision block), left-opening. The 250 hp 8Gxb eight-cylinder gasoline SOFAM Engine was placed to the front right and the 155 mm placed in a cradle slightly offest to the right and rear.
The commander was located behind the driver, with a two-piece hatch and three daylight periscopes. However the six gun crew needed to travel with another vehicle, at that time an
AMX-VCI
, along with 25 rounds of ammunitions. The F3 gun fired HE, smoke, illumination and rocket-assisted rounds up to an effective range of 20,050 m (with HE). The drivetrain comprised the front drive sprockets, five doubled ruberrized roadwheels, the most rearwards acting as idlers, and three return rollers per side. Suspension units were torsion bars, while the first and last unit was reinforced by hydraulic shock-absorbers. The hull's sides accomodate Stowage containers and a loudspeaker and a cable reel were also carried. This lightweight vehicle was air-transportable if needed but not NBC proofed.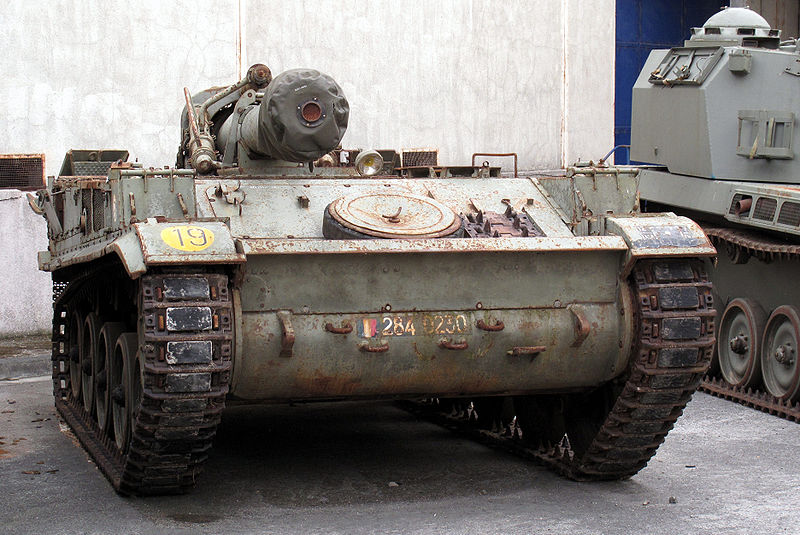 Production
The chassis was produced in a modified version by
Atelier de Construction Roanne
(ARE). The 155 mm was designed by the Atelier de Construction de Tarbes (ATS), and its integration was assumed by the
Etudes et de Fabrications d'Armement de Bourges
(EFAB). Final assembly was then performed at
Mécanique Creusot-Loire
. In total its estimated that 600 vehicles were out and apparently the production only stopped in 1997, then handed over by Nexter and then GIAT. By 1977, the Mk F3 155 mm was supereseded in the French army by the all-enclosed AuF-1 155 mm GTC and production focused entirely ion the export market, where it was successful.
Exports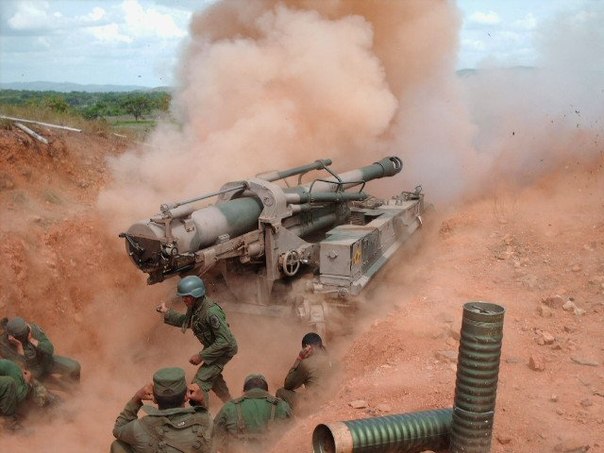 This small and affordable SPG met customers in South America: Argentina (24), Chile (47), Ecuador (15), Peru (12), and Venezuela (20); North Africa and the Middle East (Morocco (100), Saudi Arabia (?), Qatar (22)), and the mediterranean with Cyprus (12). They were often chosen because of the commonality of parts with the AMX-13 already in service. But in French service, the lack both of NBC protection or basic protection for the operating crew, which had to be carried separately, remained an issue for a cold war vehicle.
Links
The Mk F3 155 mm in wikipedia
F3 155 mm specifications

Dimensions (l-w-h):
6.22 oa x 2.72 x 2.08 m (20.5 x 8.1 x 6.1 in)
Total weight, battle ready:
17.4 Tons (?? ibs)
Crew :
2 (Driver, Commander)
Propulsion:
SOFAM 8-cyl gasoline 8Gxb 250 hp
Suspensions:
Torsion arms
Top Speed
60 kph (37 mph)
Range (road)
300 km (190 miles)
Armament (see notes)
155 mm F3 with 25 rounds (6 in)
Armour
Hull nose and turret 20, sides and rear 10, bottom 8
Total Production
600

1st Marine artillery regiment, 1st armoured division, Melun, France, 1972

French 1st company, 24th rgt. artillery, Hammelburg (West Germany) 1986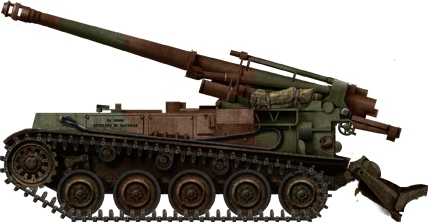 Unidentified unit of the Fuerza Argentina, 1980s.

4th Venezuelian armoured division, 415th self propelled arti group, maracay, 2007.

20th Cypriot armoured brigade, Nicosia october 2008.

AMX F3 155 mm in Saudi or Qatari desert tan livery, 1980s.
---
Mk F3 155 mm Gallery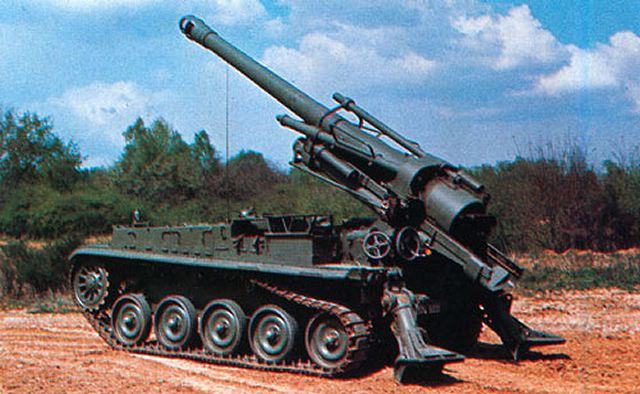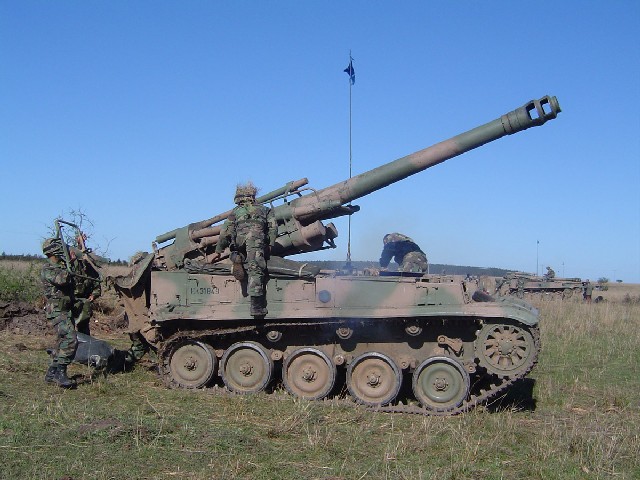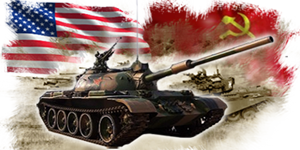 Cold War Tanks



































Cold war tanks posters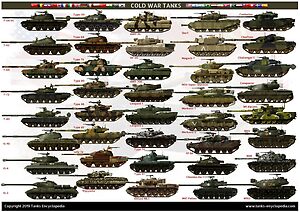 Cold War Main Battle Tanks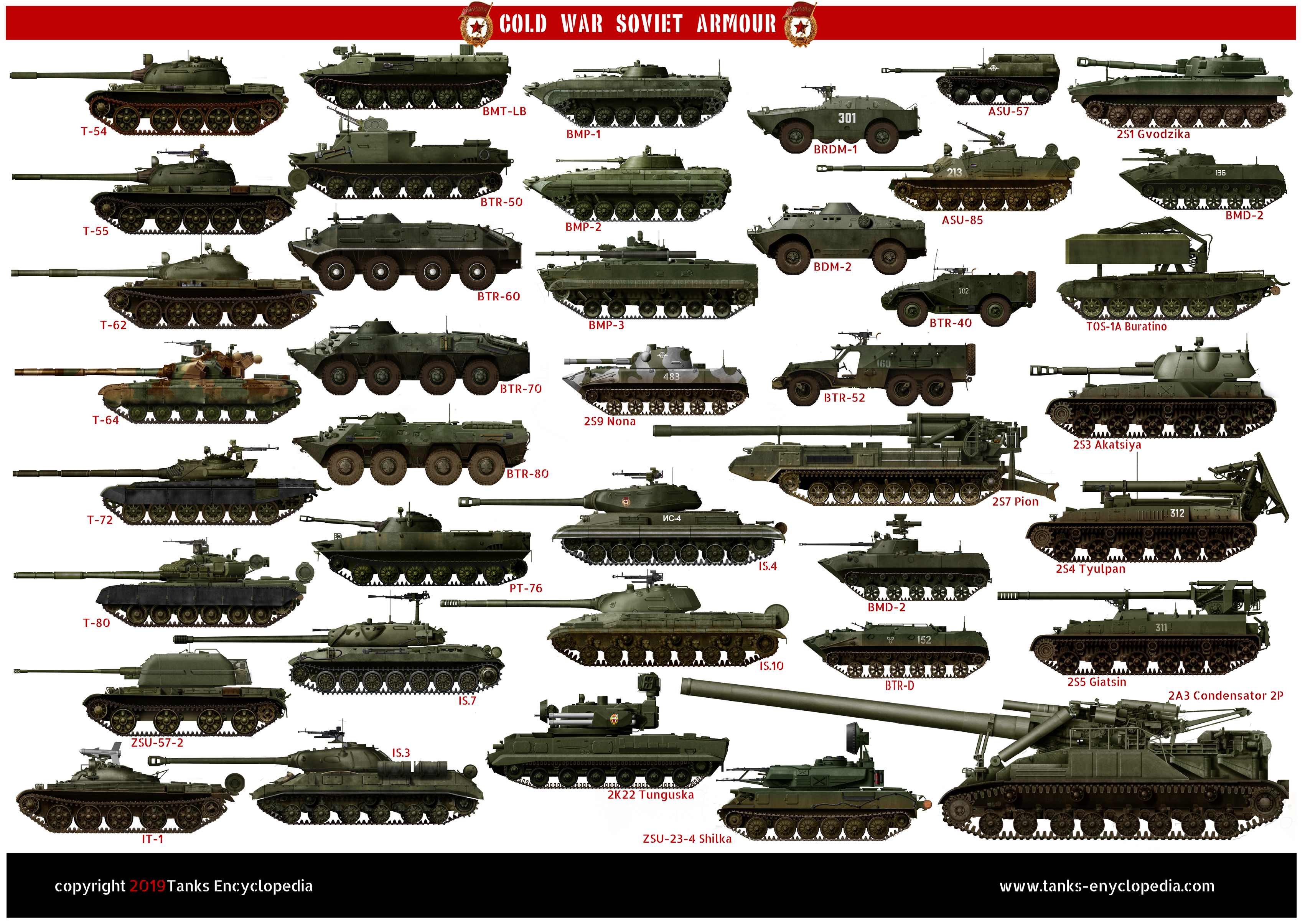 Cold War Soviet Army