Replacing the hummer
The Oshkosh M-ATV came from battlefield experience. Years of protracted conflict in Iraq and Afghanistan showed deficiencies in protection against modern asymmetric threats like mines and IEDs of some vehicles in use by the US military. The Hummer in particular, a cold war recce/APC was gradually replaced by the new kid on the block: The MRAP. With an armoured cell and V-shaped belly, its survivability against these threats in quite enhanced compared to the Hummer, made chiefly for the large open plains of Eastern Europe in a conventional war. Several companies raised to the challenge in USA and abroad and the genre first invented by South Africa is now widely accepted as an essential component of protected mobility in comparable low intensity conflict areas worldwide.
Development of the MAT-V (2008)
In the summer of 2008, the U.S. Department of Defense (DoD) examined the possibility of fielding a lighter, all-terrain MRAP variant. Until then,
Buffalos
and Cougars formed the essential part of US MRAPs and were quite heavy, lacking agility and speed. The only light ones in service were of South African origin like the RG-31 Nyala. This new model was to be tailored for the poor roads and extreme terrain of Afghanistan. 20 companies raised to the challenge and the DoD examined the propositions (RFP) from August 2008 to mid-November 2008. The new model was to be named M-ATV for "MRAP-All Terrain Vehicle".
The goal was clearly to keep the MRAP protection level while reclaiming back agility and mobility with a lighter vehicle. In particular, its aim was to replace the M1114 HMMWV. The program called for as much as 10,000 vehicles in the long run with a first probable order of 2080+ vehicles. In March 2009, six propositions were retained, and prototypes delivered to be tested for two months. At the end, five ID/IQ (Indefinite Delivery/Indefinite Quantity) contracts were to be delivered. Competitors of Oshkosh were BAE Systems the Joint Light Tactical Vehicle (JLTV) and FMTV-based Caiman derivative, Force Dynamics (GDLS) submitted its Cheetah, GDLS-C (Canada) a local RG-31 derivative, and Navistar the MXT derived vehicle. On 30 June 2009, the DoD announced Oshkosh as the final bidder and awarded the contract. Reasons invoked were the vehicle offered the best survivability while being the second cheapest model.
About Oshkosh
The Oshkosh Corporation of Oshkosh, Wisconsin, was first funded in 1917 by William Besserdich and Bernhard Mosling as the Wisconsin Duplex Auto Company and specialized in four-wheel drive heavy-duty trucks, notably the famous "Old Betsy" and its mass-produced 2-ton Model A. In 1950s it launched the Model 50-50, W truck for the coast guards and heavy duty aircraft tow tractors (like the C5 Galaxy). The first military contract won in 1975 was for the M911 heavy equipment transporter. It won the competition for the 2009 M-ATV but certainly on August 25, 2015 was awarded the very lucrative program of the U.S. military's Joint Light Tactical Vehicle, aiming at replacing the Hummer and targeting 50,000+ vehicles. The company extended its operations in 8 US states and Australia, Belgium, Canada, China, France and Romania.
Production
The first order was about $1 billion for 2,244 M-ATVs and it was increased in early June to 5,244 M-ATVs: 2,598 for the Army and 1,565 for the USMC but also 643 for U.S. Spec Ops Command, 280 for the Air Force and 65 for the Navy, plus 93 for long-term tests and evaluations. In November 2009 the 1,000th vehicle left the factory line while one month earlier the first vehicles arrived in Afghanistan. The manufacturing capacity was geared up to 1,000 per month, half of it being taken over by the recession-hit JLG telescopic handler facility in McConnellsburg, PA.
Design
The MAT-V is the result of the Medium Tactical Vehicle Replacement (MTVR) chassis combined to the TAK-4 suspension and married with the V-shaped Plasan designed armored hull (already developed for the initial proposal Northrop Grumman/Oshkosh JLTV TD). The V-shape offers full protection against IED attacks. In addition, there is a central tire inflation system with run-flat inserts, which provide a 30 miles range at 30 mph with two tires deflated. A bullet hit in its engine oil/coolant/hydraulic system is not fatal as the vehicle is still capable to travel out of harm's way for at least a kilometer. The engine is also equipped with the Stat-X fire suppression system.
The fully independent Tak-4 suspension consisted of coil springs (16 in the course). There is a compartmentation with a central crew compartment, four rear-hinged shaped "suicide doors" and small bulletproof windows, and a roof-mounted turret, plus a rear utility storage bay. The turret can be equipped with an M240 machine gun, Mk 19 grenade launcher, M2HB Browning HMG, MILAN or BGM-71 TOW ATGMs. In the OGPK manned configuration, it is almost completely enclosed for maximal protection. In alternative to the human operator, the turret can be manned remotely from inside the cabin thanks to a CROWS RWS. Traction control, anti-lock brakes. The interior has amenities such as the HVAC system, power outlets for charging portable electronic devices.
The M-ATV is powered by a 7.2 liter inline-6 Caterpillar C7 turbodiesel which develops 370 bhp or 925 lb-ft of torque for a power-to-weight ratio of about 25 hp/ton. It is connected by an Allison 3500SP, 6-speed automatic transmission with manumatic shifting. Top speed on flat is about 65 mph (105 kph) with an electronic governor/limiter. The vehicle weights 27,500 Ibs (12,5 ton) but can carry 4,000 pounds (1,800 kg) in the rear storage bay.
Variants
Factory Variants:
Standard:
M-ATV Standard Base (SXB) M-ATV Standard Upgrade (SXU) M-ATV Standard Special Forces (SXF)
Extended (long wheelbase) for greater capacity.
M-ATV Extended Intervention (EXI) M-ATV Extended Engineer (EXE) M-ATV Extended Command (EXC)
Army Variants:
-M1240
fitted with the Objective Gunner Protection Kit (OGPK) manned turret). Sub-variant M1240A1 when fitted with the Underbody Improvement Kit (UIK).
-M1277:
fitted with M153 CROWS remote-controlled weapon station (RCWS). Sub-variant the SOCOM designated M1245 and sub-sub-variant M1245A1 when fitted with UIK.
Refurbishment of the fleet
After retirement from Afghanistan, around 7,000 of the Oshkosh M-ATV fleet was to be retained active, and within, 5,651 by the Army. The whole fleet is going under refurbishment by the current Oshkosh facility and at the Red River Army Depot to a common build standard. A first 500 contract was granted in August 2014, and three additional contract options (300) in December 2014 for US$77 million. The deliveries were completed in September 2015. Returning vehicles are to be upgraded to the Low Rate Initial Production (LRIP) 22 standard, to the final M-ATV production batch: UIK, enhanced Automatic Fire Extinguishing System (AFES), Engineering Change Proposals (ECPs) for acoustic signature reduction muffler, Modular Ammunition Restraint System (MARS) ammunition storage, and some Government Furnished Equipment (GFE) relocation. On 28 May 2015, an additional 360 M-ATVs with options for up to 1,440 others was awarded, to commence in October 2015 for of over $115 million in value.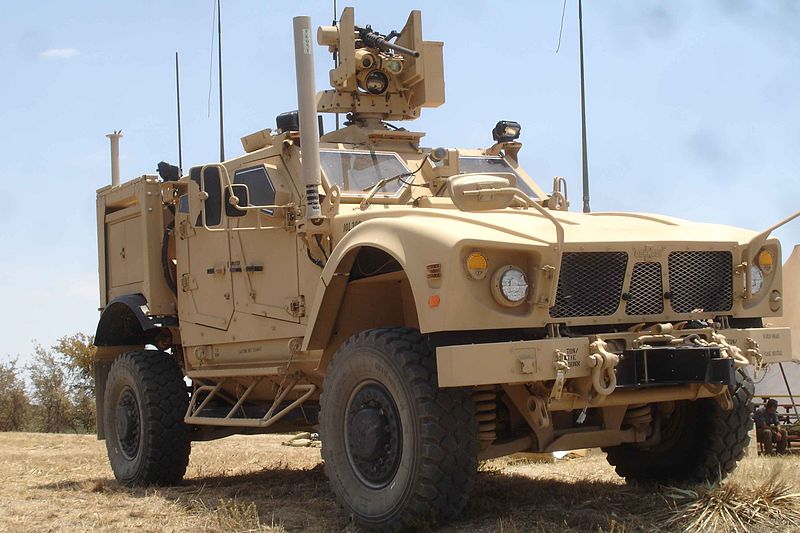 Oshkosh MAT-V M153 CROWS
Upgrades
Apart the standardization described above, Oshkosh worked on other modifications and extensions of the MAT-V capabilities:
TerraMax system
(announced 2013) to be converted into unmanned ground vehicles for route clearance and counter-IED missions by engineers.
Extended Wheel Base Medical (EXM) variant.
(IDEX 2015 in Abu Dhabi) Reworked interior and customizable internal configuration, for two litter-bound patients, two ambulatory patients, a medic, commander and driver. Equipment ca be accessed quickly by a centrally positioned medic.
M230LF 30 mm chain gun
(February 2015) In partnership with Alliant Techsystems made firing demonstration which showcased improved accuracy when mounted on the R400S-Mk2 remote weapon station (RWS). It is 3-axis stabilized and 400 kg (880 lb), 72.6 kg (160 lb) more with the M230LF stabilized on the RWS.
6x6 demonstrator
Unveiled in October 2015 it is intended for 8-12 troops and a greater (12,000 lb (5,400 kg)) payload capacity. It also has TAK-4 independent suspension and all-wheels drive and top speed of 65 mph (105 km/h) for a curb weight of 21 tons (42,000 lb).
Active service and operators
So far 8,722 Oshkosh MAT-Vs were reported in service for all branches of the US Forces in 2010. Many since their retirement has been upgraded and refurbished to the latest standard and it's still ongoing. These modifications were grounded on some critics raised in operations: Still top-heavy, cramped, prone to engine and mechanical errors. The Joint Light Tactical Vehicle (JLTV) program was launched and granted in August 2015 to Oshkosh for the L-ATV, incorporating design lessons from the M-ATV in operations. It is basically 2/3 lighter and is much faster cross-country.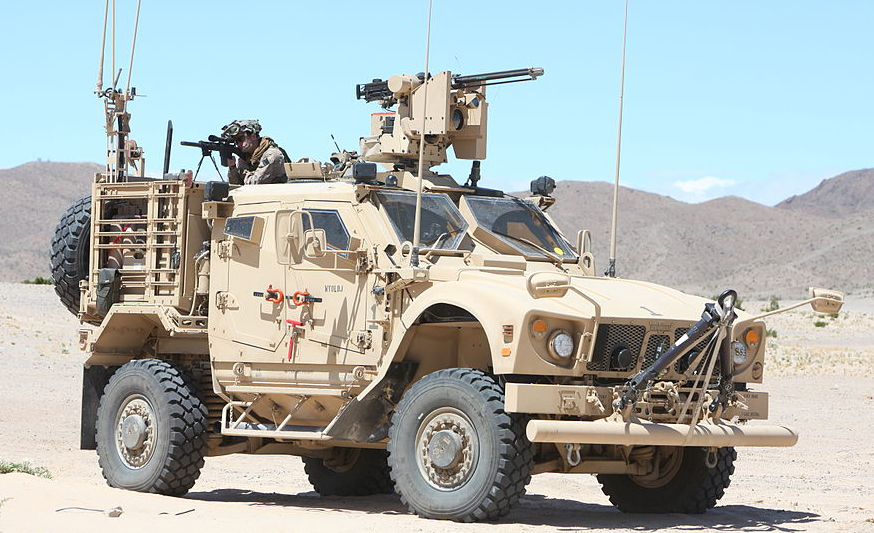 Oshkosh MAT-V Standard Special Forces (SXF) in Afghanistan
Apart the US Forces at large, the MAT-V was also used by:
The United Arab Emirates
(55 in 2011, 750 in 2012, 44 more from surplus in 2014). Some are issued to the elite Presidential Guard.
Saudi Arabia:
An estimated 450 were ordered in 2013 and delivered, including the large wheelbase variant.
Croatia:
162 vehicles were donated by the US government in 2014. 15 are used by the Croatian Special Forces Command (SFCOM), others by the Support Command (SCOM), and 62 more are scheduled to follow in 2016 (1st Battalion, Motorized Guards Brigade).
Uzbekistan:
It was announced in 2015 a donation of 308 MRAPs, including MAT-Vs (Janes, 23 January).
The African Union (AU)
peacekeepers also received 20 vehicles in 2015 to replace ageing Casspirs in Somalia
Polish special forces
also received 45 vehicles in February 2015.
Note: These information are dated, others deliveries could have been performed in between as these lines are written (November, 18, 2015).
Links
Official Oshkosh website
Road test in cars and driver
Oshkosh M-ATV specifications

Dimensions
20.5 x7.8 x8.8 fts (6.2 x2.4 x2.7 m)
Total weight, battle ready
27,500 Ibs curb, 32,500 Ibs Gross (12.5/14.7 Tons)
Crew
4+1 (driver, 3 pass., gunner)
Propulsion
7.2l 6-cyl Caterpillar C7 TD 370 bhp
Suspension
4x4 independent coil springs
Speed (road)
89 km/h (55 mph)
Range
510 km (320 mi)
Armament
RWS or manned WS -see notes
Armor
Plasan Composite
Unit cost
$470,000 (2014)
Total production
About 10,000 - current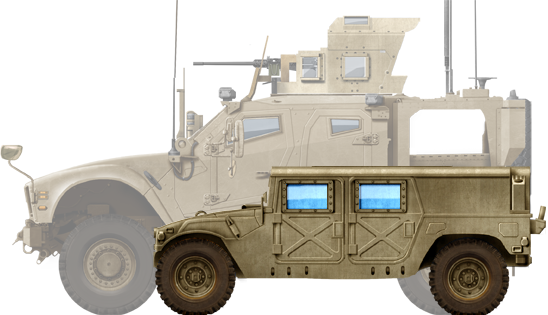 M-ATV/HMMV comparison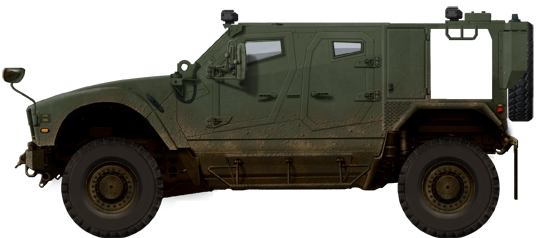 Early vehicle used for the TAPV contest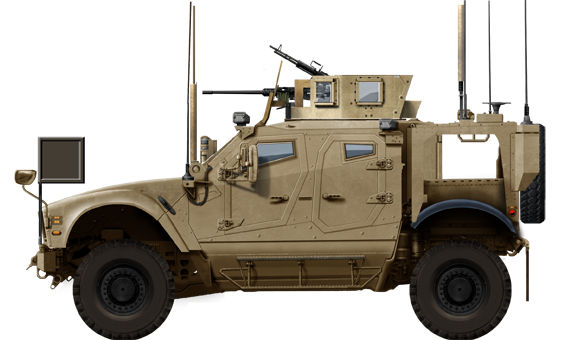 Standard SXB (Standard Base) armed with a cal.50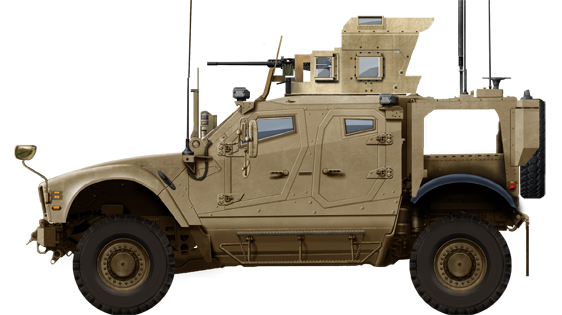 OGPK overhead protection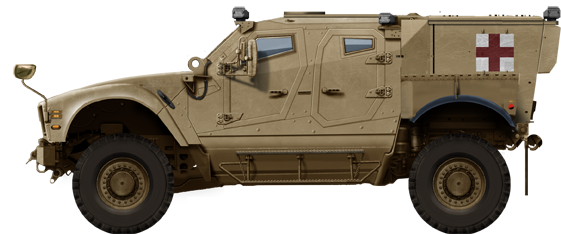 Ambulance version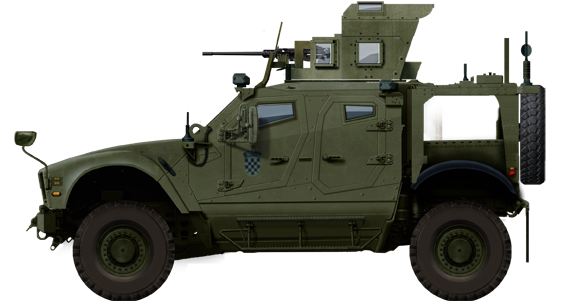 Croatian Vehicle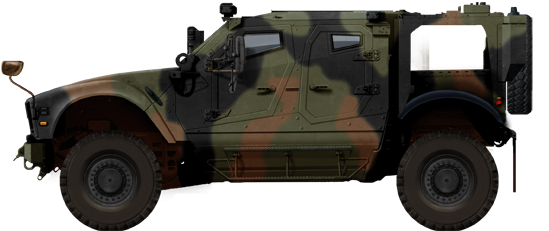 NATO camouflage, US Army's 210th Field Artillery Brigade
Videos: Fox News & Bloomberg
https://www.youtube.com/embed/STzZM7jZaEs
https://www.youtube.com/embed/l6aNzLseTnc
Gallery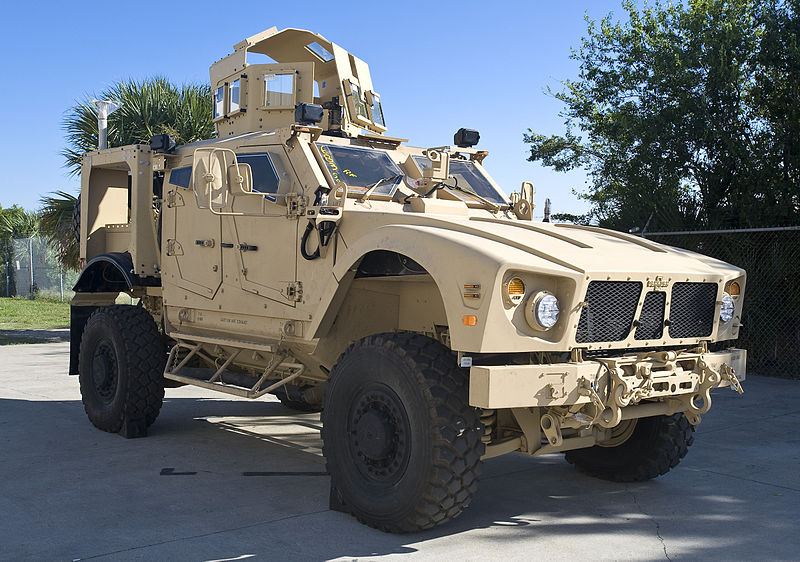 M-ATV in standard configuration with OGPK manned gun turret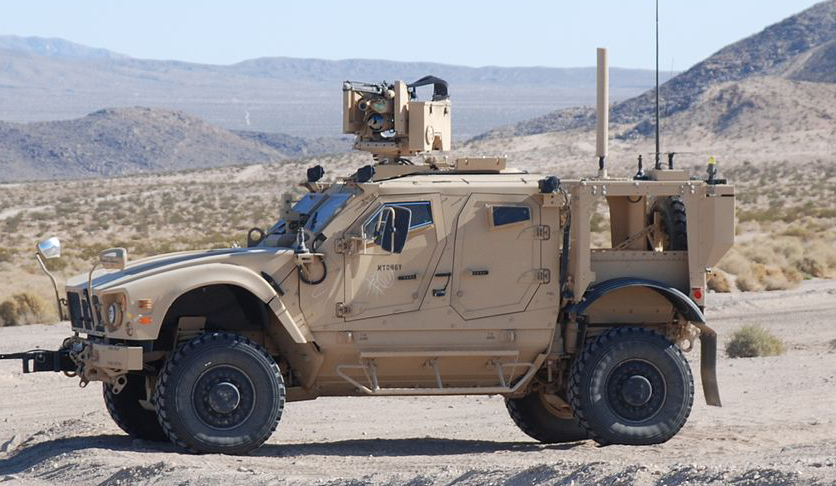 M-ATV M153 CROWS at Fort Irwin National Training Center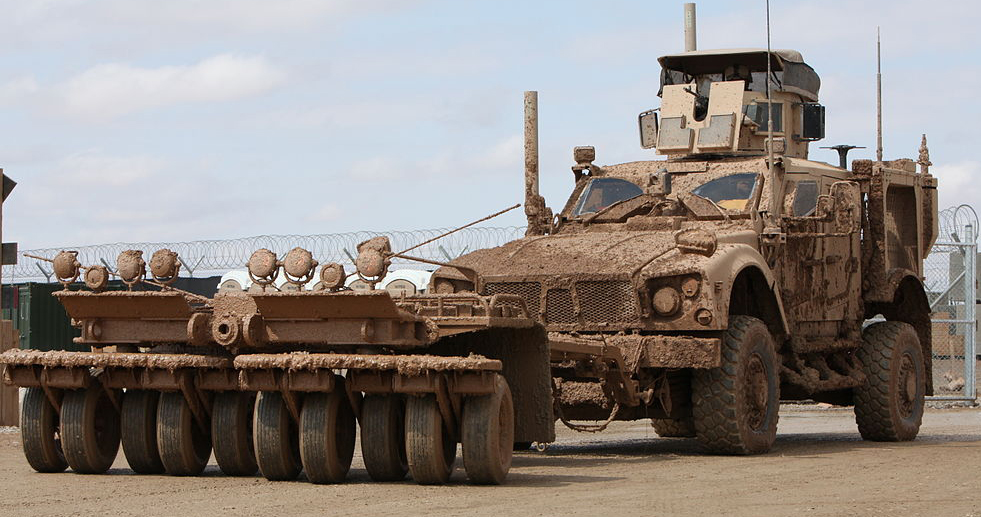 DVIDSHUB MWSS-373 mineroller for convoys protection
M-ATV EXC Extended Wheelbase Command version (credits: Oshkosh)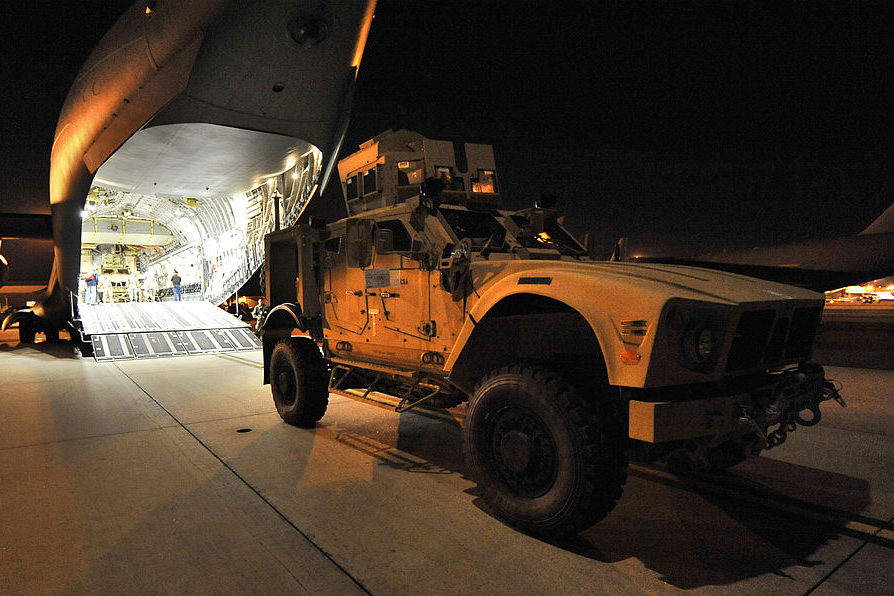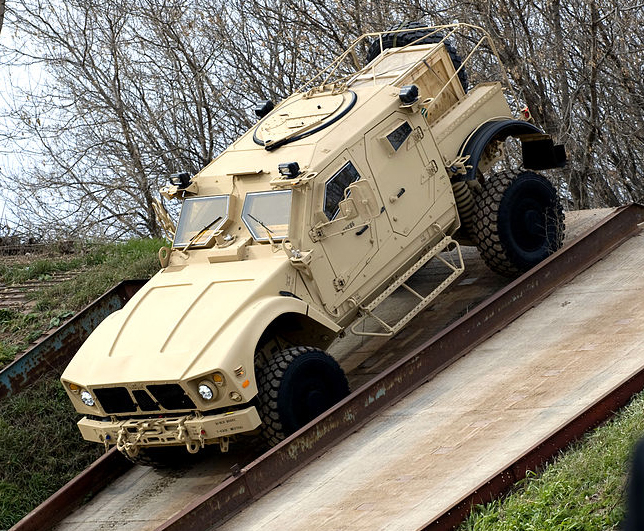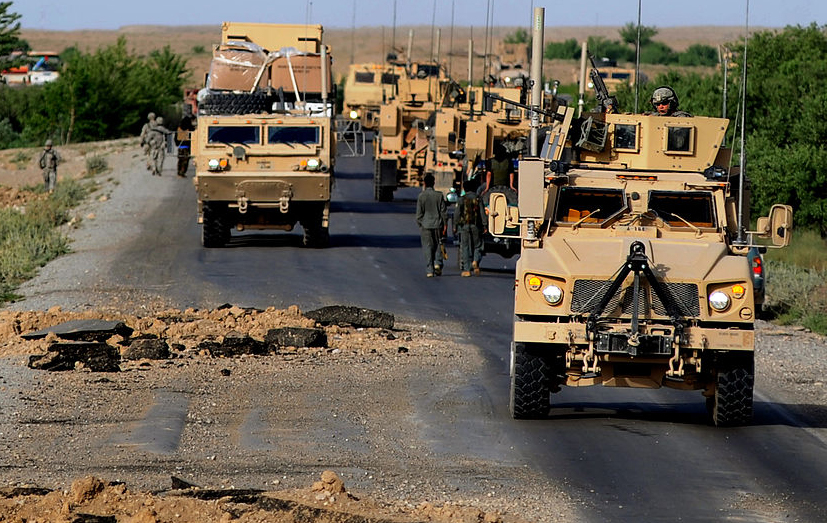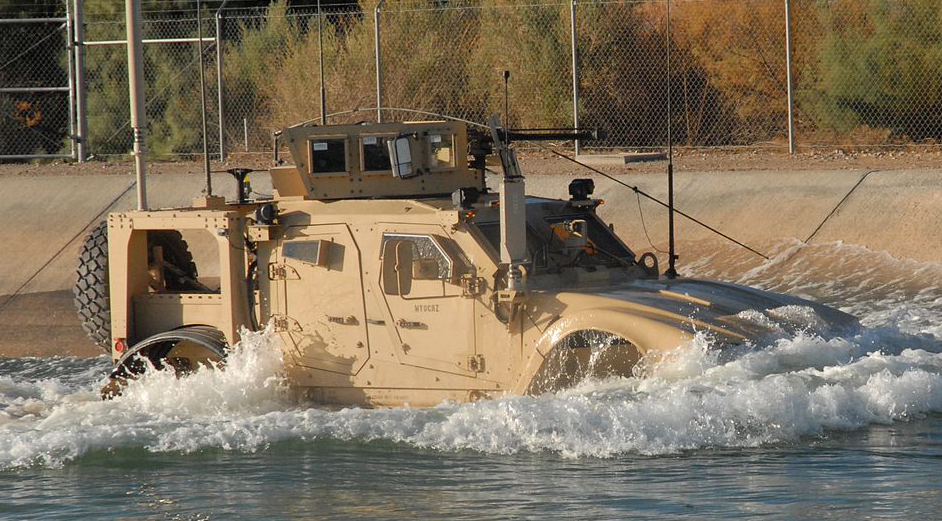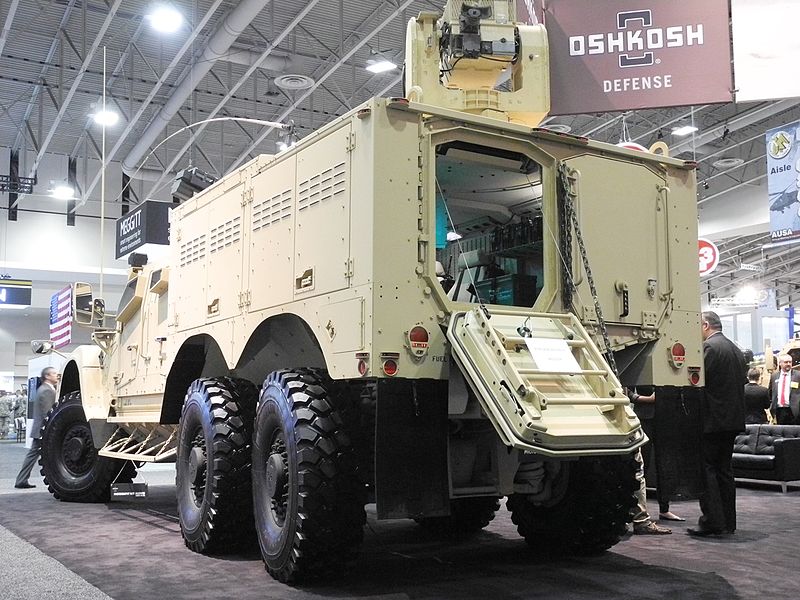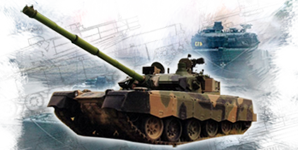 Modern Tanks
---
Modern MBTs posters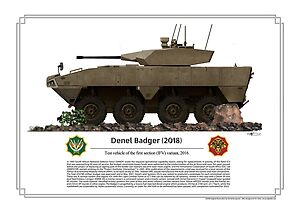 Denel Bagder (2018)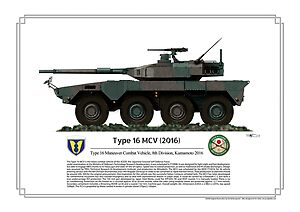 Type 16 MCV (2016)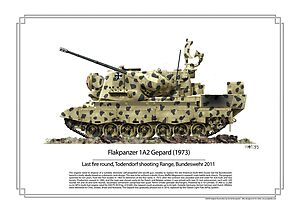 Gepard 1A2 last rounds 2011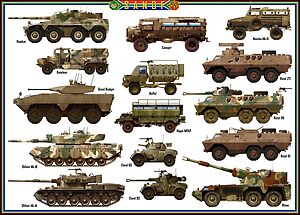 SANDF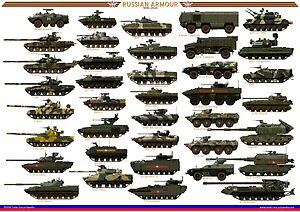 Russian AFVs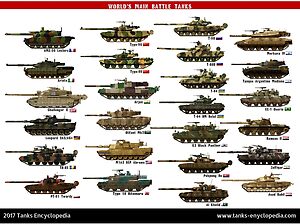 Main Battle Tanks